INTRODUCTION
Reading the Namibia trip report I had badgered our birding chum Frances Gatens to produce, convinced me that it was a birding destination we should visit. Having persuaded Jude of the merits of the trip, I spoke to David Mason and asked if he and Amanda had considered Namibia as a possible birding destination. Having edited Frances's report before posting it on his Real Birder web site, David said he had and if we were interested he would make some preliminary enquires. It was during these enquires that David had a chance encounter with Adam Riley of Rockjumper Birding Tours.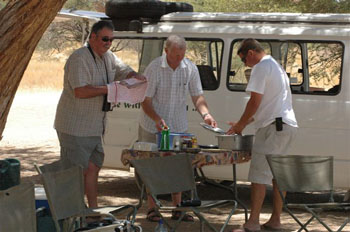 Suffice to say, it was agreed that we would produce an itinerary which Rockjumper would fine tune, cost and return, for our approval. The itinerary was a well tried & tested one, Walvis Bay, Etosha, the Caprivi Strip & the Okavango Panhandle. It soon became apparent that a trip of more than the standard 14 days was required so we opted for 17 days birding with 2 days travelling to and from Namibia.
Rockjumper was given a fairly simple brief; provide a proficient bird guide/driver, the most suitable transport and the best available accommodation in the areas we were visiting. The flights we would need to obtain ourselves. David was kind enough to take on the role of both organiser and co-ordinator, so all the donkey work was left to him.
The first decision we had to make was our choice of carrier. Air Namibia flew direct from Gatwick but only 3 times a week. Both British Airways and Virgin flew out of Heathrow daily, but only to Jo-berg, this meant a stop-over and a 2 hour flight to Windhoek.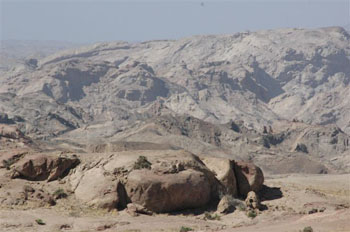 Air Namibia also offered an upgrade to Business Class which was only slightly dearer than both the alternative carriers were offering for an upgrade to Economy Plus. As the flight was overnight and Air Namibia was offering a 60" pitch between seats we chose Air Namibia – a decision we never regretted.
Our next decision was choice of vehicle; Rockjumper had suggested a Toyota Condor which I think is South Africa's equivalent of our Landcruiser. As both parties carry the equivalent baggage of the Halle Orchestra on tour, it was felt there would not be enough room for the four of us and our baggage. We opted for Rockjumper's alternative suggestion of an 8 seater mini bus with pop-up roof. This we thought would be ideal as it would afford us more room on what were going to be long days travelling, plus the pop-up would be handy in Etosha for photography, especially as you're not allowed to leave your vehicles for obvious reasons, so our usual digiscoping was ruled out. It was agreed that Jude would be chief photographer with the SLR and I would continue as usual as the digiscoper.
WEATHER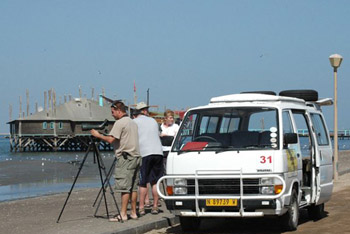 In the main the weather was hot, dry and sunny. Some heavy thundery showers were experienced but these were mostly confined to the second part of the holiday. They usually lasted no more than an hour or two and generally occurred in the late afternoon. Temperatures ranged from low 20s on the coast to mid 30s in the Caprivi and Okavango Panhandle, where humidity was also quite high.
DAYS 1 & 2 – LONDON to WINDHOEK
David & Amanda picked us up en-route to Gatwick, when our first new record was noted – 34 Red Kite were seen from the confines of our vehicle on the M40 bettering the 23 seen last year en-route to Trinidad & Tobago. Our flight left on time and we were soon being cosseted in a less than half-filled first class cabin. The flight duration was approximately 10hrs of which at least 6 were spent being buffeted about by turbulence.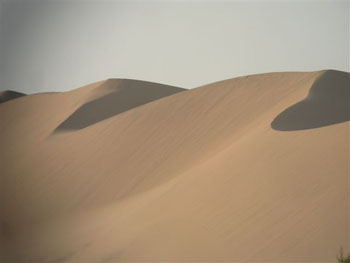 Touchdown at Windhoek was a welcome relief, as was the walk from the aircraft to the terminal, with the ambient temperature being a comfortable 20 degrees. We were soon through immigration and loaded to the gunnels with luggage. We entered the arrivals lounge where our guide Cuan was waiting. A penny for his thoughts as he saw 2 trolleys loaded with luggage obscuring the people pushing behind. After the usual meeting & greeting we were lead to our transport for the next 17 days. A mini bus with a pop up roof, both driver & passenger doors were emblazoned with transfers proclaiming Wild Dog & Crazy Kudu Safaris. A stream of lettering down the side of the vehicle invited all that read it to "Run with the Dog".
The vehicle was emptied of it's contents of camping table, chairs, crates of snacks, cool boxes, tool box, etc, no wonder there was a look of incredulity on Cuan's face when he first saw us, he must have been thinking "How the bloody hell am I going to fit all this in?". Suffice to say that with some careful packing all was eventually stowed away and we were on our way to the capital, where we would spend our first night.
Windhoek airport is some 50km from the capital; Cuan said it was because that was the nearest location with enough flat land to construct a runway. Having seen the terrain I have to agree.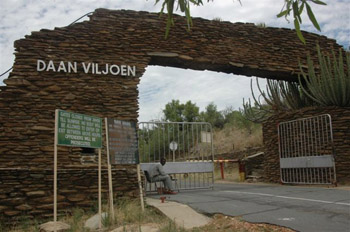 Our first night was to be spent in a guest house on the outskirts of Windhoek; Jude was first to comment that all the properties seemed to have high walls with electrified fencing on top. Our accommodation was no exception.
After we had had time for a shower and a change of clothes we travelled some 40k to the Daan Viljoen game reserve for our first taste of some of Africa's game, together with some of the special birds of the area.
I will endeavour to list various birds and mammals of each area that I think noteworthy and will supply a full list of bird species, indicating when seen, in an appendix.
Mammals of note – Dassie Rat, Rock Hyrax, Hartmann's Mountain Zebra, Warthog, Giraffe, Kudu, Eland, Gemsbok, Baboon and Wildebeest.
Birds of note – Hoopoe, Palm Swift, Red-eyed Bulbul, White-backed Vulture, Barred Wren-warbler, Black-breasted Snake Eagle, Black-chested Prinia, Blacksmith Lapwing, Bradfield's Swift, Brown-crowned Tchagra, Chestnut-vented Tit-babbler, Monteiro's Hornbill, Familiar Chat and Greater-striped Swallow.
Returning back to Windhoek, we changed and went out for our evening meal Jude was quick to pick up on the landlady's words, "Make sure that nobody slips in through the electric gate when you go out", spooky or what?
DAYS 3 to 5 – WINDHOEK to WALVIS BAY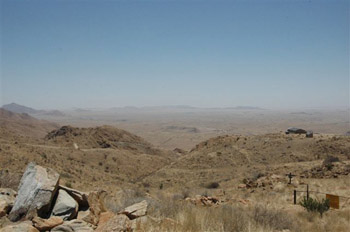 After an early breakfast (06:30hrs) when yours truly managed to turn the toast into charcoal, we unpacked and repacked the vehicle, something we would do many times during the trip. By just turned 07:00hrs we were on our way for what turned out to be the longest drive of the whole trip.
A chance encounter with a dozen or more Orange River Francolin was a bonus; the birds had been separated to both sides of the road so they were frantically calling to each other making their presence easily detectable. With frequent birding stops we managed to make slow progress, enjoying a fortuitous sighting of a pair of very confiding Herero Chat perched high in a roadside bush as we descended from the heights of the Spreetshoogte Pass towards the Namib-Naukluft National Park.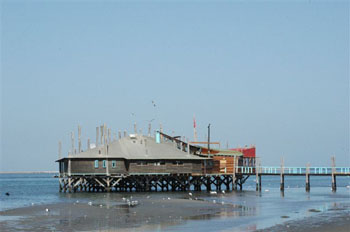 After a picnic lunch we spent several more bum numbing hours on the now familiar dirt roads and arrived at Walvis Bay hot and dusty at approximately 20:00hrs.
Having booked into the Courtyard Hotel, showered and changed, saw us at The Raft restaurant all in just 30mins. The restaurant is built on stilts into the bay; a wonderful location for a restaurant. During our meals Hartlaub's Gulls could be seen fishing for small fish attracted to the surface by the restaurant's lights. Occasionally the lights would pick out ghostly flamingos flying past in the darkness. On our last visit to The Raft we even saw a Cape Fur Seal fishing under the access boardwalk. The meals were very good, especially if you are a fish lover. As with most of the restaurants we visited, bush meat was usually on the menu.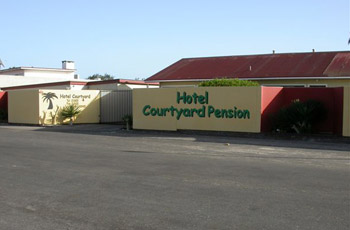 Our base for the next 3 days was the Courtyard Hotel, situated just 5 minutes walk from The Raft and the open ocean; it was an ideal base. André the manager was very accommodating especially in opening the bar on our return from our evening meal. The rooms were clean and pleasant enough with air-conditioning, mini bar and satellite TV. Although an evening meal was not available, breakfast was plentiful with eggs & bacon cooked to order.
Our 3 day stay at Walvis Bay saw us visiting the salt works at both Walvis and Swakopmund, the guano platforms and various locations along the coast. Our intended afternoon sea watch was scrapped due to very strong winds. A trip out to the arid plains to see the Welwitschia plants was also taken. I detected a little disappointment when a shrivelled up plant lying prostrate on the ground was pointed out as the world famous Welwitschia plant. In fact the colourful little bugs that had a symbiotic relationship with the plants held more fascination.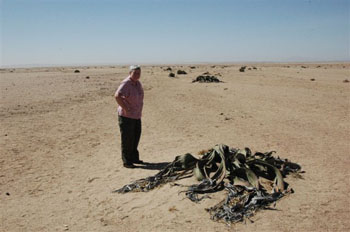 The trip involved large stretches of badly corrugated dirt road making the bus rattle unbearably at any speed over 25km per hour. A welcome respite came in the guise of an area known as "moonscape" where we stopped and managed to stretch our legs.
During our stay at Walvis Bay many waders familiar to us were encountered, including appreciable numbers of Curlew Sandpiper, Wimbrel, Turnstone, Grey Plover, Little Stint, Ruff, Avocet & Greenshank. Other familiar waders in smaller numbers were Black-winged Stilt, Ringed Plover, Common Sandpiper, Grey Plover, Marsh Sandpiper and Bar-tailed Godwit.
Coastal birds of note – Arctic Tern, Cape Gull, Damara Tern, Dune Lark, White-breasted Cormorant, Great White Pelican, Greater & Lesser Flamingo, Hartlaub's Gull, Kittlitz's Plover, Reed Cormorant, Sandwich Tern, Great Crested Tern, White-fronted Plover and White–winged Tern.
DAY 6 – WALVIS BAY to ERONGO WILDERNESS LODGE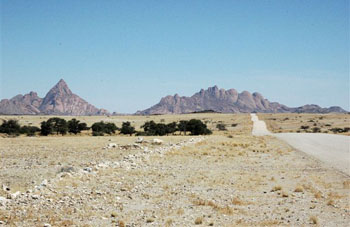 Today began with another hearty breakfast of 2 fried eggs, bacon, toast and 2 cups of tea. After paying our bar bills and saying cheerio to the staff of the Courtyard, we started with a leisurely drive along the coast toward Swakopmund in the hope of nabbing the elusive Black Oystercatcher, one of the few birds we would dip out on during the trip.
Lunchtime found us at Spitzkoppe, a large outcrop of rock protruding from the dry arid plains below, giving us the opportunity to have a shady picnic lunch and to check out the area for new birds. This stop was a welcome respite from the intense heat and dust from the dirt roads. In the shade of a group of trees we found ourselves sharing lunch with Pale-winged Starling, Fork-tailed Drongo, Capped Wheatear, Rosy-faced Lovebird, Green-winged Pytillia and a small striped mouse that was grateful for the moisture a small piece of discarded tomato gave. Lunch completed, we continued our journey inland.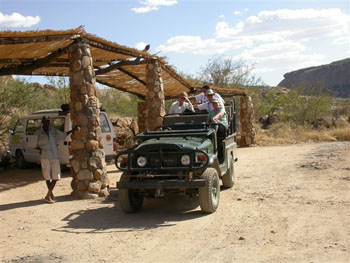 We arrived at Erongo Wilderness Lodge by late afternoon. What a remarkable setting; we can only marvel at the foresight and imagination required to construct such a place amongst a jumble of giant rocks set at the base of a rock escarpment. Access was over a boulder-strewn track with steep inclines of pure rock. A converted jeep was used to transport us and our luggage to the Lodge. Accommodation comprised of tents with all mod cons, set amongst the giant boulders with elevated timber boardwalks as access. Reception, bar and dining area were set apart but again moulded into the hillside, so no hint of what awaited us could be seen from 25mtrs away. Outside the lounge area were 2 small waterholes carved into the rocks. One was within a couple of metres of the lounge seats affording close up views of such delights as Cape Bunting, Cinnamon-breasted Bunting, Marico Sunbird, Rufous-eared Warbler, Speckled Pigeon and Violet-eared Waxbill.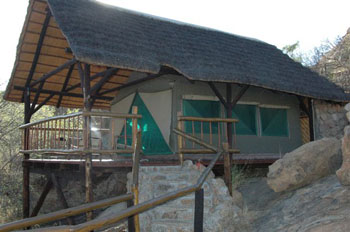 The second was approximately 50-75mtrs away and was patronised by similar but less confiding birds. Bags stowed and a quick swill to remove dust saw us at the bar lounge, beer in one hand and camera in the other. A chance close-up view of resting Freckled Nightjars was the icing on an already formidable ornithological cake. Our stay, although brief, was a true experience and one of the high points of the whole trip.
Up before dawn the next day, saw us strategically positioned between boulders on the escarpment ready for the first rays of dawn to break the skyline. This, we were reliably informed, gave us our best chance of seeing the elusive Hartlaub's Francolin. 2 birds silhouetted against the dawn sky were observed and identified as above. I have little doubt that in all probability the birds were Hartlaub's, but as I could not make a positive ID I won't be adding them to my trip list.
DAYS 7 to 10 – ERONGO to ETOSHA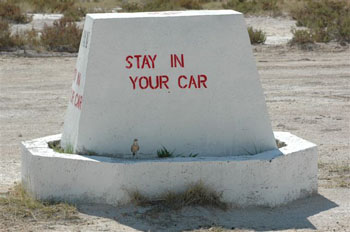 After breakfast we were soon packed and on our way to the Etosha National Park, a name synonymous with all the big game of Africa and an area we were very excited about visiting. This was to be a recurring theme throughout the whole holiday; with so many diverse habitats to visit we were always eagerly looking forward to what was to come.
A detour of approximately 100km would be undertaken for lunch and to check out a reliable area for Bare-cheeked Babbler, which incidentally was a lifer for our guide Cuan. The small game reserve we lunched at was set high above arid plains, affording distant views of hills beyond which, I was reliably informed lay Etosha. Preferring to take one of the few opportunities to relax we had had since arriving in Africa, Judy and I declined the option of a trip around the game ranch looking for the babblers in favour of relaxing in a couple of comfy recliners, drinking tea and watching large electrical storms on the horizon, in the direction of Etosha "heaven".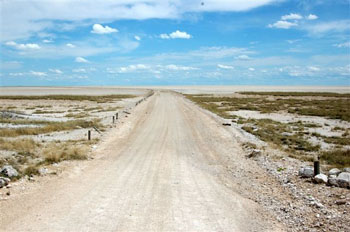 It wasn't long before both the rest of the gang and the rainstorms were upon us, necessitating our withdrawal deep inside the veranda. With the rain cutting our stay short we said our goodbyes and were soon back on muddy dirt roads heading for Etosha.
Etosha covers an area the size of Switzerland. Within it's heart lies the Etosha Pan; the remains of what many centuries ago was a vast lake. The river that fed the lake has long since changed it's course, leaving a huge area consisting of dry mineral salts, bleached white by the sun.
Within the park lie 3 rest camps, Okaukuejo, Halali and Namutoni. All 3 camps are both owned and administered by the Namibian Government and all 3 are in a poor state of repair. They all provide various grades of accommodation as well as areas for camping. The reception areas also include restaurant, bar, mini market, gift shop and petrol station. All three boast waterholes, which are floodlit at night affording good, close up views of the animals. Our first port of call was Okaukuejo, the largest of the camps and the one recognised as having the best waterhole, this due in part to its size and the numbers of animals it can accommodate.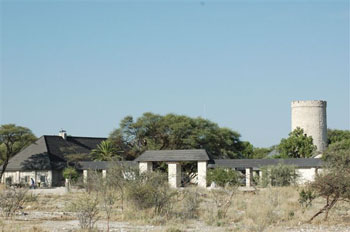 The first accommodation we were offered at Okaukuejo was in a very poor state of repair, as well as, I'm sorry to say, in a filthy condition. We were offered an upgrade at a cost of 500 S.A. Rand into what was marginally better and at least clean.
The accommodation at all three camps comprised of kitchen, with rudimentary cooking facilities and fridge, 1 or 2 bedrooms with separate W.C. and shower. All had air-conditioning whose efficiency varied considerably from camp to camp.
I should point out in fairness to the Namibian Government that all 3 rest camps had signs stating that the upgrading of both accommodation and facilities were being planned. Consensus amongst the various professionals we met was "Don't hold your breath".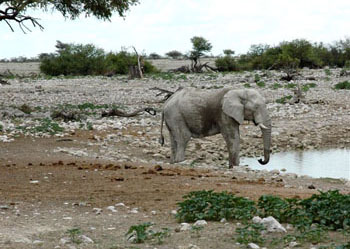 Leaving the accommodation to one side Etosha really is a remarkable place for both birds and animals alike. During our 4-day stay we slowly drove the various tracks that criss-cross the reserve getting great views of both birds & animals.
Many of the waterholes within the reserve were also visited. Those containing water afforded views of Elephant, Giraffe, Zebra, Wildebeest, Oryx and many species of Antelope. Incidentally the water levels at waterholes at the rest camps are maintained artificially, making them a magnet for game and birds alike, especially during the dry season. They are also the best opportunity to see Black Rhino; we were fortunate to see several during our trip.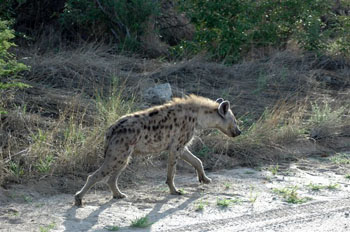 Along the tracks we encountered Lion, Hyena, Warthog, Jackal, several species of mongoose and assorted rodents, as well as the smaller antelope that prefer deep cover to open plains. All this and birds at almost every turn, what a superb place.
Our days in Etosha followed a very similar pattern. Up at first light, 06:00-06:30hrs for a pre-breakfast game drive, usually arriving back at the last minute for breakfast, out again returning just in time for lunch and the same for late afternoon leaving just enough time to remove the day's dust with a quick shower prior to dinner. Not a trip for the faint hearted.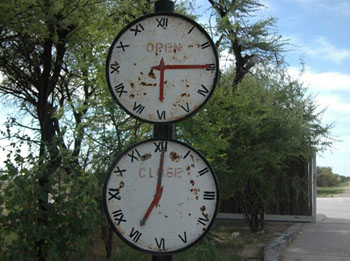 All meals were taken in the restaurants; both breakfast & lunch were buffet style with the usual cereals, meats and fruits on offer. Toast could be obtained from the toast machine and eggs & bacon were readily available but needed to be ordered. On the whole the food was basic but well cooked and presented. All three rest camps also had a small selection of wines which again were quite presentable and very affordable. African time is more relaxed than we are used to, so patience was sometimes required. If memory serves, dinner at Okaukuejo was a carvery, Halali was waiter service and on the night we stayed at Namutoni it was a BBQ.
As I stated previously both birds and animals were a delight. Although we have been on the African continent before the only wild animal of note we encountered was a caged Spotted Hyena.
Lion, Black Rhino, Elephant, Giraffe, Zebra, Hyena, Warthog, Jackal, Greater Kudu, Oryx, Steenbok, Wildebeest, Springbok, Hartebeest, Black-faced Impala and Damara Dikdik were all seen at close range together with a plethora of small mammals and rodents. Add to this the many new bird species encountered, this was without doubt one of the highlights of the tour.
Some of the Birds of note – African Scops Owl, White-backed Vulture, Lappet-faced Vulture, Bateleur, Martial Eagle, Black-breasted Snake Eagle, Brown Snake Eagle, Black-shouldered Kite, Blue Crane, Blue Waxbill, Bronze-winged Courser, Chestnut-banded Plover, Cardinal Woodpecker, Common Ostrich, Crested Francolin, Dark Chanting Goshawk, Double-banded Courser, European Roller, Purple Roller, Gabar Goshawk, Golden-breasted Bunting, Grey-headed Kingfisher, Helmeted Guineafowl, Jacobin Cuckoo, Kori Bustard, Lanner Falcon, Long-billed Crombec, Marabou Stork, Ludwig's Bustard, Mosque Swallow, Pale Flycatcher, Purple-banded Sunbird, Rattling Cisticola, Red-billed Hornbill, Red-footed Falcon, Ruppell's Korhaan, Sabota Lark, Scaly-feathered Finch, Shaft-tailed Wydah, plus many more.
DAY 11 – ETOSHA to RUNDU
With our visit to Etosha all too soon over, we embarked on the next leg of the trip, the eagerly awaited visit to the Caprivi Strip. The Caprivi runs along the north-eastern corner of Namibia where the Okavango River forms the border with Angola. Again this would necessitate a long drive; fortunately the majority of it was on tarmac.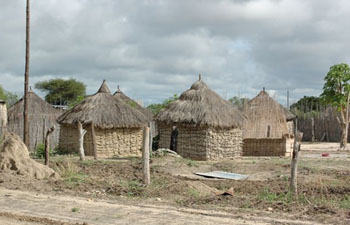 Without trying to sound patronising we found this part of the trip to epitomise our preconceived ideas of what real Africa is all about. Small stockades containing a handful of circular mud huts with thatched roofs, where the local tribes had survived, subsistence farming for many centuries. Although initially shocked at what we perceived to be abject poverty we soon realised both in the laughter of the children and the wellbeing of the adults that these people required no pity from us, but admiration that they can survive in conditions where we would certainly perish.
Both N'Kwazi & Mahangu Lodge were the only lodges we would visit twice, once going into the Caprivi and once coming out. Both were set on the banks of the Okavango River, giving us our first opportunity to encounter new birds as well as our first Hippos. It was also the home of the dreaded mosquito, a creature that was going to feature more prominently in our daily lives than at any time previous.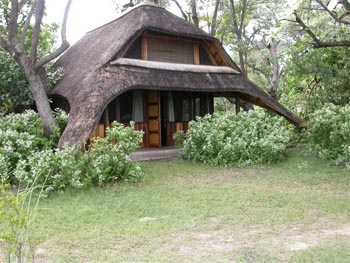 It was the first time that mosquito netting around the beds was deemed truly necessary and copious amounts of repellent were administered to any exposed skin before even opening the door to our accommodation. Incidentally it didn't stop the little B's from draining large amounts of bodily fluids from my hair-covered scalp at every opportunity. The humidity was also noticeably greater here than anywhere else we visited in Namibia.
Our first camp was N'Kwazi Lodge, a collection of thatched roofed dwellings with en-suite facilities. These were set under shady trees just a few metres from the banks of the river. Both accommodation and meals were perfectly acceptable, with buffet style evening meals; breakfast was similar with the exception of eggs and bacon, which again would be ordered at the table.
Our main criticism was the lack of either air-con or fans, especially bearing in mind the humidity. The generator, which provided the power, was switched off at 11 o'clock at night, necessitating early morning ablutions to be taken by torch-light using cold water. This was not our preferred option.
Birding around the camp was restricted in the main to its confines and the large reed fringed river bank adjacent. The opposite bank of the river (Angola) contained a settlement with the kind of disturbance you'd expect from people going about their normal daily lives.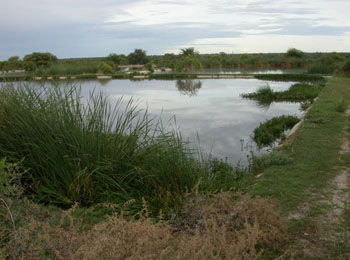 The river was extensively used both for recreational purposes (swimming) and also for bathing, leaving little scope for birds.
The majority of the birding was centred around Rundo water works, which consisted of 3 reed fringed concrete constructed settling tanks each set at a different level. Several species of both ducks & waders were present during the 2 trips made to the site. The surroundings consisted of well grazed pasture with occasional bushes and areas of what appeared to be redundant sand and gravel workings. These workings contained several small pools accommodating many more waders with the occasional duck.
A large area of reedbed was just a few minutes walk away; these held such gems as Painted Snipe and Black Crake .
Birds of note – Black-shouldered Kite, Hottentot Teal, Wood Sandpiper, Three-banded Plover, Black-crowned Night Heron, Purple Roller, Little Egret, Marsh Sandpiper, Pied Kingfisher, Giant Kingfisher, Little Grebe, Swamp Boubou, Southern Red Bishop, African Marsh Harrier, Gabar Goshawk, Palm Swift, Baillon's Crake, African Purple Swamphen, Comb Duck, Southern Pochard, Lesser Swamp Warbler, Squacco Heron, Blue Waxbill, African Long-tailed Shrike, Red-billed Firefinch & Lesser Moorhen.
DAY 12 – RUNDU to MAHANGO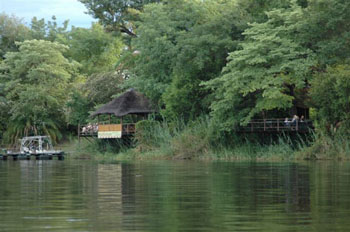 From N'Kwazi we headed east along the Caprivi Strip arriving at Mahangu Lodge in time for lunch. As with N'Kwazi, Mahangu was set on the banks of the Okavango River but unlike N'Kwazi the far bank was uninhabited, lined with mature trees and areas of dense reeds. Mahangu also had two large timber observation decks constructed out into the river. One had a thatched roof giving welcome shade during the day and shelter during heavy rain, something we were to appreciate during our stay. Tables & chairs were also present; a great place to relax. Just to sit, drink in hand, watching the ornithological world unfold in front of us was memorable.
Mahangu for us was by far the better of the 2 lodges in the Caprivi. Both the camp itself and its environs were far more attractive to birds, hence the variety encountered.
500mtrs downstream was an island which the Hippos used as a base, allowing us our first views of these impressive creatures. Dusk and the impending sunset would see many birds using the river as a flyway, presumably to their evening roosts. This was also the time the Hippos would leave the safety of the island, swimming singly at intervals upstream to their night-time feeding areas.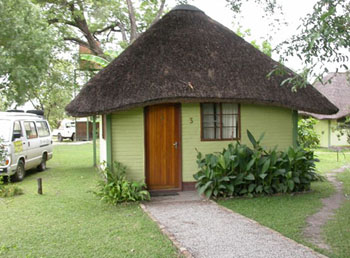 The chalets, although not greatly impressive from the outside, were clean, functional with air-conditioning and constant power. The mosquito netting also covered the entire bed area allowing for a comfortable night's sleep. Other nets we had encountered were attached to a small circular structure above the bed causing the netting to brush the face during sleep. This had the tendency to be quite irritating especially when you have been woken by it several times during the night.
Both food & drink were very acceptable; some of the best we encountered during our stay. As Mahangu used to be a hunting lodge there are many trophies hanging on the reception/bar/restaurant walls. This could offend the more sensitive amongst us.
Birds of note – African Darter, African Fish Eagle, African Harrier Hawk , African Wagtail, African Skimmer, Ashy Flycatcher, Black Crake, Black-collared Barbet, Blue Waxbill, Blue-cheeked Bee-eater, Burchell's Starling, Comb Duck, Coppery-tailed Coucal, Dark-chanting Goshawk, Diderick Cuckoo, Gabar Goshawk, Greater Blue-eared Starling, Hamerkop, Jacobin Cuckoo, Little Bee-eater, Magpie Shrike, Malachite Kingfisher, Meves's Starling, Pied Kingfisher and Red-eyed Dove.
DAYS 13 to 15 – MAHANGO to THE OKAVANGO PANHANDLE & BACK
Today we were to leave Namibia and cross the border into Botswana to our last lodge before retracing our steps back through the Caprivi on the final leg of the holiday. Before crossing the border we visited Mahango Game Reserve – our last chance to familiarise ourselves with big game plus the special birds of the area.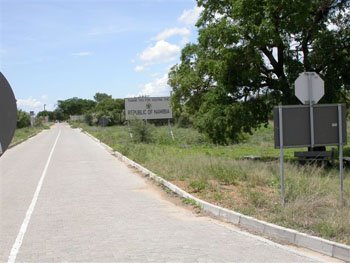 There is something exciting about crossing foreign borders and this was no different. There's always that apprehension that your documentation may not be to the liking of the officials and you could be detained and interrogated. As it was, all was in order and we were soon processed with nothing more than politeness and a smile.
We were subjected however to a bus search by 2 plain clothes customs officers who took great interest in David's large camera bag and the foodstuffs we had in the snack trays and the cooler boxes. Again this was done with good humour and politeness. With a brief stop at the local town for toothpaste we were soon disembarking, leaving our old boneshaker of a van at Drotsky's Cabins and taking a 10km boat ride downstream to Xaro Lodge which was to be our home for the next few days.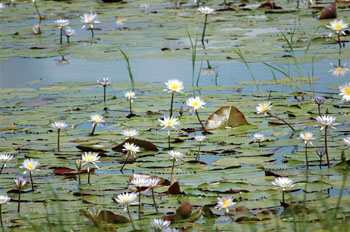 Xaro was set on a broad bend of the Okavango amidst mature forest. Vast papyrus beds made up much of the far bank and beyond. With no vehicular access at Xaro all our birding would either be done on the forest trails around the lodge or by boat, exploring the labyrinth of lily filled channels that make up the Okavango Panhandle.
The lodge has a reception/bar and dining area with a swimming pool to the rear. All the accommodation consisted of large tents elevated 500mm above the ground on timber decking. They were set adjacent to the river in well maintained lawns with large mature trees creating shade and sparse privacy.
As with the whole of the trip this new location was to present us with a completely new list of birds to find.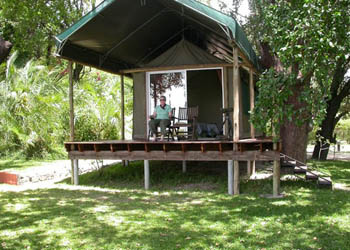 Our days at Xaro followed a similar pattern with optional pre-breakfast walks along the forest trails. Breakfast was followed by a boat ride until lunch; this again was followed by another boat trip, returning in time for pre-dinner drinks and dinner.
Xaro is a really idyllic spot, probably rivalling Erongo as the best location we stayed at, but we were soon aware that because of the similarity of habitat, 3 days would probably be enough before repetition became a problem. For comfort we would have preferred a boat with some form of canopy affording some shade during the hottest parts of the day. Another factor which needs to be taken into account is the flying insects, especially the mosquitos. Having been plagued with them on our first early morning trail walk deterred me from taking part in any more.
Birds of note in the Okavango Panhandle – African Darter, African Fish Eagle, African Golden Oriole, Pygmy Goose, Stonechat, African Wattled Lapwing, African Wood Owl, Allen's Gallinule, Arrow-marked Babbler, Bateleur, Black Crake, Black-backed Puffback, Black-crowned Night Heron, Blue-cheeked Bee-eater, Broad-billed Roller, Brown-throated Martin, Burchell's Starling, Chirping Cisticola, Collared Sunbird, Crested Barbet, Diderick Cuckoo, Emerald-spotted Wood Dove, European Bee-eater, Fan-tailed Widowbird, Glossy Ibis, Golden-tailed Woodpecker, Great Reed Warbler, Green-backed Heron, Hadaba Ibis, Lesser Jacana, Lesser-striped Swallow, Little Bee-eater, Little Bittern, Little Sparrowhawk, Long-toed Lapwing, Malachite Kingfisher, Meves's Starling, Orange-breasted Bushshrike, Pel's Fishing Owl, Pied Kingfisher, Pin-tailed Whydah, Purple Heron, Rufus-bellied Heron, Senegal Coucal, Southern Carmine Bee-eater, Tawny-flanked Prinia, Whiskered Tern, White-backed Night Heron, White-fronted Bee-eater, White-throated Swallow, Wire-tailed Swallow and Yellow-billed Oxpecker.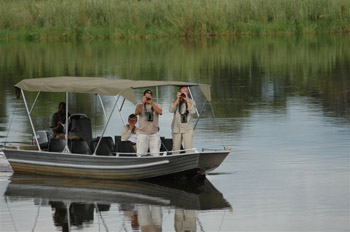 On our 15th day we retraced our steps back over the border to Mahangu Lodge. Returning to Mahangu gave us the opportunity to relax on the observation decks and catch up with our trip lists, something we neglected during our stay at Xaro. Late afternoon also gave us the opportunity for the boat ride we declined on our first visit and the chance to get some close up photos of both Rock and Collared Pratincole which spend the majority of the time on small islands in the middle of the river.
New birds of note – Collared Pratincole, African Snipe, Dusky Lark, Lesser-striped Swallow, Luapula Cisticola, Narina Trogan, Saddle-billed Stork and Terrestrial Brownbul.
DAY 16 – MAHANGO to RUNDU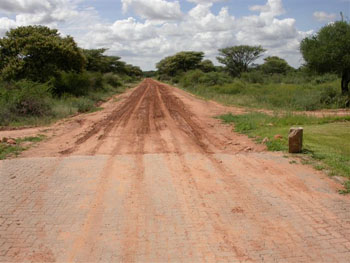 After another bacon, egg and toast breakfast it was time to leave Mahango and head west along the Caprivi back to N'Kwazi, arriving early afternoon. With a small break to re-establish ourselves in our accommodation, we were soon on our way back to Rundu sewage works, hoping to see some new birds that may have turned up during our absence and hopefully find the Painted Snipe in a more co-operative mood than our previous visit and also get some better views of the resident Baillon's Crake.
New Birds of Note – Abdim's Stork, Black Heron, Greater-painted Snipe, Red-breasted Swallow, Yellow Crowned Bishop, Red-billed Oxpecker.
DAY 17 – RUNDU to WATERBERG
Today we leave the Caprivi heading south for the Waterberg Plateau National Park, another long drive with an appreciable amount of it on dirt. With heavy overnight rain, large areas of standing water and very slippery road condition hampered our progress.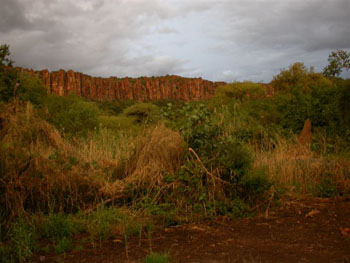 Cuan struggled at times to stop the boneshaker from sliding off the road. With the Plateau in sight for what seemed an eternity, we eventually turned off the road onto an equally wet but short track into the Government owned Waterberg Lodge. In response to our previous experiences of Government owned lodges, Cuan acquired keys to 3 chalets for our approval. The camp itself looked far more modern than the camps in Etosha and I have to say that the standard and cleanliness of the accommodation pleasantly surprised us.
With just an afternoon and the following morning here, birding was restricted to the trails around the lodge.
Birds of note – Alpine Swift, Black Cuckoo, Brown Snake Eagle, Chestnut-headed Weaver, Golden Weaver, Jacobin Cuckoo, Pearl-spotted Owlet, Ruppell's Parrot, Southern Black-flycatcher and Swanson's Francolin.
DAY 18 – WATERBERG to WINDHOEK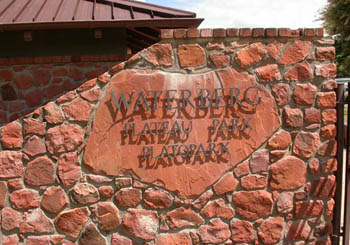 Today was our last day on African soil, Jude who had suffered from tummy troubles for most of the holiday, trusted to luck and decided to join me for our last pre-breakfast birding.
After breakfast we packed, loaded the boneshaker up for the last time and drove around the camp stopping at various locations. Soon it was time to hit the open road heading for Windhoek. With Cuan on a tight schedule we motored quickly to the capital, stopping briefly en-route for a quick lunch. Cuan deposited us at Wild Dog Safaris' headquarters, said his good-byes & dashed off to the airport.
New birds seen – Burnt-necked Eremomela, Lesser Masked Weaver & Verreaux's Eagle.
With over 6hrs to kill before we were to fly out, we spent some of it mingling with Christmas shoppers at the local shopping mall. Wild Dog had offered us shower facilities and although rather spartan, were most welcome prior to our overnight flight home. With just seven in Business Class we settled down for a quiet, less bumpy flight home.
MOANS, GROANS and MEMORABLE MOMENTS
Moan
I suppose our main gripe was that to our mind the trip became a bit of a tick fest, with the emphasis being put on numbers recorded rather than the birds themselves.
Moan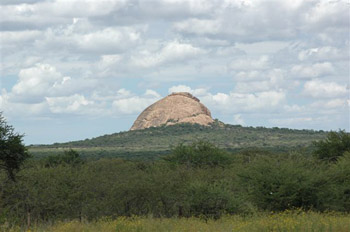 Our guide Cuan, although a very personable guy and proficient birder came up short in our eyes, in inclusivity; this was where Cuan would engage the nearest person to him rather than involve the whole group. This did not improve even after we had a quiet word. Cuan is naturally quietly spoken and I am slightly deaf so I found myself asking him to repeat himself on many occasions. This again was relayed to him but again no discernable change was noted. I appreciate Cuan is a young man still learning his trade, but we have to regretfully say if we were to do another trip we would need a lot of persuading to engage him again.
Groan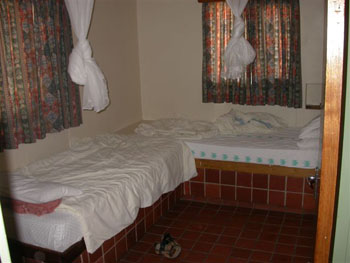 The very poor standard of accommodation in Etosha. Etosha was without doubt the highlight of the trip, it could have been so much better with good accommodation. More could and should have been done by Rockjumper in this respect. Knowing what the standard of accommodation was like, they should have informed us giving us the choice. After all, part of their remit was to provide good accommodation, this they failed to do in Etosha; we weren't even booked into the best accommodation within the camps we visited.
Groan
A lot is made of the floodlit waterholes by the 3 camps inside the park and the authorities trade on this. It was our experience that the only animals seen exclusively at the waterholes were the Rhino's. All the rest were seen around the park during daylight hours when photography was greatly improved.
Memorable Moments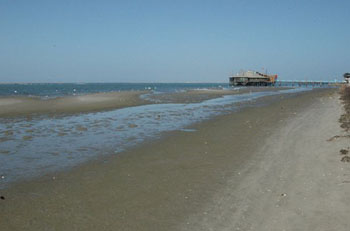 The sand storm at Walvis Bay bringing visibility down to approximately 50mtrs and almost obliterating the road we were travelling on.
The plastic chair I was sitting on shattering without warning, depositing me in an embarrassed heap on the floor after I had been sitting on it for over half an hour, only to be told by its owner " Don't worry that's not the first time it's happened".
Sitting too close to the floodlights at Okaukuejo's waterhole and having insects the size of small aeroplanes constantly land on our neck, face and hair.
Our boat breaking down on the Okavango adjacent to "Hippo Island". We managed to drift into the bank to await rescue when we heard rustling just behind the boat. "Hippo" was whispered. Knowing that Hippos are responsible for many deaths we all froze, ears straining for any sound. After a minute or two a couple of us managed to silently climb onto the raised foredeck, scouring the tall reeds for any movements. Tension was relieved when someone enquired "Do Hippo's have horns?" and it was realised that a local cow was the culprit.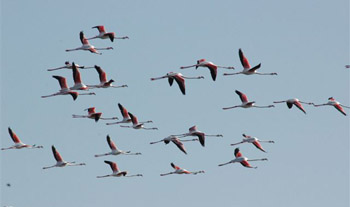 Being woken up at 04.00hrs by a grazing hippo directly outside our tent, and not realising that humans can hold their breath for 20mins.
The sounds of Africa, especially at night and especially the roar of non-too-distant Lions.
Reassuring Jude that the 1.5 metre high wall at Okaukuejo's waterhole was sufficient to deter a hungry Lion, and then to watch several Jackals clear the same wall with consummate ease.
Returning to our chalets after our evening meal to find thousands of flying termites covering Cuan's door attracted by the outside light he'd left on. Subsequently listening to him through our adjoining wall stamping on the thousands that had found their way under his door.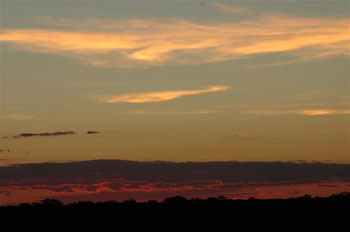 The smiling children dancing for treats on the side of the track as we passed by their hamlets either entering or leaving N'Kwazi Lodge.
Being encouraged to sit around a "camp fire" after our evening meal at Xaro Lodge only to be showered with "you know what" from bats feeding in the trees above.
Stopping for petrol and listening, whilst the hairs on the backs of our necks stood on end, to half a dozen women and a man harmonizing in song from the back of a pick-up, as only Africans can: another great experience.
SUMMARY
As a birding destination I have to say that from our point of view Namibia is second to none. Not only have you 400+ plus species to try for, you also have the added attraction of the animals, mammals and insects.
With birding destinations becoming scarcer due to global turmoil, Namibia is one we would heartily recommend to anybody.
Trip List – Excel format with dates birds seen
Species List
| | |
| --- | --- |
| Bird | Species |
| Abdim's Stork | Ciconia abdimii |
| Acacia Pied Barbet | Tricholaema leucomelas |
| African Cuckoo | Cuculus gularis |
| African Cuckoo-hawk | Aviceda cuculoides |
| African Darter | Anhinga rufa |
| African Fish Eagle | Haliaeetus vocifer |
| African Golden Oriole | Oriolus auratus |
| African Goshawk | Accipiter tachiro |
| African Green Pigeon | Treron calvus |
| African Grey Hornbill | Tockus nasutus |
| African Harrier-hawk | Polyboroides typus |
| African Hawk-eagle | Aquila fasciatus |
| African Hoopoe | Upupa africana |
| African Jacana | Actophilornis africanus |
| African Marsh Harrier | Circus ranivorus |
| African Mourning Dove | Streptopelia decipiens |
| African Openbill | Anastomus lamelligerus |
| African Palm Swift | Cypsiurus parvus |
| African Paradise-flycatcher | Terpsiphone viridis |
| African Pied Wagtail | Motacilla aguimp |
| African Pipit | Anthus cinnamomeus |
| African PurpleSwamphen | Porphyrio madagascariensis |
| African Pygmy-goose | Nettapus auritus |
| African Red-eyed Bulbul | Pycnonotus nigricans |
| African Reed-warbler | Acrocephalus baeticatus |
| African Scops Owl | Otus senegalensis |
| African Skimmer | Rynchops flavirostris |
| African Snipe | Gallinago nigripennis |
| African Stonechat | Saxicola torquatus |
| African Wattled Lapwing | Vanellus senegallus |
| African White-backed Vulture | Gyps africanus |
| African Wood Owl | Strix woodfordii |
| Allen's Gallinule | Porphyrio alleni |
| Alpine swift | Tachymarptic Melba |
| American Golden Plover | Pluvialis dominica |
| Anteating-Chat | Myrmecocichla formicivora |
| Arctic Tern | Sterna paradisaea |
| Arrow-marked Babbler | Turdoides jardineii |
| Ashy Flycatcher | Muscicapa caerulescens |
| Ashy Tit | Parus cinerascens |
| Augur Buzzard | Buteo augur |
| Baillon's Crake | Porzana pusilla |
| Banded Martin | Riparia cincta |
| Bare-cheeked Babbler | Turdoides gymnogenys |
| Barn Owl | Tyto alba |
| Barn Swallow | Hirundo rustica |
| Barred Wren-Warbler | Calamonastes fasciolatus |
| Bar-tailed Godwit | Limosa lapponica |
| Bateleur | Terathopius ecaudatus |
| Black Crake | Amaurornis flavirostris |
| Black Cuckoo | Cuculus clamosus |
| Black Heron | Egretta ardesiaca |
| Black Kite | Milvus migrans |
| Black-backed Puffback | Dryoscopus cubla |
| Black-chested Prinia | Prinia flavicans |
| Black-chested Snake Eagle | Circaetus pectoralis |
| Black-collared Barbet | Lybius torquatus |
| Black-crowned Night Heron | Nycticorax nycticorax |
| Black-faced Waxbill | Estrilda erythronotos |
| Black-headed Oriole | Oriolus larvatus |
| Black-necked Grebe | Podiceps nigricollis |
| Black-shouldered Kite | Elanus caeruleus |
| Blacksmith Lapwing | Vanellus armatus |
| Black-throated Canary | Serinus atrogularis |
| Black-winged Stilt | Himantopus himantopus |
| Blue Crane | Anthropoides paradiseus |
| Blue Waxbill | Uraeginthus angolensis |
| Blue-cheeked bee-eater | Merops Persicus |
| Bokmakierie | Telophorus zeylonus |
| Bradfield's Swift | Apus bradfieldi |
| Broad-billed Roller | Eurystomus glaucurus |
| Bronze-winged Courser | Rhinoptilus chalcopterus |
| Brown Snake Eagle | Circaetus cinereus |
| Brown-crowned Tchagra | Tchagra australis |
| Brown-throated Martin | Riparia paludicola |
| Burchell's Starling | Lamprotornis australis |
| Burnt-neck Eremomela | Eremomela usticollis |
| Cape Bunting | Emberiza capensis |
| Cape Cormorant | Phalacrocorax capensis |
| Cape Crow | Corvus capensis |
| Cape Starling | Lamprotornis nitens |
| Cape Gull | Larus vetula |
| Cape Shoveler | Anas smithii |
| Cape Sparrow | Passer melanurus |
| Cape Teal | Anas capensis |
| Cape Turtle-dove | Streptopelia capicola |
| Cape Wagtail | Motacilla capensis |
| Capped Wheatear | Oenanthe pileata |
| Cardinal Woodpecker | Dendropicos fuscescens |
| Carp's Tit | Parus carpi |
| Caspian Tern | Sterna caspia |
| Cattle Egret | Bubulcus ibis |
| Chat Flycatcher | Bradornis infuscatus |
| Chestnut Weaver | Ploceus rubiginosus |
| Chestnut-backed Sparrow-lark | Eremopterix leucotis |
| Chestnut-banded Plover | Charadrius pallidus |
| Chestnut-vented Tit-babbler | Parisoma subcaeruleum |
| Chirping Cisticola | Cisticola pipiens |
| Cinnamon-breasted Bunting | Emberiza tahapisi |
| | |
| --- | --- |
| Collared Pratincole | Glareola pratincola |
| Collared Sunbird | Hedydipna collaris |
| Comb Duck | Sarkidiornis melanotos |
| Common Fiscal | Lanius collaris |
| Common Greenshank | Tringa nebularia |
| Common House Martin | Delichon urbicum |
| Common Moorhen | Gallinula chloropus |
| Common Ostrich | Struthio camelus |
| Common Redshank | Tringa totanus |
| Common Ringed Plover | Charadrius hiaticula |
| Common Sandpiper | Actitis hypoleucos |
| Common Scimitarbill | Rhinopomastus cyanomelas |
| Common Swift | Apus apus |
| Common Tern | Sterna hirundo |
| Common Waxbill | Estrilda astrild |
| Coppery-tailed Coucal | Centropus cupreicaudus |
| Crested Barbet | Trachyphonus vaillantii |
| Crested Francolin | Peliperdix sephaena |
| Crimson-breasted Shrike | Laniarius atrococcineus |
| Crowned Cormorant | Phalacrocorax coronatus |
| Crowned Lapwing | Vanellus coronatus |
| Curlew Sandpiper | Calidris ferruginea |
| Damara Hornbill | Tockus damarensis |
| Damara Tern | Sterna balaenarum |
| Dark Chanting Goshawk | Melierax metabates |
| Dark-capped Bulbul | Pycnonotus tricolor |
| Desert Cisticola | Cisticola aridulus |
| Diderick Cuckoo | Chrysococcyx caprius |
| Double-banded Courser | Rhinoptilus africanus |
| Double-banded Sandgrouse | Pterocles bicinctus |
| Dune Lark | Certhilauda erythrochlamys |
| Dusky Lark | Pinarocorys nigricans |
| Dusky Sunbird | Cinnyris fuscus |
| Dwarf Bittern | Ixobrychus sturmii |
| Egyptian Goose | Alopochen aegyptiacus |
| Emerald-spotted Wood Dove | Turtur chalcospilos |
| Eurasian Hobby | Falco subbuteo |
| European Bee-eater | Merops apiaster |
| European Roller | Coracias garrulus |
| Familiar Chat | Cercomela familiaris |
| Fan-tailed Widowbird | Euplectes axillaris |
| Fawn-coloured Lark | Mirafra africanoides |
| Fork-tailed Drongo | Dicrurus adsimilis |
| Freckled Nightjar | Caprimulgus tristigma |
| Gabar Goshawk | Melierax gabar |
| Giant Kingfisher | Megaceryle maxima |
| Glossy Ibis | Plegadis falcinellus |
| Golden Weaver | Ploceus xanthops |
| Golden-breasted Bunting | Emberiza flaviventris |
| Golden-tailed Woodpecker | Campethera abingoni |
| Gray's Lark | Ammomanes grayi |
| Great Egret | Egretta alba |
| Great Reed Warbler | Acrocephalus arundinaceus |
| Great Sparrow | Passer motitensis |
| Great White Pelican | Pelecanus onocrotalus |
| Greater Blue-eared Starling | Lamprotornis chalybaeus |
| Greater Flamingo | Phoenicopterus ruber |
| Greater Kestrel | Falco rupicoloides |
| Greater Painted-snipe | Rostratula benghalensis |
| Greater Striped Swallow | Cecropis cucullata |
| Greater Swamp-warbler | Acrocephalus rufescens |
| Green Woodhoopoe | Phoeniculus purpureus |
| Green-backed Heron | Butorides striata |
| Green-winged Pytilia | Pytilia melba |
| Grey Go-away-bird | Corythaixoides concolor |
| Grey Heron | Ardea cinerea |
| Grey Plover | Pluvialis squatarola |
| Grey-backed Camaroptera | Camaroptera brevicaudata |
| Grey-backed Sparrow-lark | Eremopterix verticalis |
| Grey-headed Kingfisher | Halcyon leucocephala |
| Groundscraper Thrush | Psophocichla litsipsirupa |
| Hadada Ibis | Bostrychia hagedash |
| Hamerkop | Scopus umbretta |
| Hartlaub's Babbler | Turdoides hartlaubi |
| Hartlaub's Francolin | Pternistes hartlaubi |
| Hartlaub's Gull | Larus hartlaubii |
| Helmeted Guineafowl | Numida meleagris |
| Herero Chat | Namibornis herero |
| Hottentot Teal | Anas hottentota |
| House Sparrow | Passer domesticus |
| Jacobin Cuckoo | Oxylophus jacobinus |
| Kalahari Scrub Robin | Cercotrichas paena |
| Kittlitz's Plover | Charadrius pecuarius |
| Kori Bustard | Ardeotis kori |
| Lanner Falcon | Falco biarmicus |
| Lappet-faced Vulture | Torgos tracheliotus |
| Lark-like Bunting | Emberiza impetuani |
| Laughing Dove | Streptopelia senegalensis |
| Layard's Tit-babbler | Parisoma layardi |
| Lesser Flamingo | Phoeniconaias minor |
| Lesser Grey Shrike | Lanius minor |
| Lesser Jacana | Microparra capensis |
| Lesser Masked Weaver | Ploceus intermedius |
| Lesser Moorhen | Gallinula angulata |
| Lesser Striped Swallow | Cecropis abyssinica |
| Lesser Swamp-warbler | Acrocephalus gracilirostris |
| Lilac-breasted Roller | Coracias caudatus |
| Little Bee-eater | Merops pusillus |
| Little Bittern | Ixobrychus minutus |
| Little Egret | Egretta garzetta |
| | |
| --- | --- |
| Little Grebe | Tachybaptus ruficollis |
| Little Sparrowhawk | Accipiter minullus |
| Little Stint | Calidris minuta |
| Little Swift | Apus affinis |
| Long-billed Crombec | Sylvietta rufescens |
| Long-tailed Paradise-whydah | Vidua paradisaea |
| Long-toed Lapwing | Vanellus crassirostris |
| Luapula Cisticola | Cisticola luapula |
| Ludwig's Bustard | Neotis ludwigii |
| Magpie Shrike | Corvinella melanoleuca |
| Malachite Kingfisher | Alcedo cristata |
| Marabou Stork | Leptoptilos crumeniferus |
| Marico Flycatcher | Bradornis mariquensis |
| Marico Sunbird | Cinnyris mariquensis |
| Marsh Sandpiper | Tringa stagnatilis |
| Martial Eagle | Polemaetus bellicosus |
| Meves' Long-tailed Starling | Lamprotornis mevesii |
| Meyer's Parrot | Poicephalus meyeri |
| Monteiro's Hornbill | Tockus monteiri |
| Mosque Swallow | Cecropis senegalensis |
| Mountain Wheatear | Oenanthe monticola |
| Namaqua Dove | Oena capensis |
| Namaqua Sandgrouse | Pterocles namaqua |
| Narina Trogon | Apaloderma narina |
| Northern Black Korhaan | Afrotis afraoides |
| Orange River Francolin | Scleroptila levaillantoides |
| Orange River White-eye | Zosterops pallidus |
| Orange-breasted Bushshrike | Telophorus sulfureopectus |
| Osprey | Pandion haliaetus |
| Pale Flycatcher | Bradornis pallidus |
| Pale-winged Starling | Onychognathus nabouroup |
| Pearl-spotted Owlet | Glaucidium perlatum |
| Pel's Fishing Owl | Scotopelia peli |
| Peregine Falcon | Falco peregrinus |
| Pied Avocet | Recurvirostra avosetta |
| Pied Crow | Corvus albus |
| Pied Kingfisher | Ceryle rudis |
| Pink-billed Lark | Spizocorys conirostris |
| Pin-tailed Whydah | Vidua macroura |
| Pririt Batis | Batis pririt |
| Purple Heron | Ardea purpurea |
| Purple Roller | Coracias naevius |
| Purple-banded Sunbird | Cinnyris bifasciatus |
| Rattling Cisticola | Cisticola chiniana |
| Red-backed Shrike | Lanius collurio |
| Red-billed Buffalo-weaver | Bubalornis niger |
| Red-billed Firefinch | Lagonosticta senegala |
| Red-billed Francolin | Pternistes adspersus |
| Red-billed Hornbill | Tockus erythrorhynchus |
| Red-billed Oxpecker | Buphagus erythrorhynchus |
| Red-billed Quelea | Quelea quelea |
| Red-billed Teal | Anas erythrorhyncha |
| Red-breasted Swallow | Cecropis semirufa |
| Red-capped Lark | Calandrella cinerea |
| Red-crested Korhaan | Afrotis ruficrista |
| Red-eyed Dove | Streptopelia semitorquata |
| Red-faced Mousebird | Urocolius indicus |
| Red-footed Falcon | Falco vespertinus |
| Red-headed Finch | Amadina erythrocephala |
| Red-knobbed Coot | Fulica cristata |
| Red-necked Falcon | Falco chicquera |
| Red-necked Phalarope | Phalaropus lobatus |
| Reed Cormorant | Phalacrocorax africanus |
| Rock Dove/Feral Pigeon | Columba livia |
| Rock Kestrel | Falco tinnunculus rupicolus |
| Rock Martin | Ptyonoprogne fuligula |
| Rock Pratincole | Glareola nuchalis |
| Rockrunner | Achaetops pycnopygius |
| Rosy-faced Lovebird | Agapornis roseicollis |
| Ruddy Turnstone | Arenaria interpres |
| Ruff | Philomachus pugnax |
| Rufous-bellied Heron | Ardeola rufiventris |
| Rufous-cheeked Nightjar | Caprimulgus rufigena |
| Rufous-eared Warbler | Malcorus pectoralis |
| Rufous-naped Lark | Mirafra africana |
| Ruppell's Bustard | Eupodotis rueppellii |
| Rüppell's Parrot | Poicephalus rueppellii |
| Sabota Lark | Calendulauda sabota |
| Saddled-billed Stork | Ephippiorhynchus senegalensis |
| Sand Martin | Riparia riparia |
| Sanderling | Calidris alba |
| Sandwich Tern | Sterna sandvicensis |
| Scaly-feathered Finch | Sporopipes squamifrons |
| Scarlet-chested Sunbird | Chalcomitra senegalensis |
| Secretarybird | Sagittarius serpentarius |
| Sedge Warbler | Acrocephalus schoenobaenus |
| Senegal Coucal | Centropus senegalensis |
| Shaft-tailed Whydah | Vidua regia |
| Short-toed Rock-thrush | Monticola brevipes |
| Sociable Weaver | Philetairus socius |
| South African Shelduck | Tadorna cana |
| Southern Black-flycatcher | Melaenornis pammelaina |
| Southern Brown-throated Weaver | Ploceus xanthopterus |
| Southern Carmine Bee-eater | Merops nubicoides |
| Southern Grey-headed Sparrow | Passer diffusus |
| Southern Masked-weaver | Ploceus velatus |
| Southern Pale Chanting Goshawk | Melierax canorus |
| Southern Pied-babbler | Turdoides bicolor |
| Southern Pochard | Netta erythrophthalma |
| Southern Red Bishop | Euplectes orix |
| | |
| --- | --- |
| Southern White-crowned Shrike | Eurocephalus anguitimens |
| Southern White-faced Scops Owl | Ptilopsis granti |
| Southern Yellow-billed Hornbill | Tockus leucomelas |
| Speckled Pigeon | Columba guinea |
| Spike-heeled Lark | Chersomanes albofasciata |
| Spotted Eagle Owl | Bubo africanus |
| Spotted Flycatcher | Muscicapa striata |
| Spotted Thick-knee | Burhinus capensis |
| Spur-winged Goose | Plectropterus gambensis |
| Squacco Heron | Ardeola ralloides |
| Starks lark | Spizocorys starki |
| Steppe Buzzard | Buteo vulpinus |
| Stripped kingfisher | Halcyon chelicuti |
| Swainson's Spurfowl | Ptemistes swainsonii |
| Swallow-tailed Bee-eater | Merops hirundineus |
| Swamp Boubou | Laniarius bicolor |
| Swift Tern | Sterna bergii |
| Tawny Eagle | Aquila rapax |
| Tawny-flanked Prinia | Prinia subflava |
| Temminck's Courser | Cursorius temminckii |
| Terrestrial Brownbul | Phyllastrephus terrestris |
| Thick-billed Weaver | Amblyospiza albifrons |
| Three-banded Plover | Charadrius tricollaris |
| Tractrac Chat | Cercomela tractrac |
| Verreauxs' Eagle | Aquila verreauxii |
| Village Indigobird | Vidua chalybeata |
| Village Weaver | Ploceus cucullatus |
| Violet-backed Starling | Cinnyricinclus leucogaster |
| Violet-eared Waxbill | Uraeginthus granatinus |
| Wahlberg's Eagle | Aquila wahlbergi |
| Water Thick-knee | Burhinus vermiculatus |
| Wattled Crane | Grus carunculatus |
| Whimbrel | Numenius phaeopus |
| Whiskered Tern | Chlidonias hybrida |
| White-backed Mousebird | Colius colius |
| White-backed Night Heron | Gorsachius leuconotus |
| White-bellied Sunbird | Cinnyris talatala |
| White-breasted Cormorant | Phalacrocorax lucidus |
| White-browed Coucal | Centropus superciliosus |
| White-browed Robin-chat | Cossypha heuglini |
| White-browed Scrub-robin | Cercotrichas leucophrys |
| White-browed Sparrow-weaver | Plocepasser mahali |
| White-crested Helmetshrike | Prionops plumatus |
| White-faced Duck | Dendrocygna viduata |
| White-fronted Bee-eater | Merops bullockoides |
| White-fronted Plover | Charadrius marginatus |
| White-rumped Swift | Apus caffer |
| White-tailed Shrike | Lanioturdus torquatus |
| White-throated Canary | Serinus Albogularis |
| White-throated Swallow | Hirundo albigularis |
| White-winged Tern | Chlidonias leucopterus |
| Willow Warbler | Phylloscopus trochilus |
| Wire-tailed Swallow | Hirundo smithii |
| Wood Pipit | Anthus nyassae |
| Wood Sandpiper | Tringa glareola |
| Woodland Kingfisher | Halcyon senegalensis |
| Woolly-necked Stork | Ciconia episcopus |
| Yellow Wagtail | Motacilla flava |
| Yellow-bellied Eremomela | Eremomela icteropygialis |
| Yellow-billed Kite | Milvus parasitus |
| Yellow-billed Oxpecker | Buphagus africanus |
| Yellow-crowned Bishop | Euplectes afer |
| Zitting Cisticola | Cisticola juncidis |