INTRODUCTION
Looking for somewhere different to go birding we decided to explore the possibilities of southern Africa with our friends Pat and Judy Hayes and eventually decided on Namibia. Numerous Trip Reports are available on the internet and after a period of research, we decided on a likely Itinerary. Out of the blue, whilst our travel agents were researching accommodation, flights, car hire etc., we received a general contact email from Adam at Rockjumper Birding Tours and after a brief exchange of emails we decided to use Rockjumper for our ground arrangements in Namibia as their prices and advice seemed reasonable. To complete our itinerary we decided to travel briefly into Botswana as we were already going as far as the Caprivi Strip.
We visited vast areas of pristine wilderness, from the ochre-coloured dunes of the Namib Desert to the lily-choked backwaters of the Okavango Delta and the flamingo-studded lagoons of the Skeleton Coast to the game-filled waterholes of Etosha National Park.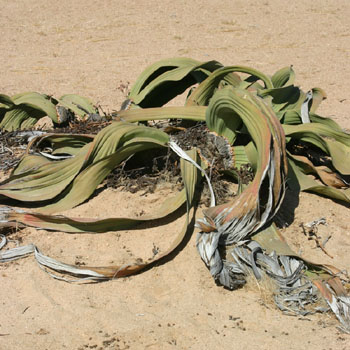 We began our explorations in the rugged highlands around Windhoek before making our way through the vast desert plains of the Namib-Naukluft National Park to Walvis Bay, where thousands of water birds feast on the richness of the cold Atlantic Ocean. Moving northwards, we visited the world's most ancient mountains, the Erongos and then combined birding with some excellent game watching in the world-famous Etosha National Park. As we moved to the Okavango Delta in Botswana, the woodlands became taller and denser and new bird species came fast and furious. 3 days spent along the floodplains of the Okavango River system provided some excellent birding and the opportunity to get up close and personal with Hippos. Finally, retracing some of our steps, we headed for the Waterberg Plateau before returning to Windhoek.
FLIGHTS
Arranged via Hays Travel (formerly St Andrews Travel) with Air Namibia from London Gatwick to Windhoek No SW386 departing 21.15hrs and arriving 09.30hrs next day on an Airbus A340. Return Flight No SW 385 departing 21.40hrs and arriving 05.55hrs next day with a flying time of approx 10.15hrs each way. To get extra leg room and comfort we chose to fly Business Premium Class, with the cost a little less than flying London-Johannesburg-Windhoek with either BA or Virgin in their World Traveller Plus Class and a saving of 5hrs+ on overall travelling times. With a seat pitch of 60 inches in all but the bulkhead seats, this was quite simply one of the most comfortable flights we have ever been on. The plane was not brand new but everything functioned, the crew were efficient, friendly and quite unobtrusive in their service and with seats reclining almost fully we were able get some reasonable sleep on a flight for the first time, especially on the return. Well worth the upgrade if comfort is a requirement rather than cost.
ACCOMMODATION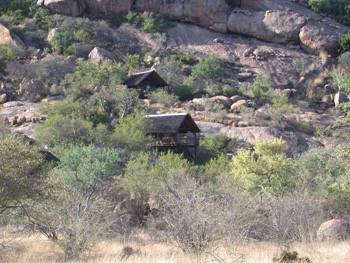 Mixture of guest houses, hotels, lodges and camps all arranged locally by Rockjumper Birding Tours. Tea and coffee making facilities were available throughout, with the exception of N'Kwazi and Xaro Lodges.
Tamboti Guest House in Windhoek was comfortable, clean and had air-conditioning which was only marginally effective but the fridge worked. The staff were friendly and helpful.
The Courtyard Hotel in Walvis Bay was comfortable, clean and had an efficient fan to circulate the air in the room. The staff provided excellent service, including same day laundry, even though it was week-end. A fridge was provided.
The Erongo Wilderness Lodge was probably our best accommodation experience of the trip. An excellent location with clean and comfortable tented/cabin facilities set into the huge boulders of the surrounding hillside. Service throughout was excellent and aircon was once again by fan! A mini bar was available.
Okaukuejo Camp in Etosha National Park was a major disappointment after our first three venues.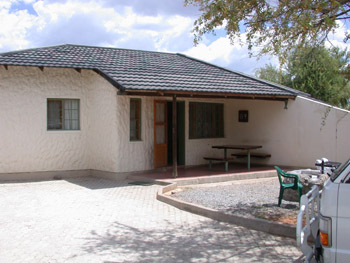 The twin bed rooms were very "tired" with missing tiles in the showers and bathrooms and great big chunks taken out of some of the walls and surfaces. We can do "tired" for a short period if necessary, but what made matters worse is the rooms were not clean, with bathroom floors flooded, layers of sand in the baths and trails of ants across the floors. Not a good welcome after a long, tiring hot journey. In the end we paid extra to move into a two bed semi-detached chalet that was equally as tired, but a little cleaner. Air conditioning that worked (just about) was a slight relief. Staff were surly most of the time and despite departure time being 10.00hrs, cleaners were waiting impatiently outside our rooms from 08.30hrs. All three camps in Etosha had fridges.
Halali Camp was our next stop. Accommodation was a twin bedded room in a "shower block" type building. Again everything was crying out for an upgrade, but at least it was cleaner than Okaukuejo. The air conditioning was totally ineffective. Thankfully, staff were not as pushy and there was a better atmosphere about the place.
Namutoni Camp accommodation was in a two bed semi-detached chalet identical to our "upgrade" at Okaukuejo. Still tired but a little cleaner – here we were provided with our very own sweeping brush. At least the aircon was effective. Alas the cleaners were also a bit over zealous.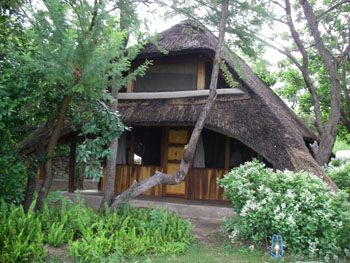 N'Kwazi Lodge Rundu was our first experience of accommodation in the Caprivi Strip. After our experiences in Etosha and travelling through the "mud hut" villages surrounding the lodge, we were dreading what we would find. Thankfully the accommodation was good and clean. Staff were cheerful and helpful. Alas there was no aircon, fan or fridge and the power was switched off at 23.00hrs and only came back on late the following afternoon. A cold shower in the dark was a prelude to early morning birding.
Mahangu Safari Lodge has good, clean accommodation with air conditioning but no fridge. Staff were very friendly and the riverside setting is excellent.
Xaro Lodge Shakawe, Botswana enjoys an idyllic riverside setting reached only by a 10km boat journey. Accommodation is in luxury Meru tents which are spotless and, considering the isolation, provide an excellent base, although there is no aircon, fan or fridge. Staff were friendly and helpful and also provide a good laundry service inclusive of tariff.
Waterberg National Park was the best of the Government run Park accommodation we stayed in. Even so I would probably only class it as 2*. Although there was a fridge, there was no air-conditioning. The restaurant was the most impressive we came across. However the service did not match the building.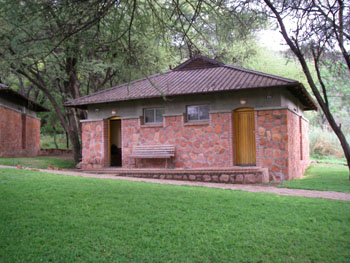 All of the National Park accommodation is Government run and, with camp gates only being open from sunrise to sunset, they have a monopoly with their floodlit waterholes. All Camp sites displayed large notices confirming refurbishment was underway and apologising for inconvenience. There was no indication when the signs went up – they did look pretty permanent – and there was very little physical evidence of work being undertaken, other than at Halali, where the workmen seemed to be on tea-break or something similar, most of the time we were around the camp. By and large, service and staff attitudes left a lot to be desired. The situation appears to be crying out for private enterprise being allowed within the Park boundaries and a relaxation of the rigid meal times and gate closures which would enable longer more relaxed game drives at either end of the day, when temperatures are at their lowest and both birds and mammals are most active. The Government monopoly is doing no favours to the Parks' attractiveness and in the long run custom will be lost to competitors in Kenya and Tanzania. What a shame the management of these Lodges doesn't seem able to encourage some enthusiasm, involvement and pride in their employees, thereby solving many of the problems. For a comparison of accommodation available around Etosha visit Namibia Travel. This travel agent site has lots of information for the independent traveller including maps, recommended lodges, guest houses and hotels etc.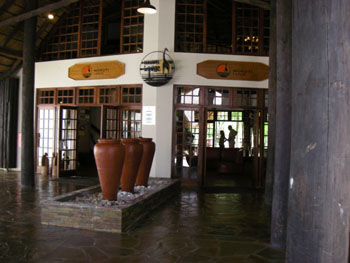 Unfortunately in Etosha, the nearest optional accommodation to Okaukuejo, Ongava Lodge is approximately 26kms from the floodlit waterhole and is 12kms outside the Park beyond the Andersson Gate. Rates here are substantially higher than Okaukuejo but are all inclusive of meals and game drive activities. Halali is in the middle of the Park and there is no alternative. At Namutoni, approximately 2km outside the Park, beyond Von Lindquist Gate, there is the 4* Mokuti Lodge. We visited this Lodge and can confirm the accommodation is indeed excellent, although twice as expensive as the Park camps. If you want decent creature comforts and are prepared to forgo floodlit waterholes, this is the place for you. In the Waterberg National Park the Waterberg Wilderness Lodge approximately 20kms from the Park Camp appears to provide a good, but again, more expensive alternative. You can only go on a game drive to the top of the Waterberg Plateau from the Park Camp to see some of the area's rarer species; however it was fully booked when we were there. Regrettably, Rockjumper did not advise us of the quality of the Parks' camp accommodation and explain alternatives.
FOOD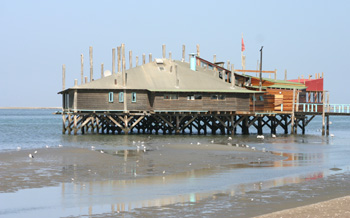 All inclusive in Rockjumper's price. Food throughout varied from reasonable to excellent, with good breakfasts on offer everywhere (including eggs, bacon, sausage etc). Best meals were at the Raft Restaurant in Walvis Bay, Erongo Wilderness Lodge, Mahangu Safari Lodge and Xaro Lodge. Bush meat and Ostrich figured prominently on most menus, with a number of more usual alternatives including a variety of fish dishes, especially at The Raft where the Butterfish, Calamari and King Prawns were "to die for". The Raft is built on stilts in the middle of Walvis Bay Lagoon off the seafront road. Although a little expensive, the food is excellent and the setting unrivalled, especially for birdwatchers. On our first night we dined at the rustic cavernous thatched premises of Joe's Beerhouse at 160 Nelson Mandela Avenue in Windhoek. Cuisine is strictly for carnivores, but is good value, with lots of game and huge portions, although service was a little slow. The place is popular with the locals and usually packed out; booking is therefore advisable.
TRANSPORT & ROADS
Wild Dog and Crazy Kudu Safaris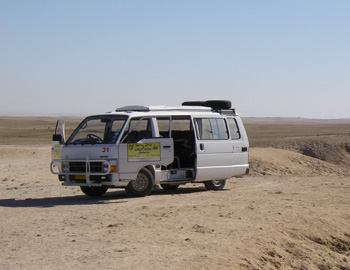 based in Namibia handle Rockjumper's ground arrangements in the country. We were initially offered an air-conditioned 6-seater Toyota Condor (Land Cruiser), but this was changed at our insistence as we knew there would not be enough room to comfortably accommodate the four of us and all our luggage, scopes and gear on a daily basis as we traveled to our various destinations. Our transport was described as a "comfortable 2WD Safari minibus (8-seater) with pop-up roof". A generous description for an old boneshaker that went into reverse with a massive "clunk" scaring all the birds and wildlife around. This was a bit of a disadvantage as we frequently needed to reverse or turn around for "something" we had just passed. Fuel in Namibia is half the UK price, but in any event was included in our overall cost. All the driving was done by our guide; thankfully as we must have averaged 300kms per day with 400kms plus on at least 3 days. Overall we must have used tarmac/tracks about 50:50. Whilst by and large the tracks were good and regularly graded, there were one or two notable exceptions. Police check points are a feature on tarmac throughout Namibia. You are often just waved through, but when they decide to stop you it invariably takes ten minutes for the questioning and form filling. In the main the roads we travelled were quiet, except around the major towns. The tracks were very quiet and bird watching in peace and quiet was a pleasure. Even in the National Parks we were able to watch both birds and game with no one else in sight – three vehicles represented a traffic jam and only happened on a couple of occasions.
GUIDES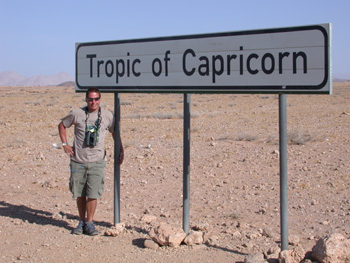 Our guide and driver throughout was Cuan Rush. He was born in Durban, raised on the KwaZulu-Natal north coast and has enjoyed a lifelong passion for the African bush, its flora and fauna & the conservation thereof. This was very evident from his enthusiasm and knowledge of both birds and mammals. Cuan's ability to recognise about 600 bird species by call alone was invaluable to us. After schooling he completed a 3-year qualification in Nature Conservation, and has been involved in bird related work ever since. A three years stint at the Umgeni River Bird Park in Durban came first, followed by 5 years developing birding multimedia products including the Roberts' Multimedia Birds of Southern Africa cd-rom. Thereafter, he worked at Mutemwa Lodge on the Zambezi River in south-western Zambia as the lodge manager and resident bird guide. He is now a full-time birding and wildlife guide for Rockjumper Birding Tours. Cuan is energetic and practical (especially when it comes to dealing with flat tyres) and I would have no hesitation in recommending him to anyone.
COSTS
Flights £1386.40 per person Business Class London – Windhoek.
Namibian Ground Cost per person sharing based on 4 participants: ZAR 25,750 (at current exchange rate (11/06) this equates to £1,850) per person. This included:

All transport throughout
Services of specialist bird tour leader supplied by Rockjumper Birding Tours
All costs for bird tour leader including guide fee
All meals from dinner on day 2 to lunch on day 18
All park entries
Boat trips in the Okavango
Tips
15% Namibian government tax
RESEARCH & TRIP ESSENTIALS
Internet
Brief info on everything for birding, including Trip Reports for Namibia and Botswana, can be found at the Fatbirder site.
A more comprehensive set of Trip Reports can be found at Birdtours, but by far the best starting point is the CloudBirders Trip Report search engine.
Other useful sites for general birding, including birding hotspots and likely species are:-
Recommended reading:-
Sasol Birds of Southern Africa by Ian Sinclair, Phil Hockey & Warwick Tarboton – ISBN 1 86872 721 1. An excellent book and compact Field Guide. Probably the best for the area.
Southern African Birdfinder (Sasol) by Callan Cohen, Claire Spottiswoode & Jonathan Rossouw – ISBN 1 86872 725 4. With a guide we did not need to use this book whilst in Namibia. However, reading the book at home afterwards confirmed it was more than adequate to bird the country alone, dealing with all the major sites in sufficient detail.
Sasol Birding Map of Southern Africa by Trevor Hardaker & Ian Sinclair – ISBN 1 86872 423 9. Again, not used whilst in Namibia, but would prove an excellent companion if birding without a guide.
Namibia: The Bradt Travel Guide by Chris McIntyre – ISBN 1 84162 062 9. Excellent background information for all aspects of our trip.
Namibia's Caprivi Strip by Christopher Hines, from Bulletin of the African Bird Club, volume 3.2, September 1996.
How to find the Namibian Endemics January/February 2003. A report by Christian Wagner.
Currency:-
The Namibian dollar is tied to the South African rand 1:1. Rand can be used freely in Namibia and many overseas banks do not supply Namibian dollars. Banks in the cities will cash any travellers' cheques (Barclays Visa is well recognised). Major credit cards are widely accepted by banks, lodges, hotels, restaurants and shops. In the remoter areas cash is essential. Having checked a number of foreign currency suppliers we found Marks & Spencer to be one of the best deals, especially for cash purchases. You can also check daily rates online.
Foreign & Commonwealth Office general travel info.
'fitfortravel' is a public access website provided by the NHS (Scotland). It gives health information for people travelling abroad from the UK.
Having had all the recommended jabs for some of our recent overseas trips, all we required was protection from malaria. Malarone was the preferred option and is a little on the expensive side, with tablets to cover this trip for the pair of us costing c£115. Luckily we experienced none of the possible side effects. The main problem area for mosquitos is the Caprivi Strip and onwards into Botswana. As we got out of the vehicle at N'Kwazi Lodge, Rundu Cuan advised us to cover all bare flesh with mossie guard – welcome to the Caprivi! In reality there had not been any significant rains in the area and mosquitos were virtually absent. Other biting insects occasionally caused problems with the worst areas being the grassland at the edge of the reedbeds at Rundu Sewage Works and the forest walks at Xaro Lodge. Both N'Kwazi and Mahangu Lodge had mosquito nets over the beds, whilst Xaro Lodge provided protective coils to burn overnight and also free mossie spray (called Peaceful Sleep and very effective too). These precautions worked and we were never troubled in the accommodation and our sleep was undisturbed.
WEATHER
Although December is the start of the rainy season we saw very little rain apart from short periods on the last two days. In any event most of the showers occurred either late afternoon or evening and didn't interfere with our birding – we never used our waterproofs. In the main the weather was hot and sunny. Even when cloudy it was still hot. Walvis Bay was very windy when we arrived and remained unchanged for the next 24 hours. There were several thunder storms around Etosha and as a result water was readily available, especially around Halali, leaving the main floodlit waterhole quite quiet.
ITINERARY AND SITE REVIEW
Day 1 – Wednesday December 6th Fly from London Gatwick to Windhoek at 21.15hrs.
With internal flights from Manchester to Gatwick either leaving us with too little or much too much time to spend in airports, we decided to drive down to London, picking up our friends on the way. We used BAA's long stay car park at Gatwick North Terminal and by booking well in advance only paid £56.70 for 18 days.
Day 2 – Thursday December 7th Arrive Windhoek 09.30hrs. Overnight Tamboti Guest House Windhoek.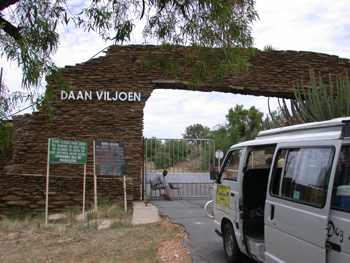 Windhoek is the capital city of Namibia and lies in a bowl of mountains that form part of the rugged Khomas-Hochland range. The airport is c44km to the east and was built on the nearest available parcel of flat land. On arrival we were met by Cuan and transferred to the Tamboti Guest House where we saw Scarlet-chested Sunbird and a pair of White-backed Mousebird, having already had several lifers in the 16 species we managed to identify at the airport and on our subsequent journey. After a shower and a short break we set out to explore the hilly terrain, arid acacia savanna and rocky grassland of the Daan Viljoen National Park, where we also had lunch. We were originally going to stay overnight in the park but stories of noisy late night parties involving the staff led Cuan to suggest staying in Windhoek instead. Situated about 20kms west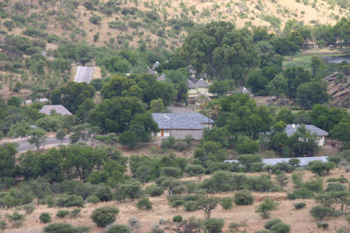 of Windhoek, Daan Viljoen is ideal for a gentle introduction to birding and wildlife in Namibia especially after a long overnight flight. Amongst others we saw Monteiro's Hornbill, Short-toed Rock Thrush, Barred Wren-warbler, Pririt Batis, Rattling Cisticola and African Reed Warbler in the reeds near the Augeigas Dam. Although we heard Rockrunner it remained elusive and we had to wait a little longer for our first sighting. On the game drive detour from the main track to the reserve restaurant we saw Hartmann's Mountain Zebra, Eland, Blue Wildebeest, Oryx, Greater Kudu, Warthog and 7 Giraffe browsing in the tall Camel-thorn trees. Playful troops of Chacma Baboons were common whilst Rock Hyrax and Namibian Rock Agama completed our wildlife list for the day. Total bird species – 62
Day 3 – Friday December 8th Windhoek to Walvis Bay. Overnight Courtyard Hotel Walvis Bay.
We left Windhoek shortly after 07.00hrs and headed out across the Central Highlands of Namibia. We soon left tarmac behind and within half an hour were enjoying unrivalled roadside views of a small flock of calling Orange River Francolin. At the same spot we also saw our first Rockrunner, Crimson-breasted Shrike and Grey Go-away-bird, along with a striking Short-toed Rock-thrush. The scenery is dotted with huge, golden Social Weaver nests and the numerous dry river beds usually provide a little shade and birding opportunities along the way. We saw Southern Anteating Chat, Black Cuckoo, Groundscraper Thrush, Black-faced Waxbill, Chestnut-vented Tit-babbler, Common Scimitarbill, Desert Cisticola, Golden-tailed Woodpecker, Grey-backed Sparrow Lark, Stark's Lark and Lark-like Bunting. In the middle of nowhere we came across a small man-made lake with South African Shelduck, Egyptian Goose, Little Grebe, Greenshank and Blacksmith Lapwing.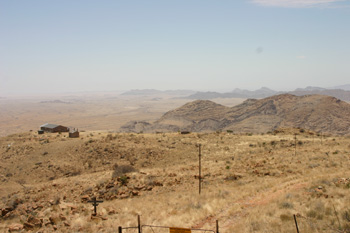 Our journey took us via the Spreetshoogte Pass where the view is spectacular, looking out over the Namib Desert. We quickly added Mountain Wheatear, White-tailed Shrike, Cape Bunting and White-throated Canary to our list. Before stopping for a picnic lunch we had stunning close-up views of a singing pair of Herero Chat. On our way to Solitaire (for a petrol and comfort stop) we saw Red-headed Finch, Chat Flycatcher, Ruppell's Korhaan, Namaqua Sandgrouse and Ostrich. Moving on we had close views of a male Ludwig's Bustard and Tractrac Chat. Descending towards the coast, the terrain becomes increasingly desolate, finally reaching the seemingly lifeless gravel plains where we picked up Gray's Lark as we crossed the Tropic of Capricorn. This small, inconspicuous bird forages in small groups over the most inhospitable of terrain, where it tends to blend in with the gravel itself. As we trekked onwards towards Walvis Bay an Augur Buzzard broke the monotony of the plains as it floated over the track and we had close up views of 3 Ruppell's Korhaan & 7+ Namaqua Sandgrouse as they filled their crops with grit at the roadside. A family of Meercat provided a further distraction before we finally reached our destination, adding to the occasional Oryx, Springbok, Chacma Baboon and South African Ground Squirrel seen earlier in the day. An exhausting journey which saw us arrive at our hotel at 19.45hrs and covering approx 450kms mainly on tracks, would have been much better broken up with an overnight stop along the way. Had we known our route from Windhoek was not going to be the shortest, most direct road at approx 330kms, the Namibgrens Guest Farm, situated on the Spreetshoogte Pass D1275 Road is ideal, being 165kms from Windhoek and 273kms from Walvis Bay. Daily total bird species – 83. Overall total – 111.
Day 4 – Saturday December 9th Walvis Bay area. Overnight Walvis Bay.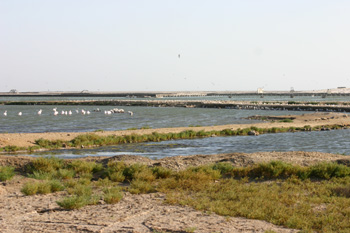 The coastline, offshore guano platforms, saltpans and estuaries here are excellent for waders and water birds and after a lie-in and late breakfast at 08.00hrs we spent most of the day around Walvis Bay . Flocks of Greater Flamingo were feeding around the fringes of the lagoon and Great White Pelicans are regular here. Local specialties included Chestnut-banded Plover, Hartlaub's Gull and the breeding endemic Damara Tern. On the extensive mudflats in the lagoon, around the Saltworks and out along Paaltjies Road we saw Ringed, Kittlitz's, White-fronted and Black-bellied plovers, Ruddy Turnstone, Marsh Sandpiper, Sanderling, Bar-tailed Godwit, Whimbrel, Avocet and, by far the most common, thousands of Curlew Sandpiper. C100 Black-necked Grebe were offshore and among the numerous Common and less frequent Swift (Great Crested) Tern we managed to pick out several Caspian and White-winged Tern along with a single Arctic Tern. After lunch we moved on to Swakopmund and at the Mile 4 Saltworks, 7km north of town, we saw more of the same waders and water birds plus a large flock of Greater Flamingo along with a few Lesser Flamingo. Three Common Redshank were rare visitors at Swakopmund, as were two American Golden Plover and around thirty Red-necked Phalarope earlier at Walvis Bay. We saw Common Waxbill, Cape Wagtail and Cape White-eye (the distinctive local form recently split as Orange River White-eye) near the hotel. Daily total bird species – 45. Overall total – 143.
Day 5 – Sunday December 10th Walvis Bay area. Overnight Walvis Bay.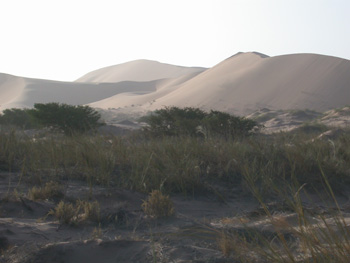 An early 06.00 hrs start saw us heading south of town to Rooibank in search of Dune Lark. On reaching the town we parked and walked to the north bank of the Kuiseb River and then west along the dry river bed and around the small dunes. The area seemed to be overrun with Cape Sparrow and Grey-backed Sparrowlark and it took us almost two hours to find a single Dune Lark, which then only gave fleeting views. We did however pick up our first African Hoopoe and our only Yellow Canary and Bomakierie of the trip. After a 09.00hrs breakfast, we headed north to Swakopmund; in addition to birds seen yesterday we had our only Grey Heron of the trip plus close-up views of Crowned Cormorant and an increased number of up to forty Lesser Flamingo amongst the Greater Flamingo. We also saw a few Cape Fur Seal near the guano platforms 10km along the road to Swakopmund where seemingly endless lines of marine cormorants (mainly the endemic Cape plus a few Crowned) streamed out over the cold ocean in search of food. After lunch in Swakopmund we headed for the famed Welwitschia Plains to see one of the world's most bizarre plants. Welwitschia, perhaps Namibia's most famous species of plant, has only two, long, shredded leaves that form a tangle of foliage emerging from a stubby wooden base. Research suggests that Welwitschia can live for over 1000 years and are members of the conifer family (most closely related to the Pinon Pine) and despite their immense age, grow to just a few feet tall.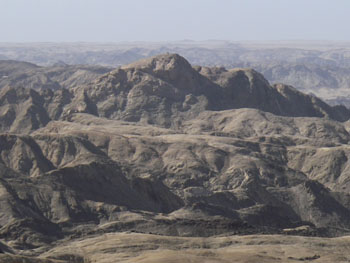 They survive in the bone-dry gravel plains of the Namib and play host to two species of colourful beetles that only survive around these unique trees. Unless you are a dedicated Botanist this drive is a bit of a let down. The track into the Plains is long, tortuous and very bumpy in places and on a hot day there was a marked lack of bird activity. The Lunar Landscape section is very barren and aptly named. We did however see our first Red-capped Lark, the pale desert form of the Tractrac Chat and our only Zitting Cisticola of the trip (although we heard quite a few, but couldn't really be bothered to track them down). Wildlife was quite scarce although we did see a herd of 24 Springbok. On our way back to the B2 Trans Kalahari Highway we stopped at the mainly dry Swakop riverbed and were surprised to see Cape Teal, c20 Kittlitz's Plover, Three-banded Plover, Curlew Sandpiper, Avocet, Sanderling and Little Stint, along with a lone Three-striped Mouse. Daily total bird species – 50. Overall total – 153.
Day 6 – Monday December 11th Walvis Bay to Erongo Mountains, via Spitzkoppe. Overnight Erongo Wilderness Lodge.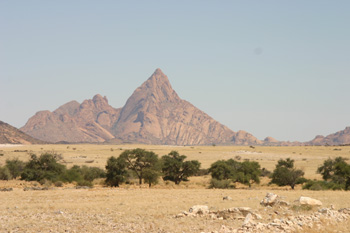 Today we had a late breakfast and left around 09.30hrs for Spitzkoppe, one of a series of impressive granite inselbergs rising up to 600m out of the desert plains. Having already had superb views of Herero Chat, we did not look for the bird here, but around the base of the mountains, we had Rosy-faced Lovebird, White-throated Canary, Acacia Pied Barbet and two Layard's Tit Babbler. On a very hot day White-browed Sparrow-Weaver, Mountain Wheatear, Pale-winged Starling and a Three-striped Mouse joined us under the shady acacia trees for a picnic lunch whilst Rock Hyrax scampered all around. Earlier, we had stopped at the roadside bridge over the mouth of the River Swakop at Swakopmund and saw our only Cape Shoveler of the trip, amongst a small flock of Cape Teal, Red-knobbed Coot, Little Grebe and numerous waders.
Our next destination is situated in spectacular surroundings within huge granite boulders in the ancient Erongo Mountains. After a very hot afternoon drive with few stops (including the tall gallery woodland around the dry bed of the Khan River on the C33, 21km north of Usakos) and fewer birds we were delighted to arrive at 16.30hrs at the amazing Erongo Wilderness Lodge, where we were able to sit on a cool balcony overlooking two small waterholes surrounded by magnificent scenery, sipping cold drinks and watching a procession of wildlife before us. Highlights were White-backed Shrike, Cape Bunting, Cinnamon-breasted Bunting, Dusky Sunbird, Violet-eared and Black-cheeked Waxbill. However all were surpassed by the incredible sight of two juvenile roosting Freckled Nightjar flanked by their watchful parents and almost invisible on the rocks at the rear of the Lodge. Being able to stand almost within touching distance of these secretive birds in broad daylight was indeed a privilege. Greater Kudu and Dassie Rat joined the numerous birds at the waterholes and as we returned along the boardwalk to our tented chalet we were hissed at by two Green Bush Snakes in the trees overhead as they crossed from one side to the other and proceeded to mate. Daily total bird species – 55. Overall total – 163.
Day 7 – Tuesday December 12th Erongo Mountains to Okaukuejo, Etosha National Park. Overnight Okaukuejo.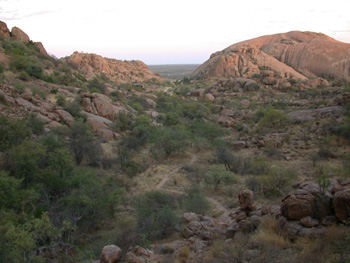 One of the main target species at the Lodge required a pre-dawn walk (05.15hrs start) to a vantage point nearby where we could view the rocky slopes and tops of the granite inselbergs. After a short wait we had brief silhouetted views of a pair of Hartlaub's Francolin in response to calls from Cuan's MP3 player. Walking on into the thornveld and around the acacia lined water courses we saw Rockrunner, c20 Rosy-faced Lovebird, Violet-backed Starling, Pririt Batis and a posing Pearl-spotted Owlet. As we moved downhill, below the lodge we had Familiar Chat, Chestnut-vented Tit-babbler, Short-toed Rock Thrush, White-browed Scrub-robin, Carp's Tit and Yellow-bellied Eremomela.
After a leisurely breakfast we headed northwards at 09.30hrs towards the world-famous Etosha National Park. As we left the lodge we saw a lone Alpine Swift with a flock of Common Swift overhead, plus Red-crested Bustard and Monteiro's Hornbill at the roadside. After Omaruru we travelled along the C33 towards Otjiwarongo until we came to the M63 track which cuts across to Outjo. Shortly after joining this track we came across our first raptor and in addition to the usual Southern Pale Chanting Goshawk and Steppe Buzzard, we had Black-shouldered Kite, Tawny Eagle, Brown Snake Eagle, Black-breasted Snake Eagle, Wahlberg's Eagle and Yellow-billed Kite in quick succession.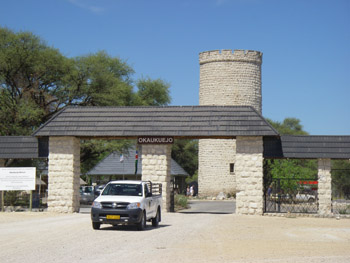 It is difficult to know, from our brief passage through the area, whether or not we were just lucky or there is normally such a good spread of raptors there. In any event, it's a good track and short cut for anyone travelling between Erongo/Omaruru and Okaukuejo/Etosha. We also saw Common Eland on the way.
About 40km short of the Andersson Gate entry to the National Park we made a detour along the D2695, a 50km stretch of track, to Tandala Ridge, a lightly wooded private game farm, where we had lunch with Tim & Laurel Osborne, the owners of this small (two twin-bedded chalets), Wildlife Lodge. The rocky ridge overlooks the plain towards Etosha and is quite a good location, but with the track deteriorating dramatically for the last 10km or so, it's a long way to go for a few specialist birds. We did however pick up Chestnut Weaver and Bare-cheeked Babbler, but missed out on Hartlaub's Francolin although we heard several birds calling in the distance. We also saw Steenbok, Greater Kudu, Red Hartebeest and Warthog, mainly at the waterhole below the ridge. Storm clouds had been gathering during the afternoon and our departure was delayed by about 30 minutes as the heavens opened.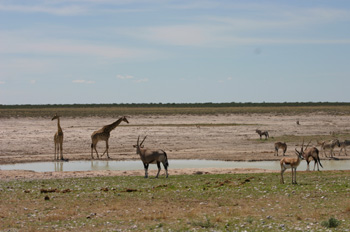 We arrived at the Park gates at 18.45hrs and almost immediately came across sizeable herds of Springbok, Black-faced Impala, Oryx and Burchell's Plains Zebra together with a supporting cast of Giraffe, Banded Mongoose and Black-backed Jackal. In addition to Marico Flycatcher and Northern Black Korhaan, we were lucky enough to find two Spotted Eagle Owl roosting in small acacia trees a little over 1m above the ground. After checking in to our "delightful" accommodation at Okaukuejo and dinner, we headed over to the floodlit waterhole where we saw three Black Rhinoceros. Apart from a lone Spotted Hyena, mammal activity was minimal. There were a few waders at the waterhole, including Spotted Thick-knee and Three-banded Plover, whilst the occasional Rufous-cheeked Nightjar passed through the floodlights feeding on the numerous insects they attract. Daily total bird species – 66. Overall total – 187.
Day 8 – Wednesday December 13th Okaukuejo area, Etosha National Park. Overnight Okaukuejo.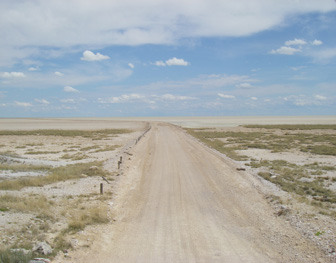 In the local Herero language "Etosha" means "Great White Place" and it is easy to see how this enormous pan was christened from the area around Okaukuejo, where arid woodlands and grassy plains surround the vast pan which covers approximately a quarter of the 20,000km sq Park. We went for a game drive at 06.20hrs as soon as the Park gates were opened and touring the open grasslands and sparse acacia savanna we came across Shaft-tailed Whydah, Grey-backed and Chestnut-backed Sparrow-Lark, Red-capped, Spike-heeled and Pink-billed Lark, Capped Wheatear, Scaly-feathered Finch, Kori Bustard, Red-necked Falcon and at least four Lanner Falcon. Two Lappet-faced Vulture were feeding at a zebra kill along with Black-backed Jackal within 15m of the track. Moving on we had Common Fiscal, Double-banded Courser and our first magnificent Secretarybird before returning to the camp for breakfast just before the restaurant closed at 08.30hrs.
After breakfast we decided to explore around the Okaukuejo camp and saw Cardinal Woodpecker, Brubru, Diderik and African Cuckoo, Red-headed Finch, Grey-headed Kingfisher, Crowned Lapwing and our only Ashy Tit of the trip. We also saw a large Rock Monitor lazing about in a tree near the camp waterhole, where a flock of Red-billed Quelea numbering many thousands wheeled and turned, landing occasionally on the bushes and at the water to drink briefly.
Having rested after lunch in the heat of the day, we went on another game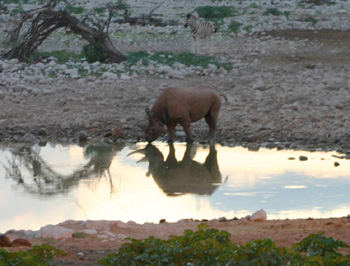 drive at 15.00hrs and in addition to birds seen earlier, we added Rufous-eared Warbler, Greater Kestrel, Red-crested Korhaan, Desert Cisticola and Rufous-naped Lark to our list. Mammals seen during the day included Oryx, Springbok, up to 20 Giraffe, Blue Wildebeest, Burchell's Plains Zebra, 8 Lion, Ground Squirrel, Yellow Mongoose and Scrub Hare.
We returned to the camp waterhole prior to dusk to enjoy the spectacle of hundreds of Double-banded Sandgrouse coming in to drink. In the fading light we also saw Gabar Goshawk, Water Thick-knee and a Pygmy Falcon in the Sociable Weaver nest right above our heads. Rufous-cheeked Nightjar continued to hawk insects attracted to the lights and Barn Owl were hunting in the vicinity. An Elephant and 3 Black Rhinoceros, including a mother and young, came to drink at the waterhole whilst a Tree Mouse scampered in the branches above. Daily total bird species – 74. Overall total – 212.
Day 9 – Thursday December 14th Okaukuejo to Halali, Etosha National Park. Overnight Halali.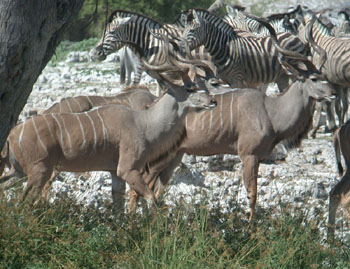 We set out once again at 06.15hrs for some early morning birding. No new species, but we did have good views of a family of 6 Southern Anteating Chat, Kori Bustard, Pied Crow, 3 Ludwig's Bustard, Kalahari Scrub Robin, Tawny Eagle and Southern Yellow-billed Hornbill. On the mammal front we had a Spotted Hyena walk along the track past our vehicle and saw Yellow Mongoose, Black-backed Jackal plus several Ground Squirrels. After breakfast we paid a final visit to the waterhole. There were literally thousands of Burchell's Plains Zebra both drinking and just milling around. A small herd of majestic, male Greater Kudu wandered in to drink as well. Predators had obviously had a successful night as numerous White-backed and Lappet-faced Vulture circled in the middle distance and landed alongside Marabou Stork at a zebra carcass. We left Okaukuejo and drove eastwards to the rest camp at Halali. Along the way we saw Red-billed Teal, Ostrich, Bateleur, 7 White-crested Helmetshrike, Southern White-crowned Shrike, Golden-breasted Bunting, c30 Namaqua Dove, numerous Kori Bustard and flocks of Helmeted Guineafowl.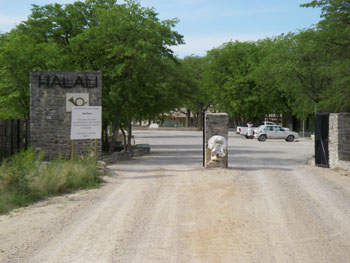 In addition to the habitual Springbok we saw Oryx, Black-faced Impala, Steenbok, a male Lion, several Giraffe and small herd of Red Hartebeest including young.
We arrived at Halali at 13.30hrs in time for lunch. The taller mopane woodland in the central part of the park is well known amongst birders as a site for Violet Wood-hoopoe and Bare-cheeked Babbler…. not when we were there! The camp itself is an excellent location for finding roosting owls and in a brief walk after lunch, we quickly located Southern White-faced Scops Owl along with Carp's Tit and Groundscraper Thrush.
As the day cooled down we went on a game drive at 16.00hrs and had one of many memorable mammal encounters. As we were nearing a waterhole a herd of c16 Elephant of all ages appeared out of the bush about 100m away and headed for a drink and bathe. Whilst enjoying the spectacle we realised the track went in a huge semi-circle around to the other side of the waterhole.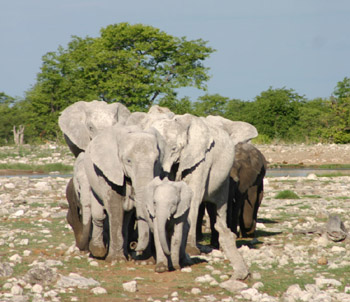 By the time we got there it was apparent the herd had had their fill and were considering leaving and so we went back down the track to where we assessed they must have crossed to get back into the bush and switched off the engine. Slowly the herd approached, almost in single file, being led by the matriarch and what we assumed to be second eldest female. They paused from time to time and were obviously communicating with each other, waving trunks, blowing out air and wagging ears. Having eventually decided we were no threat, they advanced, still in single file, with a baby Elephant almost between the matriarch's legs and started crossing the track about 20m in front of us. Several of the herd stopped on the track for a mud bath and as they finally departed into the bush a young male turned around to face us and with a snort, waved his trunk at us before showing us his rear. I can think of a number of similar human gestures! Back to the birds; whilst Elephant watching we spotted a Dwarf Bittern in the long grass near the waterhole as well as Little Grebe, Red-billed Teal, Lanner Falcon and Comb Duck. Moving on we encountered a pair of Bronze-winged Courser at the roadside, Barn Owl high up in a crevice in the rock face and African Hawk-Eagle. Other mammals included Giraffe, Slender Mongoose and Smith's Bush Squirrel as we returned to the floodlit waterhole for sunset.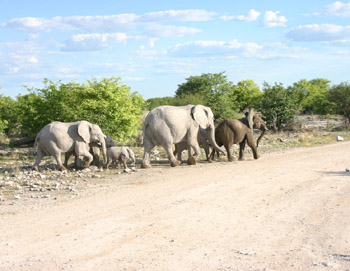 With lots of standing water around after the storms on the 12th, the waterhole was very quiet apart from a hunting Red-footed Falcon. After dinner we heard 2 or 3 calling African Scops Owl and were fortunate enough to locate one individual in tree branches, just overhead. Daily total bird species – 67. Overall total – 225.
Day 10 – Friday December 15th Halali to Namutoni, Etosha National Park. Overnight Namutoni.
We spent the early morning at the waterhole and birding the mixed woodland and grassland around Halali camp with a 06.00hrs start. Many of the usual suspects were about including Purple Roller, Red-billed Buffalo Weaver, Pearl Spotted Owlet, Familiar Chat, Long-billed Crombec, Willow Warbler, Spotted Flycatcher and Grey-backed Camaroptera. We had a much better view of the Red-footed Falcon around the waterhole, this time in broad daylight.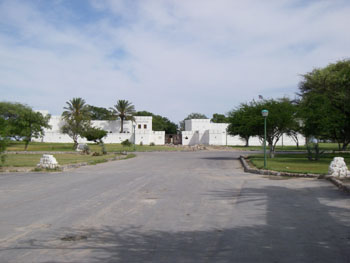 After breakfast at 09.00hrs we left Halali behind, travelling eastwards towards Namutoni rest camp which is centred on an old German fort. As we progressed, the scenery slowly became greener and the vegetation taller and Kori Bustard seemed to be almost everywhere at first. We soon came across a flock of 10 Bare-cheeked Babbler along with Rufous-naped Lark, Martial Eagle, Bateleur, Lanner Falcon and Red-crested Korhaan. A pair of Southern Rock Agama were living dangerously on the track and as usual, Springbok were everywhere along with the occasional Greater Kudu and up to 20 Giraffe. At one roadside stop we saw a large Rock Monitor enjoying the shade of a small thorn bush. We were not short of good birds with further sightings of Desert Cisticola, Mosque Swallow, a pair of Spotted Thick-knee, Northern Black Korhaan, Grey-headed Kingfisher, Barred Wren-warbler, Peregrine and finally, as we neared our destination, 4 magnificent Secretarybird and 2 exquisite Blue Crane, sheltering under a roadside tree from the heat of the day.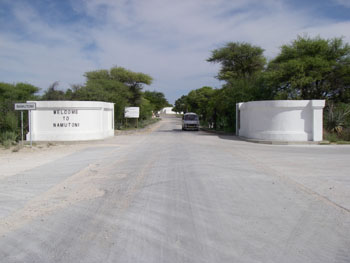 We arrived at Namutoni at 13.30hrs in time for lunch and a rest, before going out again at 16.00hrs for a drive around the shallow Fischer's Pan which lies to the north of camp and is an eastern extension of the main Etosha Pan. On the way we had Crowned Lapwing, Tawny Eagle, Scaly-feathered Finch, Rattling Cisticola and Red-billed Buffalo Weaver as well as 3 sleepy female Lion, up to 10 Giraffe and a Leopard Tortoise, slowly plodding across the track. The Twee Palms waterhole held a good selection of ducks and waders, including Ruff and Common Sandpiper, plus the two seemingly obligatory Egyptian Geese (this time plus 3 young) which appeared to be present at every patch of water. Despite recent rain the pan still remained completely dry and as we continued on our way round we saw Double-banded Courser, Marico Flycatcher, Swallow-tailed Bee-eater, Kalahari Scrub-robin, Banded Martin, Sand Martin, Red-billed Hornbill, 8 Southern Pied Babbler and Crested Francolin. We also saw a few Warthog and a large herd of 100+ Oryx – quite a site as previously we had only seen them in one's and two's and occasionally up to half a dozen. Getting back to the camp just before the gates closed, we grabbed a beer and headed to the floodlit waterhole to see what we could find. With Blue Waxbill and Jacobin Cuckoo on the way, we saw African Jacana, Red-knobbed Coot, Water Thick-knee and the usual collection of waders and ducks.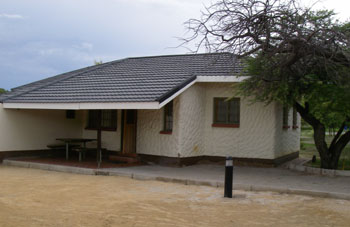 A Red-necked Falcon was hunting overhead and in the gathering gloom Double-banded Sandgrouse began to arrive for a drink. The peace was shattered by a mighty roar from the distant bush and scanning the source of the noise about 400m beyond the waterhole we spotted a Lioness making her way slowly towards us. After a few minutes she reached the waters edge and crouched down to drink, all the time appearing to look straight at us – just like a cat lapping milk from a bowl in the kitchen. It was difficult to convince Amanda it was this harmless as, after a few quick strides around the waterhole, all that was between us was a small wall and a meagre extent of protective fencing which the lioness could have crossed with one huge leap. Anyway, after about 10 minutes the lioness wandered back into the bush answering a roar from one of the pride and we wandered to the restaurant for dinner. Daily total bird species – 91. Overall total – 237.
Day 11 – Saturday December 16th Etosha National Park to Rundu. Overnight N'Kwazi Lodge.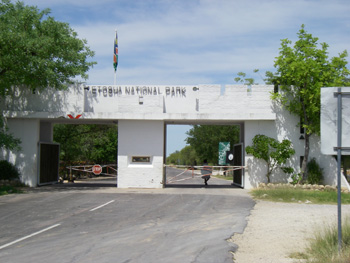 As the gates opened at 06.15hrs we headed out towards the Andoni Plains to see how far we could get before having to return for breakfast. Despite having to turn back before reaching our destination we had quite a good haul with Marico Sunbird, Chestnut-vented Tit-babbler, Fawn-coloured Lark, African Harrier-hawk, Violet-eared & Black-cheeked Waxbill, African Golden Oriole, Gabar Goshawk, European Roller, Crimson-breasted Shrike and a stunning immature Pale Chanting Goshawk on the track in front of us. Mammals included Black-backed Jackal, Spotted Hyena, Steenbok, Oryx and up to 10 Giraffe. After breakfast at 09.00hrs we headed south of Namutoni on the Dikdik Drive where we had Lilac-breasted Roller, White-backed Vulture, Tawny Eagle and Gabar Goshawk. Mammals included a bull Elephant, Warthog, 11 Damara Dikdik, up to 12 Giraffe, Greater Kudu and Black-faced Impala. As we left the Park via the Von Lindquist Gate we had a fleeting glimpse of our only Black-faced Babbler of the trip. We then called in at Mokuti Lodge hoping for better sightings of the bird as they are regularly seen in the grounds there. Whilst on this occasion we were unlucky, we did see 4 male Eastern Paradise Whydah in almost full breeding splendour, White-bellied Sunbird, Southern White-crowned Shrike and an amazing Dwarf Bittern out on the freshly watered lawns around the Lodge grounds about 20m away from us. We left the Lodge at 12.00hrs for the drive to Rundu, taking the C42 south before heading north-east on the B8 at Grootfontein where we had a spot of lunch. We were delayed by a blow-out just after the town; amazing really as we were on tarmac and had previously negotiated miles and miles of track.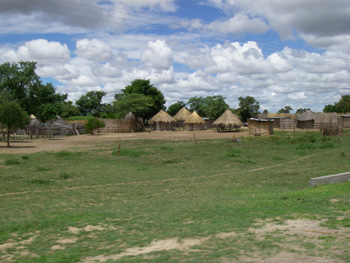 Crossing the Divisional border at the check-point at Mururani into the Kavango Region is like passing through a time warp as the local standard of living and accommodation we had become accustomed to in Namibia changed and was replaced by numerous small villages in woodland clearings. "Houses" were made of wood, mud and reed and anything else which came to hand. With a journey of over 400kms there was no time for birding once we left Mokuti Lodge and as we made our way through the never-ending villages the habitat changed to increasingly well-developed tropical woodland as we neared our destination. At 17.30hrs we arrived at N'Kwazi Lodge on the banks of the Okavango River, overlooking wetlands situated across the river in Angola and surrounded by riverine woodlands and savanna. After settling in to our rustic accommodation we chilled out in the bar until dinner, but still found time to spot Hartlaub's Babbler, Mosque Swallow and Village Indigobird. Daily total bird species – 48. Overall total – 246.
Day 12 – Sunday December 17th Rundu to Mahango National Park. Overnight Mahangu Safari Lodge.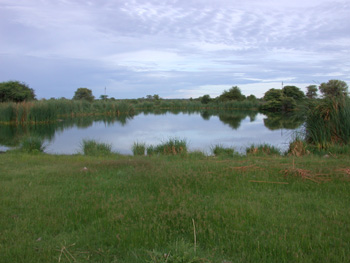 The day started with a cup of tea at 05.45hrs and a dawn excursion to the Rundu Sewage Works where there is a mixture of settling pools, freshwater ponds, reedbed and surrounding thicket providing ideal habitat for a large variety of birds. Among the usual spread of waders we found Marsh Sandpiper and White-fronted Plover, whilst ducks included Hottentot Teal, Cape Teal, Southern Pochard and c26 Comb Duck. In addition we had Black-crowned Night-heron, Pied Kingfisher, Black Crake, Sedge Warbler, Swamp Boubou, Southern Red Bishop, Burchell's Starling, Woodland Kingfisher, Giant Kingfisher, African Harrier-hawk, Baillon's Crake, Lesser Swamp Warbler, African Purple Swamphen, Blue-cheeked Bee-eater, White-throated Swallow, Senegal Coucal, Squacco Heron, Malachite Kingfisher, Magpie Shrike, Osprey, White-browed Coucal, Red-billed Firefinch, and Shaft-tailed Whydah. Returning to the Lodge we had Green-backed Heron, Dark-capped Bulbul and Lesser Jacana. Not a bad haul before breakfast at 08.15hrs. An hour later we were on our way, following the Kavango River eastwards towards the Caprivi Strip. The mature rich teak woodlands along the B8 east of Rundu support a highly specialized avifauna, many of which are typical of the extensive miombo broad-leafed woodlands of Central Africa. Stopping along the way we had Diderik Cuckoo, Golden-breasted Bunting, Black-hooded Oriole, Wood Pipit, Striped Kingfisher, Pale Flycatcher, Scarlet-chested Sunbird, Dark Chanting Goshawk and Southern Carmine Bee-eater.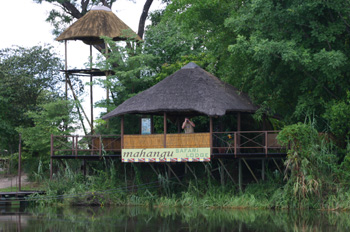 Leaving the B8 at Divundu we started to head south to the C48 and towards the Mahango Game Reserve which is situated along the Okavango River just north of Botswana. By and large the Caprivi Strip is blanketed with broad-leaved woodland, punctuated with many native clearings for villages and agriculture. At times the land can be flat and featureless, however the birds just keep on coming.
Along the way we stopped to scan likely spots on the river and managed to find a lone Rock Pratincole, perched on the only small rock left jutting above the rising waters. We also managed Greater Blue-eared Starling, African Darter, African Pied Wagtail, Wahlberg's Eagle and Meves's Starling before arriving at Mahangu Safari Lodge around 14.00hrs. The Lodge has two large covered decks overlooking the river and after lunch we retired here with our drinks to watch the river and the day go by. We saw the first of many Little Bee-eater here along with African Fish Eagle, White-browed Robin-chat, African Mourning Dove and African Skimmer. Nile Crocodile and a pod of 18 Hippopotamus were lazing in the shallows near an island in the centre of the river a little downstream. At 15.30hrs Amanda and I took a boat ride with Cuan to get closer to the Hippos and have a good look at the 2 African Skimmer we had previously seen roosting on the island. With the river rising after heavy rain in Angola, this was the only opportunity we were to have to see Skimmer.
Birding by boat is the best way to see many of the numerous species on the river with both birds and mammals allowing much closer approaches than usual. We had excellent views of Rufous-bellied Heron, Slaty Egret, Malachite Kingfisher, Coppery-tailed Coucal, White-backed Night-heron, Meyer's Parrot, Glossy Ibis, White-faced Duck, Long-toed Lapwing, Great White Egret, African Wattled Lapwing, Golden Weaver and an amazing flock of over 400 Collared Pratincole roosting on islands in the river. Mammals included Bushbuck, Waterbuck and Common Reedbuck. We returned to the Lodge at 17.00hrs and retired to the deck once again to chill out with a cold drink whilst watching Ashy Flycatcher, Woodland Kingfisher, African Paradise-flycatcher, Black-collared Barbet, Red-eyed Dove, Purple-banded Sunbird, African Openbill and Eurasian Hobby. Daily total bird species – 110. Overall total – 308.
Day 13 – Monday December 18th Mahango to Shakawe, Okavango Delta. Overnight Xaro Lodge.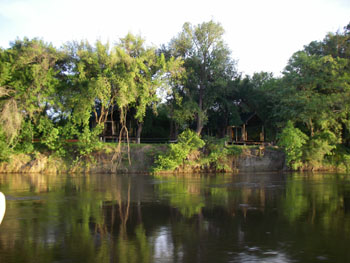 The next day saw us breakfasting early at 07.30hrs and heading off to Mahango Game Reserve by 09.00hrs. Here the Okavango flood plains cross tropical woodlands providing yet more ideal habitat for new species. On the way we collected Fan-tailed Widowbird and Green-winged Pytilia. Despite the presence of large mammals you are allowed to get out of your vehicle in Mahango, unlike Etosha, and this freedom can make birding much more interesting here. Whilst driving around we saw up to 6 Bateleur, Tawny-flanked Prinia, c15 Woolly-necked Stork, Rattling Cisticola, African Fish Eagle (by now a daily occurrence), White-browed Scrub Robin, Broad-billed Roller, White-browed Coucal, Thick-billed Weaver, Pin-tailed Whydah and Temminck's Courser. We stopped to scan the flood plains and lily-covered ponds from the Giant Baobab tree. Apart from 2 Wattled Crane it appeared very quiet; birds were about but the grasses on the flood plains were thick and tall and with the river running high, the land was too wet to explore. We briefly saw Red Lechwe grazing on the floodplain, Water Monitor in a pool at the roadside and 6 Roan Antelope nearby. Other mammals in the park included Impala, Greater Kudu, Giraffe, Blue Wildebeest and troops of Chacma Baboon. As we moved on towards the border around noon we were lucky to get a brief but good view of African Cuckoo-hawk perched on top of a roadside tree. The border crossing from into Botswana can be a little time consuming with form-filling, vehicle examinations by Customs Officials etc and it's best to allow at least an hour for the experience. We managed in 40mins as one of the female officials seemed to remember Cuan from a trip earlier in the year and quickly stamped all our forms and passports.
As we crossed into Botswana we saw our first Arrow-marked Babbler bathing under a water tower at the border post. We headed through well developed riparian woodland towards Shakawe and Drotsky's Cabins where we boarded a launch for the 10km boat ride to our next destination, Xaro Lodge, which is situated on the banks of the Okavango River and set in pristine riverine forest overlooking the endless waterways, quiet backwaters, flooded grasslands and papyrus swamps of the Okavango Panhandle. At Drotsky's we had our first Emerald-spotted Wood Dove of the trip. We arrived at Xaro at 13.30hrs in time for lunch and then chilled out on our veranda until 16.00hrs when we boarded the motorized launch again to explore the channels and floodplains below the lodge. From the veranda we had White-fronted Bee-eater, Brown-throated Martin (both nesting in the bank below us), African Pygmy Goose, Golden-tailed Woodpecker, Black-backed Puffback and a noisy and almost ever present Woodland Kingfisher pair. On the boat trip we saw Southern Brown-throated Weaver, White-backed Night Heron, Chirping Cisticola, Greater Swamp Warbler, African Reed Warbler, Banded Martin, African Marsh Harrier, African Stonechat, Lesser Jacana, Lesser Moorhen (briefly), Little Bittern, African Openbill, Purple Heron and c30 Whiskered Tern feeding over the water as dusk approached. Daily total bird species – 91. Overall total – 334.
Day 14 – Tuesday December 19th Shakawe area. Overnight Xaro Lodge.
We were out at 06.00hrs to explore the extensive woodland which surrounds the lodge. New birds for the area included African Golden Oriole, African Green-Pigeon, Orange-breasted Bushshrike, Violet-backed and Meves's Starling, Great Reed Warbler, Crested Barbet, Yellow-breasted Apalis, Collared Sunbird, African Darter, 2 Pel's Fishing Owl and 2 African Wood Owl.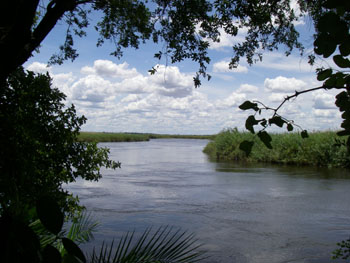 Breakfast was at 08.15hrs and we took a boat ride upriver at 09.15hrs. As we boarded the launch we heard Lesser Honeyguide overhead but were unable to locate the source of the call. A family of Malachite Kingfisher were very confiding and Blue-cheeked, White-fronted, Southern Carmine and Little Bee-eater were all around. We had good views of 2 White-backed Night Heron again and new birds included 3 Little Sparrowhawk, Yellow-billed Oxpecker, Wire-tailed Swallow, African Snipe, Yellow Wagtail and Hadada Ibis. We also found a second pair of Pel's Fishing Owl. We returned to the lodge for lunch at 13.00hrs and after a short rest, Cuan and I went in search of a Barred Owlet we had heard yesterday. When we eventually located the bird it posed very well for the camera, as did a Little Sparrowhawk which landed high in the canopy above our heads. Brown Firefinch was the only other bird of note. At 16.00hrs we again boarded the launch for another trip downstream. New species for the area were Allen's Gallinule and Rufous-bellied Heron and we had much better views of Little Bittern than the previous day. Returning at 18.45 hrs in time for dinner, we again passed the hawking flock of Whiskered Terns and numerous herons and egrets coming into the waterside trees and reedbed to roost. Other wildlife for the day included Bush Squirrel, Vervet Monkey, Rock Python, Water Monitor, Nile Crocodile and a small Green Water Snake which Cuan nearly stepped on as he got out of the launch by some flooded fields. Daily total bird species – 76. Overall total – 350.
Day 15 – Wednesday December 20th Shakawe to Mahango Game Reserve. Overnight Mahangu Safari Lodge.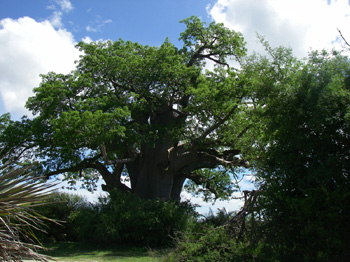 Cuan and I decided to go for a final walk in the lodge grounds at 06.00hrs and managed to pick up Retz's Helmet-shrike, Terrestrial Brownbul, Brown-crowned Tchagra, Red-faced Mousebird, Kurrichane Thrush, Yellow-fronted Tinkerbird, Grey-backed Camaroptera, Red-billed Oxpecker and a flock of 6 Green Woodhoopoe. We also had a fleeting glimpse of a Bushbuck, disappearing through the thick undergrowth. After a leisurely breakfast we boarded the launch at 09.30hrs to return upriver to Drotsky's Cabins and our vehicle. On the way we had excellent views of 4 Pygmy Goose and the usual bee-eaters on the river. At Drotsky's we walked around the grounds for a while and picked up African Goshawk and Narina Trogon as well as 2 roosting Barn Owl, Black-collared Barbet, Golden Weaver and a female African Paradise Flycatcher on the nest just above our heads near the main bar area. Immigration formalities once again beckoned. Although we were processed quickly once again, we did fall foul of one petty-minded border official on the Botswana side as we parked under the shade of one of the few trees available right outside the Immigration building. He insisted on taking Cuan out in the boiling mid-day sunshine to move the vehicle as it was parked about 3 metres beyond the official lined parking spaces.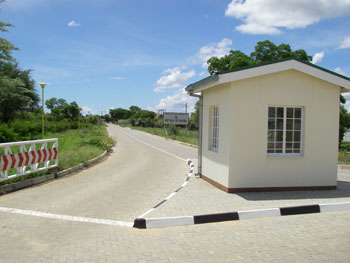 There were no other vehicles in the area at the time but he was kind enough to suggest the vehicle could be parked under another tree about 40m away at the other end of the parking lot. On the short drive back across the border into Namibia through the Mahango Game Reserve we were lucky to pick up Dusky Lark feeding at the roadside before returning to Mahangu Lodge for lunch at 12.30hrs.
Afterwards we chilled out on the decks overlooking the Okavango and whilst waiting for our 16.00hrs boat ride upriver we saw Southern Black Tit, Saddle-billed Stork, Giant Kingfisher and our only Yellow-billed Duck of the trip. Upriver we saw many of the species we had picked up on the 17th including a very photogenic Hamerkop, roosting Lesser-striped and White-throated Swallow along with hundreds of Barn Swallow, Rock Pratincole, African Green Pigeon and Luapula Cisticola. Unlike the previous trip there were only a handful of Collared Pratincole roosting on the sand banks and islands in the middle of the river. We returned at 18.30hrs for a very welcome beer on the river deck. Daily total bird species – 94. Overall total – 364.
Day 16 – Thursday December 21st Mahango to Rundu. Overnight N'Kwazi Lodge.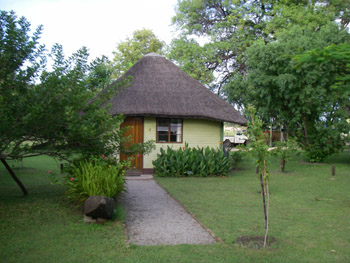 Cuan and I decided on another early morning walk from 06.00 to 07.30hrs along the track leading to the Lodge and the surrounding fields to try for a few species he had seen or heard when we were previously there. We quickly picked up Rufous-naped Lark and several African Quailfinch, although it took some time to pin one down feeding in the short grass. Spur-winged Goose, Comb and White-faced Duck were in evidence flying to and from the river and a Bradfield's Hornbill gracefully flew over as we were searching for a calling Black Coucal which eventually responded to Cuan's MP3 calls, giving splendid views. Coppery-tailed Coucal was also nearby as we searched in vain for calling Swainson's Francolin. Before returning for breakfast we had excellent views of Luapula Cisticola, Mosque Swallow, Fan-tailed Widowbird and Meyer's Parrot. We set out for Rundu a little after 08.30hrs picking up several Crimson-breasted Shrike, Village Indigobird, Ashy Flycatcher, Violet-backed Starling and a Slender Mongoose before getting back onto the main road. Back on the B8 to Rundu we stopped for c30 Abdim's Stork in a roadside field and also picked up Magpie Shrike, Dark Chanting Goshawk, Wahlberg's Eagle and 2 Red-breasted Swallow. Nearer our destination we stopped again for the only European Cuckoo we saw on our trip along with Southern Carmine Bee-eater, Red-billed Oxpecker and Marico Flycatcher, whilst overhead we continued to see Tawny Eagle and Bateleur.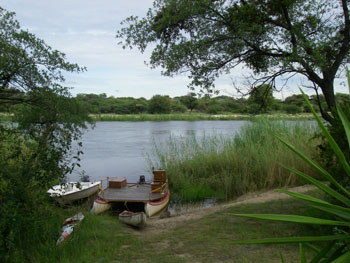 Arriving at N'Kwazi Lodge at 12.30hrs Amanda and I walked off our lunch by taking a short tour of the grounds with Cuan and picked up our only Yellow-bellied Greenbul of the trip plus two superb Black Cuckoo, African Hoopoe, Swamp Boubou and Red-billed Firefinch. After chilling out for a couple of hours we headed back to Rundu Sewage Works once again at 16.00hrs and in addition to the waders, ducks, herons, bee-eaters and water birds we had seen on our last visit we picked up Whiskered Tern, Eurasian Hobby, up to 3 Lesser Moorhen, Allen's Gallinule, Green Woodhoopoe, Black Heron, c30 striking Yellow-crowned Bishop, African Harrier-hawk, Red-faced Mousebird and Greater Painted Snipe. Despite hearing African Crake nearby we couldn't locate the bird. As we were walking around the ponds several flocks of up to 30 Comb Duck passed overhead. Returning towards the lodge we discovered where they were headed as hundreds of birds were feeding in a freshly sown and watered field nearby. Daily total bird species – 82. Overall total – 374.
Day 17 – Friday December 22nd Rundu to Waterberg National Park. Overnight Waterberg NP.
After a leisurely breakfast we left Rundu a little after 08.30hrs and headed south once again towards the Bernabé de la Bat rest camp at Waterberg. We only stopped occasionally on the way but still managed to pick up our first Black Flycatcher along with Brown Snake Eagle, Black Kite, Wahlberg's Eagle, Chestnut Weaver, plus Bradfield's, Red-billed and Monteiro's Hornbill.
The last 40km of the track to the National Park can be quite treacherous after rain with a sandy soil covering the underlying rock-hard surface; wet rutted mud is the most prominent feature. There had been two downpours of about 45mins in total as we were travelling and our final approach to Waterberg was interesting to say the least. The plateau itself is a spectacular sandstone massif in the central region of the country which dominates the surrounding landscape. The camp is located at the base of the huge sandstone cliffs which surround the entire plateau and is set amongst predominantly acacia woodland and scrub except for some of the gorges and valleys which have well-developed acacia, wild figs and huge Combretum. We arrived at 15.15hrs having had a snack on the way and after a brief rest Amanda and I went out with Cuan at 16.30hrs to explore the camp. Whilst we were chilling out in our room a group of about 30 Banded Mongoose wandered playfully across the patio outside our window. Birds around the camp included numerous Red-billed Francolin and Helmeted Guineafowl, along with Ruppell's Parrot, Purple Roller, Marico Sunbird, African Paradise Flycatcher and 2 extremely confiding Pearl-spotted Owlet. Overhead a huge flock of hirundines, including Alpine, Bradfield's and Common Swift, floated around the tops of the cliffs. We also saw a family of Dwarf Mongoose coming to one of the chalets for food and on our journey had encountered a few Steenbok. Daily total bird species – 37. Overall total – 376.
Day 18 – Saturday December 23rd Waterberg to Windhoek & depart 21.40hrs.
Before breakfast, Amanda and I joined Cuan for a stroll on the trails at the base of the escarpment. In addition to yesterday's species we saw White-browed Scrub-robin, Grey-backed Camaroptera, Green-winged Pytilia, Acacia Pied Barbet, White-bellied Sunbird, Lesser-striped Swallow, Rosy-faced Lovebird and Black-backed Puffback.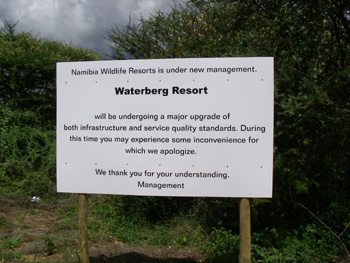 It had rained overnight and on one of the trails we came across some very fresh Leopard tracks in the soft mud. For a change we were probably the ones being watched as Amanda heard a distinct cough nearby – there was no one else out on the trails that early. Going to breakfast we stopped to watch several Lesser Masked-weaver among the many Southern Masked-weaver nesting in the trees right outside the Restaurant. Before we left Waterberg we spent a few hours birding the lower section of the camp. We had hoped to join a game drive on to the top of the escarpment to see the specialist birds and mammals in the vastly different habitat here. However on our arrival at the camp we found the drives were fully booked. We were delighted to pick up 2 Verreauxs' Eagle drifting off the escarpment, whilst at ground level we had Common Scimitarbill, Burnt-neck Eremomela, Gabar Goshawk and Violet-eared Waxbill.
Before joining the main road back to Windhoek we had excellent views of Bateleur and the first of many large flocks of Yellow-billed Kite we were to see on our journey. There were literally hundreds of birds at a time, feasting above areas where the rains had encouraged flying termites to leave their mounds the night before. After lunch on the way, we arrived in Windhoek at c15.00hrs at the Wild Dog and Crazy Kudu Safaris depot where Allan (RIP 15/4/07) and Liz Kirby, the founders of the company, made us most welcome. After a quick visit to a local mall for some last minute shopping we had plenty of time to shower and change before setting off for the airport around 17.30hrs for our flight home. Daily total bird species – 58. Overall total – 379.
Day 19 – Sunday December 24th arrive London Gatwick 05.55hrs.
After an easy drive we arrived home around noon, just in time for lunch and to prepare for our family who were joining us for Christmas.
SUMMARY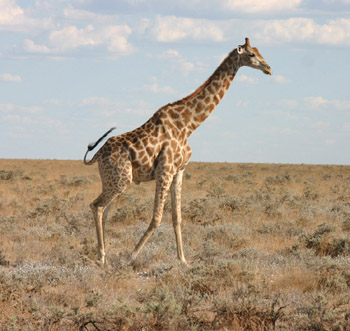 Despite the appalling standard of accommodation in the Etosha National Park, we really enjoyed our trip to Namibia. We had many wonderful encounters with mammals and ended up with a respectable bird species tally of 379 (netting off Black Kite/Yellow-billed Kite and Damara Hornbill/Red-billed Hornbill), of which 246 were lifers. We heard a further 3 species which we were unable to locate. Looking at the birds we missed, we could easily have passed 400 species if we had been prepared to spend more time in the field. However bearing in mind the heat and travelling distances between the main sites, enough is enough. Surprisingly we did not hear a single nightjar call throughout; perhaps we were a little too late in the season. The trip has whetted our appetite for Africa and we are planning to return to Tanzania or possibly Kenya in the not too distant future to see the Serengeti and Ngorongoro. Christmas Eve was not the ideal time to return home, but at least we missed the crazy pre Christmas shopping period and instead saw plenty of sunshine and wildlife – not a bad swap!
Namibia Map – Main birding sites
Trip list
| | | |
| --- | --- | --- |
| BIRD | SPECIES | COMMENT |
| Ostrich | Struthio camelus | First seen near Spreetshoogte Pass with majority of birds in Etosha. |
| Little Grebe | Tachybaptus ruficollis | Quite common in small numbers on open water. |
| Black-necked Grebe | Podiceps nigricollis | Over 100 birds in Walvis Bay on 9th. |
| Great White Pelican | Pelecanus onocrotalus | Small numbers regular around Walvis Bay. |
| White-breasted Cormorant | Phalacrocorax lucidus | One individual at Daan Viljoen with thousands around Walvis Bay and Swakopmund. |
| Cape Cormorant | Phalacrocorax capensis | Very common around Walvis Bay. |
| Reed Cormorant | Phalacrocorax africanus | Single birds at Daan Viljoen and Walvis Bay, but common in Caprivi Strip and Okavango Panhandle. |
| Crowned Cormorant | Phalacrocorax coronatus | Close-ups of several birds near guano platforms between Walvis Bay & Swakopmund. |
| African Darter | Anhinga rufa | Small numbers seen daily in Caprivi Strip and Okavango Panhandle. |
| Grey Heron | Ardea cinerea | Single bird only, seen at Mile 4 Saltworks near Swakopmund. |
| Purple Heron | Ardea purpurea | 2/3 birds in flight during boat trips from Xaro Lodge on 18th & 19th. |
| Great Egret | Egretta alba | Occasional birds seen on Okavango near Mahango. |
| Slaty Egret | Egretta vinaceigula | Single bird seen on boat ride up stream of Mahangu S L on 17th. |
| Black Heron | Egretta ardesiaca | Single bird at Rundu Waterworks on 21st. |
| Little Egret | Egretta garzetta | Several birds at Walvis Bay plus occasional sightings in Caprivi Strip and Okavango Panhandle. |
| Cattle Egret | Bubulcus ibis | Relatively common in small numbers with occasional large roosts on Okavango. |
| Squacco Heron | Ardeola ralloides | Small numbers seen daily in Caprivi Strip and Okavango Panhandle. |
| Rufous-bellied Heron | Ardeola rufiventris | Single birds seen on boat trips from Mahangu S L on 17th & 20th and from Xaro Lodge on 19th. |
| Green-backed Heron | Butorides striata | Small numbers daily on Okavango near Mahangu S L & Xaro Lodge. |
| Black-crowned Night Heron | Nycticorax nycticorax | Birds seen on both visits to Rundu Waterworks and daily in Botswana. |
| White-backed Night Heron | Gorsachius leuconotus | Pairs of birds seen on 17th, 18th & 19th on boat trips on Okavango. |
| Little Bittern | Ixobrychus minutus | Single birds in flight on 18th & 19th on boat trips from Xaro Lodge. |
| Dwarf Bittern | Ixobrychus sturmii | Single birds near waterhole at Halali on 14th & Mokuti Lodge on 16th. |
| Hamerkop | Scopus umbretta | Single bird seen in flight near Windhoek on 7th plus small numbers on Okavango boat trips. |
| African Openbill | Anastomus lamelligerus | Small numbers seen daily in Caprivi Strip and Okavango Panhandle. |
| Abdim's Stork | Ciconia abdimii | Up to 30 birds in fields between Divundu and Rundu on B8 on 21st. |
| Woolly-necked Stork | Ciconia episcopus | C15 birds feeding in Mahango G P on 18th. |
| Saddle-billed Stork | Ephippiorhynchus senegalensis | Single bird in flight at Mahangu S L on 20th. |
| Marabou Stork | Leptoptilos crumeniferus | Up to 20 birds soaring over Khomas Hochland on 8th with c5 birds each at Okaukuejo and Halali waterholes on 14th & 15th. |
| Hadada Ibis | Bostrychia hagedash | Single bird in flight upstream of Xaro Lodge on 19th. |
| Glossy Ibis | Plegadis falcinellus | Single bird at Mahangu S L on 17th plus 5 birds downstream of Xaro Lodge on 18th. |
| Greater Flamingo | Phoenicopterus ruber | Large numbers daily around Walvis Bay with single bird looking decidedly lost near Okaukuejo on 14th. |
| Lesser Flamingo | Phoeniconaias minor | Up to 20 birds with Greater Flamingo at Mile 4 Saltworks near Swakopmund. |
| White-faced Duck | Dendrocygna viduata | Fairly common around Mahangu S L with a few birds at Rundu Waterworks on 21st. |
| Egyptian Goose | Alopochen aegyptiaca | Seemingly a pair at every pond, lake or waterhole. Seen on 9 days. |
| South African Shelduck | Tadorna cana | Pair near Spreetshoogte Pass on 8th with pairs regular at waterholes in Etosha. |
| Spur-winged Goose | Plectropterus gambensis | Common on Okavango around Mahangu S L and Mahango G P.. |
| Comb Duck | Sarkidiornis melanotos | Single bird near Halali on 14th with few birds around Mahangu S L and hundreds of birds near Rundu Waterworks on 21st. |
| African Pygmy-goose | Nettapus auritus | Seen daily in small numbers near Xaro Lodge. |
| Cape Teal | Anas capensis | Seen daily around Swakopmund with a few birds at Rundu Waterworks on 17th. |
| Yellow-billed Duck | Anas undulata | Single bird flying upstream at Mahangu S L on 20th. |
| Red-billed Teal | Anas erythrorhyncha | Small flocks up to c20 birds seen at waterholes in Etosha plus c6 birds from N'Kwazi Lodge on 22nd. |
| Hottentot Teal | Anas hottentota | Small numbers seen on both visits to Rundu Waterworks. |
| Cape Shoveler | Anas smithii | Single bird seen at mouth of River Swakop on 11th. |
| Southern Pochard | Netta erythrophthalma | Single bird seen on both visits to Rundu Waterworks. |
| Osprey | Pandion haliaetus | Single bird at Rundu Waterworks on 17th. |
| African Cuckoo-hawk | Aviceda cuculoides | Single bird in Mahango G P on 18th. |
| Black-shouldered Kite | Elanus caeruleus | Small numbers seen almost everywhere except Walvis Bay area. Seen on 12 days. |
| Black Kite | Milvus migrans | Single bird seen perched near Rundu on 22nd. |
| Yellow-billed Kite | Milvus parasitus | Seen daily from 12th near Etosha with hundreds on Waterberg to Windhoek journey on 23rd. |
| African Fish Eagle | Haliaeetus vocifer | Seen daily on Okavango from Mahangu S L and Xaro Lodge. |
| African White-backed Vulture | Gyps africanus | Good numbers around Khomas Hochland on 7th & 8th, in Etosha on 14th & 16th and Mahango G P on 18th. |
| Lappet-faced Vulture | Torgos tracheliotus | Birds soaring above Khomas Hochland on 8th plus a pair at a zebra kill on 13th near Okaukuejo with a larger flock at the waterhole on 14th. |
| Black-chested Snake Eagle | Circaetus pectoralis | Single birds seen at Daan Viljoen on 7th, route M63 on 12th and near Okaukuejo on 13th. |
| Brown Snake Eagle | Circaetus cinereus | Single birds seen on route M63 on 12th and shortly after leaving Rundu on 22nd. |
| Bateleur | Terathopius ecaudatus | Several birds seen in Etosha on 14th & 15th, Mahango G P on 18th, B8 to Rundu on 21st and Waterberg on 23rd. |
| African Marsh Harrier | Circus ranivorus | Single birds in flight near Xaro Lodge on 18th, 19th & 20th. |
| African Harrier-hawk | Polyboroides typus | Single birds near Namutoni on 16th and Rundu Waterworks on 21st with a pair at same site on 17th. |
| Dark Chanting Goshawk | Melierax metabates | A few birds seen along B8 from Rundu to Divundu on 17th & 21st. |
| Southern Pale Chanting Goshawk | Melierax canorus | Common in suitable habitats apart from Caprivi Strip and Walvis Bay area. Seen on 11 days. |
| Gabar Goshawk | Melierax gabar | Birds at Okaukuejo on 13th, near Namutoni on 16th, Waterberg on 23rd and a pair at Rundu Waterworks on 17th. |
| African Goshawk | Accipiter tachiro | Single bird soaring over Drotsky's Cabins on 20th. |
| Little Sparrowhawk | Accipiter minullus | Three birds in flight upriver of Xaro Lodge on 19th and one perched in woods behind the lodge later that day. |
| Steppe Buzzard | Buteo vulpinus | Common in suitable habitats. Seen on 12 days. |
| Augur Buzzard | Buteo augur | Single bird seen between Kuiseb Pass and Walvis Bay on 8th. |
| Tawny Eagle | Aquila rapax | First seen route M63 on 12th. Several birds seen in Etosha, with one at Mahangu S L on 20th and one on B8 near Rundu on 21st. |
| Wahlberg's Eagle | Aquila wahlbergi | Birds seen on route M63 on 12th, Mahango area on 17th, B8 between Divundu and Rundu on 21st and near Waterberg on 22nd. |
| Verreauxs' Eagle | Aquila verreauxii | Pair seen drifting over Waterberg Plateau Park on 23rd. |
| African Hawk-eagle | Aquila fasciatus | Single bird seen at Halali on 14th. |
| Martial Eagle | Polemaetus bellicosus | Single bird near Namutoni on 15th. |
| Secretarybird | Sagittarius serpentarius | Single bird near Okaukuejo on 13th plus two pairs near Namutoni on 15th. |
| Pygmy-falcon | Polihierax semitorquatus | Single bird at Okaukuejo camp waterhole on 13th. |
| Rock Kestrel | Falco tinnunculus rupicolus | Common around Daan Viljoen, Khomas Hochland and Erongo area. |
| Greater Kestrel | Falco rupicoloides | Birds seen near Solitaire on 8th and Spitzkoppe on 11th. Reasonably common in Etosha. |
| Red-necked Falcon | Falco chicquera | Birds seen on three days in Etosha. |
| Red-footed Falcon | Falco vespertinus | Single bird at Halali camp waterhole on 14th & 15th |
| Eurasian Hobby | Falco subbuteo | Single birds at Mahangu S L on 17th and Rundu Waterworks on 21st. |
| Lanner Falcon | Falco biarmicus | Relatively common in Etosha especailly around Okaukuejo with up to 10 birds seen on 3 days. One bird at Rundu Waterworks on 16th. |
| Peregrine Falcon | Falco peregrinus | Single bird seen near Namutoni on 15th. |
| Crested Francolin | Peliperdix sephaena | Single bird calling from roadside tree on 15th on road to Andoni Plains near Fischer's Pan. |
| Orange River Francolin | Scleroptila levaillantoides | Party of c5 birds calling at roadside on 8th on C26 out of Windhoek to Khomas Hochland. |
| Hartlaub's Francolin | Pternistes hartlaubi | Pair seen briefly on cliff top at Erongo W L on 12th with several others calling. Birds also heard at Tandala Ridge and Waterberg N P. |
| Red-billed Francolin | Pternistes adspersus | Birds quite common in appropriate habitat, especially at Waterberg. Seen on 8 days. |
| Swainson's Spurfowl | Pternistes swainsonii | Bird seen briefly at Mahango G P on 18th with four on track as we approached Waterberg on 22nd. |
| Helmeted Guineafowl | Numida meleagris | Common in suitable habitat. Seen on at least 9 days in good numbers. |
| Blue Crane | Anthropoides paradiseus | Pair seen sheltering under a shady tree near Namutoni camp on 15th. |
| Wattled Crane | Grus carunculatus | Pair seen on Okavango floodplains at Mahango G P on 18th. |
| African Crake | Crecopsis egregia | Heard only at Rundu Waterworks on 21st. |
| Black Crake | Amaurornis flavirostris | Quite common in appropriate habitat in Caprivi Strip and Botswana. Seen on 5 days. |
| Baillon's Crake | Porzana pusilla | Single skulking bird seen at Rundu Waterworks on 17th. |
| African PurpleSwamphen | Porphyrio madagascariensis | Birds seen on both viits to Rundu Waterworks. |
| Allen's Gallinule | Porphyrio alleni | Single birds seen on boat trip from Xaro Lodge on 19th and at Rundu Waterworks on 21st. |
| Common Moorhen | Gallinula chloropus | Common around water especially near Xaro Lodge. Seen on 6 days. |
| Lesser Moorhen | Gallinula angulata | Birds seen near Xaro Lodge on 18th with better views of up to 4 birds at Rundu Waterworks on 21st. |
| Red-knobbed Coot | Fulica cristata | Birds seen in appropriate habitat on 5 days in Namibia. |
| Kori Bustard | Ardeotis kori | First birds seen at Tandala Ridge on 12th with good numbers seen daily in Etosha. |
| Ludwig's Bustard | Neotis ludwigii | Single male seen near Solitaire on 8th with male and two females near Okaukuejo on 14th. |
| Ruppell's Bustard | Eupodotis rueppellii | Several birds under shade of trees near Spreetshoogte Pass on 8th. |
| Red-crested Korhaan | Afrotis ruficrista | Birds seen near Erongo W L on 12th, around Okaukuejo on 13th and between Halali and Namutoni on 15th. |
| Northern Black Korhaan | Afrotis afraoides | Seen daily in good numbers in Etosha. |
| Lesser Jacana | Microparra capensis | Single bird from N'Kwazi Lodge on 17th with several birds seen on boat rides from Xaro lodge on 18th & 19th. |
| African Jacana | Actophilornis africanus | Birds seen at Namutoni camp waterhole on 15th and common in appropriate habitat in Caprivi Strip and Botswana. |
| Greater Painted-snipe | Rostratula benghalensis | Single skulking bird at Rundu Waterworks on 21st. |
| Black-winged Stilt | Himantopus himantopus | Relatively common around water at Walvis Bay, in Etosha and at Rundu. Seen on 6 days. |
| Pied Avocet | Recurvirostra avosetta | Birds seen daily around Walvis Bay and Swakopmund. |
| Water Thick-knee | Burhinus vermiculatus | Single birds seen at camp waterholes in Okaukuejo and Namutoni with several pairs on Okavango floodplains. |
| Spotted Thick-knee | Burhinus capensis | Relatively common in Etosha and also seen in Mahango G P on 18th. |
| Temminck's Courser | Cursorius temminckii | Single bird seen on road in Mahango G P on 18th. |
| Double-banded Courser | Rhinoptilus africanus | Relatively common in small numbers in Etosha. Seen on 3 days. |
| Bronze-winged Courser | Rhinoptilus chalcopterus | Pair seen at roadside near Halali on 14th. |
| Collared Pratincole | Glareola pratincola | C400 birds on boat ride from Mahangu S L on 17th with less than 20 there on 20th. C20 birds flying past N'Kwazi Lodge on 22nd. |
| Rock Pratincole | Glareola nuchalis | Single birds seen on river on three occasions near Mahangu S L on 17th & 20th. |
| Long-toed Lapwing | Vanellus crassirostris | Birds seen daily on river from Mahangu S L and Xaro Lodge. |
| Blacksmith Lapwing | Vanellus armatus | Common everywhere near water. Birds seen on 14 days. |
| Crowned Lapwing | Vanellus coronatus | Mobile flock near Okaukuejo camp waterhole on 13th, with pair near Namutoni on 15th and in Mahango G P on 18th. |
| African Wattled Lapwing | Vanellus senegallus | Several birds seen on river around Mahangu S L and Xaro Lodge. |
| American Golden Plover | Pluvialis dominica | Pair roosting and in flight at Walvis Bay on 9th. |
| Grey Plover | Pluvialis squatarola | Common around Walvis Bay area. |
| Common Ringed Plover | Charadrius hiaticula | 2/3 birds at Walvis Bay on 9th. |
| Kittlitz's Plover | Charadrius pecuarius | 3 birds at Walvis Bay on 9th & c20 on dry Swakop riverbed on 10th. |
| Three-banded Plover | Charadrius tricollaris | Relatively common in appropriate habitat. Seen on 6 days. |
| White-fronted Plover | Charadrius marginatus | Common around Walvis Bay and Swakopmund with small numbers at Rundu Waterworks. |
| Chestnut-banded Plover | Charadrius pallidus | Relatively common around Walvis Bay and Swakopmund. |
| African Snipe | Gallinago nigripennis | Birds seen near Xaro Lodge on 19th and Mahangu Lodge on 20th. |
| Bar-tailed Godwit | Limosa lapponica | Few birds at Walvis Bay on 9th. |
| Whimbrel | Numenius phaeopus | Regular around Walvis Bay and Swakopmund. |
| Common Redshank | Tringa totanus | Three birds at Mile 4 Saltworks Swakopmund on 9th. |
| Marsh Sandpiper | Tringa stagnatilis | Birds seen at Walvis Bay on 9th and Rundu Waterworks on 17th. |
| Common Greenshank | Tringa nebularia | Relatively common around Walvis Bay and Swakopmund, eastern Etosha and Rundu Waterworks. |
| Wood Sandpiper | Tringa glareola | Relatively common in small numbers around water except Walvis Bay area. Seen on 9 days. |
| Common Sandpiper | Actitis hypoleucos | Small numbers around water especially Caprivi Strip and Botswana. Seen on 6 days. |
| Ruddy Turnstone | Arenaria interpres | Relatively common around Walvis Bay area. |
| Sanderling | Calidris alba | Common around Walvis Bay area. |
| Little Stint | Calidris minuta | Small numbers seen around Walvis Bay area. |
| Curlew Sandpiper | Calidris ferruginea | Most common wader around Walvis Bay with large numbers daily. 2 birds at Twee Pines waterhole near Namutoni on 15th. |
| Ruff | Philomachus pugnax | Relatively common with few birds at Walvis Bay and largest flock at Rundu Waterworks. Seen on 8 days. |
| Red-necked Phalarope | Phalaropus lobatus | c30 at Walvis Bay on 9th. |
| Cape Gull | Larus vetula | Common in small numbers around Walvis Bay and Swakopmund. |
| Hartlaub's Gull | Larus hartlaubii | Common in large numbers around Walvis Bay and Swakopmund. |
| Caspian Tern | Sterna caspia | Several birds seen around Walvis Bay on 9th. |
| Sandwich Tern | Sterna sandvicensis | 2 or 3 birds seen daily around Walvis Bay and Swakopmund. |
| Swift Tern (Great Crested) | Sterna bergii | Common in small numbers around Walvis Bay and Swakopmund. |
| Common Tern | Sterna hirundo | Common in large numbers around Walvis Bay and Swakopmund. |
| Arctic Tern | Sterna paradisaea | Single bird seen at Walvis Bay on 9th. |
| Damara Tern | Sterna balaenarum | Common in small numbers at Walvis Bay and near guano platforms. |
| Whiskered Tern | Chlidonias hybrida | Flock c30 seen feeding over river near Xaro Lodge on 18th & 19th with single bird at Rundu Waterworks on 21st. |
| White-winged Tern | Chlidonias leucopterus | Small flock at Walvis Bay on 9th. |
| African Skimmer | Rynchops flavirostris | Pair roosting on island downstream from Mahangu S L on 17th. |
| Namaqua Sandgrouse | Pterocles namaqua | Several birds sheltering under shady trees and gathering grit in road near Spreetshoogte Pass on 8th with 3 in flight over Trans Kalahari Highway on 11th. |
| Double-banded Sandgrouse | Pterocles bicinctus | Large numbers coming to drink at Okaukuejo camp waterhole on 13th and several at Namutoni on 15th. |
| Rock Dove/Feral Pigeon | Columba livia | Small numbers around Windhoek and Walvis Bay. |
| Speckled Pigeon | Columba guinea | Small numbers around Daan Viljoen and Windhoek. Several birds at Erongo W L on 10th & 11th. |
| African Mourning Dove | Streptopelia decipiens | Pair at Mahangu S L on 17th. |
| Red-eyed Dove | Streptopelia semitorquata | Common at Mahangu S L and Xaro Lodge. |
| Cape Turtle-dove | Streptopelia capicola | Common in small numbers up to Caprivi Strip. Seen on 9 days. |
| Laughing Dove | Streptopelia senegalensis | Common everywhere. |
| Emerald-spotted Wood Dove | Turtur chalcospilos | Single birds at Drotsky's Cabins on 18th and Xaro Lodge on 20th. |
| Namaqua Dove | Oena capensis | Pair at Rooibank on 10th and quite common in Etosha, where seen daily. Flock of c30 en route from Halali to Namutoni on 14th. |
| African Green Pigeon | Treron calvus | Birds at Xaro Lodge on 19th and near Mahangu S L on 20th. |
| Rosy-faced Lovebird | Agapornis roseicollis | Pair at Spitzkoppe on 11th, c20 at Erongo W L on 12th and 4 at Waterberg on 23rd. |
| Meyer's Parrot | Poicephalus meyeri | Several birds around Mahangu S L and Xaro Lodge. |
| Rüppell's Parrot | Poicephalus rueppellii | Up to 6 birds seen on both days at Waterberg Plateau Park. |
| Grey Go-away-bird | Corythaixoides concolor | Common in small numbers in appropriate habitat. Seen on 9 days. |
| Jacobin Cuckoo | Oxylophus jacobinus | Single birds at Namutoni on 15th, Mahangu S L & Mahango G P on 18th, Xaro Lodge on 20th and pair near Waterberg on 22nd. |
| Levaillant's Cuckoo | Oxylophus levaillantii | Single bird seen briefly in flight on route M63 near Outjo on 12th. |
| Black Cuckoo | Cuculus clamosus | Bird seen briefly in flight in Khomas Hochland on 8th with close-ups of pair at N'Kwazi Lodge on 21st & 22nd. |
| Common Cuckoo | Cuculus canorus | Single bird seen on route B8 near Rundu on 21st. |
| African Cuckoo | Cuculus gularis | Single confiding bird in Okaukuejo camp on 13th. |
| Diderick Cuckoo | Chrysococcyx caprius | Birds seen at Okaukuejo on 13th, N'Kwazi Lodge on 17th and daily from Xaro Lodge with 3 together on 20th. |
| Black Coucal | Centropus grillii | Single bird near Mahangu S L on 21st. |
| Coppery-tailed Coucal | Centropus cupreicaudus | Single birds seen regularly around Mahangu S L and Xaro Lodge. |
| Senegal Coucal | Centropus senegalensis | Birds at Rundu Waterworks, Mahango G P, Xaro Lodge & Waterberg. |
| White-browed Coucal | Centropus superciliosus | Single birds at Rundu Waterworks on 17th and Mahango G P on 18th. |
| Barn Owl | Tyto alba | Seen in flight at Okaukuejo camp waterhole on 13th, roosting in crags at Halali on 14th & 15th plus a pair roosting in trees at Drotsky's Cabins on 20th. |
| African Scops Owl | Otus senegalensis | Single bird roosting in tree at Halali camp on 14th. |
| Southern White-faced Scops Owl | Ptilopsis granti | Single bird at daytime roost at Halali camp on 14th. |
| Spotted Eagle Owl | Bubo africanus | Pair roosting in low tree near Andersson Gate in Etosha N P on 12th. |
| Pel's Fishing Owl | Scotopelia peli | Pair roosting at Xaro Lodge & also pair upstream from Lodge on 19th. |
| African Wood Owl | Strix woodfordii | Pair roosting at Xaro Lodge on 19th. |
| Pearl-spotted Owlet | Glaucidium perlatum | Birds at Erongo W L on 12th, Halali camp on 15th and pair at Waterberg on 22nd & 23rd. |
| African Barred Owlet | Glaucidium capense | Single bird at daytime roost at Xaro Lodge on 19th & 20th. |
| Rufous-cheeked Nightjar | Caprimulgus rufigena | Birds in flight around floodlit waterhole at Okaukuejo on 12th & 13th. |
| Freckled Nightjar | Caprimulgus tristigma | Two adults and two juveniles at daytime roost at Erongo W L on 11th. |
| African Palm Swift | Cypsiurus parvus | Common especially around Windhoek and Etosha. Seen on 7 days. |
| Alpine Swift | Tachymarptis melba | Single bird at Erongo W L on 12th with numerous birds around plateau at Waterberg on 22nd & 23rd. |
| Common Swift | Apus apus | Good numbers seen almost daily after first at Tandala Ridge on 12th. |
| Bradfield's Swift | Apus bradfieldi | Small numbers around Windhoek on 7th & 8th with many more around Waterberg plateau. |
| Little Swift | Apus affinis | Common around Windhoek area. |
| White-rumped Swift | Apus caffer | Few birds near Windhoek on 8th & also over Swakop River on 10th. |
| White-backed Mousebird | Colius colius | Pair regular at Tamboti Guest House & also at Rooibank on 10th. |
| Red-faced Mousebird | Urocolius indicus | Birds seen at Xaro Lodge on 20th and Rundu Waterworks on 21st. |
| Narina Trogon | Apaloderma narina | Single bird at Drotsky's Cabins on 20th. |
| Grey-headed Kingfisher | Halcyon leucocephala | Single bird at Okaukuejo camp on 13th & on way to Namutoni on 15th. |
| Striped Kingfisher | Halcyon chelicuti | Single bird near Rundu in roadside woods on B8 on 17th. |
| Woodland Kingfisher | Halcyon senegalensis | Several birds at Rundu Waterworks on 17th, Xaro Lodge on 18th & 19th and N'Kwazi Lodge on 21st. |
| Malachite Kingfisher | Alcedo cristata | Quite common on Okavango around Mahangu S L and Xaro Lodge. |
| Giant Kingfisher | Megaceryle maxima | Single bird at Rundu Waterworks on 17th & Mahangu S L on 20th. |
| Pied Kingfisher | Ceryle rudis | Common on the Okavango around Mahangu S L and Xaro Lodge. Also at Rundu Waterworks on 21st. |
| Swallow-tailed Bee-eater | Merops hirundineus | Quite common, except Caprivi Strip & Botswana. Seen on 7 days. |
| Little Bee-eater | Merops pusillus | Common on Okavango around Mahangu S L and Xaro Lodge. |
| White-fronted Bee-eater | Merops bullockoides | Seen daily on the Okavango in Botswana. |
| Blue-cheeked Bee-eater | Merops persicus | Small numbers at Halali, the Caprivi Strip & Okavango Panhandle. |
| European Bee-eater | Merops apiaster | Good numbers at Daan Viljoen, eastern Khomas Hochland and Etosha. |
| Southern Carmine Bee-eater | Merops nubicoides | Numbers increased gradually eastwards along the Caprivi Strip peaking in the Okavango panhandle. |
| Purple Roller | Coracias naevius | Birds seen at Daan Viljoen on 8th, near Halali on 15th, Namutoni on 16th and at Waterberg on 22nd & 23rd. |
| Lilac-breasted Roller | Coracias caudatus | Relatively commom in Windhoek and Mahango areas. Single bird seen at Namutoni on 16th. |
| European Roller | Coracias garrulus | Single bird near Namutoni on 16th. |
| Broad-billed Roller | Eurystomus glaucurus | Birds seen in Mahango G P & Shakawe on 18th & Xaro Lodge on 19th. |
| African Hoopoe | Upupa africana | Common in appropriate habitat, usually single birds. Seen on 7 days. |
| Green Woodhoopoe | Phoeniculus purpureus | Small party at Xaro Lodge on 20th & Rundu Waterworks on 21st. |
| Common Scimitarbill | Rhinopomastus cyanomelas | Single bird at Daan Viljoen on 7th with pairs at Khomas Hochland on 8th, Tandala Ridge on 12th and Waterberg on 23rd. |
| Bradfield's Hornbill | Tockus bradfieldi | Single bird at Mahangu Safari Lodge on 21st plus one on road to Waterberg on 22nd. |
| African Grey Hornbill | Tockus nasutus | Common in small numbers except for coastal area. Seen on 13 days. |
| Monteiro's Hornbill | Tockus monteiri | Birds seen at Daan Viljoen on 7th, Khomas Hochland on 8th, Erongo on 12th and several around Waterberg area on 22nd & 23rd. |
| Red-billed Hornbill | Tockus erythrorhynchus | Pairs near Namutoni on 15th, 16th & en route to Waterberg on 22nd. |
| Damara Hornbill | Tockus damarensis | Birds seen around Khomas Hochland on 8th, Spitzkoppe on 11th, Etosha on 12th, 14th, 15th and after leaving Waterberg on 23rd. |
| Southern Yellow-billed Hornbill | Tockus leucomelas | Relatively common in appropriate habitat, especially around Etosha and Windhoek. Birds seen on 7 days. |
| Crested Barbet | Trachyphonus vaillantii | Birds seen at Xaro Lodge on 19th & 20th. |
| Yellow-fronted Tinkerbird | Pogoniulus chrysoconus | Single bird at Xaro Lodge on 20th. |
| Acacia Pied Barbet | Tricholaema leucomelas | Birds seen around Spitzkoppe and Erongo W L on 11th, near Okaukuejo on 13th and Waterberg on 23rd. |
| Black-collared Barbet | Lybius torquatus | Pair at Mahangu S L on 17th and single bird at Drotsky's Cabins on 20th. |
| Lesser Honeyguide | Indicator minor | Heard only at Xaro Lodge as we were leaving on a boat ride. |
| Golden-tailed Woodpecker | Campethera abingoni | Pair seen Khomas Hochland on 8th and common around Xaro Lodge. |
| Cardinal Woodpecker | Dendropicos fuscescens | Single bird at Okaukuejo on 13th. |
| Rufous-naped Lark | Mirafra africana | Birds seen near Okaukuejo on 13th, near Namutoni on 15th and at Mahangu S L on 21st. |
| Sabota Lark | Calendulauda sabota | Common in appropriate habitat especially at Daan Viljoen, Khomas Hochland and Etosha, with smaller numbers at Mahango G P. |
| Fawn-coloured Lark | Mirafra africanoides | Birds seen near Namutoni on 16th. |
| Dune Lark | Certhilauda erythrochlamys | Single bird difficult to locate at Rooibank on 10th. |
| Dusky Lark | Pinarocorys nigricans | Single bird by roadside in Mahango G P on 20th. |
| Gray's Lark | Ammomanes grayi | Pair near Tropic of Capricorn and Gaub Pass on route C14 on 8th. |
| Spike-heeled Lark | Chersomanes albofasciata | Up to five birds each day near Okaukuejo on 13th & 14th. |
| Chestnut-backed Sparrow-lark | Eremopterix leucotis | Pair near Okaukuejo on 13th. |
| Grey-backed Sparrow-lark | Eremopterix verticalis | Birds common at Rooibank and around Okaukuejo plus 2 in Khomas Hochland on 8th. |
| Red-capped Lark | Calandrella cinerea | Several birds on Welwitschia Plains on 10th and around Okaukuejo on 13th & 14th. |
| Stark's Lark | Spizocorys starki | Pairs seen in Khomas Hochland & near Solitaire on 8th, Spitzkoppe on 11th and Okaukuejo on 13th. |
| Pink-billed Lark | Spizocorys conirostris | Pair near Okaukuejo on 13th. |
| Brown-throated Martin | Riparia paludicola | 6 birds on Okavango near Shakawe on 18th. |
| Sand Martin | Riparia riparia | Birds at Fischer's Pan on 15th, near Xaro Lodge on 18th and Mahangu S L on 20th. |
| Banded Martin | Riparia cincta | Birds at Fischer's Pan on 15th and near Xaro Lodge on 18th & 19th. |
| Barn Swallow | Hirundo rustica | Common almost everywhere with birds seen on 11 days. |
| White-throated Swallow | Hirundo albigularis | Pair at Rundu Waterworks on 17th & near Mahangu S L on 20th. |
| Wire-tailed Swallow | Hirundo smithii | Pair seen upriver from Xaro Lodge on 19th. |
| Rock Martin | Ptyonoprogne fuligula | Common around Windhoek and Waterberg Plateau. |
| Common House Martin | Delichon urbicum | Up to 10 birds at Tandala Ridge on 12th and near Okaukuejo on 14th. |
| Greater Striped Swallow | Cecropis cucullata | Birds near Windhoek and Daan Viljoen on 7th & Waterberg on 23rd. |
| Lesser Striped Swallow | Cecropis abyssinica | Pair on Okavango near Mahangu S L on 20th & at Waterberg on 23rd. |
| Red-breasted Swallow | Cecropis semirufa | Pair between Divundu and Rundu on route B8 on 21st. |
| Mosque Swallow | Cecropis senegalensis | Birds seen near Namutoni on 15th, N'Kwazi Lodge on 16th, Divundu on 17th & 21st and at Mahangu S L on 21st. |
| African Pipit | Anthus cinnamomeus | Common in small numbers in appropriate habitat around Windhoek, Etosha and Rundu. |
| Wood Pipit | Anthus nyassae | Single bird in roadside woods on B8 near Rundu on 17th. |
| African Pied Wagtail | Motacilla aguimp | Several pairs on the Okavango around Mahangu S L and Xaro Lodge. |
| Yellow Wagtail | Motacilla flava | Two birds in flood meadows on boat trip from Xaro Lodge on 19th. |
| Cape Wagtail | Motacilla capensis | Birds seen in Daan Viljoen on 7th and Walvis Bay on 9th & 10th. |
| Dark-capped Bulbul | Pycnonotus tricolor | Common in Caprivi Stip through to Xaro Lodge in Botswana. |
| African Red-eyed Bulbul | Pycnonotus nigricans | Common except for Etosha and Caprivi Strip. |
| Yellow-bellied Greenbul | Chlorocichla flaviventris | Pair seen in woods at N'Kwazi Lodge on 21st. |
| Terrestrial Brownbul | Phyllastrephus terrestris | Up to 5 birds at Xaro Lodge and Drotsky's Cabins on 21st. |
| Kurrichane Thrush | Turdus libonyanus | Single bird seen in woods behind Xaro Lodge on 21st. |
| Groundscraper Thrush | Psophocichla litsipsirupa | Pair seen in woodland in Khomas Hochland on 8th and common in small numbers around Halali, Namutoni and Waterberg camp sites. |
| Short-toed Rock-thrush | Monticola brevipes | Birds seen at Daan Viljoen on 7th, Khomas Hochland on 8th and Erongo W L on 11th & 12th. |
| (Southern) Anteating-chat | Myrmecocichla formicivora | Several birds seen Khomas Hochland on 8th, near Okaukuejo on 14th and Fischer's Pan on 15th. |
| White-browed Robin-chat | Cossypha heuglini | Single bird seen at Mahangu S L on 17th and 20th. |
| White-browed Scrub-robin | Cercotrichas leucophrys | Single birds seen at Erongo W L and Tandala Ridge on 12th, Mahango G P on 18th & 20th, and Waterberg on 23rd. |
| Kalahari Scrub Robin | Cercotrichas paena | Single birds seen at Daan Viljoen on 7th and daily in Etosha. |
| Herero Chat | Namibornis herero | Pair singing near Spreetshoogte Pass on 8th. |
| African Stonechat | Saxicola torquatus | Birds seen downstream from Xaro Lodge on 18th & 19th. |
| Tractrac Chat | Cercomela tractrac | Several birds seen near Solitaire on 8th, Welwitschia Plains on 10th and near Spitzkoppe on 11th. |
| Familiar Chat | Cercomela familiaris | Reasonably common in appropriate habitat between Windhoek and Solitaire and birds also seen at Erongo W L on 12th & Halali on 15th. |
| Mountain Wheatear | Oenanthe monticola | Birds at Daan Viljoen on 7th, Spreetshoogte Pass on 8th & Spitzkoppe on 11th. |
| Capped Wheatear | Oenanthe pileata | Common in Etosha and Khomas Hochland. |
| Rattling Cisticola | Cisticola chiniana | Birds seen at Daan Viljoen on 7th, Fischer's Pan on 15th and Mahango G P on 18th. |
| Luapula Cisticola | Cisticola luapula | Single birds seen on 3 days around Mahango area. |
| Chirping Cisticola | Cisticola pipiens | Birds near Mahangu S L on 17th and near Xaro Lodge on 18th & 19th. |
| Zitting Cisticola | Cisticola juncidis | Often heard but only 2 birds seen on Welwitschia Plains on 10th. |
| Desert Cisticola | Cisticola aridulus | Birds seen Khomas Hochland on 8th, near Okaukuejo on 13th and near Namutoni on 15th. |
| Tawny-flanked Prinia | Prinia subflava | Birds seen in Mahango G P on 18th and near Xaro Lodge on 19th. |
| Black-chested Prinia | Prinia flavicans | Common at most sites from Windhoek to Etosha. Seen on 7 days. |
| Rufous-eared Warbler | Malcorus pectoralis | Single bird seen near Okaukuejo on 13th. |
| Yellow-breasted Apalis | Apalis flavida | Single bird in woodland behind Xaro Lodge on 19th. |
| Grey-backed Camaroptera | Camaroptera brevicaudata | Birds seen at Erongo W L on 12th, Halali on 15th, Xaro Lodge on 20th and Waterberg on 23rd. |
| Barred Wren-warbler | Calamonastes fasciolatus | Pair at Daan Viljoen on 7th and single bird near Namutoni on 15th. |
| Sedge Warbler | Acrocephalus schoenobaenus | Pair seen on both visits to Rundu Waterworks and single bird at Mahangu S L on 20th. |
| African Reed-warbler | Acrocephalus baeticatus | Single bird seen in reeds by Augeigas Dam at Daan Viljoen on 7th and also downstream of Xaro Lodge on 18th. |
| Great Reed Warbler | Acrocephalus arundinaceus | Single birds seen at Xaro Lodge on 19th and Mahangu S L on 20th. |
| Greater Swamp-warbler | Acrocephalus rufescens | Pair seen downstream of Xaro Lodge on 18th. |
| Lesser Swamp-warbler | Acrocephalus gracilirostris | Birds at Rundu Waterworks on 17th & Xaro Lodge on 18th & 19th. |
| Yellow-bellied Eremomela | Eremomela icteropygialis | Birds at Erongo WL & Tandala Ridge on 12th & Okaukuejo on 13th. |
| Burnt-neck Eremomela | Eremomela usticollis | 4 birds seen at Waterberg Plateau Park on 23rd. |
| Long-billed Crombec | Sylvietta rufescens | Single bird seen on B2 on way to Spitzkoppe on 11th with pair at Halali camp on 15th. |
| Willow Warbler | Phylloscopus trochilus | Pair at Okaukuejo on 13th and Halali on 15th with single bird at Xaro Lodge on 20th. |
| Layard's Tit-babbler | Parisoma layardi | Two males seen at different sites at Spitzkoppe on 11th. |
| Chestnut-vented Tit-babbler | Parisoma subcaeruleum | Several birds seen in appropriate habitat from Daan Viljoen through to Etosha. Seen on 6 days. |
| Pale Flycatcher | Bradornis pallidus | Single bird seen in roadside woods on B8 near Rundu on 17th. |
| Chat Flycatcher | Bradornis infuscatus | Relatively common in appropriate habitat around Spreetshoogte Pass, Spitzkoppe, Erongo W L & Okaukuejo. |
| Marico Flycatcher | Bradornis mariquensis | Common in small numbers from Daan Viljoen through to Etosha with single bird seen near Rundu on 21st. Seen on 6 days. |
| Southern Black-flycatcher | Melaenornis pammelaina | Single bird seen on 22nd at Mururani check-point as we were leaving the Kavango Region. |
| Spotted Flycatcher | Muscicapa striata | Single birds seen daily around each of the Etosha camps. |
| Ashy Flycatcher | Muscicapa caerulescens | Single birds seen at Mahangu S L on 17th, 18th & 21st. |
| Pririt Batis | Batis pririt | Pair seen at Daan Viljoen on 7th and Erongo W L on 12th. |
| White-tailed Shrike | Lanioturdus torquatus | Birds at Spreetshoogte Pass on 8th & Erongo W L on 11th & 12th. |
| African Paradise-flycatcher | Terpsiphone viridis | Pair seen at Mahangu S L on 17th & 18th with single birds at Drotsky's Cabins on 20th and Waterberg on 22nd & 23rd. |
| Rockrunner | Achaetops pycnopygius | Single birds seen at roadside on C26 out of Windhoek to Khomas Hochland & near Spreetshoogte Pass on 8th and Erongo W L on 12th. |
| Black-faced Babbler | Turdoides melanops | Birds seen briefly in flight as we left Namutoni by the Von Lindquist Gate on 16th. |
| Hartlaub's Babbler | Turdoides hartlaubii | Common in Caprivi Strip & Botswana. Numerous sightings on 5 days. |
| Southern Pied-babbler | Turdoides bicolor | Flock of up to 8 birds on 15th & 16th on road to Andoni Plains near Fischer's Pan. |
| Arrow-marked Babbler | Turdoides jardineii | Flock c6 birds at Botswana Border Post, Shakawe on 18th and also at Xaro Lodge on 20th. |
| Bare-cheeked Babbler | Turdoides gymnogenys | Small flock at Tandala Ridge on 10th and c10 birds just after leaving Halali for Namutoni on 15th. |
| Southern Black-tit | Parus niger | Pair seen at Mahangu S L on 20th. |
| Carp's Tit | Parus carpi | Pairs at Erongo W L on 12th and at Halali camp on 14th & 15th. |
| Ashy Tit | Parus cinerascens | Birds seen at Okaukuejo camp on 13th. |
| Collared Sunbird | Hedydipna collaris | Single birds seen at Xaro Lodge on 19th and Drotsky's Cabins on 20th. |
| Scarlet-chested Sunbird | Chalcomitra senegalensis | Birds seen at Tamboti Guest House on 7th & 8th, Daan Viljoen on 7th and near Rundu on 17th. |
| Marico Sunbird | Cinnyris mariquensis | Birds near Namutoni on 16th and Waterberg on 22nd & 23rd. |
| Purple-banded Sunbird | Cinnyris bifasciatus | Birds seen at Mahangu S L on 17th & 18th. |
| White-bellied Sunbird | Cinnyris talatala | Single bird at Mokuti Lodge on 16th and Waterberg on 23rd. |
| Dusky Sunbird | Cinnyris fuscus | Birds at Spreetshoogte Pass on 8th and Erongo W L on 11th & 12th. |
| Orange River White-eye | Zosterops pallidus | Birds at Rooibank & near the Courtyard Hotel in Walvis Bay on 10th. |
| African Golden Oriole | Oriolus auratus | Single birds seen near Namutoni on 16th and at Xaro Lodge on 19th. |
| Black-headed Oriole | Oriolus larvatus | Single bird seen in roadside woods on B8 near Rundu on 17th. |
| Red-backed Shrike | Lanius collurio | Relatively common in appropriate habitat. Seen on 6 days. |
| Lesser Grey Shrike | Lanius minor | Common in appropriate habitat. Seen on 8 days. |
| Common Fiscal | Lanius collaris | Birds seen on 5 days between Windhoek & coast and near Okaukuejo. |
| Magpie Shrike | Corvinella melanoleuca | Single birds seen on both visits to Rundu Waterworks and on 4 days around Divundu and along the C48 to Shakawe & Drotsky's Cabins. |
| Southern White-crowned Shrike | Eurocephalus anguitimens | Small flocks seen on 3 days in and around each of the camps in Etosha. |
| Brubru | Nilaus afer | Single bird seen in Okaukuejo camp on 13th. |
| Black-backed Puffback | Dryoscopus cubla | Birds seen in woods around Xaro Lodge on 18th, 19th & 20th and at Waterberg on 23rd. |
| Brown-crowned Tchagra | Tchagra australis | Birds seen Daan Viljoen on 7th, Erongo W L on 11th, Namutoni on 16th, Xaro Lodge on 20th and Waterberg on 23rd. |
| Swamp Boubou | Laniarius bicolor | Relatively common from Rundu through Caprivi Stip to Xaro Lodge. Seen at 7 locations on 5 days. |
| Crimson-breasted Shrike | Laniarius atrococcineus | Birds around Khomas Hochland, Etosha and Mahango areas on 5 days. |
| Bokmakierie | Telophorus zeylonus | Single bird seen at Rooibank on 10th. |
| Orange-breasted Bushshrike | Telophorus sulfureopectus | Single bird seen at Xaro Lodge on 19th. |
| White-crested Helmetshrike | Prionops plumatus | Flock of 7 birds seen en route from Okaukuejo to Halali on 14th. |
| Retz's Helmetshrike | Prionops retzii | Several birds seen in woods behind Xaro Lodge on 20th. |
| Fork-tailed Drongo | Dicrurus adsimilis | Common in appropriate habitat. Seen on 7 days though probably under-recorded. |
| Cape Crow | Corvus capensis | Birds near Walvis Bay on Solitaire road on 8th & daily in Etosha. |
| Pied Crow | Corvus albus | C10 birds near Spitzkoppe on 11th & at Okaukuejo on 13th & 14th. |
| Cape Starling | Lamprotornis nitens | Common everywhere apart from Caprivi Stip and Botswana. |
| Greater Blue-eared Starling | Lamprotornis chalybaeus | Birds seen near Divundu on 17th and in Mahango area on 18th & 21st. |
| Meves' Long-tailed Starling | Lamprotornis mevesii | Quite common in Okavango Panhandle. Seen on 5 days. |
| Burchell's Starling | Lamprotornis australis | Common in Okavango Panhandle & near Waterberg. Seen on 6 days. |
| Violet-backed Starling | Cinnyricinclus leucogaster | Common in small numbers in appropriate habitat. Seen on 6 days. |
| Pale-winged Starling | Onychognathus nabouroup | Common in appropriate habitat. Seen on 6 days. |
| Red-billed Oxpecker | Buphagus erythrorhynchus | Birds seen at Xaro Lodge on 20th plus single bird between Divundu and Rundu on B8 on 21st. |
| Yellow-billed Oxpecker | Buphagus africanus | Single bird seen upstream of Xaro Lodge on 19th. |
| House Sparrow | Passer domesticus | Common in small numbers around Windhoek and Walvis Bay. |
| Great Sparrow | Passer motitensis | Common in small numbers from Daan Viljoen towards coast and in Etosha. Seen on 5 days. |
| Cape Sparrow | Passer melanurus | Several birds seen at Solitaire on 8th, Walvis Bay on 9th, Rooibank on 10th and Spitzkoppe on 11th. |
| Southern Grey-headed Sparrow | Passer diffusus | Common in appropriate habitat. Seen on 8 days. |
| Red-billed Buffalo-weaver | Bubalornis niger | Small flocks seen in Halali camp and near Twee Palms waterhole on 15th and at Waterberg on 23rd. |
| Scaly-feathered Finch | Sporopipes squamifrons | Common in Etosha where seen daily. |
| White-browed Sparrow-weaver | Plocepasser mahali | Common in appropriate habitat. Seen on 6 days and probably under-recorded. |
| Sociable Weaver | Philetairus socius | Large colonies seen in Khomas Hochland and Okaukuejo. |
| Lesser Masked Weaver | Ploceus intermedius | Up to 5 males at nest site in Waterberg Plateau Park camp on 23rd. |
| Golden Weaver | Ploceus xanthops | Several pairs seen around Mahangu S L, Xaro Lodge, Drotsky's Cabins and N'Kwazi Lodge. |
| Southern Brown-throated Weaver | Ploceus xanthopterus | Birds seen around Xaro Lodge on 18th & 20th. |
| Southern Masked-weaver | Ploceus velatus | Common in appropriate habitat. Seen on 8 days and probably under-recorded. |
| Village Weaver | Ploceus cucullatus | Birds seen regularly around Mahangu S L. |
| Chestnut Weaver | Ploceus rubiginosus | Birds seen at Tandala Ridge on 12th and near Waterberg on 22nd. |
| Red-billed Quelea | Quelea quelea | Birds at Tandala Ridge on 12th & thousands seen daily in Etosha N P. |
| Yellow-crowned Bishop | Euplectes afer | Flock c30 birds seen at Rundu Waterworks on 21st. |
| Southern Red Bishop | Euplectes orix | C6 birds seen at Rundu Waterworks on 17th. |
| Fan-tailed Widowbird | Euplectes axillaris | Birds near Mahangu S L on 18th & 21st and near Xaro Lodge on 20th. |
| Thick-billed Weaver | Amblyospiza albifrons | Single bird seen at Mahango G P on 18th. |
| Green-winged Pytilia | Pytilia melba | Birds at Erongo W L on 11th & 12th, Tandala Ridge on 12th, Mahango area on 18th and Waterberg on 23rd. |
| Brown Firefinch | Lagonosticta nitidula | Several birds at Mahangu S L on 18th & 20th & Xaro Lodge on 19th. |
| Red-billed Firefinch | Lagonosticta senegala | Several birds seen at Rundu Waterworks on 17th, Xaro Lodge on 20th and N'Kwazi Lodge on 21st. |
| Blue Waxbill | Uraeginthus angolensis | Birds first seen at Namutoni on 15th and relatively common at Rundu Waterworks, Mahango area & Waterberg. |
| Violet-eared Waxbill | Uraeginthus granatinus | Common in appropriate habitat except Caprivi Strip & Botswana. Seen on 6 days. |
| Common Waxbill | Estrilda astrild | Several birds at Walvis Bay on 9th with pair at Mahangu S L on 21st. |
| Black-faced Waxbill | Estrilda erythronotos | Birds seen at Khomas Hochland on 8th, Erongo W L on 11th and near Namutoni on 16th. |
| African Quailfinch | Ortygospiza atricollis | Several birds seen near Mahangu S L on 21st. |
| Red-headed Finch | Amadina erythrocephala | Flocks c30 at Spreetshoogte Pass on 8th & near Okaukuejo on 13th. |
| Village Indigobird | Vidua chalybeata | Birds seen at N'Kwazi Lodge on 16th and near Mahangu S L on 21st. |
| Shaft-tailed Whydah | Vidua regia | Common in small numbers in appropriate habitat. Birds seen on 7 days. |
| Pin-tailed Whydah | Vidua macroura | Pair seen at Mahango G P on 18th. |
| Long-tailed Paradise-whydah | Vidua paradisaea | Single birds at Okaukuejo camp on 13th & 14th with at least 4 males in breeding plumage at Mokuti Lodge on 16th. |
| Black-throated Canary | Serinus atrogularis | Common in appropriate habitat. Seen on 5 days. |
| Yellow-fronted Canary | Serinus mozambicus | Heard only in woodland near Rundu. |
| Yellow Canary | Serinus flaviventris | Single bird seen at Rooibank on 10th. |
| White-throated Canary | Serinus albogularis | Several birds near Spreetshoogte Pass on 8th & Spitzkoppe on 11th. |
| Lark-like Bunting | Emberiza impetuani | Birds seen at Spreetshoogte Pass on 8th, Spitzkoppe on 11th and Erongo W L on 12th. |
| Cinnamon-breasted Bunting | Emberiza tahapisi | Birds seen at Erongo W L on 11th & 12th. |
| Cape Bunting | Emberiza capensis | Birds seen at Spreetshoogte Pass on 8th and Erongo W L on 11th. |
| Golden-breasted Bunting | Emberiza flaviventris | Birds seen near Okaukuejo on 14th, Halali on 15th and in woodland on B8 near Rundu on 17th. |
David and Amanda Mason