INTRODUCTION
We decided to travel to Namibia after our friends Linda and Jeff moved there. Linda suggested we wait until January 2007 so she could get used to the place and her knowledge did help us immensely when planning the trip. Unfortunately, during that wait Linda got a job and so couldn't accompany us as much as we would have liked. We were very sad she was not with us for the whole trip.
We have taken several international trips, and decided to again drive ourselves around the country. Since it is a large country, we limited ourselves to the central and NE parts and reluctantly left out the northwest and most of the Namib Desert in the south (except for a Walvis Bay stay). We viewed dozens of websites and several trip reports to create our itinerary (thanks everyone).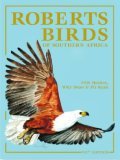 Our airline tickets were free courtesy of American Express points (that made the trip possible). We spent about a third of our budget on the car alone (VW Polo from Budget—a good deal—and using the Amex card allowed us to waive all the expensive insurance). Our plan kept the amount of time on the road during travel days to a maximum of 3½ hours. A change of plan (in Rundu) increased one travel day to 5 hours. Since most birding in Namibia is birding by car, it was nice to set our own speed. Marc estimated that we travelled >5000 kilometres when all told. We did compromise a bit in that we couldn't go on all the off-road tracks we would have liked in the 2-wheel drive car. However, a four-wheel drive vehicle would have cost twice as much, not even including the extra gasoline needed to run it. The Polo got very good gas mileage.
I extensively studied two field guides (Sinclair et al and Roberts) and multiple trip reports for at least three months before going. I was familiar with the European migrants but there were many other birds I had to learn. We didn't hire guides, preferring instead to struggle on our own with IDs. We enjoy watching birds rather just ticking them off, so perhaps our pace was a bit slower. We don't add a bird to our list unless we have a 90%+ confidence level. Thus our brief looks at African Hobby, Bare-faced and Black-faced Babblers, for instance, don't count. On the other hand, we are very confident of our other identifications. We do not count any heard-only birds, nor do we use tapes.
Our schedule for a 3-week trip was:
1 night/1 morning in Johannesburg (Impangele B & B). Birding one afternoon, one morning at Korsman Bird Sanctuary.
2 nights in Windhoek. Birding one afternoon at Avis Dam, one morning at the Windhoek settling ponds and one afternoon and one morning at Daan Viljoen Game Park.
3 nights in Swakopmund (Sea Breeze and Beach Lodge). Birding 2 full days at WB and Swakopmund.
2 nights in Omaruru (River Lodge). Birding one afternoon, one full day, one morning.
1 night at Tandala Ridge. Birding one afternoon, one morning.
2 nights at Mokuti Lodge. Visiting Etosha one afternoon, one full day, one morning.
1 night in Rundu at Kaisosi Lodge. Birding one afternoon and one morning.
2 nights near Divundu (Mahangu Safari Lodge). Visiting Mahango Game Preserve one afternoon, one full day.
2 nights in Katima Mulilo (Caprivi River Lodge). Birding the area one afternoon, one full day and a morning.
1 night at Mazambala. Birding one afternoon.
2 nights in Rundu again, this time at N'Kwazi Lodge. Birding one afternoon, one full day, one morning.
1 night at Waterberg (Bernabé de la Bat Rest Camp). Birding one afternoon, one morning.
2 nights in Windhoek again. Birding one morning at Avis Dam before our departure.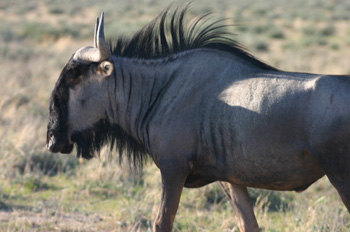 It would have been nice to have had an additional day at Etosha, Walvis Bay, Katima Mulilo and Rundu. It was not worth our while (monetarily or bird-wise) to take the detours to Tandala or Mazambala (that being said, we did see a few birds only at those locations). I would have liked another day at the Windhoek settling ponds too, plus more time with my friends. In addition, we didn't stay within Etosha because of construction occurring at all three lodges (simultaneously!), so we missed out on "water-hole" specialties, like coursers, sandgrouse and night-birds. Not using tapes also lowers our bird count somewhat, but that's ok. Nevertheless, we set out the door every sunrise and birded long days, surviving on snacks until returning to the lodges. Food was tasty and was enjoyed at most places but it was fattening—lots of meat and veggies smothered in butter. In Omaruru it was very worthwhile to eat at the Sand Dragon rather than the River Lodge. We were very lucky that we had almost no insect problems—very few mosquitoes and just one unpleasant encounter with a wasp at N'Kwazi.
Our flight schedule was tortuous both ways. We flew from Albuquerque to Atlanta, Atlanta to Dulles and then had a 14½ hour flight to Johannesburg. We could not make a connection to Windhoek so spent the night in SA and flew into Windhoek the next afternoon. Our flight home was much worse: Windhoek to Joberg, Joberg to Senegal (8½ hours) where we sat in the plane for 2 hours being doused with insecticide, then continuing to Dulles on another 8½ or so hour flight. Not done yet. Flew back to Atlanta, then finally on to ABQ. Delta now flies from Atlanta to Joberg, too bad for us.
ACCOMMODATION AND SITE REVIEWS
Impangele B & B, Johannesburg: http://www.impangele.com/index.html
This B&B is a nicely decorated, comfortable place, with a very good host and tasty breakfasts. We would highly recommend this accommodation.
Korsman's Bird Sanctuary: http://www.sabirding.co.za/birdspot/050104.asp
Our B&B was just across the street. We walked most of the 2km circular road that surrounds the pan, one afternoon after a short but strong rain and one morning before returning to the airport to fly to Windhoek. We were unable to locate someone with a key to the hide in time to visit it. Nonetheless we were able to identify many species (> 50) including several that we did not see in Namibia. The head volunteer at the sanctuary told us to be on the lookout for a Burchell's Coucal and we were pleased to find it as our last SA species, obtaining excellent views.
SA best species: All that we didn't see during the remainder of the trip. The coucal, Speckled Mousebird, African Spoonbill, Black Heron, Cape White-eye, Rameron and Speckled Pigeons, Yellow-billed and White-backed Ducks, Cape Shoveler, Golden Bishop, Karoo Thrush, Yellow Canary.
Windhoek Settling Ponds, Avis Dam, Daan Viljoen: http://www.sabirding.co.za/birdspot/100810.asp
After clearing customs, we followed my friend to her comfortable house in Windhoek. After conversation and unpacking, we went to Avis Dam. Since it was Sunday, many townsfolk with dogs were about, scaring the birds. We also ran into trouble with ants on a trail along the hill leading to the dam.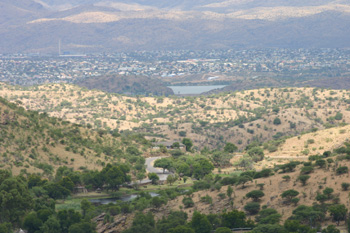 So bad, in fact, that we turned around and ran back towards the car. Nevertheless, seeing Black-faced Waxbills and our first Cisticolas (Zitting) was fun. The next morning we visited the Windhoek settling ponds. After parking beyond the concrete tanks, we walked further back where scrub, trees and more natural-looking ponds were found. New birds were in almost every tree. Highlights were Pied Barbet and a singing Rockrunner. When it got too hot we retreated for lunch, then drove on to Daan Viljoen. The afternoon visit combined with a visit the following morning gave us Temminck's Courser (our only courser species of the trip!!) and Red-crested Korhaan. Seeing our first two hornbill species at the same stop was also fun.
Windhoek best species: The courser, B-F and Violet-eared Waxbills and the African Paradise Flycatcher in Linda's yard were almost as grand as seeing Linda and Jeff again after more than three years.
Sea Breeze Guesthouse: http://www.natron.net/tour/seabreeze/index.htm
This small motel offers clean rooms and a good breakfast selection. We stayed here after arriving in Swakopmund a day early and finding out the Beach Lodge was full. We would have been happy to stay here the 3 nights we were on the coast.
The Beach Lodge: http://www.namibian.org/travel/lodging/private/beach_lodge.htm
The lodge is located on the beach at the far north end of Swakopmund. We had a very comfortable, elegant room with kitchen and patio. More expensive than the Sea Breeze and for us, the Sea Breeze would have been a better choice because we spent no time on the property other than to enjoy the ample breakfast offerings.
Walvis Bay (WB)/Swakopmund: http://www.sabirding.co.za/birdspot/100608.asp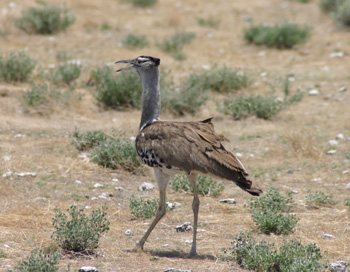 We were blessed with no fog or wind, so our time here was great. We drove the main road out of WB and turned off onto the Salt Mine Road. Every pan was filled with birds and it was hard to not stop at every one. But we drove to the end of the road (at Paaltjies beach), got out and did some sea watching. Very quickly Cory's Shearwater and Cape Gannets were seen. We arrived at the beach early morning the next day and had a great sea watch. We saw well Subantarctic Skua, White-chinned Petrel, Pomarine and Parasitic Jaegers and more gannets. On the pans the expected species were seen. White-winged and Black Terns were identified. Eurasian Curlew was spotted the second day and we spent the time to ID the phalaropes (Red-necked male and female on the second day, mystery one that got away on the first day). One more day was definitely needed so that rarities could have been targeted. We toured the WB settling ponds, but there were few birds besides the "hundreds" of Common Moorhen, a few plovers and African Purple Swamphen. Between WB and Swakopmund, we stopped at Dolphin Beach and identified Red-capped Larks in the parking lot and Red Knot and Crested Cormorant along the rocks very close. Another stop along a boardwalk allowed us to see 3 tern species up close (Caspian, Common, Sandwich). At the mouth of the Swakop River we connected with Damara and Swift Terns. One afternoon was spent with Mark Boorsman (MB), a local birder, who kindly took us to a fenced off region of the Swakopmund Saltworks where the only Bank Cormorants of the trip were seen. Also there were some friends from the US – two American Golden Plovers. Common Redshank were present too, an unusual occurrence, but we saw these again at Etosha (even more unusual?). We found our first Gray's and Stark's Larks prior to the turnoff. Dinner with Ann and Mike Scott, Nambian conservationists, at the Cape to Cairo Restaurant (excellent) was very enjoyable.
Best species: The gannets & skua were great bonus birds we hadn't expected to see but we really loved that there were hundreds of birds to view at one time.
Drive to Omaruru with diversion towards Otjimbingwe.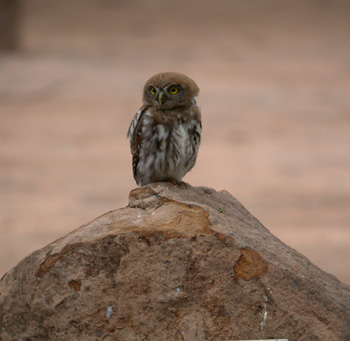 We knew this was our last chance at Karoo-type birds so did some stopping along the road. We saw a group of Ruppell's Korhaans (4 adults and one juvenile) hanging with Gray's Larks. Another stop yielded Karoo Chat and Chat Flycatcher while a Pied Crow flew low overhead (checking our life signs, I guess). Just before Usakos we came upon multiple, large kettles of Yellow-billed & Black Kites intermixed with Abdim's Storks. Even cars filled with non-birders stopped to admire the spectacle. Some birds were flying so low to the ground we could hear the swish from their wings. We estimated at least 5000 kites and 500 storks. Marc spotted a lone White Stork on the ground, the only one of the trip. It was hard to continue on our way. The previous day, MB had suggested the diversion toward Otjimbingwe to try for Herero Chat. It was midday when we reached Karibib, we had no tapes, but we drove about 12K for "fun" and saw our only Steenbok, White-throated Canary and Cape Penduline-Tit of the trip. We also identified Stark's Larks on our own. From Karibib to Omaruru we moved quickly but stopped for Lanner.
Omaruru Game Lodge (OGL): http://www.namibweb.com/omarurulodge.htm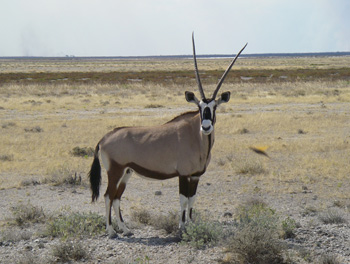 We actually didn't stay here. We had planned to stay at the Hotel Staebe (HS) after deciding the Erongo Mountain Lodge (EML) was too expensive, but found out from the owners of the Sea Breeze that HS was closed. They helped us book the River Lodge instead (no web site or e-mail address). The place was adequate with a nice small garden, but there was only a ceiling fan for cooling and the breakfast was sparse. Still we saved lots of money and were happy to dine morning, lunch, and dinner at the local Sand Dragon restaurant. It served very good, inexpensive meals and had great coffee (even decaf!!). The first evening we tried to have dinner at EML without success, as they gave us some excuse. The second evening we ate dinner at the OGL after birding the 15 kilometres leading to it. It was a very good meal, and we got to watch "tame" rhinos, ostriches and Oryx (Gemsbok) from the table. They have beautiful grounds with Lesser Masked-weavers and mammals of various sorts all around.
Birding near EML and OGL: http://www.sabirding.co.za/birdspot/101010.asp
Luckily, we were able to see most of the Erongo-area target birds without paying top dollar at the EML. We successfully birded the road to/from EML, seeing White-tailed Shrike and Pritit Batis together (confusing at first: was it black tails or white tails, black or gray heads?) and Ashy and Carp's Tits together with a Golden-tailed Woodpecker.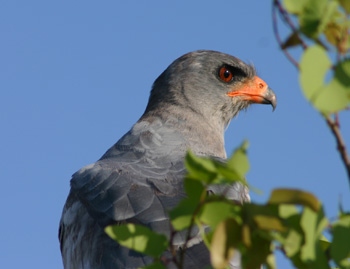 A special moment was having a N. Black Korhaan display (floating chicken display) while calling, unforgettable. We returned pre-dawn to set up at the creek crossing just below the EML gate and, as if on cue, a pair of Hartlaub's Francolins appeared close by in perfect sunlight. We saw a group of six a little later. In front of a farm just before the gate, we saw Eurasian Hobby, Great-spotted Cuckoo and S. White-crowned Shrike. We successfully birded back to Omaruru to enjoy a late breakfast at the Sand Dragon. Then we decided to try birding the road to OGL. This turned out great for us. We found our only Pied Babblers of the trip, plus many other species not seen on the EML road. Working our way back to town after dinner at OGL, we found a group of Violet Wood-hoopoes and a Pearl-Spotted Owlet. As we don't do night birding, this was a great end to the day.
Best Omaruru birds: Again, we saw many great species, including Pied Babblers and Jacobin Cuckoo. But the multiple kettles and floating chicken displays were most memorable.
Tandala Ridge: http://www.tandalaridge.com/
When we were planning our trip, Linda informed us that construction would be occurring at all three lodges within Etosha simultaneously. We changed our plans, to stay at Tandala Ridge (TR – southwest side) one night and at Mokuti Lodge (eastern side) for two nights and drive through the 100 or so kilometres of the park in one afternoon, back/forth in a full day, and ½ of the park the final AM.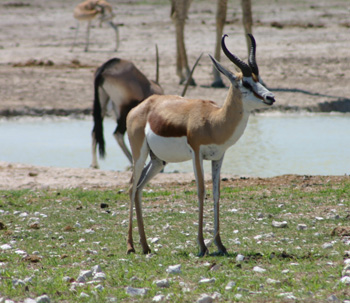 The first part of this plan had disadvantages. TR is way off the track from Etosha. By the time we drove the dirt road 45km west of the tarred road to Etosha and then inched our way up the HORRIBLE road leading to the chalets, bottoming out in our car over and over, I was in a foul mood (given the high cost of lodging) and much birding time was wasted. From the bird list we received from the owners we imagined the waterholes were large, magical oases, yet when we got there we discovered they were no more than tiny man-made puddles obscured by scrub. We managed distant peeks at mammals drinking at them, and were able to look down on an Augur Buzzard, but… as the chalets are on the top of a ridge, we accepted the offer to be driven down the hill in a old, loud land-rover to other waterholes but alas, their distance from the chalets forced us to leave them before dusk. There were good things about TR: the chalets are clean and comfortable, the food tasty and the hostess is pleasant. If you want to feel far away from civilization, yet relax in comfort, this is a good spot. There was a resident semi-tame Bat-eared Fox that was incredibly cute, the view was wonderful and we got our laundry done. However, the next morning few birds were around so we hastened our exit (as much as we could given the poor road conditions). In retrospect, we should have stayed in Okaukuejo or Halali one night (turns out one could stay amidst the construction which might not have been horrible since we were only in our rooms after dark) or we should have found a different lodge nearer the main road. Not staying in the Etosha lodges prevented us from viewing the waterholes at dusk/dawn, again making it more difficult to find coursers, sandgrouse and night birds. We did poorly on these three groups but oh well…
Best Tandala birds: African Cuckoo and Short-toed Rock Thrush were seen only on their property. The dirt road leading to the gate gave us our first Pygmy Falcons and Kori Bustards.
Mokuti Lodge: http://www.namibweb.com/mokuti.htm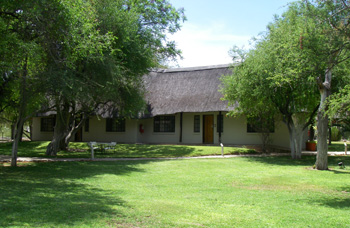 We recommend this large, well-run resort (a little pricey but worth it). It was a shame we didn't spend any time on the grounds. Having a group of tame-ish Blesbok including babies outside our door was an unexpected surprise.
Etosha National Park: http://www.sabirding.co.za/birdspot/100406.asp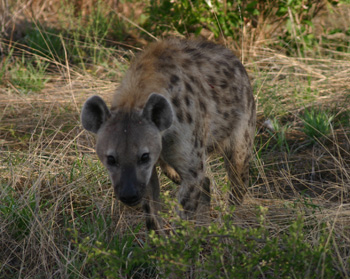 What can I add to the accounts of others about this fabulous place? The wildlife was wonderful; the place so peaceful (we rarely passed another car), I wish we'd had at least another full day to explore. We would have enjoyed birding around the lodges had there been no construction.
We covered the western part of the park only once in the afternoon and probably missed a lot. Still we had Pink-billed Larks, Capped Wheatears and our first Marabou Storks. As we made our way across the park (not stopping at Halali), we discovered lots of Koris, a Spotted Thick-knee, a close pair of Blue Cranes and had a stellar look at a Secretary Bird. Marc almost hit a Spotted Hyena as we rounded a bend and the Springbok were so close it seemed we could have touched them. We had Giraffes cross the road and then stop to browse, allowing us to inch up to their location. Fabulous creatures. Youngsters were much in evidence: Zebra, Springbok, Hartebeest and Giraffe. Our first Lioness was magical (as were the others).
The following day we drove westward only to Halali and then back to Mokuti. We had more Secretaries at close range and a Ludwig's Bustard after scanning many Kori. Along the Fischer's Pan loop we had a bonus female Black-bellied Bustard. We connected with Elephants, four more Blue Cranes and the adorable Ant-eating Chats. The final morning we had great looks at a group of Crested Francolin. We had managed to distinguish several species of lark during our visit but gave up on the pipits.
Rundu—Kaiososi River/Safari Lodge: http://www.kaisosiriverlodge.com/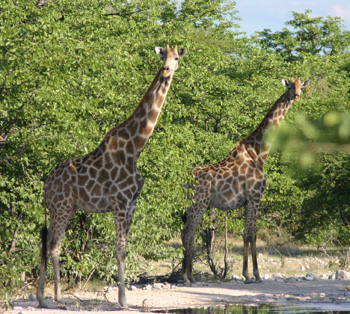 Our stop here was worth every penny. We stayed in a large, clean room and the food was good (though a non-smoking area is needed). Ask to stay in room 5 or 6.
We were using this as a rest stop before travelling into the Caprivi Strip and hadn't expected much. However, there was surprisingly good birding on the grounds and even from our room's porch—we could have used more time there. Our room was just behind an island on the Kavango River that contained a Village Weaver colony and a heron roost. We found Hartlaub's Babblers hanging with a Tropical Boubou (no doubt about the pink—saw Swamp Boubous later). Giant and Woodland Kingfishers were a treat. A White-backed Night Heron was seen entering the roost at dawn.
Mahangu Safari Lodge (MSL): http://www.mahangu.com.na/main.html
We were disappointed with this expensive lodge. First was 4kms of horrible road leading to the lodge. Then the luxury tents were luxury only that there was an attached bathroom, so we changed to a chalet. The chalet contained a double bed, was clean enough, but contained several LARGE spiders we had to dispense with. The food was excellent but we didn't find the staff all that friendly. After complaining about the road we were allowed to leave our car in a guarded area before the most torturous length and someone drove us out to the car when requested—but he never slowed down although I asked (and then shouted) stop!! and thus we missed out on some interesting birds (including a probable Baillon's Crake). The grounds were quiet, although other reports indicated many species could be found there. We should have taken a boat ride, perhaps.
Mahango Game Preserve (or National Park): http://www.sabirding.co.za/birdspot/100204.asp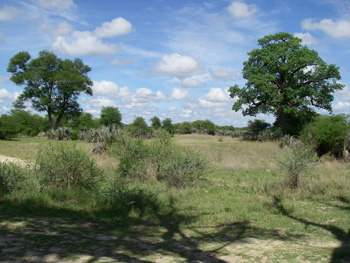 We loved this place and wish we'd had another day and perhaps a four-wheel drive (one long loop was off-limits to two-wheel drive cars). After the road to the MSL, I was afraid the roads would be equally bad in the preserve. Luckily they were fine and the birding was constant and interesting. Among the first birds seen were White-faced and Fulvous Ducks with a Spur-winged Goose. Then many francolins, White-browed and Senegal Coucals and many passerines appeared. We were blessed with incredible views of a Saddle-billed Stork feeding next to the road that seemed unconcerned by our presence. Definitely our "Best of Show" of the trip. Five flying Goliath Herons were pretty great too. A prolonged view of a feeding Slaty Egret was lovely and having a family of Bradfield Hornbills share a tree with a Peregrine was nice. A most satisfying and surprising sight was seeing how attractive White-headed Vultures were, with the patches of pink and baby blue on heads of creamy white (this species was BofS runner-up).
Best species: Saddle-billed Stork, White-headed Vulture and Slaty Egret.
Katima Mulilo—Caprivi River Lodge: http://www.capriviriverlodge.net/mainpage.htm
Nice clean location with nice garden, good food served late (8 PM). Ask for a chalet with a screen door. The only problem was the power outage (thus no fan) on our last night (ours had no screen!) and we had to dress in the dark the following morning.
Katima Mulilo (KM): http://www.sabirding.co.za/birdspot/100202.asp
Our birding attempts here were hit/miss, but ultimately very successful. The CRL owner gave vague directions on where to go. A contact person turned out to be a guide so we didn't feel right asking too many questions without payment. After running into Katy Sharpe (the guide) at her coffee shop just prior to leaving town (good coffee too), we wished we'd paid her for information, and asked to bird the fish farm she owns. She seemed knowledgeable and friendly. Some roads looked iffy so we didn't risk them.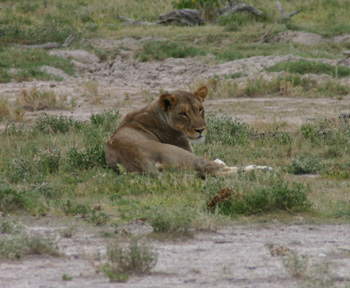 Nevertheless the advice netted two worthwhile roads. One led many kilometres eastward off the B8 beginning 7km south of the CRL turnoff. Another road ran northward off the B8 2km west of the C49 junction. The first road led through farmland, villages and wetter areas. We found Cut-throat Finches, Madagascar Bee-eaters and Fan-tailed Widowbird. Unfortunately it was some distance from the lodge so we had to leave the area before dusk. The second road (we dubbed Teak Road ) was a small dirt track that led to a quarry and some hilly grassland. We spent one afternoon and one morning there and saw different species each time. We saw six species of sunbird, African Cuckoo-hawk, Natal Francolin and had excellent looks at Levaillant's Cuckoo on this road. KM definitely required another day using better directions as we couldn't find the right habitat for Arnott's Chat, for instance.
KM best birds: Dwarf Bittern was a surprise find. At the CRL we had great birds: Schalow's Turaco, African Wood-owl (seen), Trumpeter Hornbill.
Mazambala Island Lodge: http://www.namibweb.com/mazambala.htm
An expensive place, even charged extra for breakfast. However, it was a nice accommodation, with wonderful views from the elevated dining room. We stayed here to break up the trip back to Rundu but it wasn't worth it monetarily or bird-wise. The road in (4km) was pretty bad, though not the worst. That being said, even though we saw very few bird species there, we saw 4 species only there, including an Olive-Tree Warbler at the edge of its wintering range. It looked like a boat trip here would have been very useful since the lodge was situated in a beautiful spot on the Kwando River, but there was a group of smokers that we would have had to accompany so… I would definitely have done this ride if I'd known how quiet the land birding was to be. We had to pay to be guided around an unmarked dirt track that contained few species and the guide misidentified Reedbuck as Lechwe.
Mazambala best birds: White-fronted Bee-eater.
Drive back to Rundu.
We had a great trip back to Rundu. One stop on the bridge after the Caprivi Game Park entrance provided views of Horus Swift. Just afterward we came upon a large group of vultures sitting in treetops that were nearly eye-level. Great, close, prolonged views of Hooded, White-headed, White-backed and Lappet-faced Vultures with a few Marabou Storks thrown in as well. Further along at a small water puddle, we saw our only Spectacled Weavers.
Rundu—N'Kwazi Lodge: http://www.safarinow.com/go/nkwazi/
This was a really nice place. It was almost idyllic. There was great food, including afternoon sweets to die for. It was a lovely setting with large grounds and comfortable chalets. Unfortunately, a water pump chugged VERY noisily all day long, making it very hard to relax, either at the chalet or poolside.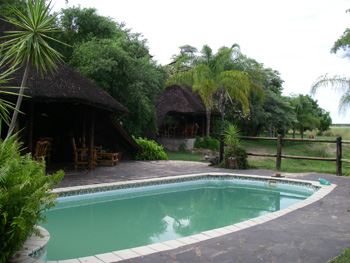 Another annoyance was that the power didn't come on till late morning so we dressed in the dark. However, our boat trip on the Kavango River with Linda was perfect. Good company, wine, great scenery and birds (Little Sparrowhawk, Rufous-bellied Heron). I am glad we were able to change our itinerary to spend two nights (and thus 2 mornings birding) with Linda, who had come up for work to Rundu. After she left we birded around the grounds (large area, needed more time). We also made an attempt to bird at the FINALLY located Rundu settling ponds after nearly destroying the car on a wash-board dirt road. We found them around noon so it was very hot and quiet, the grass was high so it was difficult to know where to walk (I think there was a crocodile in one pond so we were nervous) and we got our third tire puncture of the trip that cut short our visit there. Given other trip reports, it was a shame we didn't have time to try this location a second time.
Best N'Kwazi birds: Little Sparrowhawk and Yellow-bellied Greenbul were unexpected surprises, as was the tree full of African White-eyes.
Bernabé de la Bat Rest Camp: http://www.namibian.org/travel/lodging/waterberg.htm
This area is also being modernized so there was evidence of construction. Luckily we were assigned a chalet with no other people around (#54). We had a large, clean room, but only a ceiling fan for cooling. We turned on a water hose on the grass in front of the chalet and dik-diks, mongoose and a variety of birds visited. The restaurant served very good food in a nice setting. This was an excellent location to relax near the end of our adventure.
Waterberg Plateau Park: http://www.sabirding.co.za/birdspot/100709.asp
By the time we arrived here, the pace of the trip had caught up. Satisfied with our bird count, we decided to take our one afternoon/one morning stay here easy. We walked only from our chalet to the restaurant and back and used our scope from the road to scan the cliff faces and sky for birds. We still saw four new species: Verreauxs' and African Hawk-Eagles, Ruppell's Parrot and we had a great look at a Shikra. We also saw cute Rosy-faced Lovebirds in the cliff. A Pearl-spotted Owlet was out in the open too.
Best Waterberg birds: Shikra, lovebirds
Windhoek.
We arrived back in Windhoek in the afternoon from Waterberg. Visited with Linda and Jeff. The next day was for shopping. Our last morning we spent a couple of hours at Avis Dam then returned to have breakfast with Linda before leaving for the airport.
MAMMALS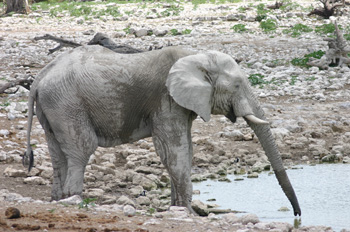 The number and variety of mammals, particularly the big game, really added to the experience for us as first-time visitors to Africa. The following species (in no particular order) were noted:

1) Giraffe – Reasonably common in Etosha, Mahango GP, & a few at Daan Viljoen, including one giving birth.

2) Elephant – Several in Etosha & Mahango GP, one along road in Caprivi GP.

3) Warthog – Groups with youngsters in Daan Viljoen, Etosha, Tandala & Mahango GP.

4) Rock Hyrax – Seen in Daan Viljoen and around Erongo.

<5) Burchell's Zebra - Common with youngsters in Etosha, a few at Tandala, also Mahango GP.

6) Hartmann's Mountain Zebra – Daan Viljoen.

7) Impala – Nominate subspecies at Mahango GP, Black-faced subspecies at Etosha.

8) Springbok – Common with youngsters in Etosha.

9) Steenbok – One on road to Otjimbingwe.

10) Bushbuck – 2 beautiful lone animals seen well in Mahango GP.

11) Roan – Group with youngsters in Mahango GP.

12) Water Buffalo – Groups in Mahango GP.

13) Hippos – Heard at Mazambala, seen at Mahango GP.

14) Greater Kudu – Groups in Etosha & Mahango GP, a few at Tandala, one magnificent buck crossed the road near us in Caprivi GP.

15) Sable – One magnificent buck along side the road in Caprivi GP.

16) Gemsbok (Oryx) – Regular in Etosha and Daan Viljoen.

17) Blue Wildebeest – Regular in small groups with youngsters in Etosha and Daan Viljoen. Also at Mahango GP.

18) Eland – Three impressive beasts at Daan Viljoen.

19) Red Hartebeest – A few sightings with youngsters in Etosha and Daan Viljoen.

20) Blesbok/Bontebok – "Tame" group with youngsters on grounds of Mokuti Lodge.

21) Reedbuck – Three seen close-up along trail at Mazambala.

22) Red Lechwe – Handsome buck in Mahango GP.

23) Common Duiker – Standoff with mom and son at N'Kwazi.

24) Damara Dik-dik – Close views at Waterberg in front of chalet.

25) Bat-eared Fox – Semi-tame youngster at Tandala, family in Etosha.

26) Black-backed Jackal – Etosha.

27) Spotted Hyena – Two lone animals, Etosha. Awesome.

28) Lion – Pride of 5 near Namutoni camp, a couple of lone females elsewhere in Etosha.

29) Cape Fur Seal – A few frolicking in surf from beach at Paaltjies, WB.

30) Slender Mongoose – One at Waterberg.

31) Dwarf Mongoose Single in Mahango GP.

32) Yellow Mongoose – Around Halali and in soccer field in Windhoek.

33) Banded Mongoose – Parties in Etosha, Waterberg.

34) Ground Squirrel sp – In the campground at Waterberg NP and lodge grounds in Etosha.

35) Chacma Baboon – First a group on the way to Windhoek from airport, groups in Omaruru, Etosha, Mahango GP, Caprivi GP.

36) Vervet Monkey – In trees in Mahango GP.

37) Scrub Hare – On road in Erongo and in Etosha.

The identities of some of the reptiles we saw were gleaned from labelled photos on the web. A Namaqua Chameleon and a Flap-necked Chameleon were rescued from the road in the Caprivi GP. We saw Red-headed Agama on boulders in the Erongo Mountains. We had a Spotted Bush Snake at Tandala. I rescued a tiny frog (no larger than my pinkie fingernail) from certain death in the Mahangu Safari Lodge dining room. We had African Striped Skinks at N'Kwazi (including one that magically appeared in the bathroom wash basin that had to be rescued). We saw a Water Monitor along the banks of the Zambezi River at the Caprivi River Lodge. Two Leopard Tortoises were rescued from the road in Mahango GP.
SUMMARY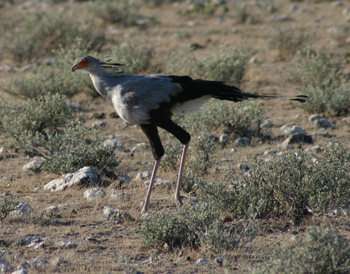 After reading other trip reports where guides were hired, we were very proud of our final tally: 54 species in South Africa & 360 species in Namibia, for a total of 375 African species, including 295 lifers using Wildlife Recorder (WR) program determinations. Several others listed as full species in the two Southern Africa guidebooks were designated in WR only as subspecies of one's I'd seen elsewhere. We had BVDs (better view desired), though not sooo many. Our species total was lower than possible because we didn't use guides, stay at the Etosha lodges, use tapes, or bird at night. Still, we did end up seeing many great species. We did better on larks than I'd hoped, yet missed coursers and sandgrouse . I am very happy we saw some rarities: Shelly's Sunbird, Schalow's Turaco. Our favourite species (hard to decide) were:- 1) Saddle-billed Stork 2) White-headed Vulture 3) Secretary Bird 4) Slaty Egret 5) Waxbills of any sort 6) Coucals. Also amazing were the 6 species of bustard/korhaan, 7 species of bee-eater, 7 species of hornbill, 5 species of francolin, 7 species of sunbird and our lone courser.
We had amazing non-feathered animal viewing too and saw wonderful, varied landscapes. All in all, it was a pretty fantastic trip. As stated before, one more week would have been great. As birders, we would not have Tandala Ridge on our itinerary (if we were more nature tourists, then yes). Taking a boat ride at Mazambala & Mahangu Safari Lodge would make these expensive places worthwhile. The bird list is available. Feel free to email me if you'd like additional information.
Sonia Santa Anna
Marc Fagan