May Magic – North East England Tour
May 10-15th 2009
Based at Longhirst Hall, Morpeth, Northumberland
Guests
Kev Mann
Mike Freer
John Smith
Monday 11th May
Bright sunshine and a gentle easterly greeted our arrival at Seahouses on the Northumberland coast. A quick look at the harbour rocks gave us Oystercatcher and Turnstone. The dual island boat trip headed out to Staple Island first, with hundreds of auks giving great views from the boat as we approached their nesting rock stacks. Eiders, Fulmar and grey seals all added to the fun. Once landed, dozens of Puffins greeted us standing at the entrance to their nesting burrows. Incubating Razorbills, Guillemots, Shags and Cormorant were all approachable, allowing useful comparison of plumage and body form in what can be confusing species.
After a relaxed picnic lunch under cloudless skies, we boarded again for the short hop to Inner Farne. A large mixed group of terns were roosting on the shore adjacent to the landing jetty. Climbing onto the island, Arctic Terns were beginning to settle on their nesting areas and around 100 Sandwich Terns were already perched together with Black-headed Gulls in their nesting colony. We eventually found Rock Pipit feeding on short turf, with the bird's dusky plumage and large size helping us identify it. Ringed Plover parents with day old chicks delighted us as we headed back to the boat again for the ride back to shore, with just enough time to enjoy the stunning views north to Holy Island and west up to the Cheviot Hills.
A short car ride north found us overlooking Bamburgh Castle and catching a small group of both duck and drake Common Scoter at close quarters.
Tuesday 12th May
Heading due west, we drove into Keilder Forest Park, a mixture of open moorland, spruce forest and reservoir open water in north west Northumberland. Keilder is home to around 30 pairs of Goshawk and is a well know raptor viewing spot in the region. Kev in particular was keen to see Goshawk in the UK after years of near misses. Ideal viewing conditions greeted us as we walked up into the forest, eventually getting good panoramic views across the reservoir. Buzzards were present in abundance, with each sighting giving hope of the "big hawk". By lunchtime, early optimism was fading and Lesser Redpoll, Willow Warbler, Meadow Pipit and Siskin were the limits of the slim pickings until a silhouetted Osprey heading down the reservoir lifted our spirits.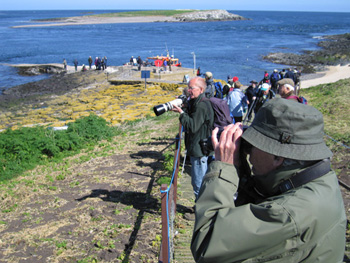 A quick drive north over the border into Scotland after lunch gave us an insight into what this remote landscape would have looked like before the construction of the enormous reservoir and forest planting. Back at Keilder Castle, Sparrowhawk flew over, being mobbed by martins. A long dusty drive across the forest rewarded us with little new and by late afternoon hawk hopes were fading. A final throw of the dice found us sitting in a hide overlooking a small pond and stream in a wooded valley. Ever looking skywards, Kev spotted a hawk and after frantically exiting the hide we picked the hawk up again as it slowly circled high above us. The stocky build and longish wings, coupled with very pale belly and flanks encouraged us to think Goshawk. The hawk then closed its wings, plummeting down into the river valley, striking at a Sand Martin right in front of us. This close-up finally confirmed a great view of a male Goshawk. Yippee!
We headed for home after a hard day of seeing little in a wonderful, promising landscape.
Wednesday 13th May
Driving south west we headed for the North Pennines Area of Outstanding Natural Beauty, home to some cracking birds. In a steep oak woodland valley along the River Derwent, a singing Blackcap was the only audible song on our arrival. A pair of Treecreeper flew over us as we tried to pinpoint tantalising fragments of bird song. Eventually, a pair of Redstart gave great views and we found Long-tailed Tits bringing food into an amazingly exposed nest high in an oak tree. A quick relocation helped us latch onto Pied Flycatcher song. Finding the songster proved difficult as this fast moving bird gave good views to Mike but eluded the rest of us. Another move paid off and we all enjoyed close views of the stunning male flycatcher.
Heading out of the wooded valley, we drove over heather moorland, stopping for Red Grouse on the way and had a short walk along the River Wear, seeing Common Sandpiper, Dipper, Grey Wagtail and Goosander. Our lunchtime picnic was taken high on the moors, sitting in an old quarry and being entertained by a pair of Wheatear and family of Mistle Thrush. Close by, another river valley held male Ring Ouzel, Cuckoo, more Wheatearand nesting Kestrel.
Continuing west into Teesdale, the high pastures and meadows held Black Grouse (five males), Curlew, Lapwing and Redshank. Mike found five boxing hares in a pasture close to the grouse. A final drive high onto the moor tops got us close to several feeding Golden Plover.
Thursday 14th May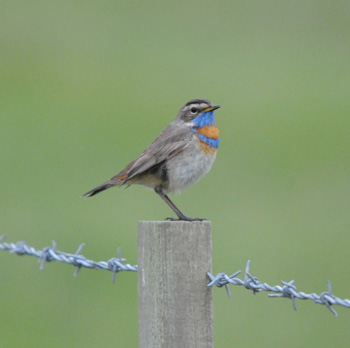 Another cloudless morning saw us driving 10 miles east to Druridge Bay, home to four Northumberland Wildlife Trust freshwater nature reserves. Starting at the south end of the bay and working north, we bumped into a good range of birds. Highlights included close views of a pair of Grey Partridge, Ruff, Stock Dove, Whimbrel, Sedge Warbler and Whitethroat. We were also treated to over 30 minutes of otter play, with three different animals tumbling together in the water and running along the pool banks.
In the early afternoon, Hauxley Nature Reserve held a lone Pink-footed Goose and lots of nesting Tree Sparrow. A late afternoon phone call left us all disappointed, bringing news of the cancellation of our scheduled Coquet Island sailing to see Roseate Tern. The strong east wind had hampered sailings all week and our chances of seeing roseates were dashed. Seeing live CCTV pictures of the terns at their nesting colony on the island was as close as we could get.
In an attempt to offset this disappointment, we fitted in one more stop on the way back to the hotel, finally picking up Coot and Little Grebe for the first time this week, along with a hunting fox. What a turn around!
Friday 15th May
With heavy rain scheduled on our last day, we agreed that our best option was a quick run north to Holy Island to try and see a male Bluethroat before the rain arrived. With only two other birders arriving before us on the island and no news of the Bluethroatthat morning, the cold wind and drizzle that greeted us did nothing for our spirits. Two hours later, broad smiles and inner cheer followed our return after close and prolonged views of this stunning bird – a first for some of the group. Crossing back onto the mainland, a short stop helped us pick up a party of five Grey Plover in lovely plumage out on the mudflats.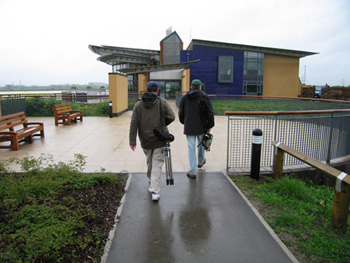 Driving south through strong wind and rain we eventually arrived at the RSPB's new Saltholme reserve just outside Middlesbrough. After a warm welcome from reserve staff and an even warmer lunch in the café, visits to two of the three hides on the reserve helped us see Little Egret, Yellow Wagtail, Little Ringed Plover and Barnacle Geese.
As the new habitats created mature over time, the all round quality of this site will make it a must-see for all birders living in or visiting northern England. Thanks to David and the reserve team for making us so welcome.
Our 5pm departure time had arrived all too quickly, but we managed to fit in two final stops before Mike and Kev's train was due. Avocets with chicks and common seals at were followed by 60+ Little Tern and Yellowhammer in beautiful early evening sunshine. A fitting end to a week of good weather and some great birds.
For a list of the 121 species seen during May Magic click here.
Nick Mason – Tour leader