North Pennines May 14th-24th 2008 Holiday report
Guests attending
The Thompson family
Angela Mackersie
Larry Hurst
Brian and Pam Denton
Roy and Annette Waring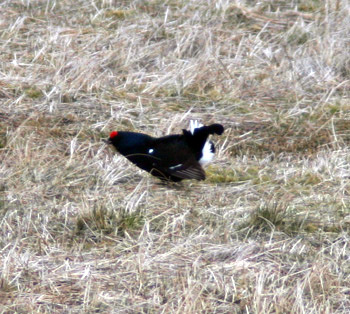 This report covers some of the highlights from three different North Pennine guiding breaks in 2008. All guests were staying at Lovelady Shield County House Hotel, just outside Alston in the North Pennines.
May 14th
A cold and misty 6am start found us watching Black Grouse displaying at two different sites. We were able to watch the first lek from the vehicle and there were five male grouse in attendance. The intensity of their display varied over the 30 minutes we watched them, but the bubbling and spitting calls and hops, skips and jumps of the birds produced a wonderful atmosphere. Driving into the Tyne valley, we walked away from the road for 5 minutes and ended up overlooking a distant lek of 22 males. This longer distance view gave us the chance to appreciate the scale of good quality habitat that Black Grouse need to flourish, with this valley containing small pockets of scrubby woodland, pastures, meadows and miles of moorland. Heading back, a Short-eared Owl flew across the road, and continued to hunt at the roadside. Breakfast beckoned!
Suitably replenished, a 10-minute drive from the hotel saw us walking gently uphill towards the head of a grassland and heathery valley. Wheatear, Linnet and Meadow Pipit sang from the stone wall tops as we walked higher. Dropping into the head of the valley after a 20 minute walk, we stopped to watch and listen.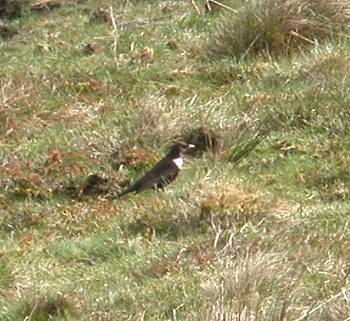 The call of Grey Wagtail cascaded up the river, helping us pick up the birds. Crossing the river, we enjoyed a brief glimpse of Ring Ouzel as it flew across the valley side. Hoping for better views, we walked another 100 metres up the track and were greeted by a lovely male Ring Ouzel singing. Views of the female bird followed and we retreated happily back down the valley for lunch.
May 17th
After a dawn Black Grouse lek visit and a leisurely breakfast, we headed south from Alston down through Weardale and into Teesdale. A single Black Grouse displaying by the roadside greeted us, followed quickly by two Grey Partridge. The calls of Lapwing, Redshank, Snipe and Curlew resounded through the spring air as we walked along the valley. Urgent alarm calls alerted us to the fly past of a male Merlin carrying what appeared to be a very young Curlew chick. The bird was hotly pursued for several hundred yards by two adult Curlew. Several broods of very young Lapwing chicks were sheltering in the yellow drifts of marsh marigolds in the damp pastures.
Our morning woodland walk was largely a wash-out as deteriorating cold, wet and windy conditions made finding small birds very difficult. A roosting Tawny Owl proved the highlight, with glimpses of several tits and Nuthatch.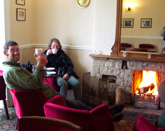 Heading back up Teesdale in mid afternoon, Snipe drummed overhead, seemingly reveling in the damp conditions. As the wind dropped, their drumming reached our ears more strongly. A pair of Red Grouse shepherded five chicks across the moorland parallel to us. The adults and chicks all ducked as a Buzzard flew low over them. Feeding groups of Golden Plover and a single Ringed Plover helped to warm us up a little and we ended the afternoon by finding a gorgeous male Yellow Wagtail on a stream bank, adjacent to one of the few wagtail nesting meadows left in the hills of northern England. With more cold wet weather closing in, we retreated to the pub for brandy and coffee in front of the fire, while both Song and Mistle Thrush families hunted for worms in the beer garden. The joy of spring!
May 18th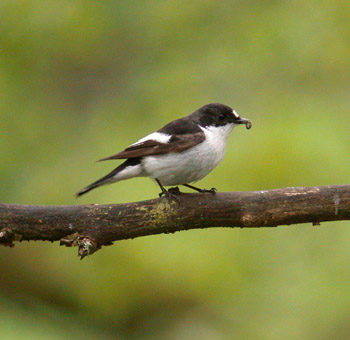 As poor weather hampered our previous woodland visit, we headed east after breakfast to the Derwent Gorge oak and ash woodlands. The song of a male Pied Flycatcher reached us shortly after parking up and a short walk brought us to a nest hole in an oak tree. The male was busy hunting insects and bringing them into the nest. The female left the nest for a short period and both birds gave great perched views.
Further down the valley, the piercing descending song of a Wood Warbler thrilled us, but we could not get a view of the bird as it was obscured in a thicket with no public access. Brief views of singing Redstart, Spotted Flycatcher and Green Woodpecker followed as we skirted the pasture land on the edge of the woods. As we made our way back into the woods Willow Warbler, Chiffchaff and Blackcap, all in full song, ended our morning on a high.
After lunch we climbed back up into the Tyne Valley and a short walk brought us into a Ring Ouzel territory close to a stream, adjacent to the ruins of a lead mine. Three Ring Ouzels were seen hunting for invertebrates, giving us time to disagree about the sex of one of the birds. Short bursts of song came as a male perched above us. Distant Raven and Peregrine sightings, together with decent Buzzard and Stock Dove views helped us on our way, back down the valley.
May 21st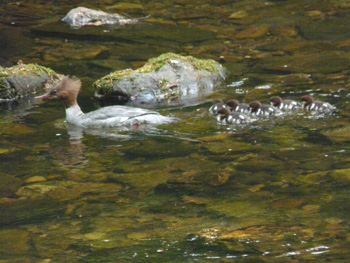 Two short riverside walks on the Tyne and West Allen rivers afforded us lovely views of riverside birds caring for their young. At Allen Banks woodland we sat still by the bank after walking up river for 30 minutes. Our patience was rewarded as a female Goosander drifted past us with two tiny chicks on her back, followed by a further four paddling behind her. These timid breeding ducks rarely give close views with young and we felt extremely privileged to have enjoyed such intimate undisturbed views.
We walked over Lambley Viaduct, on the South Tyne river and enjoyed tree top views of many woodland birds. Pied Flycatcher, Nuthatch, Great Spotted Woodpecker, Marsh Tit and Willow Warbler were all seen singing or feeding. Overhead, dozens of Sand Martins, Swifts and House Martins were also gathering insects and only a darting Sparrowhawk disrupted this feeding frenzy. Climbing down to river level, we spent a lovely 30 minutes watching two adult Dipper bringing food into a very exposed nest. The birds were clearly enjoying the superabundance of prey available, as the banks of the river were covered in adult mayfly and stonefly which they could cram into their beaks with little effort. The urgent calls of Common Sandpiper flying past and landing on a gravel bank in the river encouraged us to move on.
Client comments
"Thanks for a great weekend – good hotel, nice company, beautiful countryside and fantastic birds! What more could anyone want?" – Larry.
"Thank you for a great weekend birding. It was very well thought out and planned and despite the efforts of the weather, particularly on Saturday, we managed to see a very good selection of birds and importantly, got good views of almost all the target species." – Angela.
Written by Nick Mason – holiday leader