Black Grouse Bonanza – North Pennines
25-27 April 2009
Based at Brunswick House, Middleton-in-Teesdale, County Durham
Guest
Bryan Rackham
Saturday 25th April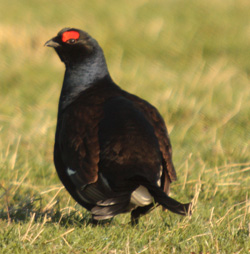 6 am saw us watching 15 male Black Grouse lekking close to the car as the sun rose up into a cloudless sky. The still air helped the bubbling and spitting calls of the grouse fill their bowl-like display arena and appeared to hold the attention of the gaggle of seven female Black Grouse standing close to the edge of the lek. A pair of courting Curlew, displaying Lapwing and singing Redshank helped to keep our attention also. A short driving circuit of Upper Teesdale brought us a female Merlin, Golden Plover, drumming Snipe and Red Grouse. Roadside views of hare ended our early morning outing.
After breakfast, we began a seven mile circular walk in Upper Teesdale. Crossing the river Tees we enjoyed watching two adult Dippers bring food to at least two hungry chicks that appeared to be filling their riverside nest to bursting.  A pair of Wigeon and Common Sandpiper were viewed distantly upstream. Climbing up onto Cronkley Fell, several pairs of Wheatear kept just of out of photographic range. We caught sight of a pair of Kestrels sitting side by side on their nesting ledge, while trying to find a Ring Ouzel whose ringing song tones we could hear. Grazing enclosures in the fell summit have allowed dozens of spring gentian and birds-eye primrose to flower, bringing a shock of intense colour to this bleak moorland landscape.
Once over the summit, our picnic lunch was enlivened by a dust-bathing female Red Grouse stalked by an amorous male. Distant views of a pair of Goosander in flight over the River Tees encouraged our descent into the valley. Distant thundery showers added an aura of menace to our riverside return but as the rain passed us by, Ring Ouzel alarm calling alerted us to a Peregrine overhead. A second Peregrine sped past us chasing another Ring Ouzel. We did not see the outcome of the contest!
Sunday 26th April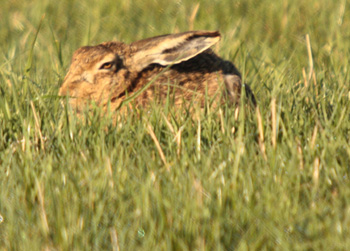 Another early morning start brought us onto the frosty moors of Lunedale. Little early morning movement spurred us onto Grassholme Reservoir, where good views of feeding Dunlin and Ringed Plover helped to warm us up. Moving over to Baldersdale, Brian managed to get close enough to a feeding male Black Grouse for some great photos and on returning to the car we startled a Short-eared Owl which then perched and stared at us from a grassy bank.
After breakfast, we walked into an oak-dominated upland woodland, close to Middleton-in-Teesdale. The ringing song of Redstart drew us on but pinning down the bird proved impossible. The rising wind made song and bird location difficult. Heading down into the woodland valley out of the wind, patience rewarded us with the arrival of a male Pied Flycatcher. The bird began singing and visited a nest box. Several more singing birds were seen during the morning. Eventually, after more near misses and another riverside picnic lunch, great views of two male Redstarts ended our walk on a high.
Heading back towards Middleton, a short detour brought us close views of a Ring Ouzel pair feeding together at the roadside, before returning towards their nesting place. Another short walk gave us a lucky encounter with a Red Kite, which gave great views lazily quartering over the wooded hillside and open moor. The kite moved out of view for quarter of an hour, but we then saw it retuning carrying food into a nearby wood. Returning to Middleton, a female Merlin flew parallel to the car for about 400 yards.
Monday 27th April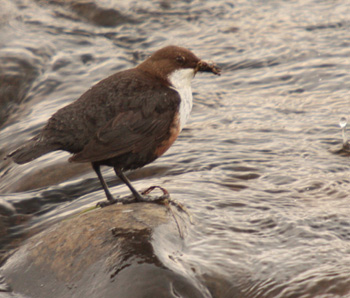 A showery start to the day did little to dampen our spirits as we drove north into the South Tyne Valley. Lambley Viaduct runs across this lovely river valley and its wooded sides and fast flowing river make it a great wildlife watching spot. Despite the rain, we gained close views of Grey Wagtail, Dippers feeding young, Common Sandpiper, Nuthatch and Sparrowhawk, during a traverse of the valley.
After lunch, we walked through the central section of the RSPB's 5000 hectare Geltsdale Reserve. After a welcome cup of tea with reserve staff, we joined them as they surveyed Lapwings breeding on the floodplain meadows and pastures next to the visitor centre. We finally located some Lapwings with tiny chicks, probably just hatched that day. Singing Cuckoo eluded us but several small groups of Lesser Redpoll gave us great views to end the holiday.
Thanks to Bryan for his wonderful photos from the holiday.
Click here for a list of the 77 species seen during this holiday.
Nick Mason – Tour leader