INTRODUCTION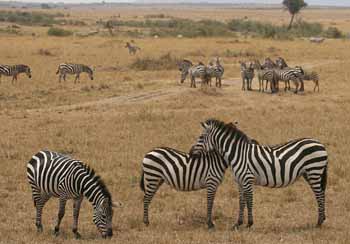 We wanted to mix birding, game watching and general sightseeing and to do as much on Safari as possible and then have a more relaxed week on the coast. We did try to make up our own Safari package, but as visiting the reserves and getting permits independently would have taken so much time to organise – and looked more expensive, we ended up booking via Thomas Cook Signature Holidays, taking their Big Cat Safari with an added week at the Turtle Bay Beach Resort in Malindi. Total cost was £5586 for 2, and this included everything except alcoholic drinks on Safari and tips.
Thomas Cook used Akorn Destination Management as their local representatives, and I was very impressed. They had experienced and helpful people at every stage of the trip and everything went like clockwork.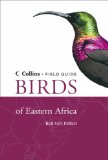 I took Birds of Eastern Africa (Collins Field Guide)by Ber van Perlo and the Pocket Guide to Mammals of East Africa by Chris and Tilde Stuart. Both served me admirably although the bird distribution maps being separate to the text and pictures was a minor irritation as you needed to refer to these to thin down the choices on big families like weavers, sunbirds, glossy starlings etc.
DIARY
25th July
Left Heathrow airport at 20.00 (BST)
26th July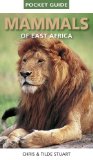 Arrived Nairobi, Jomo Kenyatta Airport 06.30, African Palm Swift in car park. Marabou Stork on trees over road en route to Holiday Inn, Parklands, Nairobi (20km). Akorn representative met us and briefed us on options for later in the day. We had intended to take a gentle stroll in the nearby Arboretum to see what birds we could photograph, but we were warned not to take the camera there unaccompanied (It's a Canon 400 with Bigma lens and tripod – so not cheap) as mugging is fairly common in Nairobi. So we had a nap till lunchtime then spent a relaxing afternoon in the grounds. Started the bird list with: Variable Sunbird, African Pied Wagtail, Pied Crow, Black Kite, Olive Thrush, Common Bulbul, Baglafecht Weaver, African Mourning Dove, Red-billed Firefinch and Hadada Ibis. Had dinner and turned in ready for an early start.
27th July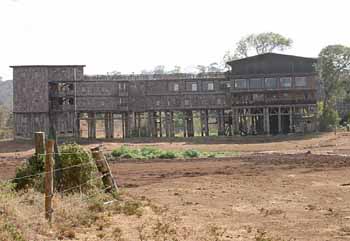 Breakfast at 06.30, and left main suitcases in storage at the hotel, taking smaller safari bags. Were picked up at 08.30 by our driver for the week, Ngotho, in a 6 seater 4X4 truck with removable roof panels. There were 12 in our party, so there was a second truck, driver Mungo. We drove up to Nyeri in the Kenyan Highlands, to stop at the Outspan. On the road saw: Cattle Egret, Superb Starling, Long-tailed Fiscal, Speckled Mousebird. Outspan is a staging post for Treetops in the Aberdares National Park. We had lunch here outside, in lovely surroundings, then had an hour or so to relax and explore the grounds: Silvery-cheeked Hornbill, Southern Black Flycatcher, Common Fiscal and one of the groundsmen showed us an African Wood Owl and another found us a Jackson's Chameleon. We left our middle sized bags at Outspan and travelled on to Treetops with just an overnight bag. On arriving at Treetops we were shown our rooms (tiny, but all you need.) Treetops is basically a huge hide in the Aberdares National Park, overlooking a waterhole, famous as the place where Queen Elizabeth heard her father had died. We had a few hours before dinner and spent most of it on the roof – they bring you drinks here while you watch what's visiting the waterhole. Very civilised! Animals included Warthog, Waterbuck, Bushbuck, African Buffalo and at dusk, a Giant Forest Hog. After dinner it was floodlit and we added White tailed Mongoose and on the steps between floors, a Common Large-spotted Genet. We went to bed but were alerted by the buzzer system in the rooms to come back out to see a Black Rhino! Birds seen included: Speckled Pigeon, Red-billed Oxpecker, Little Swift and Auger Buzzard.
28th July and 29th July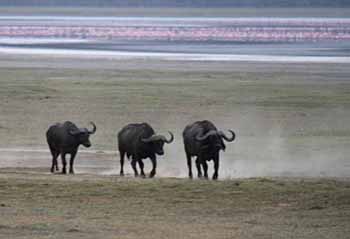 Up at 06.00 and drove back to Outspan – saw a Scaly Francolin on the track and Sykes Monkey and Black and White Colobus by the entrance to the reserve. Breakfast at Outspan, collected our safari bags, then at 08.30 left to drive North to Samburu. On the road we added: Kori Bustard, Northern White-crowned Shrike and Fork-tailed Drongo. We crossed the Equator and arrived at Samburu Serena Lodge for lunch, spotting an Unstriped Ground Squirrel as we waited at the entrance to the reserve and Black-faced Vervet Monkey plus Olive Baboon in the grounds of the lodge. After lunch we had an hour or so to explore the grounds, then we were off on our first game drive. We had 2 more game drives the next day at dawn and dusk. Animals seen were: Gerenuk, African Elephant, Reticulated Giraffe, Kirk's Dik-dik, Beisa Oryx, Grant's Gazelle, Impala, Grevy's Zebra, Cheetah (on a kill), Black-backed Jackal, Nile Crocodile and Rock Hyrax. Birds seen on game drives included: Helmeted Guineafowl, Vulterine Guineafowl, Black-capped Social Weaver, Red-billed Hornbill, Little Bee-eater, Bateleur, African Harrier-hawk, Namaqua Dove, Yellow-necked Spurfowl, Ostrich, Crested Francolin, Crowned Lapwing. While around the lodge grounds we also saw: White-bellied Go-away-bird, Black-cheeked Waxbill, Green-backed Camaroptera, Spotted Morning Thrush, Laughing Dove, White-browed Sparrow-Weaver, Blue-naped Mousebird, White-headed Buffalo-weaver, Grey-headed Kingfisher, Gabar Goshawk, Spotted Eagle-Owl, Von der Decken's Hornbill, Jameson's Firefinch, Black-throated Barbet, Grey-headed Sparrow, Nubian Woodpecker, Tambourine Dove.
30th July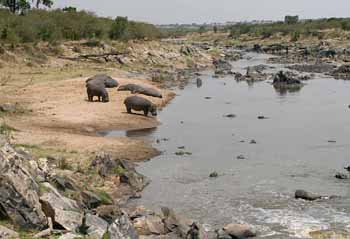 Up at 06.00 and 06.30 breakfast, left at 07.00 to drive to Lake Nakuru Lodge. Arrived for lunch. Saw a Hamerkop by a pond en route. After lunch had an hour or so to explore the grounds. Saw: Blacksmith Lapwing, Rock Martin, Hoopoe, Red-cheeked Cordon-bleu, and East African Rainbow Lizard. Then off on a game drive to the Lake. Saw: Lesser Blue-eared Glossy Starling, Yellow-billed Stork, Lesser Flamingo, Great White Pelican, White-winged Black Tern. While new animals included: Thomson's Gazelle and White Rhinoceros (About a dozen!)
31st July and 1st August
Up at 06.00 again and off after breakfast to drive to Masai Mara; arrived at the Mara Sopa lodge for lunch and then had a couple of hours to explore the grounds. I spent most of this by the Hyena feeding area, where a mix of short dry grass, shrubs and bushes provided excellent birding in a small area: Scarlet-chested Sunbird, Purple Grenadier, Klaas's Cuckoo, Red-rumped Swallow (nesting), Rueppel's Robin-chat, Spot-flanked Barbet, Chin-spot Batis, Yellow White-eye, Red-fronted Tinkerbird, Tawny-flanked Prinia and White-eyed Slaty Flycatcher. Then we were off on a game drive, we also had a full days drive the next day to see the Wildebeest trying to cross the Mara on migration. Birds seen included: Tawny Eagle, Lilac-breasted Roller, Dark Chanting Goshawk, African White-backed Vulture, Three-banded Plover, Grey-backed Fiscal, Brown Snake Eagle, Lappet-faced Vulture, Sooty Chat, African Wattled Lapwing, Ruppell's Long-tailed Starling, Southern Ground Hornbill, Secretary Bird, Red-necked Spurfowl, Black-headed Heron, Spur-winged Lapwing and Rufous-naped Lark.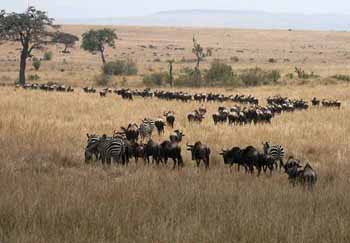 While animals included: Blue Wildebeest, Plains Zebra, Common Hippopotamus, Topi, Coke's Hartebeest (Kongoni), Masai Giraffe, Leopard (with cub), African Lion (about a dozen – feeding, with cubs), Spotted Hyena, Thick-tailed Galago (Bushbaby), Striped Skink, Cervil Cat and Common Eland. The Mara river was very low as the big rains had failed this year, so we only saw a few wildebeest crossing – they could see the crocodiles waiting. The rest milled about nervously on the banks. But the huge herds, all marching together, were a stunning sight. Ngotho did an excellent job getting us into the best positions without unduly harassing the animals – he was great at predicting where they were going and getting there before them. He also knew a fair bit about the birds – that was part of his degree honed by 16 years experience. We tipped him well – he deserved it. An exhausting but really wonderful week – we were sorry to end it.
2nd August
Up early again and back to Nairobi, (Cape Crow on the road), had lunch at the Holiday Inn, collected our suitcases and were taken to the Airport for the flight to Mombasa. We were met in Mombasa and driven 2 hours North to Malindi, Turtle Bay Beach resort – arriving at 21.00 and ready for sleep, straight after a late dinner.
3rd to 10th August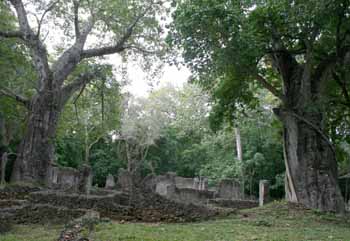 Spent the first couple of days just relaxing at the Turtle Bay Beach Resort. Picked up a couple of new species there: House Crow, Golden Palm Weaver, (nesting by the top bar), Graceful Chameleon (another helpful groundsman) and an Osprey on the beach. We did one trip out to the Gede Ruins and Kipepeo butterfly farm – a nice relaxing trip.
Mida Creek
We did two birding trips to Mida Creek area – a huge bay surrounded by mangroves with a narrow sea mouth. The bay has a boardwalk and hide to watch the waders on the vast expanse of mudflats – but this was over at the far side from us and the tide was way out when we visited. The birds were distant even with a scope. The back of the bay was just a mile walk away from the resort however and we spent time mostly in this area of scrub, mangrove, huts and farmland. We found a local guide, Nemo, who knew this area and its birds very well. He can be contacted on mobile +254 734 997 695, or at PO box 68-80202, Watamu, Kenya, East Africa, or email, or just go to the beach and ask for Nemo as we did! Birds seen here included: Black-headed Weaver, Black-bellied Glossy Starling, Northern Brownbul, Scaly Babbler, Rufous Chatterer, White-browed Coucal, Red-eyed Dove, Black-crowned Tchagra, Violet-backed Starling, Yellow-fronted Canary, Bronze Mannikin, Grey-headed Bush-shrike, African Green Pigeon,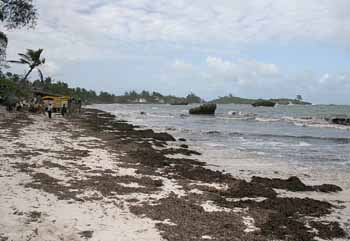 Mangrove Kingfisher, Black & White Cuckoo, Yellowbill, Emerald-spotted Wood-dove, Black Cuckoo, African Pygmy Kingfisher, Violet-breasted Sunbird, Purple-banded Sunbird, Grassland Pipit, Lesser Striped Swallow, African Golden Oriole, Greenshank, Sacred Ibis, Great White Egret, Red-billed Quelea and Pale Flycatcher.
Arabuke-Sokoke Forest – This was also nearby and we arranged a visit there at Turtle Bay reception with their local guide Jonathon. We started at 06.00 and drove to the park entrance to get our entry permits ($20) then Jonathon drove us to a small track where we parked up. We waited at the end of the track and looked down it, and almost immediately saw a Spotted Ground Thrush on the path – these are globally endangered, so a great spot! There were also at least 2 Golden-rumped Elephant-shrews (Sengi) foraging further up the path. We also saw Red-capped Robin-Chat, Narina Trogon, Yellow-bellied Greenbul, Crowned Hornbill, Bohm's Spinetail, Trumpeter Hornbill, Yellow Flycatcher, Black-headed Apalis, White-throated Nicator and Lizard Buzzard.
11th August
Left mid-afternoon for the 2 hour drive to Mombasa, plane to Nairobi and flight home arriving early on the 12th.
SUMMARY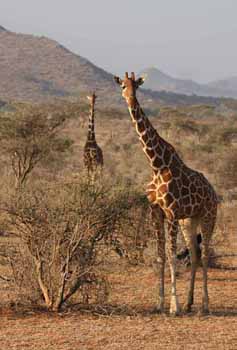 A great holiday! Hectic the first week then a bit more laid back. 141 species of birds seen, 39 mammals and 5 reptiles. Those were just the ones I could ID. More photos are available on my website under the "Breaks" section – 3 pages of Beasts, Birds and misc images.
And if anyone has any questions that I can help with I'll be happy to try, contact me.
Mammal and Reptile Species List
| | | |
| --- | --- | --- |
| Mammals seen | Latin Name | Where seen |
| Common Warthog | Phacochoerus africanus | Treetops, Aberdares |
| Waterbuck | Kobus ellipsiprymnus | Treetops, Aberdares |
| Bushbuck | Tragelaphus scriptus | Treetops, Aberdares |
| African Buffalo | Syncerus caffer | Treetops, Aberdares |
| Giant Forest Hog | Hylochoerus meinertzhageni | Treetops, Aberdares |
| White-tailed Mongoose | Ichneumia albicauda | Treetops, Aberdares |
| Common Large-spotted Genet | Genetta maculata | Treetops, Aberdares |
| Guereza Black & White Colobus | Colobus guereza | Treetops, Aberdares |
| Sykes's Monkey | Cercopithecus albogularis | Treetops, Aberdares |
| Black Rhinoceros | Diceros bicornis | Treetops, Aberdares |
| Unstriped Ground Squirrel | Xerus rutilus | Samburu |
| Black-faced Vervet Monkey | Cercopithecus pygerythrus | Samburu |
| Olive Savanna Baboon | Papio cynocephalus | Samburu |
| Gerenuk | Litocranius walleri | Samburu |
| African Elephant | Loxodonta africana | Samburu |
| Reticulated Giraffe | Giraffa camelopardalis reticulata | Samburu |
| Kirk's Dik-dik | Madoqua kirki | Samburu |
| Beisa Oryx | Oryx gazella beisa | Samburu |
| Grant's Gazelle | Gazella granti | Samburu |
| Impala | Aepyceros melampus | Samburu |
| Grevy's Zebra | Equus grevyi | Samburu |
| Cheetah | Acinonyx jubatus | Samburu |
| Black-backed Jackal | Canis mesomelas | Samburu |
| Rock Hyrax | Procavia capensis | Samburu |
| Thomson's Gazelle | Gazella thomsoni | Lake Nakuru |
| White Rhinoceros | Ceratotherium simum | Lake Nakuru |
| Blue Wildebeest | Connochaetes taurinus | Masai Mara |
| Plains Zebra | Equus burchellii | Masai Mara |
| Common Hippopotamus | Hippopotamus amphibius | Masai Mara |
| Topi | Damaliscus lunatus jimela | Masai Mara |
| Coke's Hartebeest (Kongoni) | Alcelaphus buselaphus cokei | Masai Mara |
| Masai Giraffe | Giraffa camelopardalis tippelskirchi | Masai Mara |
| Leopard | Panthera pardus | Masai Mara |
| African Lion | Panthera leo | Masai Mara |
| Spotted Hyena | Crocuta crocuta | Masai Mara |
| Thick-tailed Galago (Bushbaby) | Otolemur crassicaudatus | Masai Mara |
| Cervil Cat | Leptailurus serval | Masai Mara |
| Common Eland | Tragelaphus oryx | Masai Mara |
| Golden-rumped Sengi (Elephant shrew) | Rhynchocyon chrysopygus | Arabuke-Sokoke forest |
| | | |
| Reptiles seen | Latin Name | Where seen |
| Jackson's Chameleon | Chamaeleo jacksonii | Outspan, Nyeri, Aberdares |
| Graceful Chameleon | Chamaeleo gracili | Malindi |
| East African Rainbow Lizard | Agama agama lionotus | Samburu, Masai Mara |
| Striped Skink | Trachylepis striata | Masai Mara, Lake Nakuru |
| Nile Crocodile | Crocodylus niloticus | Masai Mara, Samburu |