INTRODUCTION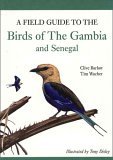 Just after Christmas 1999, in need of some winter sun and wishing to visit somewhere new for some overseas birding, we visited the local Travel Agents to see what was available. As ever, prices for The Gambia looked reasonably cheap and, never having been to Africa before, we decided to take the plunge.
RESEARCH & TRIP ESSENTIALS
Never having visited this type of area before, we hastened to the doctors to find out what jabs we would need and as Yellow Fever was a requirement, we didn't have too much time to get organised. In the event we could probably have managed without Malaria tablets as we were never troubled by mosquitos.
We quickly ordered Prion Birdwatchers' Guide to the Gambia by Rod Ward and Field Guide to Birds of Gambia by Clive Barlow et al. and we also purchased the The Gambia and Senegal (Lonely Planet Country Guide) to do some background research on the country and the area where we would be staying. Although Ward's book was published in 1994 it still covers the majority of sites, giving adequate directions, even though in recent years (6/07) the roads around the tourist area on the coast have changed a little.
In those days we were a little naïve as regards the benefit of online research and the plethora of Trip Reports available on the internet. Now, the first port of call would be online to:- Fat Birder, CloudBirders, African Bird Club and The Gambia Bird Guides Association,
ACCOMMODATION BIRD GUIDES & TRANSPORT
Unusually for us, we booked a simple half-board package with one of the major tour operators to benefit from a last minute booking deal. We stayed at the Kombo Beach Hotel, Kotu Beach. Although not up to UK 3* standards, the hotel was reasonably comfortable, clean and for a small extra charge, had basic air-conditioning. The food was varied and acceptable, without being anything out of the ordinary. At the price we paid, it represented good value for our money. However if we were to go again we would probably book direct with The Gambia Experience.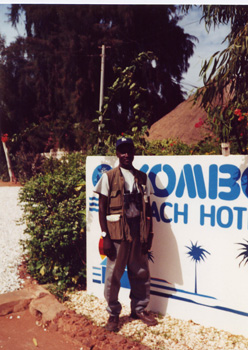 The roads in The Gambia are pretty poor and with inadequate road signs and the difficulties involved finding the various sites, hiring a car was out of the question. Our research had provided a few bird guides' names and following the information in Ward's book we decided to take our chances with finding a suitable guide at the lower bridge over Kotu Creek as this was just outside our hotel grounds. I felt a short walk around ether the Creek or the nearby Faraja Golf Course with a prospective guide would soon let me assess his competence or otherwise. The morning after our arrival I duly walked out of the hotel for a pre-breakfast stroll along the beach and around Kotu Creek and had no difficulty whatsoever in being "accosted" by all manner of potential guides and "friends" most of whom I quickly sent on their way, even though one or two were quite persistent. When it became apparent there was no money in it for them they soon departed. The second of two potential guides I went for a short walk with, appeared to have reasonable knowledge and ID skills and I was considering hiring him for the next day when I bumped into another English birder who was about to go back home and had been using Malick Suso who he couldn't recommend too highly and who also happened to be walking along the road towards us as we stood on the bridge over the Creek. After being introduced and a brief chat with Malick about his charges for both guiding and providing transport by taxi, we decided to hire him on a daily basis for the rest of our stay.
Malick proved to be both an excellent guide and companion for the five days we used his services. His keen eyesight, knowledge of bird calls and ability to mimic some calls ensured we ended our short stay with a very creditable bird list. An added bonus was Malick's presence ensured we were not bothered by "bumsters" as he met and returned us each day by the hotel gates.
The Gambia Bird Guides Association maintains a list of current guides on the AccessGambia web site together with contact details and, in some cases, recommendations.
ITINERARY
Thursday 3rd Feb – Manchester to Gambia. Airport to Kotu Beach.
Friday 4th Feb – Faraja Golf Course, Kotu Creek and Casino Cycle Track.
Saturday 5th Feb – Brufut Woods and Tanji Nature Reserve.
Sunday 6th Feb – Bakau Crocodile Pool, Camaloo Corner, The Bund Road, Faraja Golf Course and Kotu Creek.
Monday 7th Feb – Abuko Nature Reserve, Lamin Lodge, The Bund Road and Kotu Creek.
Tuesday 8th Feb – Faraba Banta, Pirang and Yundum.
Wednesday 9th Feb – Marakissa, Yundum, Faraja Golf Course and Kotu Creek.
Thursday 10th Feb – Casino Cycle Track and then to the Airport for our journey home.
DIARY, SITES AND BIRDS
With the exception of Marakissa, all the sites we visited, including directions, are more than adequately described in Ward's book. In February 2000 £1 was approximately equivalent to 18.3 Dalasi, the local currency in which we paid Malick. Costs included guiding and transport for two. Species names are based on Birds of The Gambia.
Friday 4th February
The journey from the airport to the hotel on the previous day yielded 7 species, including Laughing Dove, Pied Crow and our first vultures. Initially I set out to explore the area around the hotel by myself, but by lunch time had met Malick and by way of a preliminary check on his birding skills, arranged to walk around Kotu Creek and Casino Cycle Track with him in the afternoon at a cost of 200 D (£11). I had become acquainted with many of the local specialities walking along the beach and around Faraja Golf Course in the morning including 3 Long-tailed Cormorant, 2 Hamerkop, 4 African Spoonbill, Yellow-billed Oxpecker and the only Marsh Sandpiper of the trip. At the Kotu sewage ponds we saw the resident flock of c40 White-faced Whistling Duck and African Jacana. In the afternoon we started off at a pool behind the Badala Park Hotel with the spectacle of 16 Black Heron fishing in unison with their wings shaped like umbrellas. Around the Creek and along the Cycle Track we also had 3 Senegal Thick-knee, Fine-Spotted Woodpecker, Grey Woodpecker, 2 Northern Black Flycatcher and the occasional Black-tailed Godwit among the more numerous Bar-tailed Godwit. With a little patience Malick also produced excellent close-up views of Yellow-throated Longclaw. By the end of the day the trip list had grown to 85 species, which was also the number for the day.
Saturday 5th February
Today we headed off to Brufut Woods at first light, after an early breakfast. Here we had our only sightings of Ahanta Francolin, Klaas' Cuckoo, Mottled Spinetail, Striped Kingfisher, Brown-backed Woodpecker, Dorst's Cisticola, Bronze-tailed Glossy Starling, Greater Blue-eared Glossy Starling, Bush Petronia and Common Swift. In an open scrubby area as we approached the wood we had excellent close-ups of a single Cut-throat Finch. We also had our first sightings of African Pied Hornbill, Fanti Saw-wing and Little Greenbull, which were only subsequently seen at Abuko. After a leisurely stroll through the woods we moved on, as the day heated up, to the Tanji Reserve which was relatively quiet. We made our way through the woodland to the shore, with the only birds of note being excellent first views of Lizard Buzzard and Grey Kestrel, plus our only sighting of Eurasian Swallow. On the sand bank just off shore and in the lagoon there were numerous waders and gulls including Sanderling and Slender-billed Gull. Having had a major back operation a few months earlier I had decided to leave my "heavy" scope at the hotel – all well and good walking though fairly dense woodland, but a major mistake when needing to scan the shoreline for anything unusual. Needless to say Malick was a little distressed we were missing this opportunity to pick up additional species when he found out about the scope and immediately offered to carry it for the rest of our time with him. With the heat increasing in intensity we returned to the hotel in the early afternoon for some lunch and to cool down. Today's birding and transport cost 800D (£44), we saw 88 species and our trip list moved on to 128.
Sunday 6th February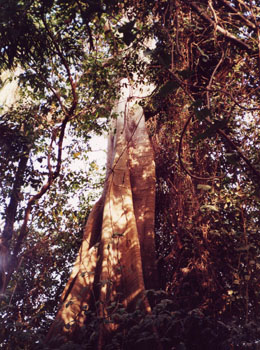 Taking advantage of the dramatic reduction in traffic at the week-end we decided to visit The Bund Road today. We started off immediately after breakfast by visiting the Crocodile Pool at Bakau where we saw 3 Sacred Ibis, Blue-breasted Kingfisher, 3 Oriole Warbler and our only White-crowned Robin-chat of the trip. We then moved on to walk across the fields to Camaloo Corner where we saw a reasonable selection of herons, egrets and waders and had one of only two sightings of Pied-winged Swallow, Northern Red Bishop and Sand Martin. Red-necked Falcon, both in flight and then perched on palm fronds nearby, was the highlight of this particular area. As the morning heated up we moved on to The Bund Road to check out the extensive tidal mud flats, mangroves and open water. As expected there was a good selection of waders, gulls, terns, herons and egrets although the tide was quite high. We had our first and only sightings of White-breasted Cormorant, Lesser Kestrel, White Wagtail, Cape (Kelp) Gull, Atlantic Yellow-legged Gull, Western Lesser Black-backed Gull, Black-headed Gull and Lesser Crested Tern plus 2 Slender-billed Gull, 20 Blue-cheeked Bee-eater and c200 Pink-backed Pelican roosting on the shipwrecks out in the channel. In the heat of the day we returned to the hotel for a spot of lunch and to chill out at the bar. Later, as it cooled down we went for a stroll around Kotu Creek and Faraja Golf Course, where we saw our only African Silverbill of the trip. Birding today cost 750D (£41) and our species list moved on to 149 whilst we had 98 birds for the day.
Monday 7th February
An early breakfast saw us once again setting out at dawn for Abuko Nature Reserve. The usual array of herons and egrets included 3 Black-crowned Night Heron and 4 Hamerkop, one of which was gently sunning itself at the side of the main pool whilst being stalked by a crocodile. Nearby 2 Hamerkop were involved in a "struggle to the death" as they had seemingly endless energy to expend on each other. Perhaps there was a disputed female nearby – hope she wasn't too let down when it was all over. As we gently strolled around the trails we had our only trip sightings of 2 Green Turaco and 3 Violet Turaco as they skulked about high up in the canopy, Verreaux's Eagle Owl perched nearby overhead and seemingly wide awake at its daytime roost, Giant Kingfisher, Greater Honeyguide, Snowy-crowned Robin-chat, Blackcap Babbler, 2 Common Wattle-eye, Square-tailed Drongo, Splendid Glossy Starling, Black-necked Weaver and Black-winged Bishop. We also had our first Grey-backed Cameroptera, 8 noisy White-crested Helmetshrike and only the second Orange-cheeked Waxbill and 2 African Pied Hornbill of the trip. From Abuko we moved on to Lamin Lodge, a rustic "African style" bar and restaurant built on stilts among the mangroves overlooking a creek on the River Gambia, which was to burn down 2 months later, but is now rebuilt. Here we saw our first Lanner and Gull-billed Tern, our only 4 Blue-spotted Wood-dove plus a brief glimpse of a flying Malachite Kingfisher as we walked around the fields and tracks nearby. We then returned to the hotel for some lunch and liquid refreshments prior to going out again to visit The Bund Road in the late afternoon to see the area at low tide. Prior to leaving I quickly went to a spot just outside the hotel grounds where Malick reliably informed me I would find Village Indigobird, as I had previously missed out on this species. He was of course spot-on as usual. On the way we saw our only Black Crake as it crossed the road behind the taxi and a pair of stunning Namaqua Dove flying across the road in front of us and then landing conveniently on a roadside building. With the mud flats more exposed we were rewarded with our only sightings of Oystercatcher, 4 Avocet, Ringed Plover and White-winged Tern, together with our first Little Stint and Curlew Sandpiper and one of only two sightings of Wood Sandpiper. We returned to the hotel via Kotu Creek. Birding and transport for the day cost 750D (£41) and the species list moved on to 180 with a massive 106 for the day.
Tuesday 8th February
Once again we left at dawn, after a hasty breakfast, for one of our furthest trips from the coast. At least it felt like a very long way in view of the state of the roads. We started off at Faraba Banta, where we left the farmed landscape and entered the more open savannah woodland in search of raptors and were rewarded with our only trip sightings of Short-toed Eagle, Brown Snake Eagle and Grasshopper Buzzard, plus our first Gabar Goshawk, Booted Eagle and Northern Wheatear. The supporting cast also included Black Kite, Lizard Buzzard, Dark Chanting Goshawk and Common Kestrel. Flushed with success we moved on to Pirang to the Scan-Gambia shrimp Farm which closed down in 1992. The fish ponds, some of which still hold a little water, are surrounded by rice fields, Oil Palms and open areas with scattered acacias and other small trees. Crossing a small dyke, it is possible to get on to the banks of the ponds and from this elevated position you can simply scan the surrounding area and wait for things to happen. We were rewarded with a good selection of herons and egrets plus 15 Yellow-billed Stork and 20 African Spoonbill – regrettably no Black-crowned Cranes however. Over a period of about 2 hours we saw our first 2 Long-crested Eagle, whilst a pair of Lanner landed on an adjacent pond bank and remained there for well over 30 minutes. We also had our only sightings of Peregrine, 2 Singing Bushlark, 2 Crested Lark, 2 Plain-backed Pipit, 10 Mosque Swallow and Quailfinch. Also notable were 20 Little Stint, 10 Greenshank, 3 Curlew Sandpiper and our second only sightings of Red-chested Swallow and Yellow-throated Longclaw. A gentle breeze was blowing as we stood taking in the array of birds laid out before us and this was one of the easiest and most enjoyable birding experiences of the trip. We returned to the hotel for some light refreshment and to freshen up, before heading out later in the afternoon for the Yundum area in search of sandgrouse. As there was still plenty daylight left we initially birded the cultivated fields near to the sandgrouse pools which are only a few metres from the airport perimeter fence. At our first stop we patiently scanned a cleared field and were rewarded with 3 Temminck's Courser. In the surrounding trees and bushes we had our only sightings of Red-winged Warbler, African Golden Oriole, Lesser Blue-eared Glossy Starling and Little Weaver. We also saw our first Woodchat Shrike and had only our second sightings of Long-crested Eagle (perched on top of a small bare tree and much closer than the previous two), Grey-backed Cameroptera and Scarlet-chested Sunbird. As dusk approached we headed off to the sandgrouse pools to get in to position before the birds started to arrive. Whilst we waited, we had our only trip sighting of 5 Vieillot's Barbet virtually within touching distance in the bushes overhead. After about 30 minutes and right on cue, birds started to land and in no time at all there were 20 Four-banded Sandgrouse drinking around the pool. Bearing in mind how skittish sandgrouse usually are it was an amazing spectacle to watch these birds from less than 20 metres away, getting their daily intake of water, quite unconcerned by the noisy main road nearby, people constantly talking and shouting as they walked along the roadside and adjoining tracks and also the occasional aircraft taking off or landing. Birding and transport today cost 1600D (£87) as our species total moved on to 202 and we saw 95 birds for the day.
Wednesday 9th February
Our final early start today, as we left the hotel at dawn for Marakissa, a village on the main dirt track due south of Brikama on the road to Senegal, to visit a small area of well developed forest which is quite similar to the Brufut area but surrounded by open savannah farmland. The main birding areas are south of Marakisa itself, between the village and the Senegal border where the forest stretches along the Allahein River. We saw the usual herons and egrets, including 5 African Darter, together with our first White-backed Vulture soaring overhead with Hooded and Palm-nut Vultures. Firsts for the trip also included Tawny Eagle, Wahlberg's Eagle, Swallow-tailed Bee-eater, Lesser Honeyguide, Red-shouldered Cuckooshrike, Copper Sunbird, Northern Puffback & Grey-headed Bushshrike. Also of note were African Green Pigeon, Pearl-spotted Owlet, Blue-breasted Kingfisher, Northern Crombec, Willow Warbler, Scarlet-chested Sunbird and White-crested Helmetshrike, all previously seen at only one of the other sites, plus both Red-bellied and African Paradise Flycatcher and Lavender Waxbill, previously seen at only two other sites. We returned to the hotel a little after lunch travelling through the fields at Yundum by driving along completed stretches of the then unopened new road from the airport to the holiday resorts in the north. With no traffic on the road we were able to stop when required and at one point I spotted an unfamiliar bird which turned out to be a White-fronted Black-chat, perched in the same tree as a Wryneck. We also added Black-eared Wheatear along this stretch to take our species total to 214 and round off an excellent day's birding. The cost for guiding and transport was 1200D (£66). Today we saw 92 species.
Thursday 10th February
With an afternoon flight back to Manchester we had time in the morning for a last visit to Kotu Creek and the Casino Cycle Track where Malick decided to join us for one last time. We didn't add any further birds to the list but this gentle relaxed stroll was just what the doctor ordered before our 6 hour return flight. Amongst the 60 species we saw in a little over 2 hours were Yellow-fronted Canary, 2 Osprey, 3 Shikra and in addition we had much better views of a Malachite Kingfisher.
OTHER WILDLIFE
At Abuko we saw Green Vervet Monkey, Gambian Sun Squirrel, Striped Ground Squirrel, Bushbuck and Nile Crocodile. At Bakau Crocodile Pool we saw 10 Nile Crocodile, Gambian Sun Squirrel and Green Vervet Monkey, which was also present at Lamin Lodge. We also saw Patas (Red Monkey) around the sparsely wooded areas at Yundum and Common Agama and Nile Monitor around Kotu Creek. The large Gambian Fruit Bat was ever-present around the hotel complex after dusk.
SUMMARY
On our brief trip we saw 214 species, of which 151 were lifers. The total cost for Malick's guiding services and transport came to c£290 – money well spent from our point of view. Although birding is possible from dawn (c07.00hrs) to dusk (c19.00hrs) the heat of the day makes this very unwise and our regime of early starts, returning to the hotel for a late lunch followed by a short rest and returning to the field around 16.00hrs provided an ideal compromise. It is always essential to keep well stocked with water when out and about.
If planning a trip it is also well worth remembering that the country is very definitely "third world" outside the hotel complexes and, being Muslim, certain dress code standards need to be maintained. There is an excellent summary of the country, its birding potential and other considerations on the Fatbirder site.