GETTING THERE
As this was our first trip to the Gambia we decided to do it in style. We booked the holiday through the Gambia Experience who are the market leaders in Gambian holidays. We have long been of the impression that you don't have to suffer for your art.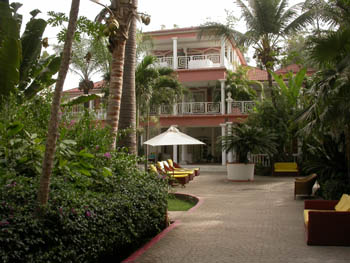 So I hope it doesn't sound too pretentious to say we always plumb for the best accommodation we can afford, although the birding is by far the primary consideration when we plan a trip, it's not the only one. A good birding trip can be greatly improved by good accommodation, where, after a long day in the field you can relax in comfortable surroundings and have access to good quality food and drink. Conversely a holiday can be spoilt by poor accommodation no matter how good the birding. With this in mind we chose the Coconut Residence, described in the brochure as "Exclusive" & "Deluxe".
The reasons for our choice were manyfold; firstly, we wanted a refuge were we could happily spend our holiday should the attentions of the notorious bumsters adversely impact upon our trip. The hotel has many mature trees in the grounds where a certain amount of birding could take place, plus arguably the best restaurant in Gambia. Food is also a prime consideration when sorting out a trip as our friends will testify. We chose one of the luxury garden suites which were set amongst the trees in the hotel's garden.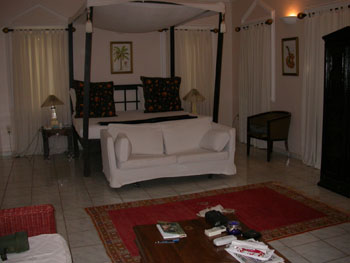 The hotel also owns 3 boats, African Pirogues, which can be hired from 1 to 3 days allowing overnight trips up river, complete with chef and staff. This we thought would be ideal to access the many birds only seen up river, it also gave us the opportunity to visit Tendaba camp without the bum numbing, dust filled, half day road trip.
I have to say that the hotel was chosen before we had engaged our bird guide; we had toyed with the idea of birding alone but were advised that the attentions of the bumsters could prove troublesome.
It took a great deal of soul searching to come to terms with the fact that a country that readily accepts pens, pencils, chalk, kids clothing etc for the very many underprivileged kids, had bird guides that were actively seeking £45 per person for a days birding, excluding transport. There seemed to be a certain immorality that was difficult to reconcile. I suspect that birders were pestered so much in the early days that they were happy to pay almost anything for some unhindered birding. Although it's not something we are comfortable doing, you need to haggle in order to attain a more realistic price.
Our flight was with Monarch on an Airbus A300 from Gatwick, although the flight is only 6hrs we decided to upgrade. We had done this the previous year when flying 11hrs to Goa and found the extra cost was well worth it, especially when we met friends over there that used words like cattle truck to describe their flight.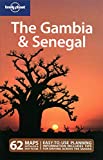 We had decided to go in January when the weather was not too hot and when many of the birds we wanted to see would still be around. It also gave us the opportunity for a bit of winter sun, something we and our bones appreciate now we are getting a little older.
Many of the trip reports we downloaded indicated that January & February were optimum months for both birds and weather.
We also read that good bird guides are at a premium at this time of year and as we had reluctantly decided to use one, we thought it prudent to engage one ASAP. With this in mind we contacted 2 guides, both had been recommended and both had been praised in several trip reports. I don't want this to sound in any way patronising but sending & receiving emails was quite a challenge especially in the choice of phrasing received. Suffice to say that over several emails, many asking clarification of the previous one, we opted for Malick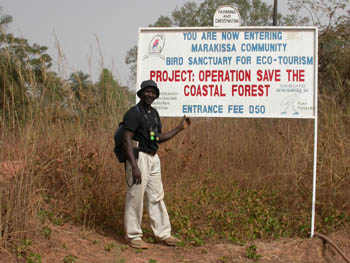 Suso who came highly recommended by our friends David & Amanda Mason who had used Malick during a hastily arranged trip several years previously.
As previously stated our negotiations realised a daily cost of £25:00 each, which also included transport; a much more realistic price per person. Although if I'm honest I still thought the price was steep. I must admit that our stipulation of birding from 07.00 to 13.00 per day may have had a bearing on the price, although we never did manage to get a precise breakdown of what actually constituted a days birding. Suffice to say that we were happy with the deal we had struck. I would recommend that if you wish to engage a guide as we did, you stipulate exactly what you want, making sure that any price quoted includes both transport and petrol.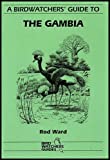 As several Europeans return from the Gambia with cerebral malaria each year and our intention was to go up river, which apparently significantly increases the risk, we took advice from our doctor who recommended a course of Malarone, which we had to take 1 on the day prior to the commencement of the holiday and continue through the holiday and then seven days after; not cheap at £76:00.
We selected what we considered to be a comprehensive bird list from the internet and modified it into a spreadsheet covering all the days we were there.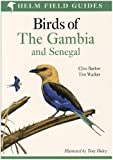 Even though we had engaged a bird guide we also armed ourselves with Rod Ward's A Birdwatcher's Guide to The Gambia ISBN 871104-04-1 distributed through Natural History Books Service Ltd, 2-3, Wills Road, Totnes, Devon, TQ9 5XN and which contains reports and location maps of all the major birding spots in the Gambia. We also took A Field Guide to the Birds of Gambia and Senegal by Barlow, Wacher & Disley ISBN 1-873403-32-1. These were taken as a safeguard should our arrangements with our guide change for any reason. It also gave the option of local birding by ourselves, which is an option we much prefer and have tended to employ on most of our previous birding trips.
I have left the above account "Getting there" which I had written prior to the holiday. This shows our mind set, expectations and hopes for the holiday. Below is the factual account of how the holiday actually panned out.
REALITY
As our flight was fairly early in the morning we stayed overnight at the Copthorn Hotel near Gatwick, leaving the car on one of the many long stay car parks associated with all large airports. The flight was uneventful except for a small delay due to a faulty door switch.
Our arrival at Banjul airport was all we expected, total chaos with porters vying for custom. Incidentally you don't choose your porter, one adopts you. Our porter had noted that our hand luggage had priority luggage labels on and informed us that our luggage would be unloaded first. He was still insisting this was the case several hundred bags later after some 25 minutes had elapsed. Once our luggage had been installed on the trolley we were whisked off to our appropriate bus, stopping on-route for our complementary bottle of cold water and hand made rattan fan.
Once we had paid our porter £2:00 our luggage was transferred to another guy with his tee-shirt proclaiming he was an official loader. He placed our bags on the roof rack of the bus for which he received £1:00. Another 3 couples went through the same process before we made the 25 minute drive to the hotel.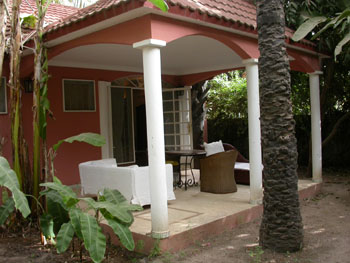 Once there we were greeted by a member of the management and given a cocktail of fruit juices. After the usual meeting and greeting routine we were finally shown to our base camp for the next 10 days
Having showered and refreshed ourselves we decided to explore the hotel grounds, which consisted of many large mature trees and flowering shrubs. We soon discovered a part of the grounds that the gardeners used as a nursery with many potted trees and plants. We were enthralled to find Cordon-bleus, Firefinches, Lavender Waxbills and Village Weavers taking advantage of a puddle caused by a dripping tap, "A great introduction to Gambian birding". A nice meal accompanied by a decent bottle of wine bought our first day to a close.
In order to reduce repetition I will say at this point that each day dawned the same. First light was approximately 07.15; each day was warm but overcast. By 11.30 temperatures were above 30 degrees so birding ceased by 12.30 and we were back at our hotel by 13.00/13.30. The light was probably the most disappointing part of the holiday as it was not conducive to photography until mid/late morning. As we were out each day at 7.30 I saw and photographed lots of good birds in poor light making for a lot of deleted shots.
It was always our intention to employ a more relaxed approach to our birding and this is demonstrated in both the amount of time we spent in the field and the distance travelled to the various sites. With that in mind we saw 191 species of which 126 were lifers.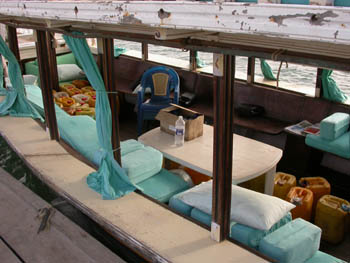 What this does demonstrate is that you don't need to go on a birding thrash to compile an impressive amount of birds, nor do you need to be travelling to all corners of the Gambia . I have to point out at this point that, as stated earlier in the report it was our intention to go up river by boat, which would have boosted our bird list considerably. Suffice to say that the boat produced was not as we had expected and certainly unusable from a Health & Safety point of view. The sight of 30×5 gallon plastic petrol cans, some sealed with rags, being stored above our sleeping area was not a situation we could contemplate. It's also worth mentioning at this point that the abortive boat trip cost us a days birding, by the time we returned to the hotel it was mid-morning and we had dispensed with Malick's services for the duration of the river trip. Our return was met with what I can only call indifference by the hotel management who were embarrassed by our return. Trying to salvage something from the debacle we attempted to do some local birding on our own. We were descended on by all and sundry, quicker than mosquitoes on a June night on the Finnish tundra. Some offering birding services, some wanting to be our friends and some just asking for money. It soon became apparent that birding was out of the question and we returned to our hotel. A call to Malick's mobile restored the equilibrium and he turned up the next morning bang on time with his driver Omar.
LOCATIONS VISITED
With the exception of Marakissa which is about an hours drive, the rest of the sites visited were within 30 minutes drive of our hotel.
I should point out at this point that the bird guide David & Amanda Mason recommended proved to be a Godsend. Malick was extremely knowledgeable of all the birds of the Gambia, plus all the birding spots we visited. He has a repertoire of bird calls that must be unrivalled in the Gambia and is very well respected by all his peers.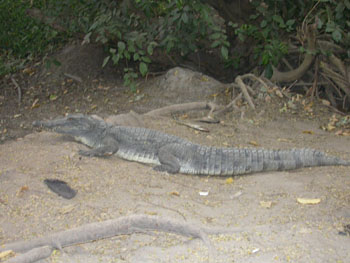 Malick was extremely punctual always being ready outside our hotel in the morning complete with decent transport.
The best compliment I can give Malick is that I would arrange any subsequent trips to coincide with his availability. He can be contacted at malicksuso@hotmail.com
Mammals also seen on the trip included Green Vervet monkey, Red Colobus monkey, Sun-squirrel, Gambian Mongoose, Bush Pig, Sitatunga, Crocodile, Monitor Lizard and an extremely large Python.
All the birds seen at each location we visited can be found on the accompanying bird list spread sheet. Each day equates to a site visited.
ABUKO NATURE RESERVE, Wed 5/01/05
Although we had ordered our packed breakfast for 07.30 we had forgotten about " Gambia time" and it finally arrived at 07.50. Malick was at the front entrance with transport at 07.30 as arranged, as he was every morning. The breakfast came nestling in a bottom of a large wicker hamper bound with a large pink ribbon. We soon removed the contents and placed them in our rucksack. Abuko was about 30 minutes drive away through the busy streets of Serekunda, a real welcome to Gambia .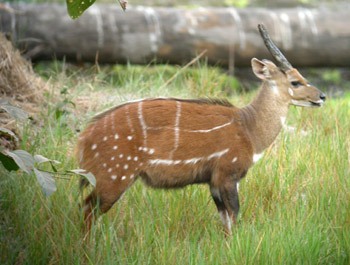 At the reserve we paid our 50 dalasi each, entering the reserve through a turnstile. The reserve was mainly mature trees with a couple of pools with a hide at both. The main pool was a delight with herons, egrets and plovers, a good introduction to African birds.
The smaller pool with the photo hide was dry and with the exception of a Shikra which was sat on the ground in front of the hide there was little of interest. Excitement came in the shape of a large crocodile trying to eat a smaller one, and a Sitatunga feeding on the pool margin. Both Green Vervet & Red Colobus Monkeys were encountered together with a Pigmy Squirrel. Temperatures had reached 30c by late morning; we were back at the hotel by 13.30.
Total number of birds seen was 49 with 38 being new.
Learning from the day before we ordered our packed breakfast for 07.15 it arrived at 07.40 minus the hamper.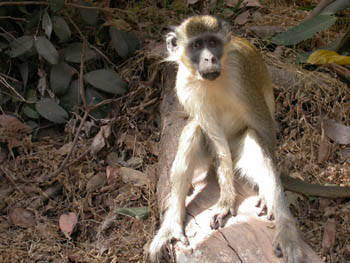 Incidentally breakfast consisted of 6 boiled eggs, 2 large bread rolls, butter, Jam and an assortment of small pastries and a large bottle of cold water. Breakfast was shared with Malick usually around 09.30 or when we found somewhere suitable to cut & spread the rolls prior to filling them with the eggs.
Brufut was about 20 minutes from the hotel and again a 50 dalasi entrance fee per person was paid. Brufut was more open savannah and our first introduction to some of the more flamboyant birds of Gambia . It was also our second encounter with Green Vervet Monkeys. We met a young Gambian Mongoose along a very narrow track who came within 20 metres of us before realising we were there and turning tail, running back down the track in a manner that would have put a racehorse to shame.
Having walked slowly for a couple of hours we came to a bird hide which was accessed via steep wooden steps. The eves of the corrugated tin roof overlapped the viewing holes making using the hide difficult unless you bent both knees & back. 2 shallow excavations, a little larger than the area covered by a couple of dustbin lids, were immediately outside the hide. Although a well had been dug adjacent to the hide both excavations were dry.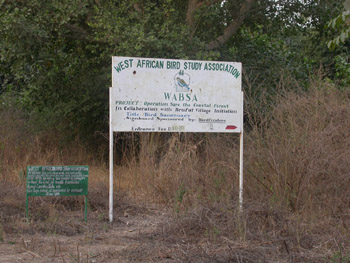 Little was seen from this hide which was hardly surprising as a local man accompanied by a puppy arrived to fill a 5 gallon drum with water from the well. Apparently he was going to water his garden which was close by. A couple of reserve rangers also arrived and started to excavate holes either side of the access track with their machetes. Once this was done they started to cut back some bushes and water some small bougainvilleas which had been planted to provide feeding areas for sunbirds. We abandoned any thoughts of birding and shared our breakfast with Malick and the 2 rangers; we had plenty as I was suffering from the dreaded Banjul belly a malaise I was to suffer from for most of the holiday.
The day's total was 52, overall total was 81 of which, 32 were new for the trip.
Working on lessons learned the previous day breakfast was ordered for 07.00 and arrived at a respectable 07.35.
The trip to Yundum was a little less than half an hour and was our first experience of being called 'toubab' by the local kids as they ran along side the vehicle on their way to school. Yundum was similar habitat to Brufut but probably more scrubby. The trip produced no less than 10 raptors including our first sighting of Palm-nut Vulture, a most striking bird. Malick complained about the encroachment of urbanisation into what was obviously valuable birding country. I tangled with a thorn branch inflicting several cuts to the lower leg, giving great amusement to all.
The day's total was 56 species, overall total was 104, of which, 23 were new for the trip.
Breakfast ready & waiting as was Malick, today's trip was the first to include waders, birds close to my heart. However our first port of call was the small reserve known as the Crocodile Pool where we soon connected with our target species the Black Crake.
Half way round the reserve we happened on several bird species creating mayhem in the canopy, Malick said there was either a large owl or a snake causing the reaction. Several minutes later Malick jumped a metre from the telescope and exclaimed "f*****g snake" murmuring several times "I hate snakes, I hate snakes". The snake in question was an extremely large Python which appeared to be snoozing as it showed no response to the mayhem it was causing. Incidentally that was the only profanity uttered by Malick during the whole trip.
We left the reserve and found ourselves in extensive village gardens many being tended by women & children. A slow walk around the gardens produced great views of rollers, hirundines, and several small raptors.
Once through the gardens, we arrived on the banks of a mangrove fringed inlet which contained many of the waders we are familiar with in Britain, Red/Greenshanks, Woodsands, Ring Plovers etc. There's something magical about seeing very familiar species feeding alongside more exotic species like Pelicans, Wattled Lapwings, Spur-winged Plovers & various terns and gulls; a very enjoyable morning's birding.
The day's total was 63, overall total 139, of which, 35 were new for the trip.
ABORTIVE BOAT TRIP, Sun 9/01/05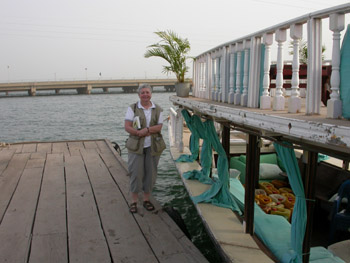 This was to be the start of our 3 day boat trip taking us up river to Baboon Island but as stated earlier it was not meant to be and we found ourselves back at the hotel by mid morning.
Our first "full English" would have tasted so much better had we not had the taste of bitter disappointment within us.
Apart from the prettiest raptor I have ever seen, a Swallow-tailed Kite which flew over the hotel whilst we waited for our transport to the boat, a Royal Tern and a Sacred Ibis, our trip list remained constant.
MANDINA BA & PIRANG, Mon 10/01/05
Breakfast was ready & waiting from this point on and for the rest of the trip. I think of all the habitats we visited this was one of my favourites. We left the village of Mandina Ba entering the village's gardens. This is an area set aside where all the villagers have a small plot of land where they grow fruits & vegetables, selling the surplus at the local market. Beyond this was a very large area of mainly dried rice fields although there were several marshy areas still attracting waders, herons & ibis as well as several good raptors.
Pirang was a vast shrimp farm which closed operations in 1992, many of the lagoons were completely dry; it looked very similar to the salt pans in both Lesvos and Mallorca . The site was good for waders, raptors, storks, cranes, pelicans as well as bee-eaters. I would say that given the opportunity again, I would visit the reserve in the early morning due to the heat being radiated off the sandy ground. I have to say at this point that our trip was scheduled to give us the best opportunity to see our main target birds, Black-crowned Cranes.
At the entrance to the reserve we met several men who all greeted Malick with a certain amount of reverence. I later found out from one of the young guys who accompanied us around the reserve that they were all trainee bird guides who were allowed to take birders around the reserve but not anywhere else until they had satisfied the official bird guides panel that they were competent to do so.This could take up to 5 years; Malick was a member of that panel.
The young man's name was Lamin, which is a name given to the first born son, we met many Lamins . He was very knowledgeable about all the birds on the reserve and just as importantly he carried the scope which was great as I was flagging due to the intense heat. Incidentally the reserve guides also protect the birds which have been killed over the years for the pot. Lamin said that the Crane numbers had been reduced to only 3 birds. If you do visit the reserve please encourage one of the trainees to join you and reward them with 200/300 dalasi, it's nothing to us and makes a great deal of difference to them. To illustrate Malick's knowledge, we started to return to the vehicle not having seen one of the major target birds the Black-crowned Cranes; I'm fairly philosophical about my birding thinking what we miss, we miss. Malick said "we will see the Cranes fly in before we reach the car park". Guess what; we did.
The day's total was 71; overall total 165, of which 23 were new for the trip.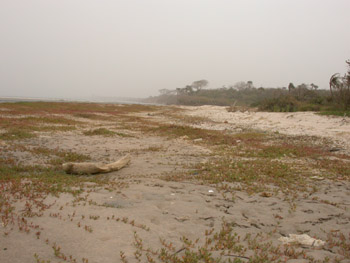 Tanji Reserve is a strip of coastal scrub with larger trees & Gingerbread Plums heavily laden with fruit. Both Malick and the driver tucked into carefully selected Gingerbread fruit which they ate with relish. We were invited to partake but declined. The thought of biting into the fruit and discovering god knows what lurking inside made us err on the side of caution. The fact that I was still suffering from Banjul belly was also a factor. The reserve was fairly quiet leaving long periods when very few birds were seen. However a very obliging Lizard Buzzard allowed me to get a lot closer than I had any right to. The results can be seen on the bird photo library.
At the far end of the reserve is a large coastal lagoon with a long sand spit separating it from the Atlantic. This was occupied by gulls, terns, and waders. Malick was expert at picking out the Kelp Gulls, of which there were just a few, from the hundreds of other gulls and terns. It was particularly pleasing to see Slender-billed Gulls at such close range sporting their pristine breeding plumage.
The day's total was 56; overall total 174, of which 9 were new for the trip.
KOTU CREEK, FAJARA GOLF COURSE & ASSOCIATED AREA, Wed 12/01/05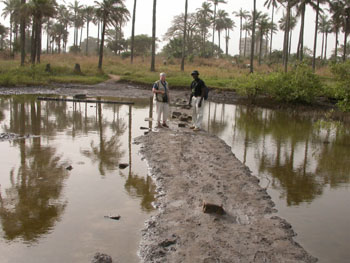 Although our trip to the above sites only produced 10 new birds, this was probably the most enjoyable day's birding of the trip. I think it was probably because of the diverse habitats visited. We started at Kotu Creek where we contacted one of our target birds, Malachite kingfisher, almost immediately. Crossing the creek, Malick started calling, and was answered by dozens of Senegal Thick-knee's which promptly made themselves visible on the tops of the ditches. Once we left the creek we entered the water treatment works where we saw 100> White-face Whistling Ducks and surprisingly our first Little Grebes amongst others. From there we entered Fajara golf course which was an experience in itself;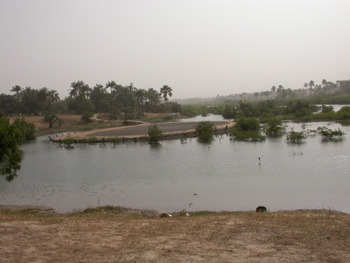 we were birding whilst trying to comply with golfing etiquette. I was surprised by the number of Europeans playing golf on a course that does not contain any greens. Instead they have browns which are made of earth and are levelled by a young boy dragging a sand filled bag to smooth the surface prior to putting taking place. Our last port of call was the newly constructed cycle track where Malick took us to the adjacent lilly ponds where he showed us 3 Monitor Lizards all in excess of 2 metres long. An excellent day's birding.
The day's total was 74; overall total 184 of which 10 were new for the trip.
Marakissa was the furthest we travelled to a birding spot during our trip. 70% of the trip was on tarmac with the remainder down an extremely bumpy dirt track. The reserve itself was more savannah woodland with the woodland birds we had become familiar with.
Our prime target was Red-shouldered Cuckoo-shrike which Malick expertly called in. He told us afterwards that although he had heard the Cuckoo-shrikes on previous visits it was the first one he had seen at that site in over two years.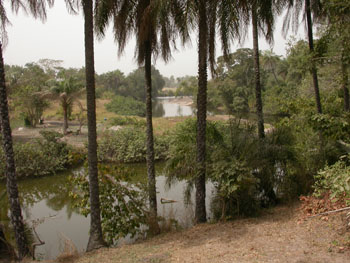 Extremely brief views of Green Pigeon were also offered, but these were too brief to be included in the report. I won't tick a bird unless I can satisfy myself that the bird claimed is the bird seen and this can only be done if you have sufficiently good views to identify field markings. If I'm perfectly honest Marakissa is not a place I would hurry back to, purely on the basis that the trip produced few birds.
We finished the day and ultimately the holiday at the Marakissa River Camp, where after a cold beer we climbed two flights of steps to balance on a balustrade peering under a corrugated iron roof where a Barn Owl was incubating 5 eggs.
The day's total was 54; overall total 191, of which 7 were new for the trip.
CONCLUSIONS
Although Gambia is only a 6 hour flight and has a wonderful array of birds, its attraction is being jeopardised by the attention of the bumsters. With tourism a major contributor to the economy of Gambia the government must address the problem if they want to expand tourism. Don't believe it when you hear people say the problem is being addressed, "it isn't".
Gambia Bird Photos
Trip List
| | | | | | | | | | | |
| --- | --- | --- | --- | --- | --- | --- | --- | --- | --- | --- |
| Bird | Species | Wed | Thur | Fri | Sat | Sun | Mon | Tue | Wed | Thur |
| Little Grebe | Tachybaptus ruficollis | | | | | | x | | | |
| Great White Pelican | Pelecanus onocrotalus | | | | | | x | | | |
| Pink-backed Pelican | Pelecanus rufescens | | | | x | x | x | | | |
| Long-tailed Cormorant | Phalacrocorax africanus | | | | x | | x | x | x | |
| Grey Heron | Ardea cinerea | x | | | x | | x | x | x | |
| Black-headed Heron | Ardea melanocephala | x | | | | | x | | x | x |
| Purple Heron | Ardea purpurea | | | | | | x | | | |
| Great Egret | Ardea alba | | | | | | x | | x | |
| Black Heron | Egretta ardesiaca | x | | | | | | | x | |
| Intermediate Egret | Egretta intermedia | x | | | x | | | | x | x |
| Western Reef-Heron | Egretta gularis | | | | x | | x | | x | x |
| Little Egret | Egretta garzetta | x | | x | x | x | x | | x | |
| Squacco Heron | Ardeola ralloides | x | | | | x | x | | x | |
| Cattle Egret | Bubulcus ibis | x | | x | x | x | x | | x | x |
| Striated Heron | Butorides striata | x | | | x | | x | | x | |
| Black-crowned Night-Heron | Nycticorax nycticorax | x | | | | | | | | x |
| Hamerkop | Scopus umbretta | x | x | | | | x | | x | x |
| Yellow-billed Stork | Mycteria ibis | | | | | | x | | | |
| Woolly-necked Stork | Ciconia episcopus | | | | | | x | | | |
| Sacred Ibis | Threskiornis aethiopicus | | | | | | x | x | | |
| Hadada Ibis | Bostrychia hagedash | | | | | | | x | | |
| African Spoonbill | Platalea alba | | | | | | x | | | |
| White-faced Whistling-Duck | Dendrocygna viduata | | | | | | | | x | |
| Osprey | Pandion haliaetus | | x | | x | | | x | | x |
| Black-shouldered Kite | Elanus caeruleus | | x | x | x | | x | x | x | x |
| Scissor-tailed Kite | Chelictinia riocourii | | | | | x | | | | |
| Black Kite | Milvus migrans | x | x | x | x | x | x | x | x | x |
| Palm-nut Vulture | Gypohierax angolensis | | | | | | x | | | |
| Hooded Vulture | Necrosyrtes monachus | x | x | x | x | x | x | x | x | x |
| Banded Snake-Eagle | Circaetus cinerascens | | | | | | | | | x |
| Western Marsh-Harrier | Circus aeruginosus | | | | | | x | | | |
| African Harrier-Hawk | Polyboroides typus | x | | x | | | | | x | x |
| Lizard Buzzard | Kaupifalco monogrammicus | x | | | | | | x | x | x |
| Dark Chanting-Goshawk | Melierax metabates | | x | x | | | | | | |
| Shikra | Accipiter badius | x | | | | | x | | | x |
| Tawny Eagle | Aquila rapax | | | x | | | x | | | |
| Wahlberg's Eagle | Aquila wahlbergi | | | x | | | | | | |
| African Hawk-Eagle | Aquila spilogaster | | | x | | | | | | |
| Long-crested Eagle | Lophaetus occipitalis | | | | | | x | | | |
| Grey Kestrel | Falco ardosiaceus | x | x | x | x | | | x | | x |
| Red-necked Falcon | Falco chicquera | | | | | | | x | | |
| Lanner Falcon | Falco biarmicus | | | x | | | x | | | |
| Peregrine Falcon | Falco peregrinus | | | | | | | | | |
| Double-spurred Francolin | Francolinus bicalcaratus | | | x | | | | x | | |
| Black Crowned-Crane | Balearica pavonina | | | | | | x | | | |
| Black Crake | Amaurornis flavirostris | | | | x | | | | | |
| African Jacana | Actophilornis africanus | x | | | | | | | x | x |
| Black-winged Stilt | Himantopus himantopus | | | | x | | x | | x | |
| Senegal Thick-knee | Burhinus senegalensis | | | | | | | | x | |
| Temminck's Courser | Cursorius temminckii | | | | | | | x | | |
| Spur-winged Plover | Vanellus spinosus | | | | x | | x | | x | |
| Black-headed Lapwing | Vanellus tectus | | x | x | | x | | x | | |
| Wattled Lapwing | Vanellus senegallus | x | x | | | | | | x | |
| Black-bellied Plover | Pluvialis squatarola | | | | | | | x | x | |
| Common Ringed Plover | Charadrius hiaticula | | | | | | x | x | | |
| Little Ringed Plover | Charadrius dubius | | | | x | | x | | | |
| Kentish Plover | Charadrius alexandrius | | | | x | | x | | | |
| Black-tailed Godwit | Limosa limosa | | | | | | | | x | |
| Bar-tailed Godwit | Limosa lapponica | | | | | | | x | x | |
| Whimbrel | Numenius phaeopus | | | | x | | x | x | x | |
| Eurasian Curlew | Numenius arquata | | | | | | | | | |
| Common Redshank | Tringa totanus | | | | x | | | | | |
| Marsh Sandpiper | Tringa stagnatilis | | | | x | | x | | x | |
| Common Greenshank | Tringa nebularia | | | | x | | x | x | x | |
| Green Sandpiper | Tringa ochropus | | | | x | | | | x | x |
| Wood Sandpiper | Tringa glareola | | | | x | | | | x | |
| Common Sandpiper | Actitis hypoleucos | | | | | | x | x | x | |
| Ruddy Turnstone | Arenaria interpres | | | | | | | x | | |
| Curlew Sandpiper | Calidris ferruginea | | | | x | | | | | |
| Dunlin | Calidris alpina | | | | | | x | | | |
| Ruff | Philomachus pugnax | | | | | | | | x | |
| Kelp Gull | Larus dominicanus | | | | | | | x | | |
| Lesser Black-backed Gull | Larus fuscus | | | | x | | | x | | |
| Gray-headed Gull | Larus cirrocephalus | | | | x | x | | x | x | |
| Black-headed Gull | Larus ridibundus | | | | x | | | x | | |
| Slender-billed Gull | Larus genei | | | | x | | | x | | |
| Gull-billed Tern | Sterna nilotica | | | | x | | x | | | |
| Caspian Tern | Sterna caspia | | | | x | | | x | | |
| Lesser Crested Tern | Sterna bengalensis | | | | | | | x | | |
| Sandwich Tern | Sterna sandvicensis | | | | | | | | | |
| Royal Tern | Sterna maxima | | | | | x | | x | | |
| Speckled Pigeon | Columba guinea | | | x | x | | | | x | x |
| African Mourning Dove | Streptopelia decipiens | | | | x | | | | x | |
| Red-eyed Dove | Streptopelia semitorquata | x | x | x | x | | x | x | x | x |
| Vinaceous Dove | Streptopelia vinacea | | | x | | | | | x | |
| Laughing Dove | Streptopelia senegalensis | | | | | | | | | |
| Black-billed Wood-Dove | Turtur abyssinicus | | x | x | | | | x | | x |
| Namaqua Dove | Oena capensis | x | | | | | | x | x | |
| Rose-ringed Parakeet | Psittacula krameri | | x | x | | | x | x | | x |
| Senegal Parrot | Poicephalus senegalus | | x | | x | | | | x | x |
| Guinea Turaco | Tauraco persa | x | | | | | | | | |
| Violet Turaco | Musophaga violacea | x | | | | | | | | |
| Western Plantain-eater | Crinifer piscator | x | x | x | x | x | x | x | x | x |
| Klaas's Cuckoo | Chrysococcyx klaas | | x | | | | | | | |
| Dideric Cuckoo | Chrysococcyx caprius | | x | | | | | | | |
| Senegal Coucal | Centropus senegalensis | | x | x | | | x | x | x | x |
| Barn Owl | Tyto alba | | | | | | | | | x |
| Verreaux's Eagle-Owl | Bubo lacteus | x | | | | | | | | |
| Pearl-spotted Owlet | Glaucidium perlatum | | | | | | x | x | | |
| African Palm-Swift | Cypsiurus parvus | | x | x | x | | x | | x | x |
| Pallid Swift | Apus pallidus | | x | x | | | | | | |
| Blue-naped Mousebird | Urocolius macrourus | | | x | | | | | | |
| Malachite Kingfisher | Alcedo cristata | | | | | | | | x | |
| Striped Kingfisher | Halcyon chelicuti | | x | | | | | | | |
| Giant Kingfisher | Megaceryle maxima | x | | | | | | | | |
| Pied Kingfisher | Ceryle rudis | | | | x | x | x | x | x | x |
| Little Bee-eater | Merops pusillus | | x | | x | x | | | x | |
| Swallow-tailed Bee-eater | Merops hirundineus | | | x | | | | | | |
| Blue-cheeked Bee-eater | Merops persicus | | | | x | | x | | x | |
| Abyssinian Roller | Coracias abyssinica | | | | x | | | | x | |
| Rufous-crowned Roller | Coracias naevia | | | x | | | | | | |
| Blue-bellied Roller | Coracias cyanogaster | | | | x | | x | x | | x |
| Green Woodhoopoe | Phoeniculus purpureus | x | | | x | x | x | | x | x |
| Black Scimitar-bill | Rhinopomastus aterrimus | | | | | | | | | x |
| Red-billed Hornbill | Tockus erythrorhynchus | | x | x | x | | x | x | x | x |
| African Pied Hornbill | Tockus fasciatus | x | x | | | | x | x | | |
| African Gray Hornbill | Tockus nasutus | x | x | x | | x | x | x | x | x |
| Vieillot's Barbet | Lybius vieilloti | | x | | | | | | | |
| Bearded Barbet | Lybius dubius | x | x | x | | | x | | x | x |
| Greater Honeyguide | Indicator indicator | | | | | | | | | x |
| Fine-spotted Woodpecker | Campethera punctuligera | | x | | | | | | | |
| Grey Woodpecker | Dendropicos goertae | x | x | | | | | | | |
| Crested Lark | Galerida cristata | | | | | | x | | | |
| Red-chested Swallow | Hirundo lucida | | | x | | | x | | | |
| Wire-tailed Swallow | Hirundo smithii | | | | | | x | | | |
| Pied-winged Swallow | Hirundo leucosoma | | | x | | | | x | | |
| Mosque Swallow | Hirundo senegalensis | | | | | | x | | | |
| Fanti Saw-wing | Psalidoprocne obscura | x | x | x | | | | | | |
| White Wagtail | Motacilla alba | | | | | | x | | | |
| Yellow Wagtail | Motacilla flava | | | | x | | x | x | x | |
| Red-shouldered Cuckoo-shrike | Campephaga phoenicea | | | | | | | | | x |
| Common Bulbul | Pycnonotus barbatus | x | x | | | x | x | x | | |
| Yellow-throated Greenbul | Chlorocichla flavicollis | | | | x | | | | | |
| Leaf-love | Phyllastrephus scandens | x | | | | | | | | |
| African Thrush | Turdus pelios | x | x | x | x | x | x | x | x | x |
| Plaintive Cisticola | Cisticola dorsti | | | | | | | | x | |
| Zitting Cisticola | Cisticola juncidis | | | | x | | | x | | |
| Tawny-flanked Prinia | Prinia subflava | | x | | | | | | | x |
| Oriole Warbler | Hypergerus atriceps | | | | x | | | | | |
| Grey-backed Camaroptera | Camaroptera brachyura | | | x | | x | | x | x | |
| Western Olivaceous Warbler | Hippolais opaca | | | x | | | | | | |
| Melodious Warbler | Hippolais polyglotta | | x | | | | | | | |
| Green-backed Eremomela | Eremomela canescens | | x | | | | | | | x |
| Northern Crombec | Sylvietta brachyura | | | | | | | | | x |
| Willow Warbler | Phylloscopus trochilus | | | x | | | | x | x | |
| Blackcap | Sylvia atricapilla | | | | | | | | x | |
| Subalpine Warbler | Sylvia cantillans | | | | | | | | x | |
| Northern Black-Flycatcher | Melaenornis edolioides | | | | | | | | | |
| Snowy-crowned Robin-Chat | Cossypha niveicapilla | x | | x | x | x | | x | | x |
| White-crowned Robin-Chat | Cossypha albicapilla | x | | x | x | x | | x | x | x |
| Common Redstart | Phoenicurus phoenicurus | | | | | x | | | | |
| Whinchat | Saxicola rubetra | | x | | | | | | | |
| Northern Wheatear | Oenanthe oenanthe | | x | | | | | | | |
| Brown-throated Wattle-eye | Platysteira cyanea | x | | | | | | | | |
| Black-headed Paradise-Flycatcher | Terpsiphone rufiventer | x | | | | x | | | | |
| African Paradise-Flycatcher | Terpsiphone viridis | x | | | x | | | x | x | x |
| Blackcap Babbler | Turdoides reinwardtii | | | | x | x | | x | | |
| Brown Babbler | Turdoides plebejus | | | | x | | | | | |
| Scarlet-chested Sunbird | Chalcomitra senegalensis | | | | | | x | | | |
| Beautiful Sunbird | Cinnyris pulchellus | x | x | x | | x | x | | x | |
| Splendid Sunbird | Cinnyris coccinigaster | x | x | | | | | | | |
| Variable Sunbird | Cinnyris venustus | | | x | | | | x | | |
| African Golden Oriole | Oriolus auratus | | | x | x | | x | | | |
| Woodchat Shrike | Lanius senator | | x | | | | | | | |
| Yellow-billed Shrike | Corvinella corvina | | x | x | | | x | | x | x |
| Northern Puffback | Dryoscopus gambensis | | | | | | | | | x |
| Black-crowned Tchagra | Tchagra senegala | x | | | | | | | | |
| Common Gonolek | Laniarius barbarus | | | | | | x | x | | x |
| Fork-tailed Drongo | Dicrurus adsimilis | | x | x | | | | | | x |
| Piapiac | Ptilostomus afer | | | | x | | x | | x | x |
| Pied Crow | Corvus albus | x | x | x | x | x | x | x | x | x |
| Greater Blue-eared Glossy-Starling | Lamprotornis chalybaeus | | x | | | | | | | |
| Lesser Blue-eared Glossy-Starling | Lamprotornis chloropterus | | | x | | | | | | |
| Purple Glossy-Starling | Lamprotornis purpureus | | | x | | | | | x | x |
| Long-tailed Glossy-Starling | Lamprotornis caudatus | x | | | x | x | x | | x | x |
| White-billed Buffalo-Weaver | Bubalornis albirostris | | | | | | x | | x | |
| Little Weaver | Ploceus luteolus | | x | | | | | | | |
| Black-necked Weaver | Ploceus nigricollis | x | x | x | | | x | | x | |
| Village Weaver | Ploceus cucullatus | x | x | x | x | x | x | x | x | |
| Red-billed Quelea | Quelea quelea | | | | x | | | | | |
| Red Bishop | Euplectes orix | | | | x | | x | x | | |
| Red-billed Firefinch | Lagonosticta senegala | x | x | x | | x | | | x | x |
| Red-cheeked Cordon-bleu | Uraeginthus bengalus | x | | x | | | x | | x | x |
| Lavender Waxbill | Estrilda caerulescens | x | x | x | | x | | x | | |
| Bronze Mannikin | Spermestes cucullatus | | x | | x | | | | x | x |
| Village Indigobird | Vidua chalybeata | | | x | x | | x | | | |
| Quailfinch Indigobird | Vidua nigeriae | | | | | | x | | | |
| Yellow-fronted Canary | Serinus mozambicus | | | x | | | | | | |
| House Sparrow | Passer domesticus | | | | | | | | x | |
| Grey-headed Sparrow | Passer griseus | | | x | x | x | | x | | |
| Bush Petronia | Petronia dentata | | x | | | | | | | |
| | | | | | | | | | | |
| | | | | | | | | | | |