INTRODUCTION
Having decided to do our bit for the British economy, we booked our holiday in the UK this year. Our choice was to ply the waters of the Outer Hebrides in August on board a small exclusive motor vessel, searching the islands for cetaceans, otters and sea birds, with a trip over to St Kilda as the ultimate goal.
Almost as soon as we had left our home port the weather took a turn for the worse. Rain, grey low cloud and high swells became the norm, with the first of our 2 weeks spent huddled under the aft canopy or down in the cabin. Salvation came at the end of the first week with the need to replenish the boat's fresh water at the port of Malaig. The decision was made to cut our losses, jump ship and make our own way back to Oban where our car was waiting. Several bus rides and a 50mile taxi journey found us back in Oban in the early evening. A quick meal and we were on the road south, arriving back home in the early hours of the following day; "relief".
The decision was then made to look for a holiday where sun and birds can be guaranteed; we needed a "quick fix", so decided on a return to Gambia where we had some unfinished birding business.
GETTING THERE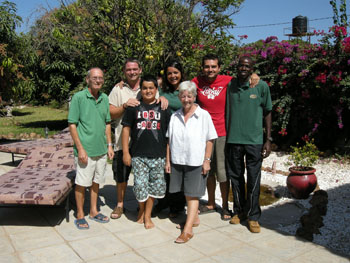 Reading Sue Robinson's report on Real Birder was ticking all the boxes; all we had to do was secure a flight: everything else was taken care of by Halcyon Gambia. This business has now been sold (Nov 2012) and can be found at Phoenix Lodge.
We contacted The Gambia Experience for our flight. We were allocated 2 upgraded seats on a Monarch flight out of Gatwick on the 28/11/2008 at 9.15am. The flight was slightly delayed and we arrived at Banjul at approximately 3.30pm. Temperatures were in the high 80's and, in the baggage hall, the same chaos greeted us as it had on our last visit. Having previous experience, we weren't fazed and were soon extricating our baggage from the carousel with the help of a bona-fide baggage handler. Once into the main departures hall we were greeted by Claire from Halcyon, who wasted no time in getting us and our baggage safely to our transport. With less than half an hour to our accommodation, we were soon sipping a complimentary cool drink and meeting all of the Halcyon staff who were to make our holiday such a memorable one.


ACCOMMODATION
If what you require is a green idyll, set in gardens where fruiting lemon, orange, grapefruit and mango trees abound and bougainvilleas of every conceivable colour act as a backdrop and where:-
1) bird-feeders are constantly visited by such gems as Beautiful & Variable Sunbird, Lavender Waxbill, Red-cheeked Cordon-bleu, Bronze Mannikin and Yellow-fronted Tinkerbird, to name just a few;
2) daily visitors to the many bathing and drinking areas include Piapiac, Common Babbler, Long-tailed Glossy Starling, Common Bulbul, Speckled Pigeon, Mourning, Laughing and Red-eyed Dove and many more, whilst Cattle Egret and large Fruit Bats prefer to sip from the swimming pool;
3) Red-billed Hornbill and Laughing Dove have the confidence to feed from your hand;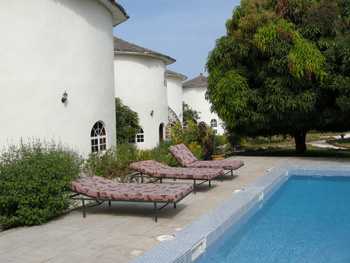 We chose an upper floor twin, which was very comfortable, clean and spacious. Air conditioning, ceiling fan, fridge, safe and tea making facilities are all standard as well as an en-suite.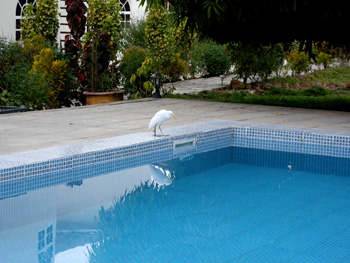 Breakfast is of the continental buffet type, with cereals, fruit, ham, cheese and toast with a variety of preserves on offer. The lunch menu consisted of several salads, omelettes, baguettes, and burgers. A choice of a delicious 3 course evening meal completes the catering, all lunches and evening meals being prepared by the Chef to a high standard. A well stocked bar with drinks at very reasonable prices completes the refreshments.


WEATHER
The weather during the whole trip was, in the main, hot and sunny during the day, with temperatures in the upper 80's. A couple of cloudy days were experienced toward the middle of the second week. Humidity wasn't a problem and evening temperatures were comfortably warm, especially during the second week.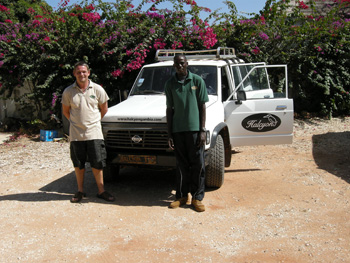 All Halcyon holidays are tailor-made for their visitors; birding itineraries are discussed usually after the evening meal on the first day, when Phil will try to establish the style of birding required and those mega ticks on your list. The itinerary is not set in stone and can be fine tuned, as and when required. I think it is true to say that Halcyon pride themselves in providing a relaxed introduction to the birds of the Gambia, where time is spent looking at the birds and subtle plumage differences between species are explained. Your birding guides are Phil (family member) and Mustapha, a local guide who has been birding since a young lad with some of the best birders in Gambia. As Mustapha is retained throughout the whole year he has the time to find new sites and birds during the off-season, giving Halcyon an advantage over the birding companies that visit for just a couple of weeks a year.
Our trip was perfectly suited to our needs, where we birded from about 7.30am until approximately 1.00–2.00pm when the temperatures would rise to above 85°. We also ventured out in the relative cool of the late afternoon on the odd occasion, but in the main, our afternoons were reserved for relaxation and trying to get good photos of the many birds that visited the garden – not as easy as it sounds. The birds were very confiding until I had the camera at hand, then they would fly off at the smallest movement.
During our 2 week holiday we had decided to venture up-river (hence the unfinished business – see previous report). We were to spend 4-5 days at Georgetown and at Tendaba camp. This was to acquaint us with the birds we missed out on previously.
BIRDING GAMBIA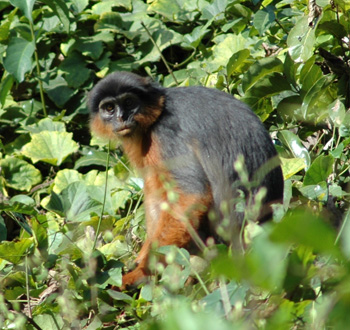 Our first week was to be spent on the coast, visiting the sites we had been to previously and visiting sites selected by Phil & Mus to maximise our chances of seeing the birds missed the first time round. To this end we agreed our first week's itinerary, leaving planning our trip up-river until later in the week.
DAY 1
Our first day birding saw us out by 7.30am when our initial stop was Kotu Creek & rice fields. Here we spent some time on the bridge checking out what was about. It also gave us the opportunity to meet up with Malick Suso, our guide during our previous visit. We also visited the Casino Cycle track and sewage works.
Birds of note seen during our first day
Pink-backed Pelican, Long-tailed Cormorant, Cattle Egret, Squacco Heron, Western Reef Heron, Great Egret, White-faced Whistling Duck, African Harrier Hawk, Hooded Vulture, Black Kite, Black-shouldered Kite, Shikra, Red-necked Falcon, Grey Kestrel, African Jacana, Spur-winged/Wattled/Grey & Ringed Plover, Wood Sandpiper, Black-winged Stilt, Grey-headed Gull, Senegal Coucal, White-faced Scops Owl, Little Swift, African Palm Swift, Green Wood Hoopoe, Pied & Malachite Kingfisher, Blue-bellied Roller, Little Bee-eater, Rose-ringed Parakeet, Western Grey Plantain-eater, Yellow-fronted Tinkerbird, Bearded Barbet, Snowy-crowned Robin Chat, Green Crombec, Variable/Beautiful & Splendid Sunbird, Yellow-crowned Gonolek and Southern Grey Shrike.
DAY 2
Three sites were visited today, Brufut Woods, Tanji and Tujering. Both Brufut and Tanji had been visited on our previous trip; Tujering was new to us and is now firmly added to the Gambian birder's itinerary. All sites produced new birds for the trip.
Birds of note seen today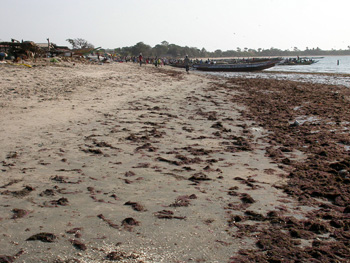 Osprey, Dark-chanting Goshawk, Lizard Buzzard, Double-spurred Francolin, Bar-tailed Godwit, Oystercatcher, Turnstone, Sanderling, Slender-billed/Kelp/Grey-headed/Yellow-legged & Lesser Black-backed Gull,
Caspian/Royal/Lesser-crested & Sandwich Tern, Black-billed Wood Dove, Namaqua & Vinaceous Dove, Fanti Saw-wing, Senegal Batis, Long-tailed Nightjar, Rufous-crowned & Abyssinian Roller, Swallow-tailed Bee-eater, Vieillot's Barbet, Grey Woodpecker, Lesser Honeyguide, Western Bonelli's Warbler, Singing Cisticola, Tawny-flanked Prinia, Northern Crombec, Northern Black Flycatcher, Red-bellied Paradise Flycatcher, Northern Puffback and Western Bluebill.

DAY 3
Today we visited Pirang Shrimp Farm in the morning and the Fajara golf course in the late afternoon. I remembered Pirang being a favourite site last time we visited and today was not going to disappoint. We were lucky to gain entrance into the farm this visit, although later in the holiday we were not going to be so lucky.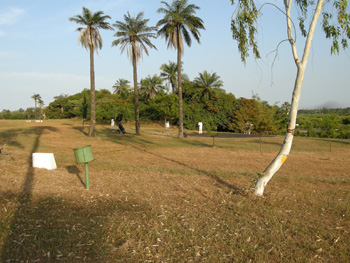 A relaxed walk around Fajara golf course in the relative cool of late afternoon completed day 3's birding.
Birds of note today
Yellow-billed Stork, African Spoonbill, European Spoonbill, Greater Flamingo, Long-crested & Short-toed Eagle, Marsh Harrier, Lanner Falcon, Black-headed Plover, Avocet, Little Stint, Dunlin, Curlew Sandpiper, Gull-billed Tern, Little Tern, Spotted Redshank, Pearl-spotted Owlet, Woodland Kingfisher, Broad-billed Roller, Blue-cheeked Bee-eater, Senegal Parrot, African Pied Hornbill, Crested Lark and Red-rumped Swallow.
DAY 4
Today was a trip to Abuko; probably the only site visited that mirrors the type of birding at RSPB sites, i.e. an elevated bird hide looking over a large pool, also a small craft/information centre.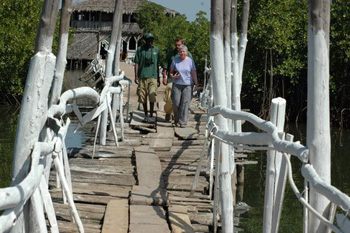 Lunch was to be taken at Lamin Lodge. The Lodge also gives limited birding opportunities, especially the adjacent mangroves and the river.
Birds of note today
Black-crowned Night Heron, Black-headed Heron, Blue–spotted Wood Dove, Giant Kingfisher, Yellow-throated Leaflove, Little Greenbul, Yellow-breasted Apalis, Common Wattle-eye and Western Violet-backed Sunbird.
DAY 5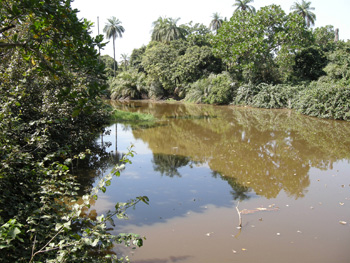 Birding sites visited today were both new sites to us. Bonto Radio Station was chosen as probably the best spot for Yellow-throated Longclaw, a bird we dipped out on during our previous visit and Farasuto Forest Park, a new community owned reserve, which is showing great promise for birds seen.
Birds of note today
Montagu's Harrier, Senegal Thick-knee, Eurasian Curlew, Barn Swallow, Pied-winged Swallow, Yellow-throated Longclaw, Mouse-brown Sunbird, Western Bluebill.
DAY 6
If your intention is to see some of Gambia's special birds or to amass a large trip list, then you do need to spend some time "up-river". Only birding the coastal sites is akin to visiting Minsmere and just birding the car park. Unfortunately, our trip coincided with the religious festival of Tobaski, Gambia's name for the Muslim festival of Eid Al Adha, or "Eid". This is when it seems the whole population of both Gambia and Senegal are returning home to their respective villages to spend time with their families. With no bridges across the River Gambia, all traffic converges on two river crossings. The main one is Banjul to Barra where 2 ferries cross every hour. This ferry can carry about 10 large Lorries and 20-30 cars. The second crossing is at Farafenni to Mansa Konko and is a much smaller ferry, with less than half the capacity of the Banjul boat. With what seemed like the whole population of two countries converging on the Banjul river crossing, traffic queues where much, much longer than people's patience and tempers. As the exact date of Tobaski can vary over several months and the decision when it will be appears to be taken 2-3 weeks prior to the event, planning to avoid Tobaski is nigh-on impossible.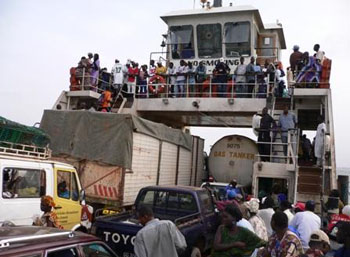 It appears that Gambians should have priority over the Senegalese when it comes to crossing by ferry, but this only seems to happen if you grease the palms of the right officials. With Senegalese vehicles outnumbering the Gambian ones by at least 50:1, a great deal of resentment exists on both sides. Senegalese vehicles take every opportunity to halt the progress of the Gambian ones, even to the extent of blocking the vehicles trying to leave the ferries. This was especially true of the Senegalese Bush Taxis who are a law unto themselves. Even with armed soldiers trying to keep some form of order, total mayhem, the like of which we had never experienced, ensued. It was astonishing how quickly complete calm could turn into chaos, with many scuffles breaking out. It was obvious from the size of the queues that some people would have to wait between 24 & 48hrs to cross. We were lucky; our ferry crossings took 4 & 5hrs respectively. I have to say, at this point, that at no time did we feel personally threatened and both Phil and Mus did brilliantly getting us through as quickly as they did.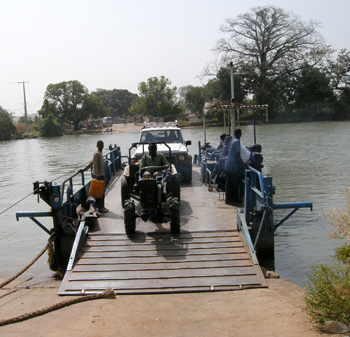 To demonstrate the situations we found ourselves in; at one point we were being ushered through the traffic by one of the port officials, whilst being obstructed by both Senegalese drivers and armed soldiers. The port official was calling us through the massed ranks of traffic, whilst being ordered to stop by the soldiers; a difficult decision for Phil – "much rather him than us". We understand that during normal times the crossing takes approximately an hour, although it can still be slightly chaotic.
Once over the Banjul ferry we were on a very good tarmac road and so some time could be made up. All the hassle disappeared when we saw 2 Abyssinian Ground Hornbill flying adjacent to our vehicle. This was one of the top birds on our "most want to see list", other mega ticks followed including, Egyptian Plover, Northern Carmine & Red-throated Bee-eater. These birds were seen during several stops at wetland sites en route. Having reached the ferry for MacCarthy Island, on which Georgetown stands, our wanted list was reduced to just 2 species. This crossing was much more sedate, with just us and a tractor vying for room.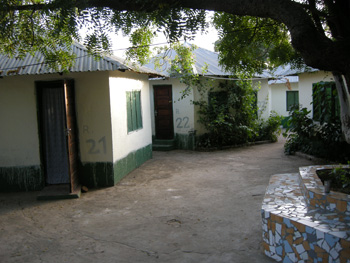 Once on the island, it was only a couple of minutes drive to our accommodation. Although we had been warned that the camp was very basic, we were not prepared for what awaited us. The camp was very "tired", as was room 23, which we had been allotted. As the room was dimly lit with what was probably a 10 watt bulb, we switched on the light in the toilet/shower room. The shower was situated directly over the toilet, although we needn't have worried because only the merest trickle could be persuaded out of the shower head. Something we found more alarming was that with the toilet light on, you could see directly into the doorless toilet through the window. Seeing our concern, Phil swapped rooms with us and we found ourselves in room 22. This room was exactly the same as our first, but the toilet window was not on a main pathway.
We have to say that if you are not prepared to flannel yourself down in cold water, watch the toilet discharge itself onto the floor and then drain out through a hole in the wall and sleep on a concrete bed with no fan or air conditioning, then Georgetown is probably not for you. Having initially decided to stay only one night, we reasoned we had gone through so much to get there that we would stay another night. At least we had some good birding to look forward to.
Birds of note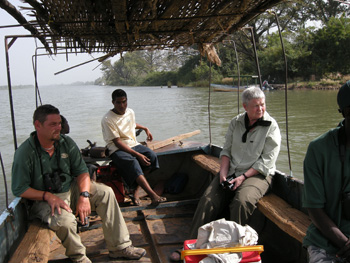 Great Cormorant, Spur-winged Goose, Goliath Heron, Ruppell's Griffin Vulture, White-backed Vulture, Tawny Eagle, African Hawk Eagle, Brown Snake Eagle, Gabar Goshawk, Lesser Kestrel, Common Moorhen, Purple Swamphen, Egyptian Plover, Collared Pratincole, White-fronted Plover, Pomarine & Arctic Skua, White-winged Black Tern, Namaqua Dove, Northern Carmine & Red-throated Bee-eater, Abyssinian Ground Hornbill, Black-crowned Sparrow-lark, Chestnut-backed Sparrow-Lark, Yellow Wagtail, Northern Anteater Chat, Pigmy Sunbird and Bush Petronia.
DAY 7
Whilst at Georgetown we visited the Bird Safari Camp, Bansang Quarry and took a 4hr boat ride along the river. If you do decide to visit Georgetown and do the boat trip, take along something soft to sit on, like a rolled-up towel or coat; the seats are approximately 8" wide and consist of rough sawn timbers attached to the gunwales (see picture).
Birds of note seen at Georgetown
Purple Heron, Hadaba Ibis, African Fish Eagle, Western Banded Snake Eagle, Four-banded Sandgrouse, Bruce's Green Pigeon, Blue-spotted Wood Dove, Blue-breasted & Grey-headed Kingfisher, Fine-spotted Woodpecker, Mosque Swallow, Oriole Warbler, White-crowned Robin Chat, Garden Warbler, Mouse-brown Sunbird, Yellow-fronted Canary, Cinnamon-breasted Bunting and Exclamatory Paradise Whydah.
DAY 8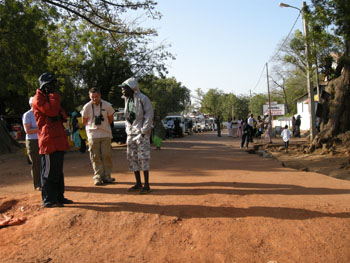 Today we were to leave Georgetown and head for our next port of call, Tendaba Camp; only one snag, the ferry back to the north shore had broken down the day before. We were informed that a replacement was being sent overnight and should be on station at 8.00am the following morning. Mustapha was tasked with the job of getting our transport down to the ferry at first light so we would be one of the first in the queue. After breakfast, we strolled the 20 minutes to the ferry to be told that the crew had overslept and the ferry was going to be later than expected. It eventually arrived at approximately 11.15am, by which time a sizeable queue had built up behind us. We were actually first in the queue and noted the dreaded bush taxis starting a second queue on the other side of the road.
Once the ferry had docked the taxis again tried to jump the queue, turning a calm, well humoured situation into bedlam and Phil was again faced with people beckoning him onto the ferry, whilst others were telling us to stop and trying to impede our progress. Calm was somehow soon restored and we took our place on the front of the ferry.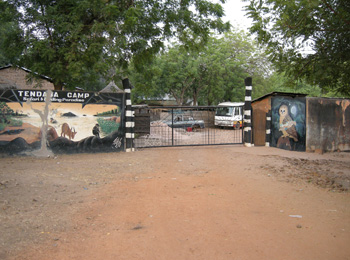 It had been our intention to have a leisurely drive to Tendaba, stopping at several birding sites on the way. As we were now well behind schedule it was decided to press on for the 100 + kilometres to our next ferry crossing at Farafenni, stopping only for any exceptional sightings. We were now seasoned "ferry crossers" having experienced both the mayhem at Banjul and the spat at Georgetown. Well, nothing could have prepared us for what was waiting for us at Farafenni!
In order to keep this report to a manageable size, suffice to say that what I described before, pales into insignificance in comparison to what was waiting for us. This includes our vehicle being hit by a lorry and Judy witnessing Mustapha having his pocket picked, seconds before Mus realised it himself and the ensuing mayhem that followed. Again after several hours and with several palms greased plus heated discussions with the machine-gun toting soldiers about the Gambians' right to preferential treatment, we found ourselves being escorted to the front of the queue. I'm sure for all those budding Michael Palins this would probably have been a breeze: to us it was a kaleidoscope of emotions, mainly ones of total helplessness and of fascination at all that was going on around us. This was truly Africa in the raw and an experience we will never forget or regret.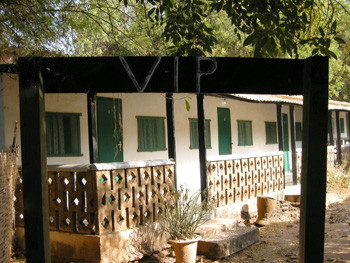 Again, all our crossings were very much out of the norm and unless you are as daft as we were, to venture up-river just prior to Tobaski, then your crossings should be far less eventful. Incidentally; this was also Halcyon's first venture up-river during Tobaski and one they won't wish to repeat.
We finally made it to Tendaba, driving the last hour in the dark. On reaching the camp all we wanted to do was flannel away the dust, have a drink and something to eat. Having accomplished all three, we retired to our "VIP" room for a well earned kip. Tendaba is accurately described by "Lonely Planet" as having a "down at heel shanty town" atmosphere. That could easily have described the "VIP" block we were allotted. Having said that, it's a notch above Georgetown. The only new bird seen today was Bronze-tailed Starling, in trees at the ferry crossing.
DAY 9
Today was a more leisurely affair with a later breakfast and a boat trip of some 3hrs duration through the mangroves of the Baobolong Wetland Reserve. We would recommend this trip to all who visit Tendaba, assuming the tides are favourable and you have the time. After a protracted lunch we visited the "Batterling Track" staying until dusk for nightjars. Pennant-winged Nightjar was the target bird, but only Long-tailed obliged.
Birds of note
African Darter, White-backed Night Heron, Black-crowned Night Heron, Woolly-necked Stork, Striped Kingfisher, Sand Martin, Black-crowned Tchagra, Siffling Cisticola, Chestnut-crowned Sparrow Weaver, Long-tailed Nightjar and European Bee-eater.
DAY 10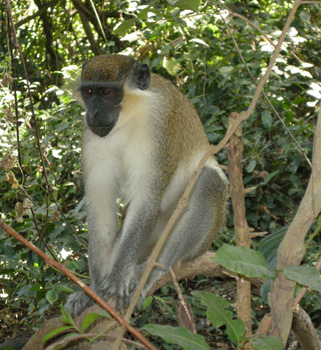 Today dawned with no mains water. Phil, as attentive as ever, was soon knocking on the door with several large bottles of water. So flannelling down and teeth cleaning was possible. After a chat over a welcome early morning cuppa it was decided to cut our losses and return to the luxury of Halcyon. This was accomplished by late morning and we spent the rest of the day chilling out and luxuriating in all that Halcyon has to offer.
DAY 11
After our exertions of the up-river trip we decided to have a day off and spend our time relaxing at Halcyon, trying to increase our garden list and attempting to get some decent bird photos. The former was accomplished, but probably not the latter!
Garden List at Halcyon
Cattle Egret, Pied Crow, Laughing Dove, Speckled Pigeon, Red-eyed Dove, African Mourning Dove, Piapiac, Senegal Coucal, Senegal Parrot, Western Plantain-eater, Red-billed Hornbill, Grey Woodpecker, Red-chested Swallow, Yellow Wagtail, Common Bulbul, Black-capped & Brown Babbler, African Thrush, Variable & Beautiful Sunbird, Yellow-crowned Gonolek, Purple & Long-tailed Glossy Starling, House & Grey-headed Sparrow, Northern Red Bishop, Yellow-fronted Tinkerbird, Village & Little Weaver, Lavender Waxbill, Red-cheeked Cordon-bleu, Red-billed Firefinch, Bronze Mannikin and Village Indigobird.
Fly overs
Hooded Vulture, Black Kite, Shikra, Lanner Falcon, Little Swift, Mottled Spinetail, African Palm Swift, Rose-ringed Parakeet, Red-rumped Swallow and House Martin.
DAY 12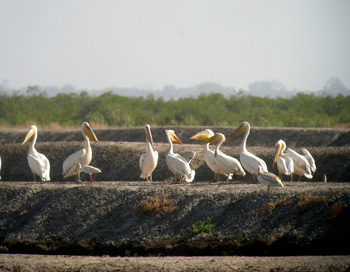 Having visited the main coastal birding sites during the first week, it was our decision as to where we would like to go and also to return to any of the previously visited sites. We were keen to return to Pirang and Phil recommended Bush-track, as this was a site where we could pick up a few birds missed the previous week. Several fairly common species were still missing from our list.
Both sites were visited and we were back at Halcyon by early afternoon. Incidentally entry into the shrimp farm was denied today, greatly reducing the value of the site as visibility is restricted through the mesh of the main gate or from the observation mound which offers distant views of the 2 nearest salt pans only.
Birds of note
Stone Partridge, White-throated Bee-eater, Brown-backed Woodpecker, Greater Honeyguide, House Martin, Red-shouldered Cuckoo-shrike, Subalpine Warbler, Yellow White-eye, White-shouldered Black Tit, Collared Sunbird and Black-winged Red Bishop.
DAY 13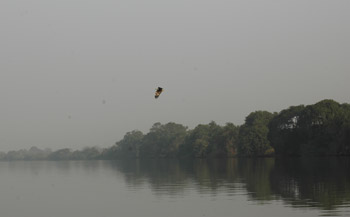 This was our last day's full birding and we decided to revisit Tujering. Mustapha said he knew of a track leading down to a small lake, which we had to pass, that could be worth a visit, so it was decided that would be our final programme.
The lake track turned up nothing exceptional, although whilst Mus was imitating the call of a Pearl-spotted Owlet we were surrounded by dozens of small birds responding to the call. These included African Oriole, several species of sunbirds, drongos, babblers, weavers and Laughing Dove. Tujering was remarkable in that we saw 7 species of raptor including an Osprey carrying a very long thin fish. Managing to find several new species on our last day demonstrates just how good birding in the Gambia can be.
Birds of note
Pearl-spotted Owlet, African Oriole, Whinchat, Western Olivaceous Warbler, Copper Sunbird, Woodchat Shrike and Violet-backed Starling.
MOANS, GROANS & MEMORABLE MOMENTS
Moan
Moans & groans were few and far between this holiday, but why do people insist on having a window seat on the plane only to either pull down the blinds, or bury their heads in a book as soon as the wheels have left the runway? Because of our late booking we were allocated centre isle seats. Having no interest in watching "Mama Mia" I spent 6 boring hours people watching or staring into space.
Memorable Moments (Of which there were many)
Being supplied with a knife, fork and long stick when we lunched at Lamin Lodge. We asked, "Why the stick"? "That's to beat the monkeys when they try to steal your lunch off your plate" we were told – and sure enough they did and the only way to keep them at bay was to wave the stick around like a Whirling Dervish.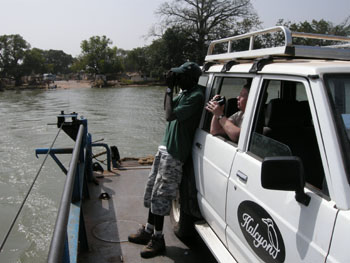 Being introduced to Marmite & strawberry jam on toast. Don't knock it till you've tried it.
Our whole adventure up-river, including stopping at Farafenni for a brown bag of assorted meat & gristle with fried onions and gravy; not for the faint hearted and not as tasty as the Marmite and strawberry jam.
Whilst we're on a gastronomic theme, the fried chicken spam & onions with chips, a local dish I availed myself of on several occasions.
Being served the worst bottle of white wine that I have ever tasted at Tendaba and I have tasted some rubbish!
Mustapha regaling us with tales of his birding escapades around the world when in fact he has never left the confines of Gambia & Senegal and all delivered in a broad Yorkshire accent. Brilliant!
The boat trip through the mangroves at Tendaba – simply brilliant.
Returning back to Halcyon, we've never been so glad to be back anywhere in our lives.
SUMMARY
Our species list for the holiday was 266, a very respectable total when you consider our relaxed approach and the days when very little birding took place, due in the main to the ferry delays and breakdowns.
The holiday was very, very enjoyable. We saw all the birds on our most wanted list, with the exception of Finfoot which normally doesn't arrive until early into the New Year. The birding was relaxed, as we requested, but sufficiently active for us to see many memorable birds well.