INTRODUCTION
This report is in actual fact, a summary of three seperate visits that I made to the island of Fuerteventura. The periods covered were as follows:-
16th to 22nd November 2005
4th to 18th October 2006
7th to 21st February 2007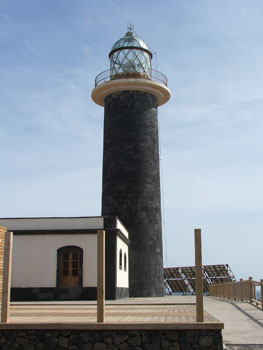 My primary aim was to find the Houbara Bustard Chlamydotis undulata fuertaventurae. Secondly I hoped to see such birds as the Fuerteventura Chat Saxicola dacotiae, previously know as the Canary Island Chat, but since it can only be found on Fuerteventura it was felt that it's name should reflect the fact.
For those who are not aware of the geography of the island, let me enlighten you somewhat.
The Canary Islands can be split roughly into two separate groups. The western islands, comprising: Gran Canaria, Tenerife, La Gomera, La Palma and El Hiero.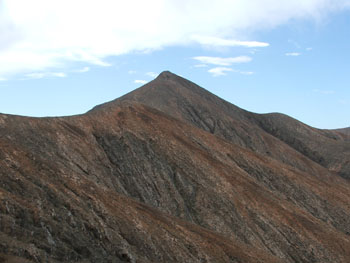 Tenerife is the largest island. The eastern islands comprise Fuerteventua and Lanzarote. There are some islets to the north of Lanzarote and one, Isla de Lobos in the channel between Fuerteventura and Lanzarote. I only have a little knowledge of Fuerteventura so will confine my remarks to this island only.
The island is the second largest of the whole group being 1,731 sq kms. It is 100 kilometres from the coast of southern Morocco and shows certain botanical and zoological similarities to that country. Fuerteventura is home to some desert species of birds, including Houbara Bustard, Cream-coloured Courser, Black-bellied Sandgrouse, Trumpeter Finch and Egyptian Vulture. Other endemic birds are Berthelot's Pipit, Plain Swift, Pallid Swift, Stone Curlew and Lesser Short-toed Lark. All the birds mentioned above are endemics of one sort or another; some to Fuerteventura alone or to the Canary Islands as a group or as Macaronesia endemics. Even the Yellow-legged Gull Larus cachinnans atlantis is an endemic being confined to the Macaronesian area.
Macaronesia consists of five groups of islands as follows: Azores, Madeira, the Salvage Islands, the Canary Islands and the Cape Verde Islands.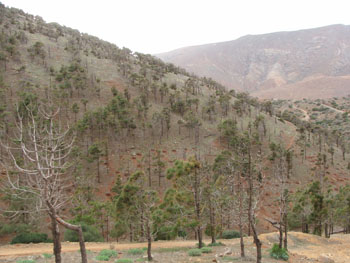 The island is mostly desert with a great many hills and mountains of obvious volcanic origins, the other obvious geographical features are the areas of plain some of them quite extensive and either stony desert or sand desert. Water is almost non-existent and where it exists, is a great magnet for wildlife. For the squeamish it will be good news to learn that there are no snakes or scorpions on the island.
At the end of the report I have taken the liberty of listing all the birds that I saw on all three trips. This is because the population of birds can change dramatically with the seasons so that what was there yesterday may not be there tomorrow; it depends on migration. For example, when I was there during October I saw numbers of various flycatchers, but in February there were none to be seen. By the same token, in October there were no American ducks, but in February there were such 'gems' as Blue-winged Teal, Lesser Scaup and Ring-necked Duck.
TRANSPORT & ACCOMMODATION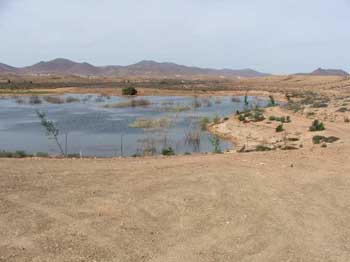 I invariably flew out from Glasgow and arrived on Fuerteventura about 4 hours later. Once free of the airport I picked up my hire car (needed to get about). So far I have stayed in the area of Caleta de Fustes, simply because it is central to the whole island and, in addition, it is on the east coast and is handy for sea-watching. It is a typical brash 'lie on the beach and get drunk' sort of a place, but I only sleep there and for that it is cheap and clean. Fortunately the cancerous holiday sprawl is confined to the east and south coasts leaving the remainder of the island more or less the way it was meant to be. Main roads are good, but if you go, do not confine yourself to them, explore the tracks that lead off into the unknown. I am not going to list all the places that you should visit; find them out for yourself! That way you will have achieved something, and will probably feel better for that.
TRIP ESSENTIALS

I would advise that you take stout footwear because some of the going is quite rough and walking over lava fields can be hard on your shoes. Never leave your car without water even if you only mean to go a short distance. In February 2007 the temperature peaked at around 33 degrees in mid-afternoon; so be warned. I would also advise wearing a hat. Remember this island is an extension of the Western Sahara.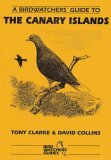 Get a good map like the Fuerteventura (AA Island Maps). You may also like to avail yourself of a copy of Prion Birdwatchers' Guide to the Canary Islands (Prion Birdwatchers' Guide) by Tony Clarke and David Collins. However, I consider it dated and in need of an overhaul. For example, it states in the Introduction that there are 'no proper woodlands'. There is in fact a pine forest south of Betancuria. Granted, it is not very large, but it is woodland and contains a healthy population of Canaries which are considered to be absent, or at least of 'status uncertain' with regards to Fuerteventura.
Another publication which may be of use to you is the Gostours guide to Finding Birds in the Canary Islands by Dave Gosney. Between that publication and the Clark and Collins one mentioned above, you should be able to find most of the best spots, but please do explore – you can never tell what you may find.
Species List & distribution details