INTRODUCTION
In taking a late summer holiday to Kefalonia we were well aware that, beautiful island though it is, it is not one of the Mediterranean birding hot spots; but our aged bones needed warm sunshine & we'd got a good bargain, so, optics packed (well very nearly – see below!) off we went.
Yes Kefalonia is a very beautiful island indeed, I have visited many of the Greek islands as well as the mainland and this is surely the tops and to my surprise the birding wasn't bad either. Mallorca or Lesvos it aint and I suppose that to birders whose life lists are in four figures it can be sniffed-at, but we found much of interest including at least one surprise and I added 11 to my year list. In addition, the fact that many of the little critters needed careful observation & loads of patience added to my birding skills.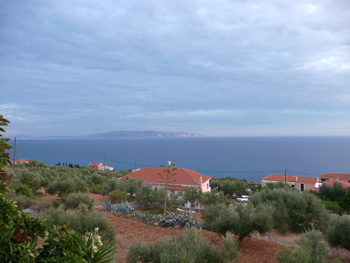 Penny & I travelled on a package holiday with Thomas Cook, flying from Birmingham's excellent airport and staying, self-catering in the Spiradoula apartments in Lourdas. We hired a car for 4 days at a total cost of £100 from CBR rentals. Cooks were as efficient as you would expect, the apartment was superb, well appointed with a very wide balcony giving a wonderful view over the sea. Just below the balcony was a small olive grove – great for birding. Lourdas is a nice village with well-stocked supermarkets, good tavernas and a couple of bars for those who can't do without their regular dose of Sky TV!
But….the village is a couple of hundred feet above sea level and getting to the beach required a walk of a couple of miles downhill & obviously uphill to get back. As the temperature hovered at around 25°C for most of the time this could be difficult for non-walkers. We had no problems though and as the hillsides were covered in scrub, Holm Oaks, Olive groves and fields of Verbascum and Fox-tail Lilies there were plenty of opportunities for birding…….so, what about the birds of Kefalonia.
BIRDING FROM THE BALCONY
As I said, our balcony afforded us a superb view of the sea and had an olive grove immediately below us; the grounds of the apartment also had flower borders as well as a couple of huge Agave plants with 20 foot flower stalks. First day we had a great surprise with a Golden Oriole causing commotion among the resident populations of House Sparrows and Spotted Fly-catchers. Collared Doves, Blackbirds, Blue Tits, Great Tits, Chaffinches and Jays were very common around the apartment and we saw these eight species everywhere we went on the island and I will only refer to them as the 'usual suspects'.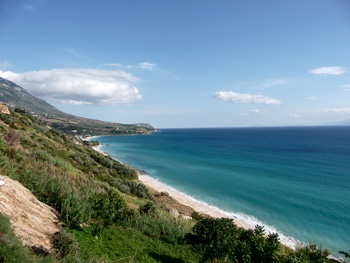 Having a very good view of the sea we were able to 'sea-watch' from the comfort of the balcony, ice-cold beer in one hand, binos in the other we were well set-up!! Every day a Common Buzzard hunted along the scrub-covered hillside above the beach, two Kestrel were regularly seen as was an Eleonora's Falcon as it 'shearwatered' over the sea in search of migrating hirundines. We had occasional glimpses of Turtle Doves and regular groups of Barn Swallows, Swifts and House Martins flew west to east on their migration paths. A Sparrowhawk paid regular visits hunting for inattentive flycatchers and a Rough-legged Buzzard was seen a couple of times, usually trying to ward off the attention of the local Kestrels.
OUR 'LOCAL PATCH'
Like all birders we quickly sorted out our local patch, a road which passed alongside olive groves, through fields of Verbascum, Euphorbia, Lilies and Plumbago down a steep track lined with Elephant grass, Holm Oaks, Rubber Plants and Jasmine, to the beach below Lourdas. Cettis mocked us daily, we saw Icterine Warblers, Sardinian Warblers, Linnets and Blackcaps (feeding young!). A field of Verbascum gone to seed hosted Whinchat and a flock of 30+ Goldfinches; a Crested Lark was twice seen and a group of Raven coasted overhead as we scanned the sea from the vertiginous path. Watching a Peregrine Falcon circling overhead I was astounded to see a huge flock of Swifts high in the sky, many hundreds of migrating birds swirling and dipping as they winged their way south, it was difficult to estimate numbers but there must have been a couple of thousand feeding their way to Africa. Finally our regular patch visits paid-off when we saw a Red-backed Shrike perched arrogantly on the side of a bush causing great consternation among the local LBJ population.
OTHER AREAS AND BIRDS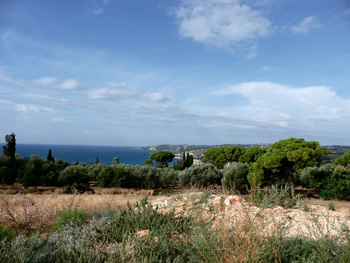 We took a four day tour of the island by car and we can confirm that Kefalonia is a superbly beautiful island and the birding was okay, most places threw up the odd 'spot' but there was nowhere that I could honestly say proved extra-productive. I will list the places we went & the birds we saw – the 'usual suspects' were ever present in all places.
Livadi Marshes
On a hot & sunny day we visited the one area that other reports had suggested would give profitable birding, Livadi Marsh. This is a flat, semi-flooded marsh bordered on one side by the sea; a road to a quarry runs on one side along from the sea and the marsh is overlooked by a hillside used as a fly-tipping site by the local populace.
Driving down to Lixouri on the mountain road from Argostoli, just as you reach sea-level there are two parking spots; the first alongside a concrete wall on a hairpin bend (not as hairy as it sounds) and a little further down, practically at the sea road, is a small lay-by. The best place to observe the marsh is from a path which runs from just by the concrete wall along a hillside, past fly-tipped household & building junk (& a dead goat!!) to a grove of fir trees overlooking the marsh.

Despite the junk I must say that the birding was okay, Little Egret, Great Egret, 18+ Grey Heron, Squacco Heron, Moorhen, Kingfisher and a sizeable flock of Teal fed happily among the reed-fringed pools and a Marsh Harrier flew hopefully over the reeds. Among the fir trees tits & finches called whilst Icterine and Sardinian Warblers flitted around the scrub and a Common Buzzard paid a short visit. All the 'usual suspects' were present.
Argostoli Lagoon, Harbour and Gulf
The island capital has a working harbour with fishing boats, ferries & a marina for pleasure craft. A pedestrian bridge divides the harbour from a lagoon, at either end of the bridge are small grassy, tree-lined parks. Get there before 9 am and there is free, unlimited parking next to the park just before the footbridge on the road into town from the south – easy to find & only a short walk to the town centre. There were Yellow-legged Gulls and Great black-backed Gulls over the harbour and a cormorant flew across the lagoon on which were Mute Swans & Moorhen.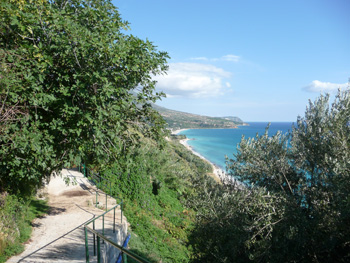 From Argostoli we drove to Lixouri via Livadi Marsh; Lixouri was a disappointment with scruffy, 'touristy' tavernas, lots of litter and an uninviting beach with some sad-looking Tamarisk trees; we saw a Redstart and a couple of Yellow-legged Gulls. The harbour is quite attractive but the water was full of rubbish including many plastic bags, quite disturbing as the bay is famous for its turtles!
Needing somewhere uplifting we took the road back through Livadi village, getting a brief glimpse of a pair of Imperial Eagles over Argostoli Gulf. They were sadly the only eagles we saw during our stay. A side road took us to Atheras Bay with its calm water, a very quiet sandy beach fringed with olive groves and a small taverna. All the 'usual suspects' were there as well as Redstart, Kingfisher, Goldfinch and Linnet. Highly recommended for a peaceful afternoon; a longer stay should turn up more birds (we were there only for a couple of hours.)
Tzanata Reservoir
This delightful, reed-fringed reservoir is on the Skala to Poros road, just before the turning to Sami. Obviously a newish reservoir, it has the potential to become a very good birding area; set in attractive, hilly countryside it is surrounded by a high, wire fence which hopefully will give the birds some protection. A sizeable 20+ flock of very active Little Grebe were joined briefly by a feeding frenzy of Barn Swallows and House Martins. Two Grey Heron stood on sentry duty and a Squacco Heron took no notice. Also present was a Cormorant and a small group of Moorhen. There are a couple of roadside parking spots and I am sure that in years to come this small stretch of water will reward a visit with greater numbers of more species – a lovely place.
Skala
Nice town, superb beach with very clear water, good for snorkelling. In two days we saw many flocks of Barn Swallow, House & Sand Martin feeding over the cliffs adjoining the beach as well as a pair of Blue Rock Thrush flitting around the cliff-face.
Fiskardo
Supposedly un-touched by the 1958 earthquake, but it looked as modern as everywhere else. Okay but over hyped – Sami is much nicer. A flock of 12 + Hooded Crow flew & squabbled over Fiskardo harbour as we lunched.
Karavomiles Lake & Katelios Marsh
Both arid & bird-free when we visited.
SUMMARY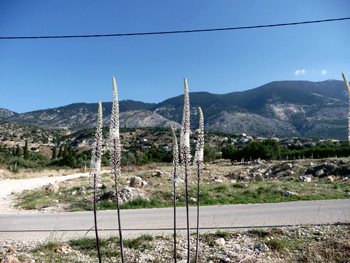 My overall impression was of a beautiful island with very friendly people deserving better from the Northern European litter-louts & indigenous fly-tippers who are doing their best to disfigure the countryside. The timing of our trip was probably not the best for maximum birding; April/May would have newly-arrived migrants as well as a stupendous array of flora and in August/September the population of local summer breeders would be swollen by European & Scandinavian migrants passing through. One interesting observation – in the first week we noted 4 Blackbirds; during the second week, in much the same areas, we noted 30+. Everywhere we went we saw many hundreds of butterflies, I have not listed these as we were only able to identify the more common species due to oversight number three – see below! The island is very verdant with Holm Oak, Eucalyptus, Rubber Plants, Kefalonia Pine and Maples as well as the many Olive Groves. Jasmine, Plumbago, Euphorbia, Verbascum, Fox-tail Lily and the strange Agave provide the basis for an abundance of wild flowers.
It's hard to say where the best place to stay birding-wise would be; it's a small island and easily covered by car in a few days. We struggled for big raptors but more time and persistence in the mountains would probably have paid off. Also more time spent in the centre of the island where there is farmland will give more species, especially in the breeding season. Skala is the best resort whilst Sami is the most interesting place and also the ferry port for Levkas & other islands.
Now for three Do Nots!!!
When She Who Must Be Obeyed suggests that she won't be taking her binos as after all "everyone says it's not good birding there"- DO NOT AGREE!!! The scramble with the two of us both trying to grab one pair of binos as the Golden Oriole flew around just below our balcony was most unseemly and was too frequently repeated!
Furthermore, if He Who Never Listens has just shelled out a small fortune for top-of-the-range binos don't opt to take one's elderly pair, "just in case the new ones get damaged on the flight". The reason he has bought top-grade binos is an Eleanora's Falcon 200 metres out to sea!!
And finally, if you have a butterfly identification book – take it to Greece – the place is swarming with the critters!!
BIRD LIST
Little Grebe  Tachybaptus ruficollis
Cormorant  Phalocrocorax carbo
Squacco Heron  Ardeola ralloides
Little Egret  Egretta garzetta
Great Egret  Egretta alba
Grey Heron  Ardea cinerea
Mute Swan  Cygnus olor
Mallard  Anas platyrhynchos
Teal  Anas crecca
Imperial Eagle  Aquila heliaca
Marsh Harrier  Circus aeruginosus
Rough-legged Buzzard  Buteo lagopus
Common Buzzard  Buteo buteo
Sparrowhawk  Accipiter nisus
Kestrel  Falco tinnunculus
Eleonora's Falcon  Falco eleonorae
Peregrine Falcon  Falco peregrinus
Moorhen  Gallinula chloropus
Yellow-legged Gull  Larus cachinnans
Great Black-backed Gull  Larus marinus
Collard Dove  Streptopelia decaocto
Turtle Dove  Streptopelia turtur
Swift  Apus apus
Kingfisher  Alcedo atthis
Crested Lark  Galerida cristata
Sand Martin  Riparia riparia
Barn Swallow  Hirundo rustica
House Martin  Delichon urbica
Meadow Pipit  Anthus pratensis
Tree Pipit  Anthus trivialis
Grey Wagtail  Motacilla cinerea
Robin  Erithacus rubecula
Redstart  Phoenicurus phoenicurus
Whinchat  Saxicola rubetra
Blue Rock Thrush  Monticola solitarius
Blackbird  Turdus merula
Blackcap  Sylvia atricapilla
Sardinian Warbler  Sylvia melanocephala
Cetti's Warbler  Cettia cetti
Icterine Warbler  Hippolais icterina
Olive-tree Warbler  Hippolais olivetorum
Spotted Flycatcher  Muscicapa striata
Great Tit  Parus major
Blue Tit  Parus caeruleus
Red-backed Shrike  Lanius collurio
Magpie  Pica pica
Jay  Garrulus glandarius
Hooded Crow  Corvus corone cornix
Raven  Corvus corax
Golden Oriole  Oriolus oriolus
House Sparrow  Passer domesticus
Chaffinch  Fringilla coelebs
Linnet  Carduelis cannabina
Goldfinch  Carduelis carduelis
Greenfinch  Carduelis chloris
(55 species)
Tony Jones