INTRO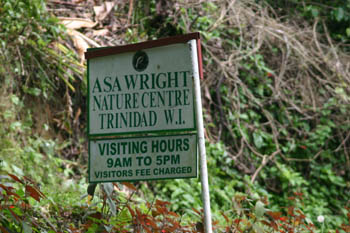 After Gambia, Goa and Texas where could we go just after Christmas to provide excellent birding and guarantee a warm sunny break from the English winter? Several options spring to mind, but in the end we chose Trinidad and Tobago, as our friends Pat and Judy were also interested, having read a number of trip reports and visited the Asa Wright web site Although the birding lived up to expectations, the weather on Trinidad didn't.
FLIGHTS
Flights and accommodation were booked via our local agents, Hays Travel (formerly St Andrews Travel) in Bolton, who we found to be most helpful. We chose an Elegant Resorts package, flying British Airways "World Traveler Class" from Manchester to Gatwick 06.40/07.40 and Gatwick to Tobago 10.30/17.35 (touching down in Antigua to refuel for 1hr 10min). The package included the use of the Serviceair Executive Lounge at Gatwick, making the journey a little more comfortable. Transfer from Tobago to Trinidad was on the Tobago Express at 11.00 (TB 1523) with a flight time of c20 mins . Check in time is only 45 mins, despite what the tickets and travel agents tell you. Scheduled flights at 19.00/19.30 with LIAT came with the deal and were retained for emergencies (costing c£12 each), but the late flight time did not suit as we had to check out of our hotel by noon. On our return on 28th January we departed Trinidad for Barbados on LI 374 at 12.25/14.00 touching down at Tobago for c20 mins. The onward flight from Barbados to Gatwick was 17.50/05.55 (29/1/2006) and had a flying time of c7.5 hrs and with Gatwick to Manchester at 08.45/09.45 we had a lengthy return leg! When we arrived in Barbados we were met by the Elegant Resorts rep and she provided a welcome break by taking us into the executive lounge.
All flights were comfortable and although we weren't able to get "exit" seats, legroom was not a problem, even on the internal W I flights.
ACCOMMODATION
On Tobago we had 6 nights B&B at the Coco Reef Resort with a deluxe ocean view room. Although at the south end of the island and not ideally situated for either the Rain Forest or Little Tobago, this did not present a problem and in most respects we were very comfortable. The room was spacious and clean and was as we would have expected for this type of hotel. The housekeeping staff and laundry service were good. Breakfast was excellent with numerous options for all, whilst other meals were good but expensive. Staff at breakfast tend to hover and clean the tables during the meal, as soon as any item is finished with – no doubt to foil the numerous Carib Grackles and Bananaquits scavenging on the open veranda. This almost too efficient service was in complete contrast to lunch time and general bar service where long delays were commonplace.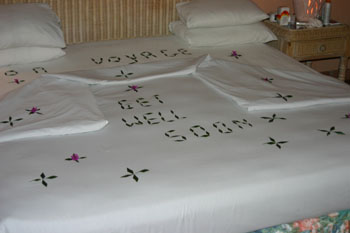 On numerous occasions at lunchtime there were up to 6 or more bar staff waiting for orders at the bar, being serviced by only one bartender who appeared more interested in talking to her colleagues than dealing with the drinks orders. In general the bar staff were not too friendly and acted as though they were doing you a favour by serving you. Thankfully the rest of the hotel staff, especially Reception, were much better at their jobs, which they actually appeared to enjoy doing. On our last night Amanda slipped in the shower and broke her wrist – not ideal when travelling to Trinidad the next day. When we got back to the hotel, after about 3 hours at the hospital in Scarborough, a non slip bath mat had suddenly appeared in the shower and a "get well soon" message was on the bedcovers.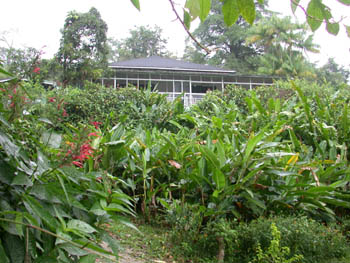 On Trinidad we stayed at the Asa Wright Nature Centre for 6 nights full board. We booked this ourselves with the Centre's sole agent, Caligo Ventures. We dealt with Margaret Schaeffer, the President of the company, by email and phone and found her to be extremely helpful, both with general enquiries and arranging internal flights and also with arranging guided trips on Trinidad. Unfortunately, by the time we booked in September 2005, there were only 2/3 rooms left available and I think we ended up with the oldest, smallest and most tired rooms at the centre. They were however clean and reasonably comfortable, if somewhat basic and the housekeeping staff were very good. Air conditioning would have been a definite plus and made life a little more comfortable. It definitely appears to pay to book early, once you have decided to go.
FOOD
On the first night, having only settled into our room at the Coco Reef at 7.00pm, we dined in the hotel restaurant, Bobsters. The meal was adequate but pricy. We didn't dine there again until the last night, after returning from our visit to the hospital well after 9.00pm. Otherwise we dined at, and can recommend, Fortune Chinese Restaurant Bon Accord, Dillon's Seafood Restaurant 639-8736 and Pelican Reef 660-8000. The latter two are walking distance from Coco Reef and booking is recommended. The Chinese was best value for money, but is a 30 min walk or short taxi ride. On our last night we had booked The Seahorse Inn at Black Rock 639-0686 as it looks and sounds excellent, but fate intervened. We had an excellent lunch at Gemma's Seafood Kitchen in Speyside – one of the best meals whilst away – and also a good lunch at Cuffie River Nature Reserve. We also had a reasonable lunch and afternoon tea at Arnos Vale Hotel whilst watching the birds being fed at 4.00pm. Service for afternoon tea was painfully slow, despite there not being too many guests. Food at Asa Wright was all inclusive and very good, mainly West Indian cuisine, but not too spicy. Also included were hot picnic lunches, with sandwiches available on request.
TRANSPORT
Both guides had their own mini bus transport which was more than adequate for our party of 4. We hired a car on Tobago for our two free days via the Elegant Resorts rep and Thrifty Car Rental (Rodriguez Car Rental) +1 868 639-8057. The vehicle was air conditioned and being less than 18 months old, was in very good condition.
GUIDES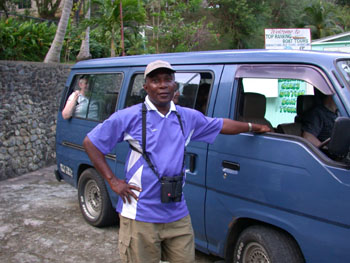 Having decided on our destination we researched various trip reports on the internet and established which sites we would most like to visit on the islands. Newton George was recommended to us as the man for Tobago by Caligo. I contacted him by email in mid September and secured his services for 3 days (in which time he recommended he would be able to show us most of the species we would wish to see on the Island). Newton was prompt, efficient and a pleasure to bird with and, true to his word, he found the birds. He can also be contacted by phone: +1 868 754-7881 or +1 868 660-5463 or an alternate email address..
A tour of the Asa Wright grounds and trip to Dunstan Cave (Oilbirds) are included in the price for 3 nights+. In fact the only way to visit the cave now is to stay at the Centre for 3 nights, as visits to the cave are restricted to 3 per week to prevent too much disturbance to the c140 birds roosting and nesting there.Having mapped out a possible itinerary beforehand, we booked our proposed trips on Trinidad via Caligo.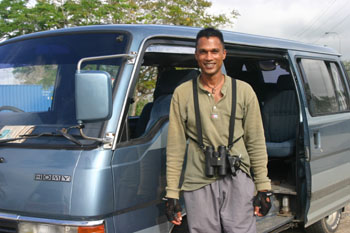 We were advised approx one week prior to departure our guide would be Dave Ramlal. Dave has excellent birding ID skills, recognising the calls of most species in the field and finding the more difficult skulkers with the aid of bird calls on his MP3 player. We were effectively birding with Dave for 4 days (3 full days and 2 half days) and he handled our transfers to and from the airport. Dave can be booked direct by phone: +1 868 789-0770 or email; however he does give priority to Asa Wright and their guests. His costs are much cheaper than booking via Caligo/Asa Wright, in the region of US$100 per day, per party (seating capacity 8, but when all the gear is involved a party of 4 is best with 6 really a maximum number for comfort). In addition, Dave offers a number of other destinations not on the schedules offered by Asa Wright/Caligo.
COSTS
Flights, transfers and B & B at Coco Reef £1353.00 each
Asa Wright £615 each (US$990 plus TFR from airport US$45)
Tobago Express £10 each - US$16
Tobago Guide £113 each - US$190
Trinidad Guide £158 each - US$265 - plus US$10 each for Waterloo
Car Hire £48 per day - US$80 
£ = US$1.68180 (Dec 2005)



RESEARCH & TRIP ESSENTIALS
Brief info on everything for birding on the islands can be found on the Fat Birder web site.
Recommended reading:-
A Birdwatchers' Guide to Trinidad & Tobago ISBN 1-871104-11-4 by William L Murphy
Birds of Trinidad & Tobago ISBN 0-7136-6759-1 by R Ffrench
Birds of Venezuela ISBN 0-7136-6418-5 by S L Hilty
Lonely Planet Eastern Caribbean ISBN 1-86450 305-X includes a section on Trinidad and Tobago
A US bird identification guide can also be useful (I always prefer Sibley).
Having said this both Newton and Dave had all the necessary ID books available, although they were seldom used. Both the Ffrench and Hilty books are hefty and expensive tomes and are definitely not "Field Guides". As generally acknowledged, the Ffrench guide is let down by the quality and quantity of the Plates, as many birds likely to be seen, are not illustrated. The region is crying out for a good "Collins" type Field Guide. Subsequently a new Field Guide to the Birds of Trinidad and Tobago(Helm Field Guides) has been published. The book, by Hayes, Kenefick and Restall – ISBN 978-0713685442, gets good reviews and covers all the species found in the area.
Currency:-
Trinidad and Tobago $ (US $ is preferred option throughout the islands). Hotels will exchange currency but we were offered c$8.5 per £ and with up to $10.5 available via the Bank's cash machines – less a small fee and exchange commission – Banks are definitely to be recommended.
Innoculations:-
None required and no Malaria tablets needed. Although Yellow Fever is recommended, we were never asked for any evidence of our jabs, and at no stage appeared to be in any danger.
Climate:-
Average daily high Port of Spain 31°C (88°F) and average daily low 21°C (70°F). Rainy season ends in December but humidity can be c80%. Tobago is usually a little cooler, windier and less humid….so we were advised by the Travel Books! See below.
WEATHER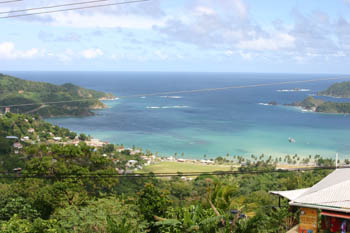 Temperatures on Tobago ranged up to 90°F. The days were generally hot and sunny and we had some heavy overnight showers. The trip to the Rain Forest was threatened by rain most of the day, but it held off. We did have one short heavy downpour on Little Tobago that was quite refreshing.
Trinidad was quite different, being much more humid and with a lot of unseasonable rain, lasting all day in some cases. We were quite grateful for our lightweight waterproof ponchos. This was the second successive year the rainy season had not ended in December with the weather being described as more like "October" with accompanying floods.
ITINERARY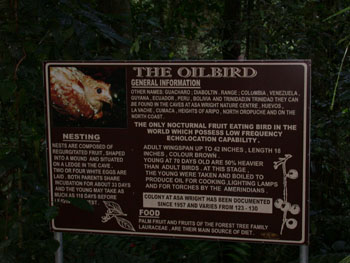 17 Jan – Wetlands including Bon Accord Treatment Ponds, Grafton Bird Sanctuary, Hilton Ponds, Turtle Bay and Adventure Farm, Plymouth from about 7.30am to approximately 2.00pm. Cost US$45 each. Hot and sunny. 71 species plus Cayenne Tern, with 43 lifers.
18 Jan – Rain Forest including Main Ridge Reserve and Gilpin Trace. Pick up at the hotel about 6.00am & return approximately 3.30pm. Cost US$60 each. Warm and overcast following heavy overnight rain. 62 species taking trip total to 91 with 16 lifers.
19 Jan – Little Tobago Bird Sanctuary with lunch at Jemma's Seafood Kitchen, glass bottom boat, guide fees, transport and reef tour (snorkeling optional) from about 11.00am to approximately 6.00pm. Cost US$85 each. Hot and sunny with a heavy downpour on Little Tobago. 28 species adding 5 to trip total of 96 with 4 lifers.
20 Jan – Bon Accord Treatment Ponds, Pigeon Point, Arnos Vale. Hot and sunny. 47 species, birding without a guide, but no new birds.
21 Jan – Bon Accord Treatment Ponds, Buccoo Lagoon, Grafton Bird Sanctuary and Crown Point Airport Area. Hot and sunny again, also with 47 species and no new birds, leaving Tobago leg of trip with 96 species.
22 Jan – Transfer to Trinidad and Asa Wright Nature Centre. Hot and humid, but no rain. 45 species adding 21 to trip total of 117, with 18 lifers.
23 Jan – Tour of AW Grounds 8.30am – 11.00am. Hot and humid with occasional showers. 64 species with 21 new birds for the trip which were all lifers, leaving total at 138.
24 Jan – Blanchisseuse Road from 8.30am – 5.00pm with packed lunch and tea snack (swimming opportunity promised). Cost US$50 each. Rained solidly all day. We turned back after lunch and missed the swimming opportunity, but we were all wet enough. 41 species with 5 new for the trip taking total to 143. 4 lifers.
25 Jan – Nariva Swamp, Aripo Livestock Research Station and Waller Field from 8.00am – 7.30pm with packed lunch and tea snack (swimming opportunity promised). Cost US$60 each. Overcast and showery, but we managed to dodge most of the rain. 83 species with 33 new for the trip, total now 176. 27 lifers today.
26 Jan – Aripo Savannah/Arena Forest trip was actually Waller Field from 6.30am – 2.00pm with packed lunch. Cost US$50 each. Night Birding at Waller Field from 4.30pm – 9.00pm with packed dinner. Cost US$45 each. Quite hot and sunny at times with occasional cloud. 58 species with 18 new for the trip, taking total to 194. 15 lifers – would have been 17 but we only heard Masked Yellowthroat and Tropical Screech Owl.
27 Jan – Dunstan Cave tour 8.30am – 10.00am. Caroni Marsh and Waterloo 10.30am – 7.30pm with picnic lunch and tea snack. Cost US$60 each plus extra US $10 each for the Waterloo extension. Sunshine and showers all day. 77 species with 14 new for the trip, taking grand total to 208. 7 lifers to give an overall total of 155, excluding the Cayenne Tern sub-species and two birds only heard.
SITE REVIEW
The site descriptions, maps and directions contained in Murphy's A Birdwatchers' Guide to Trinidad & Tobagoremain accurate and on the assumption anyone considering a visit to the islands will purchase this book at least, no further directions are included in this report for sites covered by Murphy.
TOBAGO
Bon Accord Water Treatment Works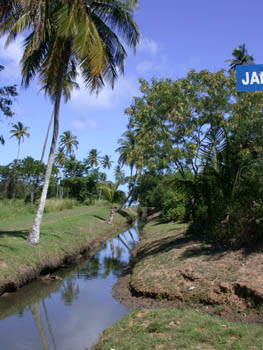 We visited this area almost every day as it was only a 5 minute drive from the hotel and there was generally a good selection of birds to be seen. The works themselves are four rectangular man made ponds which are good for Black-bellied Whistling Duck, Blue-winged Teal, White-cheeked Pintail, herons and egrets. Wattled Jacana, Lesser Yellowlegs, Spotted Sandpiper and Hudsonian Whimbrel were also regulars. We spent rather more time here than Murphy suggests, both with Newton George and subsequently by ourselves. Walking along Roberts Street , beyond the 90° turn we had excellent views of two Mangrove Cuckoo, Red-crowned Woodpecker, Green-rumped Parrotlet, Caribbean Martin, Brown-crested Flycatcher, Anhinga, Yellow-crowned Night Heron and Belted Kingfisher.
Hilton Ponds
The Hilton Hotel and golf course has a number of man made lakes. There is also a complex of several sewage/water treatment ponds where access is generally restricted, but Newton was able to gain permission to walk around as well as access to the Rest Rooms. The entrance to the area is found by travelling along Milford Road from Crown Point, through Bon Accord and Canaan, beyond Shirvan Road and along the "new" Claude Noel Highway. Turning right off the Highway, the first ponds are visible from the main road and were good for Least Grebe, Anhinga and a fishing Osprey. The sewage ponds were the highlight with Solitary Sandpiper, Killdeer, Western Sandpiper, Spotted Sandpiper, a very photogenic Green Heron plus numerous Southern Lapwing and Black-bellied Whistling Duck. Overhead we had 2 Caribbean Martin, Short-tailed Swift and Grey-rumped Swift and on our way out of the rear of the complex, along with several Blue-black Grassquit, we had 2 male and 3 female Ring-necked Duck, very rare vagrants to the island from the USA.
Adventure Farm, Plymouth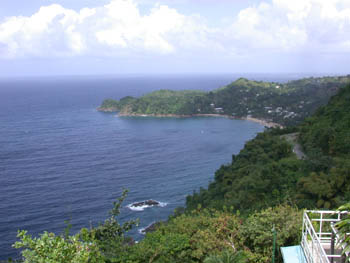 Situated between Turtle Beach and the Arnos Vale Hotel, the farm is signed on the right of the road (travelling towards Arnos Vale) and is accessed via a steep winding road with a number of sharp bends. The bird feeders are in a very intimate setting and we had stunning views of Blue-crowned Motmot, Barred Antshrike (male & female), Copper-rumped Hummingbird, White-necked Jacobin, Black-throated Mango, Ruby-topaz Hummingbird and Rufous-breasted Hermit. This was our first experience of the use of bird-feeders on the islands and although eventually you can get a little blasé, the initial impression is quite stunning. The owners also make excellent fresh fruit juice drinks.
Turtle Beach
Good for seabirds but little else. We had both Royal and Sandwich Terns, including one Cayenne Tern, together with Brown Pelican, Magnificent Frigatebird and numerous Laughing Gull.
Grafton Bird Sanctuary
We visited twice, first with Newton and subsequently under our own steam. Birds included Rufous-vented Chachalaca, Rufous-tailed Jacamar, Fuscous Flycatcher, White-fringed Antwren, Yellow-breasted Flycatcher, Ochre-bellied Flycatcher, Brown-crested Flycatcher, Scrub Greenlet and a stunning Blue-backed Manakin.
Tobago Main Ridge Forest Reserve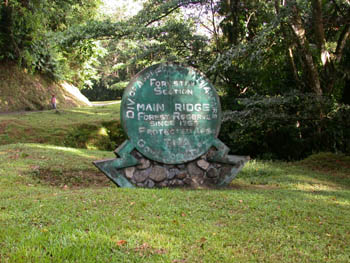 Leaving the coast road at Roxborough, we stopped for breakfast on the Bloody Bay main road, once we had gained some height. We had our first views of Orange-winged Parrots here along with Broad-winged Hawk, Shiny Cowbird and, both distant and fleeting glimpses of Giant Cowbird and Great Black Hawk. Moving onwards and upwards we encountered Northern Waterthrush and our first Golden-olive Woodpecker before seeing a spectacular pair of Collared Trogon and Cocoa Woodcreeper.
Gilpin Trace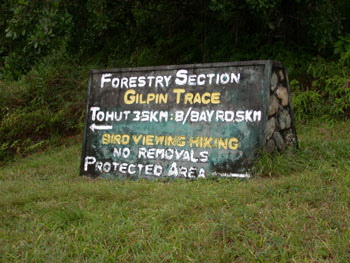 Within the Forest Reserve, we had been warned the track would be wet and muddy. As we parked we were approached by the local "boot hire service" being peddled from a car boot. Newton had warned us against hiring boots as long as we had sturdy footwear and didn't mind getting muddy (something to do with foot hygiene!). With hindsight, probably wrong. The path was very wet and muddy in places and was also treacherously slippery, as I found out to my cost, going base over apex and landing on my coccyx (I'm being polite). The painful memory stayed with me throughout the trip, every time I sat down. However my scope and tripod were OK, albeit a bit muddy. Bird wise we had excellent views of several Blue-backed Manakin, Yellow-legged Thrush, White-tailed Sabrewing, Rufous-breasted Wren, White-fringed Antwren, Plain Antvireo, Stripe-breasted Spinetail and stunning Red-legged Honeycreeper (male & female). Whilst watching a White-tailed Sabrewing display his tail feathers we had much better views of a pair of Great Black Hawk, shortly before seeing our first, very slender, snake pretending it was a twig. An American Redstart made a very brief appearance before I slipped.
Bloody Bay Recreational Site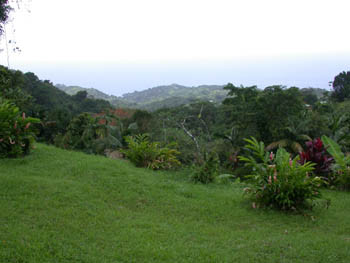 Not much bird wise other than close ups of a Great Black Hawk, flying low overhead and subsequently landing nearby. There is a primitive rest room here and enterprising locals provide refreshments. On the way down from the Lookout we saw Green-rumped Parrotlet, Red-legged Honeycreeper and Red-crowned Woodpecker feeding on nectar from the fiery orange flowering Flame/mountain immortelle trees. Further on by a small roadside stream we had our only pair of Green Kingfisher for the trip.
Castara Bay
Beautiful scenery on the way back to the hotel down the Caribbean Coast, including Englishman's Bay as well as Castara. Not much by way of birds other than our first Brown Booby and more Rufous-vented Chachalaca.
Little Tobago Bird Sanctuary
Although Murphy mentions steps, he doesn't dwell on how steep the climb is to view the Red-billed Tropicbird, Brown Booby, Red-Footed Booby and Magnificent Frigatebird which are numerous here. It is possible to get really close to nesting Red-billed Tropicbird and also Audubon's Shearwater in their burrows. Again, the paths are steep and you need to be sure footed, especially if carrying scope, tripod and rucksack, along with camera and bins. We had a lone Peregrine hunting around the cliff face, adding to the predatory Frigatebirds. The boat trips to and from the island were interesting, with a slight swell on the Atlantic making for some choppy areas. On the return leg the glass bottomed boat came into its own as we passed over the well known Grooved Brain Coral, Angel Reef and the Japanese Garden Reef.
Pigeon Point and Coco Reef Resort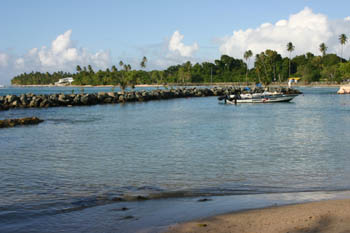 Excellent beaches but not much bird activity, even at Pigeon Point. Around the hotel Black-faced Grassquit and Bare-eyed Thrush were common with a lone Sanderling and two Semipalmated Plover on the breakwater. Occasional Osprey flew overhead along with Magnificent Frigatebird, with the usual gulls, terns and pelicans on the water.
Arnos Vale Hotel
Good close-ups around the feeders at 4.00pm of the usual hummingbirds, tanagers and doves, but nothing we hadn't seen elsewhere. We had good views of Stripe-breasted Spinetail and Fuscous Flycatcher as we walked along the hotel driveway, followed by three Blue-crowned Motmot as we walked back to the car.
Buccoo Lagoon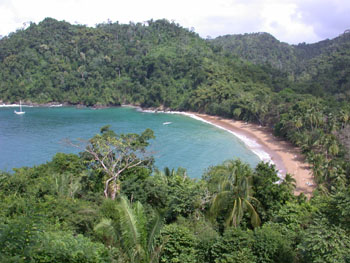 Mentioned by Murphy on pages 90-91 at the end of the Buccoo Marsh section. This area now has minimal access and limited potential – we left after 10 minutes. Moreover Buccoo Marsh is now overgrown and access looks a bit dubious. Newton advised it was not worth trying unless with a guide and it's not an area he visits any more.
Crown Point Airport Area
Another area that was disappointing other than for c20 Brown Booby on oil-drum type buoys just off-shore. We saw our only two Feral Pigeons on Tobago here.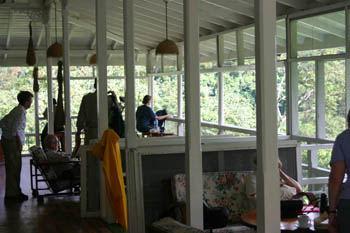 TRINIDAD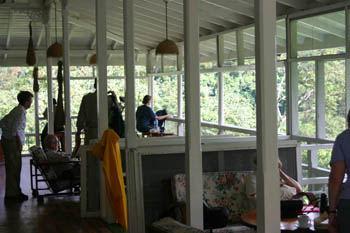 Apart from the Veranda at Asa Wright and the Dunstan Cave walk to see the Oilbirds, all birding on Trinidad was with Dave Ramlal. The Nature Centre's own guides were nearly always available on the veranda and lead the Oilbird walks. They are all very helpful and friendly, particularly Denise (who led our walk to Dunstan Cave ), Harold and Odin.
Asa Wright Nature Centre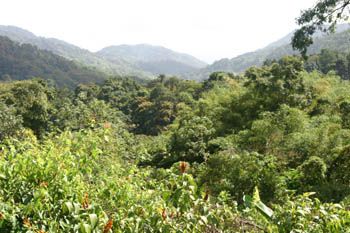 Our base for the duration of our stay on Trinidad, Asa Wright certainly lives up to its billing for both the variety and proximity of the birds. The first few visits to the veranda simply blow you away. In our case 6 days was probably too long as you tend to get the same birds most days and "enough is as good as a feast". At times, the crush of bodies trying to get the best vantage point can be a little overpowering, especially first thing in the morning and occasionally later in the day, depending on how busy the Centre is with day visitors. Having said this, we wouldn't have missed the experience, but if we return to Trinidad we will probably stay elsewhere. The list of excellent bird sightings is endless but I will keep to highlights – we saw Green and Purple Honeycreeper, Red-crowned Ant-Tanager,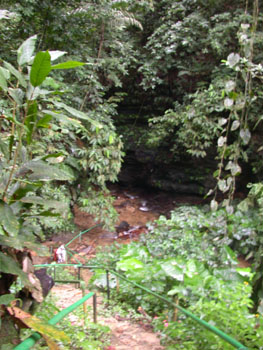 Blue Dacnis, Violaceous Euphonia plus 6 other Tanagers, 9 Hummingbirds, including Tufted Coquette and Little Hermit; Slaty-capped Flycatcher, Ochre-bellied Flycatcher, Olive-sided Flycatcher, Greyish Saltator, Cocoa Thrush, White-necked Thrush, Ferruginous Pygmy Owl, Common Pottoo, Oilbird, White Hawk, Blue-headed Parrot, Great Antshrike, Channel-billed Toucan, Blue-crowned Motmot, Red-rumped Woodpecker, Lineated Woodpecker, White-tailed and Violaceous Trogon, Golden-headed Manakin, White-bearded Manakin, Rufous-breasted Wren, White-flanked Antwren, Cocoa Woodcreeper, Plain Brown Woodcreeper, White-bellied Antbird, Bearded Bellbird, Plain Antvireo, Forest Elaenia, Golden-fronted Greenlet, Boat-billed Flycatcher, Grey-fronted Dove, Scaled Pigeon, Yellow Oriole, Giant Cowbird, and Golden-crowned Warbler. All this, plus tea and coffee on tap throughout the day and the 6.00 pm rum punch.
Blanchisseuse Road
Following Murphy's definition, the species seen are from along the Blanchisseuse road from Arima to the northern coast. As Asa Wright is 7.5 miles along this road from Arima, we travelled the southern section almost daily. On 24th we went north from Asa Wright towards the coast when it decided to rain all day. We had our picnic lunch at a bar owned by one of Dave's friends (with a "useable" rest room) and having been drowned for 4 hours we persuaded Dave to return to base. I think he was disappointed in us as we had passed up the opportunity to see a number of species we would not pick up elsewhere. However we did manage Channel-billed Toucan, Tropical Parula, Blue-tailed Emerald, Golden-fronted Greenlet, Tropical Peewee, Turquoise Tanager and Grey-breasted Martin. On 25th, having failed the previous day, we headed back up the Blanchisseuse Road in search of the Trinidad Piping Guan and after about an hour we were eventually rewarded with excellent views. In addition we also picked up Scaled Pigeon, Long-billed Gnatwren, Blackburnian Warbler, and Speckled Tanager before heading off to Nariva Swamp. On our various journeys south from Asa Wright on the Blanchisseuse Road we managed to pick up Striped Cuckoo, Fork-tailed Palm Swift, Euler's Flycatcher, Grey-throated Leaftosser, Trinidad Euphonia and Rufous-breasted Wren, amongst others.
Aripo Livestock Research Station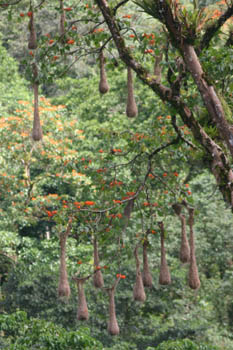 New birds came fast and furious here with, in quick succession, Yellow-headed Caracara, Red-breasted Blackbird, Savanna Hawk, Ruddy-breasted Seedeater, Grassland Yellow Finch, Striated Heron, Solitary Sandpiper, Least Sandpiper, Yellow-chinned Spinetail, Pied Water-Tyrant, Cocoi Heron and White-headed Marsh-Tyrant. Predictably, there were a lot of flies here but we didn't get bitten.
Manzanilla Beach
Not many birds, but a good lunch stop with reasonable rest room facilities. The sea was quite rough and we all passed on the swimming opportunity. We saw our only Magnificent Frigatebirds on Trinidad here along with a feeding flock of c30 Southern Rough-winged Swallow.
Nariva Swamp
We travelled south from Manzanilla along the Mayaro Road. Birding is good along here as the road fringes the swamp. However the road is straight, with no hard shoulder and quite busy. As a result cars speed by and when stopping, it is essential you remain either immediately in front of, or behind your car. Nevertheless on this section we had Grey Hawk, Yellow-crowned Parrot, Savanna Hawk, brief glimpses of Limpkin, Cocoi Heron, Crested Caracara, Yellow-headed Caracara, Bat Falcon, Grey-headed Kite, and Short-tailed Swift. Further south we had excellent views of Yellow-rumped Cacique, American Pygmy Kingfisher and briefly, Silvered Antbird. Moving on further south, on to Kernahan Trace to the old rice fields in the area Murphy calls the Melon Patch, we had Purple Gallinule, White-headed Marsh-Tyrant, Ringed Kingfisher, Little Blue Heron and Yellow Hooded Blackbird. Waters were rising here after the previous day's rain and many of the single track roads were flooded, some for sections of a half mile or more and at times well over half the wheel depth of Dave's vehicle. Needless to say we did not linger and as a result, missed out on Pinnated Bittern in particular.
Waller Field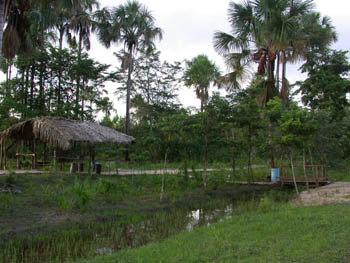 We briefly visited the disused American airbase on our way back from Nariva Swamp on 25th and in the gathering gloom had good views of 5 Red-bellied Macaw, 4 Sulphury Flycatcher, Green-rumped Parrotlet and Lineated Woodpecker. On 26th we were scheduled to visit Aripo Savannah and the Arena Forest but we ended up returning to Waller Field for a more extensive search of the disused roads and runways. This area was previously not safe to bird alone as a result of criminal/drug activity: however the government have taken steps to secure the perimeter and the gates are now guarded and access strictly controlled. Even so, Asa Wright provide two security guards of their own with every party going here in the evening for Night Birding. On our second visit we had Yellow Warbler, Southern Beardless-Tyrannulet, Grey Hawk, Grey-headed Kite, Merlin on the way and, once there, Common Ground Dove, Zone-tailed Hawk, Black-crested Antshrike, Bran-coloured Flycatcher, Yellow-breasted Flycatcher, Little Cuckoo (finally in flight, after skulking and calling for 20 mins),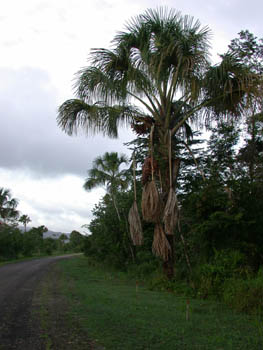 Rufous-browed Peppershrike, Red-eyed 'chivi' Vireo, White-winged Becard, Golden-fronted Greenlet and a posing Rufous-tailed Jacamar. We stalked a Masked Yellowthroat, calling from the grass nearby, for about 20 mins, but despite Dave's attempts to call the bird out with his MP3 player and its continuous movement in the undergrowth towards us, it eventually retreated into deeper cover. Near the Arena Forest we passed a breeding colony of Yellow-rumped Cacique shortly after a rest room stop at a bar owned by one of Dave's friends. It was just about acceptable. We returned to Asa Wright for a late lunch and to freshen up before going back to Waller Field for a spell of Night Birding. We had close-ups of c30 Black Vulture roosting on the tarmac & disused buildings and as dusk descended, one of the security guards spotted a Pink-toed Tarantula on one of the palm trees. Later we had good views of White-tailed Nightjar and Common Pauraque, both roosting on the tarmac and in flight, in the beam of Dave's lamp light. We were not as successful however with Tropical Screech Owl: despite over 60 mins MP3 playing at two different sites and numerous forays into the undergrowth, the best we had was two birds calling in response, but not willing to make a show. Around the runways there were thousands of twinkling fireflies.
Caroni Marsh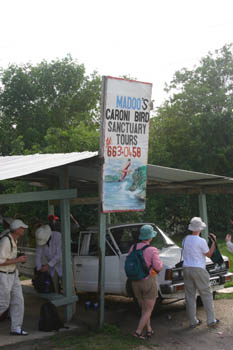 We arrived at Caroni at about 3.00 pm and drove down to the Visitor Centre and rest rooms, spotting several Scarlet Ibis in the mangroves at the side of the road and also Bicolored Conebill. We returned to Madoo's Tours where we had Common Ground Dove and Red-capped Cardinal. After the previous days' rains the water level was quite high and we could not board here, so we returned to the Visitor Centre where the launching facilities were much more sophisticated i.e. a proper raised deck with steps down to the water rather than a three foot long wooden ramp on the river bank.
When it came to getting on board, Pat, who works for the Environment Agency and has a lot of experience with safety on small boats, insisted on life-jackets being provided. The structure of the boat appeared OK but some of the wood was clearly rotting and there was only one outboard motor, with no back-up. The life jackets were obviously available for government Health & Safety inspections (assuming some kind of certification is required by the boatmen) and were eventually produced in a large cardboard box in which they had been gathering dust in the back of the owners van.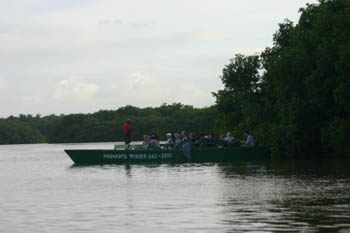 Anyway, onwards….we were joined on the boat trip by Jeff Collins and a party he was leading from Massachusetts Audubon Society (Mass Audubon), who were also staying at Asa Wright. Despite being advised Madoo's Tours had been chosen because the boatman knew his birds and where to find them, we saw little, other than the general activity of a swamp at roosting time, apart from one roosting Common Potoo in a small secluded channel, which was also visited by the two other boat tours on the water at the same time. Despite the intermittent sunshine and showers the ensuing spectacle of hundreds of herons, egrets and finally Scarlet Ibis, coming in to roost was an experience not to be missed. In addition to Least Sandpiper roosting in the mangroves, we had both Spotted and Solitary Sandpiper flying past the boat, along with the only two Greater Yellowlegs of the trip, conveniently calling as they flew overhead.
Waterloo
Initially we were told by Caligo Ventures there was not time to fit in a trip to Waterloo. However we arranged this locally with Dave for little extra cost. The chance to pick up several new species was well worth it and, despite arriving at high tide, we were not disappointed. When we arrived, the car park of the Hindu Temple built at the end of a causeway jutting out into the Gulf of Paria, was overflowing – not with birders however. An open air cremation was in progress by the causeway. We managed to park at the northern end and walked over to the vantage point overlooking the now covered mudflats. Amongst the roosting Royal Tern we found c20 Large-billed Tern and, with the distant pelicans and herons, a Neotropic Cormorant fishing by the opposite shore. We moved on to the village of Orange Valley, as described by Murphy, to find a larger area of exposed shoreline and were rewarded with Willet, Hudsonian Whimbrel, Grey Plover, 46 Black Skimmer, Lesser Yellowlegs, Semipalmated Plover and two large flocks of Western Sandpiper and Semipalmated Sandpiper. Amongst the many roosting Laughing Gull I also found a lone Sandwich Tern; a very early migrant usually only seen in late February/March. Our rest room stop was a bar in Waterloo owned by another of Dave's friends. This one really was the pits. Sorry Dave but you need to find a new friend with a bar in this area.
Brickfield
We finally moved around to Brickfield on the opposite side of the mudflats to Waterloo to get a closer look at the Neotropic Cormorant and found several other birds roosting along with terns, plovers and Ruddy Turnstone. Again, among the numerous roosting Laughing Gulls we were able to pick out several Lesser Black-backed Gulls.
SUMMARY
An unforgettable birding experience for both of us, despite Amanda's broken wrist. The only thing it really stopped her doing was venturing in to Dunstan Cave for a closer view of the Oilbirds, which incidentally, was quite excellent.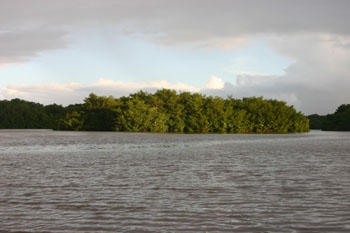 With a Trip List of 208 species, including 155 lifers, we saw some stunning birds and regrettably the photos do not do them justice, especially the Scarlet Ibis (plus all the others which I missed). We had excellent guides in Newton George and Dave Ramlal and the people we met were very friendly. We may return in the future as there are still many new species to see; however on occasions, we were made to feel a little uncomfortable by the Afro-Caribbean element of the Trinidad population. Unemployment appears to be a problem and in Port of Spain in particular, the drug culture appears to be taking a firm hold with 33 murders from 1st to 26th January alone and kidnapping for ransom appearing to be a local pastime. Unless the government take steps to control these issues tourism could ultimately be affected.
Maps
Trip List
| | | |
| --- | --- | --- |
| Bird | Species | Comment |
| Least Grebe | Tachybaptus dominicus | 2/3 birds at Hilton Ponds Tobago |
| Audubon's Shearwater | Puffinus lherminieri | One bird only in nest burrow Little Tobago |
| Red-billed Tropicbird | Phaethon aethereus | Hundreds on and around Little Tobago |
| Brown Pelican | Pelecanus occidentalis | Common in most coastal waters |
| Red-footed Booby | Sula sula | Up to 15 birds on Little Tobago |
| Brown Booby | Sula leucogaster | Several birds at Castara Bay & Crown Point Tobago with hundreds on and around Little Tobago |
| Neotropic Cormorant | Phalacrocorax brasilianus | Several birds at Waterloo and Brickfield |
| Anhinga | Anhinga anhinga | Birds at Bon Accord & Hilton Ponds Tobago |
| Magnificent Frigatebird | Fregata magnificens | Common around most coastal waters |
| Cocoi Heron | Ardea cocoi | Single birds at Aripo LRS & Nariva |
| Great Egret | Ardea alba | Common in suitable habitats on both islands |
| Tricolored Heron | Egretta tricolor | Common in suitable habitats on both islands |
| Little Blue Heron | Egretta caerulea | Few birds seen at Nariva & Waterloo |
| Snowy Egret | Egretta thula | Common in suitable habitats on both islands |
| Little Egret | Egretta garzetta | Single bird seen at Bon Accord Tobago |
| Cattle Egret | Bubulcus ibis | Common in suitable habitats on both islands |
| Striated Heron | Butorides striata | Few birds seen at Aripo LRS & Caroni Marsh |
| Green Heron | Butorides virescens | Birds seen at Bon Accord & Hilton Ponds Tobago |
| Yellow-crowned Night-heron | Nyctanassa violacea | Birds seen on both islands |
| Scarlet Ibis | Eudocimus ruber | Thousands of birds at roost in Caroni Marsh |
| Black-bellied Whistling-duck | Dendrocygna autumnalis | Birds seen at Bon Accord & Hilton Ponds Tobago & Nariva |
| White-cheeked Pintail | Anas bahamensis | Birds seen at Bon Accord Tobago |
| Blue-winged Teal | Anas discors | Birds seen at Bon Accord Tobago plus 2 at Caroni Marsh |
| Ring-necked Duck | Aythya collaris | 2 males & 3 females at Hilton Ponds Tobago |
| Black Vulture | Coragyps atratus | Common on Trinidad |
| Turkey Vulture | Cathartes aura | Common on Trinidad |
| Osprey | Pandion haliaetus | Birds seen at coastal locations on both islands & Hilton PondsTobago |
| Grey-headed Kite | Leptodon cayanensis | Birds seen at Asa Wright, Nariva & Waller Field |
| White Hawk | Leucopternis albicollis | At least two birds seen at Asa Wright |
| Common Black-hawk | Buteogallus anthracinus | Sightings almost daily on Trinidad |
| Great Black-hawk | Buteogallus urubitinga | Birds seen in Tropical Rain Forest Tobago & Asa Wright |
| Savanna Hawk | Buteogallus meridionalis | Birds seen at Aripo LRS, Nariva & Waller Field |
| Grey Hawk | Asturina nitida | Seen at Nariva & Waller Field |
| Broad-winged Hawk | Buteo platypterus | Reasonably common on both islands |
| Short-tailed Hawk | Buteo brachyurus | One bird seen Asa Wright on 22nd |
| Zone-tailed Hawk | Buteo albonotatus | Bird seen with Black Vultures at Waller Field on 26th |
| Crested Caracara | Caracara cheriway | Single bird seen at Nariva Swamp on 25th |
| Yellow-headed Caracara | Milvago chimachima | Fleeting glimpse of single bird Bon Accord Tobago but reasonably common on Trinidad |
| Merlin | Falco columbarius | Single bird seen on way to Waller Field on 26th |
| Bat Falcon | Falco rufigularis | Single bird seen briefly at Nariva Swamp on 25th |
| Peregrine Falcon | Falco peregrinus | Single bird on Little Tobago |
| Rufous-vented Chachalaca | Ortalis ruficauda | Seen most days on Tobago |
| Trinidad Piping-guan | Pipile pipile | Single bird Blanchisseuse Road on 25th |
| Limpkin | Aramus guarauna | Single bird seen briefly in flight at Nariva Swamp |
| American Purple Gallinule | Porphyrio martinica | Several birds at Nariva Swamp on 25th |
| Moorhen | Gallinula chloropus | Common in suitable habitat on Tobago |
| Wattled Jacana | Jacana jacana | Common at Bon Accord & Hilton Ponds Tobago, also seen at Aripo LRS & Nariva |
| Southern Lapwing | Vanellus chilensis | Common in suitable habitat on both islands |
| Grey Plover | Pluvialis squatarola | Single bird at Waterloo on 27th |
| Semipalmated Plover | Charadrius semipalmatus | 2/3 birds at Coco Reef Tobago plus several at Waterloo |
| Killdeer | Charadrius vociferus | Single bird at Hilton Ponds Tobago |
| Hudsonian Whimbrel | Numenius phaeopus hudsonicus | A few birds at Bon Accord Tobago & Waterloo |
| Greater Yellowlegs | Tringa melanoleuca | Two birds flying over calling at Caroni Marsh |
| Lesser Yellowlegs | Tringa flavipes | Several birds at Bon Accord Tobago and Waterloo |
| Solitary Sandpiper | Tringa solitaria | 2/3 birds at Hilton Ponds Tobago & Aripo LRS and Caroni |
| Spotted Sandpiper | Actitis macularia | Relatively common in suitable habitat on Tobago & at Waterloo |
| Willet | Catoptrophorus semipalmatus | 2/3 birds at Waterloo on 27th |
| Ruddy Turnstone | Arenaria interpres | Several birds at Coco Reef and Blue Waters Inn Tobago & Brickfield |
| Sanderling | Calidris alba | Single bird at Coco Reef Tobago most days |
| Semipalmated Sandpiper | Calidris pusilla | Flock 50 plus at Waterloo on 27th |
| Western Sandpiper | Calidris mauri | Single bird at Hilton Ponds Tobago plus flock of 50 plus at Waterloo on 27th |
| Least Sandpiper | Calidris minutilla | Birds seen at Aripo LRS and Caroni |
| Lesser Black-backed Gull | Larus fuscus | 4 plus birds at Brickfield on 27th |
| Laughing Gull | Larus atricilla | Common in all coastal areas |
| Sandwich Tern | Sterna sandvicensis | Odd birds at Coco Reef with a larger flock at Turtle Beach Tobago plus single bird at Waterloo on 27th |
| Cayenne Tern | Sterna sandvicensis eurygnatha | Single bird with Sandwich Terns at Turtle Beach Tobago |
| Royal Tern | Sterna maxima | Common in coastal waters on both islands |
| Large-billed Tern | Phaetusa simplex | C6 birds on wires near Caroni and c20 at Waterloo |
| Black Skimmer | Rynchops niger | 46 roosting on beach at Waterloo on 27th |
| Scaled Pigeon | Patagioenas speciosa | 2 birds at Asa Wright on 24th and 2 on Blanchisseuse Road on 25th |
| Pale-vented Pigeon | Patagioenas cayennensis | Birds seen on both islands |
| Eared Dove | Zenaida auriculata | Much more common on Tobago than Trinidad |
| Common Ground-dove | Columbina passerina | Pair at Waller Field on 26th and pair at Caroni on 27th |
| Ruddy Ground-dove | Columbina talpacoti | Common on both islands |
| White-tipped Dove | Leptotila verreauxi | More common on Tobago than Trinidad |
| Grey-fronted Dove | Leptotila rufaxilla | Single bird seen at Asa Wright on 23rd |
| Red-bellied Macaw | Orthopsittaca manilata | Up to 6 birds seen at Waller Field on 25th & 26th |
| Green-rumped Parrotlet | Forpus passerinus | Relatively common at Bon Accord and Tropical Rain Forest Tobago with fleeting glimpses at Waller Field |
| Blue-headed Parrot | Pionus menstruus | Few birds seen regularly at Asa Wright |
| Yellow-crowned Parrot | Amazona ochrocephala | Two birds seen perched at Nariva Swamp on 25th |
| Orange-winged Parrot | Amazona amazonica | Common on both islands |
| Mangrove Cuckoo | Coccyzus minor | 2 birds seen at Bon Accord Tobago on 17th |
| Little Cuckoo | Piaya minuta | Elusive bird in flight at Waller Field 26th |
| Smooth-billed Ani | Crotophaga ani | Common on both islands in suitable habitat |
| Striped Cuckoo | Tapera naevia | Single bird perched on wires Blanchisseuse Road on 25th |
| Tropical Screech-owl | Megascops choliba | 2 birds heard only at Waller Field |
| Ferruginous Pygmy-owl | Glaucidium brasilianum | Single bird seen at Asa Wright on 22nd & 23rd |
| Oilbird | Steatornis caripensis | Up to 20 birds in Dunstan Cave Asa Wright on 27th |
| Common Potoo | Nyctibius griseus | Single bird at Asa Wright on 27th & 28th, also at Caroni |
| Pauraque | Nyctidromus albicollis | Seen roosting & in flight at Waller Field 26th |
| White-tailed Nightjar | Caprimulgus cayennensis | Seen roosting & in flight at Waller Field 26th |
| Band-rumped Swift | Chaetura spinicaudus | Relatively common on Trinidad |
| Grey-rumped Swift | Chaetura cinereiventris | Birds seen several times on both islands |
| Short-tailed Swift | Chaetura brachyura | Common on Tobago & also seen at Nariva |
| Fork-tailed Palm-swift | Tachornis squamata | Flocks seen near Arima on 25th & 26th |
| Rufous-breasted Hermit | Glaucis hirsuta | Seen on both islands on 6 days |
| Green Hermit | Phaethornis guy | Seen at Asa Wright on 24th & 26th |
| Little Hermit | Phaethornis longuemareus | Single bird seen at Asa Wright on 26th |
| White-tailed Sabrewing | Campylopterus ensipennis | Several birds seen on Gilpin Trace Tropical Rain Forest Tobago on 18th |
| White-necked Jacobin | Florisuga mellivora | Common on both islands especially at Asa Wright |
| Black-throated Mango | Anthracothorax nigricollis | Relatively common on both islands |
| Ruby-topaz Hummingbird | Chrysolampis mosquitus | Relatively common on Tobago and also seen at Waller Field on 26th |
| Tufted Coquette | Lophornis ornatus | Pair seen almost daily at Asa Wright |
| Blue-chinned Sapphire | Chlorostilbon notatus | Single birds seen at Asa Wright on 23rd & 24th |
| Blue-tailed Emerald | Chlorostilbon mellisugus | Single bird seen on Blanchisseuse Road on 24th |
| White-chested Emerald | Agyrtria brevirostris | Birds seen regularly at Asa Wright feeders |
| Copper-rumped Hummingbird | Saucerottia tobaci | Common on both islands |
| White-tailed Trogon | Trogon viridis | Single birds seen at Asa Wright on 23rd & 27th |
| Violaceous Trogon | Trogon violaceus | Single birds seen at Asa Wright on 23rd & 26th |
| Collared Trogon | Trogon collaris | Pair seen in Tropical Rain Forest Tobago on 18th |
| Belted Kingfisher | Ceryle alcyon | Single bird seen Bon Accord Tobago on 3 visits |
| Ringed Kingfisher | Ceryle torquatus | Single bird seen on wires at Nariva on 25th |
| Green Kingfisher | Chloroceryle americana | Pair seen in Tropical Rain Forest Tobago on 18th |
| American Pygmy Kingfisher | Chloroceryle aenea | Single bird seen at Nariva on 25th |
| Blue-crowned Motmot | Momotus momota | Relatively common on both islands, seen on 6 days |
| Rufous-tailed Jacamar | Galbula ruficauda | Birds seen at Grafton Estate & Gilpin Trace Tobago and Waller Field on 26th |
| Channel-billed Toucan | Ramphastos vitellinus | Pair seen at Asa Wright on 23rd & 25th and also Blanchisseuese Road on 24th |
| Red-crowned Woodpecker | Melanerpes rubricapillus | Birds seen regularly at Bon Accord and Tropical Rain Forest Tobago |
| Red-rumped Woodpecker | Veniliornis kirkii | Single bird at Asa Wright on 23rd |
| Golden-olive Woodpecker | Piculus rubiginosus | Bird seen in Tropical Rain Forest Tobago on 18th and quite regularly on Trinidad |
| Lineated Woodpecker | Dryocopus lineatus | Single bird at Asa Wright & also at Waller Field on 25th |
| Stripe-breasted Spinetail | Synallaxis cinnamomea | Single bird at Gilpin Trace on 18th and also at Arnos Vale on 20th both Tobago |
| Yellow-chinned Spinetail | Certhiaxis cinnamomea | Several birds at Aripo LRS on 25th |
| Grey-throated Leaftosser | Sclerurus albigularis | Single bird in Arima Valley near Asa Wright on 26th |
| Plain-brown Woodcreeper | Dendrocincla fuliginosa | Bird on Asa Wright trails on 23rd |
| Cocoa Woodcreeper | Xiphorhynchus susurrans | Single bird in Tropical Rain Forest Tobago on 18th and similar on Asa Wright trails on 23rd |
| Great Antshrike | Taraba major | Both male & female at Asa Wright most days |
| Black-crested Antshrike | Sakesphorus canadensis | Single bird, then a pair both Waller Field on 25th |
| Barred Antshrike | Thamnophilus doliatus | Relatively common on Tobago but only heard on Trinidad |
| Plain Antvireo | Dysithamnus mentalis | Single birds seen Gilpin Trace Tobago on 18th and Asa Wright trails on 23rd |
| White-flanked Antwren | Myrmotherula axillaris | Several birds seen Asa Wright trails on 23rd |
| White-fringed Antwren | Formicivora grisea | Birds seen Grafton Estate on 17th & 21st and also Tropical Rain Forest Tobago on 18th |
| Silvered Antbird | Sclateria naevia | Single bird seen briefly at Nariva on 25th |
| White-bellied Antbird | Myrmeciza longipes | Birds seen Asa Wright trails on 23rd |
| Bearded Bellbird | Procnias averano | Several displaying males seen Asa Wright trails on 23rd |
| White-bearded Manakin | Manacus manacus | Birds seen on Asa Wright trails most days |
| Blue-backed Manakin | Chiroxiphia pareola | Bird seen Grafton Estate on 17th and several males and females seen at Gilpin Trace Tobago on 18th |
| Golden-headed Manakin | Pipra erythrocephala | Single female on Asa Wright trails on 23rd |
| Southern Beardless-tyrannulet | Camptostoma obsoletum | Single bird near Waller Field on 26th |
| Forest Elaenia | Myiopagis gaimardii | Birds seen at Asa Wright on 23rd & 24th |
| Yellow-bellied Elaenia | Elaenia flavogaster | Birds seen at Bon Accord Tobago on 17th Blanchisseuse Road on 24th and Waller Field on 25th |
| Slaty-capped Flycatcher | Leptopogon superciliaris | Single bird seen on Asa Wright trails |
| Ochre-bellied Flycatcher | Mionectes oleagineus | Relatively common on Tobago & Asa Wright |
| Yellow-breasted Flycatcher | Tolmomyias flaviventris | Birds seen at Grafton Estate Tobago on 17th & Waller Field on 26th |
| Bran-coloured Flycatcher | Myiophobus fasciatus | Single bird seen at Waller Field on 26th |
| Fuscous Flycatcher | Cnemotriccus fuscatus | Common in appropriate habitat on Tobago |
| Euler's Flycatcher | Lathrotriccus euleri | Single bird seen near Asa Wright on 26th |
| Olive-sided Flycatcher | Contopus borealis | Bird seen on Asa Wright trails on 23rd |
| Tropical Pewee | Contopus cinereus | Relatively common around Asa Wright |
| Pied Water-tyrant | Fluvicola pica | Several birds seen at Aripo LRS and Nariva on 25th |
| White-headed Marsh-tyrant | Arundinicola leucocephala | Several birds seen at Aripo LRS on 25th |
| Brown-crested Flycatcher | Myiarchus tyrannulus | Birds at Bon Accord on 17th & Castara Bay Tobago on 18th |
| Great Kiskadee | Pitangus sulphuratus | Common on Trinidad |
| Boat-billed Flycatcher | Megarynchus pitangua | Bird seen regularly at Asa Wright |
| Sulphury Flycatcher | Tyrannopsis sulphurea | Up to 4 birds seen at Waller Field on 25th & 26th |
| Tropical Kingbird | Tyrannus melancholicus | Common on both islands |
| Grey Kingbird | Tyrannus dominicensis | Common on Tobago & also seen on Blanchisseuse Road and Waterloo |
| White-winged Becard | Pachyramphus polychopterus | Pair seen at Waller Field on 26th |
| Caribbean Martin | Progne dominicensis | Birds seen at Hilton Ponds on 17th and Bon Accord Tobago on 20th & 21st |
| Grey-breasted Martin | Progne chalybea | Relatively common on Trinidad |
| White-winged Swallow | Tachycineta albiventer | Relatively common in small numbers on both islands |
| Southern Rough-winged Swallow | Stelgidopteryx ruficollis | Flocks seen Manzanilla Beach on 25th & along the Arima Valley on 26th |
| Rufous-breasted Wren | Thryothorus rutilus | Birds seen at Gilpin Trace Tobago on 18th, Asa Wright trails on 23rd & along the Arima Valley on 26th |
| House Wren | Troglodytes aedon | Relatively common on both islands |
| Tropical Mockingbird | Mimus gilvus | Seen daily on both islands |
| Yellow-legged Thrush | Platycichla flavipes | Birds seen along Gilpin Trace Tobago on 18th |
| Cocoa Thrush | Turdus fumigatus | Birds seen daily at Asa Wright |
| Bare-eyed Thrush | Turdus nudigenis | Birds seen daily on both islands |
| White-necked Thrush | Turdus albicollis | Birds seen regularly on Asa Wright trails |
| Long-billed Gnatwren | Ramphocaenus melanurus | Single bird seen on Blanchisseuse Road on 25th |
| Red-eyed 'Chivi' Vireo | Vireo olivaceus chivi | Single bird seen at Waller Field on 26th |
| Scrub Greenlet | Hylophilus flavipes | Relatively common in appropriate habitat on Tobago |
| Golden-fronted Greenlet | Hylophilus aurantiifrons | Birds seen at Asa Wright on 23rd, Blanchisseuse Road on 24th and Waller Field on 26th |
| Rufous-browed Peppershrike | Cyclarhis gujanensis | Male seen at Waller Field on 26th |
| Blackburnian Warbler | Dendroica fusca | Single bird on Blanchisseuse Road on 25th |
| Tropical Parula | Parula pitiayumi | Single bird on Blanchisseuse Road on 24th |
| Yellow Warbler | Dendroica petechia | Single bird near Waller Field on 26th |
| American Redstart | Setophaga ruticilla | Single bird on Gilpin Trace Tobago on 18th |
| Northern Waterthrush | Seiurus noveboracensis | Single birds seen on 5/6 occasions on both islands |
| Masked Yellowthroat | Geothlypis aequinoctialis | Single bird heard only at Waller Field on 26th |
| Golden-crowned Warbler | Basileuterus culicivorus | Single bird on Asa Wright trails on 27th |
| Bananaquit | Coereba flaveola | Common everywhere |
| Bicoloured Conebill | Conirostrum bicolor | Birds seen at Caroni Marsh on 27th |
| White-lined Tanager | Tachyphonus rufus | Common on both islands |
| Red-crowned Ant-tanager | Habia rubica | Birds seen regularly at Asa Wright |
| Silver-beaked Tanager | Ramphocelus carbo | Common on Trinidad especially at Asa Wright |
| Blue-grey Tanager | Thraupis episcopus | Common on both islands |
| Palm Tanager | Thraupis palmarum | Common on both islands |
| Trinidad Euphonia | Euphonia trinitatis | Single bird seen in Arima Valley on 26th |
| Violaceous Euphonia | Euphonia violacea | Relatively common on Trinidad especially at Asa Wright |
| Turquoise Tanager | Tangara mexicana | Seen regularly at Asa Wright and Waller Field on 26th |
| Speckled Tanager | Tangara guttata | 2 birds on Blanchisseuse Road on 25th |
| Bay-headed Tanager | Tangara gyrola | Seen almost daily at Asa Wright |
| Blue Dacnis | Dacnis cayana | Birds seen at Asa Wright on 22nd & 23rd |
| Green Honeycreeper | Chlorophanes spiza | Seen daily on feeders at Asa Wright |
| Purple Honeycreeper | Cyanerpes caeruleus | Seen daily on feeders at Asa Wright |
| Red-legged Honeycreeper | Cyanerpes cyaneus | Several pairs seen on Gilpin Trace & in Tropical Rain Forest Tobago on 18th |
| Blue-black Grassquit | Volatinia jacarina | Common on both islands in suitable habitat |
| Ruddy-breasted Seedeater | Sporophila minuta | Single bird seen at Aripo LRS on 25th |
| Black-faced Grassquit | Tiaris bicolor | Common on Tobago in suitable habitat |
| Grassland Yellow-finch | Sicalis luteola | Several birds seen at Aripo LRS on 25th |
| Red-capped Cardinal | Paroaria gularis | Single bird seen well at Caroni |
| Greyish Saltator | Saltator coerulescens | Several birds seen daily at Asa Wright |
| Yellow-hooded Blackbird | Chrysomus icterocephalus | Single bird seen at Nariva on 25th |
| Red-breasted Blackbird | Sturnella militaris | Birds seen at Aripo LRS on 25th |
| Carib Grackle | Quiscalus lugubris | Birds common on both islands |
| Shiny Cowbird | Molothrus bonariensis | Relatively common on Tobago in suitable habitat and also seen at Asa Wright on 23rd |
| Giant Cowbird | Molothrus oryzivorus | Bird fleetingly in Tropical Rain Forest Tobago on 18th & birds also seen perched at Asa Wright on 23rd & 24th |
| Yellow Oriole | Icterus nigrogularis | Relatively common around Asa Wright & Waller Field |
| Yellow-rumped Cacique | Cacicus cela | Birds seen at Nariva on 25th with breeding colony near Arena Forest on 26th |
| Crested Oropendola | Psarocolius decumanus | Relatively common on both islands with breeding colony at Asa Wright |