INTRODUCTION
We were talking to our friends David and Amanda, bandying around a few places we might want to go birding. Both David & Amanda have been keen on South America over a number of years, but as Judy and I tolerate long haul air travel only as a means to visit birding spots abroad, we limit it, only doing it when needs must.
Costa Rica was such a place that had been mentioned, but looking at the travel time, plus the amount of internal travelling involved we have tended to put it in the file labelled "to do later ".
It was during one of these discussions that Trinidad & Tobago was suggested. I have to be honest and say that I was less than keen. It was not a destination I had ever considered.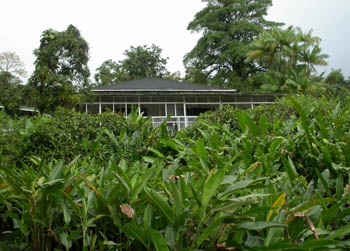 Jude on the other hand, who is far more circumspect than me, turned to the many birding brochures we receive each year and read up on the trips they offered.
After a few hums and nods of approval it was suggested that I at least look at the reports before dismissing it out of hand. After reading the first report, I was sold; I was absolutely fascinated with the reports on the Asa Wright centre on Trinidad. I am ashamed to say that I had never heard of the centre which is described in all the brochures as the "World Famous Asa Wright Nature Centre".
A return call to David & Amanda a couple of days later saying "lets do it" took them completely by surprise, they were not expecting such a rapid response.
David & Amanda ("the Gits") have the luxury of very early retirement, hence the nickname, so they kindly offered to take on the planning role and to come up with an itinerary and costs for the trip. This we readily accepted.
Within a month we had received a fairly detailed draft itinerary and costings.
TOBAGO
GETTING THERE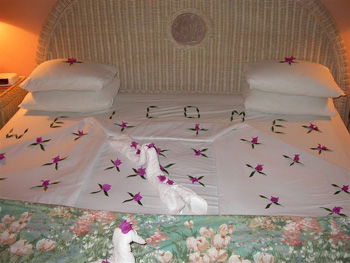 We travelled by B/A from Gatwick to Tobago via Antigua on a Boeing 777 on the 16th of January arriving in Tobago 17:35 which included a 1 hour stop over in Antigua. The time differential is 4 hours behind UK time so our body clocks were saying 21:35.
After the usual meeting and greeting we were shown to our room. The Bed and Bathrooms were festooned with flowers and leaves all bidding us welcome to the Coco Reef Resort. A gesture that impressed Jude, although it wore a little thin with me when I had to clear a plastic shopping bag full of flowers and leaves in order to get some much needed kip.
COCO REEF RESORT & SPA
The hotel was comfortable enough with air conditioned bedrooms and all the facilities a 4/5 star resort tends to offer.
Breakfast was self service with the typical array of cosmopolitan fare on offer. As we were birding we opted to stay bed & breakfast, taking our evening meals as and when required. We felt that the cost of eating in at the hotel was a tad exorbitant at approximately £40 per head which included a bottle of plonk. Several restaurants were within walking distance serving acceptable meals at reasonable prices.
As is the same the world over there was a Chinese restaurant a 5 minute taxi ride away serving all the dishes we are familiar with at very reasonable prices. This, we availed ourselves of on several occasions.
FIELD TRIPS & GUIDE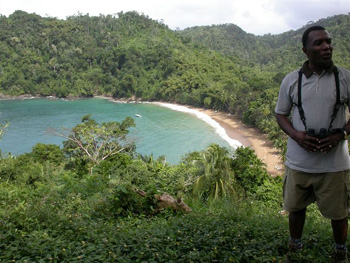 Part of putting the holiday together included David engaging a local bird guide, this he did to great effect by hiring the services of Newton George. Newton is a man of many talents which used to include managing a national Tobago football team, taking him to countries where he met royalty as well as heads of state. His knowledge of the local fauna & flora was unsurpassed. His laugh and general jolly demeanour made Newton a pleasure to bird with. We would not hesitate recommending him as your guide on Trinidad.
E-mail ngeorge@tstt.net.tt
WATER TREATMENT WORKS & BON ACCORD
This site was just a few minutes from our hotel and probably my favourite birding spot on the Island. The lagoons at the water treatment works contained ducks, waders, herons and egrets whilst the ditches and marshes adjacent to Bon Accord Road held all the above, but with mature trees and palms hosting parrots, cuckoos, trogons and flycatchers etc.
GILPIN TRACE RAIN FOREST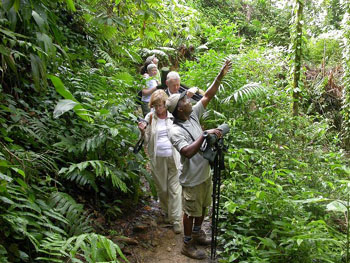 This is the last remaining tract of unspoilt rain forest left on Tobago. It's a favourite excursion spot for both birders and holidaymakers alike, with several licensed guides vying for custom at the entrance. The trails can be very muddy so stout footwear is the order of the day. For the less squeamish, wellies can be hired at the entrance for a couple of quid. Both Jude and I used our Jesus sandals, necessitating the cleaning of both footwear and feet on conclusion of the trip. The site contains most of the forest birds which can be encountered on the island. 50> species should be a comfortable target for a day visit.
LITTLE TOBAGO
This lies approximately a half hour's boat ride from the jetty at the Blue Waters Inn, which is situated in Speyside, a journey of approximately 1 and a half hours from Coco Reef.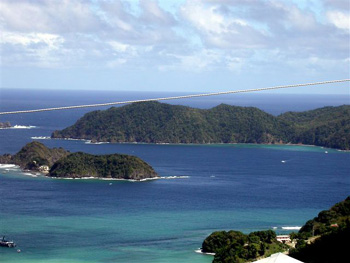 The Island itself is heavily wooded and the trails consist of steps which can be very steep as well as narrow trails which are also steep and overgrown in some parts. I would imagine they can become quite slippery after heavy rain. Bird sightings are restricted to 1 viewing point and nesting birds along the trails. We found that due to the humidity a change of top clothing would have been welcome.
The trip is a must if you wish to see Boobys, Tropicbirds and Shearwaters up close. Newton's package included an excellent lunch at Jemma's Seafood Kitchen, and transportation by glass bottomed boat, affording great views of the coral reef. Although looking down whilst the boat skittered on the tide was not appreciated by all.
OTHER SITES VISITED
All of these sites are covered in A Birdwatchers Guide to Trinidad & Tobago by William L Murphy ISBN 1 871104 11 4.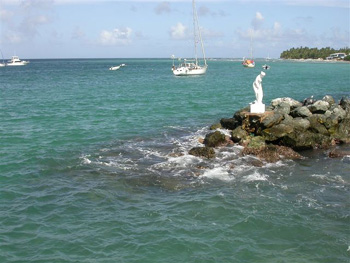 It's not my intention to go into to much detail. Other sites visited included Turtle Beach, Bloody Bay main road and Hilton Ponds and Pigeon Point.
We also visited both the Adventure Farm at Plymouth and Grafton Bird Sanctuary. These are small commercial enterprises which use feeding stations to bring in the birds, so close up views can be had, especially for the budding David Baileys.
Part of the Gilpin Forest excursion included lunch at the Cuffie River Nature Reserve. This impressed us with the quality of the accommodation, the food we received and the tranquil setting. If what you want is the above, and you don't need to be on the coast we would have no hesitation in recommending this as superb holiday accommodation.
TOBAGO SUMMARY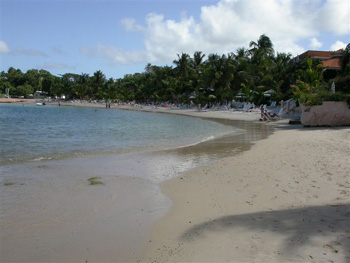 Tobago is the archetypal Caribbean Island, with clear azure waters containing coral reefs, palm fringed white sandy beaches and the types of resorts you'd expect. Although we had several heavy rain showers during our visit the weather was in the main, dry and sunny with daytime temperatures in the upper eighties. Night time temperatures remained in the mid seventies so air conditioned accommodation is preferable. The locals were friendly and the atmosphere was relaxed.
We have no hesitation in recommending the island as both a holiday destination as well as a birding one. This is a great location if you have one partner who is a birder and one who is not. Great beaches to relax on, read a book, or just get that all over tan, together with all the water sports you can imagine.
Our stay on Tobago produced 96 species of birds of which the great majority were lifers. The birds on Tobago seem to have that laid back Caribbean attitude to life, so we were able to get close up and personal with many of the species.
TRINIDAD
GETTING THERE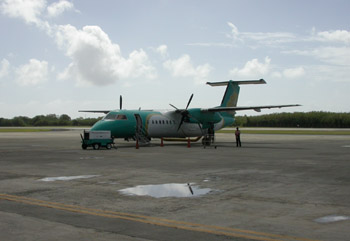 Trinidad is just a 15-20 minute flight depending on wind speed and direction. "So no in flight movie"! The Islands are so close in fact, that our guide on Tobago, Newton, runs day excursions to the Asa Wright Nature Centre on Trinidad. Several local carriers ply between the Islands and flights are fairly frequent and, just as importantly, cheap. Our flight was with Tobago Express and cost £18 each. This can vary according to the time you wish to fly. Flights of £12 are certainly possible.
With only 16 passengers on our flight the usual luggage scramble at the carousel was non-existent and we were meeting our bird guide Dave within half hour of touchdown.
Our journey to Asa Wright took about 1 hour; this included gridlock in the town of Arima.
Streets swarming with people, cars impatiently honking their horns at every intersection, intermittent bursts of ear shattering reggae from local bars, a world away from what we had left on Tobago, and only a 20 minute flight away. Once out of the town we travelled for approximately 30 minutes along a poorly maintained narrow road which our guide Dave proclaimed had a bend for almost every day of the year. Heavy rain in 2005 had caused many major land-slips of which several were still in evidence. Blasts on the horn at almost every bend warned oncoming traffic we were approaching.
ASA WRIGHT
The Asa Wright Nature Centre was accessed along another narrow road with the centre approximately half a mile off the main road. The approach road was dotted on both sides with exotic flowering trees and shrubs, each one being favoured as a preferred food source by the different hummingbirds, honeycreepers and trogons according to our guide Dave, all of which we would become so familiar with during our stay.
It would be true to say that the main building including the famous veranda with its many feeders did not disappoint; neither did the staff, who were so accommodating and friendly.
The various trip reports we had read had all described the accommodation as basic but clean. Disappointingly, the description we would use for our room is tired, very basic and initially not very clean, and it bore no resemblance to the light & airy room depicted in the Asa Wright brochure.
Buffet style meals were taken in the splendid dining room, which had large tables, allowing for gregarious meal times, so meeting other like minded travellers was not a problem. Dinner, the main meal of the day, was a little repetitive. It consisted of mainly meat, usually served casserole style, although Tuna was served as an alternative on one occasion. Rice was the main accompaniment with an assortment of vegetables. No alternative was on offer unless you had special dietary needs, so if you didn't want the meat you had to content yourself with the rice, veg and finely sliced salad. The guest list comprised mainly of American birders who had the quaint custom of waiting outside the dining room for the dinner gong. They would then form a queue which stretched down the corridor.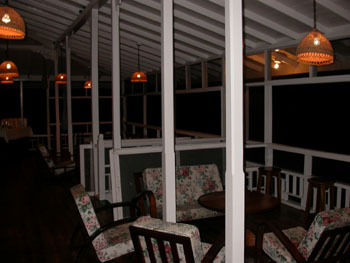 Each person would then take it in turn to avail themselves of starter and main course before finding a table, rather than the European way of, first find your table, then collect your starter etc, etc. I must say we found all of our American cousins very friendly and gregarious as you would expect. I have to admit to the odd chuckle behind the back of the hand at some of the exclamations uttered when a particularly brightly coloured bird came into view.
The grounds and trails are extensive but be aware that Asa Wright is set on the side of a valley so not many walks are on the flat. Humidity is high as you would expect living in a rain forest and a strenuous half hour's walk along the trails will necessitate a change of clothing.
The Veranda is the focal point of the centre accessible from about 5:45am with coffee and tea available in insulated jugs. These are on the table that doubles up as the bar during the day. Incidentally this closed prior to the evening meal so any post meal drinks had to be obtained from the kitchen.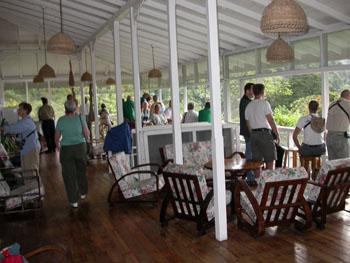 Returning to the veranda; the early birds get the prime positions and also the spectacle of dozens of bats availing themselves of the fruit laid out on the feeders below.
The veranda watching is as spectacular as described in the various brochures and trip reports. Something I was happy to do for hours. The centre is open to the public during the day, so visiting schools and tourists can make space on the veranda a premium. There are usually a couple of guides on duty on the veranda, giving detailed information on the many visiting birds, as well as the myriad of flowering shrubs. Each flowering shrub seemed to be controlled by a different variety of hummingbird that was prepared to repel intruders at all costs, rather strange when you consider the number of feeders dispensing copious amounts of nectar substitute.
FIELD TRIPS & GUIDE
Our guide, who was supplied through Asa Wright, was Dave Ramlal. Dave was exclusively ours during our stay; he was an extremely knowledgeable naturalist, a job he has been doing for some 16 years. His hearing was astonishing, filtering out the calls of target birds amongst the clamour that is the rain forest.
His enthusiasm and determination to produce the entire target species was admirable, as was his patience when pointing out birds in the canopy that aren't obvious to the untrained eye.
BLANCHISSEUSE ROAD
This is the road that leads from Arima town past Asa Wright and then on past the Radio Receiving Station and the site of Trinidad 's only endemic; the "Piping Guan". I have to say at this point that this was not my favourite site, although my opinion may have been clouded (excuse the pun) by the low cloud and almost torrential rain that accompanied our visit. As you would expect in such conditions birds were rarer than hen's teeth, visibility was restricted, together with the constant battle of fogging bins and soggy necks. The birding was cut short just after lunch. After a change into dry clothes we returned to the comfort of the A/W veranda where we remained until the dinner gong was heard.
ARIPO CATTLE STATION
This was probably my favourite site on the island and I was a little disappointed that we only visited once. The station consisted of fenced off savannah intersected by a track where Indian Buffalo were being crossed with Brahmin cattle to provide a beast that could thrive in the hot humid conditions and produce a lean tender meat.
The site contained many small wet areas where waders, herons, egrets and jacanas could be seen. The odd raptor adorned the scattered trees, whilst small passerines fed on seed heads and insects disturbed by the cattle.
NARIVA SWAMP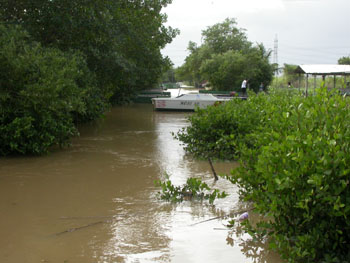 Is a vast swamp on the east of the island: it starts just south of the village of Manzanilla and we viewed it by driving along the Manzanilla road as far as the Nariva River. The Manzanilla road runs between ocean and the swamp; a small area of scrub lies between the beach and the road acting as a buffer zone. Our birding consisted of stopping either when birds were spotted, or at points along the way that Dave knew held birds and scanning. It was a good area for raptors in particular, as well as birds you would generally associate with wetland habitats. Be aware that this is a busy road and because it is fairly straight, vehicles are upon you very quickly. I would have liked to have spent more time here but it was approximately a 1 and a half hour's drive from Asa Wright and with birding stops on the way, our time was reduced.
NARIVA RICE FIELDS
Another great site for wetland birds, these rice fields are vast, with many areas of standing water. Herons, ducks, egrets, jacanas and bitterns abound, together with raptors, parrots and the usual suspects. Again we only visited the site once and I'm sure that one visit does not do justice to it.
WALLER FIELDS
Probably our least favourite of all the sites we visited. Waller Fields is an old American air force base. It consisted of areas of scrubby under-story, with mature trees. We birded this area during daylight hours as well as at night. Night birding is essential if you wish to see nightjars, potoos, pauraques and Screech Owls. Again, lamping at night for such species is not a favourite of mine. The majority of views are of eyes shining in the lamp light, then the birds disappearing into the blackness. The site is also favoured by Red-bellied Macaws who feed on the date palms in the late afternoon.
WATERLOO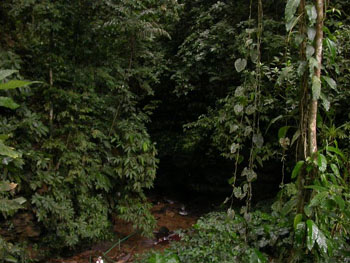 Not a site on our original itinerary, but one that can be thoroughly recommended, especially if you want to see hundreds and, I believe, even thousands of waders at the right time of the tide. Black Skimmer, Large-billed, Sandwich and Royal Terns, Hudsonian Whimbrel, Spotted, Semipalmated, Least, and Western Sandpipers, Willett, Lesser Yellowlegs, Grey Plover, Ruddy Turnstone, Laughing and Lesser Black-backed Gulls, herons and egrets were all on offer during our visit.
DUNSTAN CAVE
Dunstan Cave is accessed through the grounds of the Asa Wright centre: it's a half hour's walk, descending for most of it's length, with steps and hand rails to aid in the steepest areas. Access is only allowed through official guided walks from the centre and is only available to guests staying for 3 nights or more. You have the opportunity to enter the cave via a boulder strewn stream, which was flowing fairly fast due to all the rain we had.
Because of this, several of our party including Jude decided to obtain views from outside the cave. Having been in and then, enthusiastically relaying the experience to Jude, I convinced her to get her feet wet and enter the cave. It's difficult to explain the experience of entering the world of these birds, but it's an experience we will never forget and we implore others to do the same.
CARONI MARSH
This is the famous roost site of the Scarlet Ibis and a major attraction for both birders and non-birders alike. As a prelude to the main event, open boats seating approximately 25 punters each, take you along the narrow mangrove channels looking for herons, egrets, waders and potoos. I have to admit that a couple of hours glimpsing the odd bird amongst the mangroves, especially if you have to endure the odd heavy shower, ain't our favourite. Once moored in position the spectacle of several thousand Scarlet Ibis, herons and egrets must be one of the wonders of the ornithological world.
TRINIDAD SUMMARY
We have to say that, if our guide Dave is to be believed, Trinidad is becoming lawless to the point of a dangerous destination to visit. Shootings, kidnappings and street crime happen on a daily basis. We were informed that the majority of crime is drug related. It is the first time that we have had to have bodyguards in attendance whilst we birded. It is Dave's belief, that it is just a matter of time before a tourist is either kidnapped or murdered and that will have a major impact on ecotourism and, just as importantly, his livelihood.
Our recommendation is, if you do go birding in Trinidad, ensure you do it with an organised group.
It is fair to say that Trinidad did not strike us as a tourist destination. Although we spent very little time on the coast, where we did, the complexes were in the main either deserted or in a dilapidated state.
MOANS, GROANS & MEMORABLE MOMENTS
The low point of the holiday was Amanda breaking her wrist. We have to take our hats off to Amanda's stoicism in being determined not to let it impact on her holiday.
Judy, Amanda and myself jumping around like whirling Dervishes having alighted from the mini bus into a fire ants nest.
Dave's (our guide) insistence of driving in the outside lane of every dual-carriageway whilst all the rest of the traffic undertook us, often speeding through a gap between a vehicle on the inside lane and ourselves.
Newton's infectious laugh as we watched Frigate birds attacking the Tropicbirds and making them disgorge their food.
Our pilot with LIAT Air, whose weight was estimated at between 30–35 stone.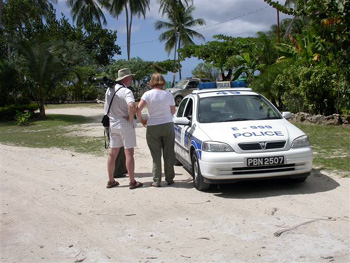 36 hours of near torrential rain, and the unforgettable sound it makes on corrugated tin roofs.
Asa Wright's inability to make contingencies for birding trips during times of heavy rain. Their policy appears to be "grin and bear it".
Returning to our room each day at Asa Wright to find "the Phantom Crapper" had struck again; beds including pillows, clothes and bathroom floors were not immune. We were assured that the culprit was a small gecko which lived in the room. All we will say on that, is that he shat the equivalent of twice his body weight daily.
The outdoor Hindu cremation at the temple at Waterloo.
Judy, David & Amanda being touted, by the local police as birding guides, at Pigeon Point on Tobago.
Trip List
| | | |
| --- | --- | --- |
| Name | Species | Comments |
| | | |
| Least Grebe | Tachybaptus dominicus | Small numbers at Hilton Ponds Tobago |
| Audubon's Shearwater | Puffinus lherminieri | Single bird in nest Little Tobago |
| Red-billed Tropicbird | Phaethon aethereus | 100> birds Little Tobago |
| Brown Pelican | Pelecanus occidentalis | Common bird around coasts of both Trinidad/Tobago |
| Red-footed Booby | Sula sula | Small numbers seen nesting on Little Tobago |
| Brown Booby | Sula leucogaster | Same status as above |
| Neotropic Cormorant | Phalacrocorax brasilianus | Only birds seen at Waterloo in Trinidad |
| Anhinga | Anhinga anhinga | Odd birds at Bon Accord Tobago |
| Magnificent Frigatebird | Fregata magnificens | A common bird around the coast of both Islands |
| Cocoi Heron | Ardea cocoi | 1 bird only at Nariva swamp |
| Great Egret | Ardea alba | Birds common at suitable sites |
| Tricoloured Heron | Egretta tricolour | Odd birds encountered on both islands |
| Little Blue Heron | Egretta caerulea | Small numbers encountered on Trinidad |
| Snowy Egret | Egretta thula | Small numbers encountered on both islands |
| Little Egret | Egretta garzetta | Sighting confined to Tobago water works at Bon Accord |
| Cattle Egret | Bubulcus ibis | Very common on both islands |
| Striated Heron | Butorides striata | Odd birds with sightings restricted to Trinidad |
| Green Heron | Butorides virescens | A common bird around the water works & Bon Accord |
| Yellow-crowned Night-heron | Nyctanassa violacea | Seen most days on Tobago |
| Scarlet Ibis | Eudocimus ruber | Unforgettable scene at Caroni Marsh |
| Black-bellied Whistling-duck | Dendrocygna autumnalis | 30> seen at water works Tobago |
| White-cheeked Pintail | Anas bahamensis | Only sightings were water works Tobago |
| Blue-winged Teal | Anas discors | Small numbers at water works Tobago |
| Ring-necked Duck | Aythya collaris | Only sighting 4 birds Hilton Ponds Tobago |
| Black Vulture | Coragyps atratus | A very common bird on Trinidad |
| Turkey Vulture | Cathartes aura | Again fair numbers encountered most days Trinidad |
| Osprey | Pandion haliaetus | 3 sighting on Tobago & 2 on Trinidad |
| Grey-headed Kite | Leptodon cayanensis | Singletons on 25th & 26th Trinidad |
| White Hawk | Leucopternis albicollis | Single bird from Asa Wright Veranda |
| Common Black-hawk | Buteogallus anthracinus | A fairly common raptor on Trinidad |
| Great Black-hawk | Buteogallus urubitinga | 2 sightings Tobago, 1 Trinidad |
| Savannah Hawk | Buteogallus meridionalis | Only sighting 2 birds cattle research station Trinidad |
| Grey Hawk | Asturina nitida | Both sightings restricted to Trinidad |
| Broad-winged Hawk | Buteo platypterus | A sighting of 1 bird on both islands |
| Short-tailed Hawk | Buteo brachyurus | 1 bird only Trinidad |
| Zone-tailed Hawk | Buteo albonotatus | A single bird 26th on Trinidad |
| Crested Caracara | Caracara cheriway | Good views of a single bird Nariva Swamp Trinidad |
| Yellow-headed Caracara | Milvago chimachima | Several sightings all on Trinidad |
| Merlin | Falco columbarius | 1 bird seen 26th Trinidad |
| Peregrine Falcon | Falco peregrinus | 1 bird seen hunting the cliffs Little Tobago |
| Rufous-vented Chachalaca | Ortalis ruficauda | 3 sightings all on Tobago |
| Trinidad Piping-guan | Pipile pipile | Only endemic of the trip, 1 bird Blanchisseuse Rd |
| Purple Gallinule | Porphyrio martinica | 2 birds seen, 1 Hilton Ponds Tobago, 1 Nariva Trinidad . |
| Common Moorhen | Gallinula chloropus | All sightings restricted to water works Tobago |
| Wattled Jacana | Jacana jacana | A common bird at suitable locations on both islands |
| Southern Lapwing | Vanellus chilensis | Birds common at suitable locations |
| Grey Plover | Pluvialis squatarola | 3 birds at Waterloo Trinidad |
| Semipalmated Plover | Charadrius semipalmatus | Small numbers on the breakwater Tobago & Waterloo |
| Killdeer | Charadrius vociferus | A singleton at Hilton Ponds Tobago |
| Whimbrel | Numenius phaeopus | Birds encountered on both islands |
| Lesser Yellowlegs | Tringa flavipes | Several birds resident at Water Works Tobago |
| Solitary Sandpiper | Tringa solitaria | 1 at Hilton Ponds Tobago & 1 at Waterloo Trinidad |
| Spotted Sandpiper | Actitis macularia | Several sightings on both islands |
| Willet | Catoptrophorus semipalmatus | A single bird at Waterloo Trinidad |
| Ruddy Turnstone | Arenaria interpres | 20> birds Blue Waters Tobago and 4 at Waterloo Trinidad |
| Sanderling | Calidris alba | A single bird at Coco Reef Tobago |
| Semipalmated Sandpiper | Calidris pusilla | 1 bird at Waterloo Trinidad |
| Western Sandpiper | Calidris mauri | A sighting of 1 bird on both islands |
| Least Sandpiper | Calidris minutilla | 2 sightings both on Trinidad |
| Lesser Black-backed Gull | Larus fuscus | 2 birds with Laughing gulls at Waterloo Trinidad |
| Laughing Gull | Larus atricilla | The most numerous gull of the region |
| Sandwich Tern | Sterna sandvicensis | 1 bird at Waterloo Trinidad |
| Royal Tern | Sterna maxima | 50> birds at Waterloo Trinidad |
| Large-billed Tern | Phaetusa simplex | 20> birds at Waterloo Trinidad |
| Black Skimmer | Rynchops niger | 30> birds loafing on beach Waterloo Trinidad |
| Scaled Pigeon | Patagioenas speciosa | 1 bird at Asa Wright, 2 birds Blanchisseuse Rd Trinidad |
| Pale-vented Pigeon | Patagioenas cayennensis | 1 sighting on Tobago |
| Eared Dove | Zenaida auriculata | A common dove on Tobago, no sightings Trinidad |
| Common Ground-dove | Columbina passerina | A couple of birds seen Trinidad |
| Ruddy Ground-dove | Columbina talpacot | A very common bird on both Tobago & Trinidad |
| White-tipped Dove | Leptotila verreauxi | A couple of birds seen on Tobago |
| Grey-fronted Dove | Leptotila rufaxilla | 1 sighting only Asa Wright Centre Trinidad |
| Red-bellied Macaw | Orthopsittaca manilata | Up to 6 birds both visits to Waller Fields Trinidad |
| Green-rumped Parrotlet | Forpus passerinus | A single sighting on both Islands |
| Blue-headed Parrot | Pionus menstruus | All sightings restricted to Trinidad |
| Yellow-crowned Parrot | Amazona ochrocephala | 2 birds at Nariva Swamp25th Trinidad |
| Orange-winged Parrot | Amazona amazonica | Most numerous Parrot seen on both Islands |
| Mangrove Cuckoo | Coccyzus minor | A single sighting of a pair at Bon Accord |
| Little cuckoo | Piaya minuta | A single bird seen on 26th Trinidad |
| Smooth-billed Ani | Crotophaga ani | Common bird around coasts of both Trinidad/Tobago |
| Striped Cuckoo | Tapera naevia | 1 bird singing from wires on the Road to Asa Wright |
| Ferruginous Pygmy-owl | Glaucidium brasilianum | 2 birds seen from the veranda of Asa Wright Trinidad |
| Oilbird | Steatornis caripensis | 20> birds seen in Dunston Cave Trinidad |
| Common Potoo | Nyctibius griseus | 1 bird at Asa Wright & 1 bird at Caroni Marsh Trinidad |
| Pauraque | Nyctidromus albicollis | Several birds seen whilst night watching at Waller fields |
| White-tailed Nightjar | Caprimulgus cayennensis | Same status as above |
| Band-rumped Swift | Chaetura spinicauda | Several sightings on Trinidad |
| Grey-rumped Swift | Chaetura cinereiventris | Only sighting on Tobago |
| Short-tailed Swift | Chaetura brachyura | Several sightings on Trinidad |
| Fork-tailed Palm-swift | Tachornis squamata | Several birds seen on 25th & 26th Trinidad |
| Rufous-breasted Hermit | Glaucis hirsuta | 2 sightings on Tobago & 1 on Trinidad |
| Green Hermit | Phaethornis guy | 2 sightings both on Trinidad 25th & 26th |
| Little Hermit | Phaethornis longuemareus | 1 sighting Asa Wright 26th Trinidad |
| White-tailed Sabrewing | Campylopterus ensipennis | 1 bird, rain forest Tobago 18th |
| White-necked Jacobin | Florisuga mellivora | A common hummingbird with many sightings both islands |
| Black-throated Mango | Anthracothorax nigricollis | Another common hummingbird of the region |
| Ruby-topaz Hummingbird | Chrysolampis mosquitus | 4 sightings, 3 on Tobago & 1 on Trinidad |
| Tufted Coquette | Lophornis ornatus | Several birds seen from Asa Wright Veranda most days |
| Blue-chinned Sapphire | Chlorostilbon notatus | Birds seen on Trinidad 23rd & 24th |
| Blue-tailed Emerald | Chlorostilbon mellisugus | Also seen on Trinidad 23rd & 24th |
| White-chested Emerald | Agyrtria brevirostris | Seen at Asa Wright 22nd & 26th Trinidad |
| Copper-rumped Hummingbird | Saucerottia tobaci | Probably the commonest of all Hummingbirds |
| Long-billed Starthroat | Heliomaster longirostris | Just 1 sighting Asa Wright Trinidad 26th |
| White-tailed Trogon | Trogon viridis | 2 sightings Trinidad 23rd & 27th |
| Violaceous Trogon | Trogon violaceus | Single sighting Asa Wright Trinidad 23rd |
| Collared Trogon | Trogon collaris | 1 sighting Gilpin Trace trail 18th Tobago |
| Belted Kingfisher | Ceryle alcyon | 1 sighting at Bon Accord Tobago 18th |
| Ringed Kingfisher | Ceryle torquatus | A singleton at Waller Fields Trinidad 25th |
| Green Kingfisher | Chloroceryle americana | A single sighting of a pair near Gilpin Trace Tobago |
| Pygmy Kingfisher | Chloroceryle aenea | 1 bird seen in a small swamp Trinidad |
| Blue-crowned Motmot | Momotus momota | Sightings on both islands with daily visits to the feeders |
| Rufous-tailed Jacamar | Galbula ruficauda | Birds observed on both islands |
| Channel-billed Toucan | Ramphastos vitellinus | 3 sightings, 2 from Asa Wright & 1 on Blanchisseuse Rd |
| Red-crowned Woodpecker | Melanerpes rubricapillus | 4 sightings all on Tobago |
| Red-rumped Woodpecker | Veniliornis kirkii | Seen on 23rd Asa Wright Trinidad |
| Golden-olive Woodpecker | Piculus rubiginosus | A single sighting on both Islands |
| Lineated Woodpecker | Dryocopus lineatus | 1 bird at Asa Wright & 1 bird at Waller Fields |
| Stripe-breasted Spinetail | Synallaxis cinnamomea | 1 sighting Gilpin Trace trail 18th Tobago |
| Yellow-chinned Spinetail | Certhiaxis cinnamomea | 1 bird 25th Blanchisseuse Rd Trinidad |
| Grey-throated Leaftosser | Sclerurus albigularis | 1 sighting access road to Asa Wright Trinidad |
| Plain-brown Woodcreeper | Dendrocincla fuliginosa | A single sighting on 23rd Asa Wright trails Trinidad |
| Cocoa Woodcreeper | Xiphorhynchus susurrans | A single sighting on 25th Blanchisseuse Rd Trinidad |
| Great Antshrike | Taraba major | A single sighting on 23rd Asa Wright trails Trinidad |
| Black-crested Antshrike | Sakesphorus canadensis | A singleton on the 26th Waller Fields Trinidad |
| Barred Antshrike | Thamnophilus doliatus | 4 sightings 3 on Tobago & 1 on Trinidad |
| Plain Antvireo | Dysithamnus mentalis | 1 sighting on both islands |
| White-flanked Antwren | Myrmotherula axillaris | A singleton on Asa Wright Trails, 23rd Trinidad |
| White-fringed Antwren | Formicivora grisea | 2 sightings both on Tobago 17th, 18th |
| Silvered Antbird | Sclateria naevia | A singleton Nariva swamp 25th Trinidad |
| White-bellied Antbird | Myrmeciza longipes | A single sighting on Asa Wright Trails |
| Bearded Bellbird | Procnias averano | Several males seen displaying Asa Wright Trinidad |
| White-bearded Manakin | Manacus manacus | 2 birds seen on Asa Wright Trails, 23rd Trinidad |
| Blue-backed Manakin | Chiroxiphia pareola | 1 Grafton Estate, several forest trail 18th Tobago |
| Southern Beardless-tyrannulet | Camptostoma obsoletum | 1 bird observed at Waller Fields 26th Trinidad |
| Forest Elaenia | Myiopagis gaimardii | Birds seen 23rd & 24th Asa Wright Trinidad |
| Yellow-bellied Elaenia | Elaenia flavogaster | 3 sightings all on Tobago |
| Ochre-bellied Flycatcher | Mionectes oleagineus | A common bird on both islands 6 sightings during Trip |
| Yellow-breasted Flycatcher | Tolmomyias flaviventris | A single sighting on both Islands |
| Bran-coloured Flycatcher | Myiophobus fasciatus | 1 bird observed at Waller Fields 26th Trinidad |
| Fuscous Flycatcher | Cnemotriccus fuscatus | 2 sightings Tobago 17th & 18th |
| Euler's Flycatcher | Lathrotriccus euleri | Singleton on road near Asa Wright Trinidad |
| Surphury Flycatcher | Tyrannopsis sulphurea | 2 sightings Waller Fields Trinidad |
| Olive-sided Flycatcher | Contopus borealis | 1 bird Asa Wright 23rd Trinidad |
| Tropical Pewee | Contopus cinereus | 4 sightings all on Trinidad |
| Pied Water-tyrant | Fluvicola pica | A common bird of watery environments |
| White-headed Marsh-tyrant | Arundinicola ieucocephala | 2 sightings both on Trinidad |
| Brown-crested Flycatcher | Myiarchus tyrannulus | A single bird observed Bon Accord 17th Tobago |
| Great Kiskadee | Pitangus sulphuratus | A common bird on Trinidad with sightings all days |
| Boat-billed Flycatcher | Megarynchus pitangua | Several sightings at Asa Wright centre |
| Tropical Kingbird | Tyrannus melancholicus | A common bird on both islands. |
| Grey Kingbird | Tyrannus dominicensis | Sightings most days on both islands |
| White-winged Becard | Pachyramphus polychopterus | 1 sighting 26th Trinidad |
| Caribbean Martin | Progne dominicensis | Birds seen on 3 occasions, Bon Accord & water works |
| Grey-breasted Martin | Progne chalybea | Seen on 3 occasions on Trinidad |
| White-winged Swallow | Tachycineta albiventer | Small numbers seen on both Islands |
| Southern Rough-winged Swallow | Stelgidopteryx ruficollis | Seen on Trinidad 25th & 26th |
| Rufous-breasted Wren | Thryothorus rutilus | 3 sightings between both islands |
| House Wren | Troglodytes aedon | Common on both islands |
| Tropical Mockingbird | Mimus gilvus | A very common bird with several seen every day |
| Yellow-legged Thrush | Platycichla flavipes | 1 sighting on Tobago |
| Cocoa Thrush | Turdus fumigatus | Common around Asa Wright |
| Bare-eyed Robin | Turdus nudigenis | Commonest thrush encountered during trip |
| White-necked Thrush | Turdus albicollis | 3 sightings on Trinidad |
| Long-billed Gnatwren | Ramphocaenus melanurus | 1 sighting Trinidad |
| Red-eyed Vireo | Vireo olivaceus | 1 sighting Trinidad 26th |
| Scrub Greenlet | Hylophilus flavipes | 3 sightings all on Tobago |
| Golden-fronted Greenlet | Hylophilus aurantiifrons | 3 sightings all on Trinidad |
| Rufous-browed Peppershrike | Cyclarhis gujanensis | A single sighting Trinidad 26th |
| Yellow Warbler | Dendroica petechia | Singleton 26th Trinidad |
| Golden-crowned Warbler | Basileuterus culicivorus | Seen on Asa Wright Trails 27th Trinidad |
| Northern Waterthrush | Seiurus noveboracensis | Common on both islands |
| Bananaquit | Coereba flaveola | Probably the commonest birds seen during the trip |
| Bicoloured Conebill | Conirostrum bicolor | Singleton 27th Trinidad |
| White-lined Tanager | Tachyphonus rufus | Very common on both islands |
| Red-crowned Ant-tanager | Habia rubica | Singleton 27th Trinidad |
| Silver-beaked Tanager | Ramphocelus carbo | A common bird on Asa Wright feeders |
| Blue-grey Tanager | Thraupis episcopus | Common on both islands |
| Palm Tanager | Thraupis palmarum | Common on both islands |
| Trinidad Euphonia | Euphonia trinitatis | Singleton 26th Trinidad |
| Violaceous Euphonia | Euphonia violacea | A common bird on Asa Wright feeders |
| Turquoise Tanager | Tangara mexicana | 5 sightings all on Trinidad |
| Speckled Tanager | Tangara guttata | A single bird Blanchisseuse Rd Trinidad |
| Bay-headed Tanager | Tangara gyrola | A common bird on Asa Wright feeders |
| Blue Dacnis | Dacnis cayana | Only 2 birds seen both at Asa Wright Trinidad |
| Green Honeycreeper | Chlorophanes spiza | A common bird on Asa Wright feeders |
| Purple Honeycreeper | Cyanerpes caeruleus | A common bird on Asa Wright feeders |
| Red-legged Honeycreeper | Cyanerpes cyaneus | 1 sighting Tobago 18th |
| Blue-black Grassquit | Volatinia jacarina | Common on both islands, locally called Johnny-jump-up |
| Ruddy-breasted Seedeater | Sporophila minuta | Only sighting, Aripo Livestock Research Station, Trinidad |
| Black-faced Grassquit | Tiaris bicolor | Several birds in Coco Reef grounds |
| Grassland Yellow-finch | Sicalis luteola | Only sighting 25th Trinidad |
| Red-capped Cardinal | Paroaria gularis | A single bird on the car park Caroni Marsh |
| Greyish Saltator | Saltator coerulescens | Birds on the Asa Wright feeders every day |
| Yellow-hooded Blackbird | Chrysomus icterocephalus | 2 sightings both on Trinidad 25th & 26th |
| Red-breasted Blackbird | Sturnella militaris | Singleton 25th Trinidad |
| Carib Grackle | Quiscalus lugubris | Very common on both islands |
| Shiny Cowbird | Molothrus bonariensis | 5 sightings mostly on Tobago |
| Giant Cowbird | Molothrus oryzivorus | 4 sightings, 2 on both Islands |
| Yellow Oriole | Icterus nigrogularis | Seen most days at Asa Wright |
| Yellow-rumped Cacique | Cacicus cela | Birds seen 25th & 26th Trinidad |
| Crested Oropendola | Psarocolius decumanus | Breeding colony at Asa Wright |