TRIP REPORT from Northumberland Coast holiday
October 12th to 14th 2007
Guests in this party were:
Brian & Pam Denton, David Betts, Michael Harbron, Christopher & Mary Ash, Margot Perry, Angela Machersie, Dr David & Anne Nicholas, Roy & Annette Waring, Michael & Sandra Parkin, Christine Roberts, John & Sue Harrison, Philip Dronfield, Noel Harvey, Malcolm & Elaine Sparey, Lawrence Hurst, Peter Cummins, Linda Vickers
REAL BIRDWATCHING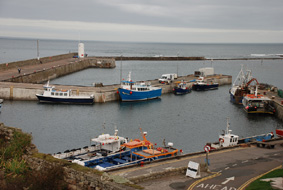 In October 2007, I joined some friends for a weekend based at Seahouses, just south of Bamburgh Castle, where the fishing boats put out to sea before daybreak and the little harbour is home to a score of Eider duck almost within touching distance.
The whole Area of Outstanding Natural Beauty on the Northumbrian coast was new to me, but not to our two guides, Nick Mason and Tom Cadwallender. Nick, a biologist, was the RSPB's Conservation Officer for the North of England for many years and now runs Real Birder Tours, as well as managing conservation schemes in Cumbria. Tom, a proud Geordie, was secretary to the BTO and a member of its executive for ten years. He wrote " Birdwatching on the Northumbrian Coast " as well as the official documentation for the Northumberland Coast AONB – a fount of information on local history, archaeology, birds and flowers, as well as being a leading expert on the Roseate Tern. With their expertise and the additional ingredient of superb autumn weather, the scene was set for two days of memorable birdwatching.
Our first day was spent in Druridge Bay, just south of the dramatic remains of Dunstanburgh Castle – eight miles of pristine sand backed by dunes and restored deep and open cast mining. It is now landscaped into pools, islets, fields and wetlands with low scrub and grasslands behind the dunes, specifically designed to give cover and food to tired incoming migrants. The area comprises no less than five separate nature reserves and the whole AONB is variously designated as a Heritage Coast, Special Protection Area, Special Area of Conservation, Ramsar Site and European Marine Site: quite a special part of the country.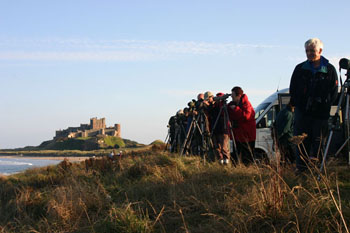 At our first stop, Hauxley Nature Reserve, we were delighted by a score of Tree Sparrows, some using the nut feeders beside the Reception building and we watched Kingfisher, Greenshank, Curlew, Golden Plover, Snipe, Wigeon and all the usual residents of small lakes, as well as a steady autumn influx of Fieldfares, Redwings and Blackbirds arriving from Scandinavia and refuelling in the sheltered trees and scrub.
As the day progressed, we worked our way south from one reserve to the next, including the seascape offshore, with good views of Pintail, Common and Velvet Scoter, Long-tailed Duck, Red-breasted Merganser, Goldeneye, Scaup , Pink-footed, Brent and Greylag geese, Little Stint, Curlew Sandpiper, Bar-tailed Godwits, a Red-throated Diver and a very belated juvenile Common Tern.
Day two took us northward to Bamburgh Castle, where the foreshore is composed of low rock and coal seams (the Whin Sill) which extend offshore to form the Farne Islands and then on to Holy Island, returning via Budle Bay. We viewed Purple Sandpiper, Turnstone, Oystercatchers on the rocks, Rock Pipits flitting among them, still more Eider duck, a few late Sandwich Terns, Razorbills, Puffins and Gannets as well as a seal and a porpoise offshore. As we "walked the walk" around Lindesfarne Castle, the Fieldfares, Redwings and incoming Blackbirds continued to arrive and several hundred Shag crowded together on the offshore inlet. On the causeway, when we returned before the tide covered it, there was a glowing carpet of thousands of Golden Plover, together with Dunlin, Knot, Grey and Ringed Plover and half a dozen Barnacle Geese resting on the mud. Overhead, hundreds of pinkfeet called as their arrowhead skeins moved inland.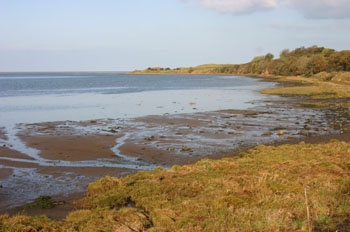 We returned via Budle Bay, a well-timed stop with the high tide crowding the birds into the Bay and the sun starting to decline behind us. A peaceful picture – in the foreground hundreds of Shelduck , Mallard, Wigeon and Lapwing and behind them a line of some three thousand Barnacle Geese along the shore. Suddenly the whole scene erupted in wheeling tumbling clouds of Lapwing and gulls, shooting arrows of various duck and a roaring tide of Barnacle Geese, as a Peregrine swept across the Bay. The panic finally subsided and we left a tranquil sunlit picture once more, the brilliant colours of the Shelduck contrasting with the glowing autumn leaves on the trees behind us.
These were indeed two memorable days, not focusing on "ticks" for exceptional rarities but on all the variety of some ninety plus species moving, feeding and resting in what must be one of the most beautiful parts of Britain. The perfect weather, the variety of habitats and the cheerful, informative and well-planned guidance of our two leaders made for a happy and rewarding experience.
Noel Harvey – October 2007
Bird Species Trip List compiled by Brian & Pam Denton
Name
Species
Day 1 Druridge Bay
Day 2 Bamburgh and Holy Island
Red Throated Diver
Gavia stellata
*
*
Great Crested Grebe
Podiceps cristatus
*
*
Red Necked Grebe
Podiceps grisegena
*
Little Grebe
Tachybaptus ruficollis
*
*
Manx Shearwater
Puffinus puffinus
*
Gannet
Sula bassana
*
*
Cormorant
Phalacrocorax carbo
*
*
Shag
Phalacrocorax aristotelis
*
Grey Heron
Ardea cinerea
*
*
Mute Swan
Cygnus olor
*
*
Canada Goose
Branta canadensis
*
Brent Goose
Branta bernicla
*
*
Barnacle Goose
Branta leucopsis
*
Greylag Goose
Anser anser
*
Pink-footed Goose
Anser brachyrhynchus
*
*
Mallard
Anas platyrhynchos
*
*
Pintail
Anas acuta
*
Wigeon
Anas penelope
*
*
Teal
Anas crecca
*
*
Shoveler
Anas clypeata
*
*
Shelduck
Tadorna tadorna
*
Scaup
Aythya marila
*
Tufted Duck
Aythya fuligula
*
Pochard
Aythya ferina
*
Goldeneye
Bucephala clangula
*
*
Long-tailed Duck
Clangula hyemalis
*
Velvet Scoter
Melanitta fusca
*
Common Scoter
Melanitta nigra
*
Eider
Somateria mollissima
*
*
Red-breasted Merganser
Mergus serrator
*
Buzzard
Buteo buteo
*
Peregrine Falcon
Falco peregrinus
*
Kestrel
Falco tinnunculus
*
Pheasant
Phasianus colchicus
*
*
Moorhen
Gallinula chloropus
*
*
Coot
Fulica atra
*
*
Oystercatcher
Haematopus ostralegus
*
*
Lapwing
Vanellus vanellus
*
*
Ringed Plover
Charadrius hiaticula
*
Grey Plover
Pluvialis squatarola
*
Golden Plover
Pluvialis apricaria
*
*
Turnstone
Arenaria interpres
*
Snipe
Gallinago gallinago
*
Curlew
Numenius arquata
*
*
Bar-tailed Godwit
Limosa lapponica
*
Redshank
Tringa totanus
*
*
Greenshank
Tringa nebularia
*
Knot
Calidris canutus
*
Purple Sandpiper
Calidris maritima
*
Dunlin
Calidris alpina
*
*
Curlew Sandpiper
Calidris ferruginea
*
Little Stint
Calidris minuta
*
Sanderling
Calidris alba
*
Great Black-backed Gull
Larus marinus
*
Lesser Black-backed Gull
Larus fuscus
*
*
Herring Gull
Larus argentatus
*
*
Common Gull
Larus canus canus
*
*
Black-headed Gull
Larus ridibundus
*
*
Sandwich Tern
Sterna Sandvicensis
*
Common Tern
Sterna hirundo
*
Razorbill
Alca torda
*
*
Guillemot
Uria aalge
*
*
Puffin
Fratercula arctica
*
Rock Dove
Columbia livia
*
Stock Dove
Columba oenas
*
Woodpigeon
Columba palumbus
*
*
Collared Dove
Streptopelia decaocto
*
Kingfisher
Alcedo atthis
*
Great-spotted Woodpecker
Dendrocopos major
*
Skylark
Alauda arvensis
*
*
Meadow Pipit
Anthus pratensis
*
Rock Pipit
Anthus petrosus
*
Pied Wagtail
Motacilla alba yarrellii
*
*
Wren
Troglodytes troglodytes
*
*
Dunnock
Prunella modularis
*
*
Stonechat
Saxicola torquatus hibernans
*
*
Robin
Erithacus rubecula
*
*
Blackbird
Turdus merula
*
*
Redwing
Turdus iliacus
*
*
Song Thrush
Turdus philomelos
*
Mistle Thrush
Turdus viscivorus
*
Fieldfare
Turdus pilaris
*
Goldcrest
Regulus regulus
*
Blue Tit
Cyanistes caeruleus
*
*
Coal Tit
Parus ater
*
Great Tit
Parus major
*
Long-tailed Tit
Aegithalos caudatus
*
Magpie
Pica pica
*
*
Jackdaw
Corvus monedula
*
*
Rook
Corvus frugilegus
*
*
Carrion Crow
Corvus corone
*
*
Starling
Sturnus vulgaris
*
*
House Sparrow
Passer domesticus
*
*
Tree Sparrow
Passer montanus
*
Chaffinch
Fringilla coelebs
*
*
Greenfinch
Carduelis chloris
*
*
Goldfinch
Carduelis carduelis
*
*
Linnet
Acanthis cannabina
*
*
Reed Bunting
Emberiza schoeniclus
*
Total 99