Northumberland Christmas House Party December 24th-27th 2008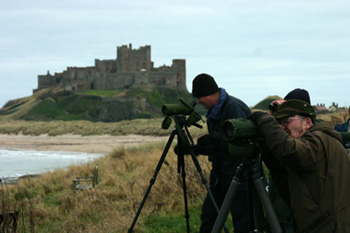 Guests attending
Dennis Hodges 
Alan Last                                                               
Caroline Street                                                                
Barry & Teresa Lanning                                                  
David & Joy Gaze                                                            
Mary & Graham Sparkes                                                
Roy Gardner                                                                      
Malcolm Anderson                                                           
Gordon & Wendie Wright
Bernard & Enid Turnbull
Howard Simmons
Martin & Beryl Shaw
John & Ralda Bennett
Richard Heap
Joyce Staines
Leadership Team
David & Amanda Mason
Matt Merritt (Features Editor at Bird Watching Magazine)
Nick Mason and Rachel Clarke
Christmas Eve
All our guests arrived at Longhirst Hall, near Morpeth, in time for a short presentation from Nick detailing the sites we would be visiting and the birds that might be seen. Dinner followed.
Christmas Day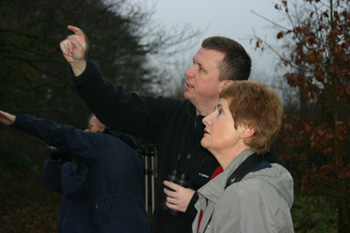 Leaving at 9am, the holiday party split into two groups for a morning of short walks. One walk included the hotel grounds and some of the woodland and farmed landscape around Longhirst, whilst the second walk visited Linton Lane, a small freshwater wetland reserve close to the hotel. Highlights included Sparrowhawk chasing Redpolls, Jays screeching overhead and a mixed flock of tits, Nuthatch, Treecreeper and Great-Spotted Woodpecker. Linton Lane gave guests the opportunity to view five gull species together, helping them to separate Great and Lesser Black-backed Gull. Red squirrels in the hotel grounds eluded us, despite showing well on Christmas Eve.
Christmas lunch in the hotel was at 1pm, followed by a late afternoon Christmas Quiz in the drawing room. Four teams dared to tackle the 50-point quiz. After five tense rounds, the Ho-Ho team emerged winners by narrowest half point margin.
After a buffet dinner, the day was wonderfully rounded off by Matt Merritt giving a short poetry reading, with a selection ranging from early Anglo-Saxon to Matt's verse taken from the recently published Troy Town collection.
Boxing Day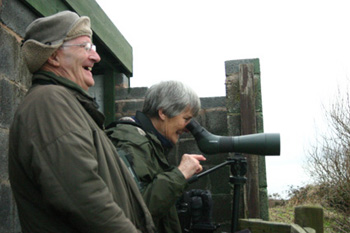 Leaving the hotel at 9am, we drove east 10 miles to Druridge Bay, visiting a series of Northumberland Wildlife Trust reserves along the bay. Starting at Druridge Pools and Cresswell Pond, Nick managed to show guests a piece of carpet masquerading as an otter. An impressive start. Thankfully, a young dog otter then appeared, swimming across the pool to the small island we were watching, finally settling on the carpet.
Red-breasted Merganser, Golden Plover, Common Scoter on the sea and, for a lucky few, a Bittern proved to be some of the morning's bird highlights. Packed lunches were eaten by most in the warm cocoon of the minibuses as a cold east wind began to blow. The wind did help break up the thin grey cloud, improving the light for our afternoon birding. High Hauxley Reserve proved a real winner with Whooper Swan, a lone Taiga Bean Goose, Pink-footed Geese, Siskin and Tree Sparrow, together with a range of waders and ducks.
We ended our birding at Amble harbour, enjoying the confiding Eider drakes and ducks displaying and grey seals catching fish. A glorious setting sun helped to really show off the pink blush on drake Eider's chests.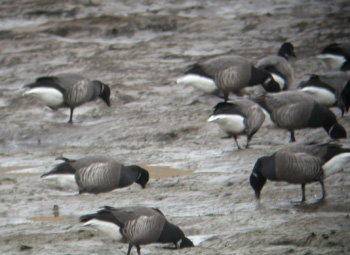 After thawing out back at the hotel, David Mason gave a presentation on some of his birding experiences around the world. Dinner was followed by a showing of March of the Penguins, the lovely feature film following Emperor Penguins.
December 27th
We arrived on Holy Island at 10.15am, parking in the village at the southern end of the island. Despite the cold wind, we all undertook a circular walk, taking in the Priory and overlooking the Castle. Birds kept us very busy, with several small groups of Brent Geese (including Pale-Bellied birds), Rock Dove, Red-throated Diver and around 30 Long-tailed Ducks giving great views. Both Bar-tailed and Black-tailed Godwits were viewed, with large groups of Shelduck and waders moving as the tide rose.
We moved off the island before the causeway flooded, heading south to Budle Bay. Birds on the bay were constantly on the move, being pushed around by the incoming tide. Greenshank, Pintail, Wigeon and Teal helped to entertain during a late lunch.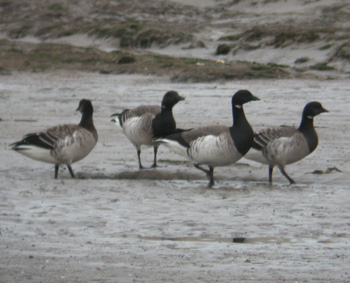 Moving down into Bamburgh village, we had a final hour of daylight overlooking Stag Rocks, with great views to Bamburgh Castle and the Farne Islands. Small grebes offshore proved to be Slavonian Grebe after some debate and discussion. Seven Purple Sandpiper came in to roost at high water and we combed the offshore scoter flocks hoping in vain to separate a Velvet bird from the Commons. Three more resplendent male Long-tailed Duck rounded off the day.
Guests saw a total of 97 species during the trip. Surprisingly few finches and buntings were seen and the bird of prey count was low. Scoter numbers were also smaller than expected. A full bird list is attached.
Nick Mason – Tour leader