Getting there
A flight from Teeside to Lyon (via Amsterdam with KLM, £117 return), followed by an easy 120km hire car ride (two week hire for £251 from Europcar) up to Doussard at the southern end of Lac d'Annecy. We were camping at the La Serraz site (operated by Eurocamp) where I was working as a walking and wildlife guide for Eurocamp clients for a fortnight. The campsite is small with a mixed clientele, including French, German, Dutch and British couples and families.
A few stops on the drive to and from Lyon can add lots of bird to the trip list. This year, yellowhammer, corn bunting and nightingale were seen on minor roads around the airport. In 2003, a 30 mins drive northeast from the airport to the wetlands of Villar des Dombes yielded marsh harrier, purple heron, whiskered tern, red crested pochard and many other wetland birds.
Introduction to the French Alps
From my pre-trip research, the French Alps do not appear to be heavily birded, with little background information to figure out what we should expect to see. Most French birding trips seem to visit the Pyrennes, Jura or Vercours. Although missing the vultures (apart from the recently reintroduced Lammergeier), the Alps appear to support a rich range of birdlife, from the real mountain specialities like Wallcreeper, to woodland birds, including Citril Finch and Ring Ouzel. In addition to the birdlife, the dominance of limestone and extensive land management encourages a good range of other wildlife, including mammals like Beaver and Marmots, butterflies galore and great plant life.
The walks detailed below were undertaken this summer and give a flavour of this great wildlife value. It must be stressed, this was far from a birding holiday, with the emphasis for Eurocamp clients being placed on accessible, fun walks with opportunities to see wildlife. The 95 species seen are listed in the attached Excel table, with a species list for each site. Over the fortnight, the walks explored the range of habitats of the Alps, from farmland and wetland to high mountain snow.
Walks
1) Du Bout Du Lac local nature reserve (14 and 23rd June)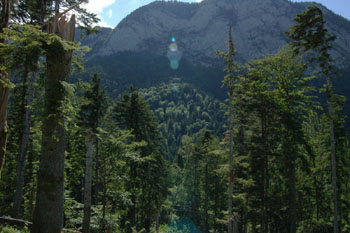 Access on foot from the camp site. 4km circular easy walk, suitable for all.
Walk takes in a range of valley floor habitats, from wet willow and alder woodland to marsh and open water. Highlights included up to three singing Marsh Warblers, imitating up to eight different birds in their song, together with Sedge Warbler, Reed Warbler and Reed Bunting. Lots of evidence of beaver activity on the River Morte section was backed up by two evening sightings of Beavers by clients during our stay.
The marsh meadow in the middle of the reserve is really great for orchids Early Earsh, Common Spotted, Lesser Butterfly and Fragrant all in flower) and was full of grasshoppers and butterflies.
2) Cret de Chatillon GPS 275 5076 (16th June)
45 min drive from Doussard. 5km easy circular walk suitable for all.
This walk runs across the top of the Semnoz limestone ridge that runs south from Annecy town. After winding up through woodland, the D41 road from Annecy breaks out of the forest into mountain grassland at 1700 metres on the hill top. The ridge top has a good network of footpaths, together with lots of ski runs that provide good summer paths into the high woodland below the summit. From the summit car park, a short incline leads to an orientation table naming all the peaks visible from the excellent panorama. Mont Blanc stands tall from here on a clear day. From here we walked south past the farm at Chalets de Leschaux (with home-produced goats and cows cheese for sale) to Chalets de Gruffy before looping back to Chalet de Leschaux. From the southern point of this walk, views from the sheer cliff edge stretch all the way to Lyon. On this cool, breezy day, birds were not easy to see but Alpine Chough, Raven, Peregrine, Buzzard, Crossbill and Ring Ouzel were all viewed
On completion of the ridge walk, we drove off the summit, parking on the woodland edge 1km from the summit and then followed ski runs through coniferous woodland. Feeding on dandelion and thistle at the wood edge, 4 Citril Finch were confiding and persistent. Singing Ring Ouzel, Fieldfare and Crested Tit were quickly viewed and a Black Woodpecker's loud calls pre-warned us of its presence before it broke cover and offered good flight views.
Flora included great Yellow Gentian, Globeflower and Early Marsh Orchids.
3) Col de L'Arpettaz, north of Ugine. GPS 300 5074 (19th June)
40 min drive from Doussard with the road climbing to 1600m
We completed two climbing walks from cars during the day. This mountain is quiet, accessible and extremely beautiful.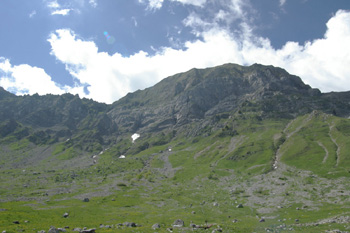 Our first walk started off the road just below and to the SW of the Col. Great views of Marmots in the scree and boulder field got the day off to a great start. Moving up through the alpine grassland and scree, Wheatear, Water Pipit and Black Redstart were all singing and displaying, reminding us that spring in the mountains comes very late. After slowly ascending a further 300m up towards the sheer cliff below the summit of Mount Charvin, the melodic song of Rock Thrush was heard and a beautiful orange and blue male spotted singing on a rock face. This bird was joined by a female, with both birds flitting from one crag to another for about 15 minutes. We then stopped before the path got too difficult and after sitting for a short time, three Golden Eagles and eight Alpine Choughs were viewed circling above us in the thermals. Way above them, just below the cloud base the unmistakable silhouette of a Lammergeier was glimpsed for a few seconds. This magical sighting left us all breathless.
After returning to the car and stopping at the café at the top of the Col, a further climbing walk gave great view of the grand Alps to the north east, together with some superb flowers, including Alpenrose with hosts of Swallowtail butterflies, yellow form Alpine Pasque Flower, Spring Gentian, Matted Globularia, Birds-eye Primrose and Butterwort.
4) Cormet de Roselend, east of Beaufort (June 20th and 22nd)
This high mountain pass lying to the east of Beaufort and close to the Italian border is a 80 minute drive from Doussard and offers a series of easy gentle climbs into the high corries above the pass. Good walking boots, warm clothes and waterproofs were needed.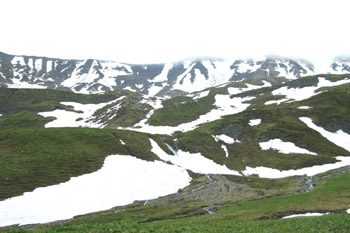 The first stop on the drive was on the roadside above Lac de Roselend, the reservoir just below the pass. In the ash and hazel scrub at the roadside, Redpoll, Fieldfare and Melodious Warbler were singing and displaying. Dipper, Grey Wagtail, Crag Martin and Black Redstart were all viewed around the lake.
Driving up into the pass reveals an open green plateau landscape, with moraines harbouring Marmots, Water Pipit and Wheatear. There was still lots of snow lying above 2100 m, giving us the chance to walk up through several snow fields.
Several small flocks of Alpine Choughs were feeding on the snow edge, with Water Pipit and White Wagtail. Despite lots of hopeful scanning, other birds proved elusive. Perhaps this pass was still too snow bound to harbour many more species? Chamois, Marmots and Fox were viewed well.
The flora of this area was very exciting, with a great show of spring alpine flowers including many large clumps of Trumpet Gentian, Crocus, Alpine Coltsfoot, Alpine Snowbell, Common Houseleek and Hairy Gagea.
The drive home also produced great views of Pine Marten crossing the road.
Despite the lack of bird variety, visiting later in the summer could be more productive, with easy walking up to around 2400 metres.
5) Mont Trelod, east of Lescheraines GPS 281 2086 (June 25th)
Start of the walk is at Le Cul de Bois,70 mins drive SW of Doussard. Walking boots, waterproofs and walking poles recommended for this full day hard walk.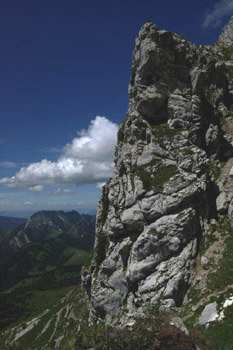 On the last full day of the trip , we hoped to make the 1000 metre ascent of Mont Trelod in the south west corner of the Massif de Bauges regional park. Although the heat and hangover meant we failed to make the summit, we did climb 650 metres past the Dent de Portes massive limestone escarpment and onto the crest approaching the summit. The views were amazing in all directions.
The highlight of the day was the hour spent lazing on a rocky outcrop next to the footpath overlooking the huge Dent de Portes rock face. Arriving on the outcrop around noon after a couple of hours of steep climbing, we sat to recover and have lunch. Pairs of Alpine Choughs were calling loudly while entering nesting caves in the face. Minutes later, a small flitting bird moved across the cliff and disappeared into a crevice. This proved to be a Wallcreeper, which preened and scuttled up the rock face only 50 metres from us. It's exquisite red, grey and white plumage was shown to good effect as it preened wing feathers. After 10 minutes of great views, the bird flew off round the rock face, only to reappear calling with another Wallcreeper. They danced like gaudy butterflies in front of us and were then lost from view. This fantastic surprise was the highlight of my holiday and further sightings of Water Pipits, Ravens, Wheatear and Buzzard, Wood Warbler and Black Woodpecker made the day complete.
Mouflon and Chamois groups were seen several times during the day basking in scree fields in the hot sun. More new flowers included St Bruno's Lily, Auricula and a Carline Thistle.
Summary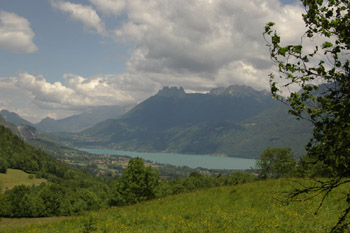 95 bird species, (Bird List) 5 mammals, over 100 flowering plants and a host of butterflies were seen during the fortnight. I'm sure we missed lots but the excitement of finding our own wildlife, off the beaten track, cannot be beaten.
I would recommend the French Alps to all. The sites described above were all on footpath networks, very quiet, easy to get to and beautiful. To give confidence with routes, the French IGN maps are very helpful, with 3431 OT 3432 OT and 3531 OT covering all the routes above.
Easy access to Annecy, with it's network of canals and cobbled streets and the hours drive to beautiful Geneva, make Doussard a great holiday hub, allowing high mountain walking to combine with culture and good food.

Nick Mason