INTRODUCTION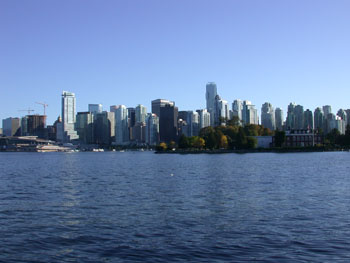 British Columbia and Vancouver/Vancouver Island had been on our radar for some time, especially after our son Nick's visit a few years earlier and following our intensive birding trip to Ecuador at the start of the year we both fancied something with a more relaxed pace and the option of some more normal holiday activities thrown in for good measure.
FLIGHTS
Flights were arranged for us by Hays Travel (formerly St Andrews Travel) via Canadian Affair with Thomas Cooke Airlines. We flew from Manchester on Flight TCX85K at 11.40hrs due to arrive in Vancouver at 13.20hrs. We travelled on an Airbus A330 with a flight time of 9hrs 10min. Boarding was almost an hour before departure, which was 5 mins late. We arrived in Vancouver 40 mins early at 12.40hrs and had to wait on the runway as the gate was not available, eventually opening cabin doors at 13.00 hrs. Then the fun began as it took 1¾ hrs to clear customs, queuing in a hot arrivals hall. Needless to say our cases were waiting for us by the carousel when we eventually made headway. Return was Flight TCX89L leaving Vancouver at 15.35hrs due in Manchester at 08.40hrs the following morning. We left on time again with an estimated flight time of 9 hrs. Once again we were 40 mins early and after a short delay clearing customs we found our cases already on the carousel and quickly checked out of the airport. Having booked Premium Economy for extra legroom and comfort, the in-flight service was good and we had a very comfortable journey both ways.
ACCOMMODATION
Rates quoted are our room costs per night, pre local taxes and including breakfast unless otherwise detailed. Rooms booked ahead by phone or internet were dearer than the prices we were able to get at the hotels themselves.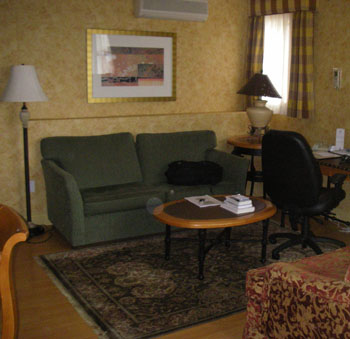 Sunset Inn & Suites, Vancouver ($189 but we were charged $169 when we booked in situ)
This is an unpretentious hotel on a side street within walking distance of the sea and Stanley Park. There is no restaurant, but numerous eateries of all types abound locally. Breakfast is self-service from the lobby (cereal, bread, croissants, jams, etc) which you take to your room. There is a laundry room on the ground floor and secure car parking. We had a one-bedroom suite on each occasion we stayed at the hotel, so had plenty of space for our birding gear. Our suite comprised the bedroom (very comfortable beds if a bit tight space-wise), bathroom and combined well-equipped kitchen, dining table and chairs, desk, lounge area with television. For 2 people, there was plenty of space and we thoroughly enjoyed staying there.
Holiday Inn, Kelowna ($169) & Holiday Inn, Salmon Arm ($129 but $121.46 booked in situ)
As you would expect, both these hotels are very similar. They are situated on the main routes, usually on the edge of town. Rooms are a good size and have 2 comfortable queen size beds. Breakfasts are buffet style and a bit restricted on choice, but quite adequate. Laundry facilities are available, as is free internet access from the hotel Business Centre. All very functional and ideal for our requirements.
Banff International Hotel, Banff ($179)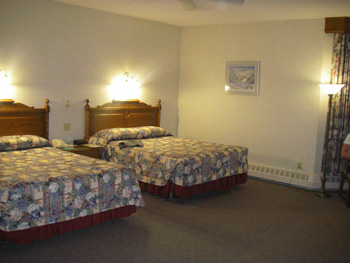 This hotel is larger than it appears to be. We had a small suite with 2 queen sized beds, small seating area and bathroom. The room was very spacious, the bed hard and a bit lumpy and the décor drab. We were only staying for two nights and enjoyed the breakfasts. We didn't use the restaurant apart from breakfast, but the menu looked attractive. There's an underground car park. Internet access can be obtained in the lobby for a small charge.
Oswego Hotel, Victoria, Vancouver Island ($182)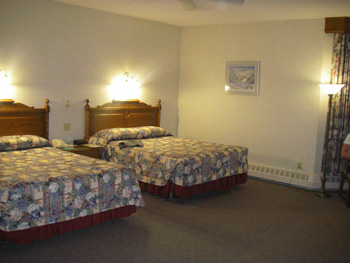 This attractive new hotel is sited very close to the harbour and an easy stroll to the centre of town with its restaurants and shops. Décor and furnishings are extremely stylish (dark brown leather and wood, lots of glass and Venetian blinds). We had a small suite (uncomfortable lumpy bed, bathroom, kitchen area with tall dining table and stools, leather chair and footstool). A small balcony with table and chairs was difficult to get to because the Venetian blinds are awkward and badly designed for raising and lowering so the patio door can be opened. Shame, but looked fantastic! Breakfast in the restaurant is continental style. Even the crockery is stylish. The dinner menu sounded wonderful but nouvelle cuisine – after birding all day we get hungry, so ate out. They have an underground car park (for which we had to pay $52.50 for 5 nights), a laundry room and a small business room for free internet access.
Middle Beach Lodge, Tofino ($450)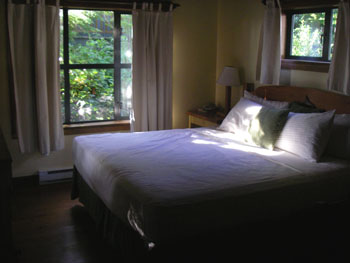 We tried to book a room online from the UK about 3 weeks before we were due to stay in Tofino but all rooms were booked and only the much more expensive cabins remained. Rather than search around further, as this was the second hotel we had tried, we opted for one of the single cabins to get the best out of our stay at this remote location. We stayed in Cabin 56. It has 2 bedrooms, 1 bathroom, small kitchen area and a seating area overlooking the bay. Outside there's a hot tub on the balcony which also overlooks the bay – beautiful. The cabin's bathroom is small, dark and needs some work doing. Despite having really looked forward to staying at the Lodge, we didn't really enjoy it and found the arrangements for dinner bizarre to say the least. Dinner is not served every night and you have to book a table on those nights it is provided. We were told appetizers would be available from 6p.m., with dinner being served at 7p.m. Accordingly, we turned up in the main building at 6.30, ordered a glass of wine from the bar and were told the appetizers had finished. As they were part of the price, we expressed surprise. A few minutes later, a member of staff mentioned more appetizers had been supplied. These were soon snapped up by ravenous guests. Dinner was salmon, veggies and salad. The only choice was eat it, or not. Guests have to form a queue and are served by hotel staff. There was actually a choice of dessert, which was served at the table. We ate out subsequently. Breakfast is self-service and made up of the usual cereals, breads, juices, etc. Oh, and please clear your table before you leave.
Tigh-na-Mara, Parksville ($189)
As you would expect from somewhere describing itself as Seaside Spa Resort & Conference Centre, the hotel is modern, self contained and a little upmarket. Rooms are similar in size to the Holiday Inns, with two comfortable queen size beds. It was a little strange to have quite a small en suite with shower and a corner Jacuzzi outside in the bedroom. Our room had a super view over the Strait of Georgia. The restaurant was a little pricey but the food was excellent. Breakfast was not included here and cost $31. Laundry facilities are available, as is internet access for a small fee.
FOOD
Virtually all our accommodation was inclusive of breakfast, usually buffet style and with cereal and toast always available, more than adequate for our requirements. Everywhere we went was well catered for, with cafes/coffee shops and restaurants of all shapes, sizes, cuisines and costs. We particularly enjoyed the food at the following Restaurants:- Sequoia Grill in Stanley Park, Takis Taverna 1106 Davie Street Vancouver, Joey Tomato's Kelowna, Balkan Restaurant Banff, Table 24 at the Old Courthouse, Salmon Arm, The Tapa Bar Victoria, Port Renfrew Inn, Harbour House Restaurant Victoria, Tigh-na-Mara Restaurant Parksville.
TRANSPORT
St. Andrews Travel also organised our hire car using Holiday Autos and National Canada. We had a Dodge Avenger 4 door automatic with aircon which just about took all our gear in the boot. Our rental voucher described the Desk as being located in the arrivals hall – considerable work was underway on the airport, presumably with the 2010 Winter Olympics in mind and we had a circuitous 15 min trek to the Hire car area, but thereafter getting the vehicle (with c6 for us to choose from) was painless, as was getting away from the airport to downtown Vancouver. The car served us well until our arrival in Tofino when it seemed to have problems engaging and keeping in drive. The following morning (Sunday) we couldn't get it to move and discovered we had lost all our transmission fluid. We had warned National the previous evening that we were having problems, but as the car was still "driveable" we were told to keep going. The nearest National office is in Nanaimo 208 kms away, so we had a day without transport as a tow truck had to be despatched along with a replacement vehicle. With National agreeing to pick up the tab we availed ourselves of the services of Tofino's only taxi to go into town and go Whale watching. Our replacement was a Dodge Caravan, a 7 seater MPV that, despite first appearances, handled our luggage better than the car and was just as comfortable, having the distinct advantage of sliding rear doors, ideal to open and use the car as a mobile hide when it's raining. Full marks to National for their overall service. We covered about 4,300 kms or 2,700 miles in 24 days and although we could have managed with a smaller, cheaper vehicle, we value comfort and luggage capacity, especially on such a long trip and therefore felt the extra expenditure was well worthwhile.
GUIDES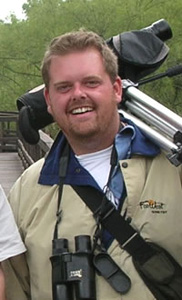 With no language difficulties, good roads and signage throughout we did not feel the need for a guide as good site information is available in a couple of guide books and also on the internet. We did however decide to go out with Chris Charlesworth for a day in the Okanagan valley in the hope of pinning down a few of the more elusive species, including some owls. Living in Kelowna, Chris has a wealth of local knowledge as well as birding experience from around North America. He has an excellent knowledge of bird calls as well as a good repertoire of Owl call imitations. Chris charges Can $250 per day plus petrol expenses for up to 3 people and can be contacted via his website.
Flights – £1689.40 for Premium Cabin plus £38 to pre-book seats.
Car – £685.96 for 24 days including package for extra driver and full tank of fuel.
Fuel – $429.56 (£235.45).
Taxi – $55 (4 trips in Tofino refunded by National).
Hotels – $5786.20 (£3101.91) plus Oswego car parking $52.50 (£27.63).
Food – $2690.34 (£1437.22) includes tips min 10% – max 20% (say average 15%).
Guide – $250 (£131.58).
Whale watching – $222.40 (£119.46) for large boat (not Zodiac).
Ferries – $75.65 (£40.69) Tsawwassen to Swartz Bay.
– $75.95 (£41.07) Nanaimo Departure Bay to Horseshoe Bay Vancouver.
Entrance Fees- $39.20 (£21.32) Banff National Park x 2 days
– $15.60 (£8.42) Pacific Rim National Park x 1 day
– $2 (£1.05) per hour or $7 (£3.68) per day in Stanley Park
– $53 (£28.56) Butchart Gardens
– $17.01 (£8.95) Van Dusen Botanical Garden
– $19.05 (£10.02) Tofino Botanical Garden
– $20 (£10.53) Dr Sun Yat-Sen Chinese Garden
Exchange Rates at the time of our trip were in the region of £1 = Can $1.90
RESEARCH & TRIP ESSENTIALS
Brief info on everything for birding can be found at Fatbirder.
Trip reports can be accessed at CloudBirders and Birdtours.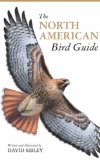 Nature Vancouver's web site has sections highlighting local birding hotspots and also a species frequency list for download. It is a good idea to sign on to the local Yahoo birding group "bcvanbirds" several weeks prior to a trip to get a flavour of what is around and where. There is also a similar group for the interior, "bcintbird", particularly useful if you are planning to visit the Okanagan area.
Victoria Natural History Society's web site covers Vancouver Island and you can sign on to their local birding group "BCVIBIRDS" for up to date sightings.
BirdingPal has details of local birders who are willing to offer assistance. Although we were unable to meet up with them, we had help and guidance from Larry Cowan in Vancouver and Russell & Dick Cannings in the Okanagan.
Tide Times can be confirmed at Canadian Hydrographic Service – Fisheries and Oceans Canada and Ferry times can be confirmed online with BC Ferries.
Recommended reading and travelling companions:-
The Birder's Guide: British Columbia: A Walking Guide to Bird Watching Sites ISBN 1-894143-00-0 and The Birder's Guide to Vancouver Island ISBN 1-894143-03-5 both by Keith Taylor (If you find these books are unavailable at Amazon, try NHBS).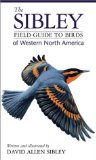 The Sibley Field Guide to Birds of Western North America ISBN 0-7136-6658-7 and, if you have room the larger North American Bird Guide (Helm Field Guides) ISBN 1-873403-98-4.
British Columbia (Lonely Planet Country & Regional Guides) ISBN 978-1-74104-584-0.
A good road map covering all areas to be visited is essential.
WEATHER
We were very fortunate throughout most of our trip with warm, mainly sunny days with highs varying from 22° to 26° as western British Columbia enjoyed an excellent spell of settled weather for most of September. Mornings and evenings were invariably cool and two days were affected by rain, but this did not stop us getting out and about. Having monitored the weather for about a month prior to our trip and regularly seen cloudy days with much rain and unseasonal low temperatures, we were pleased with the change which coincided with our visit.
ITINERARY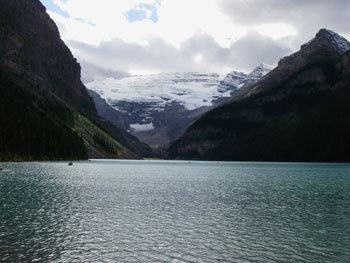 Wednesday 3rd – English Bay – O/N Sunset Inn & Suites Vancouver 4 nights.
Thursday 4th – Stanley Park – Van Dusen Botanical Gardens – Boundary Bay.
Friday 5th – Reifel Bird Sanctuary – Tsawwassen Ferry terminal.
Saturday 6th – Maplewood Flats – Cypress Mountain.
Sunday 7th – Manning Park Lodge – O/N Holiday Inn Kelowna 3 nights.
Monday 8th – Knox Mountain – Glenmore Road Ponds – Robert Lake – Kelowna Landfill – Mission Creek Greenway.
Tuesday 9th – Okanagan Valley – Hardy Falls Peachland – Sun Oka Park Summerland – Shuttleworth Creek Road – Vaseaux Lake and Cliffs – Green Lake – Mahoney Lake – White Lake Road – Three Gates Farm.
Wednesday 10th – Vernon Commonage – Okanagan Landing – Salmon Arm Pier – Peter Jannink Nature Park – Christmas Island Trail – O/N Holiday Inn Express Salmon Arm.
Thursday 11th – Skunk Cabbage Trail, Revelstoke NP – Yoho NP – Lake Louise – O/N Banff International Hotel 2 nights.
Friday 12th – Vermillion Lakes – Cave & Basin Trail – Bow Valley Parkway – Mule Shoe Picnic Area – Moraine Lake.
Saturday 13th – Salmon Arm Pier – Christmas Island Trail – O/N Holiday Inn Express Salmon Arm.
Sunday 14th – Tranquille Wetland Management Area – Highway 5 between Merritt and Kamloops – Stanley Park – O/N Sunset Inn & Suites Vancouver.
Monday 15th – Ferry to Swartz Bay – Butchart Gardens – O/N Oswego Hotel Victoria 5 nights.
Tuesday 16th – Clover Point – Ogden Point – Wiffen Split, Sooke – Port Renfrew & Botanical Beach.
Wednesday 17th – Clover Point – Ogden Point – Beacon Hill Park.
Thursday 18th – Esquimalt Lagoon – Witty's Lagoon – Clover Point – Ogden Point.
Friday 19th – Clover Point – Swan Lake Nature Sanctuary – Cattle Point.
Saturday 20th – Cathedral Grove – Ucluelet – Pacific Rim National Park – McKenzie Beach – O/N Middle Beach Lodge Tofino 3 nights.
Sunday 21st – Botanical Gardens & Tofino Mudflats – Whale watching with Jaime's Whaling Station in Clayoquot Sound.
Monday 22nd – Grice Bay – Long Beach – Wickaninnish Beach – Chesterman's Beach – Tofino Airport.
Tuesday 23rd – Port Alberni – Stamp Falls – Comox Main – Qualicum Beach – O/N Tigh-na-Mara Parksville.
Wednesday 24th – Englishman River – French Creek – Ferry from Nanaimo to Horseshoe Bay – Lighthouse Park Vancouver – O/N Sunset Inn & Suites Vancouver 3 nights.
Thursday 25th – Blackie Spit – Boundary Bay 96th Street & 72nd Street plus Turf Farm.
Friday 26th – Reifel Bird Sanctuary – Boundary Bay 72nd Street – Blackie Spit.
Saturday 27th – Dr Sun Yat-Sen Chinese Garden – Stanley Park – Airport.
Sunday 28th – Arrive Manchester.
DIARY, BIRDS & SITE REVIEW
03/09/08 – Having negotiated the airport and some slightly sketchy directions from the hotel's web site we checked in at The Sunset Inn & Suites and after unpacking and freshening up we walked down to English Bay at 16.00hrs to stretch our legs and enjoy some late afternoon sunshine, whilst picking up some provisions on the way. Our first three "Canadian" birds were Starling, House Sparrow and "Feral" Pigeon, but things soon picked up with our first three lifers, Northwestern Crow, Glaucous-winged Gull and Pelagic Cormorant, birds which were to become quite common for us over the next three weeks. In addition c30 Ring-billed Gulls were dotted about the beach preening and continuing their seemingly endless search for food. We returned to the hotel at 18.00 hrs and after an early dinner at the local Chinese, we strolled down Davie Street back towards English Bay for a while soaking up the local atmosphere, before calling it a day and giving in to the 8 hour time difference.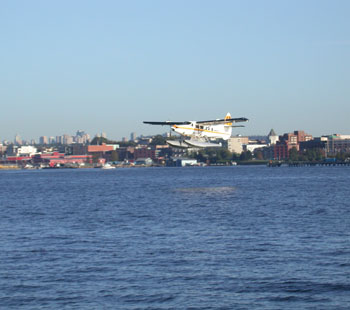 04/09/08 – The day dawned bright and clear and after a leisurely breakfast we headed out at 09.00hrs for the nearby Stanley Park and a gentle introduction to some of the new species which were soon to become so familiar to us. The general feel of the park, with its walkers, runners, cyclists, rollerbladers, tourists etc is very relaxed and cosmopolitan and it provides an evergreen oasis for residents and visitors alike. There is an energetic feel about the place as well as a constant buzz of activity from the adjacent harbour with cruise liners and commercial vessels joined by numerous sea planes making the short hop from Vancouver to Victoria, ideal if speed is of the essence and you do not need your car. There are numerous great wildlife habitats, from the tidal shoreline surrounding the park to the West Coast rainforest that dominates the area and the freshwater lakes dotted throughout. The forest is dominated by Douglas Fir, Western Hemlock and Western Red Cedar but there is also a thick understory of native plants and shrubs providing shelter and food for a variety of wildlife and birds. As we stopped to get our daily parking pass (hourly is also available) we heard and then saw Northern (Red-shafted) Flicker flying overhead. We needlessly chased around the area for 15 minutes trying to locate this lifer, as we were to see many more, with much closer views, throughout our stay. We strolled around the north shore of the Lost Lagoon towards the small wetland area at its eastern corner and picked up our first Brown Creeper, Black-capped Chickadee, Wood Duck, Hooded Merganser and Chipping Sparrow, whilst a flock of c30 migrating Northern Rough-winged Swallow were busy feeding overhead.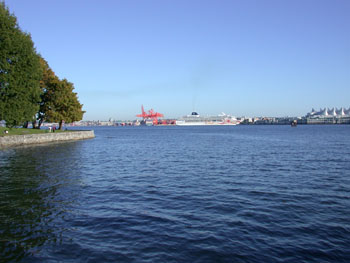 Black Squirrel were common but we only managed a very brief view of a Raccoon as it moved through the undergrowth at the water's edge on the opposite shore of the lake. Moving on to Brockton Point we saw our first Belted Kingfisher as an Osprey glided gently overhead and two Harbour Seal briefly surfaced in the Burrard Inlet. Walking down to Third Beach and Ferguson Point we saw our first Black Oystercatcher, Western Sandpiper and Pintail foraging around the rocky shoreline with the tide being fairly full. At 11.45hrs we headed into the forest along Lovers Walk and the trail leading to Beaver Lake. Birds were far and few between, but we did manage good views of Red-breasted Sapsucker and Western Wood Peewee in the canopy overhead. By now it was 13.00hrs so we opted for lunch in the nearby Sequoia Grill. Service is excellent here, as is the food and the view westwards to Vancouver Island is stunning – what a setting, ideal for a beautiful sunset.
With woodland birding very quiet and very little on the water we decided to move on to the Van Dusen Botanical Garden. Although past its best, there were still some flowers in bloom and near the restaurant we disturbed a late feeding hummingbird which moved on too quickly to identify. Birds were quiet in the main although one productive area held a feeding flock of Cedar Waxwing with a pair of Olive-crowned Warbler and an Olive-sided Flycatcher whilst c15 Vaux's Swift passed briefly overhead.
By mid afternoon we decided to head out of the city to the Boundary Bay Dike – not one of the best locations at low tide, but we did manage to pick out a distant Peregrine and flocks of c100 Black-bellied (Grey) Plover and c600 Western Sandpiper, plus a supporting cast of Brewer's Blackbird, Song Sparrow, Savannah Sparrow and a lone Red-tailed Hawk. A sizeable flock of Barn Swallow included a single Violet Green Swallow and a pair of Collared Dove sat on the roadside wires as we drove down to the Dike along 96th Street. We returned to the city around 19.00hrs to avoid the rush hour congestion around the George Massey Tunnel when three of the four lanes are used to leave Vancouver. This process is reversed for the morning rush hour and if heading south and not wishing to be out at daybreak, it is as well to leave the city at around 09.00hrs.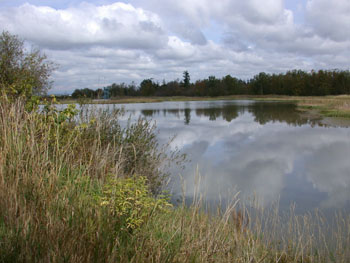 05/09/08 We were on the road again by 09.00hrs heading out of Vancouver to the Reifel Bird Sanctuary. Although the day started off cloudy, the sky had cleared by mid morning and a clear, sunny afternoon saw temperatures reach c24°. We saw our first Red-winged Blackbird and House Finch along the road and ditch leading up to the reserve. As we were paying our entrance fee 3 Purple Martin flew over and there was a plethora of more common species on and around the feeders as we headed for the north east corner of the reserve. A Bald Eagle sat majestically on the tallest tree as we left the entrance gate behind and we were soon getting close-ups of several Red-breasted Nuthatch. Moving west along the edge of the reserve towards the Observation Tower we came across our first Common Yellowthroat as well as a lone Fox Sparrow, briefly seen feeding with other sparrows on the track. A pair of Peregrine hunted over the marsh to the north of the reserve as we approached the Tower, where we found c4 Long-billed Dowitcher, c40 Short-billed Dowitcher, c20 Lesser Yellowlegs and 2 Greater Yellowlegs feeding by the water's edge, almost within touching distance. The birds totally ignored us as we stopped in amazement and eventually climbed the Tower steps. 7 Least Sandpiper were also on the lagoon along with an array of ducks and, at eye level, in the treetops around the Tower we found a moulting American Goldfinch, feeding and then preening, along with a Townsend's and a Yellow Warbler. Two juvenile Red-tailed Hawk soared overhead as we carried on our way along the inside of the west field towards the southwest marsh where 2 American Coot were joined by a variety of waterfowl. Birds continually flitted across the path in front of us, feeding on the ground and in the bushes and included our first Dark-eyed Junco and White-crowned Sparrow. Returning to the parking lot for refreshments we met up with John Ireland, the reserve Warden, and found out some of the potential species we had not seen on our way round. John was extremely helpful and also suggested other sites around the Vancouver area that we should take in if at all possible. Before we left the car park a Warbling Vireo landed in the trees surrounding John's residence. We decided to make another circuit around the perimeter of the southwest marsh and the west field as it was still only noon and were rewarded with Black-crowned Night Heron, 5 Sandhill Crane flying low overhead, 2 Cackling Canada Goose, Wilson's Phalarope, Marsh Wren, Olive-sided Flycatcher, the first of many Yellow-rumped (Audubon's) Warbler and Western Tanager.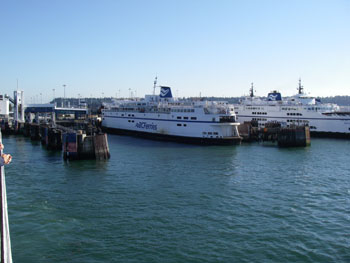 Taking John's advice we moved on to Tsawwassen Ferry Terminal and parked in the small parking area at the side of the road immediately before the Terminal car park entrance. The tide was well in and numerous gulls were roosting nearby along with 15 Caspian Tern, Black Oystercatcher and several Mew (Common) Gulls. On the water 2 Common Loon (Great Northern Diver) were joined by c40 White-winged Scoter and on John's advice we moved on to the Terminal itself and found 3 Harlequin Duck on the stones at the side of the jetty, exactly as predicted. Similarly at the beginning of the causeway to the Terminal we turned off the road on to a rough track following the water's edge and found a Wandering Tattler busy feeding less than ten metres away. Thanks John! Once again we returned to Vancouver after the rush hour.
06/09/08 Another leisurely breakfast saw us on our way north east of the city to the Maplewood Flats Wildlife Sanctuary where we arrived at 09.30hrs. This small site has some interesting woodland, freshwater ponds and overlooks the Burrard Inlet and intertidal mudflats. We saw 15 Red-breasted Merganser as well as the habitual half dozen or so Common Loon and 2 juvenile Osprey sat on the pilings out in the Inlet. For the first ¾ hour or so, birding was very quiet until a small raptor passed rapidly just overhead, perhaps explaining the lack of small birds….a Cooper's Hawk was getting in some good early morning exercise beating around the woods. By this time we had met up with a local birder who was having similar luck, but as we rounded the Pocket Marsh and the trail forked to the westernmost lookout over the main channel all this changed as we came across a small flock of feeding warblers and spent a bijou 15 minutes watching Wilson's, Townsend's, Yellow-rumped and Black-throated Grey Warbler.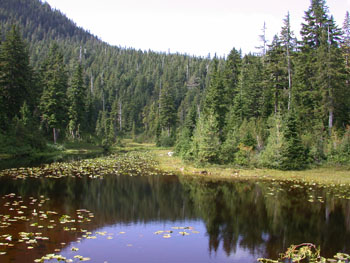 At the lookout we saw our first American (Buff-bellied) Pipit and the obligatory Belted Kingfisher, whilst a little further on we briefly saw our only 5 Band-tailed Pigeon flying by overhead. Apart from 2 Purple Martin, the rest of our walk around the Sanctuary was quite uneventful. By now the early morning cloud was long gone and the day was heading for a high of 24°.
As we were north of the city we then decided to go up Cypress Mountain at about 11.30hrs. Although there is quite a bit of disturbance around the car park with extensive building work taking place in preparation for the 2010 Winter Olympics, the trails are still open and we set out around the Yew Lake Trail. We saw our first Steller's Jay in the car park and just after the start of the trail, came across a mixed feeding flock which included 3 Red-breasted Sapsucker, 6 Western Tanager, Cassin's Vireo and Townsend's Warbler. We then spent some time watching a Pacific Slope Flycatcher before reaching the lake; a good job really as we saw little else along the rest (about two-thirds) of the trail. As we were moving on the next day we decided to return early to pack. Our various trips around the Vancouver area over 4 days covered c320kms.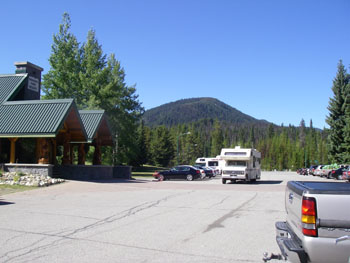 07/09/08 With a long drive (c480km) ahead of us today we left Vancouver at c09.15hrs heading for the Okanagan Valley.By lunch time we had conveniently reached Manning Park Lodge where Clark's Nutcracker are amazingly tame and feed around the picnic benches.After lunch we went up to Lightening Lake where the Grey Jays are as tame as the Nutcrackers…. such amazing views of two lifers – completely unreal. I even had a Grey Jay perch on my SLR lens as I tried to get a shot of the birds. Other than 3 American Pipit the lake was quiet. On returning to the car we found a Brown-headed Cowbird sheltering from the afternoon sun under the back bumper – it was at least 24° once again. Heading north out of the park along Hwy5a we stopped by a small roadside lake in Allison Lake Provincial Park and saw our only Common Goldeneye along with our first Mountain Chickadee. Before reaching Kelowna at c18.00hrs we also saw several American Kestrel and, as we drove through town, our first Black-billed Magpie.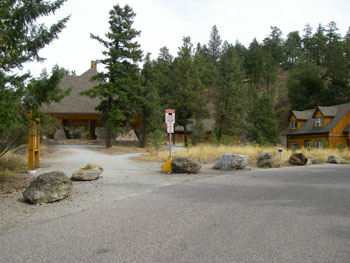 08/09/08 After our long drive yesterday we decided to spend today around Kelowna and started off at 09.00hrs at Sutherland Park, overlooking Okanagan Lake.A noisy flock of Brewer's Blackbird were on the foreshore and c20 Pine Siskin in the trees overhead, whilst on the water were 4 Red-necked Grebe, 2 Horned (Slavonian) Grebe, Common Loon and American Coot.After ½ hour we moved on up Knox Mountain where we had Clark's Nutcracker, Townsend's Warbler, Sharp-shinned Hawk, Western Wood Peewee, White-breasted Nuthatch and Mountain Chickadee amongst others. We walked back to the substantial buildings near the car parking area and met Mark Goddard the Park Warden. Mark is a fairly recent appointment for the Park and is now taking an interest in the birds of the area. He has personally installed a number of feeders around his house and is attracting a good range of species including all three nuthatches, chickadees, finches etc. Whilst we stood talking to Mark we noticed the Pine Siskin and House Finch creating a commotion in the tree tops; the reason soon became obvious, a Cooper's Hawk was perched in a nearby tree surveying his prospects. We also had excellent views of Pygmy Nuthatch here as well as Cassin's Finch and Yellow-pine Chipmunk.
Towards lunch time we moved on to the Glenmore Road ponds where we saw Ruddy Duck along with 6 Redhead, 2 Killdeer and a Western Sandpiper. We stopped briefly at Kelowna Landfill but as there was no one available to issue us with the necessary permit, we did not linger and drove on to Robert Lake. The lake had dried up, but on the way we saw our first Mourning Dove and a flock of c200 Violet-green Swallow on the wires around a farm. Mission Creek Greenway was our next destination. As we crossed the road bridge over the creek a female White-tailed Deer and 2 young meandered along the stream bed before disappearing into the undergrowth. Along the creek we came across our first Common Merganser (Goosander), 2 Turkey Vulture and numerous Cedar Waxwing while c20 Vaux's Swift circled overhead. Finally we moved on to the Park's EECO Centre to the Kokanee Bridge to watch the spawning salmon. A round trip of 64kms combined with a cool cloudy morning and a hot clear afternoon left us relaxed and chilled and ready for our early start the following day.
09/09/08 Today we had arranged to meet Chris Charlesworth who was to guide us around the South Okanagan valley for the day. We picked him up at his house in downtown Kelowna at 06.30hrs as his vehicle was temporarily out of commission getting a new engine. We started off driving south to Hardy Falls near Peachland and walked up the trail alongside the creek. The water was turbulent with spawning Kokanee. Birds were few and far between. However, as we moved upstream we saw an American Dipper sitting obligingly on a rock. We then walked through the cottonwoods and along the beach at Sun Oka Park in Summerland where we had a few Yellow-rumped, Orange-crowned and Yellow Warblers as well as an elusive MacGillivray's Warbler that eventually appeared after some persistent coaxing. Pygmy Nuthatch, Western Wood Peewee and our only Gray Catbird of the trip quickly followed. On the water we saw a few Horned and Red-necked Grebes, along with Common Merganser and the obligatory Common Loon. On the gravel spit at the mouth of Trout Creek were California, Herring, Ring-billed and Glaucous-winged Gulls along with a Great Blue Heron. Unfortunately we missed out on one of our main targets, Lewis's Woodpecker. We stopped at the supermarket-cum-delicatessen just over the river as you approach Penticton to pick up some lunch….the sandwiches here are excellent.
Moving on we travelled along Shuttleworth Creek Road where we spent the remainder of the morning. Birding was quite good here and we came across a few good sized flocks of migrant birds. Our first stop yielded Ruby-crowned Kinglet, Townsend's and Wilson's Warbler as well as 2 Western Tanager and a brief fly-by of 3 Evening Grosbeak along with the usual Yellow-rumped and Orange-crowned Warblers. A little further on we had a group of c12 Western Bluebird and one juvenile Mountain Bluebird along with Spotted Towhee and our only Say's Phoebe amongst the burned pines around Km 3. Chipping and Savannah Sparrows followed along with 5 Cassin's Finch. Red-breasted and Pygmy Nuthatch along with Mountain Chickadee were seen in small numbers at most stops. We had prolonged views of a Hammond's Flycatcher foraging in a Douglas Fir and brief glimpses of Fox Sparrow and a Winter Wren as Turkey Vultures soared quite low just overhead. Later we ran into a small flock of c5 Red Crossbill feeding and calling in the tops of some larches. Other wildlife seen along Shuttleworth Road were several species of butterfly including Comma and California Tortoiseshell, Red Squirrel, Yellow-pine Chipmunk, White-tailed Deer and a Garter Snake. We travelled as far as Km 15 and also along the Dutton Creek Road in search of grouse and woodpeckers without any luck.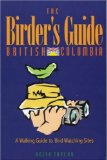 After lunch on the move we retraced our steps to Okanagan Falls and made our way to Vaseux Cliffs. Although the wind was getting up by this time, making birding a little difficult, there was an almost cloudless sky and temperatures were pushing over 20°. Spotted Towhee were calling from Saskatoon bushes at the base of the cliffs and 2 Rock Wren responded to calls. Canyon Wren were not so accommodating however; calling from time to time but never coming into view. We moved on up McIntyre Creek Road to some hayfields with sprinklers which attracted lots of birds including an adult and 7 juvenile Grey Partridge, 3 Western Meadowlark and Mourning Dove all foraging on the ground. A lone California Quail, surprisingly our first of the trip, posed on a nearby gatepost whilst we had stunning views of Savannah, Vesper, White-crowned and Chipping Sparrow all flitting along the fence and dropping into the edge of the field to feed. Meanwhile a dark morph Red-tailed Hawk and an American Kestrel sailed overhead on the breeze.
Returning to Okanagan Falls again we headed of up Green Lake Road and on Green Lake itself we had Bufflehead, Ruddy Duck and Barrow's Goldeneye, together with the usual Mallard and Green-winged Teal. Stopping at Mahoney Lake we had c6 Killdeer, 3 Spotted Sandpiper and 3 American Pipit along with 2 more Barrow's Goldeneye. In the roadside trees we were fortunate to see both Hairy and Downy Woodpecker perched almost side by side; ideal for comparison. We stopped along White Lake Road to try for Townsend's Solitaire but were out of luck. However a pair of Sharp-shinned Hawk flashed by overhead and along the road we saw at least 6 American Kestrel. At Three Gates Farm we made a final stop to try for Northern Pygmy Owl. Although we were out of luck once again we heard a Great Horned Owl hoot repeatedly deep in the heavily wooded valley but, despite valiant efforts, were unable to locate it. On the way back to Kelowna we stopped to look at c6 Mountain Goat at the top of the cliffs near Summerland and we saw a small herd of Mule Deer along the Channel Parkway in Penticton while a Merlin cruised by overhead. A nice conclusion to a long day with a round trip of c270kms and 78 species.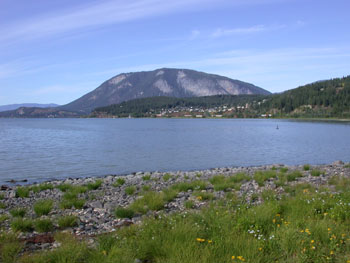 10/09/08 We set out at 09.15hrs today on just a short drive to Salmon Arm, our next overnight stop, with a detour via Vernon Commonage in the hope of catching up with Swainson's Hawk, a bird Chris advised us was regularly seen thereabouts. The area has a number of roadside pools ideal for passage waders and waterfowl. Although the potential is there, we only saw a few Common and Hooded Merganser, Mallard, Great Blue Heron and 3 Killdeer. Regrettably, no signs of a Swainson's although we did come across up to 6 Red-tailed Hawk on our way to Okanagan Landing where we saw our first c20 Western Grebe, along with Horned and Red-necked Grebe, Barrow's Goldeneye and several Turkey Vulture soaring overhead.
On arrival in Salmon Arm we went straight down to the Pier for our first look at Shuswap Lake prior to having lunch and subsequently exploring the varied mosaic of habitats by the lakeshore as well as the adjacent scrub and woodlands. In addition to the various waterfowl and gulls we saw a lone Bald Eagle, at least 15 Osprey and up to 40 Common Merganser, our first Pied-billed Grebe and the spectacle of c1000 American Coot swimming in close-knit pack formation, but too far into the centre of the lake to tell whether or not they were fishing, or just what they were doing. As we were leaving the pier I once again scanned the flock of gulls at rest on the mud banks nearby and noticed one particular bird that was quite a bit smaller than the others, greyer and also had a dusky cap. After much deliberation we decided it was a 1st winter Franklin's Gull,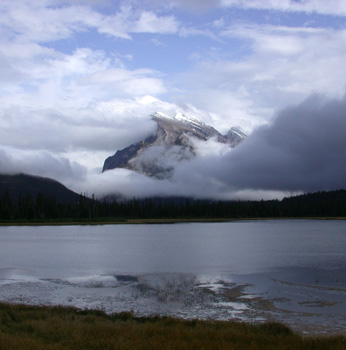 another lifer to add to the growing collection. After lunch, with temperatures approaching 25° and a cloudless sky, we tried the Peter Jannink Nature Park – a small park on the shore of Shuswap Lake at the western end of the town. With the water in the lake being low the majority of the birds were quite distant, but we did manage to pick up a hunting Cooper's Hawk which then landed on a dead tree stump in the nearby reeds, 2 Common Yellowthroat, House Finch and only our second American Goldfinch of the trip. With little going on in the heat of the day we moved on to the Christmas Island Trail at the opposite end of town.This is a delightful little stroll through a variety of habitats including scrubby woodland, marshland and lakeshore, where the birds are much closer. Here we had Wood Duck, Killdeer, both Greater and Lesser Yellowlegs, our first Wilson's Snipe, 4 Semipalmated Sandpiper, Spotted Sandpiper, 2 Pectoral Sandpiper, Semipalmated Plover, Pheasant and a lone Arctic Tern roosting with the gull flock. Only 170kms, but by the time we checked in to our hotel we were ready to get our feet up and take on board some liquid refreshment.
11/09/08 Another long drive today (400kms) as we travelled further east along the Trans Canada Highway into the Rockies through Revelstoke, Glacier and Yoho National Parks to Banff, enjoying some of the most spectacular scenery in North America. We stopped briefly at the Skunk Cabbage Trail in Revelstoke but it was very quiet and obviously not the best time of year; we only managed 4 Steller's Jay, Raven and Cedar Waxwing. As we were passing we made a detour to the beautiful, but very touristy and busy Lake Louise where our only bird was Clark's Nutcracker. Having lost an hour along the way as we passed from the Pacific Time Zone at Rogers Pass (+1hr heading to Banff & -1hr heading to Vancouver) we arrived in Banff around 16.00hrs, leaving ourselves time to find a hotel for the next two nights.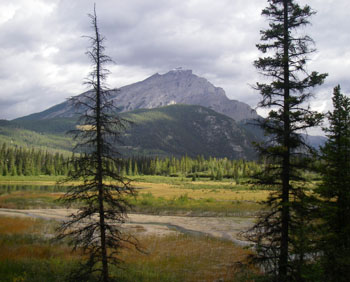 Elk including at least 3 males resplendent with their massive antlers. We quickly moved on to the shallow waters of the Vermillion Lakes on the outskirts of the town. As well as the usual ducks, grebes and gulls we had excellent views of a pair of Pileated Woodpecker. We picked up a sandwich in town and then, with rain threatening, headed for the Bow Valley Parkway, running almost parallel to the main highway between Banff and Lake Louise, but much quieter and with numerous pull-offs and wildlife opportunities. As we ate lunch the rain began to fall heavily and all we managed for the next few hours were Black-billed Magpie, Raven, 3 Grey Jay and 4 Common Merganser on the river in the valley below us. A case of right place, wrong time; no doubt the inclement weather did not help, as thunder rolled around the snow-capped peaks and the pristine pine forests dripped with rain. With nothing much happening we took the opportunity to do a bit of sightseeing, despite the mist and rolling low cloud and visit Moraine Lake – again very touristy, packed with people and birdless! As we returned towards Banff around 16.30hrs the rain finally stopped and we pulled in to the rest stop on the main highway overlooking Vermillion Lakes. Scanning the water and the shoreline I picked up an interesting looking wader (getting a bit desperate by this time) so we decided to go down to the lakeside again.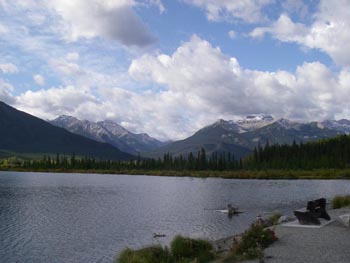 As we came off the highway and circled underneath it 5 Californian Long-horned Sheep lazily grazed the sparse grass on the sloping verge under the bridge. The wader turned out to be a Pectoral Sandpiper and in addition we saw Bald Eagle, c20 Hooded Merganser including a "spanking male" in all his finery, Dark-eyed Junco and a Wilson's Warbler seen by Amanda only. Overall a pretty quiet day with few birds, not much wildlife, miserable weather blocking out the amazing scenery and temperatures dropping to almost 0° in the evening. Our round trip was 162kms.
13/09/08 As we left Banff behind us at 09.00hrs everywhere was still shrouded in mist and low cloud with temperatures still in the low single figures. Just outside town on the main highway we came across a lone Grey Wolf which sprinted out of the roadside trees onto the wide grass verge and suddenly stopped looking all around. Unfortunately there was nowhere to stop to admire this beautiful creature without becoming a hazard to other road users. We retraced our steps to Salmon Arm and, gaining an hour on the way, were back at our destination by early afternoon.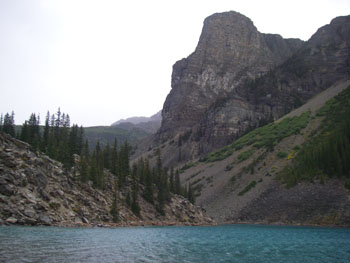 As we came down out of the mountains the weather changed completely and we were back in the warm sunshine with crystal clear skies and temperatures in the mid 20°s. Having enjoyed our previous visit so much we decided to return to the Christmas Island Trail where we saw many of the birds seen here previously, plus 2 Tundra Swan, a single Eared (Black-necked) Grebe, Peregrine, c12 Lesser Scaup (both male and female), c13 Ruddy Duck c10 Redhead and a Hairy Woodpecker. We also saw the Franklin's Gull again, this time in flight. The American Coot flock seemed to have doubled in size with well over 2000 birds out in the middle of the lake "doing their thing". Another 404kms today, but strangely after our stroll around Christmas Island, we were feeling quite fresh and looking forward to our return to Vancouver the following day and onward crossing to Vancouver Island, despite the distance involved. It was great to visit the Rockies for the experience and the scenery but a bit of a waste of time in birding terms.
14/09/08 Before breakfast I was looking out of the hotel window across towards Shuswap Lake and was surprised to see a Merlin being chased off by an American Crow. We were on the road by 09.00hrs following the South Thomson River to Kamloops. As we travelled westwards the habitat became noticeably drier, with towering Ponderosa Pines dotting the sage covered hillsides. Bald Eagle, Red-tailed Hawk, Turkey Vulture and American Kestrel kept us company along the way as we circled the city and headed to the Tranquille Wildlife Management Area, along the shores of Kamloops Lake. Here we saw hundreds of Mallard, Gadwall and Canada Goose alongside at least 15 Great Blue Heron from the nearby Heronry and several Common Merganser.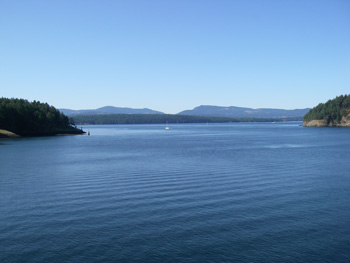 We spent some time watching a Yellow-rumped (Audubon's) Warbler feeding in the roadside bushes before meeting a local birder who was kind enough to point out an American Bittern, skulking in the reeds and long grass at the water's edge. From Kamloops we travelled south and then west via Hwy 5 spotting the occasional raptor along the way and a late, lone Barn Swallow at a rest stop beyond Merritt. We arrived in Vancouver at 17.00hrs after a journey of 516kms and after checking in to our hotel we headed to Stanley Park to stretch our legs and after a clear, beautiful day, with temperatures reaching 26°, enjoy the sunset over Vancouver Island from the comfort of the Sequoia Grill at Ferguson Point. On the way through the park we stopped at Coal Harbour and picked up our only Brandt's Cormorant of the trip with 4 preening birds on the buoy out in the harbour. Double Crested and Pelagic Cormorant were also on the water, with the tide quite high.
15/09/08 We left the hotel just before 09.00hrs and headed towards Tsawwassen where we were lucky enough to be one of the last few cars boarding the 10.00hrs ferry to Swartz Bay. The tide was out, exposing the extensive mudflats but we saw very few birds either around the shoreline or on the water itself, unlike on our previous visit.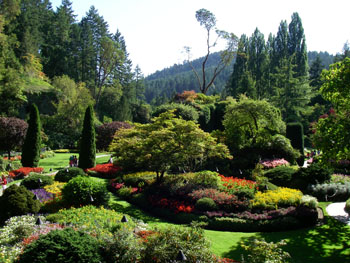 The crossing was pretty uneventful with very few birds seen other than 2 Pigeon Guillemot and a distant dark petrel sp. As we threaded our way through the islands we saw Harbour Seal, both in the water and sunning themselves on the rocky outcrops. The day was clear and sunny and would build up to 25° in the afternoon, so after finding ourselves a hotel for the next five nights, we left Victoria and headed out to the Butchart Gardens. For anyone interested in plants and gardens a visit here is a must….the setting is magnificent and some of the planting is breathtaking. Although a little expensive, there is plenty to see and do with a number of restaurants and shops and anyone wanting to return in the evening to see the gardens floodlit can do so with the same entrance ticket – well worth every cent. We saw very few birds of note around the gardens other than a cracking Dark-eyed Junco (Oregon subspecies). A gentle day on the travelling front, with only 114kms on the clock from start to finish.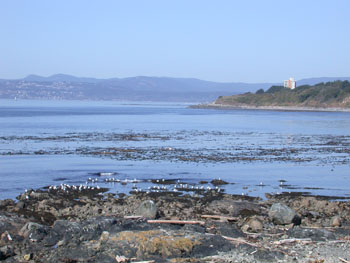 16/09/08 As we were staying in downtown Victoria our initial destination today was little over 1km away. After a leisurely breakfast we set off at 09.00hrs towards Clover Point. As soon as we reached the water we saw shorebirds and stopped at Holland Point to see what was about. Around 30 Black Turnstone foraged on the rocks and seaweed (some lifers seem to be just too easy at times, as with Clarke's Nutcracker and Grey Jay!) together with Black Oystercatcher and Western Sandpiper. Not long after stopping we looked out into the bay at the passing boats and were delighted to see a pod of 4 Orca passing through the channel heading east. Moving on a little to the next headland we picked up a Common Murre amongst the Pigeon Guillemot, several Song and White-crowned Sparrow and an Anna's Hummingbird feeding on the bushes between the promenade and the road. We eventually reached Clover Point and added c30 Heermann's Gull (another "easy" lifer), Harlequin Duck and White-winged Scoter to our list. We then decided to head off to Sooke where we had some lunch before going to Wiffen Split. Near Sooke we made a brief roadside stop for a party of c8 California Quail and in the trees overhead I picked up our first Chestnut-backed Chickadee of the trip. At Wiffen we walked right out to the small lighthouse at the end of the Split and on the way picked up c40 Bonaparte's Gull, c60 Western Sandpiper, more Heermann's Gull, a solitary Pectoral Sandpiper, Short-billed Dowitcher, Black Turnstone, c30 Least Sandpiper, Greater Yellowlegs and 3 pristine White-crowned Sparrow.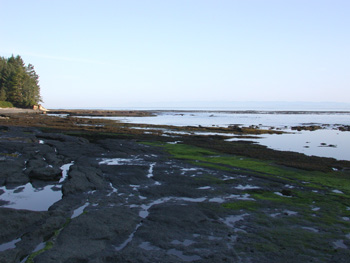 At 15.00hrs with the tide almost full we decided to move on to Port Renfrew and Botanical Beach, arriving in the car park at 17.00hrs. The 1km walk down to the beach is more like 1½km and is steep and stony in places and took us a further 20 mins to reach our destination. The beach is quite beautiful, wild and rugged and not a place to be in a storm, but well worth the trip. Amanda managed to pick out a Western Gull amongst the numerous roosting gulls. With the tide just beginning to recede there were c20 Harlequin Duck feeding and roosting close in and on the water we picked up 6 Rhinoceros Auklet and 4 Common Murre. As we stood on the beach we had Wilson's Warbler and Steller's Jay in the trees behind us and as we strolled back up the trail to the car park we had a brief glimpse of our only Varied Thrush of the trip. Another clear hot sunny day with temperatures reaching 25°. As it would be quite late by the time we got back to our hotel we decided to eat at the Port Renfrew Hotel and can thoroughly recommend both the food and service there. We travelled 283kms in the day, but without distractions and diversions, the journey back from Port Renfrew to Victoria was 113kms and took us 2 hrs.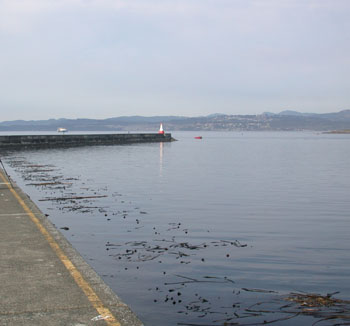 17/09/08 This morning we set out at 09.00hrs again and headed straight to Clover Point. The birds were much the same as yesterday; however we did manage to find a lone Marbled Murrulet among the numerous Pigeon Guillemot. With the tide quite low and the weather cloudy and cool, not much was happening so we decided to move on to Ogden Point and walk out along the breakwater. Within the first 200 metres we had a small flock of Western Sandpiper with 4 Sanderling amongst the Black Turnstone and Black Oystercatcher feeding below us on the blocks at the water's edge. As the mixed flock moved along they were joined by a Wandering Tattler as all the birds continued to ignore our presence nearby. The walk along the remainder of the breakwater was pretty uninspiring with a few Red-necked Grebe and Harbour Seal being the only wildlife of note. By now a cold breeze had sprung up and we beat a hasty retreat back to the café at the start of the breakwater for a welcome coffee. We decided to visit Beacon Hill Park for a stroll as it offered shelter from the wind and by now the cloud was clearing and most welcome sunshine breaking through. Other then Black and Grey Squirrel, a few Chestnut-backed Chickadee, several American Robin and a lone Anna's Hummingbird our walk around the majority of the park yielded little. After returning to the car for some fruit and water we decided to try again and walked into the small patch of woodland at the south eastern end of the park near the totem pole and coast road. Although the woods appeared to be as quiet as the rest of the park at first, perseverance paid off as we encountered a mixed flock feeding in the bushes and low canopy overhead. A magical 30 mins followed as we were entranced, with birds everywhere…..Red-breasted Nuthatch scolded and Brown Creeper quietly went about their business whilst several Golden-crowned and Wilson's Warbler flitted rapidly through the foliage, alongside Golden-crowned Kinglet and a party of c20-30 Bushtit. Bushtit was a lifer and the bird I had really been hoping to see in the park; to get so many at once, feeding all around us was quite special.
We returned to Clover Point at 16.00hrs to see if high tide brought any new species – apart from 8 Surf Scoter feeding out in the bay, the cast remained the same with all the usual suspects. However Heermann's Gull numbers had increased to at least 50. Before going back to our hotel we briefly returned to the patch of woodland in Beacon Hill Park to see if anything new had turned up. The warblers seemed to have moved on but Bushtit and chickadees were still flitting around and we had close ups of a Northern (Red-shafted) Flicker and another Anna's Hummingbird to round off the day which had turned out fine in the afternoon with the warm sunshine taking temperatures up to c22°.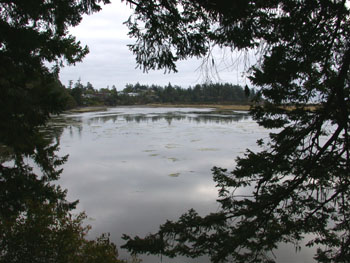 18/09/08 As usual, we set off around 09.00hrs and headed for Witty's Lagoon, arriving at 10.15hrs with another cloudy and cool morning. We started off on the beach side of the lagoon where the gull flock included 3 Heermann's and a few Mew Gulls whilst c 10 Red-breasted Merganser, c8 Harlequin Duck and a few Red-necked and Western Grebe were just off shore. Around 25 Sea Lions kept the birds company and Orange-crowned Warbler flitted about in the trees which fringed the beach. We then drove round to the car park and trails to the Lagoon itself where we came across a number of ducks including Pintail and American Wigeon. A single Greater Yellowlegs picked its way around the muddy edge of the lagoon and overhead we heard a noisy mixed flock of Chestnut-backed Chickadee, Red-breasted Nuthatch, Brown Creeper and Golden-crowned Kinglet. As we hadn't met anyone else on the trail we initially assumed our presence had disturbed the birds, but as we scanned the surrounding treetops we soon discovered the reason for all the commotion. A pair of Peregrine (both male & female) sat about 3 metres apart just under the canopy, resting and surveying their surroundings. When we returned on our way back to the car 30 minutes later, all was quiet; the majestic falcons still sat serenely enjoying the day but the small birds must have either moved on or decided no threat was imminent by now. Whilst watching the Peregrine, through the trees, I saw a large silhouette in the sky overhead: a Golden Eagle glided in from the ocean and slowly circled into view before eventually heading inland. On the lagoon the ducks had now been joined by a few Hooded Merganser and a Bar-headed Goose (an obvious escapee which I subsequently discovered had been around the Esquimalt area for some time). As we trekked back to the car park Raven called noisily overhead and just before we reached our destination movement in the undergrowth at the side of the trail alerted us to 2/3 Hermit Thrush, one of which we managed to see well.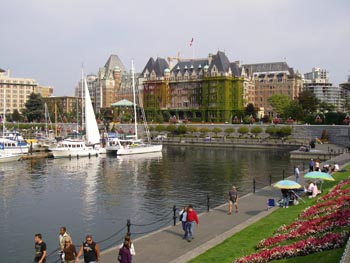 After a spot of lunch in a nearby coffee shop we moved on to Esquimalt Lagoon. Although the day had brightened up and most of the cloud disappeared there was a cool sea breeze, keeping temperatures down to c19° and we were pleased we had brought an extra layer of clothing with us today. The lagoon held the usual variety of gulls including a few Heermann's, 3 Mute Swan (tickable, unlike the ones we had seen earlier in Stanley Park), Black Oystercatcher and a juvenile Lesser Scaup. Two Turkey Vulture circled overhead and a lone Osprey flew in and landed on a dead tree, whilst all around us c50 noisy Brewer's Blackbird foraged in the pebbles and low bushes around the lagoon and car park. On the sea Red-necked and Horned Grebe were numerous, with 12 Surf Scoter and 3 Pigeon Guillemot. At 15.00 as the tide was coming in we noticed a large flock of small auks bobbing on the swell in the distance in the Juan de Fuca Strait in the direction of Fisgard Lighthouse. This seemed like an omen to move on so we got back in the car and drove round to Fort Rodd Hill and entered the compound there to walk out to the lighthouse. On the way we saw very little with just a few Black Turnstone and White-crowned Sparrow on the foreshore. When we clambered over the rocks at the side of the lighthouse to gain some height we were pleased to see the flock of auks had come much closer on the incoming tide and were in fact c80 Cassin's Auklet with 2 Marbled Murrulet in close attendance.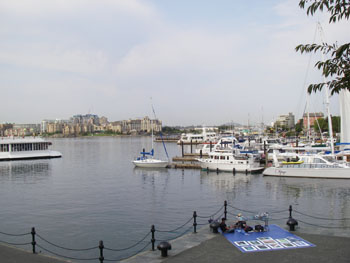 As we meandered back to the car park, with Esquimalt Harbour in the background, we saw a female and young Black-tailed Deer foraging in the long grass towards the water's edge. Whilst eating some fruit at the car we heard a Bewick's Wren calling nearby and were able to locate a jaunty individual strutting around in the bushes at the back of the car park.
By now, I was getting quite desperate to find a Surfbird and as we had tried Clover Point and surrounds on a number of occasions at low tide, we decided to return to see if high tide brought a change of fortune; so at 16.45hrs we pitched up at Ogden Point to try our luck. Unfortunately the water was too high and there were no waders in sight, but we did have excellent views of a Northern River Otter as it cleaned its fur and generally went about its business on the rocks at the start of the breakwater near the café. We swiftly moved on to Clover Point but apart from 3 Black Turnstone there were no other waders about. We returned to the hotel "Surfbirdless" after a round trip of 86kms for the day.
19/09/08 After yesterday's failure we headed out to Clover Point again at 09.00hrs to see if there were more waders around at low tide (not that I was still pining for a Surfbird!). Much of the same species were around as on our previous trips here; Harlequin Duck numbers had increased to 4 and not much seemed to be going on. I was ready to move on and cut our losses but Amanda persisted with scanning what I though were the barren waters of Ross Bay, to the east of Clover Point towards the Trail Islands. First she picked up 15 Surf Scoter, bobbing on the waves and diving to feed almost in unison; next came our only Pacific Loon (Diver) of the trip. By now Amanda was on a roll – she quietly asked "what are those large birds over there" pointing into the distance. I couldn't pick them up at first, but with further guidance was soon watching 9 Brown Pelican flying towards us. They circled around a few times as if searching for somewhere to land and then annoyingly disappeared beyond the next headland and did not reappear. Now it was my turn: while searching for the pelicans I had spotted 2 jaeger (skua) chasing the gulls in the bay. Turning my bins back to the area I was able to relocate 2 Pomarine Jaeger (Skua), working the gulls together in search of some tasty morsel. I was still "Surfbirdless" but in a short space of time we had added three new birds to our Trip List including one lifer (Pacific Loon).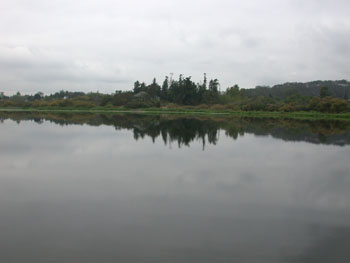 The morning remained overcast and cool as we moved on to Swan Lake Christmas Hill Nature Sanctuary to give it its full title. As we walked from the car park we met Warren, a local birder who, despite being in a hurry for an imminent appointment, was kind enough to return to the lake and show us the American Bittern he had just seen and then take us to the area recently frequented by a Northern Waterthrush, before dashing off on his way. Unfortunately, although we heard it call, we missed out on the waterthrush despite two attempts of roughly an hour in total. During our first vigil on the floating bridge we were joined by another local birder. With very little happening I was searching the treetops at the side of the bridge when I noticed a hummingbird flitting around as though feeding, cocking its tail as it hovered. It then landed about 5 metres away and promptly extended a massive tongue which at first glance appeared almost as long as the bird itself. Putting its tongue away I was taken aback to see a long down-curved bill unlike any of the Anna's Hummingbirds I had seen. Unfortunately the bird did not rest for long and as my SLR was in the car (isn't it always the case?) I wasn't able to get a photo. No colour was visible on the bird's breast, underparts and gorget which were all a uniform grey, whilst it's back appeared to be a dull green. Although highly unlikely here, the nearest we could all come up with was Black-chinned Hummingbird; unless it was an Anna's with a bill deformity. As we returned to the Nature Centre we met another local birder, Chris Saunders, who is a regular at Swan Lake. We couldn't get him too interested in our sighting as he appeared convinced the bird we had seen was an Anna's Hummingbird. We went back to admire the Bittern once more and stayed with Chris and a few friends for a short while. Chris helped us separate Purple Finch from the numerous local House Finch and we watched Cooper's Hawk and Northern Harrier over the lake plus nearby Spotted Towhee and Lincoln's Sparrow.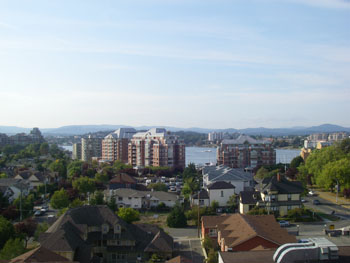 From time to time Anna's Hummingbird and a female Black-headed Grosbeak joined the finches perched in the tree tops until we eventually returned to the floating bridge for another attempt at the waterthrush and to try and relocate the "mystery" hummingbird. Regrettably we failed with both. We then decided to walk around the lake but saw little new other than Downy Woodpecker, Dark-eyed Junco and Marsh Wren.
Back to the Surfbird quest! We were advised by Chris and a couple of other birders that our best chance of success lay in the Cattle Point area. On the way we stopped for a spot of lunch at the coffee shop at Oak Bay Marina and arrived at Cattle Point at 15.00hrs. By now the clouds had cleared away and the day had turned sunny and warm – that was as good as it was going to get! It was disappointingly quiet and apart from a few gulls all we saw was Northwestern Crow, Starling and 4 Harlequin Duck. We had a long drive over to Tofino the next day so, after a round trip of 53kms we returned to our hotel to pack and check online for local bird sightings.
At 17.00hrs I wandered down to the hotel's business centre to find the computer occupied by an eastern European lady who said she spoke little English. When I asked how long she would be using the facilities (very politely) she replied that she was a journalist, "invited to your country by the government" and would be using the computer for a while, downloading photos etc and she "politely" told me to visit reception and get the hotel management to sort out another computer for me. OK I thought, walk away. I did ask at reception if there was anything they could do to help as they request business centre users to be mindful of the needs of other guests. All they could offer were directions to the nearest internet café. I returned around 18.30hrs just before we went out for dinner and she was still there, spluttering and shooing me away. I went back to the business centre again at 20.30hrs and she was still there….the computer was steaming and there was little sign she would go away this side of midnight; so I gave up, cursing all of eastern Europe and their female journalists in particular.Imagine my dismay on reaching Tofino to discover that along with c100 Black-bellied Plover seen at Bowker Avenue, there were at least 20 Surfbirds! Bowker Avenue is situated between Oak Bay Marina and Cattle Point, about 1km from the marina…….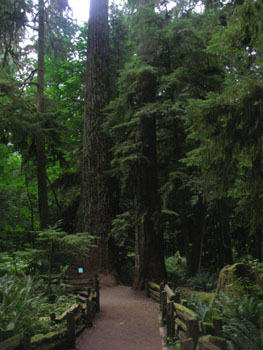 20/09/08 Unaware of the nearby Surfbirds we left Victoria at 09.15hrs heading north towards Nanaimo and Parksville. We stopped at the latter for a spot of lunch at a coffee shop and to find a hotel for one night in three days time, when we returned from Tofino. Our next stop was Cathedral Grove, an impressive 800 year old area of forest comprised mainly of Douglas Fir (tallest tree c76 metres) and newer growth of Western Hemlock – quite an awesome bit of woodland. We heard a few calls but didn't spot any birds. Motoring on, we took a left turn to Ucluelet as we reached the Pacific Rim National Park and the coast. We visited Amphitrite Point Lighthouse; it had been cloudy and cool all day and with the addition of a cool sea breeze we did not linger. There were a few cormorants flying past the headland and c8 Western Grebe on the water, but not much else. We arrived in Tofino at our hotel at 17.00hrs after a seemingly longer journey than 335kms with a car that was showing signs of fatigue – the dash was indicating an oil change was required and the automatic selector seemed to be having a little problem engaging in gear. We retired to our balcony overlooking McKenzie Beach to watch 2 Common Loon, 7 Red-necked Grebe, 2 Surf Scoter, Harlequin Duck, Pigeon Guillemot and a Great Blue Heron out in the bay.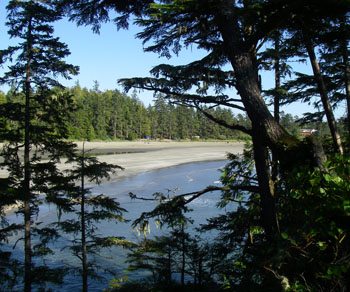 21/09/08 The day dawned cloudy and cool and pre breakfast I had 2 Song Sparrow and a cracking Fox Sparrow a few metres from the balcony. After breakfast the previous night's fears were confirmed as we couldn't get the car off the car park. Not good. After sorting out a replacement we asked reception how far it was into town, to be told "about 20 minutes". We decided a taxi was called for and eventually got into Tofino at 11.00hrs…..good job really the journey is about 3½kms and the walk down the road from the hotel to the main road takes 20 minutes by itself. There is only one Tofino Taxi and driver; accordingly he tends to be quite busy and on occasions can take a little time to get to you if he is already on a trip out of town. The vehicle is a bit of a boneshaker and the taxi driver (Michael I think) is a bit of a character, preferring passengers to help themselves with their luggage and find room for it amongst the food and fishing gear in the boot. He did, however, serve us well on 4 separate trips and was interesting as well as informative. After we had booked an afternoon (13.30hrs) whale watching trip with Jaime's Whaling Station we decided to visit Tofino Botanical Gardens (just as it started to rain c11.30hrs). Even allowing for the weather the gardens were a bit of a disappointment as they were past their best for the year and probably should be visited in spring to early summer. The tide was well out and all we could find on the adjacent Tofino mudflats was a solitary Great Blue Heron. Apart from a few American Robin and 3 Steller's Jay there were no birds about and with the rain stopping around noon we elected for a 30 minute walk back to the hotel to get our wet weather gear and a few other layers for our trip out on the water.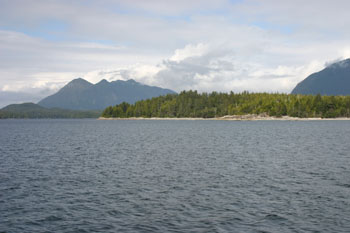 After our whale watching experience in New Zealand almost 10 years ago we were really looking forward to this trip, even though we knew that birds would only be a very minor consideration. The weather had improved and by the time we set off the sky was cloudless but there was a healthy sea breeze. Once we picked up speed on the open water we were glad we had the extra layers and our waterproofs as it was quite cold. Out in Clayoquot Sound we had quite good views of both Grey and Humpback Whale although at times I can't help but feel that the various whale watching boats do spend a little too long circling these magnificent beasts once they have found them. We also visited a Steller's Sea Lion colony and had a surprise brief encounter with a Sea Otter. On the bird front, in addition to numerous gulls, Common Murre were everywhere, we must have seen literally thousands of birds along with a single Parasitic Jaeger (Arctic Skua), Pelagic and Double-crested Cormorant, c10 Rhinoceros Auklet, 4 Sooty and a single Pink-footed Shearwater. We enjoyed the trip, but nowhere near as much as our previous one in New Zealand.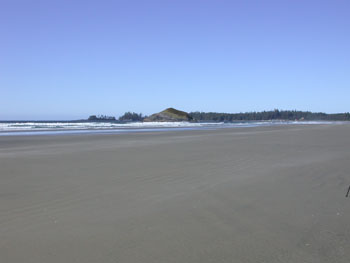 22/09/08 With a new vehicle delivered late yesterday, we were able to set out at 09.00hrs to explore some of the local west coast sites. We started off at Grice Bay and in the car park at the end of the road to the bay, the first bird we saw was one of our targets for the day; 5 Golden-crowned Sparrow were busy feeding in the grass verge by the roadside. The day had dawned cloudless and sunny and the change in weather seemed to have brought out the birds: we had a bijou ½ hour watching the sparrows and Wilson's, Townsend's and Golden-crowned Warbler alongside Hutton's Vireo in the surrounding trees and shrubs. The tide was in and there was little on the water and no exposed shoreline, accordingly we moved on to Long Beach, where despite the sunshine there was a strong, cold onshore breeze. A group of c30 Sanderling included a single Semipalmated Sandpiper and flitted continually, feeding along the water's edge and moving on from time to time as they were disturbed by walkers and their dogs. Three Savannah Sparrows were moving in and out of the seaweed left by the high tide but we couldn't see anything out on the water as the waves were being whipped up by the wind.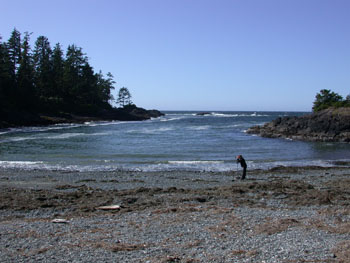 Rather chilled after a lengthy walk, chasing a further flock of waders that then flew further away just as we got within scoping distance, we returned to the car and headed to Wickaninnish Beach. We had lunch in the restaurant here: superb location, good food, but "iffy" staff with a maître d' who seemed more intent on posing and chatting on the phone than seating and dealing with customers and helping his other staff by dealing with bar orders and coffee. As a result the service, especially for drinks, was slow. Offshore we saw Western Grebe and 2 Surf Scoter and, walking along the beach trail, we were met by people who had just seen a bear on the beach. Indeed there were warning signs for "bears in the area" all around, but when we got there two photographers on the beach advised us the bear had just left. We did however see Chestnut-backed Chickadee, Golden-crowned Kinglet and Orange-crowned Warbler in the surrounding woods. On our way back from Wickaninnish we called in at the Shorepine Bog Trail but didn't see anything other than the occasional crow and then moved on to Chesterman's Beach with a similar result, although the beach was spectacular. Returning to Tofino around 16.00hrs, we went to the harbour to scope out the gulls looking for Thayer's Gull but with no success; Heermann's Gull being the only bird of note.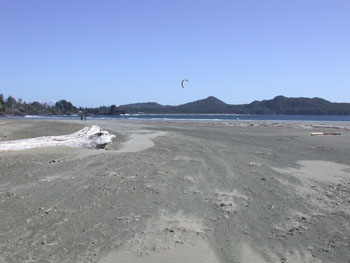 Our little jaunt ended up with a round trip of 128kms for the day, but with a strong cooling westerly blowing all day, temperatures did not get above 16° despite wall-to-wall sunshine.
23/09/08 All-in-all Tofino proved to be a little disappointing for us with few birds and not much to do that specifically interested us and with the expensive accommodation not really living up to our expectations, we were pleased to be on our way today and set off after breakfast for the east coast with a clear sky and brilliant sunshine marred only by the cool westerly still blowing. Getting the worst of the twisting, narrow roads behind us, our first stop was Port Alberni where we went to the harbour to have a general look around. In addition to the usual gulls, crows, ducks and Canada Geese we saw c200 Common Merganser, Double-crested Cormorant, Northern Harrier, Turkey Vulture and a lone Trumpeter Swan (the only one of the trip and another lifer). Retracing our steps out of town we tried to find the J.V. Clyne Nature Sanctuary and despite seemingly comprehensive instructions in "The Birder's Guide to Vancouver Island" we failed miserably. The book is now considerably out of date and following our return to the UK I received much more up to date instructions complete with a map, from Sandy McRuer, a local birder. While driving around searching for the Sanctuary we did however manage to pick up a good flock of c40 Pine Siskin in the grassy roadside fields. Having picked up a sandwich and coffee in Port Alberni we headed out towards Toad Lake, calling initially at Stamp Falls Provincial Park to watch the Chinook Salmon heading upstream to spawn.
Birds were a bit thin on the ground so we continued on our way along Beaver Creek Road turning left onto the gravel logging road signed Comox Main in the hope of catching up with either bears or grouse as both had eluded us to date. Along the roadside we had good views of Northern (Red-shafted) Flicker and Dark-eyed Junco (Oregon species) in the fields around farm properties and, having travelled c1½kms down the Comox Main we stopped as we saw at least 20 Raven circling, apparently feeding behind a small hillside in an area that had obviously been logged. We then spotted 2 Turkey Vulture sat on top of the hillside and as we were about to move on I saw a Black Bear moving towards the area. After the bear disappeared over the hill we moved on to around Km 7 with the only birds of note being a flock of c100 Pine Siskin and we also saw a few Black Squirrel. We retraced our steps and as we reached the spot where we had previously seen the bear and birds feeding we pulled over to see if there was any further action. The Raven were still feeding and as we were watching the birds another car pulled over and we met Jim Cuthbert, a Senior Project Officer with The Land Conservancy. Jim was interested in our theory of the birds and bear feeding on a wildlife kill and immediately set out across the undulating land to investigate. He returned after ½ hour having discovered up to 20 animal carcasses of varying ages from old, stripped bones to relatively new flesh covered limbs. Subsequent investigation confirmed the carcasses as pig and the local wildlife had obviously taken advantage of an easy source of food. Before getting back to Port Alberni we came across a herd of 10 Black-tailed Deer in a roadside field along with 15 Canada Geese.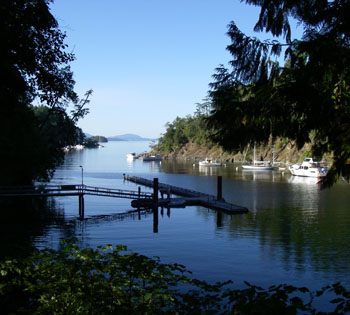 On our way to our hotel in Parksville we called in at Qualicum Beach at c17.00hrs and, with the tide fully in, spent a really enjoyable hour taking in the action offshore. In town, just before we reached the beach, a small herd of Black-tailed Deer grazed by the roadside – all a bit surreal really. The beach stretches for a few kms and there are parking opportunities all the way along the road which runs adjacent to the beach. We picked out c20 Common Loon, c80 White-winged Scoter, c60 Surf Scoter, c6 Red-necked Grebe, c20 Horned Grebe, c300 Bonaparte's Gull, along with c10 Ring-billed, Herring and California Gull on the water whilst 2 Black Scoter flew south towards Parksville but did not land (disappointing really as these were the only BS seen on our trip). With an obligatory Belted Kingfisher on a post just offshore we had an excellent end to our journey covering c270kms for the day.
24/09/08 We enjoyed a leisurely breakfast of cereal and toast in the hotel (although we could have chosen anything from an extensive menu) – service was very slow but, looking at the artfully arranged, finely sliced strawberries in the cocktail glass of cereal, it was quite understandable. We set out for Englishman River estuary and walked along the trail on the Plummer Road side at 09.30hrs. Good numbers of Song Sparrow, Purple Finch, Spotted Towhee and Steller's Jay were in the bushes which were laden with berries. We also had Bewick's Wren and a few Pintail on the river, while a male Pheasant flew across a field on the opposite bank of the river and, surprisingly, landed in a tree. As a Bald Eagle drifted by overhead we moved round towards the Art Gallery to look out over the Strait of Georgia. The water was quite quiet apart from California Gull, Common Loon, Horned Grebe, Surf Scoter and the occasional Coho Salmon leaping clear of the water and no doubt tempting the local fishermen. Turning back to the river we found 3 Western Sandpiper, 3 Killdeer and a Short-billed Dowitcher exploring the muddy banks of a small creek. Driving back to Plummer Road through the housing development we came across a large undeveloped plot with several berry laden bushes which were alive with c50 each of Starling and American Robin and the front lawns of the plots opposite were equally busy with a similar number of Brewer's Blackbird, plus several Brown-headed Cowbird, whilst 2 Northern (Red-shafted) Flicker bickered playfully on the overhead wires. We could only assume the birds on the lawns had encountered a swarm of ants, such was their frenzied feeding activity.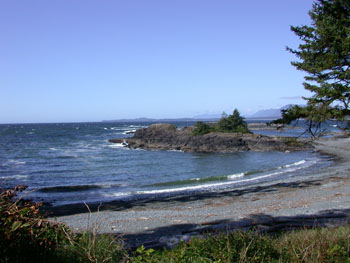 The weather had been cloudy and cool all morning and as we moved on to French Creek the first light spots of rain began to fall. We didn't see much here, just a few more Killdeer, Black Oystercatcher and a California Quail in a cul-de-sac on the adjacent housing development. As we returned to the main highway we passed a Mule Deer at the side of the road – I couldn't quite get used to seeing deer so close in an urban environment. We then went to the Shelly Road side of Englishman River around 11.00hrs. Unfortunately, as we left the car, the rainfall became much heavier and the birds all seemed to seek shelter. We did manage a pair of Dark-eyed Junco (Oregon species) on the path in front of us, up to 40 American Robin and a noisy Belted Kingfisher before we decided to call it a day and head for an early ferry. We dashed down to Departure Bay, Nanaimo and once again were lucky to be almost the last vehicle on board as we caught the 12.55hrs Horseshoe Bay ferry with about 5mins to spare. By the time we had crossed over to Vancouver the rain had stopped and so we decided to take the coastal route back to the city, making a stop at Lighthouse Park in West Vancouver, a quiet spot set in a pleasant neighbourhood. We had a nice walk through temperate rainforest, with dense groves of towering, majestic old Western Hemlocks and Western Red Cedars, draped in lichens and mosses, down to the lighthouse but it was a total waste of time for birds; we heard the occasional chickadee call, but that was about it. Obviously a case of the right place, but the wrong time once again.
With hindsight we should have spent more time around the central east coast region of Vancouver Island as our whistle stop tour did not do the area justice. We could definitely have spent one night less in Victoria and also probably picked up a further day by only spending two nights in Tofino, as this would have been more than adequate if our car hadn't broken down. As they say….there's always next time.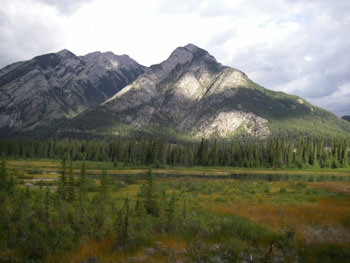 25/09/08 We left the hotel at 09.00hrs and drove south out of the city in persistent rain, with a heavy grey sky holding out little hope of it stopping. Having missed the area previously we decided to head to Blackie Spit in the hope that by the time we arrived the rain would have stopped as the sky was a lighter shade of grey in the south. We arrived at 10.40hrs and spent an hour birding from the car in an attempt to keep dry – having opened one of the sliding doors I set my scope and tripod up in the back of the car and was able to use it in relative comfort. After parking up we were just checking out the Common Loon and Red-necked Grebe on the seaward side of the Spit when 2 Hudsonian Godwit, with their distinctive underwing pattern and black tail band, flew in towards the Spit and then off to the opposite side of Mud Bay, never to be seen again. A shame really as this was a lifer and I would have loved to get a better look at the birds. In addition to numerous Horned Grebe, there was the usual array of ducks, gulls and herons on the water and a solitary Long-billed Curlew with 2 Marbled Godwit on the foreshore nearby. With the rain persisting we moved on to the foot of Beecher Street and briefly scanned offshore but didn't turn up anything new. A small flock of c15 Black-bellied Plover moved along the water's edge keeping one step ahead of the incoming tide and upwards of 30 Barn Swallow darted overhead, busy feeding. At noon we decided to visit the local organic coffee shop for an early lunch and were delighted to find the rain had stopped as we emerged 40 minutes later. We returned to the Spit and this time actually got out of the car! By now, although high tide was only c16.00hrs and about 3 hours away, there was no exposed mud around the Spit and little sign of any shorebirds. Walking along the Spit we had a single Surf Scoter, 3 Caspian Tern, Bald Eagle, Pigeon Guillemot, Red-breasted Merganser, Common Yellowthroat and a close encounter with 3 Western Meadowlark.
Returning towards the car park we saw a Northern Harrier quartering the edge of the "Tidal Pond" so we decided to explore the area out towards the tidal inlet known as "Farm Slough". A commotion in the tree tops alerted me to the possible presence of an owl or raptor and a brief scan of the area produced a cracking view of a perched Sharp-shinned Hawk enjoying a brief rest in the sparse canopy. The bird's peaceful repose didn't last too long as it was continually harried and chased by a pair of Northern (Red-shafted) Flicker and several Northwestern Crows, giving us good size comparisons. We were entranced as we watched the birds toing and froing for 15-20mins before the hawk decided enough was enough and flew off. With peace and quiet restored we carried on our way, finding 3 Lesser Yellowlegs before heading back to the car and returning towards Boundary Bay to get there about an hour before high tide.
To start off we decided to try 72nd Street: as we drove down towards the bay we noticed some local birders had stopped at the roadside near the Turf Farm. In the short grass not far from the road, there was a lot of activity with a small mixed flock of waders and we saw a single Long-billed Dowitcher, c9 Semipalmated Plover, c30 Killdeer, c15 Least Sandpiper and 5 Pacific Golden Plover. Moving on to the car park we walked along the dike by the golf course and had up to 6 Northern Harrier, Peregrine, Bald Eagle, thousands of Pintail and American Wigeon, 9 Snow Goose flying over, a solitary Whimbrel, c10 Greater Yellowlegs and a sizeable flock of Black-bellied Plover. In the bushes at the side of the golf course we picked up Yellow-rumped (Audubon's) Warbler, Black-capped Chickadee and a passing Cooper's Hawk whilst on the course itself there were a few American Pipit.
With quite a bit of bird activity evident further east, we moved on to 96th Street where we had a single Collared Dove on the roadside wires before walking a short distance west along the dike scanning the nearby water's edge. Again there were thousands of Pintail and American Wigeon on the water and up to 40 Barn Swallow feeding overhead. Among the roosting but restless shorebirds we picked out c60 Black-bellied Plover, small flocks of Western Sandpiper and Short-billed Dowitcher, 2 Dunlin and single Pacific Golden Plover, Sanderling and Marbled Godwit. A few Northern Harrier remained on patrol and a flock of c20 American Pipit flitted around the dike. We returned to Vancouver after the rush hour once again, having covered 140kms and, despite the early rain, having seen a lot of good birds.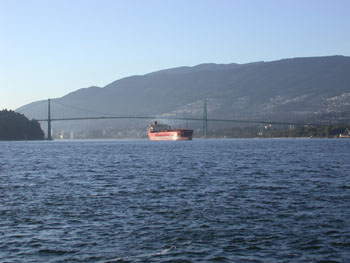 26/09/08 Another 09.00 start today as we decided to return to the Reifel Bird Sanctuary, having enjoyed our previous visit so much and to see what had changed over the three weeks since we were last there. The weather had once again picked up and although there was still cloud about we had quite a sunny day with temperatures reaching c20° until it clouded over around 17.00. The usual suspects were all present, but in addition we also saw Golden-crowned and Chipping Sparrow, Golden-crowned Kinglet, lots of Spotted Towhee, a late Pacific Slope Flycatcher, Downy Woodpecker and a roosting Barred Owl (our first owl of the trip and a lifer). We had better views of Fox Sparrow as there were now more about and rather than just a fly past, we had 6 Sandhill Crane virtually within touching distance, with one clambering up the bank where we stood and slowly following us down the path, feeding as it strolled along. This time we managed to pick out Cinnamon Teal and Blue-winged Teal among the ducks; Barn Swallow were still around in reasonable numbers and Snow Goose numbers were beginning to build. Cooper's Hawk, Wilson's Snipe and Lesser Scaup all put in an appearance and there were at least 2 Black-crowned Night Heron present. After some fruit and a drink of water back at the car we decided to return to Blackie Spit again, stopping briefly at 72nd Street Turf Farm on the way. 18 Killdeer remained and we had a Northern Harrier glide by overhead but all the other waders appeared to have moved on. High tide was at least 3 hours away so Boundary Bay was relatively quiet and the birds too far away, so we carried on to Blackie Spit, arriving around 15.00hrs. Even so, water levels here were very high and the majority of waders had been pushed over to the other side of Mud Bay. Today we started off around the "Tidal Pond" and less than 20 metres from the car park, were amazed to find a Cooper's Hawk sat on a branch out in the open, at eye level less than 10 metres from the path – a photo opportunity too good to be missed! We picked out 2 Marbled Godwit and a few Killdeer and Greater Yellowlegs amongst all the teal and Wigeon and in the distance I noticed a small flock of waders fly in to the end of the Spit. As we walked back towards the car we spotted a Greater Scaup lingering just off the car park and giving great views. I then walked out along the Spit to investigate the wader flock and was rewarded with stunning close-ups of c40 Least Sandpiper and a lone Sanderling. Unfortunately the light was pretty poor as it had clouded over by then and the photos are not the best. We retired to a local coffee shop to use up a little time and avoid the rush hour and set off back for Vancouver at 18.00hrs to complete a round trip of 120kms.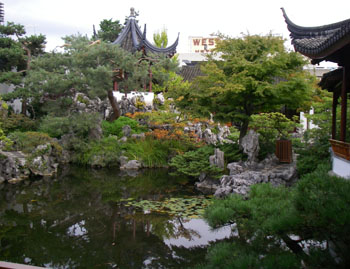 27/09/08 A slow start today, leaving the hotel at 09.30hrs to visit the nearby Dr Sun Yat-Sen Classical Chinese Garden which only opens at 10.00hrs. The garden is a small walled oasis with stunning oriental buildings and planting in the middle of Chinatown and well worth a visit. Birds were not on the agenda really but I couldn't help hearing scolding Black-capped Chickadee and American Robin in the treetops overhead and quickly located the source of their agitation – a beautiful Barred Owl, dozing gently just below the canopy and just a few feet above our heads. Although we didn't really need them, I rushed back to the car for our bins. With time to kill, we moved on to Stanley Park at 11.15hrs. Apart from the usual Mallard, gulls, cormorants and Great Blue Heron, very little was going on, although we did have 6 Western Grebe off Third Beach. We therefore decided to have an early lunch at the Sequoia Grill before heading off to the airport to begin our long journey back home.
SUMMARY
Our Canadian Trip was a birdwatching holiday with a difference.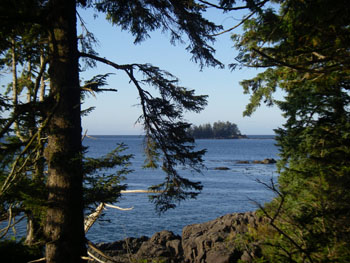 We did not get up at the crack of dawn, apart from the one day when we were guided by Chris Charlesworth in the Okanagan region. We enjoyed the scenery and visited a few Gardens along the way, taking breaks whenever we felt like it and definitely not "chasing" birds. We stayed in very comfortable hotels and finished birding for the day whenever we had had enough. Notwithstanding all this we still managed to see 191 species (with a further 3 heard only) of which 64 were lifers and along the way we saw plenty of other exciting wildlife. We both thoroughly enjoyed our holiday and were sorry to be returning home. Vancouver and Victoria are great places to spend some time and both the Okanagan and central eastern Vancouver Island are well worth further exploration. We were a little disappointed with Tofino and the Rockies although the scenery was spectacular, and in itself, worth the visit. We plan to return to British Columbia soon, probably in late spring/early summer and I already have a target list of c60 bird species.
Trip List (daily sightings only)
Site Directions
There are a number of websites with directions to the well known birding sites in British Columbia including:-
BC Adventure wildlife viewing in British Columbia including Vancouver, Vancouver Island, Okanagan and all other regions.
However, on occasions we found some of the directions difficult to follow and here are some slightly adjusted variations.
VANCOUVER AREA
Reifel Migratory Bird Sanctuary – From Hwy 99, follow signs to Ladner. From the junction of Hwys 10 and 17, follow Hwy 10 (Ladner Trunk Road) west then, from the center of Ladner, take 47A Street which becomes River Road. Follow River Road west for 6 km and at the Sanctuary sign at Westham Island Road turn right, crossing the Canoe Pass Bridge to Westham Island. Follow this road for 4.8 km to the Sanctuary entrance. The driveway to the left leads to the Sanctuary's parking lot.
Tsawwassen Jetty – From Hwy 99 take Hwy 17 and follow the signs for "Tsawwassen Ferry Terminal". When you enter the manmade spit keep to the right hand of two lanes; on the right, just before the terminal there is a small parking-lot with space for a few cars. Alternatively, continue towards the terminal where there is a large pay-parking lot. 
Boundary Bay – 64th Street to 112th Street – From Vancouver, take Hwy 99 and follow signs to Hwy 17 and Tsawwassen. Exit from Hwy 17 on to Ladner Trunk Road, or Hwy 10, by turning left at the first lights. From the south take Hwy 99 and exit on to Hwy 10 heading west. Access Boundary Bay by driving south on 64th, 72nd or 80th Streets from Ladner Trunk Road or by taking 96th, 104th or 112th Streets from Hornby Drive which runs east at the junction of Hwy 10 and 99. 
Blackie Spit and White Rock Waterfront – From Vancouver, take Hwy 99 and follow signs to White Rock. For Blackie Spit, after crossing the Serpentine River take the White Rock exit (King George Highway), turn right at Crescent Road, continue for 5 km, bear right on Sullivan Street and then turn right again onto McBride Avenue. For the White Rock waterfront, stay on Highway 99 as far as the 8th Avenue exit. Head west on 8th Avenue; this becomes Marine Drive and closely parallels the waterfront.
Maplewood Conservation Area – 3 km east of the north end of the Second Narrows bridge where Hwy1 crosses the Burrard Inlet. Immediately over the bridge take the first right turn on to the Dollarton Hwy. The entrance is on the south side of the road after 3 kms.
OKANAGAN REGION
Manning Provincial Park – Situated east of Vancouver and easily reached by driving east on Hwy 1 until Hope where you turn onto Hwy 3 and drive a further 67 km until you reach the Park Headquarters right by Hwy 3. The trail around Lightning Lake has good potential. 
Vernon Commonage – From Kelowna take Hwy 97 north. About 10kms past Oyama turn left on to Bailey Road by the large sign for Predator Ridge Golf Course. After 2kms turn right on to Commonage Road towards Vernon. Stop wherever the habitat looks good along the way. 
SALMON ARM
Christmas Island Trail – Head east along the main Hwy 95 through Salmon Arm and before the end of town turn left following the sign for "Water Front" towards the Pier. After crossing the railway and immediately before the car park turn right on to Harbour Front Drive. Follow the road for less than 1km to its end where there is a small car park.
Peter Jannink Nature Park – Head west along the main Hwy 95 through Salmon Arm and just before the end of town turn right on to 3rd Street NW by the Supersave Garage. Drive on across Lakeshore Drive, where road name changes to Narcisse Street, and the railway tracks to the end of the road…about 0.3kms.
VANCOUVER ISLAND
Clover Point – Located on the Victoria waterfront along Dallas Road just east of Beacon Hill Park.
Esquimalt Lagoon – From Victoria take Hwy 1 to Junction 8 then take Hwy 1A left to Ocean Boulevard and follow the Fort Rodd Hill signs. When you reach the left turn down to the Fort, carry straight on to the causeway that separates the lagoon from Esquimalt Harbour.
Witty's Lagoon – Coming from Victoria follow Hwy 1 westwards and turn off the Hwy towards Colwood (exit 10). Follow Island Hwy through Colwood. It becomes Sooke Road and you pass Royal Roads University. A short distance after the University turn left onto Metchosin Road, which you follow until you see the second sign for Witty's Lagoon. Turn left into the car park next to the nature house. From here it's possible to follow a trail down towards the lagoon and further on to the beach.
Maps
Okanagan
Reifel Bird Sanctuary
Rockies
Vancouver 
Vancouver Downtown
Vancouver Island