INTRODUCTION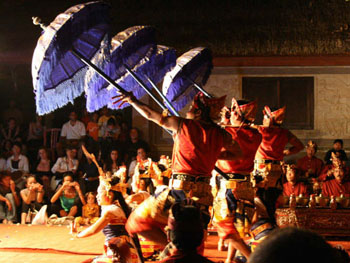 The plan was to mix birding and wildlife photography with general sightseeing and touring – to keep Gill happy! We booked our flight via Dialaflight.com and pre-booked 2 nights on the web at the Dhyana Pura resort in Seminyak (361 730442) to get over the journey (Rph 350 – a lot cheaper than their top line advertised price as pre-booked, but found later that you can haggle over everything, including rooms).
I took 2 bird reference books – A Photographic Guide to Birds of Java, Sumatra and Bali (Photoguides) by Tony Tilford & Birds of South-East Asia (Field Guide to) by Craig Robson. These proved a reasonable pair and with a bit of previous research to pin down a checklist of birds regular in Bali, I had few gaps left to resolve. I also took the The Rough Guide to Bali and Lombok (Rough Guide Travel Guides) and Bali and Lombok (Lonely Planet Country Guide).
DIARY AND BIRD SIGHTINGS
9th July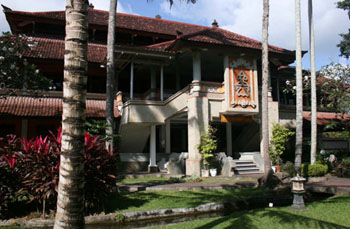 Arrived Denpasar airport at 19.00hrs – it gets dark at about 18.00hrs, so not much birding possible on day 1. Took a taxi to Dhyana Pura, Seminyak (Rph 60,000).
Much better rates of exchange here than in UK, even at airport, getting Rph 17–18.5K to the Pound Sterling. Traffic was manic, bikes weaving in and out of cars and trucks, traffic pulling out from left and right or just stopping without warning and seemingly no rules. Scary, as I was getting a car, but soon realised only rules were don't hit anything in front of you and if you over(or under)take, toot politely so that people know you're there. Booked in then went up to Jalan Abimanyu for drinks – found a great restaurant/bar, "Lucky day" (0361 731925) that did excellent food and "Bintang" beer of course.
10th July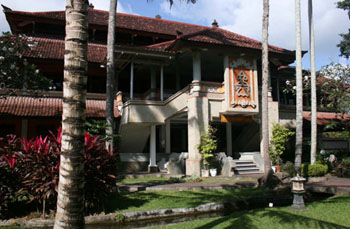 A lazy day to recover. Took stroll around grounds and picked up first few birds:- Java Sparrow, Scaly Breasted Munia, White Headed Munia, Bar winged Prinia, Yellow Vented Bulbul, Glossy Swiftlet, Spotted Dove and Tree Sparrow. (!)
Took a stroll down the beach to Legion (If you don't want to attract a large following of street sellers, masseurs, would be guides etc. you need to be prepared to ignore people and give firm no's!) and hired a car to be at the hotel next morning, (about £6 a day from Artha Sedana in Padma Utara – 0361 7864659) then lazed around the pool till dinner time. Went back to Lucky Day to eat and picked up loads of fruit bats feeding on a tree at the resort entrance, a large red blotched Gecko in the lobby and Savannah Nightjar calling and feeding over the town.
11th July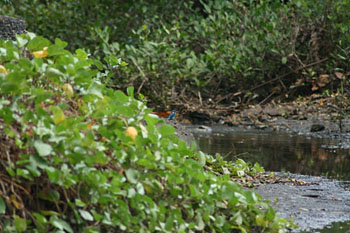 Car arrived bang on time, so loaded up and headed off North, avoiding Denpasar, towards "Tanah Lot". Discovered that there are no road signs and the maps are all different. Best way to find out where you are is watch the shop names – they have the road name and district on them. Tanah Lot was pretty, but very touristy, lots of market stalls. Then got lost heading North and West out toward Gilimanuk – our next goal. On the road picked up Javan Pond Heron, Sacred Kingfisher and Little and Intermediate Egret. Got to Cekik and the Bali Barat National park headquarters at about 16.00hrs and stopped off to book a trek the next day.
The guide that we met (Eko Siswanto – 0365 61305) there was great and after agreeing an early start at 05.40hrs next day, he showed us around the HQ grounds and a few of the birds there:- Olive-backed Sunbird, Scarlet Headed Flowerpecker, Common Iora, Small Minivet and Pink-necked Green Pigeon.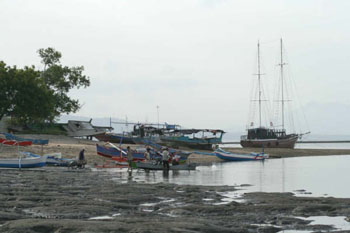 It was now dusk, so leaving Eko, we went and booked in to the nearby Hotel Lestari (0365 61504 – Rph 200 a night). A pretty basic place, with no restaurant – but you're off the tourist trail a bit up here. Only one small local Warung (Bilungung) on left just after the Dragon gate at the entrance to Gilimanuk and a small mini market – so food choices very limited. The street stalls in the centre of town catered to the Javan lorry drivers and the food was pre-cooked on open display and covered in flies. We gave those a miss and settled for rolls, beer and cheese from the store.
12th July
Up at 05.00hrs. The hotel brought us coffee toast and jam at 05.20hrs and at 05.30hrs we left to meet Eko at the Park HQ. He took us up to the hill overlooking Labuhan Lalang, through scrubby woodland in the dark and we rested at the top in a clearing to watch the sun come up over the mountains. Birds seen here included Grey Rumped Treeswift, Coppersmith Barbet, Long-tailed Shrike, Javan Kingfisher and we heard Green Jungle-fowl.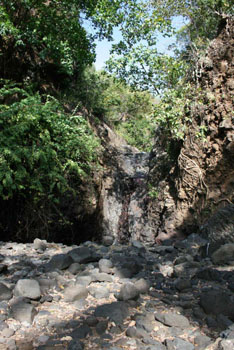 Moving off down the hill we saw 5 Black Thighed Falconets, who posed on a dead tree nicely for us and at the bottom, by a dry riverbed with pools, we saw Giant Tree Squirrel and Black Monkey, Zebra Dove, Crested Serpent Eagle (flew over calling), Sacred Kingfisher, Blue Eared (Forest) Kingfisher, Rufous Backed (Oriental Dwarf) Kingfisher, Cerulean Kingfisher, Grey Cheeked Bulbul, Pied Fantail, Emerald Dove, Fulvous Chested Jungle Flycatcher, a Skink with orange sides and a Green Macaque Monkey (plus loads of butterflies and Banded Pitta heard!). We followed the creek down to the road where it became tidal and saw mudskippers and loads of Scaly Breasted Munia coming down to drink and bathe. Crossing the road to the small field opposite we disturbed 4 Small Buttonquail that flew off to the field edge, then continued into the mangroves for a way – but it was lunchtime and nothing else about.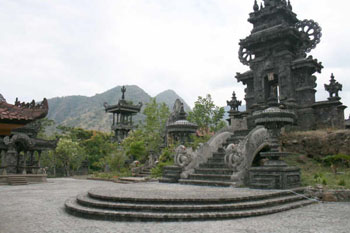 We stopped for lunch at a nearby Warung, back on the road then headed back to the park headquarters and walked a route out of the back to the shore and along into the campsite area. Here we picked up Chestnut Headed Bee-eater, White-breasted Wood Swallow, Javan Munia and a pair of Collared Kingfisher. Then headed to Gilimanuk and back down to the mangroves. Parking in a field behind them we came across a White-shouldered Triller en route, then walked down into the mangroves. Loads of brightly coloured crabs here (Fiddler?) with a single big red, white and yellow claw each which they waved at each other in display or threat. More Sacred Kingfisher here. Looking out to the far shore we made out 2 Beach Thick Knee and a Striated Heron and on the way back picked up a bulbul that Eko called "Ashy Bulbul" – one of the few times my books let me down; it wasn't listed and the look I'd had wasn't good enough to pin down which of the dark headed contenders it was. It was now approaching dusk, so we headed back to the park HQ to drop Eko off and settle up. As we got out Eko heard a call and dashed excitedly round to the back of the office and as a last bonus for the day we had great views of 4 Pied Oriental Hornbills in a small tree. We'd been out for nearly 12 hours and I gave Eko Rph 700K for the permit and being our guide for the day. Worth every penny; a great day out!
13th July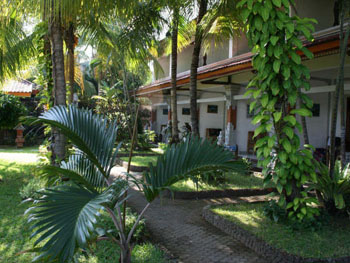 Up a bit later today. After breakfast loaded the car and headed off North through the reserve and out along the coast to Lovina. No birding today – stopped at a couple of temples and saw loads of Green Macaques. Booked in to Padang cottages in Gillbukbuk for Rph 150 a night. Much higher standard than last place and right by the beach. Went there for a beer and to watch the sun go down from the Sea Breeze bar(?), fighting past the various sellers of necklaces, sarongs, paintings, and astrology charts on the way. We talked to one of the boat owners and booked a dolphin watching trip early the next morning. (06.00hrs!) for Rph 40k, then headed back to have dinner in one of the 2 big restaurants at the main "dolphin" square, the Kakatua (Cockatoo). We chose it because it was busy. Although the food was OK, it wasn't that special and the service was slow.
14th July
Up at 05.30hrs and out for the Dolphin trip. Just a few boats left from our beach but as we got further out I counted about 50 boats spread out across the bay. They were only small, little 4 people dugouts with outrider poles and an outboard. I don't know what the dolphins feel about this daily chase, but they could easily avoid the boats if they wanted to and by the time the boats all got to where they had last been, they often did! But they seemed to come to us some of the time and gave us great views – so not sure whether we were disturbing them or not. Back at 07.30hrs for breakfast, then I headed back to the boat and took a ride out to the reef to go snorkelling. The reef had been badly damaged in places but I still found some great corals, big blue starfish and loads of different and brightly coloured fish. I spent a pleasant hour and a half relaxing here. Back at the hotel, I heard a strange call in the coconut trees in the garden, a mechanical rasping sound which was hard to pinpoint.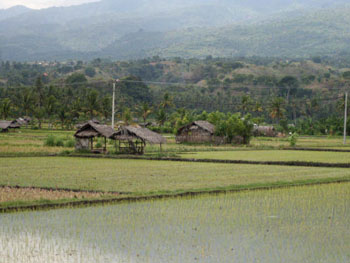 I finally tracked it down – it was a Baya Weaver building a nest out on the end of a frond. We took the car out for a spin up to a nearby waterfall – Sing Sing falls. Not much water falling, nor many birds, but a nice walk with plenty of butterflies, dragonflies and Dollarbird which perched briefly above us then flew on. Dinner was in the Jasmine Kitchen today – a much better choice, and with some great cakes to round off the meal (Binaria Lane – 0362 41565 – jasminkitchen@beeb.net).
15th July
Up late and went for a stroll up to the rice paddies on the main road. No new birds, but lots of Javan Pond Herons, Scaly Breasted Munia, Tree Sparrows and more butterflies. Met up with friends for the afternoon and evening.
16th July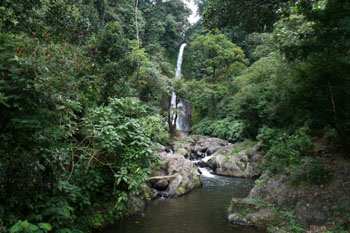 Left Lovina and headed East to Singaraja, then South toward Candikuning and the Big Crater lakes. Stopped off at Gitgit falls en the way and spent a pleasant couple of hours strolling up to them and chasing the huge butterflies trying to get decent pictures. Plenty of stalls strung out along the route of course, so Gill managed to get some shopping in too. Rained heavily as we got up near the lakes, which scuppered our plans to take a walk in the park south of Danau Tamlingan. So on to Candy Kuning and booked in to the Enjung Beji resort – pricey at Rph 500, but very limited options nearby. Standard was OK – but the restaurant was terrible. Worst meal of the holiday. However it was situated backing on to the lake Bratan with some nice gardens, so planned an early morning walk to explore.
17th July
Up at 06.00HRS and out to walk around the reed beds and lake edge.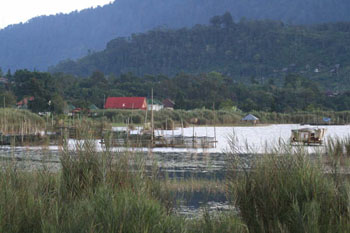 Saw Brown Prinia, Little Heron and White-fronted Waterhen also Common Moorhen which seemed to have a brighter orange forehead than those in the UK, plus lots more Javan Pond Herons, Javan Kingfisher and a fleeting glimpse of a Cinnamon Bittern. Had breakfast then off to the nearby botanical gardens at Bedugal. Had great expectations for these, but despite some tantalising calls that sounded vaguely cuckoo-ish, couldn't see much as most birds stayed high in the canopy and hidden. Did pick up Glossy Starling here, but not much else. I think a guide would be recommended and for once we never had one. Drove back to Seminyak, and braved the traffic to take the car back – we'd only rented it for a week, but decided to renew it for another week. Stayed at Dhyana Pura again and had a fabulous meal at the Lucky day – made even better by the contrast with Enjin Beji!
18th July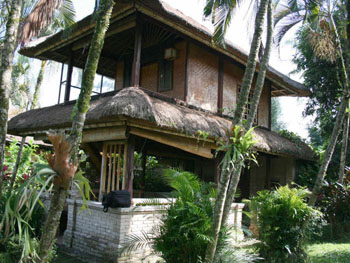 Up early and made the most of the excellent self service buffet breakfast, then left to head North to the Bali Bird and Reptile parks. These are right next door to each other on the road up to Ubud and we spent a pleasant day there. Lots of native birds too, which was handy as it helped pin down some ID's. Also got to see Bali Starling, which I had hoped to see in the Bali Barat Park, but Eko didn't see any at all last year and it seems they may be extinct in the wild now(?). They had a couple of large walk-in aviaries which was great for photographs, as well as the free flying display. Drove on to Ubud after leaving there, where we met up with our friends again. Booked into the Dewi Sri cottages (0365 61504) on Jalan Hanoman. It was a bit past it's prime and could do with some repairs here and there but was OK, H&C water, small pool etc. and cost Rph 150 a night.
19th July
Visited the Elephant Temple, few birds, more tourists and hawkers. But a nice jungly walk. Came back via the wood carving village and stopped to admire some of the incredible work there. Did a turn round the monkey forest for some photos, plenty of chances for good close ups – they are not shy! Afternoon by the pool. A lazy day! Went for dinner at the Lotus Café (great place – may need to book, especially if they have dancing on) and then on to see the local Legong dancing at the Palace. A great evening out.
20th July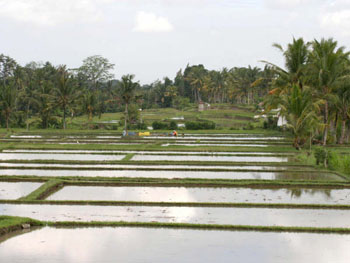 Up and had breakfast early. While washing in the outdoor bathroom, I chanced to glance up and saw 2 formations of 5 White Tailed Tropicbirds flying over – nice start to the day! At 09.00hrs went out with Victor Mason's "Bali Bird Walks" tour (0361 975009) – they are based at the Beggars bush café just over the Campuan Bridge in Ubud. Our Guide for the Walk was "Su" (081 747 33318) who was very knowledgeable about the butterflies and plants we saw as well as the birds. The walk took us back into the rice paddies behind the café. Birds seen:- Striated Swallow, Pied Bushchat, Pacific Swallow, Cattle Egret, Sooty Headed Bulbul, Zitting Cisticola, Edible Nest Swiftlet – as well as others seen already – Cinnamon Bittern, Spotted Dove, Bar-winged Prinia, Olive-backed Sunbird, Java Kingfisher, Glossy Swiftlet, Yellow Vented Bulbul, etc. Also picked up a green tree snake on the way back. Tour cost Rph 628k for the 2 of us, including dinner at a Warung overlooking the Campuan gorge – where we met Victor Mason. Victor has been in Bali for 40 odd years and knows the birds inside out – he's also just released a book of butterflies. A fascinating guy!
21st July
Left after breakfast and drove out to Padangbai on the East coast. Intended to stop at the Bat Temple but there was a festival on so it was closed to tourists. Had lunch in Padangbai, a lovely little town set round a small bay.Meant to be good snorkelling nearby in the Blue Lagoon, but it was a bit choppy, so skipped that and just walked round the headland. More butterflies but no new birds. Drove on down to the south end of Sanur and booked in to the Palm Gardens Hotel, a lovely place. Just 17 rooms, all very clean and in good repair, nice restaurant, bar and pool – great! We were lucky to find a room free at peak season here, they were filling up. I think we paid Rph250 per night.
Had dinner at the Casa Luna on Jalan Danau Tamlingan (the main road), good food, packed out by 20.30hrs, then on to the Cat and Fiddle for a couple of nightcaps – they had a local band playing old rock classics – Eagles, Steve Miller and even some Pink Floyd – they were pretty good!
22nd July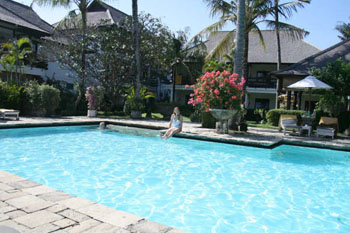 Had a great breakfast, our first full English, we felt like a treat. Then walked south along the back of the beach. I'd been recommended the beach by Jalan Mertasari as a good birding spot. The beach was already busy with vendors and stalls, and there were kite surfers starting up in the lagoon behind the reef, but there were still egrets feeding way out on the lower areas – Great and Intermediate (possible Reef?) and a lone Purple Heron. I picked up a pair of tern sp. heading away from me along the beach edge, but couldn't confirm the type. The area recommended was busy with a new breakwater being built, so we carried on past that to where the mangroves started. The first section was newly replanted – just one Pond Heron and some Little Egrets there – then we dropped down onto the edge and carried on following a track along the edge through the back edge of the mangrove trees. Not exactly pristine here – we named it FlipFlop forest! The high tide mark was a dense mat of litter, which seemed to be almost 50% discarded or lost footwear. But did spot Large Billed Crows, Javan and Scaly-breasted Munia, and Golden-bellied Gerygone. Followed the trails around this area for an hour or so, then headed back along the track behind the beach, found a patch of scrub that seemed lively so waited a while and saw more Olive-backed Sunbird, Common Iora, Yellow-vented Bulbul and loads of Glossy Swiftlets, then glanced up just in time to see a large Frigatebird going right over our heads towards the sea, only had a second before it disappeared behind the trees, but on size alone I felt it was probably Xmas Island – could be wrong on that but had no clear ID to pin it down. Nice end to the walk! Headed back to Sanur for lunch on the beach and then chilled out by pool for the afternoon. Had dinner at the Talaga Naga Chinese restaurant – very nicely done out, but wine list was pricey, food was good.
23rd July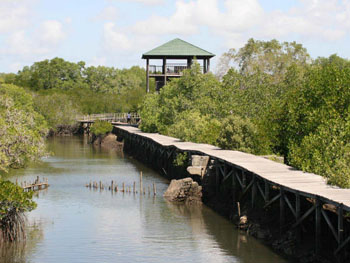 Went to the Mangrove Information Centre – a very small signpost directs you there straight off the new bypass – blink and you'll miss it – about 5 kilometers west of Sanur. There's a 1.5 km boardwalk here among the reclaimed mangroves, with a couple of tower "hides" and numerous small shelters en route. It was pretty quiet with no tourists, just a few local couples making the most of the peace. Spent a couple of hours or so here, strolling and sitting to see what turned up. Had a juvenile White-bellied Sea Eagle right over while in the first tower, plus numerous distant Egrets, Golden-bellied Gerygone, Sacred and Cerulean Kingfisher, Intermediate and Little Egrets, Pied Fantail and Pond Heron. At the far end you look out over Benoa harbour and the tide was just coming in. Picked up Curlew and Redshank out on the mud banks and one lone Little Cormorant sitting on a post. Had to take the car back to Seminyak then and got a taxi back. In the evening we walked right to the North end of Sanur and back along the beach, had dinner at Benno's restaurant on the beach – the Chicken and Coconut soup was superb!
24th July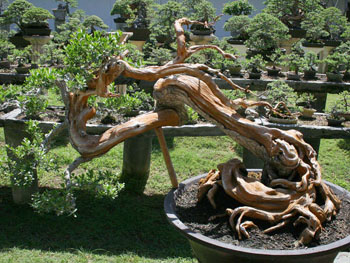 Took a taxi to the Bali Orchid garden – great orchids and lovely butterflies to boot. Then back to the Bonsai café to look at the trees – worth visiting just for them and picked up another Sooty-headed Bulbul there too. Dinner at the Casa Luna and drinks at the Cat and Fiddle rounded the day off, then we had to pack ready for the trip home early next morning.
SUMMARY
Total bird Species seen 65.
More photographs are on my website under the "Breaks" section, along with bird and general wildlife shots.
I will be pleased to help with any questions that I can, just e-mail me at martindparr@hotmail.com  
SPECIES LIST (as seen)
| | | |
| --- | --- | --- |
| Java Sparrow | | Bali, Seminyak, Dhyana Pura grounds |
| Tree Sparrow | | Bali, Common |
| Glossy Swiftlet | | Bali, Common |
| Spotted Dove | | Bali, Common |
| Yellow-vented Bulbul | | Bali, Common |
| White-headed Munia | | Bali, Common |
| Scaly-breasted Munia | | Bali, Common |
| Bar-winged Prinia | | Bali, Seminyak, Dhyana Pura grounds |
| Savannah Nightjar | | Bali, Seminyak |
| Sacred Kingfisher | | Bali, Frequant |
| Javan Pond Heron | | Bali, Common |
| Intermediate Egret | | Bali, on road |
| Olive-backed Sunbird | | Bali, Frequant |
| Common Iora | | Bali, Frequant |
| Scarlet-headed Flowerpecker | | Bali, Barat Park HQ |
| Small Minivet | | Bali, Barat Park HQ |
| Pink-necked Green Pigeon | | Bali, Barat Park HQ |
| Grey-rumped Tree Swift | | Bali Barat Park |
| Coppersmith Barbet | | Bali Barat Park |
| Long-tailed Shrike | | Bali, Frequant |
| Oriental Pied Hornbill | | Bali Barat Park |
| Black-thighed Falconet | | Bali Barat Park |
| Zebra Dove | | Bali Barat Park |
| Crested Serpent Eagle | | Bali Barat Park |
| Grey-cheeked Bulbul | | Bali Barat Park |
| Pied Fantail | | Bali, Frequant |
| Orentail Dwarf Kingfisher | | Bali Barat Park |
| Blue-eared Kingfisher | | Bali Barat Park |
| Cerulean Kingfisher | | Bali Barat Park |
| Collared Kingfisher | | Bali Barat Park |
| Emerald Dove | | Bali Barat Park |
| Fulvous-chested Jungle Flycatcher | | Bali Barat Park |
| Small Buttonquail | | Bali Barat Park |
| Javan Munia | | Bali, Frequant |
| Chesnut-headed Bee-eater | | Bali Barat Park |
| White-breasted Wood swallow | | Bali Barat Park |
| White-shouldered Triller | | Bali Barat Park |
| Beach Thick knee | | Bali Barat Park |
| Little (Striated) Heron | | Bali Barat Park |
| Sooty-headed Bulbul | | Bali Barat Park |
| Baya Weaver | | Bali, Lovina, Kilibukbuk |
| Dollarbird | | Bali, Sing Sing Falls |
| Glossy Starling | | Bali, Botanical Gardens |
| White-breasted Waterhen | | Bali, Candy Kuning |
| Moorhen | | Bali, Candy Kuning |
| Brown Prinia | | Bali, Candy Kuning |
| White-tailed Tropicbird | | Bali, Ubud |
| Cinnamon Bittern | | Bali – Bird walk, Ubud |
| Striated Swallow | | Bali – Bird walk, Ubud |
| Pacific Swallow | | Bali – Bird walk, Ubud |
| Cattle Egret | | Bali – Bird walk, Ubud |
| Pied Bushchat | | Bali – Bird walk, Ubud |
| Zitting Cisticola | | Bali – Bird walk, Ubud |
| Edible-nest Swiftlet | | Bali – Bird walk, Ubud |
| Little Egret | | Bali, Common |
| Javan Kingfisher | | Bali – Bird walk, Ubud |
| Xmas Island Frigatebird | | Bali – Sanur |
| Large-billed Crow | | Bali – Mangrove info Centre, Sanur |
| Purple Heron | | Bali – Mangrove info Centre, Sanur |
| Golden Bellied Gerygone | | Bali – Mangrove info Centre, Sanur |
| Great Egret | | Bali – Mangrove info Centre, Sanur |
| White-bellied Sea Eagle | | Bali – Mangrove info Centre, Sanur |
| Little Pied Cormorant | | Bali – Mangrove info Centre, Sanur |
| Redshank | | Bali – Mangrove info Centre, Sanur |
| Curlew | | Bali – Mangrove info Centre, Sanur |
Species List – Systematic (Excel)
Bird Species Check List – Systematic (Excel)
Bali Map highlighting route taken
Bird Photos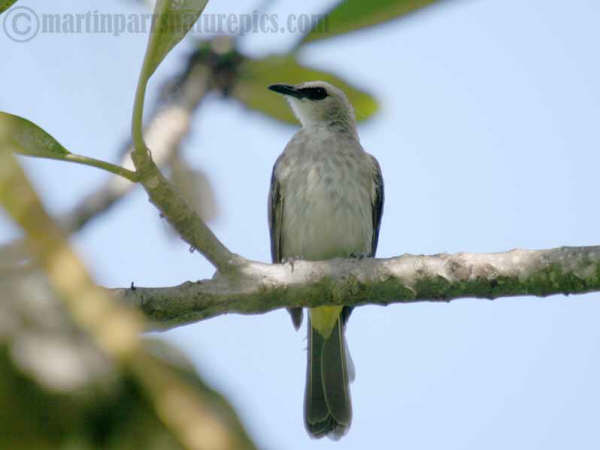 Wildlife photos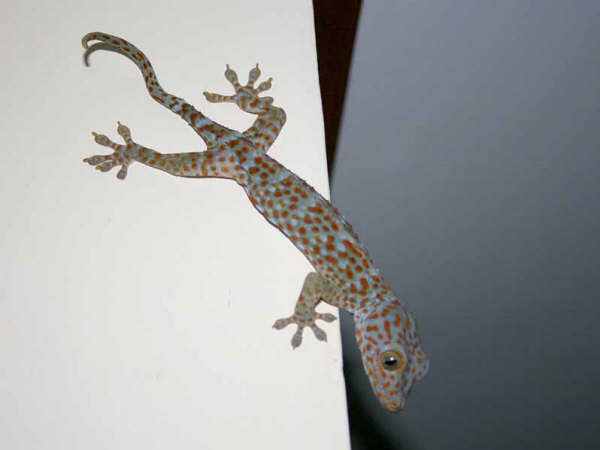 Martin and Gill Parr