INTRODUCTION
Having decided on Spain as our spring birding holiday destination, we planned a route taking in as many as possible of the recognised birding sites of Extremadura, the Pyrenees and the Picos de Europa, not really paying much attention to the distances we would have to drive. We travelled with our friends Pat & Judy Hayes and in this report we have attempted to highlight the birds likely to be encountered on a similar journey at the same time of the year.
The timing of the trip took into account the movements of high mountain species, which normally return to upper levels with the onset of warmer weather, making them far more difficult to see. It is worth noting, a trip at this time of the year will exclude many of the migrant passerines which pass through Spain during the second half of the month of April.
The weather was dry and warm in the main, with sporadic light showers, chiefly at night during the second week.
RESEARCH & LOGISTICS
Birding sites visited were taken from Gostours Guide: Finding Birds in Northern Spain and John Muddeman's A Birdwatching Guide to Extremadura. Other useful books were Where to Watch Birds in Northern and Eastern Spain and also in the same series, Where to Watch Birds in Southern and Western Spain: Andalucaia, Extremadura and Gibraltar. The Lonely Planet Guide to Spain provides good general background information for the whole area.
Travel to and from Spain was by Easyjet from Liverpool John Lennon Airport to Madrid. Flights were comfortable and on time and, having been booked well in advance, cheap!
Car hire was from Hertz, booked through Holiday Autos. On arrival at Barrajas Airport we were upgraded to a larger more comfortable Ford Mondeo diesel, which served us well, especially in view of the distance travelled. Departure via the Hertz check in lot was equally painless, with the car just being parked and keys handed in – no other formalities.
All hotels were selected and booked on the internet, well in advance of our departure. Our first stop was in Zaragoza for 2 nights at Hotel Hesperia. Moving north we then headed for Huesca which was to be our base for the Pyrenees leg of our trip.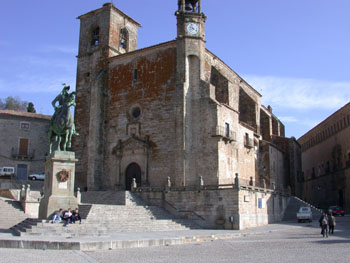 We stayed for 3 nights at Hotel Pedro I de Aragon before moving on west to the Picos de Europa where we spent 3 nights at the Parador de Fuente De. To complete our itinerary we needed to head south to Extremadura and in view of the distance and not wishing to pass up the opportunity to visit different habitat, we broke our journey for 1 night in Benevente, staying at the Parador de Benevente. Continuing south we moved on to our final destination, Trujillo, where we stayed for 4 nights at the Parador de Trujillo. All hotels were comfortable and very individual, especially the Paradors. The first three hotels were 3* whilst the Benevente and Trujillo Paradors were 4* and we would quite happily recommend all of them to anyone following our route. Finally we returned to Madrid for one night and stayed at the first 3* plus hotel we could find near the airport.
DIARY
Tuesday 11th March (Day 1)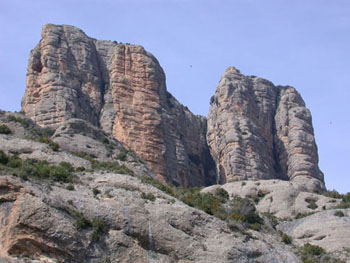 We travelled from Liverpool to Madrid on a late morning Easyjet flight Number 771, transfered to a Hertz rental car and travelled onward to Zaragoza, arriving there in the dark at around 19.00 hours, but only finding the hotel about 2 hours later after a traumatic drive around the city centre (a number of times). Overnight Hotel Hesperia Zaragoza 11th & 12th.
Wednesday 12th March Day 2 Bird list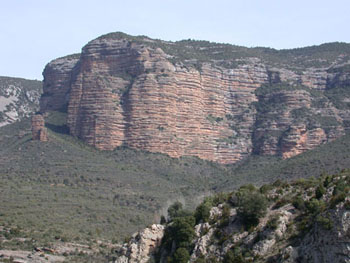 The few birds seen whilst travelling from Madrid to Zaragoza on the 11th are included in today's list. Awaking refreshed after yesterday's long journey, we set out to visit Belchite, Sastrago, Escatron, Laguna la Playa and Bujaralloz (Gostours Pages 8/9). At the Lomazas Steppe Reserve Belchite we had excellent views of at least 3 singing Dupont's Lark, getting our trip off to an excellent start as we only arrived at the site around noon and the birds are said to be easier to see either early morning or late afternoon. Moving on after an interesting lunch in Belchite, we had a close encounter with a Spanish Imperial Eagle in the hills before dropping down into the Ebro valley where we saw our only Black-crowned Night Heron of the trip, along with one of only two Cirl Bunting, from a road bridge over the river at Escatron. At Sastrago, where there are some steep river cliffs, we saw our first Black Wheatear. A return of 46 species to start us off, with two lifers as well.
Thursday 13th March Day 3 Bird List
Today we left Zaragoza for Huesca in the Spanish Pyrenees. Overnight at Hotel Pedro I de Aragon 13th, 14th & 15th. Having checked into our hotel we visited the Embalse de Vadiello via Loporozano in search of raptors and the elusive Wallcreeper. We had the first of relatively numerous Egyptian Vultures, along with many Griffon Vultures at the dam, where we also had a very brief fly-by of our only Lammergeier of the trip, but failed completely with the Wallcreeper. At Loporozano we had the first of only two Golden Eagles for the trip, an immature bird. 33 species for the day, taking our list total to 57, with yet another lifer.
Friday 14th March Day 4 Bird List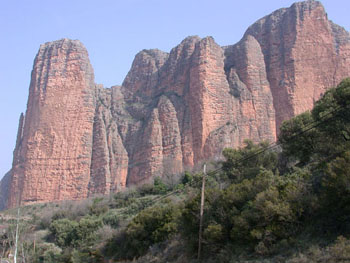 Sites visited were Riglos, Hecho Valley, Foz de Binies and Monasterio de San Juan de la Pena (Gostours Pages 2/3). At Riglos we arrived too late c10.00 hours to catch the Wallcreeper which had been performing well earlier; by then it had moved up to the higher slopes of the rock face as the day warmed up. We did however get good views of Blue Rock Thrush and several Firecrest. Although Red Kite were seen almost daily, it is always a joy to see this beautiful bird close up. As we left Riglos we had a stunning Short-toed Eagle sat on a telegraph pole at the roadside overlooking the fast flowing river. At the San Juan Monastery we picked up a few woodland birds, including our first Nuthatch, but we couldn't locate the Black Woodpecker we heard calling for about 20 minutes – how can you miss such a noisy, large bird? We were also too early in the year for Citril Finch here – another lifer would have been nice! 39 species for the day with the trip list moving on to 69.
Saturday 15th March Day 5 Bird List
On our last day in the Pyrenees we went back to the Vadiello Dam and moved on to the Laguna de Sarinena before visiting Piraces on our way back to the hotel.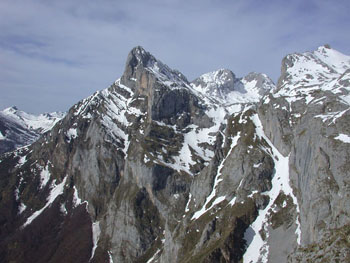 Our early morning call at Vadiello was rewarded with a close up view of the much sought after Wallcreeper working a tunnel face near to the Dam and displaying his colours, before flying across to the opposite wall of the gorge to continue feeding. We also had our first Bonelli's Eagle here. At Sarinena Lagoon we had our only Garganey of the trip amongst a host of other ducks and walking around the lagoon to its southern outlet we saw our only trip record of Yellow Wagtail of the Iberiae race and a small colony of Tree Sparrow.
The Reed Buntings here exhibited a kind of behaviour we have never seen elsewhere: I can only assume it was a form of display flight as numerous birds continually flew up from the reeds approx 1 metre, before dropping immediately down again. The upward flight looked as though powered by a springed jump! On our way back to the hotel we stopped at likely habitat near Piraces and had close up views of pairs of Black Wheatear and Rock Sparrow. 62 birds for the day, swelling the trip list to 93 species. The Wallcreeper provided another lifer and one of the trip highlights for me.
Sunday 16th March Day 6 Bird List
Today we left the Spanish Pyrenees and travelled from Huesca to Potes in the Picos de Europa. To break up the long journey en route we visited the estuary of San Vicente. (Gostours Pages 32/33). Overnight Parador de Fuente De 16th, 17th & 18th. Although we only saw 36 species today, trip list numbers moved on to 101 with Kentish Plover and several other waders, gulls and a Sandwich Tern from the road bridge at San Vicente.
Monday 17th March Day 7 Bird List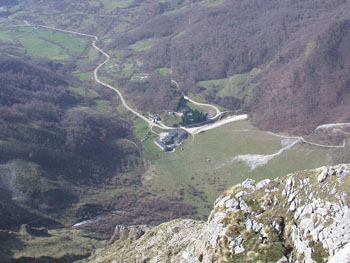 Just in case the weather changed we took the first opportunity to visit the top of Fuente De by Cable Car and spent a little over two hours on the tops before returning to base camp and visiting Pido(Gostours Pages 34/35). There were up to 6 pairs of Rock Bunting around the Parador grounds along with a few pairs of Firecrest. On the tops I had three lifers in quick succession as we saw 8+ Alpine Chough circling overhead, 2 Alpine Accentor literally feeding around our feet and a Snow Finch flying across the rock face in the distance. Later, around Pido, we had Hobby, one of only two Booted Eagles and the only Yellowhammer of the trip, feeding on a silage heap. Only 26 birds for the day, but some good ones, taking the list total to 106. We also had good views of a group of c15 Chamois.
Tuesday 18th March Day 8 Bird List
Sites visited today included Panes, San Glorio Pass and Riano Reservoir (Gostours Pages 34/35). We originally intended to visit the Cares Gorge but the main road was closed for roadworks east of Panes and we had to do a swift about turn and adopt Plan B. Not really ideal as we were travelling the same route the next day on our way south. However it did give us more time to explore the area and enjoy the magnificent scenery. We had our only Bullfinch sighting of the trip with a male and two females in roadside bushes as we ascended the San Glorio Pass.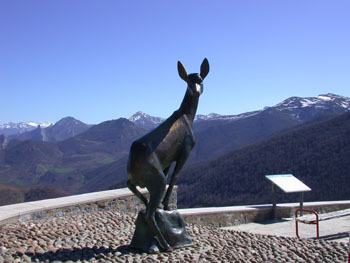 At the top we saw 2 Short-toed Eagles displaying overhead and being harassed by a Sparrowhawk. We also saw 2 Chamois and a lone Fox here. Moving down into the next valley we had our only Dunnock and Dipper of the trip by the fast flowing stream on the edge of the town. 38 species for the day leaving our trip total at 109.
Wednesday 19th March Day 9 Bird List
Leaving the Picos De Europa we travelled south via Potes to Benavente. Overnight Parador de Benavente for 1 night. Before checking in to the Parador we headed further south and visited theLagunas de Villafafila including Salina Grande and surrounding plains. Before reaching Benevente we had our only other trip sighting of Spanish Imperial Eagle and the first of many Montagu's Harriers we were to see over the next few days. Both the daily list and overall trip numbers were enhanced by our only sightings of numerous ducks and waders, common in the UK, around the various lagoons at Villafaila. Amongst the more common species we had 3 White-fronted Goose, 2 Ruddy Shelduck and 3 Bar-headed Goose. Although one of the Bar-heads was a feral bird, we were assured by the Reserve wardens the other two were wild – another lifer. On the plains around Villafafila we had numerous flocks of Great Bustard, some in excess of 50 birds. Species total for the day was 65 and the trip list accelerated to 127.
Thursday 20th March Day 10 Bird List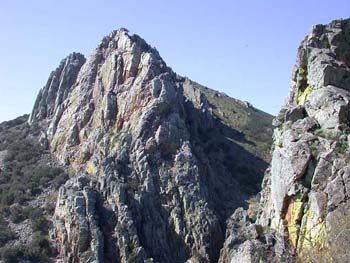 Today we travelled south from Benavente to Trujillo and visited the Parque Natural De Monfrague (Penafalcon)en-route (Gostours Pages 29/30). Overnight Parador de Trujillo 20th, 21st, 22nd & 23rd. On the journey, as we travelled through the National Park, we had our first pair of Black Vulture, Peregrine, Red-rumped Swallow and 3 Black Stork at Penafalcon and Woodchat Shrike near Villareal de san Carlos, where we stopped at a small bar for an excellent lunch. We travelled towards Embalse de Torrejon hoping to see Eagle Owl at the well known breeding site. Although we dipped out on this occasion, we had super views of 2 Bonnelli's Eagle flying close overhead. 39 species for the day whilst our trip total moved on to 132 and Black Vulture provided another lifer.
Friday 21st March Day 11 Bird List
Today we visited numerous tracks around Santa Marta de Magasca, La Encinilla and Monroy (Gostours Pages 26/27) as we travelled west from Trujillo and north of Caceres. Our first full day in Extremadura saw changing species from the regulars previously encountered. Before we left Trujillo we had our first Lesser Kestrel and Pallid Swift, both of which have flourishing breeding colonies in the town. The tracks around Santa Marta de Magasca were particularly productive, leading us to visit the area almost every day thereafter. Here we had c20 Little Bustard, c8 Great Bustard, Hoopoe, 3 Stone Curlew, c20 Pin-tailed Sandgrouse feeding in the fields, c30 Black-bellied Sandgrouse flying overhead giving their distinctive call, numerous Woodlark on passage, a single Cuckoo and the only Great Spotted Cuckoo of the trip, with a party of 3 birds. As was expected Montagu's Harrier were literally everywhere. Unfortunately we were too early for Roller but we did have excellent views of Honey Buzzard flying overhead plus a Golden Eagle near Monroy. The colony of Alpine Swift on the Rio Almonte was our only sighting of the trip and we finished the day with a healthy 63 species as our trip total was lifted to 144. We had an excellent lunch today in a small bar/cafe in the centre of Santa Marta de Magasca and the Sandgrouse provided two more lifers.
Saturday 22nd March Day 12 Bird List
Sites visited today were Zorita, Embalse de Sierra Brava and Madrigalejo (Muddeman Birdwatching Guide to Extremadura Page 78) as we travelled south-east from Trujillo and, on our return, Santa Marta De Magasca tracks, before we headed back to Monfrague and the Eagle Owl site near Embalse de Torrejon.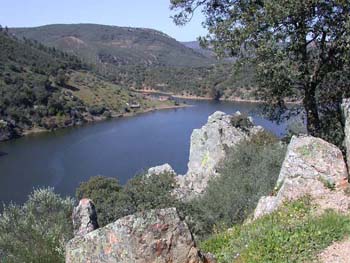 We had a good selection of common waterbirds at the Sierra Brava reservoir as well as our first Willow Warbler and Sardinian Warbler, having previously heard several skulkers we couldn't find. Moving on to Madrigalejo we had Tawny Pipit, Red Avadavat and eventually, Cetti's Warbler, again after previously hearing several we couldn't find. Unable to find anywhere we deemed suitable for lunch we returned to Trujillo for a late snack. The town and Santa Marta de Magasca produced many of the usual suspects, but today we also had Spanish Sparrow, several Calandra Lark, Woodchat and Great Grey Shrike. We then headed back to Monfrague where we saw a pair of Black Stork and Peregrine, whilst waiting for the Eagle Owl to put in an appearance. Finally, in the gathering gloom as dusk descended, one of the adults appeared and started moving about on the rock face opposite our roadside viewing point. It was well worth the journey and subsequent wait to see one of these magnificent birds which was also my final lifer for Spain. 69 species in the day was the highest of the trip and our total moved on to 151.
Sunday 23rd March Day 13 Bird List
Once again we visited Santa Marta De Magasca to start the day & then various sites south of Caceres (Gostours Pages 20/21) including Aliseda and Rivera de la Muela, south of La Rocha de la Sierra, as we attempted to catch up with Black-shouldered Kite. All the usual birds were seen at Santa Marta de Magasca including a large roost of Montagu's Harrier. The Lesser Kestrel colony in Trujillo had grown substantially since our arrival and birds now exceeded 50. Particularly noteworthy were 4 Black Vulture flying over us near Aliseda, where we also had Nuthatch and 2 Great Spotted Woodpecker in a peaceful olive grove.
We then headed to Montijo to find suitable habitat for Black-shouldered Kite around Riviera de la Muela and were rewarded with 3 stunning adults perched in the same tree, making up for missing this species at the well known site north of Caceres near Monroy. As we were preparing to start our return journey we spotted a flight of 11 unusual looking ducks which we tracked to a lake near Montijo. Red-crested Pochard; a final new bird for the trip, taking our overall total to 153 with 64 species for the day. At the lakeside we also had good views of Cetti's Warbler.
Monday 24th March (Day 14)
Was taken up by travelling to Madrid, finding accommodation and enjoying some sightseeing around the city. We did manage to pick up 20 species for the day including the biggest flock of Cattle Egret we had seen with about 300 birds roosting in roadside trees.
Tuesday 25th March (Day 15)
After a morning of culture around some of Madrid's Art Galleries and Museums we, returned to Liverpool by Easyjet on a mid afternoon flight.
MEMORABLE MOMENTS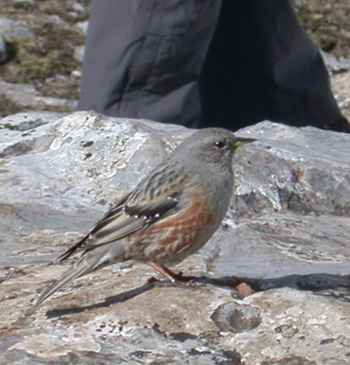 Just a few brief notes identifying a some of the many memorable moments (for one reason or another) of the trip.
Our 4hr drive from Madrid to Zaragoza and then our 2hr drive around Zaragoza totally lost in the dark, jumping red lights going up one-way streets the wrong way, trying to understand instructions given in pidgin English and then finally abandoning the vehicles and finding the hotel on foot.
3 Dupont's Larks display flying and singing at mid-day in bright sunlight, totally contrary to the popular myth that they only sing at first & last light (Belchite).
A pair of Alpine Accentors, totally ignoring our presence for over an hour whilst they fed on microscopic food around our feet (Picos de Europa).
Dozens upon dozens of Griffon Vultures, gliding less than 15 metres above our heads, whilst we picnicked at the mirador on the San Glorio Pass (Picos de Europa).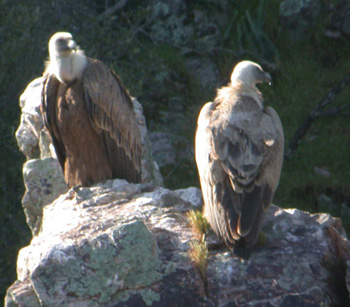 A scene that could have been on the African savannah, with Black Vultures feeding on a carcass whilst Griffon Vultures, Black Kites and Magpies awaited their turns (Extremadura).
2 Greater Spotted Cuckoos, pair bond feeding on a fence, several feet from our vehicle, with a third close by (Extremadura).
Super views of 3 Black-shouldered Kites sat in the top of a tree (Extremadura).
SUMMARY
We enjoyed good weather and had an excellent time, seeing some super birds on the way, with a total of 153 species for the trip, 12 of which were lifers:-Alpine Accentor, Alpine Chough, Black Vulture, Black Wheatear, Bar-headed Goose, Black-bellied & Pin-tailed Sandgrouse, Dupont's Lark, Eagle Owl, Lammergeier, Snow Finch and Wallcreeper. Although arduous at times, with a number of long drives, we would recommend this itinerary to anyone wishing to pick up a good number of the specialist species of the area.
Bird List Summary
| | |
| --- | --- |
| Name | Species |
| | |
| Little Grebe | Tachybaptus ruficollis |
| Great Crested Grebe | Podiceps cristatus |
| Black-necked Grebe | Podiceps nigricollis |
| Cormorant | Phalacrocorax carbo |
| Little Egret | Egretta garzetta |
| Grey Heron | Ardea cinerea |
| Cattle Egret | Bubulcus ibis |
| Night-heron | Nycticorax nycticorax |
| Black Stork | Ciconia nigra |
| White Stork | Ciconia ciconia |
| White-fronted Goose | Anser albifrons |
| Greylag Goose | Anser anser |
| Bar-headed Goose | Anser indicus |
| Ruddy Shelduck | Tadorna ferruginea |
| Shelduck | Tadorna tadorna |
| Wigeon | Anas penelope |
| Gadwall | Anas strepera |
| Teal | Anas crecca |
| Mallard | Anas platyrhynchos |
| Northern Pintail | Anas acuta |
| Garganey | Anas querquedula |
| Shoveler | Anas clypeata |
| Red-crested Pochard | Netta rufina |
| Common Pochard | Aythya ferina |
| Tufted Duck | Aythya fuligula |
| Honey-buzzard | Pernis apivorus |
| Black-shouldered Kite | Elanus caeruleus |
| Red Kite | Milvus milvus |
| Black Kite | Milvus migrans |
| Lammergeier | Gypaetus barbatus |
| Egyptian Vulture | Neophron percnopterus |
| Eurasian Griffon-vulture | Gyps fulvus |
| Black Vulture | Aegypius monachus |
| Short-toed Eagle | Circaetus gallicus |
| Marsh Harrier | Circus aeruginosus |
| Hen Harrier | Circus cyaneus |
| Montagu's Harrier | Circus pygargus |
| Sparrowhawk | Accipiter nisus |
| Common Buzzard | Buteo buteo |
| Spanish Imperial Eagle | Aquila adalberti |
| Golden Eagle | Aquila chrysaetos |
| Bonelli's Eagle | Hieraaetus fasciatus |
| Booted Eagle | Hieraaetus pennatus |
| Lesser Kestrel | Falco naumanni |
| Common Kestrel | Falco tinnunculus |
| Merlin | Falco columbarius |
| Hobby | Falco subbuteo |
| Peregrine Falcon | Falco peregrinus |
| Red-legged Partridge | Alectoris rufa |
| Moorhen | Gallinula chloropus |
| Coot | Fulica atra |
| Little Bustard | Tetrax tetrax |
| Great Bustard | Otis tarda |
| Black-winged Stilt | Himantopus himantopus |
| Pied Avocet | Recurvirostra avosetta |
| Stone-curlew | Burhinus oedicnemus |
| Ringed Plover | Charadrius hiaticula |
| Kentish Plover | Charadrius alexandrinus |
| Northern Lapwing | Vanellus vanellus |
| Black-tailed Godwit | Limosa limosa |
| Curlew | Numenius arquata |
| Redshank | Tringa totanus |
| Green Sandpiper | Tringa ochropus |
| Common Sandpiper | Actitis hypoleucos |
| Dunlin | Calidris alpina |
| Ruff | Philomachus pugnax |
| Yellow-legged Gull | Larus cachinnans michahellis |
| Black-headed Gull | Larus ridibundus |
| Sandwich Tern | Sterna sandvicensis |
| Pin-tailed Sandgrouse | Pterocles alchata |
| Black-bellied Sandgrouse | Pterocles orientalis |
| Rock Dove | Columba livia |
| Feral Pigeon | Columba livia 'feral' |
| Stock Dove | Columba oenas |
| Wood Pigeon | Columba palumbus |
| Collared Dove | Streptopelia decaocto |
| Great Spotted Cuckoo | Clamator glandarius |
| Common Cuckoo | Cuculus canorus |
| Eurasian Eagle-owl | Bubo bubo |
| Little Owl | Athene noctua |
| Alpine Swift | Tachymarptis melba |
| Pallid Swift | Apus pallidus |
| Kingfisher | Alcedo atthis |
| Hoopoe | Upupa epops |
| Great Spotted Woodpecker | Dendrocopos major |
| Calandra Lark | Melanocorypha calandra |
| Lesser Short-toed Lark | Calandrella rufescens |
| Dupont's Lark | Chersophilus duponti |
| Crested Lark | Galerida cristata |
| Thekla Lark | Galerida theklae |
| Wood Lark | Lullula arborea |
| Skylark | Alauda arvensis |
| Crag-martin | Hirundo rupestris |
| Swallow | Hirundo rustica |
| Red-rumped Swallow | Hirundo daurica rufula |
| House Martin | Delichon urbica |
| Tawny Pipit | Anthus campestris |
| Meadow Pipit | Anthus pratensis |
| White Wagtail | Motacilla alba |
| Spanish Yellow-wagtail | Motacilla flava iberiae |
| Grey Wagtail | Motacilla cinerea |
| Dipper | Cinclus cinclus |
| Wren | Troglodytes troglodytes |
| Alpine Accentor | Prunella collaris |
| Dunnock | Prunella modularis |
| Robin | Erithacus rubecula |
| Black Redstart | Phoenicurus ochruros |
| Stonechat | Saxicola torquata |
| Black Wheatear | Oenanthe leucura |
| Northern Wheatear | Oenanthe oenanthe |
| Blue Rock-thrush | Monticola solitarius |
| Blackbird | Turdus merula |
| Song Thrush | Turdus philomelos |
| Mistle Thrush | Turdus viscivorus |
| Cetti's Warbler | Cettia cetti |
| Zitting Cisticola | Cisticola juncidis |
| Blackcap | Sylvia atricapilla |
| Sardinian Warbler | Sylvia melanocephala |
| Willow Warbler | Phylloscopus trochilus |
| Chiffchaff | Phylloscopus collybita |
| Firecrest | Regulus ignicapillus |
| Long-tailed Tit | Aegithalos caudatus |
| Coal Tit | Parus ater |
| Great Tit | Parus major |
| Blue Tit | Parus caeruleus |
| Nuthatch | Sitta europaea |
| Wallcreeper | Tichodroma muraria |
| Great Grey Shrike | Lanius excubitor |
| Southern Grey Shrike | Lanius excubitor meridionalis |
| Woodchat Shrike | Lanius senator |
| Jay | Garrulus glandarius |
| Azure-winged Magpie | Cyanopica cyana |
| Magpie | Pica pica |
| Chough | Pyrrhocorax pyrrhocorax |
| Alpine Chough | Pyrrhocorax graculus |
| Jackdaw | Corvus monedula |
| Carrion Crow | Corvus corone |
| Raven | Corvus corax |
| Spotless Starling | Sturnus unicolor |
| House Sparrow | Passer domesticus |
| Spanish Sparrow | Passer hispaniolensis |
| Tree Sparrow | Passer montanus |
| Rock Sparrow | Petronia petronia |
| Snowfinch | Montifringilla nivalis |
| Red Avadavat | Amandava amandava |
| Chaffinch | Fringilla coelebs |
| Serin | Serinus serinus |
| Greenfinch | Carduelis chloris |
| Goldfinch | Carduelis carduelis |
| Linnet | Carduelis cannabina |
| Bullfinch | Pyrrhula pyrrhula |
| Yellowhammer | Emberiza citrinella |
| Cirl Bunting | Emberiza cirlus |
| Rock Bunting | Emberiza cia |
| Reed Bunting | Emberiza schoeniclus |
| Corn Bunting | Miliaria calandra |