MALLORCA UPDATE
8th – 22nd October 2005
Having spent many spring and autumns in Mallorca, this is the first year that I know I won't bump into 3 of the main birding characters who made our trips so much more pleasurable.
Arthur Stagg, David Wellings and Graham Hearl have all passed away over the lasted couple of years. All had properties on the island and knew the best birding spots intimately. All 3 were great birders in their own right, and all were happy to pass on that little bit of info that would produce that special bird.
If Arthur was on the island he could often be found at the Depuradora hide, usually around late afternoon, where he would greet you with courtesy and impart the local birding gossip.
Graham was the only one who was resident, and was the official RSPB rep for the island; he spent many years taking the legendary bird meetings at the Pollensa hotel. Many birders travelling to the Balearics would have bought Graham's excellent bird watching guides. He also produced the annual Bird Report for Mallorca to which I was happy, like many, to contribute.
David was a firm favourite of ours. He would always greet you with a beaming smile that said he was genuinely pleased to see you. David took on the mantle of running the meetings, once Graham stopped doing them, ably assisted by his wife. We watched him turn his first nervous meetings, where he would physically shake during his deliberations, to meetings where he was full of confidence and enthusiasm for the island he loved.
All 3 will be greatly missed, God bless'em.
GETTING THERE
Being creatures of habit, we have again used Villa Select for our holiday package, which includes a superb villa, air travel from Birmingham/Palma and a small air-conditioned car.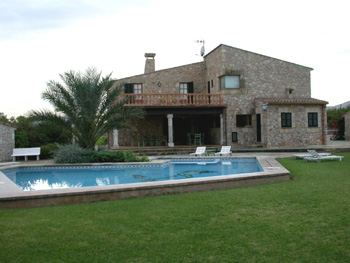 For superb self catering accommodation and late availability list I strongly recommend you check out Villa Select's web site. Villa Select can be contacted on 01789 764909 or email.
As I have previously said in my trip reports for Mallorca, if birding is your game then you really need to base yourself in the north of the island. With the exception of the salt pans and the area around the lighthouse, most of Mallorca's best birding spots are in the north. If you like hustle and bustle with all the fun of the fair, or you're bringing a family that doesn't share the same interest in birds as you, then Alcudia could be your best option. With the Albufera Marsh on your doorstep and the Bocquer Valley and Albufereta just a short bus ride away, Alcudia is also ideal for the birder who doesn't want to hire a car.
Judy and I prefer the more sedate atmosphere that is Pollensa old town & Puerto Pollensa. Like most of Mallorca the north of the island is still being developed at a pace, with much valuable habitat being lost, to the detriment of its birds.
Although Mallorca is a shadow of what it used to be, it's still a great island to begin your birding abroad. Most of the birding sites are well documented and many have been developed to cater for the British birder with bird hides positioned at strategic points allowing long sessions out of the sun, where it is possible to spend time really getting to know those less familiar species. It also gives the less confident birder the opportunity to mix with more adept birders in a less formal setting.
I would strongly recommend Graham Hearl and Jon King's A Birdwatching Guide to Mallorca.
BIRDING SITES (North)
I have tried to give just a flavour of the main birding sites on Mallorca and just a small number of the notable birds that I have seen at the various sites. Many of the birding guides that can be purchased will give much more detailed information including location, site maps and species. This list of sites is also not all inclusive with some of the lesser sites omitted because I did not visit them this year.
Albufera Marsh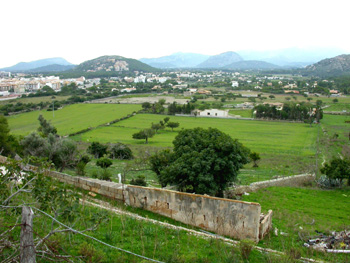 The premiere birding spot in the north of the island, S'Albufera is a Parc Natural. It's open 7 days a week and free to enter. Vehicles are not allowed on the reserve. Although the reserve gates don't officially open until 08-30am, pedestrian access can be gained adjacent to the main gate. The area covers many hundreds of acres, where species like Purple Gallinule, Little Bittern, Black-winged Stilt, Marsh Harrier, Cetti's Warbler, Cattle, Little, & Great White Egret are commonplace. Many waders and ducks help keep interest levels up during passage and winter.
Bocquer Valley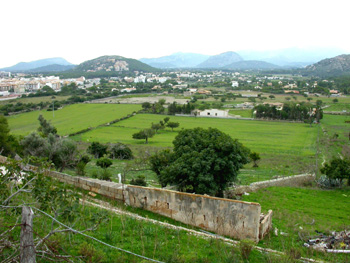 The Bocquer has probably suffered from the march of the developer more than any other site in the north. Many of the small orchards and fields that held so many passerines have been turned into a dual-carriageway with apartments and villas adorning both sides. With no development within the valley itself Marmora's Warbler, Redstart, flycatchers, Wryneck, Blue Rock Thrush, Cirl Bunting, Crag Martin, Woodchat Shrike, Bee-eater, Peregrine, Eleonora's Falcon and Black Vulture can all be seen during summer months.
Depuradora (water treatment works)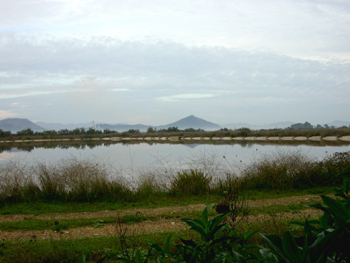 Due to poor maintenance of both the water works and the bird hide this area does not hold the same attraction to birders it once did. It is, however, worth popping in as it still can throw up the odd rarity. The area to the rear of the car park is still an excellent area, especially during autumn and winter. Stone Curlew, Bluethroat, wagtails and pipits find this area attractive and, if the area lies wet, many waders including Snipe, Wood Sandpiper, Kentish Plover, Black-winged Stilt, Redshank and Greenshank are all possible. An added bonus, as we discovered this year, the area has also proved popular with a small colony of Waxbills which have been detected over the last couple of years.
Formentor Lighthouse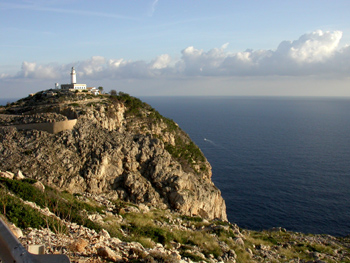 This site is situated at the very northern tip of Mallorca and is a traditional breeding site for Eleonora's Falcon. It is also a great spot for sea watching, especially for both Balearic and Cory's Shearwaters. Other pelagic species can also be seen at the right time of year. Other birding interests are limited.
Be advised that Formentor is 19k from Puerto Pollensa, of which at least half is on a narrow twisting road, OK until you meet one of the many day tripper coaches. My advice is go early, do the lighthouse, and be gone by 09-30am.
Casas Veyas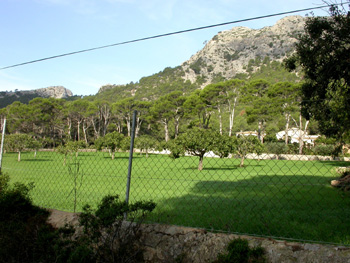 En route to Formentor you will pass through the site of Casas Veyas, a very important fall area for migrating birds. This was fenced during the G8 summit in the mid 90's and subsequently closed off to public access. Viewing is still possible from the main road but closure has greatly reduced its value as a birding site. Crossbill and Firecrest can be found in the adjacent pines with Redstart, flycatchers, Cirl Bunting, Woodchat Shrike etc in attendance in the summer.
Albufereta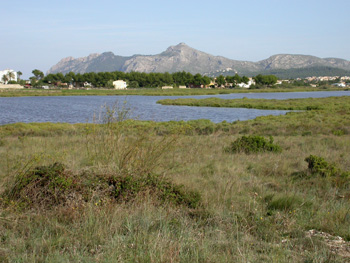 I have never found this site prolific from a birding point of view, which I attribute to the fact that water levels are not controlled. I have often found that the levels are too high for waders and not high enough for ducks. However, over the years, I have had Purple Heron, Osprey, and Great White Egret, plus most of the ducks and waders that occur on the island. I know that Graham Hearl regularly had Richard's Pipit here during autumn. Pipits and wheatears and Fan-tailed Warbler also occur during the season.
Cuber Reservoir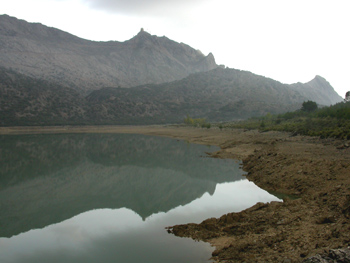 This really is High Sierras country, with Puig Mayor, the mountain featured in the picture, some 300ft higher than Ben Nevis . This area is classic raptor habitat with Black Vulture taking pride of place. Booted Eagle, Egyptian Vulture, Golden Eagle, Osprey plus buzzards and falcons can all be seen here. Around the lake itself, Tawny Pipit and Short-toed Lark can be found together with Moustached Warbler and Redstart. Being an upland reservoir it offers little interest to ducks, although the odd wader can be found foraging the margins. It is also used by several thousand gulls as a "wash & brush up" stop. The quarry is one of the most reliable sites on the island for Rock Thrush.
Son Serra de Marina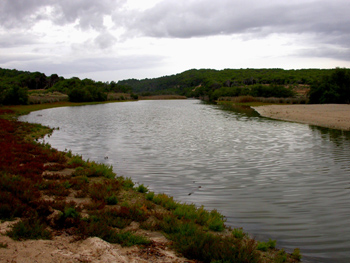 This was a new site to us on our previous visit in 2003. David Wellings had told us of the site and that it contained a pair of Slavonian Grebe still showing breeding plumage. It was also thought that as it was just 50 yards from the beach it could capture almost anything. This year's visit produced Osprey, 8 Little Grebe, 2 Little Egret, 2 Greenshank, Common Sandpiper and Grey Heron.
BIRDING SITES (South)
Salinas de Levante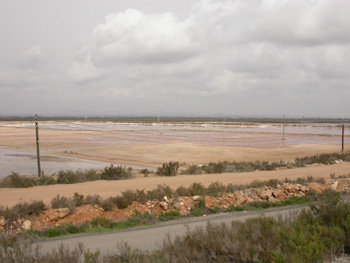 This is the premier birding site in the south of the island. A vast salt works which is still being worked, so most of the pans are at differing water levels, making them attractive to waders from Little Stint to Curlew. The amount of waders can be staggering, especially in the spring. I have yet to visit the site and not find Greater Flamingo, sometimes numbering several hundred. A word of caution; ensure there have been at least 3 dry days before attempting Eddie's track, as it becomes a black, slimy morass.
Cabo de Salinas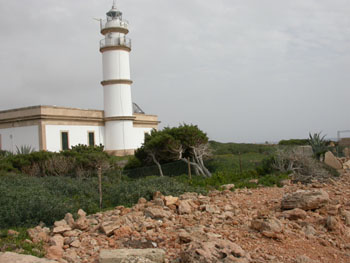 This is the very southerly tip of Mallorca and, similar to the lighthouse in the north, it is a very good place for sea watching.The area surrounding the lighthouse holds large numbers of breeding Stone Curlew and Thekla Lark. The lighthouse grounds are especially good in spring for small migrants, and also a spot to sit in the autumn and watch the Hirundines leaving the island, sometimes in their thousands. There is something very poignant in seeing this, knowing that their next landfall is on another continent.
SUMMARY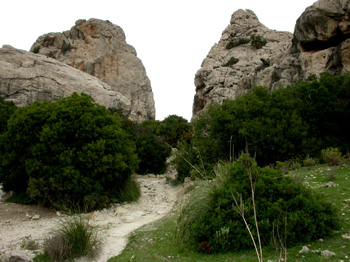 Birding on this trip was more laid back than previous trips; this was due to several reasons. Firstly I was carrying a very sore back caused by an office move a couple of days prior to the trip. Also, we had the family over and Judy insisted we spent some quality time with our young grandson; something I was happy to do. Thirdly, we had several heavy storms which didn't last too long but did have an effect on ground conditions, again giving the excuse to spend more time with the family. Consequently trip numbers were down to 97. Other birders on the island had trip lists well in excess of 100 species.
BIRD LIST AND STATUS
Little Grebe Tachybaptus ruficollis Small numbers of birds, with 8 at Son Serra de Marina.
Great-crested Grebe Podiceps cristatus 2 birds on the Grand Canal during all visits to the Albufera.
Cory's Shearwater Calonectris diomedea Odd birds seen moving off the shore at Cabo de Salinas.
Cormorant Phalacrocorax carbo Birds seen on the old pylons at the entrance to the Albufera at each visit.
Shag Phalacrocorax aristotelis 10> birds seen on the 2 breakwaters at Puerto Pollensa most days.
Little Bittern Ixobrychus minutus Only 2 birds seen; both were seen in the Albufera, 1 at Es Ras and 1 at the Grand Canal.
Night Heron Nycticorax nycticorax Due to storm damage to the old roost, Night Herons can be observed in the bushes on the far bank of the Grand Canal at the entrance to the Albufera. 20> birds observed on all visits.
Cattle Egret Bubulcus ibis Now the most common of the egrets on the island with several hundred seen in the roost near the entrance to the Albufera.
Little Egret Egretta garzetta Although now not as common as the former, still good numbers were seen most days.
Great White Egret Egretta alba More birds seen on this trip than any previous one. 2 birds were present at the Albufera and Albufereta with a singleton seen in " Smelly River " on 2 occasions and 3 birds were on the same salt pan at Salinas de Levante.
Grey Heron Ardea cinerea Birds were common at all suitable habitats with 10> birds seen from Bishop 1 hide Albufera at each visit.
Greater Flamingo Phoenicopterus ruber 1 juvenile seen from Orange Bridge (Albufera) with 50> at the Salinas de Levante.
Shelduck Tadorna tadorna Only two sightings, probably the same female bird at the Albufera.
Gadwall Anas strepera A common duck with small numbers seen at suitable locations.
Teal Anas crecca Same status as Gadwall with numbers building during the 2nd week.
Mallard Anas platyrhynchos Common at all suitable habitats.
Pintail Anas acuta 3 females at the Albufera 16th & 17th.
Shoveler Anas clypeata Good numbers of birds at all suitable locations.
Pochard Aythya ferina Odd male birds seen at the Albufera.
Tufted Duck Aythya fuligula 4 female birds seen on the last trip to the Albufera from the newly named Arthur Stagg hide.
Marsh Harrier Circus aeruginosus A very common raptor especially at the Albufera where 5 females & 3 males were seen hunting over the marsh at the same time.
Spanish Imperial Eagle Aquila adalberti A single adult bird was seen at the Albufera 17th. The sighting was reported to the centre, who confirmed that it had been seen and authenticated a couple of days previously.
Booted Eagle Hieraaetus pennatus Both light & dark phased birds regularly seen at suitable sites.
OspreyPandion haliaetus Two birds resident at Albufera with singletons at the Albufereta & Salinas de Levante.
Kestrel Falco tinnunculus Common over the whole island.
Eleonora's Falcon Falco eleonorae 3 birds at the Bocquer on the 8th and 4 at Formentor on the 10th.
Peregrine Falco peregrinus 1 bird seen hunting along the cliffs at Formentor was the only sighting for the trip.
Red-legged Partridge Alectoris rufa A singleton seen on the wall at the rear of Depuradora 10th & 18th with 12> in a field by " Smelly River ".
Water Rail Rallus aquaticus A single bird seen regularly under Bishop 1 hide with a pair of birds & a singleton at the Salinas de Levante.
Moorhen Gallinula chloropus Birds in small numbers at all suitable locations.
Purple Gallinule Porphyrio porphyrio Very common at the Albufera with a small enclave at the Albufereta.
Coot Fulica atra Birds abundant at all suitable locations with 100> at Albufera.
Black-winged Stilt Himantopus himantopus Common at all suitable sites.
Ringed Plover Charadrius hiaticula 3 birds with Kentish at Salinas de Levante.
Kentish Plover Charadrius alexandrinus Common at both the S'Illot (small disused salt pans), rear of the Albufera and the Salinas de Levante.
Grey Plover Pluvialis squatarola Only sighting was 8 birds at the Salinas de Levante on the 16th.
Lapwing Vanellus vanellus 9 birds loafing with Ruff at the Albufera, with several more at the Salinas de Levante.
Little Stint Calidris minuta A few seen at the Albufera, with 200> seen at the Salinas de Levante.
Dunlin Calidris alpina Odd birds at suitable sites with 4 at the Salinas de Levante.
Ruff Philomachus pugnax Small numbers encountered normally 3-5 birds and a flock of 10> was seen at Salinas de Levante.
Snipe Gallinago gallinago Several birds feeding at Depuradora. 6 were the most seen at any one time.
Curlew Numenius arquata 5 birds seen at Salinas de Levante.
Spotted Redshank Tringa erythropus 3 birds seen at Bishop 1 hide at the Albufera at each visit.
Redshank Tringa totanus Small numbers, not as many as seen previously.
Greenshank Tringa nebularia Good numbers at suitable locations. First time I can remember them outnumbering Redshank.
Green Sandpiper Tringa ochropus 6 birds at Depuradora with small numbers at most suitable locations.
Wood Sandpiper Tringa glareola A singleton feeding in the flooded field behind Depuradora.
Common Sandpiper Actitis hypoleucos Not as common as on previous trips with odd birds encountered.
Black-headed Gull Larus ridibundus Numbers building over the trip with wintering birds arriving daily.
Audouin's Gull Larus audouinii A common bird around Pollensa Bay with birds on both breakwaters daily.
Yellow-legged Gull Larus cachinnans Birds common all round the coast. 1000> birds loafing at Cuber Reservoir during late afternoon.
Sandwich Tern Sterna sandvicensis Up to 8 birds seen roosting on the breakwaters at Puerto Pollensa.
Rock Dove Columba livia A colony of 20> birds seen at the Bocquer Valley.
Wood Pigeon Columba palumbus Common at all suitable locations.
Collared Dove Streptopelia decaocto A bird success story. Very few birds were seen on the island 10 years ago. Today they can be encountered almost daily.
Kingfisher Alcedo atthis Another winter visitor seen in good numbers especially at the Albufera.
Hoopoe Upupa epops Birds seen in good numbers with a flock of 6 birds in residence at Depuradora.
Crag Martin Ptyonoprogne rupestris Birds seen at their usual haunts, Bocquer Valley, Alcudia headland, and power station.
Swallow Hirundo rustica Hugh numbers of passage birds were observed, especially after one of the 2 electrical storms we encountered.
House Martin Delichon urbica The only time birds were seen was again after the worst of the storms when 50>birds were resting on the overhead wires with several thousand swallows.
Thekla Lark Galerida theklae Again another bird that seems to be in decline. Only 2 birds, both feeding in cultivated fields by " Smelly River ".
Meadow Pipit Anthus pratensis Only 2 sightings for the trip.
Water Pipit Anthus spinoletta A single bird on overhead wires at the Salinas de Levante.
Grey Wagtail Motacilla cinerea Smaller numbers than usual, with individuals seen mainly at the Albufera. Odd birds at the local water courses including Son Marc.
White Wagtail Motacilla Alba 8 birds on the cultivated fields leading to Salinas de Levante was the only sighting.
Wren Troglodytes troglodytes 1 bird seen at Cuber Reservoir.
Robin Erithacus rubecula Birds continued to flood into the island over the 2 weeks with birds at all suitable locations.
Bluethroat Luscinia svecica 3 birds on winter territory at the rear of Depuradora. 1 bird ringed (see bird photos).
Black Redstart Phoenicurus ochruros Numbers appeared to be down on previous trips with odd birds at all historical sites. No males were seen.
Stonechat Saxicola torquata Very common at all suitable locations.
Northern Wheatear Oenanthe oenanthe 1 bird seen at the rear of the Albufera.
Blue Rock Thrush Monticola solitarius Birds at all usual haunts. The Bocquer Valley holds several pairs, especially around the rock pinnacles featured in the second location photo in the report summary.
Blackbird Turdus merula Birds common at all suitable sites. Numbers appeared to build over the 2 weeks.
Song Thrush Turdus philomelos Only a couple of sightings over the trip.
Cetti's Warbler Cettia cetti Very common with what must be hundreds at the Albufera.
Fan-tailed Warbler Cisticola juncidis Birds seen at most suitable locations.
Reed Warbler Acrocephalus scirpaceus 4 late birds still singing on territory at the Albufera.
Sardinian Warbler Sylvia melanocephala The commonest of all the warblers with birds seen at all suitable sites.
Blackcap Sylvia atricapilla Only sighting was a male & female feeding in the same bush in the Bocquer Valley.
Chiffchaff Phylloscopus collybita Again small numbers seen at several suitable sites.
Willow Warbler Phylloscopus trochilus Odd freshly moulted birds seen at Albufera.
Spotted Flycatcher Muscicapa striata Odd birds at suitable locations.
Pied Flycatcher Ficedula hypoleuca 1 female bird seen at Casas Veyas.
Blue Tit Parus caeruleus Just a couple of sightings for this trip.
Great Tit Parus major Small numbers of birds seen at most suitable sites.
Raven Corvus corax 4 Birds at the Bocquer Valley and a fly-past by 4 over the villa.
Starling Sturnus vulgaris A roost estimated to be in excess of 1 million birds at the Albufera. Small flocks encountered all over the island.
House Sparrow Passer domesticus Birds common everywhere.
Chaffinch Fringilla coelebs Common at all suitable habitats.
Serin Serinus serinus Small flocks usually associated with mixed finch flocks.
Greenfinch Carduelis chloris Common at all suitable habitats.
Goldfinch Carduelis carduelis The commonest of all the finches with flocks in excess of 100 not uncommon.
Siskin Carduelis spinus Just 1 bird in the pines at Casas Veyas.
Linnet Carduelis cannabina Small flocks of 6-10 birds seen daily.
Crossbill Loxia curvirostra 1 female also in the pines at Casas Veyas.
Corn Bunting Miliaria calandra From being a common bird some 10 years ago a steady decline has taken place with only 2 sightings throughout the trip.
Waxbill Estrilda astrild Up to 4 birds seen at the rear of Depuradora. Possible escapees but now breeding with numbers believed to be in double figures.
Birds which were seen during our trip by other birders included; Wryneck, Stone Curlew, Cirl Bunting, Firecrest, Goldcrest, Short-toed Lark, Mistle Thrush, Pallid Swift, Red Kite, Hobby and Golden Eagle.