INTRODUCTION
You're never too old to learn, "never say never" – having taken early retirement a couple of years ago we decided to buy a campervan; the reasoning being that we would restrict our birding to the British Isles, visiting all those sites we used to visit before the "birding abroad" bug bit. This would give us the wherewithal to travel when and where the whim took us – no more being herded about like cattle at the airport, we would be in total control of all aspects of our travel – sounded great. With the camper purchased we visited birding spots at all points of the compass in our first year, South Coast, Wales, East Coast and Scotland; we thoroughly enjoyed it, but it did not compensate for birding under a warm sun in shorts, tee-shirt and sandals. It wasn't long before we were getting our fix at our favourite short haul destinations.
We then decided that we would confine ourselves to short haul; no more the ball aches of long flights. Once again our best intentions were shattered with the realisation that we were actually hooked on new birding horizons and the new species that ensued. So, as stated previously, "never say never". We were sitting at home watching a Golf tournament in South Africa; the course was set above the Crocodile River. The tantalising glimpses of all the various wild beasts coming down to drink, accompanied by continuous bird song and the sight of herons, egrets and storks, not to mention the many unidentifiable birds flying in and out of camera-shot, rekindled our lust for new horizons.
It was our intention to bird independently where possible, as we usually do choose destinations which we are comfortable birding in. The Kruger National Park filled all those requirements. This is a tried and tested birding destination which would give us the opportunity to bird at our own pace, pick up a few new birds, re-acquaint ourselves with many familiar ones, as well as the added excitement of big game encounters. With this in mind we turned to the experts, Birding Africa, highly recommended by our good friends David & Amanda Mason. We informed Birding Africa of the type of birding we wanted to do and left all the arrangements to them.
ITINERARY & ACCOMMODATION
We had noted from several web sites that Birding Africa had a reputation for efficiently customising bespoke birding holidays: in fact they had been voted 5th best birding Holiday Company in the world, so we were confident that they would provide us with the perfect itinerary within our set budget. Well, we can confirm that Birding Africa fulfilled our expectations. The itinerary they provided consisted of 10 days independent birding in the Kruger, stopping firstly at Skukuza Camp in the southern half of the park for the first 5 nights, before travelling a little further north to Satara Camp where we would spend the next 5 nights. This should give us the opportunity to visit various habitats the Kruger has to offer and enjoy the large range of species such varied habitats produce.
We chose February, mainly to dispel those midwinter blues, but also to coincide with the summer South African breeding season which swells the number of birds found in the park to include inter-African migrants. The downside is, it can be very hot and humid with higher than average rainfall.
Our final 5 nights were spent at a private game reserve attached to the Kruger. Toro Yaka Bush Lodge forms part of the Balule Nature Reserve. This is a group of large farms that have removed their fences with the Kruger, allowing free range of all the wild animals. Toro Yaka comes highly recommended by Birding Africa both for the outstanding value for money and the abundant bird life in the area. Our stay in the Kruger was room only, whilst Toro Yaka was full board.
FLIGHTS
Our chosen International carrier was British Airways. The flight was overnight, London Heathrow Terminal 5 to Johannesburg. As we always do on long haul flights we upgraded our flight to give us a little more room. Pensions won't allow First or Business Class so we settled for "World Traveller Premium". Our internal flights were organised by Birding Africa and our first was an Airlink commercial flight from Johannesburg to Nelspruit. Our return flight back to Johannesburg was from Hoedspruit with SA Express.
CAR HIRE
Our car hire was organised by Birding Africa. We picked up our Budget hire car (Toyota Corolla) from Nelspruit airport for our 10 night stay in the Kruger. We then dropped it off at Hoedspruit before being picked up for our final 5 nights at Toro Yaka Bush Lodge on a full board basis with bush walks and game drives being the order of the day.
DAY 1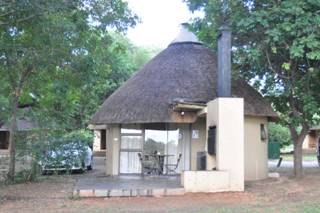 After a leisurely brunch we arrived at London's Heathrow Airport Terminal 5 in plenty of time for our overnight flight to Johannesburg. The flight was bumpy for about half the way but we still managed to arrive at our destination on time. After a numbing 5hr wait we boarded the Airlink flight to Nelspruit. We picked up our hire car and were soon on the road to the Kruger. We entered the Kruger Park by the Numbi Gate. After a leisurely 56k drive up to Skukuza Rest Camp we were ensconced in semi-luxury in bungalow 95 by late afternoon. The bungalow was situated on the banks of the Sabie River and afforded us the best river views in the camp, "good on ya Birding Africa", especially Marje Hemp.
Birds seen Day 1 Arrow-marked Babbler, Crested Barbet, European Bee-eater, Dark Chanting Goshawk, Fork-tailed Drongo, Spotted Flycatcher, Hamerkop, Southern Yellow-billed Hornbill, Hadada Ibis, Woodland Kingfisher, African Golden Oriole, Lilac-breasted Roller, Common Sandpiper, Magpie Shrike, Red-backed Shrike, Greater Blue-eared Starling, Violet-backed Starling, Barn Swallow, Black-crowned Tchagra, Water Thick-knee, Red-collared Widowbird, Green Wood-Hoopoe and Bennett's Woodpecker.
DAY 2
Having had a good nights sleep, despite an electric storm with very heavy rain, we awoke to light, intermittent rain falling and decided to avail ourselves of the Skukuza Bush breakfast. This was something we did a couple of times during our stay at the rest camp. The other days saw us out as soon as the gates were open at 05.30am, with our standard "cold buttered toast" for later. Although the camp breakfast was on the expensive side at approximately £10-00 per head, it was well cooked and presented. There was plenty of choice on offer, eggs, (fried or scrambled), bacon, sausage, tomato, (beans or mushrooms on alternate days), with fruit, cereals, yoghurts, hams, cheeses, toast, etc, etc.
We decided to take the H4-1 to Lower Sabie Rest Camp, stopping off at Nkuhlu picnic site for a comfort stop and a coffee. In the event, we never reached the rest camp, so much was the distraction at almost every turn; if it wasn't birds it was animals. We returned by the same route, stopping off at the Lake Panic Hide before returning back to the camp. Our evening meal consisted of a sandwich of ham & tomato, followed by a home-made ginger biscuit, bought from the picnic site earlier. A couple of glasses of South African Chardonnay sent us to bed satisfied.
New Trip Ticks Chinspot Batis, Carmine Bee-eater, Dark-capped Bulbul, Red-faced Cisticola, Burchell's Coucal, Black Crake, Diderick Cuckoo, Cape Turtle Dove, Emerald- spotted Wood Dove, Laughing Dove, African Fish Eagle, Crested Francolin, Natal Francolin, Helmeted Guineafowl, White-crested Helmet-Shrike, Black-crowned Night Heron, Goliath Heron, Green-backed Heron, African Jacana, Brown-hooded Kingfisher, Pied Kingfisher, Yellowed-billed Kite, Blacksmith Lapwing, White-crowned Lapwing, Red-billed Oxpecker, African Green Pigeon, Tawny-flanked Prinia, Cape Glossy Starling, Black Stork, Saddle-billed Stork, Wooley-necked Stork, Lesser-striped Swallow, Wire-tailed Swallow, Grey Go-away-bird, Purple-crested Turaco, Hooded Vulture, Thick-billed Weaver and Long-tailed Paradise Whydah.
DAY 3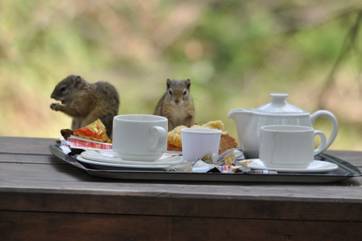 Today we woke to cloudless skies and temperatures that would reach 35°C by late morning. Our intention was to do the loop from Skukuza to the Afsaal Picnic Spot via the S114. Due to the devastating flooding that occurred some 6 weeks before our arrival, many of the routes in the Kruger have been affected; many bridges have been either washed away or damaged so severely that they have been closed. Picnic sites situated along the rivers have been closed due to flood damage. This was the situation today: unable to reach Biyamiti Dam we detoured onto the S23 loop, then onto the S113 then the H-3 south to the Afsaal Picnic Site. This picnic site contains a very confiding African Scops Owl which roosts within arms reach and is not opposed to having its photo taken. Having spent some time searching, we solicited the help from the picnic site staff who directed us to the Owl roost.
We availed ourselves of a drink and a shared plate of fries in the company of a couple of squirrels picnicking on the next table. We returned to Skukuza via the H3 & H1-1. A late afternoon walk around the camp, imitating the call of a Pearl-spotted Owlet produced the mobbing of several new trip ticks and some strange glances from fellow campers. Feeling pretty smug we visited the restaurant for a more than acceptable evening meal.
New Trip Ticks Black-collared Barbet, African Mourning Dove, African Hawk Eagle, Bateleur, Egyptian Goose, African Hoopoe, African Grey Hornbill, Red-billed Hornbill, House Martin, Malachite Kingfisher, Speckled Mousebird, African Scops Owl, African Paradise Flycatcher, Three-banded Plover, European Roller, House Sparrow, Common Waxbill and Cape White-eye.
DAY 4
Again we awoke to cloudless skies and we decided to head north along the H4-1 then onto the H1-2 heading for Tshokwane picnic site. Approaching the bridge over the Sabie River we encountered a Baboon troop of at least 60 individuals. Completely oblivious of the traffic, the Baboons were engaged in usual Baboon activity. The mature males were posturing and bullying any subordinate Baboon that came their way. The younger members of the troop chased around, play-fighting with any Baboon of a similar size who was up for it. We carefully picked our way past the troop to the disapproval of other drivers who were content in spending hours watching these activities. It appears that if you are South African and visiting the Kruger it's your duty to stop and look at any animal that presents itself, even if you have already seen dozens previously that morning. It's also incumbent on you to park in such a fashion that you cause the most inconvenience to others.
Our first stop was Leeupan; this is a large shallow lake a couple of hundred metres off the H1-2. This was probably the most productive waterhole we visited, with great views of Allen's Gallinule, Pigmy Goose and Saddle-billed Stork amongst others. All waterholes visited contained Hippo; the smaller ones probably just one and the larger ones, several. Due to the recent floods both Siloweni Dam and the picnic site were closed. We continued on to Orpen Dam which was a little disappointing. We re-traced our steps back to Skukuza.
Building on the success of the previous night we took the iPod and played Pearl-spotted Owlet, with great expectation at the same location where I had previously mimicked the call myself; "absolutely nothing". Crestfallen we return to our accommodation to find both Buffalo and Elephant on the river directly in front of our bungalow, it doesn't get much better. A more than acceptable evening meal completed our 4th day.
New Trip Ticks Cinnamon-breasted Bunting, Comb Duck, White-faced Duck, Martial Eagle, Allen's Gallinule, Giant Kingfisher, African Pygmy Goose, Red-billed Quelea, Burchell's Starling Marabou Stork and Red-billed Buffalo Weaver.
DAY 5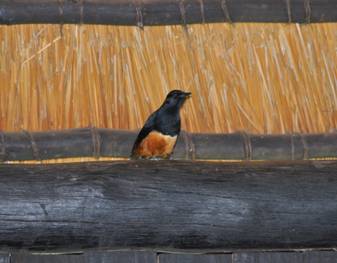 A 06.15 start to the day found cooler and overcast conditions. Having not made Sabie Rest Camp previously, it was our intention to make it for lunch today. With not a great deal to distract us we were at Sunset Dam by late morning. A fly-by Osprey was a welcome treat together with the only Marsh Sandpiper and Yellow-billed Stork of the trip. A welcome coffee at the camp, taken whilst looking out over the river, rewarded us with good views of both Hippo and Crocodile. A visit to the Ntandanyathi bird hide produced little with the exception of a Mocking Cliff-Chat which had taken up residence in the hide and insisted on serenading us for the entire length of our stay. With possibly our best raptor views of the trip, we returned back via the H 4-1, stopping off at the Lake Panic Hide; little new was seen from our previous visit. The Thick-billed Weaver had now completed his nest behind the hide and a Green-backed Heron who we were informed had had his nest washed out during the recent floods, was taking nesting material into a tangle of bushes to our left. We returned for our last night at Skukuza.
New Trip Ticks White-fronted Bee-eater, Little Bittern, Mocking Cliff-Chat, Jacobin Cuckoo, Levaillant's Cuckoo, Amur Falcon, Black-headed Heron, Black Kite, Marsh Sandpiper, Osprey, Wood Sandpiper, Black-backed Puffback, Brown Snake Eagle, African Palm Swift, Little Swift, African Pied Wagtail, Willow Warbler, Golden Weaver, Village Weaver and Yellow-billed Stork.
DAY 6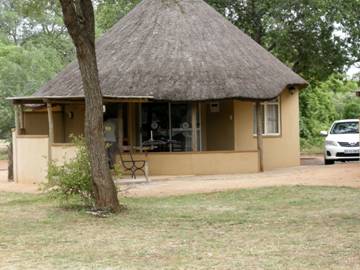 Awaking to another warm day with clear skies, we decided to eat breakfast at the camp before travelling to Satara Rest Camp which was to be our home for the next five nights. We drove north on the H1-2 & H1-3 stopping at both Leeupan and Nkaya Pan where a sub-adult Bateleur came down to drink while we ate our lunch. A Verreaux's Eagle-Owl was spotted in a large tree at the side of the road and seven Ground Hornbill flew across the road in front of the car, landing in a nearby tree. What luck!!
On arrival at Satara we were alerted to loud chattering from the trees in the car park in front of reception. A small group of Brown-headed Parrot were squabbling with a pair of Crested Barbet in the canopy; the only parrots seen during the trip. Our bungalow was 43B which was set in a large circle of other bungalows and not anywhere near the river-side setting we had at Skukuza, hey-ho!
New Trip Ticks Southern Red Bishop, Reed Cormorant, African Cuckoo, Black Cuckooshrike, Steppe Eagle, Cattle Egret, Little Grebe, Southern Ground-Hornbill, Common Greenshank, Lesser Moorhen, Verreaux's Eagle-Owl, Brown-headed Parrot, Lesser Grey Shrike, Secretarybird and Black-winged Stilt.
DAY 7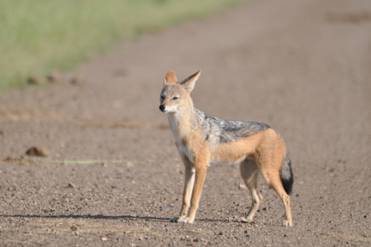 With cloudy skies and electrical storms a distant memory, we again woke to a warm cloudless dawn. It was our intention to drive the S90 to Olifants Rest Camp. This route was described in the Kruger Park Guide as South Africa's answer to the Serengeti; we couldn't wait. We were up by 05.00 and out by 05.30. Not long after we had turned on to the dirt road which is the S90, we encountered a very nervous jackal. It continued to walk back and forth along the road, looking across into the long grass. It suddenly bounded to the opposite side of the road, disappearing into the vegetation. We never did discover the reason for such behaviour. This road is approximately 40k long and we had visions of seeing many, many animals. In reality, apart from the odd lone bull Elephant, small groups of Impala and the odd male Wildebeest, we saw very little. However things were a little more productive on the birding front. Thousands upon thousands of Red-billed Quelea were building their nests in thorn bushes adjacent to the road. Swainson's Spurfowl seemed to occupy every large tree, standing like sentinels against the dawn sky, proclaiming their territory to all.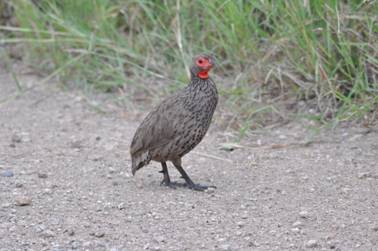 The habitat was as expected, much more like open savannah and the birding changed accordingly; bustards, spurfowl, quail and other savannah dwelling birds became the norm. The bridge across the Olifants River had been washed out so a 15k detour was required. We arrived at a very quiet Olifants in the early afternoon and replenished ourselves with a cool drink and Club Sandwich. We decided to retrace our steps, stopping off at the damaged bridge where we had been informed there was a pod of some 30 plus Hippos. Because of the silt we had to park our vehicle a lot further away from the bridge than some of the 4x4s we had seen earlier. A scary walk ensued; fear getting the better of us, we returned to the safety of our vehicle a lot quicker.
New Trip Ticks Kori Bustard, Namaqua Dove, Peregrine Falcon, Village Indigobird, Black-shouldered Kite, Black-bellied Bustard, Crowned Lapwing, Red-capped Lark, Harlequin Quail, Chestnut-backed Sparrowlark, Swainson's Spurfowl, Wattled Starling, Red-winged Starling, Lappet-faced Vulture, Southern Masked Weaver, Spectacled Weaver and White-winged Widowbird.
DAY 8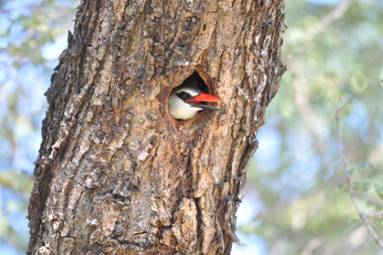 Lying in a little later today saw us checking out the birds in the camp. Most of the birding activity appeared to be coming from the camping site, so this is where we started. Various starlings squabbled with Red-billed Hornbill; hundreds of Little Swift circled overhead, Southern Carmine Bee-eater graced the trees and power lines. Red-billed Buffalo Weaver were collecting nesting materials, an African Hoopoe caught the eye, together with a Black Crake walking across open lawn! A pair of Crested Barbet were viciously fighting, watched by a couple of Southern Grey-headed Sparrow and the incessant call of a Woodland Kingfisher from its nesting hole filled the air; "what a great start to a day".
With campers rising, a little care had to be taken with the direction you pointed your long lens. Today we decided to drive to Timbavati Picnic Site, calling in at the Nsemani Dam and finishing off at Ratelpan hide. A male Waterbuck with a broken leg was seen wallowing in the shallow water during each of our visits except for our last, when there was no sign.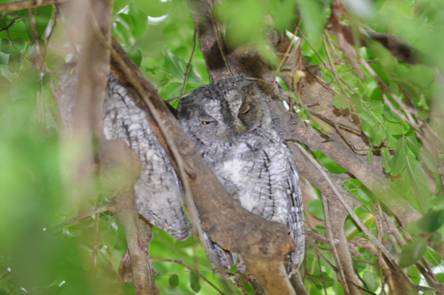 Timbavati is renowned for its two roosting Scops Owl. We were pointed in the right direction by a couple of Germans we met on site. Sure enough both Scops were roosting side by side low down in the bush. They reminded us of the Rosy-faced Lovebirds we saw in Namibia. The bird hide at Ratelpan was a little disappointing, although interest was maintained by several male Red Bishop, in breeding splendour, standing sentinel at their nests and a Giant Kingfisher hovered and dived for fish in front of the hide; the last we were to see during the trip. Our second Grey Heron of the trip sunned itself on a sandbar to the left of the hide. Both Common & Wood Sandpiper were scoped on the far side of the pan.
On our return to Satara we found our one and only African Harrier Hawk; another very good day for raptors.
New Trip Ticks Burchell's Coucal, Coqui Francolin, African Harrier Hawk, Red-faced Mousebird, Southern Grey-headed Sparrow, African Spoonbill and White-backed Vulture.
DAY 9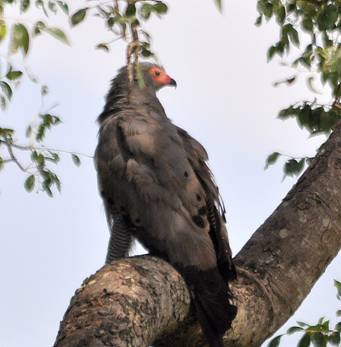 Today we decided to visit N'wanetsi picnic spot which was located on the S-41 via the S-100. Leaving the bungalow at 05.40 we were amazed to see a Wild Cat with two kittens in the camp. Meowing in order to attract their attention we were able to get a shot off before they ran off. Probably the biggest disappointment of the trip was that the camera lens had fogged due to a cold lens caused by overnight air-conditioning, which left us with a badly fogged image.
With this drive being described as the most popular drive in the park due to the number of wild game sightings we were anxious to get going. We have to say we were a little disappointed as the game sightings were, at best, average. N'wanetsi Dam produced nothing new with the exception of the only Spur-winged Goose of the trip. This huge bird flew down the dam towards us before landing in dense vegetation on the far bank. The Sweni Bird Hide was also a little quiet with an hours watching producing nothing new. We retraced our steps back to Satara, returning by late afternoon. The day that had held the greatest expectations of our time in the Kruger turned out to be probably the slowest.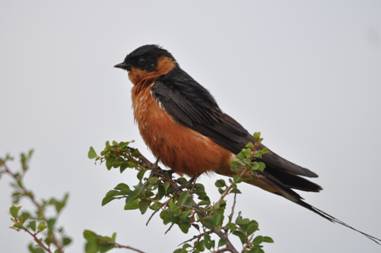 Our evening meal was as poor as the game viewing, although we did hear an African Scops Owl, which was imitated by our waiter perfectly, bringing the Owl closer & closer
New Trip Ticks Blue-cheeked Bee-eater, Great Spotted Cuckoo, Wahlberg's Eagle, Spur-winged Goose, Dusky Lark, Southern White-crowned Shrike, Mosque Swallow, Red-breasted Swallow.
DAY 10
As this was our last full day in the Kruger we decided to do an early morning walk around the camp followed by a drive back along the S-90 which had been our favourite drive whilst at Satara. The camp walk produced all the same suspects as our previous one, what a great way to start the day. A Slender Mongoose, Elephant, Zebra and Wildebeest were all seen close to the camp through the electrified perimeter fence.
Driving just 13km along the S-90 produced 14 Ostrich; a bird we had hoped to see almost from the off. Whilst trying to get a good photo of a Buffy Pipit, two pairs of Double-banded Sandgrouse wandered onto the track a few metres from the car, again what luck?
We retraced our steps onto the main road and headed off to Timbavati & Ratelpan. The pair of Scops Owl had obviously had a tiff as today they were roosting a metre apart on the same branch. The only other birds of note were several White-backed Vulture in the large trees on the side of the river plus a couple of White-headed Vulture at the same location.
Returning back to the camp we refreshed ourselves with a cool drink and a shared chicken & mushroom pie. At 5pm we returned to the Nsemani pan some 7km from the camp.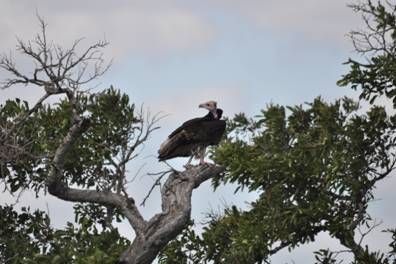 Frustration grew as many more waders than we had previously encountered fed on the margin of the large sandspit. With the setting sun acting as a backlight it was impossible to i.d. many of the waders, even with the aid of the scope, "bugger, bugger". The injured Waterbuck was where we had left it the day before, wallowing in the shallow margins, accompanied by a couple of feeding African Spoonbill.
We returned for a barely adequate meal and then on our arrival back at the bungalow we found a small snake in the external kitchen area. Prodding the snake at the tail-end with a rather shaky finger it curled into a tight ball and hissed loudly. Discretion being the better part of valour; we left it to its own devices. We later discovered it was a Common Egg-eater (Dasypeltis scabra) and fairly harmless.
New Trip Ticks
Sabota Lark, Ostrich, Buffy Pipit, Green-winged Pytilia, Double-banded Sandgrouse and White-headed Vulture.
DAY 11
Today was a moving day, so we spent the first hour walking round the camp; all the usual suspects were seen including a pair of Red-headed Finch feeding with the Blue Waxbills, a new bird for the trip. A meagre Satara breakfast followed before we left the camp via the Orpen Gate for the 100km+ drive to Hoedspruit Airport, the drop off point for our hire car. Incidentally we had to pass Nsemani Pan and noted that not only had all the waders disappeared, but the injured Waterbuck had also gone; a sombre note on which to leave.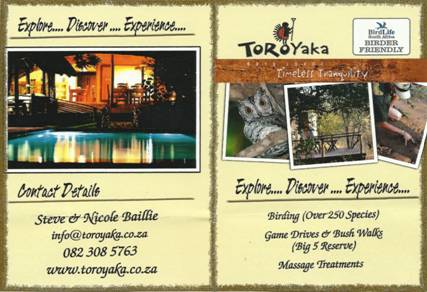 We were picked up by Trophy Toyota Taxis for the hour long drive to Toro Yaka Bush Camp, our home for the next 5 nights. We were greeted by owners Nicole & Steve Baillie, with a refreshing cool drink. This was going to be the relaxing and pampering part of the holiday and we weren't going to be disappointed. We were booked in for full board which included 2 game drives a day, one at daybreak 05.30am and one at 17.00pm: both drives lasted somewhere between 3 & 4 hrs.
Toro Yaka is part of the Balule Conservancy. This consists of a group of like-minded landowners who came together almost a decade ago to remove the fencing between their land and the Kruger National Park, allowing the unhindered re-colonisation of previous farmland by wild animals: this area has now become known as "Greater Kruger". With Toro Yaka set deep inside the bush, it is tranquillity personified; a bush camp that exudes understated elegance. With only a single strand of electric wire set at chest height to deter Elephants, it is open to all the other creatures that roam wild. Having said that, as long as you comply with the rules, "don't wander out of the confines of the camp and remain in your bungalow once the camp has retired for the night", you are perfectly safe; after all the animals are more scared of us than we are of them.
Most visitors to Toro Yaka are there for the game viewing and not for birding so it's unreasonable to expect either management or punters to spend much time on birds. Steve is an excellent birder and stopped for birds when appropriate. He would mimic a calling Pearl-spotted Owlet with a modicum of success. With 250 species recorded in Balule, should a birding group stay at Toro Yaka, we are certain that they would have a very profitable time.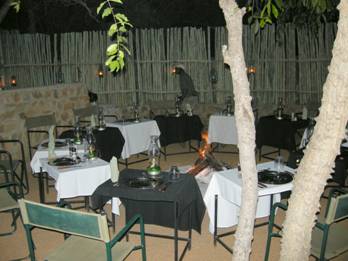 Our days followed the same pattern; early morning game drive returning to a breakfast table full of everything you would expect. A traditional cooked breakfast was also on offer. Relaxation is then the order of the day interrupted only for a light lunch. A second game drive was undertaken in the late afternoon; a sundowner of your choice with nibbles was taken during the drive usually as the big African sun was setting. Back at the camp by 20.30 to 21.00pm, just in time for a quick shower before a hearty home-cooked three course evening meal. Dependent on your length of stay, a brai is served around an open fire with old paraffin lamps illuminating the specially constructed Boma. If not, then meals are either served communally around a large table or on individual tables scattered on the terrace and around the swimming pool. All rooms are air-conditioned, en-suite with both indoor & outdoor showers. Beds are turned down each evening and a sweet & scroll containing an African fable are left on the pillow. Full Mosquito nets are provided together with Mosquito spray. Toiletries, bath robes and a plentiful supply of large towels adorn the twin basin bathroom. A small waterhole just below the sun terrace and swimming pool is visited by herds of Impala, Wildebeest, Warthog and Elephant on a regular basis.
Both Steve and Nicole are very accommodating, as are all the staff; nothing is too much trouble. All remarks we read prior to the holiday complimented Toro Yaka on the standards of accommodation, food, facilities and game drives; it's not difficult to understand why and it's a trend we are more than happy to continue.
Birds seen at Toroyaka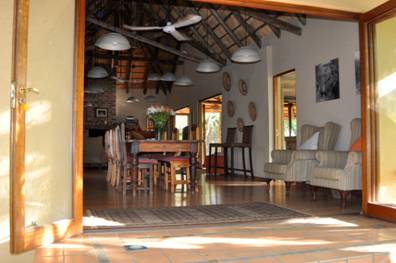 Yellow–breasted Apalis, Arrow-marked Babbler, Crested Barbet, Chinspot Batis, European Bee-eater, Dwarf Bittern, Dark-capped Bulbul, Cape Bunting, Cinnamon-breasted Bunting, Golden-breasted Bunting, Dark-chanting Goshawk, Rattling Cisticola, Bronze-winged Courser, Long-billed Crombec, Great Spotted Cuckoo, African Mourning Dove, Cape Turtle Dove, Emerald-spotted Wood Dove, Laughing Dove, Namaqua Dove, Fork-tailed Drongo, African Fish Eagle, Bateleur, Eurasian Hobby, Red-billed Firefinch, Spotted Flycatcher, Crested Francolin, Natal Francolin, Egyptian Goose, Helmeted Guineafowl, Hamerkop, White-crested Helmet-Shrike, Grey Heron, African Grey Hornbill, Red-billed Hornbill, Southern Yellow-billed Hornbill, Trumpeter Hornbill, Village Indigobird, Pied Kingfisher, Woodland Kingfisher, Red-crested Korhaan, Blacksmith Lapwing, Crowned Lapwing, White-crowned Lapwing, Sabota Lark, Red-faced Mousebird, African Barred Owlet, Pearl-spotted Owlet, Southern White-faced Scops Owl, Red-billed Oxpecker, African Paradise Flycatcher, Three-banded Plover, Tawny-flanked Prinia, European Roller, Lilac-breasted Roller, Common Sandpiper, Wood-Sandpiper, White-browed Scrub Robin, Black-backed Puffback, Lesser Grey Shrike, Magpie Shrike, Red-backed Shrike, Southern White-crowned Shrike, Southern Grey-headed Sparrow, Swainson's Spurfowl, Cape Glossy Starling, Violet-backed Starling, Wooley-necked Stork, Marico Sunbird, Southern Double-collared Sunbird, Scarlet-chested Sunbird, White-bellied Sunbird, Barn Swallow, Wire-tailed Swallow, African Palm Swift, Black-crowned Tchagra, Water Thick-knee, Southern Black Tit, Grey Go-away-bird, White-backed Vulture, Hooded Vulture, African Pied Wagtail, Blue Waxbill and Red-billed Buffalo Weaver.
SUMMARY
83 species were seen during our stay at ToroYaka, of which 20 were trip ticks, an excellent return when you consider the birding opportunities were limited.
Total number of birds seen for the whole trip was 188; we feel this is excellent when you consider the fact that 90% of the birding was done from inside a vehicle. Well over 60 bird photos were added to our bird library, of which 75% were new species for the library.
The total cost of the holiday was £8,000; this included spending money.
Fuel in South Africa is approximately £1-00 per litre; we used £120-00 worth in the hire car, not bad when you consider we barely got out of third gear and our average speed was less than 20mph. Petrol is available at most camps, but be aware that they only accept cash.
Although rain clouds built up most afternoons we only experienced rain during the first couple of days of the trip. Temperatures topped 30°C with humidity at 70%.
MOANS, GROANS & MEMORABLE MOMENTS
Moan
Having travelled for nearly 36hrs culminating in a 06.00am arrival at Heathrow on a full Boeing 747-400, the "powers that be" decided 2 customs officers were sufficient to man passport control, culminating in long queues & short tempers.
Groan
The total lack of consideration shown by some drivers in the Kruger, who, in their desperate attempts to get a better view, would be quite happy to totally block the road or even drive in front of you completely, blocking out any view you may have had.
Moan
All things to do with catering at Satara Camp. It's inconceivable that a world attraction like the Kruger should be administered in such a shoddy fashion.
Memorable Moments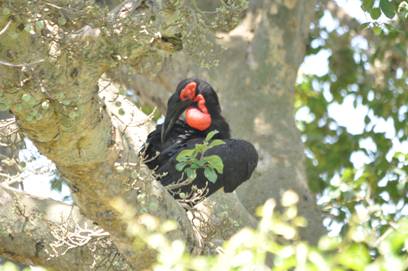 A bush walk to within a dozen metres of 3 male Rhinos, crouching down in the long grass to reduce our profile whilst the dominant Rhino showed his annoyance at our intrusion; not for the faint hearted.
Meeting a large bull Elephant head-on on one of the smaller dirt roads, reversing the car for several hundred metres, stopping at gaps in the trees hoping he would take the hint and return to more appropriate terrain and our relief when he eventually did.
Seeing our first Leopard, which decided to descend the large tree where he lay astride a large bough and walk along the track before disappearing into the dense vegetation.
The many encounters with all the special birds we saw, far too many to chronicle here, but all helped to make this one of the best birding trips we have had for many years.
The whole experience at Toro Yaka; what an inspired conclusion to our trip, thanks Birding Africa.