INTRODUCTION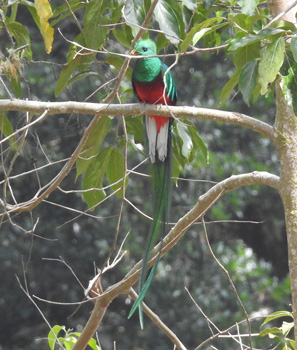 Coast Rica had been on our "to do" list for around 20 years and the idea of some winter sunshine and lots of birds and wildlife is always very attractive. With nothing planned, we were looking for somewhere exciting to go at the beginning of January 2019 when I received a circular email from Tropical Birding offering 10% off the list price of their "Birding with a Camera" trip to Costa Rica towards the end of March. Despite our reservations about organised group birding holidays we decided to take a chance, as the spec for this trip seemed a little more relaxed than the standard birding trip.
Minds made up, we decided it was a long way to go for just 11 days, so we added a small trip of our own at the start of the holiday. We looked at the TB itinerary and decided to visit the north west Pacific slope near Carara National Park and then spend a few days at La Selva Biological Station in the hope we would add some different birds to our overall trip list.
FLIGHTS & TRANSPORT
With an early morning flight from Gatwick direct to San José we decided to fly to London the day before and stayed at the Gatwick Hilton overnight.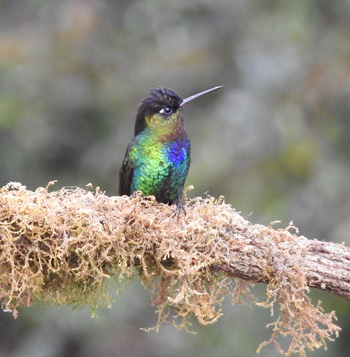 All flights were booked with British Airways enabling us to use some Avios points from previous trips at long last. Our flight to Heathrow was uneventful, but the coach transfer to Gatwick was another story! The National Express coach was running 10 minutes late from Birmingham when we were picked up and traffic on the M25 was as expected on a Friday afternoon. The driver was a little fraught and with some interesting lane manoeuvres and rude hand gestures to other motorists, there were a few tense moments, with one overseas passenger going so far as to ask the driver if he had been drinking. The walk through the car parks at Gatwick to the Hilton seemed never-ending and the hotel itself is just one massive rabbit warren. Our room was comfortable and with our alarms set for 04.00 we decided it would be wise to eat in. Sadly the food was not up to much and left us a little disappointed with the start of our trip.
Travelling Business Class, the airport experience the next morning was quite painless; take off was delayed 30 minutes, but some lost time was made up in the air and the flight overall was very comfortable. The return trip to the UK was not as relaxing as it spanned 36 hours, with in excess of 10 hours spent waiting in airports. The direct flights from Gatwick only go 2/3 times per week, so rather than spend another 2 nights in Costa Rica, we flew to Heathrow via Miami and then onwards home. Moreover, BA's flying partner, American Airlines, do not have Business Class lounge facilities in San José – a pretty poor show really!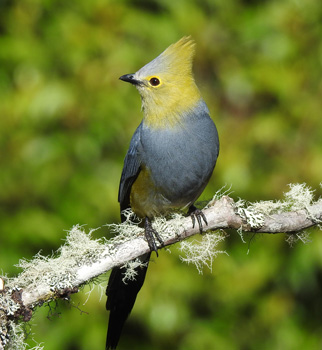 Arrival in San José was a bit of a trial: we had to wait over 90 minutes for our luggage, due to "technical problems". With an onward drive of 90 minutes plus and a desire to arrive at our destination in daylight, we were cutting it a bit fine.
Car hire was arranged via Holiday Autos with Avis. After the baggage delay we waited about 30 minutes for the shuttle bus to the Avis depot, and after sorting out our documentation for a further 30 minutes we were sent outside for the car, a 4WD Nissan X-Trail. Another delay ensued, as first the car was not valeted and washed and then it was driven to the office without being filled with fuel. A little over three and a half hours after landing, we finally drove away from the airport. We paid extra for Satnav which we found invaluable as the road signs in Costa Rica are not the best.
Returning the vehicle was a different experience altogether. We were in and out of the Avis depot in under 5 minutes, as the car was inspected, our documents taken from us, we were told everything was in order and we were rushed on board the shuttle bus and taken to our hotel for a final night before flying home. When we arrived home we had received a final invoice from Avis which included US$73.68 refuelling charge, this despite the fuel gauge being above the "full" line when we left the car. Subsequently Avis Customer Service in the UK have ignored our emails. We then enlisted the help of Holiday Autos, but after about 2 months they decided there was no case to pursue as the Avis agent in San Jose had completed the form indicating we wished to take the Refueling Fee option. When we picked up the vehicle I categorically refused to have the Refuelling Fee arrangement as the fee was disproportionately large in comparison to the cost of a tank full of petrol. Despite this the Avis representative passed me the rental papers and asked me to initial the options we had agreed, without really giving us time to read or think about them. We had been delayed for almost 2 hours at the airport waiting for our baggage and were in a hurry to get to our hotel on the west coast before dark. It now turns out that the rental agreement had not been set up as requested and we are being made to suffer the consequences. Holiday Autos finally suggested we email the Avis Customer Services office in San Jose asking them to investigate the issue. Unfortunately Customer Service and Avis appear to be a bit of an oxymoron! Several weeks on (early July) we have still had no response from Avis…… #AvisTheivingBastards!
The Tropical Birding section of the trip involved travel on a 14 seater air-conditioned bus; quite comfortable for 6 participants plus guide.
ACCOMMODATION, FOOD, COSTS, WEATHER etc.
Villa Caletas Puntarenas, near Jaco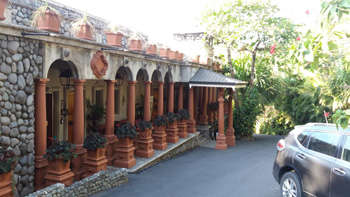 Booked online via Expedia: situated on a rocky outcrop overlooking the Pacific Ocean with magnificent views of sunsets. Weather was dry, hot and sunny and not too humid with temperatures ranging from 22°C to 32°C. A very comfortable way to start our trip, with aircon and all facilities imaginable. Excellent restaurant facilities. Laundry facilities were good but very expensive.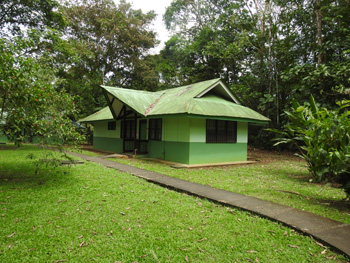 Booked online, direct with La Selva, although we needed a lot of help from the admin team at Tropical Birding, as the La Selva staff were extremely slow in dealing with the booking once they had originally confirmed availability. Our initial email requesting accommodation was sent on 22nd January 2019 and having eventually been told we needed to pay by 19th February or our reservation would be cancelled, we were finally charged on 12th March, 3 days before our departure. In contrast, the staff we dealt with once there were very helpful and well organised. La Selva is owned and operated by the OTS (Organisation for Tropical Studies) and is situated in the lowlands of the Sarapiqui region on the Caribbean side of the mountains on the edge of Braulio Carrillo National Park at an altitude of 35m/115ft. It was hot and humid throughout, with a ceiling fan in the lounge barely moving the air and a small rotating wall mounted fan in the bedroom which had a similar effect. Temperatures ranged from 24°C to 32°C.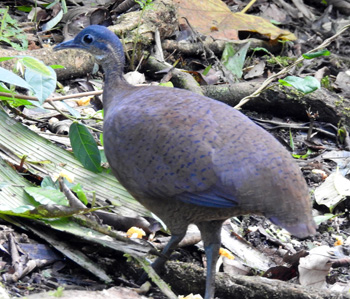 Set up primarily for research projects with a constantly changing throughput of students and academic researchers, it has the feel of a college campus with cafeteria type dining hall (comedor) facilities and a limited choice of food on the menu. Surprisingly the food was quite good; even the packed lunch offered a choice of several sandwich fillings, savoury snack, candy bar, fruit, fruit drink and a bottle of water. However the accommodation, although we were in a "family bungalow", was tired at best with attendant ant family vacating their wall cavity each evening and disappearing down the wall and behind the sofa in the lounge. We didn't risk investigating further. The two bedrooms each contained a single bed and a pair of bunk beds. I was lucky enough to get the bunk and during the first night managed to repeatedly bang my shins on the ladder at the foot of the bed almost every time I turned over!
All subsequent accommodation was arranged by Tropical Birding.
Hotel Robledal, Alajuela, San Jose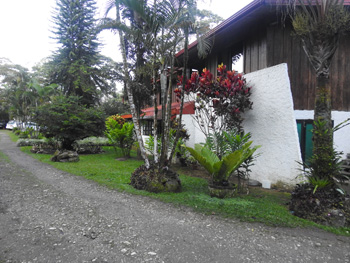 Altitude – 950m/3115ft situated within the dry Central Valley. Hot and sunny with temperatures ranging from 20°C to 26°C. Very comfortable & clean rooms and good food. Plenty of birdlife in the surrounding grounds.
Altitude – 766m/2530ft situated in the Caribbean foothills. Temperatures ranged from 18°C to 30°C. Hot and humid with rain from time to time. Very professionally organised and ideal for a birdwatching base. Rooms are spacious, clean and very comfortable. Staff are excellent. The drive from the main road up the hillside to the lodge is a little tortuous, but well worth the effort. RN is now famous in our family for having the thinnest toilet paper in the world!
Elevation 1950m in the Talamanca Mountains,which range between 1950m/6400ft and 3400m/11,400ft.Temperatures ranged from c18 – 26°C and definitely felt much cooler overnight. In the mountains, it is best to dress in layers; although it can be cold in the early mornings it heats up quite quickly. Comfortable accommodation with wonderful views from the balcony of our room. Limited range of food but quite good quality.
In the humid foothills of the Pacific side of the mountains at an altitude of 700m/2295ft. Temperatures ranged from a high during the day of 32°C to 24°C at night. Not much respite from the heat: hot and sunny. Probably the least comfortable of the lodges we stayed in and in need of a little TLC or even a complete refurb. The room was tired with faulty plumbing and little chance of a comfortable night's sleep as the only fan was situated at the far end of a long room, well away from the double bed. The food was very good however, and a little surprising after some recent internet comments. However the laundry service was quite unreliable. We left a bag of clothes out first thing in the morning and the reception staff were advised. When we returned to our room at the end of the day the laundry was still there, untouched. The proprietor, who had come to our room to fix the plumbing, said he would take it and it would be ready the next morning. It was; but it was still quite wet and it adorned our room at Esquinas for the next 24 hours!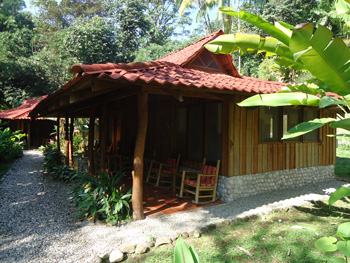 In the humid lowlands of the Pacific at an elevation of 240m/790ft. Visited during the sunniest and hottest period of the year for this area. Humidity was constantly high and temperatures were typically above 23°C 24/7. Our room was very comfortable and the food was good apart from a truly dreadful packed lunch we were given on our last day.The owners could take lessons from La Selva!
General Summary
Weather was hot and humid everywhere and a little cooler, first and last thing, in the mountains. The only real rainfall was at La Selva, it is tropical rainforest after all, but this didn't stop us birding. There was only one other rainy day; our second at Rancho Naturalista. Again, this didn't interfere with birding too much.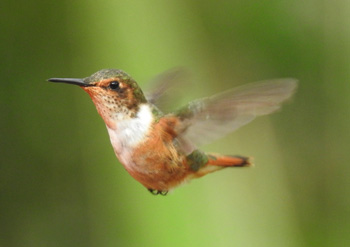 Rain gear is essential and should be carried during most outings. The minimum should be a raincoat or poncho, but a mini-umbrella is probably the best idea as it will keep water off your binoculars as well as keeping you dry and ensuring you don't get any warmer in the hot, humid atmosphere.
Food was plentiful and, by and large, good throughout, although another week of rice and beans might just have been a step too far. Comments are by exception at each location. There was a fairly constant supply of excellent coffee everywhere, although it is not as easy to get a good cup of Breakfast tea, or similar.
Wi-fi is available almost everywhere, though often it only works in the public areas and not individual rooms. Laundry service is also available in most places at varying costs: it is wise to check prices before handing in a huge load.
RESEARCH & TRIP ESSENTIALS
Numerous trip reports can be accessed via the Cloudbirders website and there is also good information on the Fatbirder website. Tropical Birding also provided a comprehensive information pack, including likely species – very handy when planning the rest of our itinerary.
FIELD GUIDES AND OTHER BOOKS TO CONSIDER
Birds of Costa Rica: A Field Guide. Richard Garrigues & Robert Dean. Cornell University Press, 2014 (Second edition). All you will really need for Bird ID.
Photo Guide to Birds of Costa Rica (Zona Tropical Publications). Richard Garrigues (2015). A good companion to the above book, but it only covers 300+ species, although the photos are excellent.
A Guide to the Birds of Costa Rica (Comstock Book). Stiles, Skutch and Gardner. Cornell University Press, 1989. The standard reference on Costa Rican birds for nearly two decades, but now a bit outdated in some aspects, such as taxonomy. However, it is still the authority on the natural history of the country's birdlife and could be of interest to anyone who wants more detailed information on aspects such as nesting.
A Bird-finding Guide to Costa Rica. Barrett Lawson. Cornell University Press, 2009. Provides details of sites and lists of birds you can expect to see, as well as giving a solid overview of the various bio-geographical regions of the country.
The Mammals of Costa Rica: A Natural History and Field Guide (Zona Tropical Publications): Mark Wainwright and Oscar Arias 2007. Probably the best mammal guide for the country.
A Swift Guide to Butterflies of Mexico and Central America: Second Edition. Jeffrey Glassberg. Sunstreak Books. 2007. If you are keen on butterflies this is the best comprehensive book available for the butterflies of Costa Rica.
Tropical Plants of Costa Rica: A Guide to Native and Exotic Flora (Zona Tropical Publications): Willow Zuchowski and Turid Forsyth 2007. A good book for those with a passion for botany. Excellent for both the amateur and experienced plant fan.
Amphibians and Reptiles of Costa Rica: A Pocket Guide (Zona Tropical Publications). Federico Munoz Chacon and Richard Dennis Johnston 2013. While not comprehensive, it is small and covers the most of the species you are likely to see.
Amphibians of Costa Rica: A Field Guide (Zona Tropical Publications). Twan Leenders 2017. An excellent comprehensive field guide and the preferred choice to the above guide, if you like amphibians. Bigger, but better!
ELECTRIC CURRENT
The current is the same as the USA: 110 volts AC, 60 cycles. Receptacles are also US-style and take flat-pinned plugs.
TIME
Costa Rica is in the same time zone as the central US (GMT -6), but does not use daylight savings time.
COMMUNICATION
Except for the city hotels, phones may not be available for international calls. All hotels have WIFI, though sometimes it is only available in the lobby and not in each room.
TROPICAL BIRDING BIRD GUIDE
Fito Downs has been working as a full time guide since 2001 in Central and South America and at one time was a guide and field researcher at La Selva Biological Station. He speaks Spanish, English and Portuguese; is a good communicator and an excellent guide and bird spotter.
ITINERARY & DIARY
Day 1 (Saturday 16th March) – Villa Caletas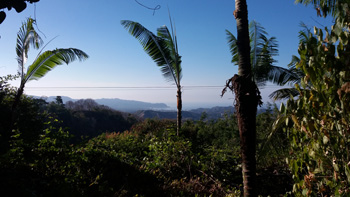 We arrived in Costa Rica early in the afternoon on a direct flight from London Gatwick. After picking up our hire car from Avis we quickly left San José behind, heading for the Pacific coast and our first stop: Villa Caletas near Jaco. Surprise, surprise, as with many overseas trips these days, the first birds we saw outside the Arrivals Hall were 4 House Sparrow! As we left the airport and throughout the journey we saw numerous Black Vulture, Turkey Vulture and Great-tailed Grackle. Once checked in, we saw our first pair of Scarlet Macaws from our balcony as the sun went down.
Day 2 (Sunday 17th March) – Villa Caletas & Carara National Park
After an early night we were awake well before 05.00 and soon watching vultures and Costa Rican Swift from the balcony, followed by Yellow-headed Caracara and Great Kiskadee. By 08.30 we were down at the famous Tárcoles Bridge where 20+ American Crocodiles basked in the baking early morning sunshine on the exposed mud below the bridge. You can park either side of the bridge and walk out along the narrow sidewalks, but take care; the road is exceptionally busy with lots of coaches and heavy goods vehicles as well as numerous cars. On and around the River Tárcoles we saw the first of many Great and Snowy Egret, Little Blue Heron, Hoffmann's Woodpecker, Mangrove Swallow and Black-necked Stilt, plus c50 Black-bellied Whistling Duck.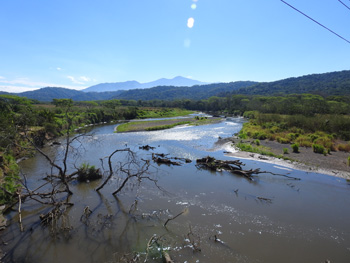 Between 09.30 and 12.00 we walked around the nearby Carara National Park having engaged one of the local guides, José, at a cost of US$25 per person. We started with the 'Loop Trail' which is surrounded by old growth forest and then moved on to the 'River Trail' after about an hour into the seasonally flooded forest which was fortunately dry. The latter trail is around 1.4 kilometres north of the Park Headquarters: there is a small car park where there is usually a guard on duty to look after the cars and we made sure we gave him a good tip. Entrance fee for the Park is US$10 pp. Unfortunately our guide wasn't as good as he thought he was and we had to correct him a few times with species ID. We managed to see Dot-winged Antwren, Southern Beardless Tyrannulet, Rufous Breasted Wren, Chestnut-backed Antbird, Buff-throated Saltator, Zeldon's Antbird, White-whiskered Puffbird, Rufous-tailed Jacmar, 3 Orange-collared Manakin, Black-hooded Antshrike and the first of the subsequent many, daily Clay-coloured Thrush. Not a bad haul, but I have to admit to being quite disappointed by Carara after all I had read online and in the site guides. We also saw a single White-throated Capuchin Monkey.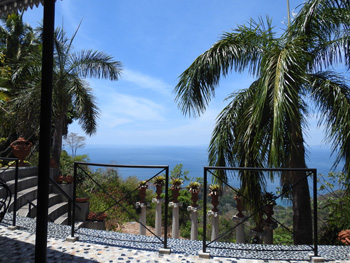 By the time we got back to our car I was absolutely shattered and close to exhaustion: tried to do too much on the first day, walking c4 miles in blistering heat and probably with too little water. It took me all my time to drive the car about 7 miles to a nearby restaurant, La Ostra, where I sat slumped over a table for at least an hour with two bottles of Coke, before I could manage to pick at a super lunch plate of chicken salad, whilst Amanda, quite concerned, but unfazed, tucked in to a delicious prawn platter. The only birds of note in the afternoon were numerous Magnificent Frigatebirds circling over the shoreline as we drove back to Villa Caletas. Lesson learned; we returned to our hotel after lunch for a rest in our air-conditioned room! Another early night followed.
Day 3 (Monday 18th March) – Villa Caletas & Tárcoles River Mouth
New balcony birds this morning were Yellow Tyrannulet, Black Swift and Boat-billed Flycatcher. Around 08.30 we drove via Route 34 and along the dirt road through nearby Tárcoles to have a look at the river at the small boat landing used by Crocodile Tours and check out the boat trips available. W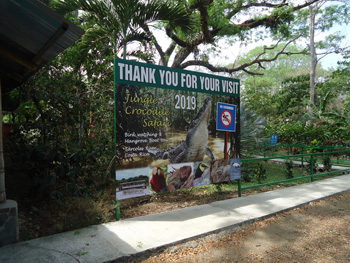 e decided to try Jungle Crocodile Safari as they were offering both birding boat trips and guided walks along the riverbank and through the surrounding woodland. On the river and around the JCS facilities we saw several new species including Amazon Kingfisher, Great Blue Heron, Wood Stork, Streak-headed Woodcreeper, Rose-throated Becard, Common Black Hawk (Mangrove), White Ibis, Blue-grey Tanager and Tropical Kingbird (the latter two seen daily thereafter). We agreed to return around 15.30 for a guided walk @ US$25pp promising three owls! Bearing in mind the optimum time for birds we agreed on a boat trip the following morning at 08.00 @ US$30pp for about two and a half hours on the river. On our way back to the hotel, late morning, we drove along the nearby Waterfall Road leading to the Hotel Villa Lapas, where we saw the first of many Common Ground & Inca Dove and the only White-shouldered Tanager of the trip.
After a leisurely lunch at Villa Caletas, overlooking the Pacific Ocean, we returned to the river at Tárcoles for our guided walk with Santiago. Before we left the facilities we had our first 2 owls with a pair of Ferruginous Pygmy Owl and were soon racking up new species: Turquoise-browed Motmot, Black-headed Trogon, 2 Rufous-necked Wren, Barred Antshrike, Tricoloured Heron, Spotted Sandpiper, Northern Waterthrush, Gartered Trogon, Green Heron, Belted Kingfisher, Roseate Spoonbill, Turnstone, Baltimore Oriole, Wilson's Plover, Least Sandpiper, Northern Jacana, Grey-necked Woodrail, Tropical Pewee and the first of many Cattle Egret. The walk was rounded off with 2 Black & White Owl and Pacific Screech Owl along with a pair of Yellow-naped Amazon (Parrot) and Orange-cheeked Parrot flying overhead. Owls delivered as promised and a much more enjoyable experience than the walk around the two Carara trails the previous morning. Around the area we also spotted several Variegated Squirrel and two Mantled Howler Monkeys before we returned to Villa Caletas for a cold beer and dinner.
Day 4 (Tuesday 19th March) – Tárcoles area to La Selva Biological Station
A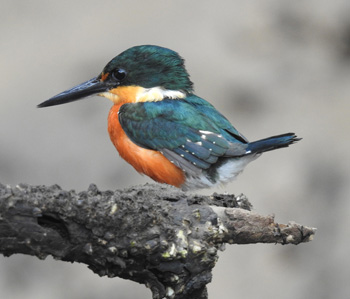 s we drove into Tárcoles for our early morning boat trip we spotted Squirrel Cuckoo and Groove-billed Ani at the roadside and 8 Scarlet Macaw flew overhead. We were the only passengers this morning and were guided by Will (Wilky) the co-owner of Wild Expeditions Eco Tours. Initially we saw many of the same species as on the riverside walk the previous evening, but as we moved further down the channel to the river mouth new species came fast and thick: Whimbrel, 2 Bare-throated Tiger Heron, Green Kingfisher, Anhinga, Semi-palmated Sandpiper, 5 Willet, Semi-palmated Plover, Osprey and a single Brown Pelican. We then left the main river to explore the otherwise inaccessible mangrove channels and in this unique habitat we saw Yellow-crowned Night Heron, Prothonotary Warbler, Red-winged Blackbird, Boat-billed Heron, 2 Mangrove Yellow Warbler, both male and female American Pygmy Kingfisher, Orange-fronted Parakeet, Northern Scrub Flycatcher and Rufous-browed Peppershrike. As we returned to the main channel near the river mouth we saw single Royal Tern and Laughing Gull – an excellent haul for a couple of hours on the river, which also included a Common Raccoon. Returning to the dock we had a welcome Choc-ice whilst watching Rufous-tailed Hummingbird, 4 Streak-backed Oriole and a Striped Cuckoo in the surrounding gardens.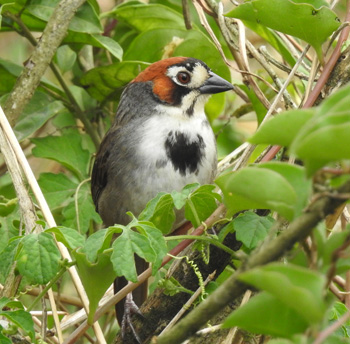 Suitably refreshed, we set off back to San José and on to our next destination, La Selva Biologic Station.The journey took four and a half hours with no stops or lunch and the drive through San José itself was quite tortuous, even with Satnav. We arrived early in the afternoon and after checking in and a quick look around our accommodation for the next four nights, we went for a stroll around the grounds. We started off with several familiar species including Melodious Blackbird and Scarlet-rumped Tanager, but in short order, picked up Yellow-throated Toucan, Masked Tityra, Green Honeycreeper, Crested Guan, Scarlet-rumped Cacique, Black-cheeked Woodpecker, Black-faced Grosbeak, Collared Aracari, Short-billed Pigeon, Long-tailed Tyrant, Palm Tanager and White-collared Manakin. Several Collared Peccary roam the grounds across the river from the main buildings and whilst crossing the footbridge we spotted a pair of Mantled Howler Monkey with two young in tow and several basking Black River Turtle. Having a quiet afternoon cup of tea the peace was disturbed by 4 raucous Great Green Macaw flying around and in the tall trees surrounding the dining hall. After freshening up in our "bungalow" we returned at 18.00 for our first taste of dining "La Selva style". As this is an alcohol-free zone and the small reception shop, which sells refrigerated soft drinks, closed before dinner, we retired to our rooms by torchlight for a glass of water and an early night, not looking forward to sleeping in the oppressive heat in our single and bunk beds.
Day 5 (Wednesday 20th March) – La Selva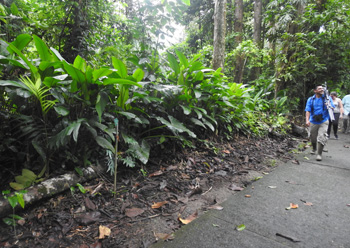 As we walked over to the dining hall for breakfast, Orchard Oriole was our first new bird of the day, and the only one seen on the trip. We also spotted 2 Buff-rumped Warbler and Chestnut-sided Warbler. We were booked on an introductory 3 hour guided walk at 08.00, along with several other guests. Despite a constant drizzle for over half the walk we saw some quite interesting birds and wildlife along the initial stretches of the CEN and SAZ trails: Stripe-breasted Wren, Plain Brown Woodcreeper, Red-throated Ant-Tanager, Crowned Woodnymph, Montezuma Oropendola, Rufous Motmot, Grey-rumped Swift, Crested Owl and Broad-billed Motmot were complemented by several sleepy Honduran White Tent Bats, numerous Strawberry Poison Dart Frogs, Whip-tailed Lizard, Yellow-spotted Millipede, Agouti, several Collared Peccary and two Eyelash Pit Vipers.
Returning to our rooms after lunch we spotted a Golden-hooded Tanager and a Broad-winged Hawk swooped down from the trees and landed on a nearby molehill. After lunch we walked about 500 metres back down the main entrance road for an hour or so finding White-tipped Dove and Bright-rumped Attila amongst others. Walking back into our bungalow we spotted a Great Currasow out of the back windows as it ambled around the buildings. Our final new species for the day was a flock of 6 Chestnut-headed Oropendola.
Day 6 (Thursday 21st March) – La Selva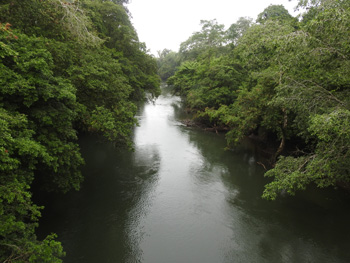 Walking over to the dining hall for breakfast at 07.00 we were surprised to spot a Shining Honeycreeper on top of one of the trees along the river. After breakfast we walked over the Stone Bridge across the Río Puerto Viejo heading for the River Station and the Cantarrana trail. On the way across we spotted our first Brown-throated Three-toed Sloth, just hanging immobile in the riverside trees, clinging to a branch and for all the world looking like a mass of shaggy unkempt fur with no visible face or limbs. When we returned two hours later it was still in the same place! Along the trails we came across several Strawberry Poison Dart Frogs, Red-tailed Squirrel, Pale-billed Woodpecker, White-breasted Wood-Wren, Black-headed Saltator, Rufous-winged Woodpecker and a Slaty-breasted Tinamou which was grubbing around at the side of the path and slowly ambled across in front of us, before disappearing into the thick undergrowth.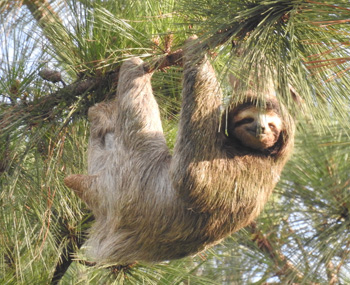 Before lunch we decided to go back down the main entrance road for 500 metres and look for the gate on the left with "OET" inscribed on the top, as described in Lawson's Bird finding Guide (Pg 63) to join up with the SAZ trail and loop back to the comedor. When we got there the gate was padlocked. We could see from the map of the Station that there was another larger gate a little further along at the start of the trail. This was also locked: both gates were surrounded by barbed wire, but we managed to lift one of the bottom strands and crawl underneath on hands and knees – don't believe everything you read in the Guide Books! We did see our first Bananaquit, Chestnut-coloured Woodpecker, Black-throated Trogon and a skulking Grey-necked Wood- Rail. The trail was very quiet and with frequent drizzle we decided to "head back to the ranch" – time for lunch!
The weather cleared as the afternoon progressed, but, to be near a cup of coffee, we stayed around the dining hall and surrounding buildings, where there are always birds. We saw 4 Great Green Macaw again, along with Pale-vented Pigeon, c15 White-crowned Parrot, Streak-headed Woodcreeper, a pair of Cinnamon Woodpecker and 2 Slaty-tailed Trogon intent on attacking a termite nest on a tree next to the road and then resting from time to time on the nearby overhead wires.
Day 7 (Friday 22nd March) – La Selva & Rio Sarapiqui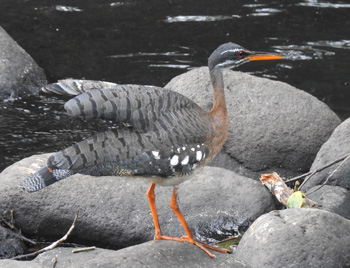 Today we decided to visit the Arboretum, nearby swamp and surrounding trails. A pair of Blue-black Grosbeak were foraging on the lawn outside the Reception area whilst Grey-chested Dove and Mealy Parrot were nearby. The Arboretum itself was very quiet and we didn't see anything new; we did however have good views of both Pale-billed and Rufous-winged Woodpeckers and around 10 raptors and numerous vultures soared overhead, but were too distant to positively ID. Returning to the dining area for a coffee around 10.30 we decided to explore the CEN trail again before lunch. There was plenty of activity in the cultivated area around the cabins but the trail itself was very quiet with the only real bird of note being our second Great Currasow.
In the afternoon we went on a boat trip on the Rio Sarapiqui from nearby Puerto Viejo de Sarapiqui. The trip was organised by Reception staff at La Selva: we were joined by two other couples and paid US$35pp plus US$12 for the return taxi journey to the boat dock. Although there were quite a few birds on the river and in the bank-side trees, we didn't see many new species. 7 Great Green Macaw were feeding in the tops of trees around the dock, whilst the highlights on the river were Anhinga, several Long-nosed Bats, Social Flycatcher, numerous Emerald and Common Basilisk, Bay Wren, Fasciated Tiger Heron, Crested Caracara, Mistletoe Tyrannulet, Least Sandpiper and two Spectacled Caiman. Not a bad trip and a good way to spend the scorching hot afternoon, but nowhere near as good as our earlier trip on the Tárcoles River.
Day 8 (Saturday 23rd March) – La Selva to Hotel Robledal, Alajuela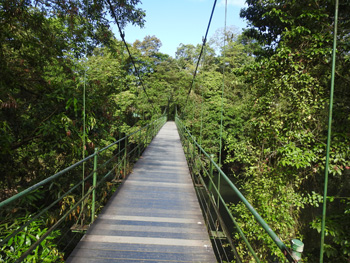 After breakfast we took one final trip across the Stone Bridge to the other side of the river and were very pleased we made the effort as we spotted a pair of Green Ibis out on a large fallen tree at the side of the water. Drinking a final cup of coffee before departing we spotted a Green Honeycreeper and a stunning Snowy Cotinga perched on top of the tallest river-side trees. A good way to say farewell to La Selva; if only the accommodation matched the birds!
Time to move on again, return to San José and join up with our four colleagues on the Tropical Birding trip. Another very hot, sunny day but with some brief rain showers in the mountains; so no birding stops on the way, but we did break for a packed lunch provided by La Selva. After dropping the car off at the Avis depot they bussed us straight to Hotel Robledal rather than the airport. At this stage we were still reasonably impressed with Avis in Costa Rica and their driver received a sizeable tip: little did we know just how our opinion would change on our return home.
A quick trip around the Hotel grounds before dinner yielded Blue & White Swallow, several Orange-chinned Parakeet, Spot-breasted Oriole, Greyish Saltator, Melodious Blackbird and a sleepy Ferruginous Pygmy Owl, seemingly content in its chosen tree despite building works going on nearby.
Day 9 (Sunday 24th March) – Hotel Robledal to Rancho Naturalista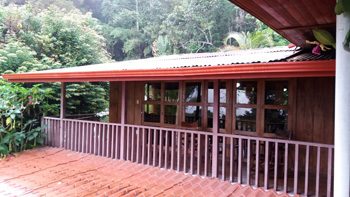 Having met our tour guide, Fito, the previous evening, we started the day with a pre-breakfast walk at 06.30 around the hotel gardens. Rufous-naped Wren, Barn Swallow, Social Flycatcher, Crimson-fronted Parakeet, Yellow Warbler, Boat-billed Flycatcher, White-collared Swift, Masked Tityra and Roadside Hawk were added to the list in quick succession, before we left San José behind at 08.00. Having stopped to look at two small roadside pools on the outskirts of the city, we took Route 10, heading for Rancho Naturalista. Shortly after Agro Cervantes we turned on to Route 404 where there was a sizeable reservoir with 8 Lesser Scaup, Blue-winged Teal and a sleeping Least Grebe. Brown Jay landed on the roadside power cables and a White-tailed Kite drifted lazily overhead. The grassy wasteland opposite yielded a pair of Mourning Dove, 2 Yellow-faced Grassquit, Blue-black Grassquit, Rufous-collared Sparrow, Variable Seedeater, Black Phoebe and a Grey-capped flycatcher.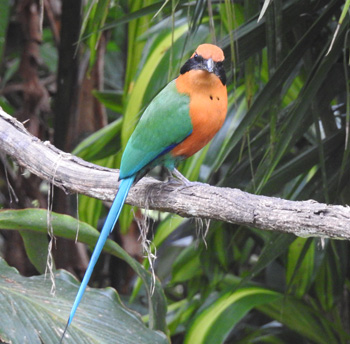 After checking in at Rancho Naturalista and lunch, we ventured on to the verandah to check out the busy fruit and hummingbird feeders where the activity always seemed fast and furious with several Rufous-tailed Hummingbird and numerous White-necked Jacobin being by far the most aggressive and territorial around the feeders. The supporting cast included Grey-headed Chachalaca, Scarlet-rumped Cacique, Lineated Woodpecker, Grey-chested Dove, Tennessee Warbler, Orange-billed Sparrow, Baltimore Oriole, Summer Tanager, Green-breasted Mango, Rufous Motmot, Black-cheeked Woodpecker, Red-billed Pigeon, Green Hermit, Stripe-throated Hermit, Violet Sabrewing, Crowned Woodnymph, Purple-crowned Fairy, Keel-billed Toucan, Golden-winged Warbler, White-lined Tanager and Red-throated Ant Tanager. The owner lives in an extensive property a little down the hillside from RN and during the afternoon we wandered along to the property in the hope of seeing Snowcap, which is known to frequent the numerous purple Vervain (Verbena family) bushes there. While waiting patiently we spotted Brown-hooded Parrot and House Wren; a Black-striped Sparrow sang in the undergrowth but proved to be very elusive and eventually a Snowcap came to the verbenas for several brief visits, being chased off each time by the territorial Rufous-tailed Hummingbirds, patrolling their territory like aggressive sentinels. Dinner was served at 18.30.
Day 10 (Monday 25th March) – Rancho Naturalista Area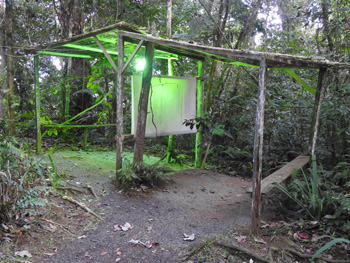 The moth trap lights had been left on overnight, so just before first light at 05.30 we went along the short forest trail to investigate the results. A multitude of specimens covered the white 'moth-sheet' providing a varied breakfast diet for any birds interested in an easy snack. After a slow start we were soon enjoying excellent views of Buff-throated Foliage-gleaner, Rufous Motmot, 3 Red-throated Ant Tanager, White-breasted Wood-Wren, Yellow-bellied Flycatcher, Plain Antvireo and Olive-backed Euphonia. While we were having breakfast the array of usual suspects were joined by a White-nosed Coati foraging among the plantains left for the birds and 2 Bronzed Cowbird.
After breakfast at 07.00 we drove down from the lodge an hour later, turning left at the bottom of the drive heading towards a nearby stretch of the Tuis River. Getting out of the coach we spotted a stunning Crimson-collared Tanager whilst looking for our primary target, Sunbittern, which we were watching in no time at all, as it worked its way along the river, moving from rock to rock and seemingly unconcerned by our presence. What a stunning bird!! Several Common Basilisk were also working the river, as it started to rain, while a Broad-winged Hawk floated overhead and in the surrounding trees we saw Lesser Greenlet, c10 Black-headed Saltator and Golden-hooded Tanager. We moved on to another nearby stretch of the river and, right on cue, spotted a second Sunbittern, along with Torrent Tyrannulet, Common Tody Flycatcher and a Bay Wren.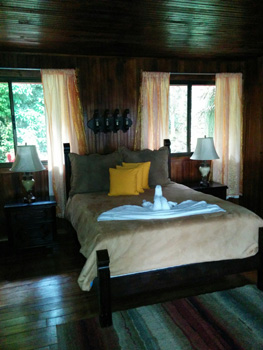 We returned to RN for lunch at noon and once again marvelled at the numerous hummingbirds around the feeders. There was one surprise visitor which we only identified from photos on our return home, with the help of Fito; a Brown Violet-ear, a rare sighting at Rancho. After lunch, with the morning's intermittent rain becoming more persistent, we set off to explore the area to the west and south of Turrialba. Spotting mainly from the coach, we saw c4 Chestnut-headed Oropendola, Fasciated Tiger Heron, c10 Southern Lapwing, 4 Green Ibis and 3 Giant Cowbird before stopping at Angostura Lagoon. Getting out of the coach, with the rain almost stopped, we threaded our way through the wet undergrowth to the bank of the lagoon and were rewarded with Olive-crowned Yellowthroat, Osprey, Purple Gallinule, Green Heron, Northern Jacana, Snail Kite and a distant Neotropic Cormorant. A River Otter swimming across the lagoon in front of us, although a little distant, was a huge bonus. On returning to RN late in the afternoon we visited the famous 'Hummingbird Pools', a string of small pools in the stream running through the property where birds come to bathe as the light fades; just like visiting the pub after a hard day at the office! The birds only usually linger for a short period and are observed from a platform c20 metres above the pools; amongst others we saw Crowned Woodnymph and Snowcap, very briefly.
Over dinner we were introduced to Lisa Erb, the owner's daughter who runs the Lodge and is also a professional bird guide and, amongst other things, she told us that a Mottled Owl had recently taken to perching on the balcony railings during the night. Answering a call of nature, an age thing, I picked up my torch, looked out of our window around 23.00 and sure enough there was a Mottled Owl just where we had been told it would be. It was there at various times of the night and early mornings whilst we were at RN – don't ask how I knew……!!
Day 11 (Tuesday 26th March) – Rancho Naturalista Area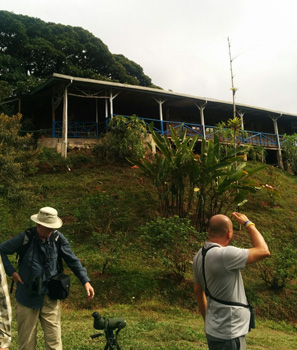 Once again we headed west and then south of RN to El Copal, a reserve on the edge of the Tapanti National Park. Both climate and altitude are similar to Rancho Naturalista. On the way we had extended views of a pair of Fasciated Tiger Heron on a small mountain stream and also picked up Red-breasted Blackbird (Meadowlark), Tropical Mockingbird and Tropical Pewee. Monday's rain had left the steep, winding track to El Copal wet and slippery and our coach was unable to navigate much further than the first 100 metres. We were left to walk the last 500 metres to the lodge which was very quiet and we were the only ones there that morning. We spent some time on the verandah overlooking the surrounding forest, before venturing along one of the forest trails. Birds included Crested Guan, Short-billed Pigeon, Scarlet-thighed Dacnis, Mistletoe Tyrranulet, Mourning Warbler, Pale-billed Woodpecker, Rufous-capped Warbler, White-vented Euphonia, Sulphur-bellied Flycatcher, Tawny-crested Tanager, Spotted Woodcreeper, Black-faced Grosbeak, Russet Antshrike, Black & White Hawk Eagle and Lesser Greenlet.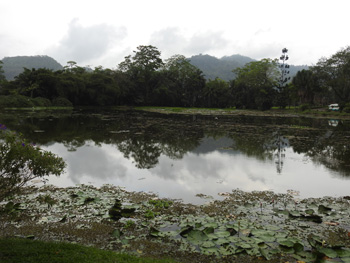 By now the sun was directly overhead as we walked back down the hill to where the coach was parked and it must have been at least 32°C. 4 Swallow-tailed Kite drifted by overhead as we returned to where the coach had left us. Feeling a little weary in the midday heat we were annoyed to find it had been moved back to the tarmac road, some 300 metres further on. We did however see a Grey Hawk as we left.
Returning east, we detoured to visit El Catie and the grounds around the Tropical Agricultural Research and Higher Education Centre near Turrialba where the lake holds a substantial heronry. Cattle Egret were by far the most numerous species with 300+ birds nesting; in addition there were c30 Black-crowned Night Heron, several pairs of Great Egret, at least 5 Boat-billed Heron and single Anhinga and Green Ibis. In addition there were several pairs of Purple Gallinule and Northern Jacana with several juveniles in attendance, 2 Collared Aracari, nesting Common Tody Flycatcher and a distant Peregrine which didn't seem to trouble the numerous hirundines over the lake.
Day 12 (Wednesday 27th March) – Rancho Naturalista to Toucanet Lodge via Cartago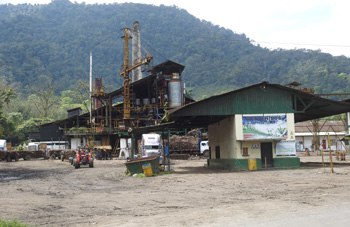 We were due to move on again today, but before we left we took an early morning stroll along one of the trails, a little up the hillside from the lodge. We were rewarded with Crowned Woodnymph, Dull-mantled Antbird, Tropical Parula, Olive-backed Euphonia, Streak-headed Woodcreeper, Blackburnian Warbler and a pair of Green Thorntail amongst others.
Travelling west again, back towards San José we picked up several species along the way, but nothing new, prior to a brief coffee stop at a small café overlooking the northern end of Cachi Lake. Moving on towards Cartago we came across a Laughing Falcon perched on top of a roadside post. A couple of further stops yielded Tropical Gnatcatcher, Broad-winged Hawk and White-tailed Kite, but no sign of today's main target around the coffee plantations we visited. We were just driving away from the final site and heading towards a nearby restaurant for lunch when our driver Carlos stopped the coach abruptly, having spotted movement in a scrubby plot at the side of one of the plantations. Sure enough, a few seconds later, 2 Cabanis's Ground Sparrow put in an appearance right on cue, making everyone very happy.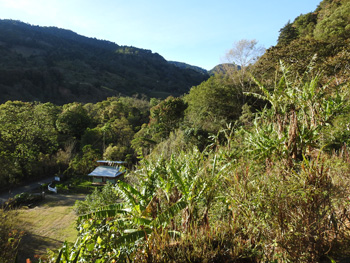 As we left the main highway, Route 2, moving down in to the valley where Toucanet Lodge is situated, we came across the first of what would be a common species for the next few days, Acorn Woodpecker at its nesting hole. The move of location promised a whole new range of species, especially hummingbirds around the lodge feeders. After checking in we returned to the restaurant area where most of the feeders were situated and were not disappointed as in quick succession we saw Lesser Violetear, Talamanca Hummingbird, Scintillant Hummingbird, Blue-vented Hummingbird (Steely-vented), Violet Sabrewing, Magenta-throated Woodstar, Plain-capped Starthroat and the seemingly ever-present and aggressive Rufous-tailed Hummingbird along with a pair of Flame-coloured Tanager. It was definitely cooler in the mountains and quite windy as well.
Day 13 (Thursday 28th March) – Toucanet Lodge area
Before breakfast at 07.00 we watched a repeat performance at the feeders prior to heading along the dead-end road, further up the valley from the lodge at around 08.45. We stopped on the winding road a few kilometres from the lodge and lingered in the chilly morning air for well over two hours around a nearby tree with an obvious nesting hole where a pair of Resplendant Quetzal were nesting. No sign of the birds, but whilst waiting we saw Slate-throated Redstart, Rufous-capped Warbler, Brown-capped Vireo, Mountain Elaenia, Wilson's Warbler, Collared Redstart, Spot-crowned Woodcreeper, Tufted Flycatcher, Northern Emerald Toucanet, Dark Pewee, Yellow-thighed Finch, a pair of Common Chlorospingus (Bush-Tanager),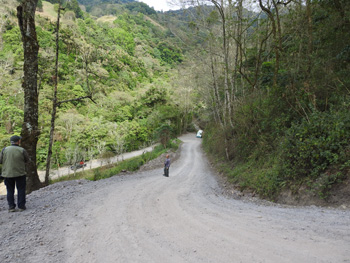 Yellowish Flycatcher and White-throated (Grey-tailed) Mountaingem. We returned to the lodge around 11.15 for lunch at noon and were left to our own devices until we went out again at 15.00, this time a little further along the same track. Notable during this period were c40 White-collared Swift in the valley around the lodge and Fiery-throated Hummingbird on the feeders.
A little higher up the valley this time, after a short but very steep and strenuous climb, we came across Swainson's Thrush, Flame-throated Warbler, Spotted Barbtail, Long-tailed Silky Flycatcher, Spot-crowned Woodcreeper and Grey-breasted Wood-Wren in addition to species we had seen earlier; and finally, as we were returning back down the valley, Fito spotted a female Resplendant Quetzal flying away from the nest-hole. The days in the mountains were dry and sunny and by 11.00 quite hot. Today had seemed quite tedious and slow with a lot of standing around and fewer species seen.
Day 14 (Friday 29th March) – Toucanet Lodge, Paraiso Quetzal Lodge & the San Gerado de Dota Valley
On a pre-breakfast stroll around the lodge grounds this morning I spotted a few new species with Silver-throated Tanager, Yellow-winged Vireo, Band-tailed Pigeon (seemingly always flying away and a little distant!), Rose-breasted Grosbeak, Chestnut-capped Brush-Finch and a pair of Spotted Wood-Quail.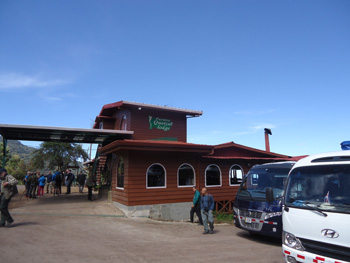 Breakfast over, it was back in the coach by 07.45 and after climbing out of the valley, a return to Route 2 as far as Paraiso Quetzal Lodge where we were due to have lunch. This area is 70 kilometres from San José and is widely known as Km 70 (Lawson Pg 261). The hummingbird feeders here produced a frenzy of activity, including several Volcano Hummingbird and with at least 2 pairs of magical Long-tailed Silky Flycatcher, Sooty Thrush, Mountain Thrush, Golden-browed Chlorophonia, Black & Yellow Silky Flycatcher (Phainoptila), Black-capped Flycatcher, Black-billed Nightingale-Thrush, Hairy Woodpecker, Sooty-capped Bush-Tanager (Chlorospingus) and Large-footed Finch: there was plenty to see around the lodge and on a brief walk along the nearby Sendero la Danta trail. While we were having lunch a Red-tailed Hawk drifted by and we were soon on the road again, heading further along Route 2 into the San Gerado de Dota Valley to a known Quetzal nesting site.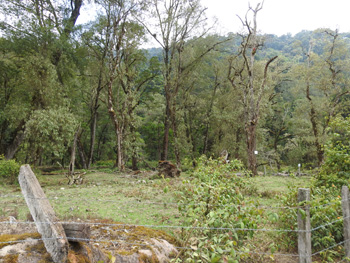 We waited for almost an hour in eager expectation and eventually were rewarded with the appearance of first the female and then the magnificent male Resplendant Quetzal as they returned to the nest hole with food and then went off foraging again. While we waited for the birds to return again we saw Dark Phoebe, White-Throated (Grey-tailed) Mountaingem and c4 Swallow-tailed Kite.
Moving on, we stopped at Miriam's Quetzals, a small cafe on the way back to Toucanet Lodge, for coffee and to look for new species at the hummingbird feeders. More Volcano Hummingbird but nothing new on the feeders; we did however spot a Slaty-coloured Flowerpiercer amongst other species around the feeders and also Swainson's and Broad-winged Hawk overhead while a Red-tailed Squirrel also enjoyed the plantains on the feeding tables. As we walked down to dinner from our cabin we saw fireflies along the path.
Day 15 (Saturday 30th March) – Toucanet Lodge to Talari Mountain Lodge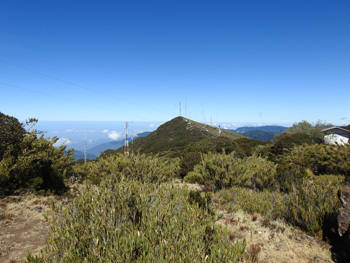 All the usual suspects were out and about on our pre-breakfast walk around the lodge today plus a small flock of Lesser Goldfinch, which landed in a nearby tree and quickly moved on. We were also moving on: returning to Route 2 we continued south towards the South Pacific Slope of Costa Rica climbing up and ultimately over the Talamanca Mountain Range, heading for San Isidro de El General. Near the summit, which stands at c3,400 metres (11,400 feet), at the top of the mountain known as Cerro de la Muerte (Hill of Death) we veered west off the Pan American Highway on to a dirt road for just over 2 kilometres towards the Communication Towers at the top of the mountain, 3450 metres above sea level. Not many species at this altitude, but it provides the easiest access to páramo habitat in the country and we did see a juvenile Red-tailed Hawk perched on one of the masts as well as Sooty Thrush,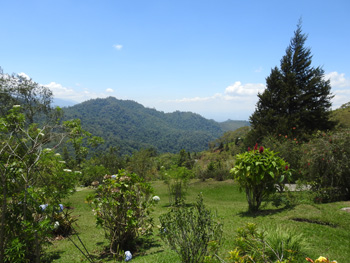 Volcano Hummingbird and c4 Volcano Junco, our main target here, feeding on the bare earth and perching in the surrounding bushes. Special birds and really amazing mountain scenery!
Further along Route 2 we stopped at Bosque del Tolomuco for over an hour and were rewarded with a female Red-headed Barbet, Silver-throated Tanager, Green-crowned Brilliant, White-tailed Emerald, nesting Social Flycatcher, Wood Pewee and Stripe-tailed Hummingbird. On reaching the outskirts of San Isidro we continued south on Route 243 towards Dominical for a short while and stopped for lunch at a roadside cafe overlooking the city. In the valley below us we saw Piratic Flycatcher, Red-crowned Woodpecker and Yellow-bellied Elaenia as well as a large Green Iguana which scuttled across the rough grass and climbed a nearby tree. As we drove back through San Isidro on our way to the nearby Talari Mountain Lodge, about 2 kilometres before briefly rejoining Route 2, we stopped for a few minutes at the roadside by the local Water Treatment Works.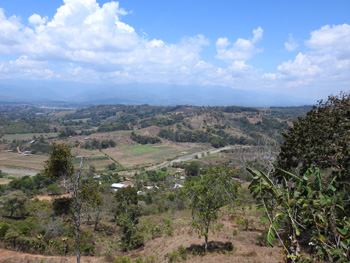 The sewage ponds here contained Blue-winged Teal, Least Grebe, Green Heron, the obligatory Spotted Sandpiper and a small flock of Black-bellied Whistling Duck.
We arrived at the lodge just before 14.30 and after checking in and freshening up we went for a stroll around the lodge grounds and eventually ended up on the banks of the nearby Rio General. We picked up Red-legged Honeycreeper, Riverside Wren, Lesson's Motmot, Fork-tailed Flycatcher, Scarlet Tanager, Olivaceous Piculet, Bay-headed Tanager, Ochre-bellied Flycatcher, Red-eyed Vireo, Green Honeycreeper and Fiery-billed Aracari, amongst others.
On returning to our room after dinner we came across a rather substantial Cane (Marine) Toad just outside our door.
Day 16 (Sunday 31st March) – Talari Mountain Lodge area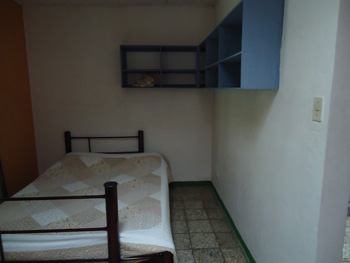 Around 03.00 I awoke to go to the bathroom (an unfortunate age thing!), sat on the edge of the bed to get my flip-flops and as I stood up, not thinking about the shelves surrounding the bed at a ridiculous height, cracked my head and fell back on to the bed. I've heard the expression "seeing stars" before, but this was the first time I had experienced it myself – painkillers and a clanging headache for the next 12 hours and not much sleep! Early morning birds today included Orange-collared Manakin, very briefly displaying at the back of the dining area, Buff-rumped Warbler, Rose-throated Becard, Dusky-capped Flycatcher and a pair of over-flying Swainson's Hawk. After breakfast we were on the road again heading towards nearby Los Cusingos which is similar in altitude and climate to Talari. Along the way we saw Grey and Fork-tailed Flycatcher, White-tailed and Pearl Kite, White-crowned Parrot and Laughing Falcon. The land now known as the Los Cusingos Bird Sanctuary was purchased in 1941 by the well known botanist and naturalist, Alexander Skutch, who wrote more than 30 books and hundreds of papers on Costa Rica's biodiversity and ornithology.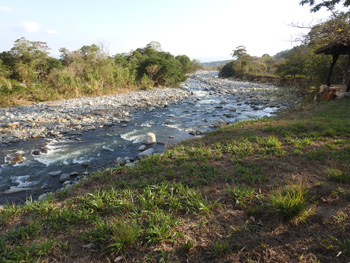 Overall the reserve was pretty quiet bird-wise, but we did see several excellent new species including Common (Panama) Potoo, a pair of Speckled Tanager, Long-billed Gnatwren, Tawny-winged Woodcreeper, Blue-crowned Manakin, Red-capped Manakin and Northern-barred Woodcreeper. Over lunch, at the home of an American lady who retired to Costa Rica and now provides refreshments for visitors to Los Cusingos, we saw a Long-billed Hermit feeding on the flowers and shrubs surrounding our outdoor dining table. After lunch we returned to the lodge to regroup and around 16.00 we went to a small piece of remnant forest on the edge of San Isidro next to the main Police Station and for a bijou hour or so watched Yellow-headed Caracara, Fiery-billed Aracari, a pair of Yellow-throated Toucan, 2 Turquoise Cotinga, Crimson-fronted (Finsch's) Parakeet and Yellow-bellied Elaenia along with a Brown-throated Three-toed Sloth as it fed in the top of a large conifer, something Fito had never seen or heard of previously. Just as we were leaving we spotted what we assumed was the Sloth's mate in more usual habitat about 75 metres away.
After dinner we went for a torch-light walk, but there wasn't much doing: other than several spiders, including one particularly large False (Wandering) Wolf Spider and the usual Cane Toad as we returned to our room. Another hot, sunny day and with a virtually airless room, sleep didn't come easy!
Day 17 (Monday 1st April) – Talari Mountain Lodge to Esquinas Rainforest Lodge
T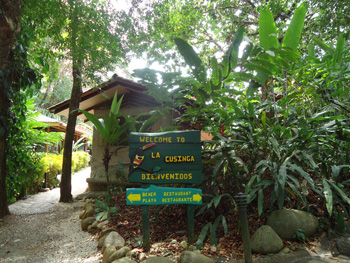 hankfully, time to move on again: Talari was by far our least favourite lodge. Before breakfast we saw Streaked Flycatcher, Streaked Saltator and Scarlet Tanager amongst others and as we left, with our ever so damp laundry, a Grey-necked Wood Rail and a Variegated Squirrel sauntered across the driveway in front of the coach. From San Isidro we took Route 243 to the Pacific Coast and as we reached Dominical we took an unmade road which ran alongside the Rio Barú back inland for a short while. Snowy Egret and Little Blue Heron were quickly followed by Orange-chinned Parakeet, Wedge-billed Woodcreeper, Red-crowned Woodpecker, a nesting Spot-crowned Euphonia, Riverside Wren and Willet. A quick visit to Dominical Beach was a bit of a waste of time and then we continued south along Route 34.
We had lunch at the restaurant of an excellent hilltop resort, La Cusinga Lodge, overlooking the Pacific Ocean and saw Magnificent Frigatebird, Costa Rican Swift, Stripe-throated Hermit and Brown Pelican. A Brown-throated Three-toed Sloth hung in branches just above our heads as we walked up to the restaurant with a nearby Mantled Howler Monkey and several Golden Orb Spiders.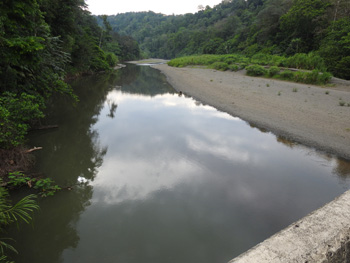 We continued on Route 34 and then Route 2 before turning on to Route 245 just before Piedras Blancas at Chacarita, around the top of the Osa Peninsula towards Rincon. Along the way we stopped to watch a troupe of around 50 White-throated Capuchin Monkeys, before stopping in the car park of the Bar Rincon El Puente near the main bridge over the Rio Rincon. On and around the river here we saw 2 Bare-throated Tiger Heron, Common Black (Mangrove) Hawk, 2 Scarlet Macaw, King Vulture, American White Ibis, Ringed and Amazon Kingfisher, Double-toothed Kite perched on a roadside post, Red-lored Amazon (Parrot), c10 Western Sandpiper and several hirundines including Southern Rough-winged Swallow plus Spectacled Caiman. Our main target here was Yellow-billed Cotinga and we spent quite a bit of time scanning the treetops of the mangrove forest around us, before a single bird flew in and perched for a short while on one of the fruiting trees. We set off back towards the Inter American Highway but stopped after a couple of kilometres to scan the trees around the river and were fortunate to find a second Cotinga. We then returned to the Highway and made our way to Esquinas Rainforest Lodge which we approached in the dark along the 3 mile dirt road which runs through the village of La Gamba.
Day18 (Tuesday 2nd April) – Esquinas Rainforest Lodge area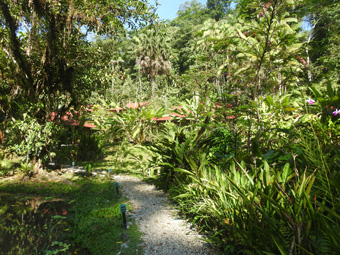 Pre-breakfast birding around the lodge yielded Grey-necked Wood Rail, Orange-billed Sparrow, Yellow-throated Toucan, Charming Hummingbird and nesting Common Tody Flycatcher. After breakfast which was at 07.00 we walked back along the main entrance road towards La Gamba for a short distance where we saw Grey-capped Flycatcher, Grey-chested Dove, Slaty-tailed Trogon, Variable Seedeater, Black-striped Sparrow, female Orange-collared Manakin, Lineated Woodpecker, Great Crested Flycatcher, Sulphur-bellied Flycatcher, Squirrel Cuckoo, Yellow-billed Cuckoo, Chestnut-backed Antshrike, Black-cheeked Ant Tanager, Black-hooded Antshrike, Olivaceous Piculet, Lesser Greenlet, Cocoa Woodcreeper, Great Curassow, Dusky-capped Flycatcher, Smooth-billed Ani, Blue-black Grassquit, Thick-billed Seed-Finch, Solitary Sandpiper, 2 Black Hawk Eagle, 2 Rusty-margined Flycatcher, White-tailed Kite and back at the lodge, Long-tailed Hermit and several roosting Greater White-lined Bat. At the pool where we saw the Sandpiper we also saw a stunning crimson Cardinal Meadowhawk dragonfly. All this before lunch – a very birdy few hours! Esquinas Lodge is an excellent location, situated right next to Piedras Blancas National Park where there is still pristine rainforest and other habitats nearby of secondary forest, open grasslands near La Gamba and wetlands, including a small swamp near the entrance road.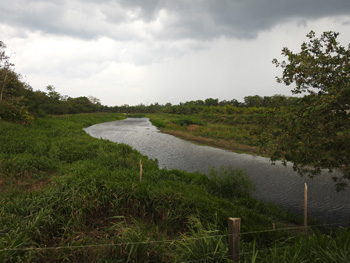 After lunch we boarded the coach once again and set off south to the area known as Coto 47 and then south west towards the Panama border. On the way we picked up a friend of Fito, a local birdguide who knew the area well. Initially we drove for several miles through African Palm Oil plantations which appeared to be almost a 'Fauna Free Zone', however we did see a magnificent Grey-lined Hawk enjoying freshly-caught prey and several Bare-throated Tiger Heron – possibly as many as 10 overall during the next 2/3 hours. Coming out of the plantations into cultivated farmland we spotted a Crested Caracara on a fallen tree in a freshly sown field and an Osprey atop a nearby pole. We left the coach as we approached some scrubby grassland and a bridge across a nearby river. The grasses were alive with small birds including Ruddy-breasted, Yellow-bellied, Morelet's and Variable Seedeater plus Blue-black Grassquit and by the river the large flowering bushes contained both Varaguan Mango and Sapphire-throated Hummingbird. On the river, Green, Amazon and Ringed Kingfisher were joined by Black-necked Stilt, Northern Jacana, several egrets, Purple Gallinule and c8 Western Sandpiper. We also saw Double-toothed and Swallow-tailed Kite nearby.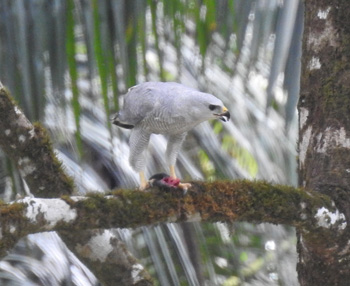 Retracing our steps for a while we stopped at a small crossroads by several water-filled ditches and canals where in quick succession we came across Gartered Trogon, American Pygmy Kingfisher, Brown-throated Parakeet, Yellow-headed Caracara and Peregrine Falcon. We then walked for a while alongside the main canal (possibly a very slow flowing river?) and found Scaly-breasted Hummingbird, Yellow (Mangrove) Warbler, Isthmian (Plain) Wren, Red-rumped Woodpecker, Streak-headed Woodcreeper, Streaked Flycatcher, Riverside Wren and a pair of Southern Lapwing. We then drove for over half an hour, as the light started to fade, along a track through farmland with the promise of something special! Everyone left the coach and carefully navigating an electric fence, we stealthily walked along the top of an embankment at the side of a ditch filled with shallow water. After a minute or two a Yellow-breasted Crake slowly emerged from the vegetation and picked its way along the ditch, virtually under our feet. Truly amazing!!! A nearby field also contained c8 Muscovy Duck which we were told were not escapees.
We then started the long drive back to Esquinas and once again arrived in the dark, but this time there was an added bonus – 2 Common Pauraque were resting on the road and we were able to get good views before they flew off.
Day 19 (Wednesday 3rd April) – Esquinas Rainforest Lodge to Hotel Robledal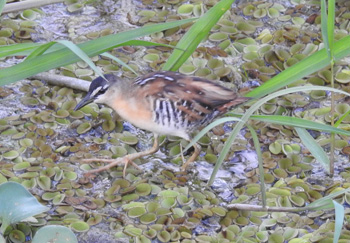 The final day of the trip! With a long journey of 300 kilometres back up the coast and then inland to San José we took the opportunity after breakfast for some early morning birding around the lodge and the driveway, before our 4-5 hour marathon. Not much in the way of new species, but some cool birds nevertheless! Amongst others, we saw Charming Hummingbird, Red-breasted Meadowlark, Brown-throated Parakeet, American White Ibis, Wood Stork, a female Baird's Trogon, Red-crowned Woodpecker, c40 Black Vulture soaring as the temperature rose and Pale-vented Pigeon. We were on the road again by 09.15.
After an early re-fuelling stop we made good time and a little over half way into our journey we made a slight detour to stop at Parque Nahomi in Quepos for lunch. There were no birds around and by now it was baking hot as we walked around the park where there is virtually no shade. The packed lunch from Esquinas included a welcome cold Tropical Fruit drink and a sandwich which contained something loosely resembling ham and cheese. Probably the worst sandwich I have ever tried, most of which ended up in the waste bin!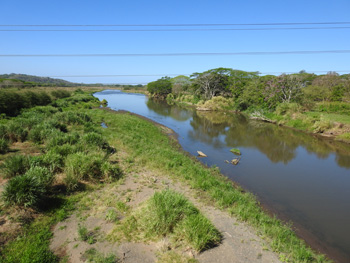 Near Jaco a flock of c14 Scarlet Macaw flew low overhead before our next stop by the bridge over the Tárcoles River: a bit of déjà vu as this was the first site we visited at the start of our trip to Costa Rica. The American Crocodiles almost appeared as though they hadn't moved since our last visit and the Black-bellied whistling Duck flock had increased to c250. In addition to the usual herons and egrets we saw a pair of Turquoise-browed Motmot and I spotted a Tayra on one of the larger river islands.
After checking back into the Hotel Robledal for our final evening and before dinner at 06.30, we made a quick tour of the gardens where the Ferruginous Pygmy Owl was still in residence, although it had moved around a little, no doubt being disturbed by the work being undertaken on an adjacent building.
Day 20 (Thursday 4th April) – Hotel Robledal
Before breakfast and while waiting for our taxi to the airport we made a final tour of the gardens to take a last look at Melodius Blackbird, Summer Tanager, Baltimore Oriole, Rufous-naped Wren, nesting Inca Dove and others, plus the local Variegated Squirrel.
SUMMARY
Sometimes arduous, sometimes hot and sticky, but nearly always very enjoyable! Our combined trips produced a total of 346 species: 152 during our first week on our own and 296 on the Tropical Birding leg with Fito. Of these 148 species were lifers for me.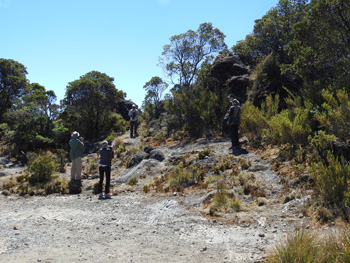 One big moan: Historically we have always shied away from organised birdwatching and although, by and large, we enjoyed the Tropical Birding section of our trip we were reminded from time to time why we do not like group birding. Bird photography has become an ever increasing feature of birdwatching in the digital age and many birders now carry a long-lens SLR rather than a telescope. Sadly we appear to be in a declining minority who are still birdwatchers first and foremost and we take a camera (Nikon Coolpix P900) along to make a record of our sightings when we see something worthwhile. The curse of most photographers is that their lens is never big/long enough and they are always desperate to get that bit closer to a bird to get the 'money' shot and they invariably forget or ignore the needs of others around them in the rush to achieve their goal. On this trip I could have had multiple shots of other's backsides if I wasn't careful when pressing the shutter button.
Sadly, for some, fieldcraft and the art of getting closer to a bird without disturbing it seem to be a thing of the past! I will not however let this take anything away from the many memorable moments we enjoyed on our trip.
Mammal, Reptile, Butterfly and Insect Photos
MAMMALS, REPTILES & AMPHIBIAN PHOTOS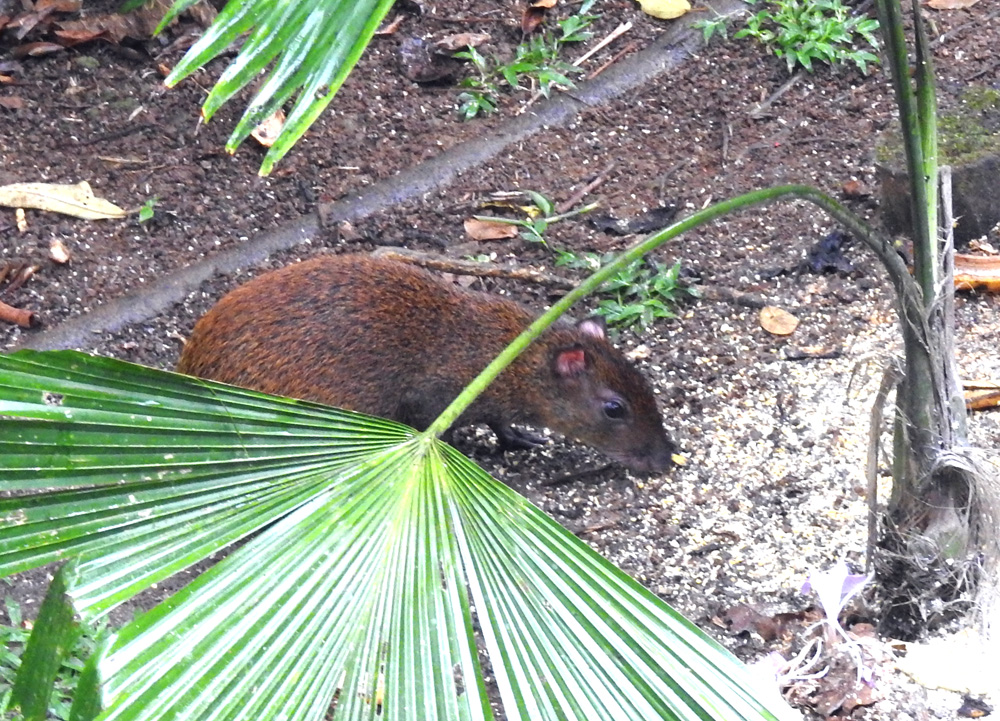 Butterfly Photos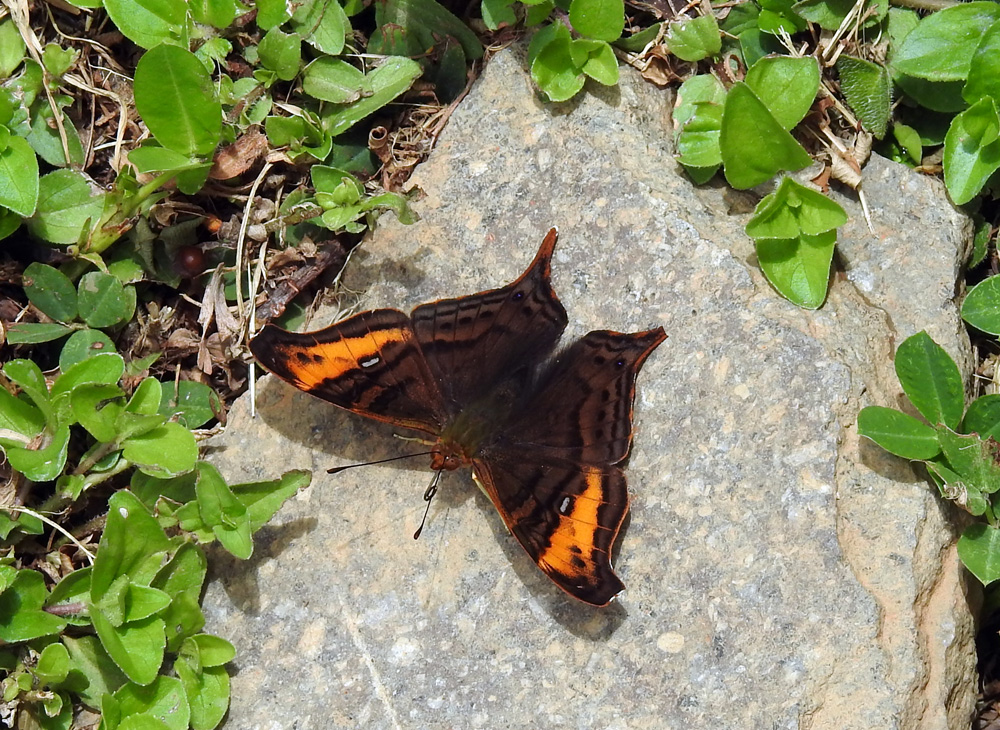 Dragonfly Photos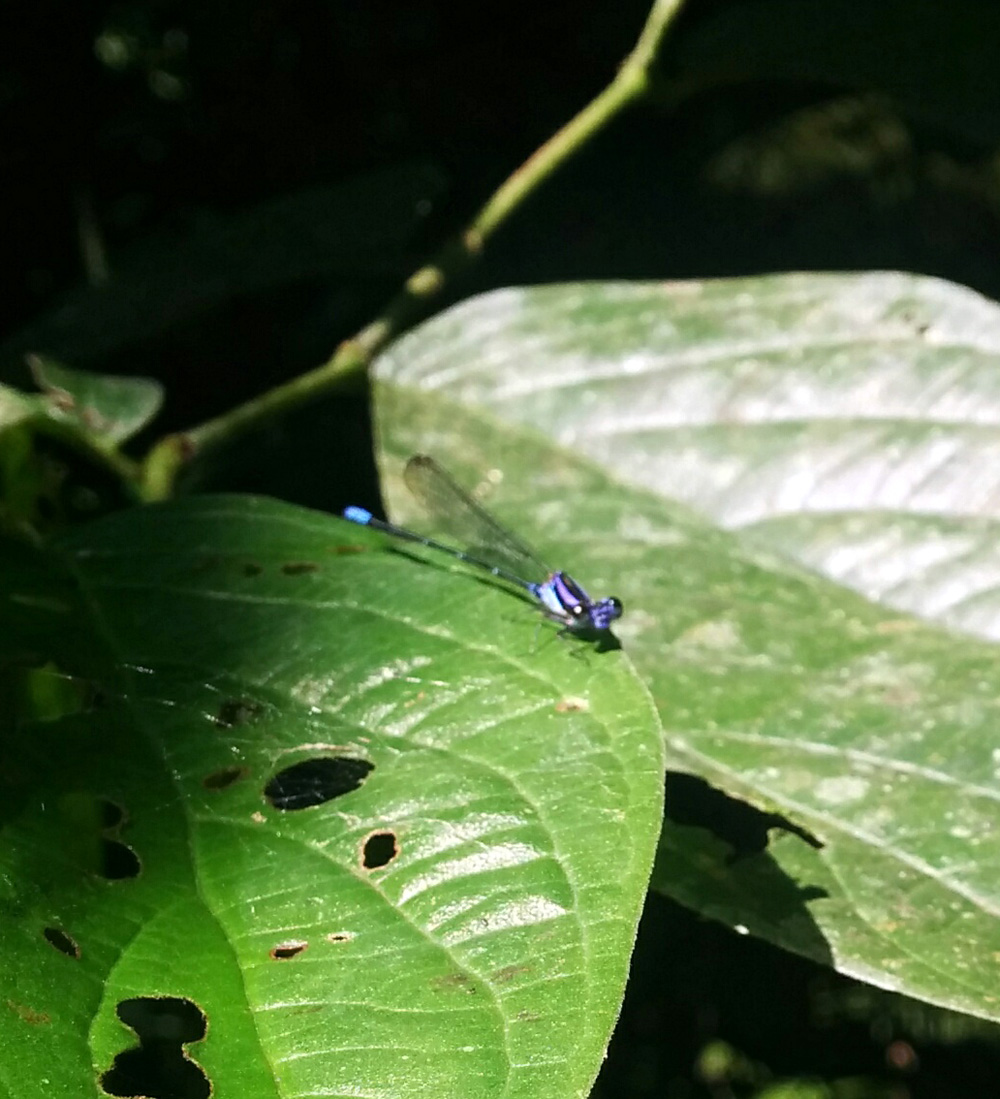 David & Amanda Mason