INTRODUCTION
For some reason, which I can't remember now, when we went to New Zealand 13 years ago, we didn't fancy Australia. Times change;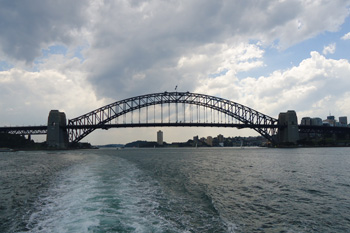 a list of potential lifers as long as your arm and the exhortations of friends we had met in the Amazon in 2008 to come to Sydney and visit them were just too much to ignore. My father had also been stationed in Sydney with the Navy right at the end of WWII and was always extolling the virtues of Australia, especially the Blue Mountains; so a bit of nostalgia was involved as well.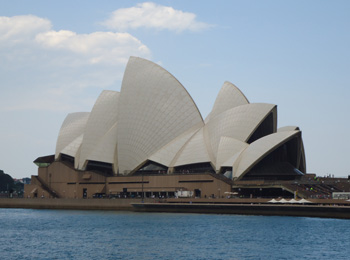 Rather than attempt the impossible and see the whole country we decided to limit our trip to the east coast, taking in Cairns, Brisbane, Sydney and Hobart, plus anywhere within reasonable driving distance. To do this justice we decided we needed at least four weeks and a bit extra for a couple of stop-overs. Hong Kong and Thailand were favourites as we had never been to that part of the world before and the opportunity to see Spoon-billed Sandpiper on its wintering grounds, rather than in a shed at Minsmere was just too mouth-watering to ignore.
FLIGHTS, TRANSPORT & TRAVEL ARRANGEMENTS
We used Hays Travel in Bolton for all our flights and car hire and they also handled the accommodation in Hong Kong, Thailand and Tasmania. We could possibly have saved money by booking some of this ourselves, but with so many flights it would have been quite time consuming and having someone we could contact in the UK to re-arrange our itinerary in Thailand to avoid the continuing flood problems in Bangkok was a major bonus.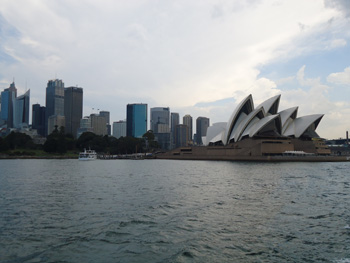 Flights were with Qantas/BA in the main, with Jetstar covering the Brisbane-Cairns leg. Luckily the Qantas pilots' dispute which coincided with our trip did not affect any of our flights. The International Flights were Business Class – a distinct advantage when flying such distances and with occasional long waits in the airports between flights. Most flights left on time, but with considerable leeway now inbuilt in airline schedules, we were always on time at our final destination.
Car Hire in Australia at all 4 centres was arranged by Hays Travel with Holiday Autos for the same cost we had been quoted online. Local agents were East Coast Car Rentals on the mainland and Redspot on Tasmania. All the cars were Intermediate 4dr automatic with a/c, relatively low mileage, in good condition and trouble free. Comfort is always a bonus when travelling long distances with two large cases and lots of optical gear. Bearing in mind the habits of Australian wildlife we took the "Total Damage Excess Waiver" option and were really glad we had around midnight on 5th November. The staff at Hays even helped us on our return as we re-claimed the excess from Holiday Autos that we had to pay in Sydney for the kangaroo incident.
The Cairns leg of the trip was arranged with a lot of help from Sue Gregory at Cassowary House and Sicklebill Safaris (the trip organising side of her business). She provided input as regards our itinerary and then handled all the accommodation bookings, guides, boat trips etc. Flexible payment arrangements meant we could use Credit Card to pay for accommodation as we travelled and, to save us from carrying lots of excess Aus$, we paid Sue for the guides and the Daintree boat trip.
The accommodation package at O'Reilly's was booked online direct, as were the motels used during the Sydney leg of the trip.
ACCOMMODATION
Laundry facilities were available almost everywhere we stayed. The hotels in Hong Kong, Thailand and Tasmania cost £1576 in total at an average of £197pn but transfers and breakfast (except Tasmania) were included in this.
Traders Hotel Hong Kong – Clean, small room but adequate. Food OK but not great. Staff very helpful. Hotel about 2km from centre of city and similar distance from nearest MTR station.
O'Reilly's Guesthouse – A lovely place to stay with stupendous views on the way up the mountain. Everywhere was very clean; we stayed in Cabin 55 where the furniture appeared to need a little TLC to restore it to its former condition. Breakfasts were excellent and evening meals were OK. One of Amanda's main courses, slow cooked pork belly, included two scallops wrapped in Parma Ham, which were raw in the middle and she left; seeing this, the staff apologised and offered two free coffees as compensation! Staff were generally friendly and helpful. A little pricey and at times a little too touristy for us. DB&B, plus 3 hours guiding cost A$1336 – £872 or £290pn.
Acacia Court Hotel Cairns – Not a top drawer hotel, but clean, spacious and good value for money (B&B A$230 – A$115pn). The dining area was utilitarian rather than comfortable and had a rather disquieting notice outside – "No thongs permitted in the dining room" conjuring up all kinds of pictures in my mind until I realised what Australian thongs were. The evening buffet at A$26 per head was surprisingly excellent with a wide selection of tasty food, as long as you are prepared to queue – a) to get in, b) for your starter, c) for your main course, d) for your sweet and e) for your coffee if you are really persistent. We would have enjoyed another night here to spend more time birding on the Esplanade and around Cairns.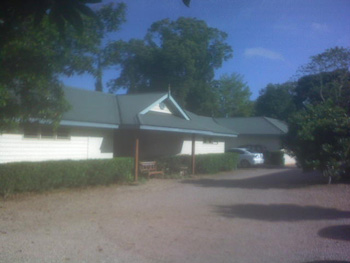 Allumbah Pocket Cottages Yungaburra – Spacious, clean, attractive, comfortable accommodation fully kitted out for self catering. We booked in March 2011 when two nights were on offer for A$250 and included breakfast and a bottle of wine. Apparently the deal changed in April/May and we were charged A$290 and there was no wine. When queried, Melanie said she would honour the original deal and we received a A$40 refund and a bottle of wine on the second night. Really, we shouldn't have needed to ask!
Jabiru Safari Lodge Mareeba Wetlands Reserve – hostess Liz was very welcoming with sunset drinks on the veranda overlooking the lake. Luxury tented accommodation was comfortable and clean. Although dinner and 3 hours morning guided tour were included, it was quite expensive (A$458 – £299pn) and not really good value for money…. but a lovely setting and, with hindsight, we would have enjoyed another night there. Guide Carol Iles was very good.
Red Mill House Daintree – Trish and Andrew Forsyth were most welcoming, attentive and informative. Our room was a good size, clean and well looked after. Breakfasts were excellent. Probably the best all round accommodation we stayed at from a birding perspective. B&B A$360 – A$180pn.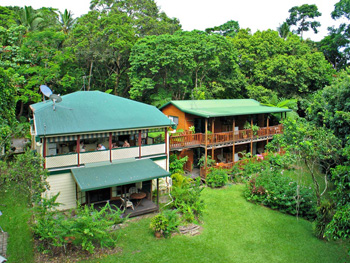 Cassowary House Kuranda – A little tired but clean. The effects of being situated in the middle of humid tropical rainforest were evident with electric blankets on the beds to try and keep them dry and an invasion of annoying little insects at dusk. No air conditioning. Breakfasts were good and Sue Gregory was most helpful, both with our original arrangements and also whilst we were there. B&B A$296 – A$143pn.
Kookawood Rydal – Beautiful, roomy, isolated 2 bedroom house overlooking the Blue Mountains. The single composting toilet was another story though!
Three Sisters Motel Katoomba – Large clean room; very helpful on reception with good laundry service and birder friendly. Best bacon and eggs for breakfast of the trip. B&B A$298 – A$149pn.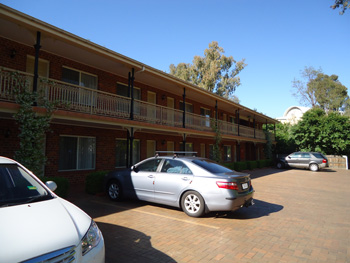 Carlyle Suites and Apartments Wagga Wagga – Clean, very comfortable, spacious. The breakfast, provided in the room was distinctly average though. B&B A$173pn.
Saltbush Motor Inn Hay – Clean, very comfortable and spacious. Café next door serves up good breakfasts. Room only A$270 – A$135pn.
Lenna Innkeepers Hotel Hobart Tasmania – Very spacious etc. Nice Hotel. A bit on the expensive side and we didn't eat there.
Hyatt Regency Hotel Hua Hin, Thailand – Excellent 5* hotel. Shame about the drains!
RESEARCH & TRIP ESSENTIALS
Trip Reports which can be found online at Cloudbirders, Surfbirds, Birdtours and Fatbirder, together with Birding Holiday Company itineraries were used to get a general idea of where to go and how long to spend there and, after completing our original research, we put together an Itinerary to suit our plans which included a few non-birding stops along the way. The Cairns leg of trip was arranged with help from Sue Gregory at Cassowary House: we sent her our original thoughts and with her help, refined the places to visit and the overnight stays. As to the rest, we can't blame anyone else if we didn't make the most of our time down under.
From the various reports we looked at, the names of several guides stood out, so bearing in mind where we intended to go and the degree of difficulty in finding certain species, we decided to seek assistance in a few places. See further comments in the Guides section below.
Google Maps proved to be an invaluable resource both with planning routes and specific directions to various destinations. We also purchased the Road Atlas Australia (AA Road Atlas) before we left the UK and found this more than adequate whilst we were driving around everywhere, with the possible exception of central Sydney.
Field Guides are a very personal issue, with some reviewers being quite polarised and each book having its champions: the main ones are Field Guide to Birds of Australia by Pizzey & Knight, The Slater Field Guide to Australian Birds, Field Guide to the Birds of Australia (Helm Field Guides) by Simpson & Day and The Pocket Field Guide to Australian Birds by Morcombe. After reading numerous reviews we settled on both Pizzey & Knight and Slater in an attempt to get the best of both worlds: in the field we mainly used Slater as it is lighter and less bulky, but if we were in any doubt about ID we usually relied on P & K. We found the combination to be quite effective, but if limited to just one, P & K would probably be first choice, despite its bulk. Birds of Thailand (Princeton Field Guides) and The Birds of Hong Kong and South China (Viney, Phillipps & Ying) chose themselves with the latter being available direct from Hong Kong Birdwatching Society for HK$158 (c£13 at Dec 2011 exchange rates, plus postage) as well as UK suppliers.
Where to Find Birds in Australia (Bransbury) now appears very dated in its layout and approach (as well as some of the information) and we only took The Complete Guide to Finding the Birds of Australia (Thomas, Thomas, Andrew & McBride), which has just been revised (2nd edition) and we found quite useful. Lloyd Nielsen's web site Birding Australia provides a good introduction to the continent and, amongst others, sells Birding Australia (Nielsen), Birding Australia Site Guide The South East (Nielsen) and Where to find Birds in North East Queensland (Wieneke); all providing lots of pertinent information for the visiting birder.
Other books we found useful were Field Guide to Mammals of Australia (Menkhorst & Knight), plus Australia: Country Guide (Lonely Planet Country Guides), East Coast Australia: Regional Guide (Lonely Planet Country & Regional Guides), Tasmania: Regional Guide (Lonely Planet Country & Regional Guides), Hong Kong and Macau: City Guide (Lonely Planet City Guide), Thailand (Lonely Planet Country Guides) and with particular focus on city stays, Hong Kong Encounter: Encounter Guide (Lonely Planet Encounter) and Bangkok Encounter: Encounter Guide (Lonely Planet Encounter Guide). With such a big trip it's quite easy to spend a fortune on books and if working to a strict budget, careful research and your own personal requirements for the trip will help you choose which are truly essential.
UK mobile phones (especially 4G versions) are fine to use in Australia and we decided to get a local SIM card (Telstra appear to have the best coverage, especially in out-of-the-way places) to keep in touch with guides, accommodation etc., whilst we were there. If planning to use a local SIM card, do remember to get your phone "unlocked" before you go.
Credit Cards are widely acceptable throughout, but occasionally cash is required in the more remote locations, including the restaurant we used in Kuranda.
For the first time when on holiday we used a laptop, having purchased a small notebook in the UK. This proved invaluable for general contact with friends and family, both with emails and Skype (free if talking to another Skype user…some forward planning required here but a great resource) and made communications with our Travel Agent much easier when we needed to change locations in Thailand. Wi-fi or internet phone connection, with complementary leads provided, was available almost everywhere; free at times, but at worst, a small charge was levied.

Don't forget to apply for an Australian Visa well in advance of your trip: in our case the Travel Agent handled the Visa at the time we booked our flights etc., but you can also apply personally online.
COSTS
All £/A$/HK$/Baht exchange rates are at December 2011 values. The cost of living in Australia, particularly food and drink, is quite expensive; so a trip here doesn't come cheap. Wine was uniformly expensive throughout the trip. Accommodation in Australia cost A$204 – £134pn on average, but if the all inclusive packages at O'Reilly's and Mareeba are excluded the cost reduces to A$128 – £94pn. Car Hire cost £1050 (£37.50pd) in total based on four centres: Brisbane – Cairns – Sydney – Hobart. Total cost of fuel was A$563 – £368. Travelling Business Class on the 4 International legs of our journey put the cost of flights up to £4674pp: if we had flown economy all the way we could have reduced the price to £1549pp. Cost of Guides see below.
WEATHER
From our perspective the time of year we chose to visit, being spring was just right. Even then temperatures were quite hot at times, but in the main we saw plenty of sunshine and had more than our fair share of clear, cloudless days. What rain we did have didn't interfere with getting about and certainly didn't stop us birding. If we had arrived in Cairns 2 days earlier it might have been a different story.
Day 1 - Fly from Manchester
Day 2 - Arrival in Hong Kong
Day 3 - Kowloon Park, Victoria Park
Day 4 - The  Peak, Hong Kong Park, fly from Hong Kong
Day 5 - Arrival in Brisbane, O'Reilly's
Day 6 - O'Reilly's, Lamington National Park
Day 7 - O'Reilly's, Canungra, Beaudesert
Day 8 - Fly from Brisbane to Cairns
Day 9 - Michaelmas Cay, Cairns Esplanade
Day 10 - Esplanade, Centenary Lakes, Cairns Botanic Gardens, Cathedral Fig Tree, Lake Barrine, Lake Eacham, Yungaburra
Day 11 - Lake Barrine, Curtain Fig Tree, Mt Hypipamee, Wondecla, Hasties Swamp 
Day 12 - Curtain Fig Tree, Hasties Swamp, Granite Gorge NP, Tinaroo Creek Road, Mareeba Wetland Reserve
Day 13 - Mareeba Wetland Reserve, Lake Mitchell, Kingfisher Park, Daintree
Day 14 - Stewart Creek Road, Barramundi Fish Farm, Newell Beach, Carr Road, Mount Lewis, Abbatoir Swamp, Mount Molloy
Day 15 - Daintree River cruise, Newell Beach, Cattana Wetland Reserve, Cassowary House Kuranda
Day 16 - Black Mountain Road, Mt Hypipamee, Lake Barrine, Cairns Esplanade
Day 17 - Cassowary House, Cairns Esplanade, Fly to Sydney
Day 18 - Blue Mountains, Mount Banks
Day 19 - Katoomba, Evans Lookout
Day 20 - Katoomba, Govett's Leap, Rydal
Day 21 - Lake Wallace, Capertee Valley, Glen Alice, Glen Davis
Day 22 - King's Tableland, Evans Lookout, Fairy Bower Mount Victoria, Lithgow Sewage Ponds
Day 23 - Drive from Katoomba to Wagga Wagga
Day 24 - Narrandera Wetlands, Fivebough Swamp, Hay
Day 25 - Cobb Highway, Black Swamp, Boorooban, Plains Wanderer spotlighting
Day 26 - Drive from Hay to Sydney
Day 27 - Sydney
Day 28 - Sydney Royal National Park, Barren Grounds
Day 29 - Sydney
Day 30 - Berry Island Reserve, Flight to Hobart
Day 31 - Peter Murrell Reserve, Mount Wellington, Seven Mile Beach
Day 32 - Bruny Island, Peter Murrell Reserve
Day 33 - Pittwater Road, Flight to Sydney and Bangkok
Day 34 - Hua Hin
Day 35 - Pak Thale, Laem Pak Bia
Day 36 - Hua Hin
Day 37 - Flight from Bangkok to London and home

Return to Index
DIARY – SITE REVIEW etc
Thursday 13th October
We arrived in Hong Kong at 17.30 and by the time we were seated in the coach for the 50 minute drive to our hotel darkness had fallen. With thousands of skyscrapers and millions of lights, the Hong Kong vista is almost as spectacular at night as during the day. For details of some birding sites in Hong Kong see separate web page.
Friday 14th October
Today was our first chance to find some birds. We woke up to rain and humidity, but undeterred we set out to walk the 2 km to the Central District and the nearest MTR station. The MTR is very modern and an excellent, efficient, fast, clean service which runs like a dream – London Underground you could learn something here. We made our way from Hong Kong Island to Kowloon and Kowloon Park for the princely sum of HK$11 each (less than £1). The first bird of the trip was a Black Kite from our hotel window and we were soon to find they were quite common everywhere. As soon as we stepped into the park we were assailed by numerous new bird calls and identified Oriental Pied Robin, Red Whiskered and Chinese Bulbul, Spotted Dove and Eurasian Tree Sparrow. As we walked slowly around the park admiring the greenery in the midst of teeming humanity, we added Black-crowned Night Heron, Yellow-browed Warbler, Common Tailorbird, Japanese Tit, Japanese White Eye and a single Common Koel high in the tree tops.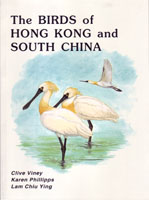 After a Coffee break we got back on the MTR to return to the island and Victoria Park in search of a few new species. We added Yellow-crested Cockatoo, a foraging party of 4 Masked Laughingthrush and a pair of Black-collared Starling, before heading back to the hotel. By now we were quite footsore and didn't fancy the 2 to 3 km walk back to the hotel; we looked around us as we walked but all the taxis we saw appeared to be occupied. Eventually, with about 1 km to go to the hotel a taxi stopped and the passengers got our. We were about to get in, but when I explained where we wanted to go, the taxi driver pretended at first he didn't recognise the address and then he calmly announced he was clocking off for the day – lying bastard!!! Just didn't fancy the small fare. He'll never know what a big tip he missed as by then we were well and truly knackered. The day had been overcast, hot and humid with early morning rain and temperatures ranging from 23° to 27°C. Oh…and did I mention the MTR is cheap as well and easy to navigate. Also, the people in Hong Kong are so friendly it's refreshing. On several occasions as we looked about us with maps etc., we must have appeared to be so lost and helpless that invariably a European face would materialise and ask if we needed any help.
Saturday 15th October
Today we decided to spend our time mainly sightseeing. We took a taxi (very cheap compared to the UK and more friendly today) to the Star Ferry Terminal and boarded the ferry to Kowloon (again very cheap at HK$3 per person for the top deck and even cheaper for the lower deck or weekdays). The trip on the Star Ferry was hugely enjoyable, noisy, smelly and wonderful – Amanda really loves boat rides, especially ferries! We added a few birds to our list including Crested Myna and Large-billed Crow on the waterfront, plus Little Egret flying around a boat in the harbour. We returned to the hotel to check out and then, with the weather finally having changed we headed to The Peak via the tram (HK$40 pp) in bright sunshine, along with hordes of other tourists.
The Peak itself is very commercial and touristy. We left the crowds behind and set off on the circular walk around the peak. Unfortunately there were still a lot of people about and consequently, very few birds. We did manage to see an elusive Black-throated Laughingthrush and a dashing Peregrine as well as several soaring Black Kites at very close quarters. We then visited Hong Kong Park but didn't manage to find anything new. With our flight to Australia only due to leave at 23.15hrs we returned to the hotel in the early evening to pick up our bags and head off to the airport. Hong Kong was a very interesting experience; birds were far and few between as you would imagine in such a thrusting, vibrant city, but nevertheless we really enjoyed our short stay here with the only negative being we lost our camera around lunchtime with all our Hong Kong photos.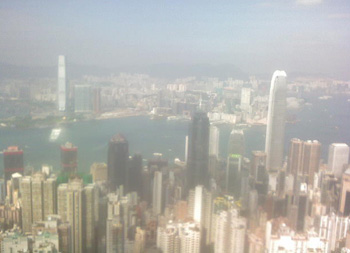 I used my mobile to take some hurried shots as we walked around the Peak, but I didn't realise until downloading the shots at home that with years of inactivity on the camera front, the lens had become coated in grime and all the shots appear to have been taken in a misty fog, rather than the beautiful clear sunshine we experienced. If we revisit the city, with the benefit of hindsight we would do two things differently:- firstly we would stay at least one more day and pre-arrange a trip out to Mai Po Marshes and secondly, we would get a more central hotel rather than rely on the Travel Agents to get us a good deal alongside our flights. Oh, and of course we would get some better photos. We saw only 21 species in Hong Kong, including 9 lifers, but in truth, birding had not been our main goal here.
Sunday 16th October
Arriving in Brisbane at 09.50hrs we left the airport to pick up our hire car and head south for O'Reilly's Guest House in Lamington National Park. The temperature was a very warm and sunny 27°C. After a brief stop in the suburbs on the way to visit relatives and pick up an Australian Sim card for the mobile, we reached O'Reilly's by 16.00hrs after a leisurely drive. On the way we saw our first Australian species as we found an Australian White Ibis pecking around the shrubs in the airport pick-up area. Cattle Egret and Maned (Australian Wood) Duck were common in roadside pools near Brisbane and in the trees around the Shopping Mall as we sorted out the phone and picked up a sandwich for lunch, we saw small flocks of Torresian Crow and a Brown Honeyeater, feeding on the numerous flowering shrubs. There's always a bit of an unusual intensity to the first day's birding in a new country: there are new species everywhere just waiting to be spotted, but in your desire to correctly identify what you see, lots of them go un-noticed and you spend ages with your nose in the Field Guides rather than observing all around. As we left the city behind we stopped on a quiet roadside verge to eat our lunch with views of the surrounding fields and woodland. Our first Laughing Kookaburra was soon in the bag and as we enjoyed the peace and quiet after a few hectic days, an unmistakable White-bellied Sea Eagle made its way inland, harried by several crows. Moving on we made a further stop for a pair of Little Friarbird in a fruiting roadside tree as we entered the Lamington National Park and seeing very little on our journey up the O'Reilly mountain, we soon had a taste of things to come as we checked in and went to our room, with Crimson Rosella, Australian Brush-Turkey, Pied Currawong, Welcome Swallow, Lewin's Honeyeater and a male Satin Bowerbird distracting us from unpacking our cases. As O'Reilly's is at least an hour's drive from the nearest civilisation we had opted for an inclusive Dinner and Breakfast package and after an excellent meal we were so tired we decided to have an early night. 16 species today: not bad for a travel day and the first in a new country.
Monday 17th October
We went for a pre-breakfast bird walk with Duncan, one of the guides at O'Reilly's at 06.45. These walks are not for serious birders, but did provide an opportunity to get to grips with some of the more common species at a very leisurely pace. It was raining and windy and far from ideal conditions; however, with the attraction of an easy meal several species flocked around the feeders on the entrance veranda. Crows, magpies and Australian Brush-Turkey were joined by up to 10 Regent Bowerbird, Crimson Rosella, Lewin's Honeyeater and several Satin Bowerbirds with both male and female bowerbirds in their very distinctive plumages. Leaving the Guesthouse for one of the many walking tracks which surround it we spotted a pair of White-headed Pigeon and a beautiful King Parrot. Walking through the rainforest we had numerous White-browed and Yellow-throated Scrubwren on the path and around our feet whilst Duncan lured both Eastern Whipbird and Eastern Yellow Robin to take crushed walnut from our hands. We had more conventional sightings of Brown Gerygone, Wonga Pigeon, Red-browed Finch, Grey Shrikethrush, Grey Fantail, Brown Thornbill, Large-billed Scrubwren and Brush-Turkey tending its nesting mound as we wandered around the tracks and boardwalk before returning to the Guesthouse for breakfast at 07.45. Red-necked Pademelon were common all around the grounds. Shedding the non-birding guests after breakfast we went out again with Duncan for the rest of the morning in a 4 wheel-drive through the rainforest and surrounding drier Eucalypt forest, trying to escape the continuous light drizzle. About 12 Straw-necked Ibis loafed around in the top of a large Eucalyptus as we drove to the nesting site of a Tawny Frogmouth. The bird remained nonchalantly still as we watched it for about 20 minutes, getting excellent scoped views, whilst Grey Butcherbird and several Noisy Miner scurried around on the forest floor nearby. Leaving the roosting frogmouth behind we moved on to a much drier area of forest where the trees thinned out rapidly, providing a much more open habitat. On the way we spotted a small flock of Pale-headed Rosella in the top of a distant roadside tree, before getting much better views of a pair of Red-browed Treecreeper, Striated Thornbill, Black-faced Cuckooshrike, the first of many Rainbow Lorikeet, Yellow-faced & Scarlet Honeyeater (Myzomela) and Noisy Friarbird. We briefly saw a Spotted Pardalote in the trees above our heads, silhouetted in the bright sunlight and 6 Topknot Pigeon flying by overhead. We also had good views of Buff-rumped Thornbill, Leaden Flycatcher and Black-faced Monarch, together with a few Red-necked Wallaby before returning to the Guesthouse shortly after 12.30. After our early start we then decided to relax for a while in our chalet while doing some laundry, before venturing out again in the late afternoon for a walk around the surrounding rainforest tracks. In addition to several of the birds seen earlier in the day we had a pair of confiding Superb Fairywren near our chalet, Brown Cuckoo-Dove and a brief glimpse of a Scarlet Robin in the trees at the front of the Guesthouse and an Australian Logrunner which scurried about on the ground in the dark depths of the rainforest. Otherwise all was relatively quiet so we returned to our chalet to relax again before Dinner at 19.00. The weather had been really cold and miserable today and, despite having a guide with us for a little over 5 hours, we had only seen 47 species. Not bad really, but I suppose we expected more from O'Reilly's and the Lamington National Park.
Tuesday 18th October
Out again before 07.00 we decided not to join the bird walk this morning but just revisit the tracks through the rainforest near the Guesthouse. In the flowering bushes between the chalet and the Guesthouse I had amazing close-up views of an Eastern Spinebill. Unfortunately it disappeared before Amanda joined me a few minutes later; no great loss though, as we would see many more Spinebill over the next few weeks. Most of the birds we encountered on our walk were not new, but it was nice to see the beautiful Wonga Pigeon again and we did get one new species – Golden Whistler. We had breakfast at 08.00 and briefly returning to our room, I went out on to the balcony and saw a pair of Peregrine chasing the wind across the hillside below. It was still cold and windy with light rain falling, so we decided to go down the mountain to Canungra where we enjoyed beautiful sunshine and temperatures approaching 25°C. On the way we stopped off at a couple of tracks just a few miles from the Guesthouse. The forest was relatively quiet with a few snatches of birdsong in the distant treetops. We were, however, lucky to see two Red-legged Pademelon crossing the track in front of us. As we came off the mountain and the land flattened out into the river valley we made several roadside stops whenever we saw signs of birds or came across a change of habitat. We saw our first 10 Galah feeding in a paddock and whilst watching them, we also saw Magpie Lark, Pied Butcherbird and Australasian Figbird. A little further along the road we came across Crested Pigeon and Oriental Dollarbird on the telegraph wires as a Wedge-tailed Eagle soared over the distant hillside. A pair of Blue-faced Honeyeater appeared to be nesting in a roadside tree and an Intermediate Egret glided around to land in a marshy patch by a small stream. Before reaching Canungra another stop yielded a Restless Flycatcher, one of the newly arrived migrants we were now finding. The fruiting trees in the town were awash with Rainbow Lorikeet, Noisy Miner and Noisy Friarbird as we decided to have a coffee and a spot of lunch. We subsequently took the Beaudesert road (State Route 90), as we had noticed a number of bodies of water when passing two days earlier on our way to O'Reilly's. Stopping on this road to scope the small lakes was not always easy as places to pull off on to the grass verges are far and few between. The first lake we saw after Canungra did, however, have a convenient spot to park and we spent at least half an hour watching Australian Swamphen, Australian Coot, Hardhead, Pacific Black Duck, Plumed Whistling Duck, Dusky Moorhen, Little Black Cormorant, Australasian Grebe, a small flock of Little Corella, Masked Lapwing, White-headed Stilt, 8 Royal Spoonbill, a pair of Black Swan, Comb-crested Jacana, Pied Cormorant and 4 Scaly-breasted Lorikeet. For a while it seemed as though we were being inundated with new species.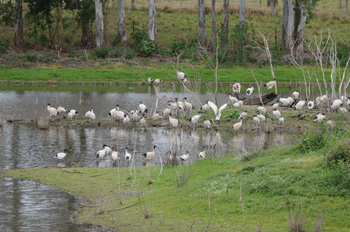 Yesterday we had been told by Duncan that by the entrance to Beaudesert Racecourse was a small billabong which always seemed to hold quite a few good birds. Accordingly we decided to move on in search of the racecourse and said pond; it wasn't marked on our map, but with a bit of luck we decided to carry on travelling east out of the town following the 90. After a short shimmy on Route 13, along the Boonah Road and a little over 1km out of town we found the Beaudesert Race Club. Access is permitted along the road to the club for a few hundred metres and from here you can get a good view over most of the water. We added Little Egret, Eastern Great Egret, Common Myna, Satin Flycatcher, c3 Black-fronted Dotterel, Grey Teal and Little Pied Cormorant to our burgeoning list as we enjoyed watching a flock of c200 Australian White Ibis mingling with several Royal Spoonbill in the centre and also on the far bank of the billabong.
We returned to Canungra taking the shorter more scenic route via the Boyland/Biddaddaba road, again stopping frequently at appropriate habitat, including many small lakes. On this much more leisurely drive we added White-breasted Woodswallow, White-necked Heron, Willie Wagtail, White-faced Heron, Australian Pelican, Australasian Darter and a pair of Brown Falcon. We also had much better views of a pair of Pale-headed Rosella. Returning to Route 90 a little north of Canungra we spotted a pair of Rainbow Bee-eater on the roadside wires and causing a few angry looks from passing motorists, even though we were well on to the grass verge, we stopped to admire them not knowing this would be the first of many such sightings. On the way back up the mountain we saw 2 Whiptail Wallaby by the roadside and we arrived back to the cold, misty rain at O'Reilly's by 16.30 having risked sunstroke in the valley. After dinner we walked around the grounds as we had heard a pair of Southern Boobook calling and had good torchlight views of a single bird on top of the Chapel cross. An excellent end to the day with a much better tally of 72 species, taking our overall total for the trip, including Hong Kong, to 120 and including 75 lifers since arriving in Australia.
Wednesday 19th October
After another excellent breakfast we left O'Reilly's in the cold mist, got down in to the valley in scorching sunshine, dropped our hire car off near Brisbane airport and flew to Cairns, landing in heavy winds and a tropical rainstorm….which had been going solid for the previous 36 hours. We saw very few birds of note and got drowned parking the car at the hotel and again later whilst going for dinner at Tha Fish Seafood Restaurant (very smart and delicious food) by the pier. Whilst we were waiting to be picked up by East Coast Rentals at the airport we did, however, see our first Peaceful and Bar-shouldered Dove, Silver Gull and Scaly-breasted Munia, along with a very bedraggled and unexpected Rosy Starling. We finished dinner by 21.00 by when the rain had reduced to a more normal downpour. All the omens for our boat trip the next day were not good, but a quick call to the organisers confirmed that the boat would sail as the storm was expected to abate overnight. 27 species today. Overnight Acacia Court Hotel Cairns.
Thursday 20th October
We had an early breakfast and a quick stroll along the Esplanade before our 07.30 pick-up for the cruise to Michaelmas Cay on the Great Barrier Reef. The tide was just turning and what few birds were around were quite close. We had spotted hundreds of Australian Swiftlet and several Fork-tailed (Pacific) Swift overhead and Torresian Imperial Pigeon in the trees on the Esplanade from our balcony and when we got down to the water, the grey blobs seen from our room turned in to Whimbrel, Red-capped Plover, Red-necked Stint, Great Knot, Grey Tailed Tattler and Bar-tailed Godwit. Unfortunately we were on a tight schedule and there was no time to do the shorebirds full justice. As we left the hotel for the cruise mini-van, disaster struck: I watched on in horror as I heard my camera leave my shoulder bag and drop to the marble hotel steps where it tumbled down several levels almost in slow motion, breaking the filter and denting it so badly I couldn't remove it. I got most of the broken glass out of the filter but some small jagged edges remained. Remarkably the camera still worked and I didn't dare remove the lens to see if any further damage had been done. I was a little premature in thinking things were OK as over the next four weeks the lens struggled more and more to focus and eventually gave up the ghost altogether for short periods on Tasmania and in Thailand. On returning home I discovered the auto-focus motor had been damaged and as I reviewed my photos I had to ditch increasing numbers as the focus slowly became softer and softer and the images more blurred. Well over 70% of my efforts were a total write off and some of the rest were none-too-brilliant as well. C'est la vie!
When we got to the quayside we were told that although the boat, Ocean Spirit, was going out, the seas were still rough from the storm and anyone who wanted to could re-schedule for later in the week. We didn't have that luxury as we were due to leave Cairns the following day and I was really grateful I had obtained some Scopolamine patches courtesy of my doctor in the UK and, thankfully, they really worked for me. Before leaving the dock we saw a couple of Striated Heron clambering around the moored boats together with 2 probable Gull-billed Tern and a single White-bellied Sea Eagle overhead. We didn't see anything on the journey (2hrs 30mins each way) until we had almost reached our destination and the breeding seabirds were all around us.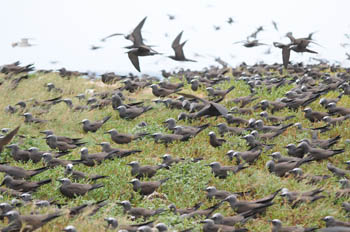 Once we had taken the small tender to the Cay and were on terra firma again, we saw thousands of Common Noddy, c3 Great Frigatebird, a single Caspian Tern, c15 Great Crested Tern, c12 Brown Booby plus young, 3 Lesser Crested Tern, c30 Sooty Tern, c4 Black-naped Tern, c4 Ruddy Turnstone and a single Pacific Reef Heron. Access is limited to about 100 metres of narrow beach, which in turn is crowded with swimmers going snorkelling. The rest of the small island is fenced off to protect the nesting birds. After 15/20 windswept minutes we had seen all there was to see and we returned to the boat for a spot of lunch to while away the rest of the 3½ hour stay on the Cay. Back on the boat, we were surrounded by Common Noddy but managed to pick out 2 smaller, darker Black Noddy and a large turtle which kept coming up for air just behind us. The journey back to Cairns proved to be as uneventful as the journey out: 11 species in all with 4 lifers….was our time (nearly 9 hours) well spent on this expensive and time consuming exercise? Make your own mind up. If we hadn't done it we would have really regretted it, but with hindsight it was a costly excursion (A$195pp) which produced very few birds.
On returning to the hotel we went for a pleasant evening stroll for an hour along the Esplanade but, once again, with the tide right in there were very few birds on the beach. In addition to this morning's haul we found several Black-tailed Godwit, a single Mongolian (Lesser Sand) Plover, a Wandering Tattler and on the landward side, Little Friarbird, Australian Swiftlet and well in excess of 600 Metallic Starling coming to roost in the trees which line the Esplanade. 39 species in total today.
Friday 21st October
This morning we decided to take an early morning walk on the Esplanade just after high tide, as we had not previously been able to spend much time here. Amongst the many hundred Red-necked Stint we managed to find several new species including c6 Terek Sandpiper, a single Far Eastern Curlew, c4 Curlew Sandpiper, c8 Greenshank, numerous Sharp-tailed Sandpiper and, in the nearby trees, a Varied Honeyeater. Also of note were a Pacific Reef Egret on the tide-line, Caspian Tern, c6 Gull-billed Tern, c4 Mongolian Plover and a Royal Spoonbill. Feeling we had at last done the Esplanade some justice we had a late breakfast back at the hotel before setting of on the next leg of our journey. Before leaving town we visited Centenary Lakes and the Botanic Gardens where we added Spangled Drongo, Yellow Oriole, Olive-backed Sunbird and a stunning Little Kingfisher, as well as a Chocolate Argus butterfly. We left Cairns around 10.00 heading south on Route A1 before turning inland at Gordonvale on The Gillies Highway (Route 52) to go up to the Atherton Tablelands on our way to Yungaburra. We made several stops once we started to climb the escarpment in the hope of seeing new species as both altitude and habitat changed. Although lay-bys are virtually non-existent we managed to stop long enough to find Rufous (Little) Shrikethrush, Black Kite, Yellow-spotted Honeyeater, a pair of Yellow Honeyeater, White-bellied Cuckooshrike, Lemon-bellied Flycatcher (Flyrobin), Dusky Honeyeater (Myzomela) and Leaden Flycatcher before calling in at the Cathedral Fig Tree, which was pretty quiet. As we drove away from the car park a Little Eagle drifted lazily over the road and into the woods beyond. Next stop at c 13.45 was Lake Barrine where there is an excellent coffee shop overlooking the lake; even today, when it was wet and gloomy the setting was beautiful. In the car park we came across Mistletoebird and Forest Kingfisher, amongst others. We then made a brief stop at Lake Eacham where we had excellent views of Pacific Baza, again from the car park, and a brief glimpse of Spotted Catbird. We finally made it to Yungaburra around 16.00 having seen 12 Brolga leisurely grazing in a damp roadside field. As we explored the surrounding area waiting for dusk, we picked up Black-shouldered Kite, Australian Hobby and 2 White-throated Needletail; we had earlier seen c40 Australian Swiftlet. In rapidly fading light, with hundreds of Flying Foxes drifting overhead in search of fruiting trees, we managed to see Duck-billed Platypus on Peterson Creek at the edge of town, before dinner at nearby Nick's Restaurant. It had rained on and off for most of the day with many showers and intermittent sunshine. Temperatures were in the mid 20s°C. 70 species seen today. Overnight Allumbah Pocket Cottages.
Saturday 22nd October
After a leisurely breakfast we set off down the road for Lake Barrine and the 09.30 boat trip (A$16pp) around the periphery of the lake for a real lazy start to the day. We didn't see anything new but had good views of some common birds, plus Long-finned Eel and Saw-shelled Turtle. After coffee we went to the Curtain Fig Tree which was very quiet; a single White-throated Treecreeper was our only find. Mount Hypipamee was next on our list and on the Malanda-Atherton road, near the junction with Marks Lane, just before joining the Kennedy Highway, we came across a mixed flock of c150 Brolga and at least 30 Sarus Crane feeding in the roadside stubble fields. On the opposite side of the road, around several small puddles on a farm track was a flock of c300 Plumed Whistling Duck. Travelling south along the Kennedy Highway we saw our first Nankeen Kestrel of the trip. At Mount Hypipamee a car park worked well for us again as we had excellent prolonged views of a Spotted Catbird and Brown Gerygone before setting off to the Crater. The rest of the walk was very quiet and it was only 5 days later, when we re-visited the site with a guide, that we discovered the best birding was around the car park and the last 50 metres or so of the road leading to it. After Mount Hypipamee we continued south west for a short distance before turning due west on the road to Wondecla (Route 52). Almost immediately after this turning, in a roadside forest clearing we saw a stunning white phase Grey Goshawk; the only one of the trip. We continued along Route 52 back to Atherton via Herberton where we stopped for a coffee and late lunch. There were plenty of birds about, especially near flowering/fruiting trees, but nothing new apart from a pair of Yellow-throated Miner just north of Herberton.
In mid afternoon, on our way back to Yungaburra we passed a sign for Hasties Swamp: we took this as an omen and decided to call in as this was a site on our agenda anyway. What a super little site! There is a relatively new two tier hide giving a good view over the main area of water and the more-distant fringes can be conveniently viewed from the track leading to the hide. From the track we saw a good mix of egrets, grebes, ducks and waterbirds including Magpie Goose, 2 Glossy Ibis amongst over 100 Australian Swamphen, 2 Sharp-tailed Sandpiper and a few White-headed Stilt. We saw Rufous Bettong near the boardwalk leading to the hide and in no time at all we had seen 35 species including Black-fronted Dotterel, 2 Buff-banded Rail, Latham's Snipe feeding at the water's edge, Blue-winged Kookaburra, White-gaped Honeyeater and Rufous Whistler. On the road back to Yungaburra we had good views of 2 juvenile Black-necked Stork and a Pheasant Coucal. Dinner at Nick's again. 66 species today and since arriving in Cairns we had picked up 67 lifers and taken our trip list total to 190.
Sunday 23rd October
After a leisurely breakfast we finished packing and left Yungaburra at 08.30. We stopped briefly at The Curtain Fig Tree again and this time had much better luck with a female Victoria's Riflebird, Wompoo Fruit-Dove, Tooth-billed Bowerbird and Rufous Shrikethrush amongst others.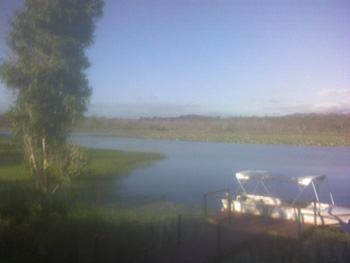 We obviously benefitted from our earlier visit here before most of the tourists had arrived and the birds were still very active. As we moved on to Hasties Swamp we stopped once again near Marks Lane, the Tinaroo Road turn off on the road to Atherton. The bean fields here proved quite productive each time we passed and in addition to the cranes, ibis and whistling duck we saw a Wedge-tailed Eagle on the ground, surrounded by 4 Whistling Kite, obviously with some prey and Black Kite and 2 Swamp Harrier in close attendance overhead. There was also a Magpie Goose and a pair of Black Duck amongst the flock – plenty of birds, but no new species. At Hasties Swamp we saw much the same species as the previous day, but in addition managed to pick up a stunning male Red-backed Fairy Wren, Osprey, a pair of Cotton Pygmy Goose, Comb-crested Jacana, White-cheeked Honeyeater and a pair of Black-faced Monarch just outside the hide window. At 11.00 we set off for Jabiru Safari Lodge and after coffee in Atherton we stopped off briefly at the Granite Gorge Nature Park, taking the signed road just north of Mareeba. The road to the park is quite open with plenty of good habitat including several small ponds and it proved quite productive with Pied Butcherbird, c200 Red-tailed Black Cockatoo, a pair of Squatter Pigeon, Rainbow Bee-eater, Blue-faced Honeyeater, a pair of Leaden Flycatcher, 2 Dollarbird and 3 Australian Pratincole. There is an entrance fee for the park and as we were a bit short of time and had not seen any trip reports from the area we decided to call it quits and move on. We drove back into Mareeba and at the south end of town took the Kuranda/Cairns road (Route 1 – The Kennedy Highway) travelling c2.8 km to Tinaroo Creek Road on the right and then 7.7 km to the crossroads before turning right for 1 km until we reached the Creek.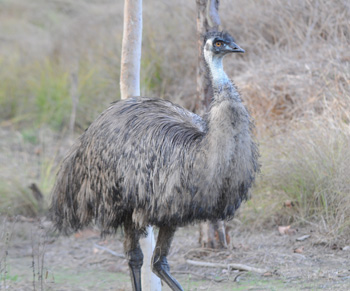 Unfortunately the road was very quiet; after all, it was mid afternoon and very hot with a high of 29°C. We did, however, get excellent views of a pair of Pheasant Coucal and 2 female Red-backed Fairywren. At 16.00 we turned down the road to the Mareeba Wetland Reserve and Jabiru Safari Lodge, stopping briefly for a small flock of Double-barred Finch and Brown Treecreeper. As we parked the car we had a close encounter with 3 Emu, introduced here a few years ago but now into their third generation and we were given a warm welcome by Liz Cayzer with a cold drink as we arrived. The Lodge looks out over a large man-made lake and, facing west, is a delightful spot to sit on the veranda at sunset with a beer and a glass of chilled white wine! Before dusk we saw a pair of Green Pygmy Goose as an Osprey drifted over and a Channel-billed Cuckoo (sadly the only one of the trip) flew by, silhouetted against the setting sun. The Welcome Swallows nesting over the dining area were joined by Broad-nosed Bats and Roth's (Laughing) Tree Frog whilst Agile Wallaby & Eastern Grey Kangaroo roamed the grounds nearby and Cane Toad & Northern Brown Bandicoot were spotted by torchlight. We saw 81 bird species today as well as a much wider array of other fauna than previously.
Monday 24th October.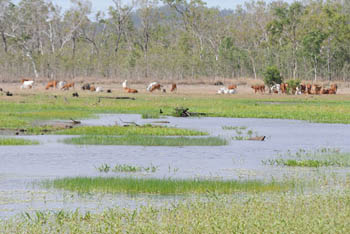 After an early breakfast at 06.30 we went for a 3 hour guided bird walk at 07.00 with Carol Iles. We were taken around several different habitats in a 4WD jeep with another couple of keen wildlife watchers from Holland. Outside the Lodge c20 Tree Martin sat on the wires and within a short space of time we picked up Chestnut-breasted Mannikin, Lemon-bellied Flycatcher (Flyrobin) and 2 Black-throated Finch. A pair of White-winged Triller, c10 Apostlebird, Olive-backed Oriole, Little Friarbird, Yellow Honeyeater and White-bellied Cuckooshrike were all added to the list as we made our way around to Pandanus Lagoon on the far side of the wetlands. The water held the usual mixture of ducks and egrets plus 3 lingering Brolga, Whiskered Tern and a distant Black-necked Stork, whilst White-breasted Woodswallow flew overhead. Leaving the lake behind we went back along the road out of the reserve, stopping for a pair of nesting Osprey and their young, 3 Great Bowerbird, Brown Honeyeater and a Pacific Baza. As we returned to the Lodge we spotted an Azure Kingfisher perched in a roadside tree and Red-winged Parrot. We saw 56 species in a little over 3 hours; not bad going!
We set off for Daintree at c11.15 having agreed to meet up with Carol again later in the day at Kingfisher Park Birdwatchers Lodge for a guided tour of the grounds. She also drew a detailed maps for us highlighting the best birding spots and potential species between Mareeba and Kingfisher Park, plus the Mossman/Newell Beach area.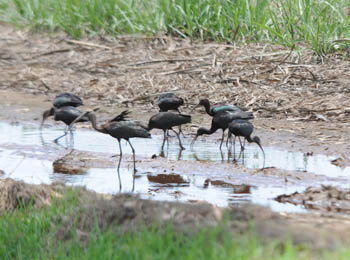 Driving back to Mareeba we came across the unexpected sight of c15 Glossy Ibis picking their way along a nearby flooded ditch. Shortly afterwards we stopped by the roadside to view another man-made wetland, Lake Mitchell, and were surprised to find Carol doing the same. She had changed her mind about doing some shopping as birding was much more fun, so we decided to tag along and went on to a gated track which proved to be a causeway across the wetland and gave much better views of the water. It was a hot day again and relatively quiet apart from 2 Australian Hobby, c6 Green Pygmy Goose, c12 Wandering Whistling Duck and distant calling Brush and Pallid Cuckoo that just didn't want to come any closer. Undeterred, we drove on to Kingfisher Park with Carol and met up with husband Andrew and walked around the grounds with them. Despite missing one or two more obvious species that had been around earlier in the day we soon notched up Yellow-spotted Honeyeater, Spectacled Monarch, a roosting Papuan Frogmouth, Brush Cuckoo, Pale Yellow Robin, Yellow Faced Honeyeater, Macleay's Honeyeater, Graceful Honeyeater, Scaly-breasted Lorikeet, Brown-backed Honeyeater, Orange-footed Scrubfowl, Emerald Dove, Red-browed Finch and Yellow-bellied Sunbird. Carol is excellent company and a very good guide. She can mimic a surprising number of species and we really enjoyed birding with her. She charges A$30 per hour (or A$260 for a full day – up to 10 hours – price for 1 to 4 people in your own vehicle) and is good value for money. She can be contacted by email or 07 4094 1268.
We arrived at Red Mill House at c17.00 to a warm reception from Trish and Andrew Forsyth. There are only two restaurants in Daintree and we decided on an early dinner at Croc Eye Cafe after our long day in the field. The food was excellent. Temperatures had peaked once again at 29°C today and we had seen 94 species and 19 lifers with a good bit of help from Carol.
Tuesday 25th October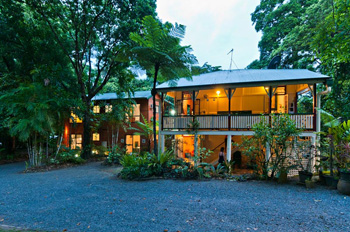 We went for a pre-breakfast stroll down Stewart Creek Road this morning, as we were only due to meet our guide for the day, Murray Hunt, at 09.45. On reflection, we quickly returned to Red Mill House to pick up the car and made frequent stops along the road when suitable habitat appeared. Amongst others, we saw c6 Torresian (Pied) Imperial Pigeon, Yellow-spotted Honeyeater, Helmeted (Hornbill) Friarbird, a single Fork-tailed (Pacific) Swift, along with numerous Australian Swiftlet and adding a bit of colour, a single Red-winged Parrot, plus a small flash of green as a Double-eyed Fig Parrot shot by overhead. After an excellent breakfast back at Red Mill House, we went outside to meet Murray who turned up at c10.00. We set off behind him and our first stop was the Barramundi Fish Farm on the way to Mossman; some work was being undertaken on the first two ponds, which had been fully drained and as a result the birds were being constantly disturbed and there were fewer species around than usual. We did manage to locate a calling Brush Cuckoo, 3 Gull-billed Tern, 4 White-headed Stilt and we caught a fleeting glimpse of a skittish Radjah Shelduck, before moving on to a nearby residential site where we picked up 3 Bush Stone-Curlew. Next we visited another residential site where a flock of c12 Spotted Whistling Duck had taken up residence a few weeks earlier, at least 100 kms south of the previous limit of their known range. The birds had initially settled on a small pond visible from the road, but intense pressure from local twitchers and photographers (keen to get that perfect close up, as ever…..seems they are the same the whole world over!) had annoyed the local residents and also made the birds quite flighty and, with several similar ponds in the vicinity they had become quite elusive. Unfortunately all the other ponds were either behind tall hedges or well hidden on private land and we were out of luck. A second visit the following morning was also abortive: the birds were still around though and had been seen by a birding tour group later on Tuesday afternoon. Our next stop was Newell Beach: the tide was well in and most of the birds were on a distant sandbank but with the scopes we were able to pick out a couple of Caspian Tern amongst the flock of Greater Crested Tern, whilst a Grey-tailed Tatler flitted around the boat launching ramp at the end of the Esplanade. Amanda spotted a distant kingfisher sat on a mangrove root, in all likelihood a Collared Kingfisher, but sadly it flew and was too far away to confirm ID. Trying to relocate the kingfisher I spotted an interesting wader on a nearby sandbank. At first I thought it was a pale Common Redshank but then it flew away calling just like a Lesser Yellowlegs and with a back pattern to confirm, I was quite happy with this ID. Driving away from Newell Beach, on Newell Road just before Mossman Golf Club, we had another surprise as an Australian Bustard walked sedately across the road in front of us from a field on the left and quickly disappeared in to the grassy farmland. Two very unexpected sightings in quick succession, making up for the missed Whistling Duck (well perhaps partially!). In addition, seeing the Bustard meant we could spend more time at other sites rather than making the detour later in the day to Mary Farms.
We parked at a supermarket in Mossman, leaving our car and joining Murray in his 4WD for the rest of the day. Beyond Mossman we took Route 44 towards Mount Molloy and just before Julatten we turned off on to Carr Road, heading up the wooded hillside until the road finally widened out into a convenient car park – convenient because the track continued on to the property of what appeared to be a rather unfriendly landowner…. the sign at his gatepost, surrounded by animal skulls states "NO NATURE REFUGE, JUS GRU SUM". (Should REALLY have taken a photo – can anyone send me one by email ?) Carol Iles later told us the couple there are actually really kind, generous people with a quirky sense of humour. She thought the sign originated from when birders used to just walk up their track uninvited. They grow tropical fruits so they get a lot of visiting wildlife. Anyway, the birding was good. Lots of small birds were creating a commotion in the canopy and Murray eventually spotted the cause when he picked out a snake, sunning itself on a horizontal branch. It was being mobbed by Yellow-spotted, Dusky, Scarlet and Macleay's Honeyeater; Black-faced, Spectacled and Pied Monarch were also in close attendance along with a Little Shrikethrush. Murray then heard a newly-arrived Buff-breasted Paradise Kingfisher calling in the forest and with a little coaxing from his MP3 player the bird came much closer. At the same time we heard another bird calling nearby and as the first bird flew off, back into the trees where it continued to call, the second bird appeared, giving us stunning views of not one, but two of these magnificent kingfishers. Whilst we were watching the birds, a Large-billed Gerygone also appeared and Emerald Dove cautiously approached us, pecking its way along the track. A Noisy Pitta called nearby, but like the others we subsequently heard, it couldn't be tempted out, although a Red-necked Crake was more obliging, giving only brief views as it skulked through the undergrowth, but enough to see the salient ID features.
With time rapidly moving on we continued for about 1km towards Julatten to Mount Lewis Road and started the climb up the mountain through the National Park into Brooklyn Sanctuary which is now owned by AWC (Australian Wildlife Conservancy) and also covers the Mt Carbine area. Murray heard a Chestnut-breasted Cuckoo calling as we drove through the forest and was able to tempt the bird to give us excellent views along with 2 Bridled Honeyeater. It was time to eat our picnic lunch before moving on further up Mount Lewis to around 1050 metres, where we parked in a clearing and followed a steep track up the hillside in to the forest. Before setting off we saw Grey-headed Robin, Grey Fantail and Golden Whistler in the clearing and a little further along the track we came across Carol Iles, with another birder, as they watched a magnificent male Victoria's Riflebird in the branches overhead. Continuing higher we saw White-throated Treecreeper, 2 Fernwren, Tooth-billed Bowerbird, Mountain Thornbill and Atherton Scrubwren, amongst others, before returning to the clearing in time to see c6 Topknot Pigeon fly overhead. Returning to the main road we drove on for a few more miles before stopping at a roadside track leading in to some relatively young woodland, to look for species still missing from our list. After a few steps along the path Amanda noticed her right foot was covered in blood and as she stopped to examine the problem an engorged leech detached itself and dropped to the track whilst blood continued to flow copiously from her shin. Not a disaster, but still not a very pleasant experience. Amanda had seen a leech on the track as we walked up Mount Lewis and Murray had nonchalantly brushed off her questions about potential problems. Amanda was wearing an open sandal and with more robust footwear in the vehicle, it would have been quite simple to change and gain a little more protection. What was even more annoying was the fact Murray had a first aid kit in his vehicle and we virtually had to twist his arm to get it out for a plaster for Amanda's leg, which continued to bleed for at least another 10 minutes. In the sparse woodland we did see Pale Yellow Robin and Pied Monarch, but nothing new. Under the circumstances we didn't stay long and moved swiftly on to Abattoir Swamp which was very quiet except for Brown and Brown-backed Honeyeater. It had been a very hot day with temperatures reaching 30°C and at 16.30 we stopped in Mount Molloy. Red-winged Parrot were everywhere with the occasional Pale-headed Rosella; we saw 2 Bush Stone-Curlew and Great Bowerbird again but with nothing new in the offing, we decided we had had enough (probably the leech effect) and suggested Murray head back to Mossman. We had been trying to set up some spotlighting for owls etc for 3 to 4 months before our trip but Murray had said it had been a strange year for owls (unseasonably wet weather, etc) and he had not been able to find any suitable stake-outs. We ended the day with 81 species, including 16 lifers, having managed to find most of the endemics we had been looking for, and got back to Daintree after 19.00 just in time for dinner at the almost deserted Village Stores Restaurant, as Croc Eye Café closes on Tuesday evenings.
Wednesday 26th October
We were up early this morning for a 06.30 boat ride on the Daintree River with Murray (Daintree Boatman Nature Tours). There were six other people on the cruise, including two Germans with very limited English, and as Murray introduced himself saying "I'm Murray Hunt, my mates call me Muzza" (or some such spelling!) we looked at each other and wondered if we had upset him yesterday as we had spent at least 8½ hours in his company and not been favoured with this gem.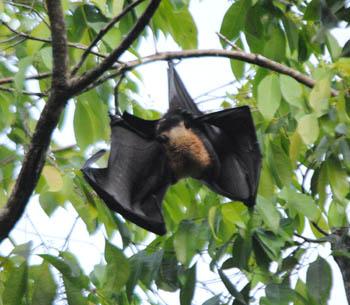 Two or three Yellow Oriole were calling around the boat dock as we arrived and, setting off across the river, we were soon watching a Pale-vented Bush-hen making its way along the river bank having been attracted by Murray's MP3 player. Moving a short distance up river we had brief glimpses of a pair of Shining Flycatcher whilst hundreds of noisy Spectacled Flying Fox roosted in the canopy overhead. Retracing our steps and heading down-river we came across a crocodile in the shallows near the river bank and had good views of a roosting Papuan Frogmouth on a branch overhanging the river. Much further down the river a Black Butcherbird flew from its nest as we approached and a pair of Double-eyed Fig Parrot moved around the canopy giving better views than the previous day. A White-lipped Tree-frog on a dead branch sticking out of the river made an interesting photo and as we made our way back up river an Azure Kingfisher put in a brief appearance along with a Helmeted Friarbird and two Radjah Shelduck which flew past us and landed on a bough over the river. Before returning to the dock we went a little upstream again to try and get better views of the pair of Shining Flycatcher, which were duly obliging. Whilst watching an Eastern Water Dragon a disturbance under the trees by the river bank caught our attention; a crocodile had retrieved some prey (bloated and gruesome – don't ask what it was!) from his larder and was thrashing about as he attempted to devour it. A little over 2½ hours on the river brought us three lifers and new birds for the trip, if you include the rapidly disappearing rump of the butcherbird; all-in-all it was rather boring and a little disappointing as we had hoped to see our main target bird Great-billed Heron, Black Bittern and get a further sighting of Little Kingfisher. The heron was certainly about as another boat coming up river just after us had had more luck. River trips are usually one of our favourite ways to spend our time, but we both left this one feeling a little let down for some reason (Cost A$55pp).
We had another excellent breakfast on our return and left Red Mill House at 10.00 with comprehensive instructions from Trish on where we might find Beach Stone-Curlew on our journey back to Cairns, as we has failed with this one the previous day. We didn't see anything new at the Fish Farm and a quick look at Wonga Beach drew a blank. Returning to Newell Beach with the tide once again right in, there was a large flock of terns on the sand bar at the river mouth including c30 Greater Crested, 2 Lesser Crested, a single Caspian, 4 Little and c5 Gull-billed Tern. Two quartering Osprey disturbed the terns from time to time before we set off along the Esplanade and Marine Drive and on to the track at the end which finishes at the nearby creek, where we found our first Beach Stone Curlew, just where Trish said we would. Much further south we stopped off at Yule Point, (another of Trish's recommendations) and, sure enough, right in the middle of the great expanse of sand near the waterline was another Beach Stone-Curlew along with Whimbrel, Greenshank, Grey-tailed Tattler and c 20 Gull-billed Tern. Next, with temperatures hovering around 30°C we drove towards Yorkey's Knob and the Cattana Wetland Reserve where we were soon watching our main target bird, Crimson Finch with a beautiful pair around a nest at the side of the path. Bearing in mind the torrential rains of the previous week, it was not surprising to see some of the paths flooded as we made our way around this reserve.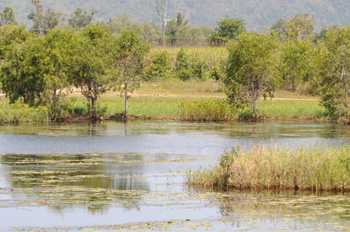 We were still able to pick up Asian Koel, Comb-crested Jacana, Red-backed Fairywren, Scaly-breasted Munia, Red-browed Finch and Green Pygmy Goose, as well as a Common Eggfly butterfly in our brief stop here before heading back up the Kennedy Highway to Kuranda and Cassowary House, where we arrived a little before 16.00. Sitting down under the veranda waiting for dusk we bumped into Hein, a Dutch birder we had first met at O'Reilly's. He had just returned from a successful trip to Bowra Station near Cunnamulla and was telling us all about this when a female Cassowary wandered up to the property and started eating fruit right by our feet – we could literally have reached out and touched the bird! This shut us up for at least 10 minutes as we remained motionless, before the silent Cassowary wandered away again. What an amazing experience! We had dinner at a nearby Sri Lankan Restaurant and on the way, just after leaving Cassowary House, we saw a Bush Stone-Curlew at the side of the road in our headlights. 64 species today, including a further 6 lifers, was not a bad haul considering the time we had spent on the road; we had, however picked up 30 species on the boat trip.
Thursday 27th October
This morning we made a 07.00 start on Black Mountain Road with guide Jun Matsui to try and "mop up" some species we had missed in the Atherton Tablelands and Cairns area. In fairly quick succession we found Spotted Catbird, Yellow-breasted Boatbill, Grey(-headed) Whistler, Fairy Gerygone, Gould's Bronze Cuckoo, Yellow-spotted and Graceful Honeyeater, Large-billed Scrubwren and Lovely Fairywren. Returning to Cassowary House for a delicious breakfast at 08.30 we were joined around the veranda by Macleay's Honeyeater, a female Riflebird and the female Cassowary. Fully replete, we set off again at 09.15 towards Atherton and Mount Hypipamee, but not before picking up a pair of Silvereye in the canopy overhead as we were about to get in to Juan's car. Our first stop was c3km beyond the turning for Mount Hypipamee on Route 1 where we set off up a hillside track to visit a known Golden Bowerbird site.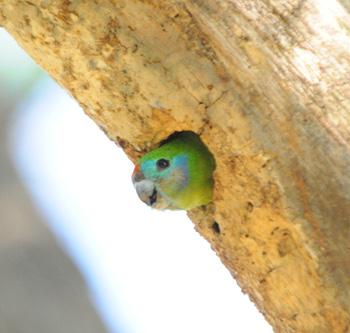 After a steep climb we needed to venture in to the forest and bearing in mind Amanda's leech encounter on the 25th I wasn't too surprised when she opted to stay on the track. I followed Jun through the fairly thick cover of young trees for about 5 minutes down the steep hillside and as we neared the bower he suddenly stopped and pointed out the stunning male Golden Bowerbird flitting through the trees. After watching the bird for several minutes we returned to the track to try and persuade Amanda to venture in to have a look. She declined once again, so we set off back down the hill to the car: within 30 seconds another stunning male Golden Bowerbird appeared right in front of us on top of a shrub at the side of the track. What amazing luck; it certainly brought a smile to our faces.
We motored on to Mount Hypipamee and walked around the Car Park and down the track leading back to the Kennedy Highway where we saw Bridled Honeyeater, Bower's Shrikethrush, 2 Large-billed Scrubwren and a cracking Rufous Fantail. We then drove back through Atherton and had lunch at the Tolga Gallery, before driving to Lake Barrine, picking up a lone Australian Pipit on the way. From the car park we walked back up the driveway to the short woodland walk which loops around to the café and managed to pick up 2 foraging Chowchilla, another Large-billed Scrubwren, Tooth-billed Bowerbird and a beautiful Common Jezebel butterfly. Returning to the car park we came across a Boyd's Forest Dragon and another Bower's Shrikethrush. With a few more species to find we then drove back down to the coast to Cairns and parked at the north end of the Esplanade near the edge of the mangroves at c16.00. In no time at all we were watching 2 Mangrove Robin flitting around the edge of the mangroves and we came across 2 Double-eyed Fig Parrot at their nest hole in a nearby tree.
Walking on a little further we spotted a Mangrove (Sordid) Kingfisher and an Australian Sacred Kingfisher, before returning to the Esplanade where, despite the tide being out, we had good views of thousands of waders in perfect light. The majority of the birds were Great Knot and Red-necked Stint but we also managed to find c6 Curlew Sandpiper, a single Eastern Curlew and Greater Sand Plover. When we returned to the car we found a Huntsman type species of spider near the rear wheel arch; don't know where we picked that one up, but it wasn't there when we got back to Cassowary House. Temperatures had reached 30°C again today and we returned to the Sri Lankan Restaurant for dinner, happy that the 64 species we had seen with Jun had included a good few lifers (11) and new birds for the trip.
Friday 28th October
We had a leisurely breakfast at 08.00 in the company of Hein and the female Cassowary once again. While we were eating, a White-headed Pigeon appeared in a nearby tree and as we bemoaned the fact that we hadn't had a good sighting of a Black Butcherbird, Sue explained to us they had a resident bird which she was trying to turn in to a vegetarian.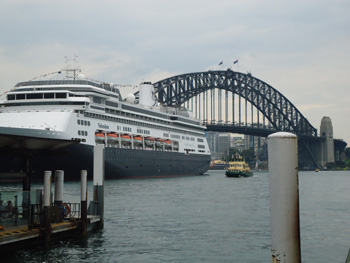 Sure enough, in less than a minute from us having the conversation, a Black Butcherbird appeared and began taking fruit from the feeders on the veranda, about 2 metres away from us. We took our leave of Sue and Phil, who had proved to be excellent hosts and drove away from Cassowary House at 09.30 to Cairns. We paid a quick visit to the Esplanade but with the tide out, all the birds were distant apart from 3 Bar-tailed Godwit and our scope was packed ready for the onward journey. A brief walk around the edge of the mangroves yielded both Varied and Brown-backed Honeyeater, Peaceful Dove and Royal Spoonbill before we took the hire car back and went to the airport for our lunch-time flight to Sydney. Temperatures were again moving rapidly towards 30°C and, despite the storms which greeted our arrival in Cairns, the last seven days had been hot and sunny. Apart from the bouncing camera we had had a really good time and taken our trip list total up to 267 species.
We were met at Sydney Airport by our good friends Mark and Mia, with whom we were going to stay for the next few days. We picked up our hire car and, having dropped off our cases and freshened up, we drove the short distance from North Sydney across the Harbour Bridge to have dinner in a theatre restaurant in the old wharves overlooking the harbour. What a super relaxing way to end the day and start the next leg of our journey.
Saturday 29th October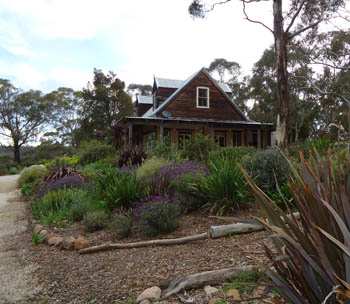 The next few days were earmarked for doing the "touristy things" but with bins to hand we were bound to see a few birds despite our best efforts at sightseeing. After a really lazy start and a lovely breakfast we set off mid morning with Mark and Mia, who are not birdwatchers (yet!), for our trip to the Blue Mountains where we were staying in a beautiful old-style cottage called Kookawood near the town of Rydal and Lake Lyell. After leaving Sydney, heading north west, we took the scenic Bells Line of Road to The Blue Mountains National Park and stopped briefly along the way at Mount Banks. On the journey we saw our first Common Starling of the trip and we an excellent lunch at the Apple Bar at Bilpin. At Kookawood the local residents included Sulphur-crested Cockatoo, Crimson Rosella, Galah, Superb Fairywren, Brown Thornbill, Australian Raven, White-browed Scrubwren, Eastern Spinebill and another new one for the trip (also a lifer), Red Wattlebird. We had an excellent dinner at Silk's Brasserie in Leura.
After a leisurely breakfast we drove to Katoomba and the Three Sisters lookout point; being Sunday it was, of course, crowded, so we moved on to Sublime Point and then, after lunch, the Evans Lookout at Blackheath.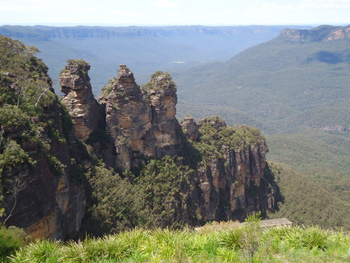 We saw 20 species today, but nothing new and a brief stop at Lake Lyell had produced Australasian Grebe, Great Crested Grebe, Coot, Little Black and Pied Cormorant. We decided to have a night in with a buffet, mainly from a deli in Leura and a few bottles of red wine. When I had emailed Carol Probets earlier in the year to set up our trip to the Capertee Valley, she was kind enough to provide some information about potential birding sites in the Blue Mountains and although we didn't have the time to visit all of them, we found the information very useful.
Monday31st October
After a relatively early breakfast we dragged Mark and Mia, "kicking and screaming", to Katoomba for a trip on the Scenic Railway & Cable Car (Cost A$28pp), trying to beat the crowds around the forest walks at the foot of the railway in search of Superb Lyrebird. After a short distance it was Mark (aka Doctor Dolittle) who spotted the first movement in the undergrowth and, sure enough, there were two Superb Lyrebird digging about in the leaf litter: they were probably a female and one of the last few years' young males as both had short tails.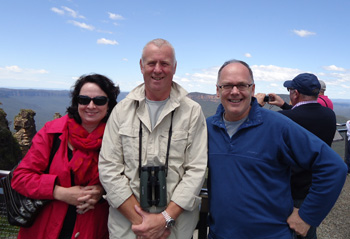 Although there was plenty birdsong, most came from high in the canopy and we only managed to spot Lewin's Honeyeater and Pied Currawong before returning to the top of the railway and taking the cable car across the gorge and back. Moving on to Govett's Leap we saw Nankeen Kestrel, Grey Shrikethrush, several Tree Martin and a striking male Flame Robin in the car park. We then returned to the Great Western Highway (Route 32) and travelled beyond Lake Wallace and Wallerawang before heading south to Rydal and back to Kookawood. Once we were on the back roads on the way to Rydal birds became more plentiful and we came across a flock of c10 White-necked Heron, Magpie Lark, Grey Teal and 4 distant Yellow-tailed Black Cockatoo as they flew away from us. Getting back to the cottage around 16.30 we decided to go for a walk around the grounds and as we walked outside we were surprised to see a lovely Gang-gang Cockatoo land in the trees nearby. In addition to all the usual local residents we also saw 2 Yellow-faced Honeyeater and 2 Grey Shrikethrush before spotting an Echidna crossing the path nearby and several Eastern Grey Kangaroo. Despite the touristy feel to the last few wonderful days, we had managed to add a further 6 lifers to our list. Buffet and wine once again made for a very relaxing evening as we were due to leave at 06.00 in the morning, long before Mark and Mia made a more leisurely trip back home to Sydney.
Tuesday 1st November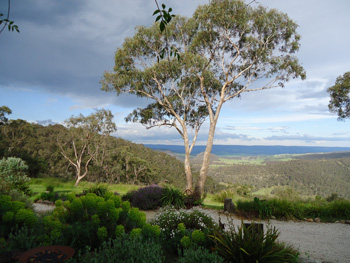 Today we had arranged to meet Carol Probets at 06.30 in the Lake Wallace car park and spend the day with her exploring the Capertee Valley. After transferring to her 4WD we drove around the lake picking up several new species including Musk Duck (both male & female), Reed Warbler, Little Raven, Golden-headed Cisticola (briefly), Hoary-headed Grebe and Goldfinch (surprisingly). We also had much better views than yesterday when 3 Yellow-tailed Black Cockatoo landed in trees nearby as we were watching Eastern Rosella and Grey Butcherbird. After stopping at a small bakery in nearby Wallerawang to get a sandwich for lunch we drove in to the Capertee Valley which has a mixture of farmland and dry forest, comprised mainly of Box and Ironbark Eucalyptus. We slowed down a few times along the way as we saw 2 Red-necked Wallaby and a small flock of White-winged Chough, before stopping at a private site for White-bellied Cuckooshrike, Brown Treecreeper, Fuscous Honeyeater, White-plumed Honeyeater, Rufous Songlark, c6 Plum-headed Finch, c4 Diamond Firetail and 2 Little Lorikeet. As we moved on towards Glen Alice, we spotted a few Swamp Wallaby nearby and c10 Zebra Finch by the roadside. A Brown Falcon sat on roadside wires, before moving along a little as we passed and a Jacky Winter flitted about on the wire fence separating the farmland from the road. We saw Fairy Martin as we drove along and Carol explained she had been involved with a replanting scheme since 1994 to encourage the return of the Regent Honeyeater to the valley. C90,000 of both Yellow and White Box and also Mulga Ironbark Eucalyptus have been planted to date under this scheme. As we arrived at the Glen Alice campsite 3 Red-rumped Parrot foraged in the shade on the ground under the trees, Striated Pardalote moved around in the canopy overhead and we took a break for morning coffee/tea and cake.
Refreshed, we drove a short distance and stopped by a bridge over a small creek and came across a Mistletoebird and a nesting Olive-backed Oriole as we set off to walk along the creek. Hearing a noise behind me I turned, just in time to see a Brown Quail drop to the ground and immediately disappear; meanwhile both Dusky and White-browed Woodswallow flew overhead, landing in the treetops from time to time. After a walk of about 20 minutes (quite a bit longer, if you include the many stops for birds along the way) Carol stopped suddenly and pointed to a Regent Honeyeater overhead, feeding young. There were at least 4 birds in the immediate vicinity and they seemed quite intent on defending their territory against marauding Noisy Miner. As we walked back to the car we saw Restless Flycatcher and 4 White-winged Chough on the riverbank opposite. We left Gen Alice and retraced our steps towards Glen Davis, stopping on the way for lunch at Carol's cabin on block of land she owns. We ate our sandwiches on the veranda and watched a procession of birds visit the old bath tub which had been converted into a bird bath. White-plumed and Fuscous Honeyeater chased each other around whilst a pair of Jacky Winter were nesting nearby and Weebill, Rufous Whistler and Diamond Firetail appeared in the branches overhead. After lunch we walked around the surrounding woodland looking for an elusive calling White-browed Babbler; we didn't find the bird but we did come across Blue-winged Kookaburra, Brown-headed Honeyeater, a pair of Yellow Thornbill and 2 Little Corella flying away from us.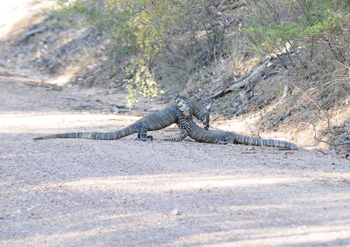 As we were driving away from the cabin Carol managed to locate a calling Pallid Cuckoo we had heard all the way through lunch.
We drove in to the Wollemi National Park towards Glen Davis, stopping on the way for 2 Double-barred Finch, 3 Golden-headed Cisticola (much better views this time) and Horsfield's (Singing) Bushlark. Two Common Walleroo watched from a roadside gully and we found at least 10 calling Bell Miner, White-throated Gerygone, White-naped Honeyeater and two White-throated Treecreeper whilst an Eastern Brown Snake crossed the road in front of us and disappeared into a roadside ditch. We parked at the campsite at the start of the Newnes Track and almost immediately Carol heard a Grey-crowned Babbler and we quickly found a pair; we followed the male and it led us to a White-browed Babbler. The two seemed to be on quite good terms for a while before the Grey-crowned flew off and another White-browed appeared. Before leaving we saw 3 Little Lorikeet and also 3 Black-naped Honeyeater as we enjoyed afternoon tea and more cake. As we drove along looking on all the roadside fence posts for Hooded Robin, a species which had eluded us so far, we took a detour down a smaller track and saw a Lace Monitor on the road. The monitor scurried up a nearby tree as we drove past and a little further on we came across two more Lace Monitors locked in combat in the middle of the road. We drove past and stopped to watch and take some photos. We must have watched for at least 20 minutes and the monitors carried on undeterred, without any evident outcome. With time moving on we left them to it and drove back to Lake Wallace to pick up our car; the only birds of note on the journey were a solitary Common Bronzewing, which quickly flew off from the side of the road and further on, a Black-shouldered Kite. After a long, hot (c30°C again) day in the field with Carol we had really enjoyed ourselves and seen an excellent 92 species, which included 33 lifers. We got back to Katoomba just before 20.00 and went for a late dinner at the nearby Canton Palace. Overnight 3 Sisters Motel.
Wednesday 2nd November
The motel provided breakfast in our room this morning and we were picked up at 06.30 by Carol to spend another few hours with her around her local patch.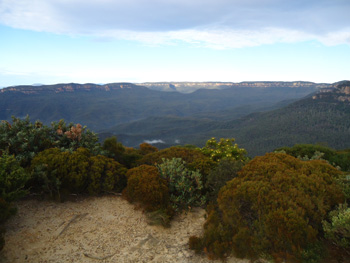 We started off at King's Tableland where we saw the first of many New Holland Honeyeater, Rufous Whistler, Brown Goshawk and White-eared Honeyeater. One of our main targets was quite elusive, but we eventually caught up with 5 Glossy Black Cockatoo on the roadside wires. Unfortunately, although the sun kept breaking through the clouds, there was a strong breeze which seemed to keep the small birds hunkered down and there was surprisingly little birdsong. We had hoped to see Chestnut-rumped Heathwren & Beautiful Firetail here, but with conditions against us we decided to cut our losses and move on: just before we did however, we found a very active flock of c8 Striated Thornbill, a Mountain Dragon and a very vocal Fan-tailed Cuckoo. Next we went to Evans Lookout for Rock Warbler; we had been there a few days earlier without any luck. Carol said the birds could usually be found around the Car Park and, sure enough, just after our arrival, a bird appeared and hopped around the parked cars for 10 minutes. We searched in vain for Pilotbird, but again the breeze was too strong and there were very few birds around. Moving on we stopped at a site Carol had not visited for some time to try our luck; Fairy Bower, Mount Victoria where we stopped for morning tea (and cake). Carol immediately picked up the call of Rose Robin and a female quickly came in to view: Fan-tailed Cuckoo called all around us – there must have been two or three birds but they remained elusive this time. Conversely, we didn't try too hard, having had good views of a single bird a little earlier.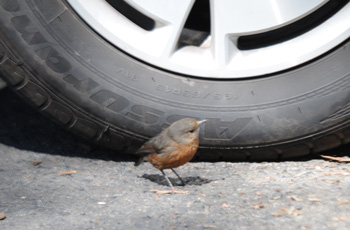 Shining Bronze Cuckoo was more obliging however, giving prolonged views, along with both male and female Satin Flycatcher, at least 5 Orange-winged Sittella, Spotted Pardalote, Satin Bowerbird, Black-faced Monarch and female Flame Robin. An Australian Raven had been hanging around with intent as we enjoyed out tea and cake; we moved away from the picnic bench having been distracted by the Varied Sittella flock and despite Amanda putting plastic lids on all the containers, we turned back to our refreshments to find the raven on the floor with half the cake, along with the plastic lid – cheeky, but clever b.…rd. With a small gap in our list of duck species we finished up at Lithgow Sewage Ponds around noon, by when the wind had dropped, the sun was shining and, guess what? It was hot again! Two Goldfinch was only our second sighting and amongst the numerous water birds we picked up Hoary-headed Grebe, Australasian Shoveler, c6 Pink-eared Duck and a male Blue-billed Duck to finish off the morning with 2 more lifers, making a total of 11 for the day. Both Pink-eared and Blue-billed are stunning ducks and well worth the diversion to Lithgow. On our way back to the motel we spotted Yellow-rumped Thornbill and 3 Yellow-tailed Black Cockatoo. Total number of species today was 53 and our trip list total had moved on to 322. Back in Katoomba we had a lazy lunch at the Common Ground Café and spent the afternoon sorting out packing and doing a little sightseeing before a superb dinner at Silk's Brasserie in Leura.
Thursday 3rd November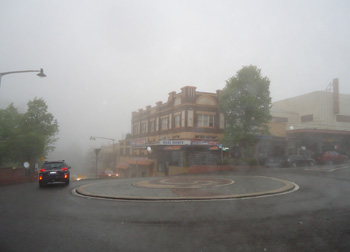 Today we had a long drive ahead of us (c500 kms) and after a lovely lie-in till 07.30 we had a leisurely breakfast and left Katoomba at c10.00 taking the scenic route rather than the Hume Highway and arrived in Wagga Wagga c17.00 after coffee, lunch and birding stops along the way. As we left Katoomba the town was shrouded in low cloud with a constant drizzle; too bad I had left it until this morning to take some pictures of the town which my father had visited some 70 years before. As we came out of the mountains and lost some height the sky began to clear and by the time we reached Lithgow we were once again in bright sunshine. On the way to Bathurst we saw several species including 2 Eastern Rosella and Nankeen Kestrel. Driving through the town was a bit like entering a time-warp with both bowling greens and croquet lawns packed with people enjoying their favourite pastimes in the sweltering heat: "Mad dogs & Englishmen" and all that! We moved on into Blaneyshire near Fitzgerald's Mount enjoying the green, rolling countryside with just a few common species to keep us company. By the time we reached Cowra the hillsides had turned yellow and the trees were mainly Eucalyptus, but by Cootamundra the landscape had turned green again and the hillsides had become more wooded. As we passed Junee things had changed once again and had become much more as we anticipated; flatter and drier. We saw our first Superb Parrot as 3 birds flew across the road in front of us. Our motel was just outside the town centre, right next to the meandering Murrumbidgee and after settling in, we went for a walk along the riverbank to stretch our legs before dinner. No new birds apart from a Blackbird! We saw 29 species today; not surprising really with such a journey, but at least the Superb Parrot kept the lifer count ticking over. Dinner at La Porchella was OK. Overnight Carlyle Suites & Apartments Wagga Wagga.
Friday 4th November
We left Wagga Wagga at c09.00 and set off for Hay, having decided to make a detour via Leeton and Fivebough Swamp: a little under 300km today would thankfully leave more time for birds. We had a better look at Superb Parrot and saw White-winged Chough and c10 Apostlebird on the way. We left Route 20 heading towards Narrandera and Leeton and just as we approached the town we spotted water on our left and saw a sign for the Narrandera Wetlands. This site was finally restored in 2008, having previously been the old sewage works and is used to filter the town's storm water before it enters the Murrumbidgee. Although newly planted, the site is beginning to mature and seems to have good potential for the future. When we called in there were a lot of ducks and water birds present, including Black-tailed Nativehen, Australian Pelican, several Reed Warbler and our first Yellow-billed Spoonbill with a party of 4, plus a Royal Spoonbill. As we walked the track around the lake we also picked up Superb Fairywren, Eastern Rosella, several Little Friarbird, White-breasted Woodswallow and a Yellow Rosella, a very distinct sub species of Crimson Rosella. We managed 24 species in a little less than an hour.
After a coffee and picking up a spot of lunch in Leeton we moved on to Fivebough Swamp, stopping first at the Hooey Road Lookout which is a good vantage point to view the main water body. Unfortunately it was, by then, very hot with temperatures hovering around 30°C and the heat haze meant the scope wasn't much use; obviously a candidate for an early morning visit! Fortunately c40 Red-necked Avocet were right in front the Lookout and giving good views; a little more distant, but equally distinguishable were C6 Pink-eared Duck, C10 Australian Shelduck, c10 Whiskered Tern, c30 White-winged Tern, 2 Chestnut Teal and c200 Australian Pelican. We moved on to the main car park and went for a walk around the track on the other side of the swamp.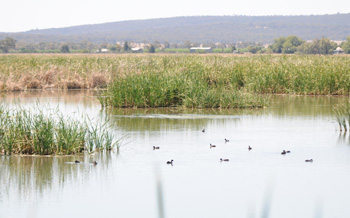 There was no open water here to start with, just grassland and reedbeds; as we walked along a pair of Whistling Kite drifted overhead almost playfully and then a Swamp Harrier loped by. Reed Warbler and Golden-headed Cisticola were the only other birds we saw on our way to the Bittern Hide where we saw several species, but nothing new. Over the back of the reeds, towards the Hooey Road Lookout, almost all the birds on the water seemed to take to the air as a helicopter flew low overhead, creating quite a spectacle. We had seen several notices warning people to look out for snakes, the dry tracks had an abundance of ants which seemed to be intent on swarming around our feet and we were very hot so we decided to call it a day and return to the car. Fivebough Swamp had given us several new species but we had only seen a total of 23 there; probably something to do with the time of the day and the heat as the site does seem to have lots of potential and would be well worth an earlier visit and a few more hours spent there. By now the roads were very flat with long straights broken from time to time by occasional bends, making this stretch of the journey quite monotonous. As we neared Hay, several roadside rice fields were underwater, attracting a few species, but nothing new. Gull-billed and Whiskered Tern were joined by c10 Glossy Ibis, whilst Straw-necked Ibis were numerous. We arrived at our motel in Hay at 16.30 and quickly went out again to catch the local Visitor Centre before it closed to try and find out the location of Hay Wetlands Nature Reserve. Carol Probets had advised us the wetland had been developed by the local Council in recent years and in a very dry area, was a magnet for birds. Unfortunately we were advised the reserve was now closed, after drying up. We had seen 74 species today but only managed 6 lifers over the last two days. We ended up having dinner across the road from the hotel in the Jolly Jumbuck Bistro which turned out to be much better than we anticipated. Overnight Saltbush Motor Inn Hay.
Saturday 5th November
This morning we had a leisurely breakfast at the café next door to the motel and then drove for c60km south of Hay on the Cobb Highway towards Deniliquin, as far as the Black Swamp and then returned to Hay for lunch. At first we didn't see many birds, but as the miles passed, we came across little pockets of roadside activity, usually involving either puddles, wet ditches or dry creek beds lined with trees. Up to 20 Emu wandered the plains while 4 Black-shouldered Kite and numerous Black Kite floated above. Two Wedge-tailed Eagle provided a little variety and we found at least 4 White-fronted Chat, 3 Variegated Fairywren and c10 Tree Martin before arriving at the Black Swamp. Here we found 2 Yellow-vented Bluebonnet and a Swamp Harrier, before heading back to Hay, spotting Australian Pipit and Brown Songlark on the way. We had only managed 26 species but these included 4 lifers.
When planning this section of the trip we had contacted Philip Maher with a view to using his services to search for the Plains Wanderer, but unfortunately he was guiding elsewhere when we planned to be in the Hay/Deniliquin area. With help from his wife Patricia we arranged to use Philip's colleague Robert Nevinson instead. Robert's family own the property we were to visit to look for the birds, he co-leads the plains-wanderer weekends and takes birders out when Philip is away on tour. After lunch we drove slowly along the Cobb Highway again to meet Robert at 15.00 at Boorooban for some late afternoon birding and our night drive around his land. As we got out of the car both Whistling Kite and Little Eagle flew by low overhead. We joined Robert in his 4WD along with another birder, Marion from Brisbane, and drove a short distance south before taking a track into the farmland where we briefly watched 2 nesting White-backed Swallow. We moved on to a patch of woodland where we saw White-plumed Honeyeater, 2 distant Masked Woodswallow, White-browed Woodswallow, Rufous Songlark and after quite a bit of searching, Marion located an Australian Owlet Nightjar, our main quarry in this particular spot. After a short drive we stopped in another much more open wooded area and quickly located a calling Red-capped Robin and 2 Southern Whiteface. Driving further short distances, we made frequent stops in this wooded area and came across some great birds, including White-winged Fairywren, Orange-winged Sittella, 2 Chestnut-rumped Thornbill, 3 Malee Ringneck, White-winged Triller, Singing Honeyeater, Spiny-cheeked Honeyeater, c6 newly arrived Diamond Dove and Striped Honeyeater. We then drove out of the woodland back to the Cobb Highway and on to the Black Swamp: unlike this morning, when we remained with the car at the rest stop, we walked down to the water's edge. What a difference this made! At least 2 Little Grassbird flitted around the bushes which fringed the swamp whilst Musk Duck swam in the open water. A Spotted Harrier sat on top of a distant bush, but allowed us to approach slowly around the water's edge to get super views. As we approached the harrier we passed c6 Australian Crake, c4 Baillon's Crake and a pair of Variegated Fairywren. With last year's heavy rainfall we were told it had been a very good year for waterbirds, especially crakes: quite clearly the evidence was before our eyes! We drove around to the back of the swamp and found 3 Australian Shelduck, c12 Red-kneed Dotterel and a pair of Australian Pratincole. We then drove to another patch of water which was rapidly drying up: there had been a good number of Painted Snipe there a week previously, but it took a lot of patience from Robert to find a lone remaining male. Around the water we also saw several Red Kangaroo, Eastern Grey Kangaroo and a Bearded Dragon before driving on to the area where we would be spotlighting later.
As we parked up Robert spotted a lone Black Falcon quartering the surrounding fields and we watched in the gathering gloom as the bird repeated the same circuit time and again right in front of us. We settled down waiting for it to get fully dark and ate our sandwiches at 20.00.
We resumed when it was fully dark at 20.30. It took Robert just 15 minutes to find a male Plains Wanderer with Inland Dotterel and Stubble Quail following it within the first 40 minutes of our spotlighting. Such a start was a little too good to be true and although we saw a few more quail and dotterel, we didn't find any female Plains Wanderer and Australian Pipit and Brown Songlark were by far the most common of the few birds we did see. I think Robert would have carried on all night but by 23.00 we all agreed we had had enough and set off back to the cars.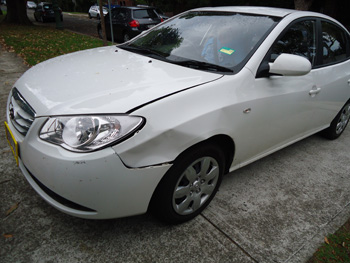 We were surprised we had not seen any owls, but this was remedied during the next 20 minutes as we saw at least 11 Australian Barn Owl, both in flight and perched on fence posts. Finally we came across a Banded Lapwing in the middle of the road, but it took flight before we could get more than a fleeting glimpse in the bins. We nearly ran over a Curl Snake which was casually crossing the track and we spotted two Foxes prowling the fields in the distance. We saw 56 species whilst out with Robert and added another 22 lifers to our list.
Returning to Hay just after midnight, about 15 kilometres from town, we saw a Kangaroo at the side of the road. Amanda was doing about 20kph less than the speed limit and she braked as soon as she saw the animal (the first we had seen on the way back to Hay), but at the last minute it decided to cross the road and made rather a mess of the nearside front wing, to say nothing of the poor Kangaroo. Needless to say we didn't sleep too well that night.
Sunday 6th November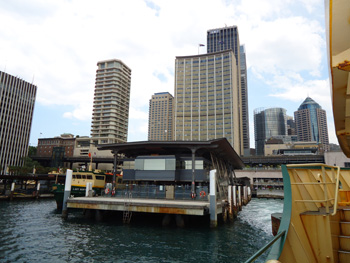 Today we had a long drive of c740kms and after a leisurely breakfast we left Hay at 09.30 and arrived in Sydney at 18.15 after a short break for lunch. We managed to pick up 29 species on our travels but nothing out of the ordinary. We also saw an Echidna walking along at the side of the highway.
Monday 7th November
After our long day on the road yesterday we opted for a lazy day today, catching up with laundry, tick lists etc. We went for lunch at an Italian Restaurant on the Circular Quay and then took a trip on the Manly Ferry. The Harbour Bridge and the Opera House fit into the city landscape so well they are truly spectacular. When we returned to Sydney we took a quick trip around the Botanic Gardens. Only 15 birds, but we were seeing the sights after all.
Tuesday 8th November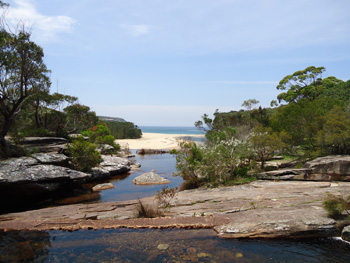 We decided to take a trip south from Sydney to the Royal National Park (Car Day Pass A$11) and Barren Grounds today with a view to having a good look at the coastal scenery and hopefully picking up a few new species including Sooty Oystercatcher. We were with our friend Mia, so birding wasn't the main priority and laughing took first place. Our first stop was the car park of the Audley visitor centre near the start of Lady Carrington Drive; the river there held Dusky Moorhen, Australian Coot and Australian Swamphen. In the surrounding trees a playful female King Parrot kept us amused for a while before we moved on to Wattamolla Beach off Sir Bertram Stevens Drive. Apart from an Eastern Water Dragon sunning himself on a rock by the water's edge, everything seemed very quiet at first with a lot of people around the car park and down on the beach: after a while we heard and then spotted several birds at the other side of the creek. We picked our way across the water to the track on the other side and got much closer to c6 Little Wattlebird feeding in the flowering shrubs. As we followed the track towards the cliff top we found several New Holland Honeyeater enjoying the same nectar feast and on our way back to the car park we came across a Grey Currawong in the bushes just above our heads. We watched the bird for c10 minutes as it called softly and slowly moved around in the upper branches and as we got back to the car a White-bellied Sea Eagle floated lazily just overhead.
Driving out of the Park we stopped wherever possible to look at the rugged shoreline: we didn't see much at all until we went down to the beach near Clifton and on the rocky outcrops there we saw a small flock of Greater Crested Tern. With the tide fairly high we had been watching the birds for about 10 minutes, just beginning to think "today wasn't our lucky day" when there was a shout from Amanda as she spotted a largish bird flying in and landing on the rocks. Of course……it was a Sooty Oystercatcher and we were able to watch it for 10 minutes as it picked its way amongst the rocks. Time for some food!
As we continued our journey south after lunch the sky darkened and by the time we were beyond Wollongong and heading west of Lake Illawarra up into the hills, the heavens opened with thunder and lightening all around us. Rather than take the direct route cross country, we stuck to the main highway and ended up in Robertson; this worked reasonably well as the extra mileage allowed the storm to pass over and by the time we reached the car park at Barren Grounds the rain had stopped. However, everywhere was absolutely sodden and the tracks were ankle deep with water in places. Although we set off down one of the trails, everything was quiet and we turned back after half an hour, having only seen White-browed Scrubwren, Brown Thornbill, Brown Treecreeper, Eastern Spinebill and Grey Fantail.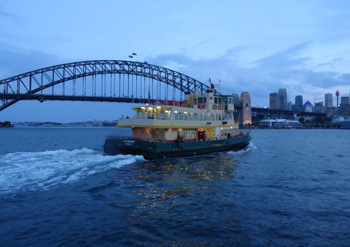 Several honeyeater sp. had been calling in the small bushes as the track went out in to the heathland, but they proved very elusive and from brief glimpses were probably New Holland. We drove back to Sydney via Bowral and the Hume Highway for a quiet evening in with Mark and Mia.
Wednesday 9th November
Today we spent a lazy day in Mia's garden, then sorted out our gear for the remainder of our trip. In the evening we went out for a final dinner in Sydney with our friends to Sails Restaurant at McMahons Point, Lavender Bay: a wonderful location looking out across the harbour, opposite the Harbour Bridge and facing the Opera House. The relaxed atmosphere was enhanced by a thunder storm and lightening "display" to the south west over the city and an excellent meal.
Thursday 10th November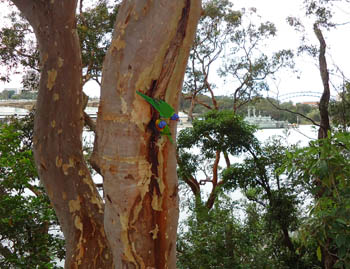 With an early afternoon flight to Tasmania, we had a leisurely breakfast and then drove a short distance to Berry Island Reserve to stretch our legs and take one last different view of the harbour. Rainbow Lorikeet were common here and we found a pair in a nest hole at head height, right next to the path. We had only walked on a few spaces when Mia spotted some balls of fluff on a branch above us: 2 juvenile Tawny Frogmouth and parents! Little Wattlebird and Laughing Kookaburra were our last species in Sydney as time was marching on and we needed to head off to the airport and return our hire car with an explanation of the Kangaroo incident to look forward to. The last few days around Sydney had only seen us add 4 new lifers to our trip list which now stood at 361. However we hadn't gone out of our way to visit the birding sights around the area; we just wanted to relax with our friends and enjoy the city. Also a good excuse to return in the not too distant future! Since waking up this morning, an uncomfortable feeling in my mouth had developed into a definite toothache. Not a good sign for the days ahead. We landed in Hobart in the late afternoon and, after picking up our hire car, drove the short distance to our hotel. On the way we picked up Forest Raven, Tasmanian Magpie (Ssp.hypoleuca) Spotted Dove and a few House Sparrow. After settling in we had dinner at the Blue Eye Seafood Restaurant near the waterfront on Salamanca Place.
Friday 11th November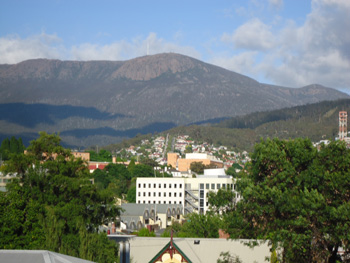 It was obvious this morning that my gum infection wasn't going to go away so with the help of the hotel reception I managed to get a Dentist's appointment at 11.45. That put paid to our plans for the day so we had breakfast in one of the many cafés around Salamanca Square and went for a drive to explore the area south of Hobart. South of Kingston we saw a sign for Blackmans Bay and decided to head for the coast. A few hundred metres past the Australian Antarctic Division Headquarters on Algona Road we spotted a sign for the Peter Murrell Reserve; this had been on our "to do" list for today anyway so we decided to pay a brief visit and we walked in to the reserve from a car park just off Algona Road. Along the track we saw Forest Raven, New Holland Honeyeater, Brown Thornbill and Little Wattlebird but we only had an hour to spare so we got back in the car and returned to Hobart for the dentist, a course of antibiotics and lunch.
After lunch we decided to return to Peter Murrell again and explore the reserve a bit more. Being a bit slow at this stage I hadn't looked at the site guide and therefore didn't twig to the fact that this end of the reserve wasn't the best bit for the species we wanted to see. We should have continued a short distance to a new island on the Channel Highway and followed the sign for Huntingfield, not surprisingly, down Huntingfield Avenue (just like it says in the book) turning left down the track immediately after the perimeter fence of the Vodafone factory to Penrhyn Pond.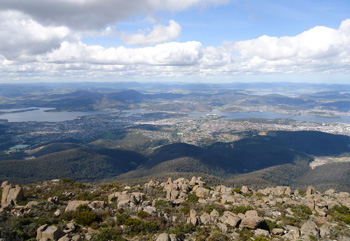 Anyway we did see Silvereye (Ssp.lateralis), Dusky Woodswallow, Yellow-throated Honeyeater, Brown Goshawk, 2 Shining Bronze Cuckoo, Grey Fantail (Ssp.albiscapa), Scarlet Robin, Tasmanian Scrubwren and 2 Crescent Honeyeater. Trying to make the best of the day we then set off up Mount Wellington where it was very windy, but thankfully sunny and clear: excellent for sightseeing but not too good for birds. We saw 2 Superb Fairywren at the picnic stop on the way up and Yellow-throated Honeyeater and Scarlet Robin at the summit (1270 metres above sea level). It was too cold to linger so we drove down to Fern Tree for a coffee and piece of cake (all I could manage with my sore mouth!) at the Wildside Café and saw 2 Black Currawong by the roadside. Looking for different habitat we made our way out towards the airport and visited Seven Mile Beach, spotting numerous Tasmanian Nativehen in fields by the roadside along with the ever-present Masked Lapwing. It was nothing like as windy here and we were able to enjoy the late afternoon sunshine along with Pied Oystercatcher, distant Black-faced Cormorant, Greater Crested Tern, Australian Great Cormorant (Ssp.novaehollandiae), numerous Black-backed (Kelp) Gull and a single, unmistakable Pacific Gull. As we were about to turn in to Pittwater Road from Surf Road we stopped for a pair of Yellow-tailed Black Cockatoo, perched in the treetops. Dinner again at the Blue Eye Seafood Restaurant.
Saturday 12th November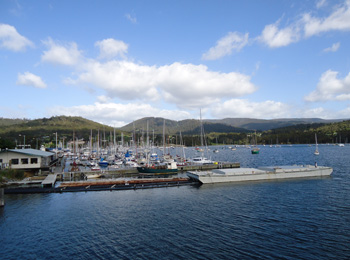 Back on track with our plans today we made an early start south to Kettering (c32kms) to catch the 09.30 ferry to Bruny Island (Car A$28 return) and with time to spare, we had breakfast in the café at the ferry terminal. We had originally made enquiries with Dr Tonia Cochrane at Inala Birding & Wildlife Tours with a view to having a half day's guiding around the island to help us finding Tasmania's 12 endemics, but with a fee of A$200 each (A$375 each for a full day, including lunch) we decided to do it ourselves. Several Black-faced Cormorant were sunning themselves on the pontoons near the ferry terminal and at our first stop on Bruny Island Main Road, a pond and small wetland on the left, a few kilometres from the ferry, we saw Chestnut Teal, Black Swan and Superb Fairywren. Moving on, we took a left turn on to Missionary Road which runs along the eastern edge of North West Bay. In a clearing just before we reached the water's edge, we saw Tree Martin, Scarlet Robin, Dusky Robin and Goldfinch. Driving on, we came across several Yellow Wattlebird, 2 Pallid Cuckoo, Black-headed and Yellow-throated Honeyeater and Wedge-tailed Eagle (Ssp.fleayi). As you are about to cross the narrow neck of land from North Bruny to the main island there is a car park (signed Penguin Rookery) and, after a steep climb, a lookout over the hillside and beach where both penguin and shearwater nest.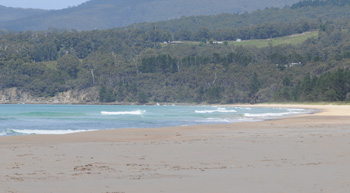 This was a slight case of right place, wrong time as the birds are nocturnal and perhaps it was also a little early in the season; the area was virtually a bird-free zone. A Peregrine soared overhead and a few Pied Oystercatcher followed the tide-line along with Black-backed and Pacific Gull. Before we left the woodland at the start of the island we stopped at a Camp Site (signed on the left of the main road) where we found Yellow-tipped (Striated) Pardalote, c3 Fan-tailed Cuckoo, Silvereye and Grey Shrikethrush. Driving round to Adventure Bay we stopped at the first stretch of beach and found a single Hooded Plover with c20 Masked Lapwing on the sand. We stopped for a coffee and a bite to eat (in my case yoghurt with fresh berries) at Bruny Island Berry Farm in Adventure Bay and then tried the Coolangatta Road (for "road" read track!) with a view to going across to the other side of the island towards Inala. After a short distance we saw a pair of Green Rosella at the side of the track and, not long thereafter, a sign saying the track was totally unsuitable for normal saloons, only 4WD and was really for forestry vehicles only. We therefore turned left on to another track which led us through the State Forest to the far side of Adventure Bay, coming out near Bruny Island Retreat. We saw few, if any, birds for most of the track, but as we came down off the hillside and approached civilisation again we saw 2 Tasmanian Thornbill, 5 Strong-billed Honeyeater (1 adult and 4 freshly fledged juveniles being fed) and several Dusky Robin. A small creek (Captain Cook Creek) crosses the road here and we saw our only 2 Mallard of the trip, along with a few of the "old faithful" Maned (Wood) Duck which we had seen almost everywhere in Australia. Driving around the bay we passed yet another roadside Echidna in broad daylight as a Brown Falcon sat in a nearby tree.
We decided to head back to the ferry (having forgotten to check return sailing times) and arrived at the dock just in time to see the 15.15 ferry sailing away…..bugger! An ice cream from the ferry shop restored equanimity and we returned to the nearby Missionary Road to try our luck again. We stopped at the same clearing as earlier and, feeding on the grassy gravel we saw c14 Yellow-rumped Thornbill and a pair of White-fronted Chat. A little further down the road a small, flying raptor caught my eye; it landed in an overhanging branch on the road ahead and we had our first, superb, male Collared Sparrowhawk; well worth missing the ferry for. Continuing along the road we had much better views of c4 Green Rosella, several Yellow Wattlebird and Yellow-throated and Black-headed Honeyeater. We returned on 16.30 ferry which gave us enough time for a final visit to Peter Murrell Reserve and Penrhyn Pond. Tasmanian Nativehen and a pair of Eastern Rosella greeted us in the car park and in addition to the usual ducks on the pond we had great close-ups of a pair of Chestnut Teal. We took up position near the small hide and watched 2 Black-headed and lots of New Holland Honeyeater vying with up to 4 Yellow Wattlebird in the flowering Eucalyptus (White Gum) overhead. As time was running out and we were about to leave, some new birds appeared and looked to have good potential. They flitted about incessantly, high in the canopy, but eventually we were able to get a good look at c6 Forty-spotted Pardalote….result!! Happy with our 'spot' of luck we returned to Hobart to pack for our long day tomorrow. The weather had once again been warm and sunny with temperatures c22°C, quite a few degrees lower than the mainland. As we hadn't booked, we had dinner outside at Blue Skies Café Bar & Restaurant on the Hobart waterfront: it was quite chilly and the food was average at best.
Sunday 13th November
We had some time to spare on our way to the airport so we decided to return to the nearby Pittwater Road and we were rewarded with excellent views of a pair of Musk Lorikeet, yet another lifer. We also had close-ups of a pair of mating Brown Falcon and Eastern Rosella. We had added 19 lifers in Tasmania and our trip list had moved on to 382 species. We hadn't seen all our targets, but of the 12 endemics, we had only missed Scrubtit and had had good views of all the rest, with the exception of Tasmanian Scrubwren, which I had seen briefly, but Amanda had missed. Other notable misses were Swift Parrot, Beautiful Firetail and Olive Whistler: would we have done better with a guide? Perhaps.….. but who knows? In any event we were very happy with our haul and had saved A$400 to boot!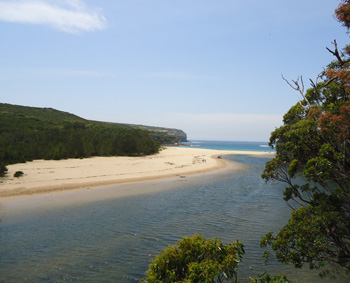 We took a late morning flight from Hobart to Sydney where we arrived at 12.25 and with our onwards flight to Thailand only leaving at 17.35 we were thankful we had access to the Business Lounge. Having set off from the UK without hats (how intelligent was that when going to hot sunny countries?) we had both purchased sun hats in Australia: in Amanda's case, the first hat she had seen in 20 years that she felt comfortable wearing. When travelling we carried our hats and we left them at Hobart airport, either at the security check or in the departure lounge. This trip seemed to have had much more mishaps than any previous….. sun hat left at home, broken glasses case in Manchester Airport, lost camera in Hong Kong, bouncing camera in Cairns, Kangaroo in Hay, infected gums etc., etc. We were certainly making up for our past good fortune! Surprisingly the final Australian birds we saw from the lounge windows, as we took our last look at the Sydney skyline, were not swallows, starlings or pigeons but an Australian Pelican and c6 Australian White Ibis. Fitting really I suppose, with a large percentage of the species in the region now bearing the prefix "Australian" or "Australasian". You certainly can't forget where you are and it's not just the weather or the scenery.
We arrived in Bangkok, at 22.45 local time and following a painless transfer to our private transport we travelled c230kms and reached the Hyatt Regency Hotel in Hua Hin at c02.00. After what seemed like a lengthy checking-in process we were shown to our room and sleep was the only thing on our minds.
Monday 14th November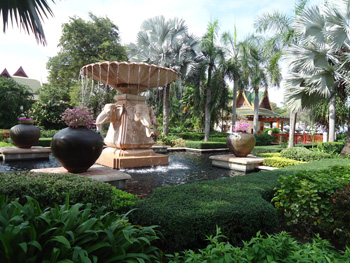 Surprisingly we were awake at 07.10 without an alarm call. We had an excellent breakfast in the hotel and then went for a look around Hua Hin, which we found interesting but uninspiring. We returned to hotel around lunch time and, with an early start tomorrow, decided to spend the afternoon relaxing around the extensive hotel grounds.
With binoculars always close at hand we did manage to see a few birds, including Zebra Dove, Asian Palm Swift, Barn Swallow (Ssp.gutturalis), Tree Sparrow, c8 Streak-eared Bulbul, 2 White-vented Myna, Black Drongo and Common Tailorbird. We added a further 6 species to our trip list, 3 of which were lifers – OK for a non-birding day! Temperatures were c30°C and of course, it was quite humid. We had dinner in the hotel, having decided on an early night.
Tuesday 15th November
Whilst in Australia, bearing in mind the flooding in and around Bangkok, we had kept in touch with Nick Upton who was to guide us today around the Pak Thale and Laem Pak Bia areas. We went down to the hotel reception desk at 06.00 to collect the picnic breakfast we had arranged on our arrival and Nick was waiting for us as expected. We quickly threw our gear in his car and set off north towards Petchaburi and then east towards the coast and the Gulf of Thailand. Wanting to get to our destination as early as possible before the birds were disturbed by the locals, we didn't stop along the way until we were well in to the salt pans which are characteristic of this area. With Nick "on a mission" and the scenery flying by, the only bird I managed to ID was a Jungle (Large-billed) Crow flying up from the road as we approached it.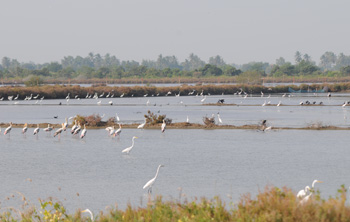 Our first stop was a small roadside wetland on the left/north side of the main road, which held hundreds of egrets and other waterbirds, including c60 Painted Stork (including a leucistic bird), 2 Milky Stork, Marsh Sandpiper, Whiskered Tern, Brown-headed Gull and Chinese Pond Heron (or was it Indian?….this was the one species Nick refused to be drawn on as "out of breeding plumage" these pond herons are virtually indistinguishable). We could see flocks of waders flying around over the salt pans opposite so we drove on towards Pak Thale and just before the town we turned right, off the main road and on to a track which led in to the salt pans. To start off with the track was reasonably wide and there are several spots suitable for parking or turning round. There are literally thousands of waders around these pans with Black-tailed Godwit, Eurasian Curlew, Lesser (Tibetan) Sand Plover and Great Knot being most common and in numbers so big it wasn't worth counting. Black-winged Stilt and Marsh Sandpiper are also quite common, but in much smaller numbers and in total, we had 29 species of wader in the area.
We saw two cars and a few other birders stopped towards the end of the track and, hoping they had done all the hard work for us, we stopped alongside. Amongst the more common species we found Spotted Redshank, Little Ringed Plover Wood Sandpiper and Red-necked Stint, whilst hirundines above were mainly Germain's Swiftlet and Barn Swallow, together with the occasional Asian Palm Swift. A photographer advised us "the sandpiper" had been there earlier, but had flown off some time ago. Undaunted, and having seen a vey distant bird off to our left just after we arrived, Nick took us for a walk a little further in to the salt pans, towards where the bird had been. We took care navigating our way around a small wooden shack which almost took up the whole of the path and on the other side, began scanning the masses of waders again. In no time at all I managed to find a bird that looked different and sure enough we soon had a Spoon-billed Sandpiper in the scopes: as if that wasn't good enough there was a second bird a few yards away and we were able to watch both until we had had our fill. With hindsight I am really glad they were just too far away for a photo as, with my lens continuing to play up, I have ditched the greater majority of shots taken that day. I would have been absolutely gutted to get good close-ups of the bird only to find they were blurred and out of focus on the big screen.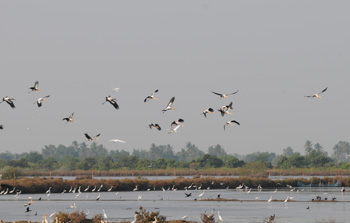 Moving on, around the salt pans we also had c10 Bar-tailed Godwit, c40 Red Knot, c20 Curlew Sandpiper, 4 Sanderling, 2 Turnstone, a single Kentish Plover and at least 4 Broad-billed Sandpiper. We returned to the main road and headed away from Pak Thale, stopping briefly for another look at the storks and herons which were in quite a skittish mood and frequently took to the sky en masse – what a spectacle! A little further along the road, as we scanned the distant waders looking for greenshank, we found Grey Plover and several Red Collared (Turtle) Dove which had landed on the wires behind us along with 3 Common Kestrel; quite unusual here with single birds the norm. As we drove along we spotted the occasional Common Sandpiper by the roadside, with a few Little Tern darting overhead. Leaving the salt pans for a while we drove a short way north of the road where there were some flooded fields and drier areas. As we drove along a track towards one of the many Buddhist temples in the area we stopped for an Oriental Skylark singing overhead, a Common Greenshank and 2 Black-headed Ibis pottering about in the water meadows alongside c30 Eastern Cattle Egret. A Red-throated Pipit darted by, giving the briefest of views, whilst nearer the temple, Pied Myna (Starling) and Brown Shrike were much more confiding, as was a White-throated Kingfisher. Leaving the temple behind, we drove a little further north to get around the back of the fields and look at the more open water there. From the road we saw Asian Openbill, Red-wattled Lapwing, Little Grebe and the first of several migrating Eastern Stonechat (Stejnegeri's Stonechat), as a pair of Ashy Woodswallow perched on the wires above our heads. Taking another track around the back of the fields, c6 Streak-eared Bulbul flitted about in the bushes whilst Richard's Pipit and Pheasant-tailed Jacana moved about in the wet grassland. The duck we had seen on the water, in the distance from the temple track, proved to be c40 Garganey and whilst watching them we also picked up c6 Grey-headed Lapwing, c30 Pacific Golden Plover and up to 6 Paddyfield Pipit.
The area we were in is just a mass of fields (some waterlogged), salt pans and water-bodies, interspersed with temples and human habitation.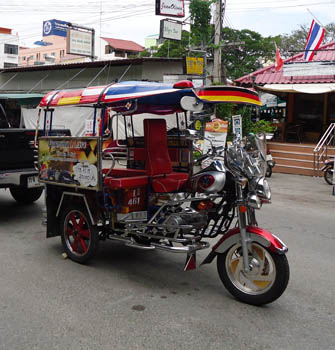 The roads are all small and in the main, un-named, with many tracks leading off towards the horizon. It is therefore quite difficult to give perspective to our record, other than to say without Nick's vast local knowledge we would never have visited a lot of the varied habitats he took us to, with everywhere looking almost identical to our foreign eyes. For further information visit Nick's web site.
Anyway, moving on yet again, we returned to the main road and yet more salt pans. Nick spotted a huge flock of Great Knot, so with antennae raised, we got out of the car and scanned the vista. The white blobs in the flock turned out to be a mixture of Common and Little Tern and standing a short distance away from the main flock were 5 Nordmann's Greenshank, another of our main target species. Nick and I decided to walk along the narrow bank of the nearest salt pan to get a better view of the birds, but Amanda decided discretion was the better part of valour and remained behind with the car. We must have walked c100 metres along the narrow bank with a shallow ditch at one side and the pan on the other, with Nick advising falling in was not an option, as the gloopy substance "stank to high heaven" and I would not be allowed back in his car if I did. We eventually got unbelievably close to the birds which remained calm and appeared oblivious to our approach, obviously well used to locals working the salt pans and being in close proximity. We set up our scopes, with both the tripod and our legs straddling the ditch precariously. But it was well worth the effort. We were able to examine the finer points of Nordmann's Greenshank in depth and also spotted 3 Long-toed Stint, a single Eastern Yellow Wagtail and Richard's Pipit on the banks of the pans.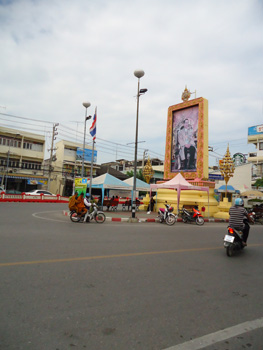 As we drove along in the direction of Laem Pak Bia we made several roadside stops for 2 Oriental (Collared) Kingfisher, a single Common Redshank, several Black-capped Kingfisher and c6 Temminck's Stint, almost at arm's length at the side of the road, as they fed at the edge of a pan with Wood Sandpiper and more Long-toed Stint. Nick then took us off the main road to another water-body, surrounded by fields and reeds, with a sizeable herd of grazing cattle. 4 Gull-billed Tern and a single Heuglin's Gull drifted over the water along with an Eastern Marsh Harrier, whilst around us we picked up 4 Plain-backed Sparrow, c10 Green Bee-eater and a single Chestnut Munia as it moved amongst the reeds in front of us. We also heard Zitting Cisticola and Oriental Reed Warbler in the reeds but were unable to pick them up. A Purple Heron skulked around in the middle distance as a Pied Kingfisher appeared, hovered, moved on a bit, hovered again and went about its business looking for food. We moved on a little way to a drier area on the opposite side of the road near some dwellings: there was also a small, long pond here and some marshy ground alongside. As we walked in to the area across a partially fenced off field we were surprised to see a single male House Sparrow near some buildings and even more startled when we disturbed a Yellow Bittern which had been at the water's edge, hidden in the long grass. It flew a few metres in to deep cover and unfortunately didn't show itself again…bugger! In the bushes by the water we spotted a Pied Fantail as we waited for the bittern to reappear and, walking along a small embankment between the water and the wet grassland, we disturbed c6 Greater Painted Snipe, including a few females.
It was, by now, almost lunch time and with the sun beating down the temperature had risen above 30° C. We were following the coast road south towards Hat Chao Samran and our next stop was the Environmental Research and Development Project which had been set up by H M King Bhumibol. This is an area of mangroves and settling pools and is currently being drained, to start all over again. We stopped at a guarded gatehouse, Nick got out of the car and paid a small fee; the barrier was raised and we drove around the pools, which unlike any other (of the many…) sewage works we have visited, were beautifully landscaped and topiarised, with the grass almost appearing manicured and lots of flowering shrubs. Although the heat was almost unbearable and there was no shade, we took a short walk and found Oriental Reed Warbler (at last), Racket-tailed Treepie, Asian Koel, Greater Coucal and a stunning male Olive-backed Sunbird. There were plenty of terns, gulls and waders on the ponds, but nothing new.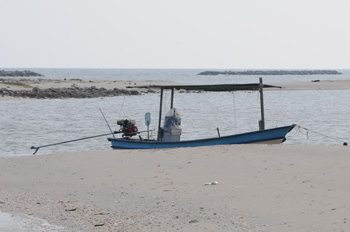 We drove on to Laem Pak Bia for lunch in a small waterside "restaurant", placing our trust in Nick entirely as no English was spoken. The restaurant in fact was nothing more than a roadside shack which had no sides, with five or six rickety tables and pale blue plastic chairs which had definitely seen better days – apart from the seats they were mainly grey. The drinks and food were refrigerated but cooking was done in a wok on an open stove, by the roadside. Apart from the three of us there wasn't another Caucasian in sight. Having had a bad experience with a Thai salad at a restaurant in the UK on the only other occasion I had tried Thai food I was not very happy as we sat there, sipping our delicious ice cold drinks and waiting for lunch. I needn't have worried; the food was excellent and quite easily the best we had in our short visit to Thailand. The noodles, prawns and vegetables tasted wonderful and when we asked Nick what he had said to the cook it turned out he had just told her to "hold the chillies".
Lunch over; we drove a little further along the river near the spit at Laem Pak Bia for our boat ride with Mr Deng,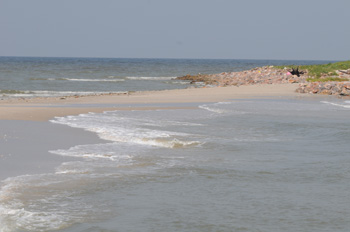 a former fisherman, who now takes birders out to the spit on a full time basis. Nick had booked the boat for 14.00 but we had to wait for 30 minutes until Mr Deng returned with his previous customer, guide Peter Ericsson and his two clients. The tide was very high and showed no sign of going out as we set off down the river: not a good sign as Chinese Egret, one of our targets, habitually roosted in the mangroves when the tide was full. Egrets flew from side to side across the river as we passed and after about 20 minutes we reached the spit and landed. At first there was only a small flighty flock of waders on the spit, but they slowly increased in number as we watched, with new birds joining all the time. We spent about an hour on the spit, seeing the occasional Caspian, Whiskered and c20 Little Tern, Brahminy Kite, Brown-headed and Heuglin's Gull, together with 2 Pacific Reef Egret. The wader flock which was mainly Malaysian Plover and Sanderling, with eventually c30/40 of each, initially also included a c4 Greater Sand Plover and c6 Kentish Plover. While we watched, as numbers increased, they were joined by c20 Red-necked Stint, c6 Curlew Sandpiper, c6 Grey Plover and eventually a single White-faced Plover. Returning to the boat dock we saw several Water Monitor swimming around in the river.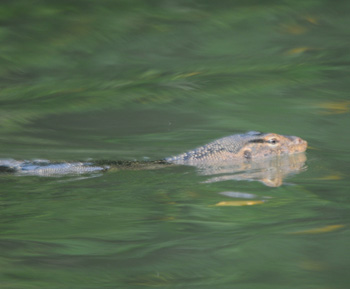 We then visited a couple of the sites we had been to earlier, to see if any new species had dropped in. A second Purple Heron had appeared, but there was nothing new on the water. However, by the roadside just behind us 2 Chestnut-tailed Starling sat on the wires and a Coppersmith Barbet flew in to a nearby tree. With very little else happening we decided to head back to our hotel after a veritable feast of waders and an excellent day's birding with Nick. We had seen 94 species today, which included 19 lifers and took our trip list total to 449.
Wednesday 16th November
It was obviously going to be very hot again; after a long day in the field yesterday and with another long day ahead of us we decided to have a lazy day around the hotel. We had a leisurely breakfast, finished packing and went for a walk around the hotel grounds. As usual, Zebra Dove appeared around the swimming pools along with Common and White-rumped Myna. We were sitting by the pool having a coffee watching the world go by when the birds scattered and a Shikra flashed past and landed momentarily on a nearby tree.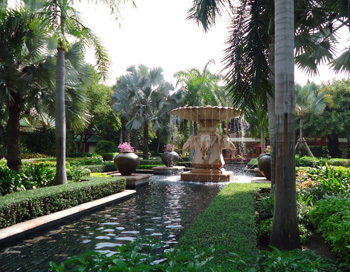 We vacated our room at lunch time, had a bite to eat and then settled down to relax in the shade. This isn't really our scene and even though we were right at the end of a long holiday I was like a cat on hot bricks, jumping up every time a bird called. On one such occasion I stealthily stalked around the pool as a bird called and flitted amongst the upper branches of the surrounding trees. The bins were packed, but nevertheless I eventually managed to get a good view of the culprit – a male Oriental Magpie Robin. Our private taxi arrived at 17.00 for the trip to airport; with floods still threatening and only one main road open from the south to Bangkok, the return journey took us a little over 4 hours. Leaving Hua Hin in the gathering gloom as the sun went down our last birds for the trip were Eastern Great and Little Egret, Germain's Swiftlet and a single Asian Openbill.
We made it to the airport c21.00 with plenty of time to check-in and relax in the lounge before our flight home at 00.10 on 17th Nov. We arrived in London on time later the same morning.
GUIDES
Apart from Carol Iles, all guides provided their own transport. Some guides expect you to cover the costs of their lunch as well. Murray Hunt and Jun Matsui were arranged through Sue Gregory at Cassowary House and Robert Nevinson was arranged via Phil Maher.
Duncan Fowler – O'Reilly's – Costs included in O'Reilly's package.
Carol Iles – Mareeba Wetlands and Kingfisher Park – A$30 per hour or A$260pd with own transport (£170) – Guiding only.
Murray Hunt – Daintree River and Mount Lewis – A$425pd (£276) Plus cost of lunch. River cruise A$55pp
Jun Matsui – Cassowary House and Atherton Tableland – A$425pd £(276) Plus cost of lunch.
Carol Probets – Blue Mountains and Capertee Valley -A$480 pd (£312) Capertee Valley. A$260 half day Blue Mountains (£169). Prices include morning coffee, afternoon tea and cake. Provide own lunches.
Robert Nevinson – Hay/Deniliquin -A$300 15.00 to 23.00 (£195) Cost was originally A$450 (£293) but was reduced when a third birder came forward – transport and guiding only.
Nick Upton – Thailand 11,000 Baht pd (£225) includes transport, lunch, entrance fees, boat trip etc.
You may also wish to consider the following guides:- Alan McBride – Sydney and countrywide, Del Richards – Cairns, Daintree and Atherton Tablelands, Phil Gregory – countrywide, but has a busy schedule with overseas tours as well, Dr Tonia Cochran – Tasmania, Peter Ericsson – Thailand (but see comments in Thailand Trip Report).
SUMMARY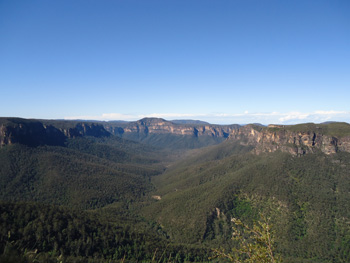 What a trip! Loads of birds, beautiful weather (well, most of the time), some wonderful scenery etc etc….. I could go on for ages. We really enjoyed our time in Sydney and also Hobart (particularly Bruny Island) and will definitely go back to Australia as soon as we can, despite the cost of wine and other essentials. Thailand is also now very high on our agenda of things to do with so much birding potential in the north of the country and also the southern peninsula area.
Lists
Hong Kong - 21 including 9 lifers
Australia - 366 + 1 heard (Noisy Pitta) including 298 lifers
Thailand - 99 + 1 heard (Zitting Cisticola) including 23 lifers
Whole trip - 451 + 2 heard & does not include White-faced Plover sp. 
Lifers - 330 plus White-faced Plover sp.
Species Trip List – Hong Kong – East Coast Australia – Thailand
Maps – Google Maps – Cairns and Atherton Tableland
Species Checklists – Hong Kong – East Coast Australia – Thailand