Tour leader & trip report compiled by Wayne Jones
Tour Participants David & Amanda Mason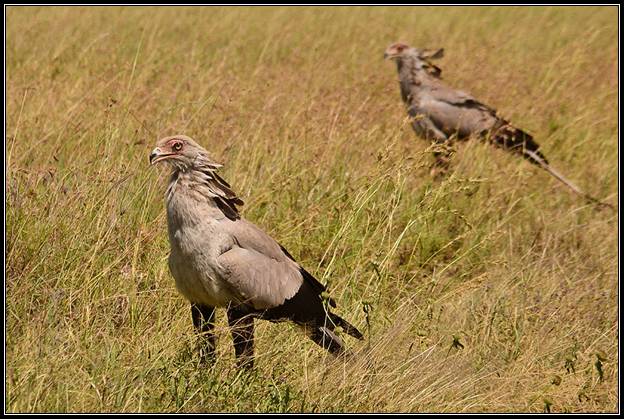 Tanzania is surely one of the top safari destinations on the world, providing the quintessential African experience. Our tour took in the vast wilderness of the famed Serengeti, the magic of the Ngorongoro Crater and the diversity of Tarangire – and everything in between We recorded 388 bird species and 49 mammal species or subspecies, a very successful haul indeed!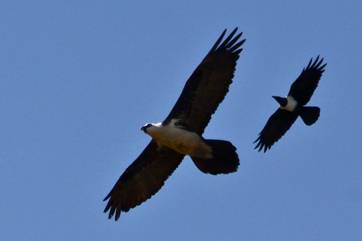 Following a late evening arrival on the 18th, our Tanzanian birding adventure officially kicked off with a visit to Lark Plains the next morning. This large stretch of dry open grassland is located between two of Tanzania's highest peaks, Mt Meru and Mt Kilimanjaro. As we were passing the little village of Oldonyo-Sambu we spotted a Bearded Vulture drop down into a small ravine at the foot of Mt Meru. Short of pulling off a hand-brake turn, the safari vehicle was swiftly and immediately commandeered in the direction of the now out-of-sight scavenger. An unassuming spot, the ravine edge proved quite fruitful with sightings of White-fronted Bee-eater, White-necked Raven, Mourning Wheatear and our first endemics, Red-throated Tit and Kenya Sparrow. The Bearded Vulture reappeared, affording us magnificent close-up views of this wonderful raptor as it was harrassed by Pied Crows.
Careful not to get too side-tracked we continued on to Lark Plains where a pair of local Maasai guides was waiting to point out the area's most famous resident, Beesley's Lark. In addition to seeing two of these colourful (by lark standards!) and extremely localised birds our lark haul included Fischer's Sparrow-Lark and Red-capped, Rufous-naped, Athi Short-toed and Short-tailed Larks. The weather was pristine and we were able to see both Meru and Kilimanjaro rising up on either side of us.
The scrub bordering the plains gave us Foxy Lark – our SEVENTH lark of the day – as well as Northern and Red-faced Crombec, Red-faced Warbler, Eastern Chanting Goshawk, Mouse-coloured Penduline Tit, Taita Fiscal, Yellow-bellied Eremomela, Chestnut-bellied Sandgrouse, Banded Parisoma, Eastern Violet-backed Sunbird, Beautiful Sunbird, Pygmy Falcon, Rufous Chatterer, Nubian Woodpecker, Tiny Cisticola, Straw-tailed Whydah and Southern Grosbeak-Canary.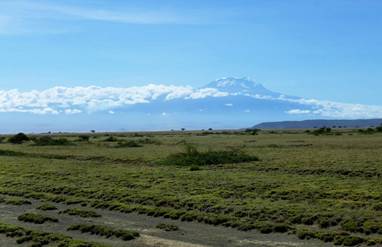 We returned to our lodge mid-afternoon, giving David and Amanda time to adjust to the time zone, heat and children of East Africa! That afternoon, and over the next few days, the lush grounds of our lodge provided good birds like African Black Duck, Silvery-cheeked Hornbill, Little Grebe, Brown-hooded and Giant Kingfishers, Retz's Helmetshrike, White-browed Robin-Chat, Amethyst Sunbird, Red-backed Mannikin, Mountain Wagtail and White-eared Barbet.
The next day we ascended the lower slopes of Mt Meru as we travelled through Arusha National Park. The mix of wetlands, montane forest and grassland mosaic resulted in a high diversity of mammal and bird life with Blue Monkey, Maasai Giraffe, African Buffalo, Waterbuck, Bushbuck, Harvey's Duiker, Warthog, Hartlaub's Turaco, Brown Snake Eagle, Grey Crowned Crane, Tambourine Dove, Spot-flanked Barbet, Green-backed Honeybird, Black Cuckooshrike, Fan-tailed Grassbird, African Moustached Warbler, Trilling and Singing Cisticolas, Montane White-eye, Kenrick's Starling, Olive Sunbird, Red-backed Mannikin and White-backed Duck all putting in an appearance. Whew! The high-lying soda lakes were chock-full of Lesser Flamingo (we estimated 3 000 birds), with a handful of Greater Flamingo and Cape Teal in between.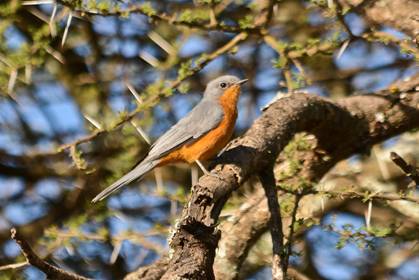 The next morning we headed south to Tarangire National Park, the extensive and dusty roadworks increasing the travelling time. Thankfully Tarangire is a birder's paradise and the diversity and abundance of species soon took our minds off the journey. Over the next couple of days we had our first sightings of Common Ostrich, the endemic Yellow-collared Lovebird, Black-faced Sandgrouse, Water Thick-knee, Bateleur, Mottled Spinetail, Martial Eagle, Bearded Woodpecker, African Hoopoe, the dull but elegant Ashy Starling, Grey Kestrel, African Scops Owl, Spotted Palm Thrush, Bare-eyed Thrush, Freckled and Slender-tailed Nightjars, Silverbird, Green-winged Pytilia, Crimson-rumped Waxbill, Mosque Swallow, stunning Red-and-yellow Barbet and Three-banded Courser.
Aside from the biggest land animal of all, the African Elephant, most of the mammalian highlights from Tarangire were of smaller creatures – Banded and Dwarf Mongooses, Yellow-spotted Bush Hyrax, Kirk's Dik-dik, Ochre Bush Squirrel and Unstriped Ground Squirrel.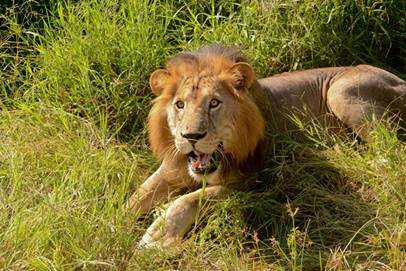 The Silale Swamp and riverine areas of the park produced some particularly exciting finds. We encountered at least 30 Lesser Moorhen at the former, along with Allen's Gallinule, African Swamphen, Long-toed Lapwing, African Marsh Harrier, Fulvous Whistling Duck, African Openbill, Southern Pochard and our first Lion, lazing in a tree bordering the extensive reedbed. Along the river we saw a pair of Rufous-bellied Heron nest-building, Golden-backed Weaver, Saddle-billed Stork, Goliath Heron, African Fish Eagle, Malagasy Pond Heron and a bizarre sighting of a Dwarf Bittern that flew into the top of a tall tree, sat for a minute or so then took off again.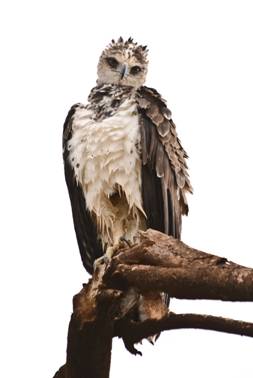 On day six, after a picnic lunch at the Tarangire exit gate (ever on the look-out for marauding Vervet Monkeys!) we drove the short distance to our lodge overlooking Lake Manyara. We decided to take it easy that afternoon and target the fig forests, thickets and woodland of Lake Manyara National Park in the freshness of morning. Over the next two days we found Purple-crested Turaco, Collared Palm Thrush, Ashy Flycatcher, Silvery-cheeked Hornbill, Lesser Honeyguide, Meyer's Parrot, D'Arnaud's (Usambiro) Barbet, African Green Pigeon, beautiful Collared Pratincole, fantastic views of African Quailfinch, Long-tailed Paradise Whydah, White-headed Barbet, Banded Parisoma, Hildebrandt's Starling, Black Bishop and a juvenile Martial Eagle that was adamant he was not moving from his roadside perch no matter how close our vehicle got! In the afternoon we came across a pair of Lion right next to the track; unlike the eagle they did seem to mind our presence – we received a fierce mock charge from the male when we stuck our heads out the roof, bringing his boxy-silhouette impression of our safari vehicle to life.
After Manyara we continued to Ngorongoro National Park and its crater, the largest intact volcanic caldera in the world. We got our first view of the magnificent crater floor from Hero's Lookout and found Golden-winged and Eastern Double-collared Sunbirds as well as Cinnamon-chested Bee-eater along the way to our lodge. That night after a sublime sunset over the crater (watched, trance-like, by almost every guest in the lodge) we enjoyed great flight views of Montane Nightjar.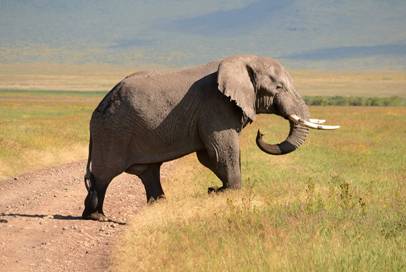 The next morning the anticipation was running high as we made our way down to the bottom of the crater. The forested section near the rim yielded Brown Parisoma, Cape Robin-Chat and White-eyed Slaty Flycatcher. Further down, as the forest gave way to shrubs and grassland we recorded Bronzy, Malachite and huge numbers of Golden-winged Sunbirds, and further on still, Common Waxbill, African Quailfinch and exquisite Rosy-throated Longclaw. The first big game to greet us as we reached the crater floor was a large group of African Buffalo. They were soon followed by some Spotted Hyena (complete with cubs) and one of the crater's famous tuskers – a bull Elephant with massive, gleaming white tusks. We continued towards the swampy section in the far corner, finding the first of 18 Kori Bustards for the day. The wetland held two Golden Jackals and a multitude of water birds, among them Grey-headed Gull, Kitlitz's Plover, Banded Martin, Lesser Swamp Warbler, Long-toed Lapwing and the three teals – Red-billed, Hottentot and Cape.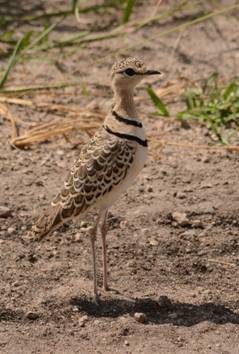 The main waterbody in the crater, Lake Magadi, was flush with pink. In contrast to our experience at Arusha NP, Greater Flamingoes were now present in their thousands with just a sprinkling of their Lesser brethren among them. A gathering of vehicles in the distance alerted us to the presence of some Lion, but, having already had better views at Tarangire, we moved on to our lunch stop in the Fever Tree forest where an audacious Vervet Monkey was keen to relieve us of our meals. The eastern half of the crater was filled with game, and we encountered Blue Wildebeest, Kongoni, Grant's and Thompson's Gazelles, Eland, more Lion and two distant Black Rhinoceros.
After a quick stop at Ngoitokitok Picnic Site, where we picked up African Marsh Harrier, we returned to the rim of the crater, where we could enjoy a few hours of afternoon sun at the lodge while looking out over the magnificent landscape.
The next morning we set out pretty early, intent on covering the long, bumpy ride to Serengeti NP in good time, at which we excelled! It was a misty, miserable morning, so we didn't do much forest birding along the way, however we did find some calling Hunter's Cisticolas right next to the road. While still in the rain-shadow of the crater we found our first Cape Crows and Capped Wheatear. Rounding the crater we entered another, much drier world. We spotted some Maasai Giraffe, a species absent from the crater itself, feeding on low Acacias before we turned off to the historic Oldupai Gorge, site of some of the most important discoveries in mankind's history. After birding the area for a bit we settled down to a quick lecture about the area, followed by a brief stroll through the neighbouring fossil museum. After some lunch we continued our journey towards the Serengeti, finding Short-tailed Lark and a flock of 44 Black-winged Lapwing on our way.
We reached Naabi Gate with much time to spare, an inadvertently fortuitous predicament since our lodge had apparently double-booked and we needed to reach it in time to secure our booking. Just inside the gate we saw a female Oribi, an uncommon sight, and a bit further on we had Greater Kestrel, our first White-bellied Bustard and Double-banded Courser. We passed through the Wildebeest migration, but due to time constraints decided to return to it at a later stage. After securing our spot at our lodge we had a restful night's sleep so we could head out early to the west the following morning.
The main target in the Western Serengeti was the localised Karamoja Apalis, of which we saw two delightful individuals while trying to maintain our sanity amidst a cloud of tstetse flies. Other goodies we found out that way included Black Coucal, Dark Chanting Goshawk, Steel-blue Whydah, a large Black Mamba, a female Harlequin Quail, White-tailed Lark, Black-necked Weaver and a pair of absolutely beautiful Black-headed Gonolek. We stopped at the Hippo Pools for lunch, where we marvelled at the spectacle of 250+ hippos crowded into the small confluence of three rivers.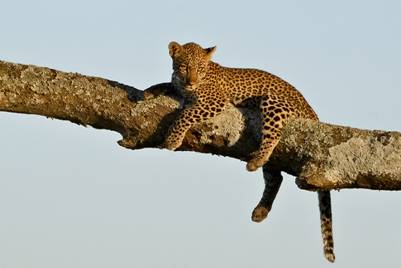 We went for an afternoon drive a bit later to view the migration, finding a young Southern African Rock Python along the way, however our attention was diverted by some vehicles heading the opposite way. We gave hot pursuit and found a mother Leopard and her two cubs in a tree just metres fom the road. One of the cubs had inexplicably gotten hold of a cushion and we watched enthralled as the youngster channelled his inner kitten, scrambling up and down the tree and playing with his new toy.
The next morning we again set out early to explore the surrounding Seronera area before we moved on to our other lodge further south in the Serengeti. The beauty of the broad, open plains in the morning air was exhilarating. We found Black-lored Babbler, Desert Cisticola, Fischer's Lovebird, Purple Grenadier, Yellow-throated Longclaw, Grey-capped Social Weaver, Foxy Lark and much-improved sightings of White-headed Barbet. We also reconnected with the migration, finding thousands of Blue Wildebeest and Plains Zebra.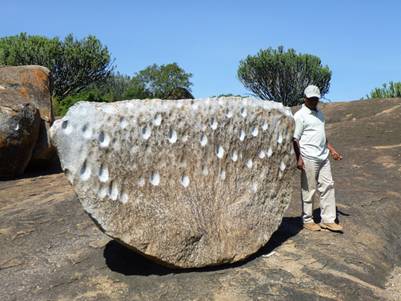 Our third full day in the sensational Serengeti was devoted to the Moru Kopjes and surrounds. We had breakfast at the unfenced rhino poaching headquarters, not far from where we'd just seen a sizeable male Lion! Thereafter we visited the Maasai rock paintings and the fascinating Gong Rock, where our musical talents (or lack thereof) were unleashed. Heading back to the lodge for lunch we picked up one of the major targets of the area – six Grey-crested Helmetshrikes! This can be quite a tough bird to find and we were delighted with the sighting.
Back at the lodge we found a day-roosting Senegal Galago as well as a Yellow-winged Bat, certainly one of the most attractive of these flying mammals. Once the temperature cooled down it was time for another afternoon drive, the highlight of which was a single Bat-eared Fox which gave us extended views.
With the new possibilities in the Serengeti drying up we returned along the excessively corrugated road to Ngorongoro NP, where we paused at the entrance, finding Grey-capped Warbler and Brown-headed Apalis.
After a sumptuous lunch at our lodge near Karatu we took it easy for the rest of the afternoon. The following morning we were up good and early to begin our walk along the nearby Elephant Cave Trail, however the mountain slope was covered in mist. Large and dangerous animals were more likely to remain in the forest under cover of the mist, so we held off until a bit later which luckily did not impact the super birding that awaited us.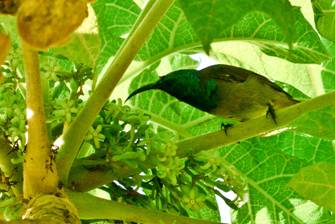 Assisted by an enthusiastic and knowledgeable local guide we were able to find Black-fronted Bushshrike, a pair of Narina Trogon, Mountain Greenbul, White-tailed Blue Flcatcher, African Hill Babbler, Eastern Bronze-naped Pigeon, Black-throated Wattle-eye, Red-faced Cisticola, Grey-headed Nigrita, Common Scimitarbill, Crested Guineafowl, MountainWagtail, a pair of Purple-throated Cuckooshrike, a chance Ayre's Hawk-Eagle and the highlight, a dinky "prrrrrupping" African Broadbill.
Having built up a healthy appetite on the 3hr+ walk we readily moved down the hill to Gibb's Farm where the most fabulous buffet spread awaited us. We took a post-prandial stroll around the grounds of this lush setting, where we had extraordinarily close views of Green-backed Honeybird, more White-tailed Blue Flycatcher, Southern Citril and our final new bird for the day, a pair of Green-headed Sunbirds.
We celebrated a successful day – and trip – that evening and had a restful night's sleep in preparation for the journey home the following day. As the drive was not too long we opted for a late breakfast – what a luxury! – before starting on our way to Arusha. On the way we picked up our two last trip lifers… a trio of stunning Rosy-patched Bushshrikes and three exquisite Temminck's Coursers, a wonderful way to wrap up two weeks in magical East Africa.
Wayne Jones
Photo credits: All photos taken by Wayne Jones on tour – Bearded Vulture being harassed by Pied Crow, Mt Kilimanjaro from Lark Plains, Silverbird, Lion, young Martial Eagle, African Elephant, Double-banded Courser, Southern African Rock Python, Leopard cub, Gong Rock, male Green-headed Sunbird.
Rockjumper Birding Tours CC
Worldwide Birding Adventures
Registration number 2001/059480/23
PO Box 13972, Cascades, 3202, South Africa
Tel: +27 33 394 0225
Fax: +27 88 033 394 0225
Tel (USA & Canada) toll free: 1-888-990-5552
Email: private@rockjumperbirding.com
Alternative email: rockjumperbirding@yahoo.com
Website: www.rockjumperbirding.com