INTRODUCTION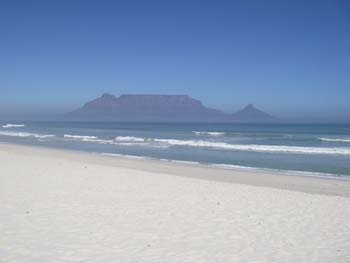 South Africa has been on our wish list for a number of years. It's such a big place, so narrowing down an itinerary which would enable us to see lots of birds, wildlife, flowers and still find time to relax and enjoy our holiday was quite a challenge. Our original agenda centred around Cape Town and the Kruger National Park, but when we started looking at logistics it soon became clear, if we were to make the most of one trip, we would need to clock up some mileage and stay for at least a month. We settled on our provisional itinerary and contacted both Rockjumper and Birding Africa to sound them out on feasibility and with a view to using one or the other to handle our ground arrangements in South Africa. In the initial stages both were extremely helpful, however Rockjumper were only really interested in arranging a tour which was fully guided. We didn't want to be governed by someone else's agenda and timescales and we therefore opted to use Birding Africa as they were prepared to arrange local guides to fit in with our itinerary and allow us to drive ourselves and set our own pace on what was bound to be an arduous trip.
FLIGHTS AND CAR HIRE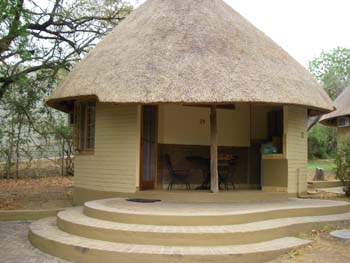 Despite worries about strikes and flight delays we decided to use BA to get there as we didn't want to go to the expense of flying Business Class but wanted a little extra legroom and comfort which they provide in their Premium Economy class for a reasonable extra cost. As part of the overall package we were also able to include an internal flight from Cape Town to Durban at a very reasonable price, thereby ensuring we would have the same luggage allowance throughout the trip. Flights are generally overnight from London (BA0059 departing at 19.25 and arriving in Cape Town at 08.00 the following morning) and as we were travelling from Manchester, the added advantage of using BA was one of the shortest journey times for each leg of the trip….in theory at least! We had no sooner settled ourselves down in the executive lounge (don't know what we did to deserve this as it didn't happen anywhere else on the trip) than there was an announcement about flight delays to London as a result of very bad storms over the capital and a French air traffic controllers' strike. I'm not xenophobic but don't the French get on your nerves from time to time with all their strikes!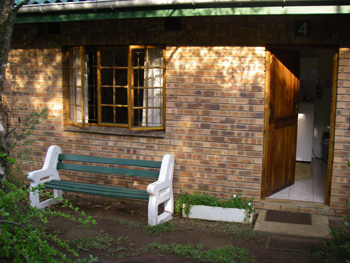 As a result, our flight was 90 minutes late and we missed our connection to Cape Town. BA kindly booked us on the next flight to Johannesburg with an onward connection to Cape Town which would get us there approximately 5 hours late, which was preferable to staying in an hotel overnight and catching the next evening's flight. True to form, the departure from London was held up as the flight had to be re-routed north of French air space, which also resulted in a slightly longer flight time. In addition one particular party had decided, after booking in and putting their luggage on board, that they did not wish to fly that night….they immediately superseded the French air traffic controllers on my list of top ten all time pet hates. Of course, we landed in Jo'burg just as the gates for the Cape Town flight had closed and we had to sit around for over two hours to wait for the next departure. In the end we were 8 hours late and very thankful for Birding Africa at our destination as they were handling our car hire as well as accommodation. We had also left the first day free for a gentle stroll around Kirstenbosch Botanic Gardens and to relax after a long flight.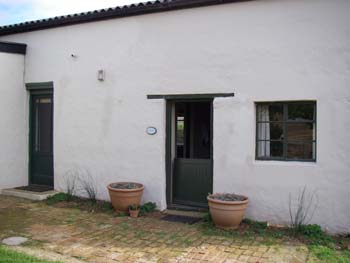 Not much relaxation then, but at least it didn't upset our guiding arrangements and we were able to make time later on for a morning's wander around the gardens. The internal flight and the journey home were both uneventful and on time.
Car hire was arranged on our behalf with Budget. As we were taking guides with us from time to time and we wanted plenty of luggage space for scopes, tripods, camera gear etc we had shelled out some extra cash for a larger car, which had the added advantage of being 4WD, with a parcel shelf to hide our gear and also had good ground clearance. The extra comfort, etc., was well worth it as there were numerous gravel roads on our itinerary. We had a Honda CRV (with only 38km on the clock) in Cape Town and a Nissan X-Trail from Durban. One thing to be wary of as regards costs – despite being quoted "all inclusive" there are always extras….in this case a booking fee and petrol top up costs as Budget always top up the tank fully for the next driver. Not a lot but an extra £20 for each car and the local agents also tried to charge for a one-way drop-off fee and an additional driver, despite these being in the original quote (allegedly). We travelled 6892 km (4282 miles) over our stay and were pleased with our choice of vehicles.
ACCOMMODATION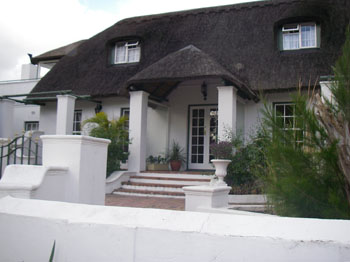 We asked for a minimum of 3* but preferably 4* accommodation and chose to stay mainly in B & B/Guesthouse style rather than hotels, plus campsite chalets in the Kruger. In fact in many of the out of the way places we stayed, hotels are not an option, and where they are, they are mainly 2* and a little run down. We were able to get our laundry done in most places and could easily have travelled "lighter".
Howard's End Manor Guesthouse (BB) Cape Town – We had a first floor room which opened out on to a large balcony. Compared to some, the room was a little small but we were very comfortable here, and situated within ½ hour of the airport, this was an ideal first location to get settled in. Bronwen Dawes is an excellent hostess and she made us feel very welcome. Breakfasts are great.
Afton Grove Country Retreat (BB) Noordhoek, Cape Town – Much more spacious with a large living/dining area in addition to a good sized bedroom, in a courtyard chalet setting. Breakfasts were even better than Howard's End.
Glenfinnan Guesthouse (BB) Langebaarn –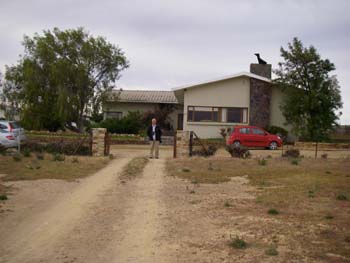 A spacious purpose-built Guesthouse with the bedroom opening out onto the garden area. Again, excellent breakfasts.
De Lande Guesthouse (DBB) Nieuwoudtville – We stayed in a rather small room in a wonderful old farmhouse with the creaking floorboards adding to the character and charm of the place. The lounge and dining area is one huge room with a roaring log fire at one end. Marriette van Wyk is an excellent hostess and provides a very welcoming atmosphere complemented by good food.
Klein Cedarberg Lodge (DBB) Swartruggens – Although spacious, our detached chalet was probably the most rustic accommodation we had, all built by Werner Wullschleger, the somewhat eccentric Swiss/South African owner and artist. The bathroom was tiny and any personal privacy was lost with the ranch style doors that didn't even close together properly.
Dinner was at 18.30 prompt and with cold evenings we were most grateful for the one hour supply of firewood we were allowed – there was even a note pinned above the fireplace saying the fire was only to be lit after the evening meal each day. Werner actually mentioned some German (or could have been Scandinavian) visitors had recently set fire to their twigs prior to dinner and then had the temerity to ask for more. With clear nights and a healthy ground frost we were in bed by 21.00. A little bit of competition in the area would probably do some good. It's difficult to class this as a birder friendly establishment.
The Cottage B & B (DBB) De Hoop – This detached renovated farm cottage was the most comfortable and roomy accommodation we had – dining kitchen with large open fire (and a plentiful supply of fuel), large comfortable lounge, two bedrooms and a good sized bathroom. We could have spent much longer than two nights here, but it is a bit isolated and we would have probably run out of things to do. Our hostess, Else-Marie Neethling provides breakfast in her own farmhouse dining room, whilst bringing a cooked evening meal to the cottage which can be enjoyed in front of a roaring fire.
Smithfield Guesthouse (DBB) Creighton –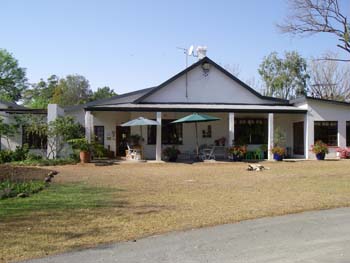 We had a small room in a delightful old farmhouse which was just about comfortable but in need of a little TLC. The food was good, with generous portions, but I'm not really sure I liked the staff uniforms with names embroidered across the chest. The owners, Malcolm and Gail Gemmel used to be dairy farmers, but in recent years, have split the land from the farm (with no problems finding tenants as there is a flourishing dairy industry locally) to concentrate on the "Button Birding" business, including the provision of accommodation.
Eshowe B & B (BB) Eshowe
Roomy accommodation but again, in need of a little TLC. Loueen Chittenden, our hostess, brought a cooked breakfast to our semi-detached chalet, about a hundred yards from her kitchen and also provided a tasty packed lunch.
iGwalagwala Guesthouse (BB) St Lucia –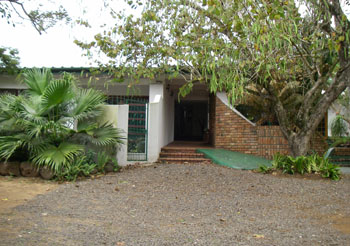 We had a very comfortable and spacious room in this lovely Guesthouse and despite a distinct water shortage in the area (there was only running water for ½ hour each morning and evening) we enjoyed our brief stay here, even though a shower was out of the question.
Banghoek Lodge (DBB) Hluhluwe, Mkhuze – Although we had a comfortable chalet here, the furnishings were a little dark and thin, lighting was dull and a refurbishment wouldn't go amiss. The laundry service was the best we had, but was more expensive than anywhere else (some Guesthouses didn't even charge, just suggesting an extra tip for the maid) and we were virtually the only guests for two of our three nights here when four people shared a dining room that would seat 150-200. Food was satisfactory, although at first we thought we might have some problems, and we had a little initial resistance to our request for a packed breakfast for our one early morning start. We had decided not to stay in the park at Mkhuze in view of some adverse comments, especially about Baboon problems, we had seen on the Trip Advisor website. With hindsight we may have been better staying in the park as we saw little evidence of baboons around the chalets.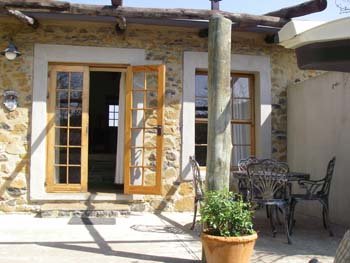 We would have been self catering though and the choice of food available at the café in the park is quite basic and a little limited for a three night stay.
Wetlands Country House & Sheds (BB) Wakkerstroom – Don't be put off by the word "Sheds" in the name. The Sheds in question are very roomy and tastefully renovated farm buildings. Probably the most comfortable accommodation after De Hoop. Our "shed" was spacious and airy, with a single bed and seating area, plus coffee table at the entrance. Three steps led up to a large sleeping area and fireplace with a small kitchen beyond on one side and a large bathroom on the other. Ceilings were polished wood and the floor was polished stone. Breakfasts were excellent and, again, we could have stayed longer, but after a day tramping the countryside with Lucky, I'm not sure there was much left to do.
Pretoriouskop (S/C) Kruger NP –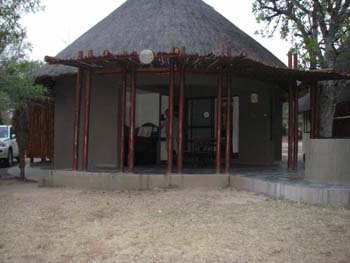 Typical park chalet which was comfortable and clean with a cooking area outside and a lockable screen to protect crockery, utensils and fridge. The shower was absolutely huge. Shame about the food.
Skukuza (S/C) Kruger NP – A little less comfortable and best described as "tired", being a smaller version of that in Pretoriouskop, with 3 cramped single beds and no kettle for our early morning cup of tea. For the park's supposed main showpiece camp this was a little disappointing, as was the buffet in the evening, which was fairly dreadful. We were pleased we only stayed one night.
Satara (S/C) Kruger NP – The chalet was almost as roomy and comfortable as Pretoriouskop and this was the nicest camp we visited. In the restaurant, both service and quality was the best in the park, but didn't have a lot to beat.
Forever Resorts Mount Sheba (DBB) Pilgrim's Rest –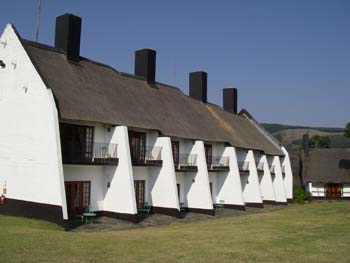 Just what a 4* hotel should be, but unfortunately it's situated at the end of a 12km dusty, uneven track. To complement this, staff clean guests' cars each morning….excellent service until the cold water being used to hose down the cars leaves the showers fit only for boiling eggs for about an hour. We had a king-sized room with a separate seating area and a log fire. There was also a small balcony with table and chairs.
FOOD
With the exception of Klein Cedarberg and the Kruger, food was good throughout. There was always plenty of choice at breakfast including a full cooked meal if required. The food at the Guesthouses where we had dinner was very good and otherwise, local restaurants provided plenty of choice. The seafood around Cape Town is excellent with plenty of freshly caught options. As you would expect, dining at Mount Sheba was probably the most impressive, closely followed by the delicious fare served up at De Lande Guesthouse and The Cottage B & B at De Hoop. The biggest disappointment was the standard of catering in the Kruger, where we chose to use the restaurants rather than brai ourselves. The food was virtually identical and fairly tasteless every night but the breakfasts were acceptable.
RESEARCH AND TRIP ESSENTIALS
Lots of trip reports are available on the web via either Travelling Birder, Fatbirder, Birdtours or Surfbirds. You may also find useful information on the following sites:- Southern African Birding, Cape Birding Route, African Bird Club – South Africa, Zululand Birding Route and Cape Town Pelagics.
We found the following books particularly useful:- Essential Birding Western South Africa: Key Routes from Cape Town to the Kalahari by Callan Cohen and Claire Spottiswoode. Southern African Birdfinder (Sasol) by Callan Cohen, Claire Spottiswoode and Jonathan Rossouw – the greater majority of the sites and places mentioned in the Itinerary and Diary section of the report are detailed in these two volumes and no further directions are therefore included. Sasol Birds of Southern Africa by Ian Sinclair, Phil Hockey and Warwick Tarboton – my own particular favourite ID guide. Roberts Bird Guide by Hugh Chittenden and Roberts Bird Guide: Kruger National Park and Adjacent Lowveld by Hugh Chittenden and Ian Whyte – a condensed version of the previous book which has more detailed distribution maps and, with reduced numbers, makes identifying species a little easier.
A good mammal guide such as The Kingdon Pocket Guide to African Mammals by Jonathan Kingdon and an up to date travel guide, say South Africa Lesotho and Swaziland (Lonely Planet Country Guides) are also very useful, although too many books can play havoc with the weight of your luggage. A good road atlas is also advisable. We initially purchased the AA Road Atlas but subsequently bought the more expensive Book of the Road which we found much easier to use. Up-to-date Guide and Map books are available in the Kruger.
Although we took plenty of insect repellent and malaria tablets for the Kruger we didn't have any problems with mosquitoes as all likely problem areas were dry and waiting for the summer rains to arrive.
COSTS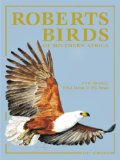 Dining out, including a bottle of wine, probably costs almost half what it would in the UK and is therefore excellent value. Fuel is also about 40p a litre cheaper than the UK. We tried to swap our phone SIM card for a local pay-as-you-go, only to find both our mobiles were programmed to block any other cards – thanks O2. Still, we bought a cheap and cheerful phone for about £10 and it served us very well to contact our guides, accommodation, etc., rather than routing all our calls through the UK. The flights, including Cape Town to Durban cost us £2780 and we paid Birding Africa US$9900 (£6150 @ 1.61 US$:£ – 4/11/2010) for our accommodation, a substantial proportion of our food, car hire, Pelagic and some guiding (3 days around Cape Town, Sani Pass and one morning in the Xumeni Forest). This seemed like a good deal to us, especially as we had a local agent to help us with any difficulties we encountered. The local guides were recommended to us by Birding Africa and we paid them ourselves.
WEATHER
Apart from one early morning in Eshowe and one in St Lucia, it was dry throughout. We had some pretty cool evenings, especially in the highlands, as it was still early spring. As we travelled north the weather naturally got warmer and 2/3 days topped 38°. In the Kruger there were a few cloudy days as the weather seemed to be building up to the rains but, in the main, it was sunny and clear and occasionally quite windy.
ITINERARY & DIARY
DAY 1 Wednesday 8th September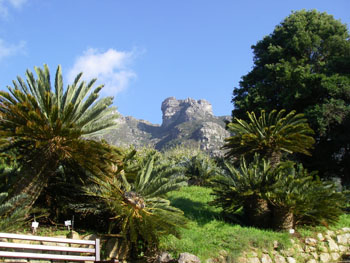 Arriving in Cape Town at 16.00 hrs what should have been a free day had quickly evaporated and was spent on board planes and in airports. On our travels we saw the first of many Pied Crow, a single House Crow, Hadada and Sacred Ibis. O/N Howard's End.
DAY 2 Thursday 9th September
We met our guide Dalton Gibbs at 07.15 and set off for Kirstenbosch Botanic Gardens. We entered through the top Rycroft gate on a beautiful spring morning and as we walked up to the protea gardens we quickly picked up a few of the more common species as well as Sombre Greenbul, Cape Sugarbird, Olive Thrush and both Forest and Brimstone Canary. The gardens looked stunning, with proteas, ericas and daisies all flowering in profusion. At the top of the gardens we entered a section of indigenous forest and briefly saw a pair of Cape Batis, along with a more accommodating pair of Southern Boubou calling nearby.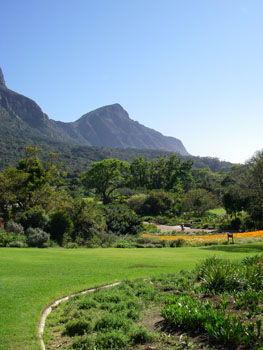 As we walked down through the cycad garden we saw the first of many beautiful Malachite Sunbird feeding on the plentiful proteas and Spotted Eagle Owl at its daytime roost. Leaving the gardens we stopped briefly at De Hel in the Constantia Greenbelt area, trying in vain to catch a glimpse of the elusive Knysna Warbler which we could hear calling in the distance and had to make do with a pair of Swee Waxbill and Bar-throated Apalis. We moved on to the Silvermine section of the Table Mountain National Park and had good views of Orange-breasted Sunbird which had eluded us at Kirstenbosch. We then travelled down the western side of the Cape Peninsula to Kommetjie where the tide was out and we were able to pick up a variety of coastal birds including numerous Crowned and Cape Cormorants. A large flock of Swift Tern included a single Sandwich Tern which was probably over-wintering. A calling Bokmakierie gave a good display from a small patch of coastal bush and we had distant scoped views of a Bank Cormorant roosting by the water's edge. Just beyond the breakers we saw White-chinned Petrel foraging amongst the small fishing boats. Further along the coast we saw our first pair of Jackal Buzzard on our way to Cape Point, where we picked up a sandwich, which we jealously guarded whilst being stared at by opportunist Chacma Baboons as we watched nearby Cape Grassbird and Grey-backed Cisticola. From here we walked along the path to the upper lighthouse, where we had views of the Cape Cormorant breeding colony on the sea cliffs and picked up several Cape Gannet out to sea. As we were leaving we saw two Eland on the slopes below the point.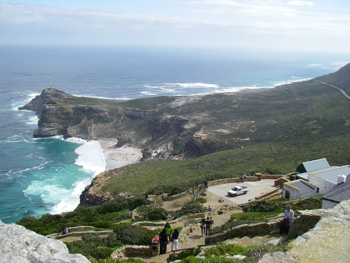 Escaping from the crowds at the point we crossed to Olifantsbos on the western side of the Peninsula where we saw African Pipit and also managed to find a Plain-backed Pipit feeding along the coastal drift line. Speckled Mousebird and Cape Robin-chat foraged in the nearby coastal scrub and a pair of White-necked Raven drifted over the inland hills. Finally we travelled down the eastern side of the Peninsula to the Strandfontein Waste Water Treatment Works – 350ha of sewage treatment ponds and surrounding coastal bush. Yellow-billed Duck, Cape Shoveler and Cape Teal were joined by 40+ Black-necked Grebe in breeding plumage. In failing light we came across a flock of several hundred Greater Flamingo, along with Pied Avocet, Black-winged Stilt, Black-crowned Night Heron and Maccoa Duck which were identifiable by shape alone. Amanda, sharp-eyed as ever, picked up a Spotted Eagle-owl in a pine tree on the road out as we headed back to Cape Town. We saw 82 species on our first full day – not a bad start. O/N Howard's End.
DAY 3 Friday 10th September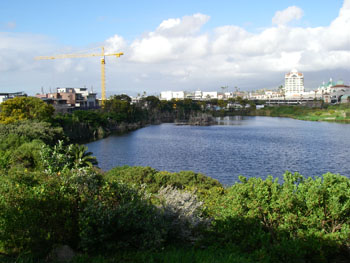 We met our guide Otto Schmidt at 07.00 at the Guesthouse and set off for Intaka Island, a small reserve next to the Century City complex in the Cape Town suburbs. The reserve provides an oasis amidst sprawling urban development and when we arrived birds were everywhere. Breeding colonies held numerous resplendent male Southern Red Bishop & Southern Masked Weaver and we quickly picked up Malachite Kingfisher, Purple Heron and a number of other more common waterbirds. Karoo Prinia seemed to be calling from the top of almost every bush, whilst Lesser Swamp Warbler were very vocal and easy to pick up. Little Rush Warbler were equally vocal, but a little more difficult to locate and we eventually had good views of one from a small hide overlooking one of the wetland areas. We also saw a pair of Pied Kingfisher and a Little Bittern feeding here. The nesting platforms were packed with cormorants, African Darter and Sacred Ibis and as we continued round the reserve we came across Red-faced Mousebird, distant Spotted and Water Thick-knee and a solitary Pin-tailed Whydah. In a little over 2 hours we saw 57 species before heading north, up the west coast to Koeberg Nature Reserve which nestles beside the Cape's only nuclear power station. Although much quieter, we managed to add White-backed Mousebird and Long-billed Crombec, before continuing along the R27. We briefly drove down a corridor of spectacular wild flowers to Grotto Bay where very little was happening birdwise, other than a good photo opportunity with a much closer Spotted Thick-knee. From here we crossed the freeway and headed up Darling Hills Road.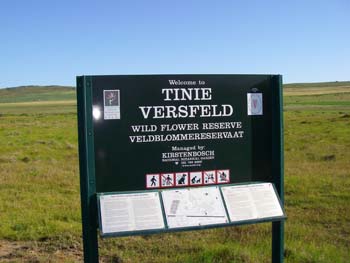 The dam at the top of the first rise produced South African Shelduck, including one pair with chicks and numerous other waterfowl, while the surrounding fields held Blue Crane, Red-capped Lark, Capped Wheatear, Pied Starling, African Hoopoe and a pair of Crowned Lapwing. Moving on we eventually located a calling Lesser Honeyguide in a small stand of oak trees. With the wind picking up we had an unproductive stop at the Duckitt's Wildflower Reserve before having a late lunch at the Marmalade Cat in Darling. After our break we visited the Tienie Versfeld Wildflower Reserve, where the wind again made birding a little difficult, but we flushed Common Quail in the fields as we walked around the tracks and eventually had reasonable views of Cloud Cisticola and Cape Longclaw. The temporary vlei on the reserve had several African Snipe feeding alongside Black-winged Stilt and several other waterbirds. Our last stop for the day saw us driving the track to the Strandkombuis Restaurant at Yzerfontein where the pools held White-fronted and Kittlitz's Plover as well as African Black Oystercatcher and a small mixed flock of terns. A lone Pearl-breasted Swallow was prospecting around the roof-line of the restaurant whilst a pair of Black Harrier patrolled the dunes. We saw 97 species today to take our list total to 130. We returned to Howard's End at 18.00 to pick up our cases and moved on to our next destination at Afton Grove, down the Cape Peninsula towards Simon's Town. O/N Afton Grove.
DAY 4 Saturday 11th September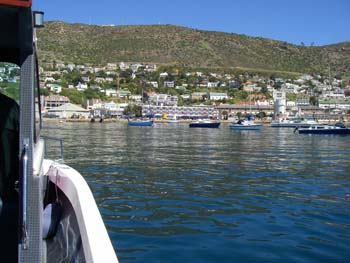 We were initially to be joined by another small party on our Pelagic, but they cancelled about a week before our departure to South Africa. We were advised Cape Town Pelagics would be forced to cancel the trip unless there were more participants. Strictly speaking, 6 is the minimum and CTP would normally ask people who want a private pelagic to pay for 6 berths, but as a special exception based on our relationship with Birding Africa, CTP agreed to run this trip on 4 if necessary. We were therefore given the choice of paying an additional R3200 less 10% discount for Birding Africa customers.
Although this doubled the cost for us, we were grateful for the concession and as we were really looking forward to this trip, the decision to go ahead took about 10 seconds. With anticipation mounting, we were up for an early breakfast before heading to the harbour at Simon's Town to meet our guide for the day, Bruce Dyer, at 07.15 and set off on our first ever Pelagic which would eventually see us about 20 miles south of the Cape of Good Hope. The previous day's strong winds had subsided overnight and we set off on a beautiful spring morning with temperatures heading for an afternoon peak of 25°C.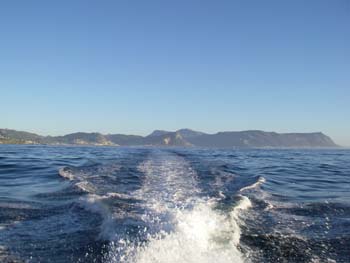 Before rounding the Cape we had already picked up African Penguin and White-chinned Petrel as we passed the small breeding colony of Bank Cormorant on the rocky outcrop just off-shore. I was dosed up with sea-sickness pills and in no pain at all as we ploughed onwards into the open ocean. The journey was a little rough at times but manageable, especially with the anticipation of several difficult lifers on the horizon. A lone Arctic (Parasitic) Skua was a surprise as we made our way towards two long-line fishing boats which had been spotted in the distance. The mass of seabirds around the fishing boats were mainly White-chinned Petrel and Shy Albatross with the occasional Cape Petrel, single Northern Giant Petrel (plus 3 more unidentified GP species) and several Brown Skua. By now, Bruce and our skipper, Anees, were having a field day, fighting off seals to land floundering Kingklip which had escaped the lines before being landed on the fishing boats. The fish were suffering from compression damage, as they had been dragged from the depths to the surface and, being in the region of 1 metre long, were worth cR2000 each in the local market. In the meantime, with the boat stationary and wallowing from side to side the tablets I had taken lost their effect big time and I began "chumming" over the side of our little vessel. What joy! Still there was temporary respite at hand as we got underway again in search of a larger trawler which was slowly reeling in its catch a few miles away.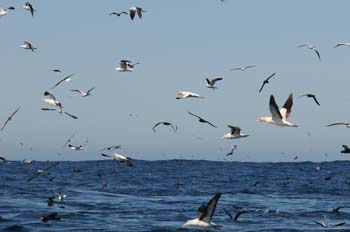 With greater numbers of fish being brought to the surface, bird numbers increased dramatically and we were soon watching Black-browed Albatross, the occasional Great Shearwater and much more numerous Sooty Shearwater joining the milling throng. Eventually a lone Indian Yellow-nosed Albatross was spotted along with a few Arctic Tern and up to 6 Wilson's Storm Petrel as they paddled their way across the surface of the waves in search of food. Thankfully we then turned around and headed back to port for lunch! Although I was dreadfully seasick, I really enjoyed the seabird spectacular and had seen 4 lifers (5 if you include African Penguin). Amanda loves sailing and had a whale of a time (pardon the pun – we did see several Humpback Whale on or way back to dry land) and was ready to go out again. Meanwhile I just wanted to curl up in a corner somewhere and be left alone. After Amanda had some lunch we set off to Zandvlei in search of White-backed Duck, which we had missed the previous 2 days. We found c10 along with many more common ducks, water birds and waders, several African Great Crested Grebe and up to 4 Caspian Tern. As the sun began to set we paid a quick visit to the Jonkersdam Trail near Noordhoek where we had close-ups of pairs of Cape Sugarbird, Orange-breasted, Malachite and Southern Double-collared Sunbirds. When we arrived back at Afton Grove we met Chris Spengler, the owner, and he showed us a Black Sparrowhawk that had been frequenting a large tree in his garden for the last few weeks. What a good way to finish the day – another lifer. Not the biggest day's haul, with 54 species, but the chance to see several new species at such close quarters was amazing and our trip list had now moved on to 147. O/N Afton Grove.
DAY 5 Sunday 12th September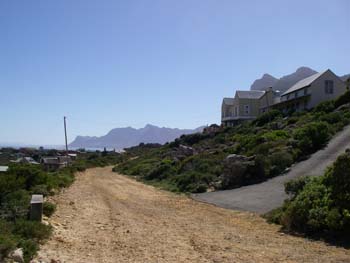 Today we met guide Dalton Gibbs at 07.30 in the car park at Kirstenbosch and transferred to an MPV as we were to be joined by three Americans for a trip to the Hottentots Holland area. Initially we were to go in our own vehicle with Dalton but a few days before our departure Birding Africa emailed us to say we would not be on our own. With hindsight, we should have declined to go on the day trip as, working largely to someone else's agenda, we spent a lot of non-productive time being shown birds we had seen during the last 3 days. As we passed Cape Town Airport on our way to the coast, we spotted a few of the small population of House Crow which seems to flourish here. On the way to Rooiels we had the briefest of views of 2 Cape Siskin in a roadside gully. Once there, early returning White-rumped Swift were common overhead and we soon picked up a pair of Verreaux's Eagle as they drifted over the inland cliffs and also a pair of Cape Rock Thrush. Our main quarry, Cape Rockjumper, remained elusive for well over an hour and with wind strength increasing, Dalton was losing confidence that his repeated MP3 playing was going to be successful. Eventually we picked up a bird responding in the distance and were able to locate a pair of Rockjumper a few hundred metres away on the rock face above us. We managed reasonable scope views of the male and then set off for the African Penguin colony at Stony Point near Betty's Bay.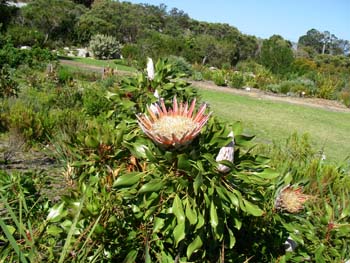 During a couple of hours penguin and cormorant watching we had fleeting glimpses of Southern Right Whale and unusually, so close to land, single Shy Albatross, Southern Giant Petrel, Brown Skua and White-chinned Petrel. At times they were closer than the more numerous Cape Gannet. If we hadn't been on the Pelagic the previous day these birds would have been a distinct bonus, but even so, the Giant Petrel was a lifer and made up for the 3 unidentified Pelagic Petrel species. We then went in to town for lunch, before continuing to the nearby Harold Porter Botanical Gardens. Birds were far and few between and outnumbered by week-end visitors to the gardens, but we did manage to pick up African Dusky Flycatcher and Black Saw-wing. We heard two Victorin's Warbler but failed to locate one of these elusive little bradypterus (that's one word for it!). Afternoon tea followed, before we returned to Cape Town with our trip list now standing at 154 and 57 species for the day. O/N Afton Grove.
DAY 6 Monday 13th September
After a leisurely breakfast we set out on our way to Langebaan. Having missed a gentle stroll around Kirstenbosch on our first day we decided to pay a return visit this morning. Despite seeing nothing new, we caught up with 2 very photogenic Spotted Eagle Owl on the path to the left, immediately after the main entrance. We picked up a very tasty picnic lunch in the café and continued our journey north, stopping at Silverstroomstand and Darling Hills Road on the way. Four Great White Pelican, several African Black Swift and a distant soaring Cape Vulture were the only new birds so far, until we went down the track by the Gypsum Mine at Yzerfontein and located a pair of Ring-necked Dove and about 6 Chestnut-banded Plover on the edge of the salt pan. We then went to the Abrahamskraal water hole in the West Coast National Park and although there were lots of birds, we didn't see anything new until we were on our way out of the park, when we came across a pair of Grey-winged Francolin on the road. 57 species for the day and our overall total moved on to 160 – not bad for a day spent mainly travelling with 192kms covered. O/N Glenfinnan Guesthouse.
DAY 7 Tuesday 14th September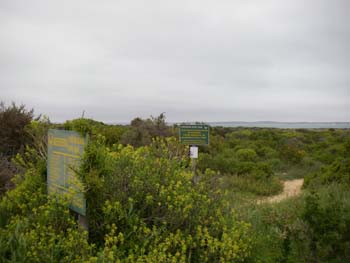 Today we decided to spend our time birding in the West Coast National Park with our ultimate destination being the Postberg section at the northern end of the peninsula for the seasonal wildflowers. As we left Langebaan hundreds of swifts wheeled and circled around the local air force base and a little out of town, a pair of Grey-winged Spurfowl were feeding at the roadside as the road begins it's descent to the Park entrance gate. There seemed to be quite a bit of activity here so we lingered for about half an hour making best use of the good vantage point overlooking the surrounding bushes and scrubland and picking up Karoo Lark and Cardinal Woodpecker. Our first stop in the park was the Seeberg Hide and, rather by good luck than good management, the tide had just turned and the muddy foreshore being slowly revealed was alive with waders and seabirds. Kittlitz's Plover were everywhere and were joined by several White-fronted Plover and 4 African Oystercatcher; Sanderling and Curlew Sandpiper were the most numerous species, but scattered amongst them we also saw a few Grey Plover and Bar-tailed Godwit, c4 Whimbrel, c10 Dunlin (quite rare around here), 2 Ruddy Turnstone and 1 Knot. On the landward side of the hide Black-winged Stilt were joined by 2 Greenshank and we found 2 Lesser Flamingo amongst the Greater Flamingo flock. As the water receded the birds moved further away and we decided to move on, stopping briefly at the Seeberg Lookout where we had good views of Southern Black Korhaan and also Black Harrier drifting overhead.As we approached the Geelbek Hide an African Fish Eagle and a pair of African Marsh Harrier vied for our attention whilst Kittlitz's Plover mingled with a small flock of Curlew Sandpiper. Unfortunately, the water was still high here and the majority of waders had been pushed into the longer grass to find some shallower feeding areas. We managed to pick out 2 Marsh Sandpiper amongst the Greenshank, Black-winged Stilt and Avocet whilst two Caspian Tern flew by, over the open water.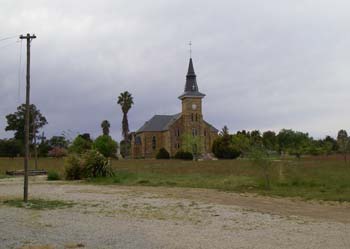 As it was a little after 12.00 we dropped in to the Geelbek Restaurant for a very pleasant lunch. Afterwards we drove up the peninsula to Postberg but didn't linger too long as this year's wildflower display had peaked early in view of the lack of rain and by now, the flowers were a little disappointing. We saw very few birds along the way and at c15.00 decided to head out of the Park and try our luck at Langebaan Quarry. Finding an access to the quarry via the various tracks was not easy, so we parked the car on a disused stretch of tarmac as the road takes a sharp turn to the left near Club Mykonos. A pair of breeding Verreaux's Eagle were flying over the quarry as we approached but by the time we reached the African Black Swift breeding colony, the eagles had landed on a dead tree just over the back edge of the quarry and with light fading we didn't try to get a better view. 69 species today with total seen to date moving on to 178. O/N Glenfinnan Guesthouse.
DAY 8 Wednesday 15th September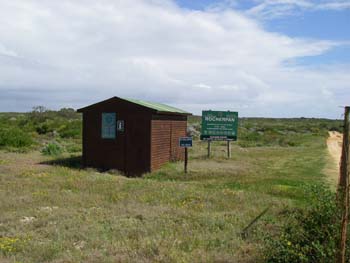 Our trip itinerary described today as a "leisurely drive to Nieuwoudtville – bulb capital of the world". This turned out to be a pretty inaccurate description as we travelled in the region of 362km and when we arrived at our destination there was hardy a wildflower in sight. There were certainly a few individual flowers blooming, but nowhere did we see the carpet of wildflowers we had been hoping for. We set off around 08.30 after a leisurely and hearty breakfast and had already stopped several times before we reached Velddrif for all the usual suspects, plus Blue Crane, Whinchat, Karoo Lark, Capped Wheatear & Large-billed Lark. We drove on to the Rocherpan Nature Reserve, where there are several hides and an honesty box system in operation from the shed by the entrance gate. There was a good selection of waterfowl, especially on the pan from the first hide and we had much better views than previously of both White-backed and Maccoa Duck. As time was pressing we didn't explore the site fully and only visited three hides, but as we drove on, we had c8 Namaqua Sandgrouse fly over the car. Next stop was Lambert's Bay: having seen quite a few Cape Gannet and visited several Gannet colonies around the world, we decided not to linger here. Don't know whether or not we were unfortunate and just passed through the "wrong parts" of town, but we didn't like the area in any event. Along the way though we did pick up Glossy Ibis, our first Alpine Swift, Pale Chanting Goshawk and Western Steppe Buzzard….so it wasn't all bad!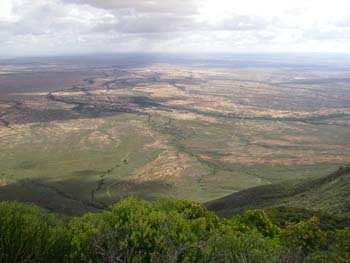 The next section of our route via Clanwilliam and the N7 to Vanrhynsdorp seemed to pass in somewhat of a blur as it was a long drive with very few opportunities to stop. However, on R27 before we climbed the Vanrhyns Pass to the substantial upland plateau, we started to encounter Cape Crow and c10 Lesser Kestrel nesting on top of the roadside telegraph poles. Arriving at Nieuwoudtville we took the track south out of town to our final destination at Papkuilsfontein and immediately started to encounter huge flocks of Sacred Ibis. There must have been well over 500 birds, as well as at least 30 Ludwig's Bustard dotted about the fields as we drove. As we pulled up into the driveway of our Guesthouse a pair of Fiscal Flycatcher greeted us on the gateposts and a Karoo Thrush foraged around the garden. Another day spent mainly in transit but we did manage 63 species and our list total moved on to 189. O/N De Lande Guesthouse.
DAY 9 Thursday 16th September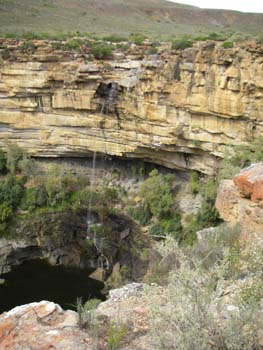 After yet another excellent breakfast we set off back towards Nieuwoudtville, having picked up Cape Clapper Lark and Mountain Wheatear in an early morning stroll around the Guesthouse garden. Highlights of the journey included Large-billed Lark and a pair of White-necked Raven. By now Blue Crane and Ludwig's Bustard were 10-a-penny and didn't even merit stopping the car. From town we took the R357 to Nieuwoudtville Falls where we encountered small numbers of hirundines overhead and seemingly not much else at first. We decided to be patient and explore the area fully and were rewarded with a pair of Pale-winged Starling amongst the much more common Red-winged Starling; a pair of Neddicky flitted about in the scrub between the falls and car park and an Acacia Pied Barbet did its best to avoid us in the stunted trees and shrubs around the pools just before the falls. Walking back to our vehicle I heard and then saw a flock of c20 European Bee-eater overhead. Suitably encouraged, we walked back up the road from the car park to the reedbeds where the water passes below the road and in addition to the breeding flocks of Southern Red Bishop, Southern Masked and Cape Weaver we picked up a very vocal Namaqua Warbler. As we continued along the R357 towards the Kokokerboom Forest we saw Grey Tit and an obliging pair of Ground Woodpecker which flew across the road in front of the car and then waited on the roadside rocks as I backed up and got out with my camera. The forest itself was quite disappointing; a very dusty and at times uneven track and birds definitely at a premium. We did however see a single Namaqua Sandgrouse at the side of the road and after several barren kilometres came across a pair of Familiar Chat, a lonely looking Mountain Wheatear and a single Ant-eating Chat.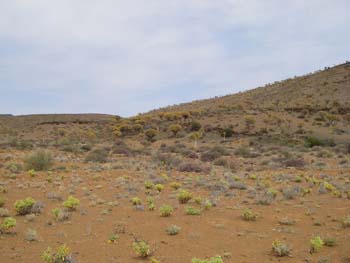 Back in town we set off to explore one or two tracks but didn't come across anything new, so we went a short distance out of town to the Wildflower Reserve. What a disaster: totally deserted, parched brown grass and not a wildflower in sight – the information centre looked dilapidated and unloved and the posters were faded almost to white. Even the birds had taken the hint and moved on. We then decided to visit the Hantam Botanical Gardens which is the name loosely given to a large expanse of tracks and fields that were very lightly sprinkled with flowers and crying out for rain. We walked around for almost an hour and saw very few birds other than 3 Southern Black Korhaan we managed to disturb as we went along a track. The only other two people we saw were just leaving as we arrived. We did see three workmen undertaking maintenance work round the margins of one of the fields – people sightings! What next? You can tell that by now we were getting pretty desperate. We decided to end the day by visiting the second river canyon in the area about 15km southwest of De Lande. The river had almost dried up and the only bird around the canyon was a single Rock Kestrel. We did manage to disturb a pair of Quail as we drove slowly along the track which was only fit for 4WD. After a really good morning, bird species petered out but we did manage 58 for the day and the list moved on to 200. O/N De Lande Guesthouse.
Day 10 Friday 17th September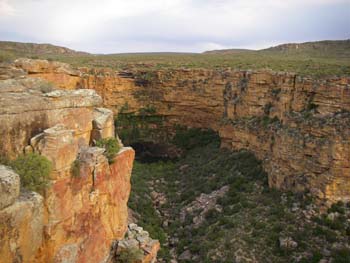 After a leisurely breakfast we set off at 09.00 on the longish drive of 273km to the Tanqua Karoo and our next destination, Klein Cedarberg. We travelled south from De Lande heading for the Botterkloof Pass which would take us down from the plateau and on the way picked up many of the usual suspects, plus a pair of Secretarybird about 24 km into our journey. We also saw a pair of Karoo Chat, 4 Namaqua Sandgrouse and c4 European Bee-eater before we reached the towering cliffs of the pass where we saw a rapid increase in raptor activity with Pale Chanting Goshawk, Rock Kestrel and Jackal Buzzard joined by Verreaux's Eagle and a dashing pair of Lanner high overhead. With 83km of gravel road before we reached tarmac, we took our time and it was after 12.00 when we reached Clanwilliam so we decided to have a spot of lunch in the Clanwilliam Hotel – not a very good move; we appeared to be the only people there but had to wait c45 minutes for two coffees and tuna mayo toasties. No explanation was given for the delay and on arrival the food was a little worse than average. From here we joined the N7 and followed the Oliphant's River Valley south to Citrusdal, where we took the R303 for Op die Berg. Both roads follow river valleys and accordingly vegetation is green and lush and the R303 has many roadside wetlands and dams which produced a variety of waterbirds. Along the way we picked up Western Steppe Buzzard, Booted Eagle, Kalahari Scrub Robin and a few Black-headed Canary, leaving us with 54 species for the day and total species to date moving on to 207. We arrived well before the 18.30 deadline for dinner and even had time to roam around the grounds in search of wildlife after unpacking. After dinner, on a beautiful starlit night, Werner's wife, Vicki, took me outside to "call up" the nightjars we could hear in the distance.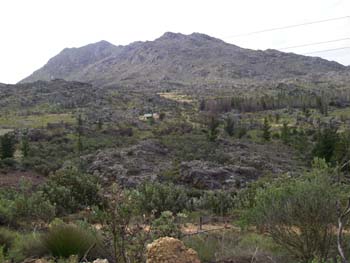 One minute we were stood in silence admiring the beautiful sky and the tranquil, peaceful setting; the next she erupted with a loud whoop and nearly frightened the living daylights out of me. The nightjars went quiet and we decided it was time to head to our cosy little hearth and share a bottle of wine in front of the meagre flames. O/N Klein Cedarberg Lodge.
DAY 11 Saturday 18th September
The previous evening we had been told early cooked breakfasts were no longer on the menu. If we wanted to be out early, a picnic breakfast would be prepared the night before, along with the packed lunch we were taking, so we breakfasted at 08.00. The previous week the fridge had blown up and things had not yet been properly sorted out. Instead of chilling things, we were told the new fridge was actually freezing some produce, so without checking this story out further, we tried to butter our limp toast with frozen slices of butter and Amanda emptied 6/8 cartons of milk (the type you normally get with a cup of tea) over her cereal. I didn't have the stamina and opted for yoghurt over mine. We were going looking for some difficult birds in inhospitable terrain, but the day's challenges started much earlier! We eventually set off for our day birding in the Tanqua Karoo heading over the Katbakkies Pass and down to Skitterykloof. Going over the pass we had excellent views of Clapper Lark and found a dead snake on the track; at Skitterykloof picnic site we found a beautiful Fairy Flycatcher and a Karoo Prinia along with a few other species, but we didn't have any luck at all with Cinnamon-breasted Warbler. As we moved on we saw a Booted Eagle and Karoo Chat before reaching the R355 where we turned north for a few kilometres before stopping for lunch at a roadside picnic spot near a dried-up river bed.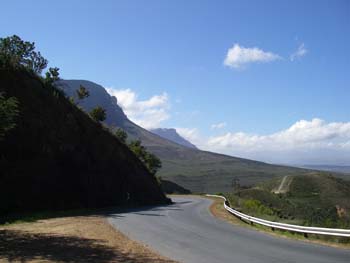 There were few birds about, except for another Fairy Flycatcher, White-backed Mousebird and Karoo Scrub Robin, so we retraced our steps almost to the Katbakkies turn off and took the track in the direction of the R354 and Sutherland. We travelled east for about 20km before turning south in a further 52km loop via the R356 back to the R355. As it turned out, not really a good choice, as we saw very few birds other than a single Karoo Lark and a pair of Tractrac Chat. By now the cloudless sky had gone very dark as a storm approached from the north west and with thunder rolling overhead and lightening forks all around we managed to outrun the rain which we could see in the distance. Back on the R355 we turned north again and were lucky to come across a Wild Cat at the side of the road as we approached the Swartkop se Dam. There was a good selection of waterbirds here, albeit, a little distant, but with our scopes it was easy to pick out c12 Glossy Ibis c6 Ruff, c12 Little Stint and 3 Whiskered Tern. We continued north to Eierkop where we managed to pick up Grey Tit and 3 squabbling Rufous-eared Warbler. With time moving on we decided to head back south and shortly after hitting the R46 we set off west and then north back to Op die Berg and Swartruggens. This took us much longer than we thought and at one stage we nearly panicked ourselves into ringing Werner to let him know we were going to be late for dinner, but sanity prevailed. We had misread the map slightly; we got back to Klein Cedarberg with 10 minutes to go and were spared a visit to the naughty step. With gravel roads nearly all the way, we had covered 227km and this seemed like a very long day; although we had managed 54 species, at least half of these were around the dam and Eierkop and we had only added 6 new species to our trip list. After dinner, to conserve our meagre supply of firewood, we decided to try a night-drive in search of owls and nightjars, but despite a round trip of 12 km along the track to Katbakkies Pass we saw nothing other than the moon and stars for our efforts. O/N Klein Cedarberg Lodge.
DAY 12 Sunday 19th September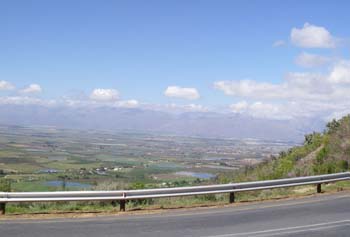 After another interesting breakfast we set off on our long drive south to De Hoop Reserve via the Agulhas Plains. Our first stop was at the Gydo Pass in search of Protea Seed-eater, but once again we were unlucky. We did, however, have good views of Ceres and the plains below us and also Cape Sugarbird and Orange-breasted Sunbird. Although there were quite a few birds along the way, we saw nothing new in the morning as we left the mountains and travelled on the R60 down the wide Bree River valley, through one of the Cape's major wine producing areas. We stopped at Bourbon Street on the main road through Robertson for an excellent lunch. Shortly after leaving Robertson we took the R317 to Bredasdorp, before heading east to De Hoop Nature Reserve. We picked up a pair of Fork-tailed Drongo before enjoying goods views of Karoo Korhaan and a couple of lonely looking Meercats. We stopped counting Blue Crane as we passed 60 and we came across a Black Harrier sitting quietly in a field at the side of the road and several Red-capped Lark. As we neared our final destination our second Pin-tailed Whydah of the trip crossed the road overhead. During our 345km drive we had managed to see 55 species and nudge our trip list total along by 3 to 216. O/N The Cottage B & B.
DAY 13 Monday 20th September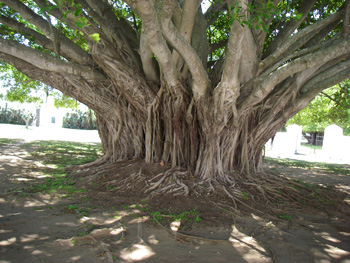 After a leisurely breakfast at 08.00 we set off towards the Potberg section of the reserve. As we left the farmhouse an Agulhas Long-billed Lark was calling from a fence post at the side of the track and a Namaqua Dove fluttered down on to the road in front of us. A flock of c100 Blue Crane meandered about in a roadside field and we also saw 6 Crowned Lapwing and an African Hoopoe. Red-capped and Large-billed Lark were common at the roadside along with a pair of Karoo Scrub Robin and all the usual suspects. Whilst travelling to the reserve we picked up about 30 species. At Potberg we did see 3 Cape Vulture circling and gaining height in the distance, but the woods around the car park were quiet and after about 40 minutes, a Fiscal Flycatcher and 2 White-backed Mousebird, we decided to move on, passing 4 Cape Mountain Zebra on the way. Passing through the gates of De Hoop Nature Reserve we came across our first 3 Ostrich since the West Coast National Park, along with small herds of Bontebok and Eland. As it was after 12.00 we drove to The Fig Tree Restaurant at the park camp for a spot of lunch.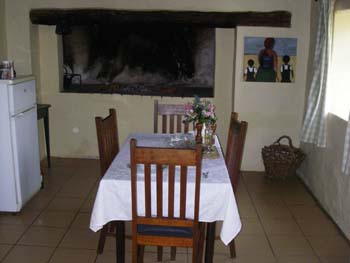 Shortly before we had arrived the water boiler for the hot drinks machine had exploded and, as a result, there was no electricity as the staff struggled to mop up and repair the damage, so we went for a walk around the camp to the nearby lake. As you would expect near a large water-body hirundines were plentiful and included a handful of Banded Martin as well as Greater Striped and White-faced Swallow, Little and White-rumped Swift and Rock Martin. A friendly Ostrich had taken a liking to the restaurant and car park area and was carefully examining the few parked cars as well as the picnic benches. Giving the bird a wide berth, we walked under one of the huge trees and I heard a woodpecker tapping above. It took me a while to locate the source of the noise, but eventually I managed to find a Cardinal Woodpecker busily exploiting a hoard of freshly hatched insects. Nearby a pair of Southern Boubou called and we had excellent close-ups of a pair of Bar-throated Apalis as they flitted around in the bushes only an arm's length away. There were a variety of waterbirds on the vlei, including a few Great White Pelican and African Spoonbill. After lunch we drove around the 4WD track near the camp and on the muddy lakeside fringes came across 3 Little Stint alongside the almost inevitable Three-banded Plover.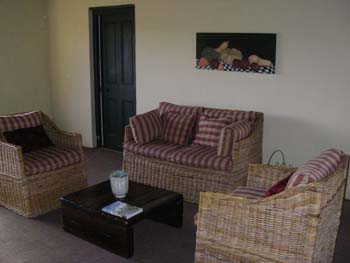 Cape Sugarbird was the only species of note on the drive as the birds seemed to be enjoying their afternoon siesta. At one point we came across an absolutely massive Leopard Tortoise which scurried down the track towards us. Returning to the main track we set off towards Koppie Aleen but apart from a single Denham's Bustard and a pair of Grey-winged Francolin there wasn't much about. As we returned to the reserve gates we had good close-up views of a pair of Bokmakerie, before we returned to the Cottage for a delightful freshly caught fish dinner in front of a roaring fire. Another 4 species added to our list with 72 species overall today. O/N The Cottage B & B.
DAY 14 Tuesday 21st September
With a long drive back to Cape Town today (275km) we never expected to see many birds as we wanted to get there as quickly as possible and try to go up Table Mountain, instead of following our original plan and heading back via the coast and Hermanus to do some whale watching. Rather than retrace our steps, we set off due north to the N2 and Swellendam – what a delightful little town; green, spacious and situated on a river. The early morning cloud had burned away and we travelled in beautiful sunshine until we crossed the Houhoek Pass and then Sir Lowry's Pass and started our descent to Somerset West. By the time we reached Cape Town the sun had disappeared altogether and Table Mountain was shrouded in low cloud. So much for our plans! Only 31 species for the day and nothing new. Still we had plenty of time to take stock, sort out our cases for the onward journey and enjoy a leisurely evening meal at Joe Fish Seafood Restaurant at Pinelands near our B & B. O/N Howard's End.
DAY 15 Wednesday 22nd September
An early start today as we were flying to Durban rather than driving. We took BA6311 departing Cape Town at 09.15 and arriving in Durban at 11.10. As we were coming in to land, everywhere looked much drier than around the Cape with a straw/brown landscape rather than green.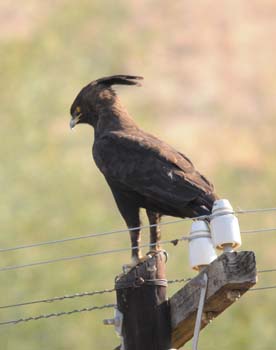 This was borne out on our journey through a very hilly landscape, where there was much evidence of burning to regenerate the dry grass and large tracts of eucalyptus and pine plantations. Whilst the paper industry takes the majority of the trees, eucalyptus is also used for telegraph poles and pit props in the mining industry. We picked up our new hire car at the airport and set off for Creighton in the Drakensberg foothills; a journey of c310km. We made good time and after a brief stop for lunch on the way, arrived at our destination around 15.30. The only bird of note on the journey was a solitary, but beautiful, Long-crested Eagle. We paid Tolls of R11.50 on the motorway. Malcolm Gemmel, the proprietor of Button Birding, was due to guide us the next day on our trip to the Sani Pass and also for a few hours the following morning. He had broken a rib two days previously and was still in considerable pain and explained he had therefore contacted another guide who would take us instead, as the road through the pass was quite tortuous and rough in places and would not make for comfortable driving in view of his condition. We were relaxing and having a cup of tea on the veranda at 16.30 watching Dark-capped Bulbul, Village Weaver and Red-billed Quelia at the garden feeders when Malcolm suggested we might enjoy a quick spin around his local patch for an hour or so. We were out much longer, as we spent over an hour in near darkness driving around farmer's fields, trying to get a better view of two unusual raptors Malcolm had seen in the distance: Crowned Eagle which is quite rare in the area. On departure, 36 hours later, his wife Gail presented us with a bill for drinks that also included a charge of R375 for 2½ hours guiding and when I questioned this, she said she had not discussed the circumstances with Malcolm. I was gobsmacked, as Malcolm had never even hinted at us paying for the pleasure of his company and the thought certainly didn't cross our minds. I paid up….in disgust. Never assume a relaxed offer of a quick spin around the countryside is all part of the service, as it quite obviously isn't! Anyway; back to the birds – in addition to the eagles, we saw numerous Yellow-fronted Canary, 6 Denham's Bustard, 2 Grey Crowned Crane, 2 Black-winged Lapwing and several White-winged and Long-tailed Widowbird which had not yet transformed into their more spectacular breeding plumage. We managed 33 species for the day and, having moved on to a totally new habitat, we were quite pleased as our trip list moved on to 231. We hadn't yet realised at what cost. O/N Smithfield Guesthouse.
DAY 16 Thursday 23rd September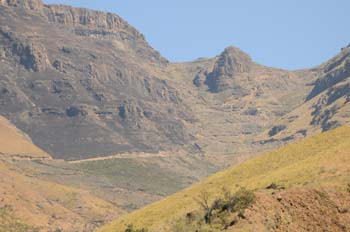 The original plan for today was that Malcolm would drive us to the Sani Pass and the Drakensberg highlands in Lesotho in search of Drakensberg Rockjumper and several other specialities found at this higher elevation. We were to be accompanied on this trip by Stephan and Oji who we met at dinner the previous evening. With Malcolm incapacitated we set off, with packed breakfast and lunches, at 06.00 and drove c50km to Himeville at the foot of the Sani Pass, where we met our new guide, Stewart McLean, and transferred to his 4WD vehicle. After a short drive we stopped at a small wetland just out of the town and managed to pick up a few White-backed Duck and Grey Crowned Crane amongst the numerous waterbirds and a passing African Harrier Hawk. A little further on, at a dried up river bed near an incongruous bus shelter, we saw a Long-crested Eagle perched on the wires nearby whilst Drakensberg Prinia, Cape Grassbird and Common Waxbill flitted through the bushes. Stuart heard a Brown-backed Honeybird call overhead and briefly land on top of a tree at the side of the river, but regrettably it moved on, never to be seen again, before any of us could raise our bins. Shame really as we did not manage to catch up with this species anywhere else.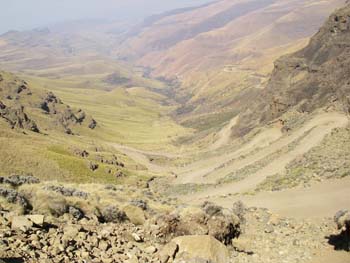 Undaunted, we had good views of a Dark-capped Yellow Warbler before we moved on and within 30 metres, spotted a pair of Cape Rock Thrush moving around the rubble at the foot of the walls of a dilapidated building at the roadside. A little further up the hill, after picking up a pair of Buff-streaked Chat and a nearby Grey Duiker, we stopped beside a small lake on the road to a private lodge and briefly saw a pair of Black Duck before they disappeared around a corner into thick vegetation. As we tried to spot the ducks again, a pair of Olive Woodpecker darted around in the branches overhead. With spring well underway, lots of species were already paired up and consequently a little easier to see. As we gained more height we stopped regularly for the numerous excellent birds at the roadside, including Gurney's Sugarbird, Wailing Cisticola, Red Throated Wryneck, Ground Woodpecker, Sickle-winged Chat and Fairy Flycatcher. Meanwhile a few Grey Rhebuck clambered over the rocky slopes as we passed through the South African border post and started the final twisting ascent to Lesotho; 16kms or so of incredible switchbacks, very rough road and a climb of several thousand feet.
We stopped briefly at the Lesotho border post while our passports were stamped and brief immigration formalities were completed and then drove round to the Highest Pub in Africa at 2873 metres where we had a pair of Drakensberg Rockjumper and a few Drakensberg Siskin scurrying around our feet as they searched the barren terrain for food.
The endemic Slogget's Ice Rat occasionally poked their noses out of rocky crevices while Sentinel Rock Thrush flew around the buildings and a flock of 10 Southern Bald Ibis searched for sustenance on a nearby small grassy plain. As we moved into Lesotho we came across another pair of Sickle-winged Chat and we spotted Cape Vulture soaring in the distance. The birds were heading inland and we decided to follow in case they were heading for prey and shortly afterwards we spotted a Bearded Vulture (Lammergeier) in the same vicinity. Closer to earth we saw Drakensberg Crag Lizzard as they soaked up the sun's heat from their rocky homes. About 10km into Lesotho we stopped for our picnic lunch at a suitable spot for several species and in relatively quick order managed to locate Large-billed Lark, Grey Tit and our target species, Layard's Tit-babbler (Warbler). Whilst we ate lunch we had a procession of Bearded Vulture overhead: there must have been between 6 and 10 individual adults and juveniles in a variety of plumages, representing a substantial proportion of this species on the plateau. We also had a Lanner fly over at relatively close quarters and, having decided we had seen most of what was on offer in the area, we set off back to the border post. On the way we managed to pick up Streaky-headed Seedeater before beginning our descent.
At the South African border post, after completing formalities, we lingered a while for a confiding Greater Double-collared Sunbird before continuing downhill in search of a Barratt's Warbler we had heard on the way up.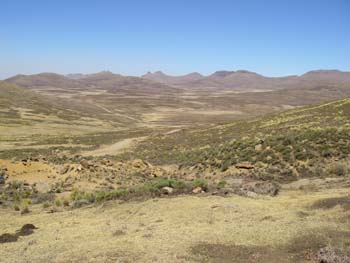 We soon heard the bird calling, but it took some patience and a little MP3 playing before we all managed fleeting views as the bird flitted about in the bushes on the slope below our feet. Further down the pass, where we had seen Black Duck on the way up, we spotted an Osprey, perched on a dead tree overlooking the lakes: the bird had been in the area for a few weeks. As the ground flattened out and we neared Himeville we came across a pair of Black Saw-wing and a Southern Reedbuck. Before returning to our car we took a track running parallel to the hills, through cultivated farmland and picked up Blue Crane, a pair of Wattled Lapwing, Long-tailed Widowbird, Southern Anteating Chat and Greater Striped Swallow to round off an excellent day with Stewart, who had found and showed us virtually all our target species. An added bonus was becoming firm friends with Stephan and Oji, who we were to meet up with again on a few occasions later in our trip. We just made it back to Creighton as darkness closed in, but had one more treat in store before dinner as Malcolm took us out to the side of his property and called in a Fiery-necked Nightjar, which had been quite vocal nearby. 67 species for the day and we had seen our overall total jump to 253. O/N Smithfield Guesthouse.
DAY 17 Friday 24th September
Before our South African trip started we had arranged some early morning guided birding around Creighton and Xumeni Forest with Malcolm Gemmel and today saw me up at 05.00 with Amanda deciding to have a more relaxed start to the day. I was joined by Stephan, who, like me, was hoping to get to grips with some of the more elusive forest skulkers. Just before 06.00 we were in position at a nearby rock face in the hope of catching up with Cape Eagle Owl which had bred there in previous years. Unfortunately, not this year, so we quickly got underway to the Xumeni Forest, where, almost as we got out of the vehicle, we saw 3 Cape Parrot flying quickly by overhead as they left their roost for an early morning drink.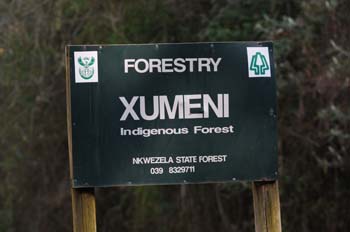 We had better views later as they returned and circled the trees, with perhaps 10 birds in all. Although the day started quietly things soon picked up and as we walked one short stretch of woodland, after a welcoming cup of coffee, we saw African Olive (Rameron) Pigeon, Dusky Flycatcher, Forest Canary, Yellow-throated Woodland Warbler, Amethyst Sunbird, Black-backed Puffback and Bush Blackcap as a variety of hirundines, including Alpine, White-rumped and African Black Swift, together with Brown-throated Martin, wheeled overhead. Before we left the forest we moved along a little and came across Olive Thrush, Black-headed Oriole and Swee Waxbill. Searching the surrounding farmland for bustards, we disturbed a single Black-bellied Korhaan and saw several Grey Duiker, Common Reedbuck and Oribi before spotting a mixed flock of weavers, widowbirds and quelia which included Red-Collared Widowbird. We returned to the farm at 10.00 for a welcome breakfast, after which Amanda and I packed our bags and set of on the 290km journey to Eshowe. Birdwise the trip was fairly uneventful with Common Myna being the only addition to our list which now stood at 265 after 41 species for the day. We paid 4 Tolls on the journey along the M3 & M2 totalling R35. O/N Eshowe B & B.
DAY 18 Saturday 25th September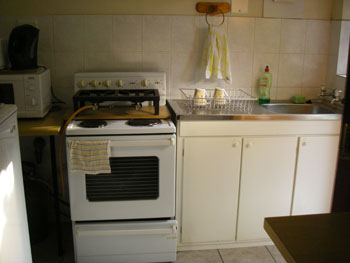 I was in the shower at about 06.20 this morning when there was a terrible racket outside. I could hear a pig squealing rather loudly and dogs barking and the whole episode lasted for about 10 minutes. Amanda had showered before me and after a couple of minutes, curiosity got the better of her and she went outside with her cup of tea to see what was going on. She watched, mesmerized, as a young woman was beating a rather ugly, but strong dog which had its mouth around the neck of a small black pig. Shouting and whacking the dog with a shoe was having no effect and along came a young man who joined in the noise and the tussle. In no time at all another partially clad man (boxer shorts only) bounded onto the scene, flesh wobbling unattractively, and joined in, increasing the noise level by several decibels. The action shifted further away as yet another man, this time in a safari suit, appeared and joined in as well. By this time Amanda was so bemused she decided to come back in and get ready for our day's birding, having witnessed the most amusing part of our trip so far. She was telling me about the melee as, freshly showered, I drank my cup of tea, when Loueen arrived with our picnic hamper.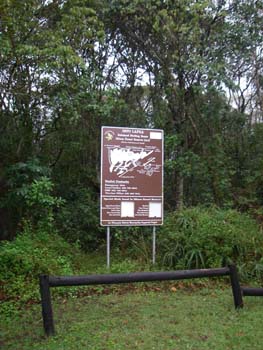 I nearly choked as she embellished Amanda's description (it was after all, her dog) by describing how she had grabbed the animal by the balls (her very word) and squeezed as hard as she could and even that didn't make it let go. Anyway, back to reality…..Today we had arranged to visit the Dlinza Forest with a local guide. Stephan & Oji were also here for one night so they joined us for the morning as we met Sakhamusi in the forest car park at 07.00. Sakhamusi had originally wanted to pick us up at the B & B at 06.00 but we had declined and with the sky uniformly grey and a steady drizzle falling, there was virtually no bird activity at all until the rain slackened off around 08.30 justifying our extra hour in bed. In the gloomy undergrowth we eventually started to see some movement and after about half an hour saw our first bird, a Yellow-bellied Greenbul. "On a roll" we saw single Chorister Robin and Olive Thrush before picking up 2 Spotted Ground Thrush over the next hour. By the time we went out onto the substantial forest boardwalk the rain had stopped and the birds had decided it was time to start their day. In quick succession we had White-eared Barbet, African Palm Swift, Collared Sunbird, Purple Crested Turaco, Black-bellied Starling, Grey Cuckooshrike, Square-tailed Drongo, Olive Sunbird and Forest Weaver. To cap it all a Crowned Eagle flew across the treetops in front of us and perched in the open canopy nearby. As we walked back to the Visitor Centre we came across a beautiful Tambourine Dove which flew up into the trees as we approached. Having decided we were unlikely to pick up many more species in the area Sakhamusi suggested we have our picnic breakfast (substantial and very tasty, prepared by our hostess Loueen), Stephan and Oji pick up their bags and we head off towards the coast as the weather was probably brighter there and in any event, that was the direction they were going when they moved on.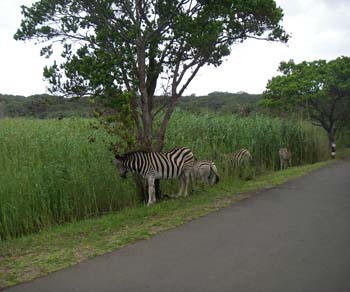 This sounded like a plan, so we set off east, eventually driving through the Umlalazi Nature Reserve on our way to the Mtunzini Estuary and the Siyaya Coastal Park. Along the way we picked up Woolly-necked Stork, Trumpeter Hornbill, Bronze Mannikin and African Pied Wagtail. We drove to a secluded spot on the river in search of African Finfoot but as we got out of the car a small speedboat veered off the main channel into the backwater where we had been heading, so that after traipsing through the mud a solitary Common Sandpiper was our only reward. As we drove back to the Coastal Park we spotted 2 Yellow-throated Longclaw on a distant tree and were able to get good scoped views. We then encountered a few Burchell's Zebra browsing at the side of the road and in the palm trees opposite there were at least 3 roosting Palm Nut Vulture which stirred themselves into activity, almost as if for our benefit, and flew around a little before settling back in an adjacent palm. Meanwhile Red-breasted Swallow put in an appearance, flying low over the tall grasses. Around 12.30 Stefan and Oji left to go to St Lucia, but not before we had taken a walk down a coastal forest track and located African Pygmy Kingfisher and a rather elusive Red-capped Robin Chat (Natal Robin). Next we went back inland to the Ngoye Forest in search of Green Barbet.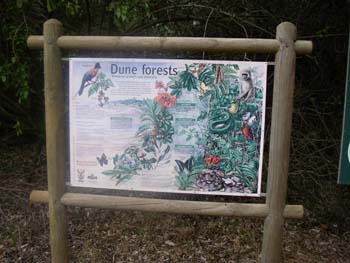 After a picnic lunch we stood at the roadside as Sakhamusi attempted to call and attract the barbet to us. He thought he heard a bird calling in the distance so we set off into the undergrowth in pursuit, but to no avail. We then walked a short distance back down the road to a barely discernable forest track and went about 1km into the forest, again through the undergrowth and up and down some slippery and uneven slopes. After over an hour of fruitless calling and searching we gave up, with only a fleeting glimpse of the back of a Narina Trogon as it flew off ahead of us, to show for our efforts. Needless to say, by now Amanda and I were getting hot, damp and dirty and a bit fed up, as scrambling through forest undergrowth in search of invisible birds is not our most favourite pastime. Returning to the road we did, however, finally come across some activity and saw Ashy Flycatcher, Yellow-streaked Greenbul, African Paradise Flycatcher, Yellow-bellied Bulbul and, a big bonus, Green Malkoha as they moved about the canopy in search of food. Returning to our vehicle we spotted an elegant Lemon Dove in the grounds of the small settlement where we had parked.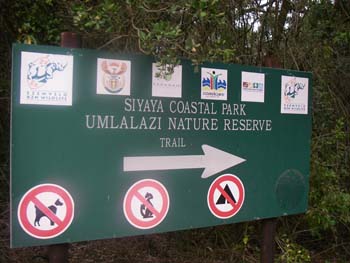 It was attacking what looked like a lump of flat pitta bread with some relish and almost ignoring us as we approached to get excellent views. We also saw a Ngoye Red Squirrel in the nearby bushes before we returned to Eshowe at c16.00. We only saw 51 species today but, having moved to a completely new area and habitat, our trip list moved on 30 to 295. Was our guide value for money? Yes and no – see comments under "Bird Guides". We dined at The George Hotel in Eshowe for the second night. The menu is fairly basic but the food is good and plentiful. It's a backpacker's hotel, so a bit rough and ready, but there isn't really another option in town. On the previous evening we had asked to see the wine list. The young waitress had looked at us, a little perplexed, and disappeared to the bar where the locals were having a rather noisy sing-song. She returned after about 15 minutes with a small piece of paper torn from a notepad and four different wines written on it – just the type of wine, no name and no prices. Needless to say, we didn't bother the following night.
DAY 19 Sunday 26th September
The dog & pig saga continued again this morning for a short while as once again both animals had escaped their respective pens. By now the locals seemed to have found a formula to make the dog let go and the commotion was soon over. After a delicious breakfast, brought across the road to us by Loueen, we set off on our 220km drive to St Lucia. The day had dawned sunny & hot and temperatures soared to 30° by lunchtime. We decided to drive straight to St Lucia as we had visited several of the habitats along the way on the previous day and we arrived a little before noon. Once on the N3 heading north, the road is lined with eucalyptus plantations for miles, making for a boring journey with few birds and we therefore didn't feel we had missed much. We stopped by the bridge over Lake St Lucia as we reached the town. Although it was sunny, it was quite windy, so it didn't feel too hot. We saw our first Hippopotamus as hundreds of Little Swift and a few Swift Tern wheeled around over the water. African Jacana padded about on the vegetation by the riverbank while c20 Ruff fed voraciously nearby and in the distance a Goliath Heron patiently stalked its prey. We drove through the town to the beach and set off down the boardwalk leading back around the water to the St Lucia Yacht Club, where we saw our first crocodiles and c20 Hippo wallowing in the shallows.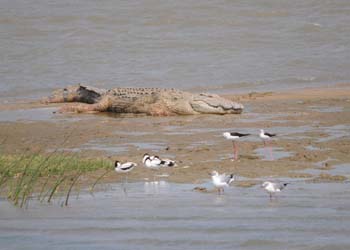 On Crocodile Island, opposite the club, the tern roost was joined by Grey-hooded Gull, 2 Caspian Tern, Pink-backed Pelican and c10 White-faced Duck. On the wader front, the usual avocets, stilts and plovers were joined by c10 Little Stint, Water Thick-knee, Turnstone, Ringed Plover, Curlew Sandpiper, Greenshank, Sanderling and a couple of Dunlin. As we walked back to the car we spotted a Green-backed Cameroptera searching for insects at the foot of the low bushes at the side of the boardwalk. We drove round the other side of town to get to the Yacht Club for a spot of lunch. As the waiter showed us to a table my request for a cup of coffee was greeted with what was best described as a snarl, as he barked "Don't you know we have a water shortage here?". Anyway, he calmed down as we explained we had just arrived in town and we had a tasty snack, but no coffee. A lone Barn Swallow plied its way up and down the channel in front of us as we relaxed with our cold drinks. We then drove around to the Park headquarters and, having left most of our gear in the car because of the heat, set off back down the road with just our bins to the iGwalgwala Trail. Big mistake…..the first thing we saw, about 30 metres into the trail, was an African Pygmy Kingfisher, sitting about head height on a branch right at the side of the track. It didn't seem perturbed by our approach as I only spotted it at the last minute and I could almost have reached out and touched it. That'll teach me to leave my camera behind! Grey Cuckooshrike, Purple-crested Turaco and Red-capped Robin-chat quickly followed as we walked along the trails towards the lakeside. We reached a path with log steps leading down to the water, which we could see through the trees, when I spotted movement on the ground about 3 metres away.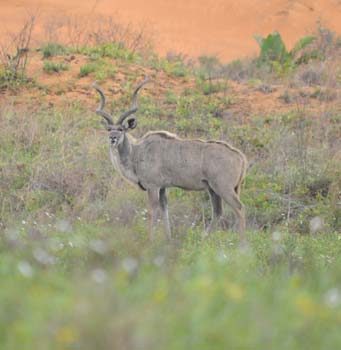 Thinking it was a bird I put my bins to my eyes and was confronted by 2 x 2metre+ writhing Black Forest Cobra as they tussled in the leaf litter, before one of them slithered a few metres away down the path, to be quickly followed by the other. There, they squared up to each other, eyeball to eyeball, one with its hood spread and what looked like a few spots of blood on it. They were still in this position when we stealthily retraced our steps 5 minutes later – mesmerised by the experience and again regretting the absence of a camera. As we neared the road again we came across a small flock of birds foraging in the canopy overhead: Collared Sunbird, White-eared Barbet and Grey Sunbird were joined by Green-backed Cameroptera in a little flurry of activity and we spotted an Acacia Pied Barbet a few metres further on. By now it was 16.00 so we decided to drive into the iSimangaliso Wetland Park towards Cape Vidal and at the first waterhole, around the Pan Loop, we saw White-crowned Lapwing along with 4 Collared Pratincole and the first of many Warthog and Waterbuck. We visited Mission Rocks and Catalina Bay before retracing our steps and although Fan-tailed Widowbird was the only other species of note, we saw lots of other wildlife, including Burchell's Zebra, Common Reedbuck, Buffalo, Crocodile, Hippo, Kudu, Blue Wildebeest and up to 6 White Rhino. We saw 52 bird species today plus lots of other interesting wildlife and our trip list moved along to 305. St Lucia is a bustling, modern resort with lots of shops, restaurants and a thriving local market. The town has a nice feel to it, but we were glad we were only there for one night as there was a much worse water shortage here than anywhere else we had been and running water only happened twice a day for about half an hour at 06.00 and 18.00. Thankfully, at the B & B there were two buckets of water in the room for the loo, but a shower was out of the question. We had dinner at The Fisherman's on the main street: a small unpretentious restaurant, owned by a sea-fisherman, with a mainly fish-based menu. The food is good, simple and very fresh. We decided to drive a few kilometres up to the Wetlands Park gate after dinner hoping to see some night-life but saw nothing until we reached the town on our way back – a Hippo sauntered across the main street in front of us and trotted off down Beach Road – quite surreal and easy to see why we liked it here! O/N iGwalagwala Guesthouse
DAY 20 Monday 27th September
Birding Africa had arranged for us to be guided around St Lucia this morning by Larry O'Dell. I contacted Larry on 26th and confirmed our booking for the next day. He mentioned rain was expected but it would probably be OK as it was due to pass through in the afternoon. He was scheduled to pick us up at 06.30 and we were ready and waiting with our packed breakfast at 06.20 with a light drizzle falling. He phoned at 06.35 to say he wasn't coming as it was pouring down and blowing a gale where he was (less than 5km north of St Lucia). He "didn't want to take our money and not be able to show us any birds". In the event we went to Cape Vidal ourselves, passing Larry's place on the way.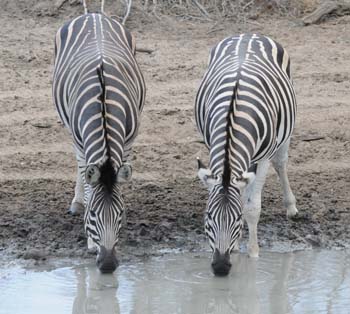 The rain was patchy until c09.00 when it cleared. We saw much the same species on the way as yesterday and picked up c6 Red-breasted Swallow and Wailing Cisticola as we approached the camp site at the Cape. We walked out to the beach to see a small roost of Swift Tern and Brown-hooded Gull with a few Cape Gannet passing by off-shore. The pine trees around the beach and cabins held Brown-hooded Kingfisher, Southern Boubou and Southern Black Flycatcher along with Common Duiker, a few small antelope and Samango Monkey. Before moving on we briefly saw c4 Grey-rumped Swallow with the hirundines overhead. On our way back we decided to go around the Grassland Loop which passes Lake Bhangazi and a short distance from the main road managed to pick up a pair of Senegal Lapwing. Further round the track we came across Little Bee-eater, Black-collared Barbet, Chinspot Batis and Rufous-naped Lark in addition to much of the wildlife we had seen yesterday. We went back into town for a spot of lunch in a coffee shop and then set off for Mkhuze Game Reserve via the Musi Pans. In the event this proved to be quite a detour (over 120km round trip off the main road) and, other than Wahlberg's Eagle, we saw very little on the way. With dusk approaching we didn't stay long, but managed to pick up Yellow-billed Stork, Whiskered Tern and our first Crested Guineafowl. On our way back to the N2 we had our first Martial Eagle and finished up with Crested Francolin as we arrived at our destination, with a total of 323km for the day. We saw 47 species today and our list total moved along nicely to 319. Although dinner was mediocre, we had a good evening as we shared a couple of bottles of wine with Stephan and Oji who were spending their last night here. O/N Banghoek Lodge.
DAY 21 Tuesday 28th September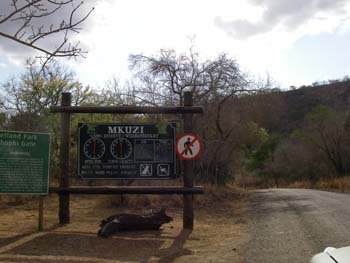 With hindsight, perhaps we should have learned from our experience the previous morning, but we had arranged to meet Larry O'Dell at Mkhuze at 06.30 as he had said he would go there and stay overnight with a friend, so that he could meet and guide us bright and early the next morning. Regrettably we didn't confirm his fee, as the R350 he had asked for the aborted morning in St.Lucia had seemed quite reasonable. When we met him at the following morning I remembered to check his price and he wanted R1000 for the day. This was unacceptable as we could have hired a local guide for R350 for the morning and R500 for the day. Eventually we agreed on R400 for half a day and to keep his costs down, we used our vehicle. Once inside the Reserve we started off by spending well over an hour walking around the campsite by the Mshopi Gate where we saw Kurrichane Thrush, White-bellied Sunbird, Scarlet-chested Sunbird, Purple-banded Sunbird, Southern Black Tit, Golden-tailed Woodpecker, Village Indigobird, Emerald-spotted Wood Dove, White-browed Scrub Robin, Ashy Flycatcher, Crowned Hornbill and African Firefinch to name but a few.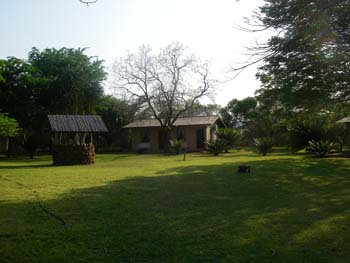 We then moved on to the Mantuma Camp complex and along the way picked up Lappet-faced and White-backed Vulture, Rufous-winged Cisticola, Crested Barbet and Green Wood Hoopoe. Around the camp, whilst eating a surprisingly good picnic breakfast provided by the Lodge, we saw Golden-breasted Bunting, Black Cuckooshrike, Sombre Greenbul, Greater Honeyguide, Terrestrial Brownbul, Bearded Scrub Robin, Black-crowned Tchagra, Common Scimitarbill, Red-billed Oxpecker (unusually a solitary bird perched on top of a dead tree) and Brown-crowned Tchagra. Next stop was the Nsumo Pan and on the way we managed a fleeting glimpse of our only Eastern Nicator of the trip. From the Observation Point/hide we saw Great Egret, African Openbill and several Hippos. By now Larry seemed to have lost the will to bird, so, after a leisurely lunch, we parted company at 13.30 with Larry insisting R550 would be adequate recompense for his time. That made it three times in a row and we had been "stiffed" by our guides! You would think by now we would have learned our lesson – so much for trusting your fellow man! We carried on birding by ourselves and went to the Kumasinga hide to try our luck at the waterhole where we managed to add Yellow-throated Petronia, Green backed Cameroptera and Tawny Eagle to our day's list, taking the total to 75 and our trip list to 351; another good leap forward in new habitat.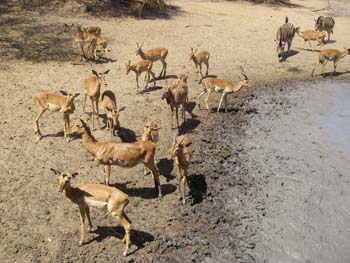 On the mammal front we saw Blue Wilderbeest, Burchell's Zebra, Nyala, Warthog, Impala, Chacma Baboon, White Rhino, Giraffe, Hippo and Leopard Tortoise. For some reason the food was much better tonight. O/N Banghoek Lodge.
DAY 22 Wednesday 29th September
With another full day in the area we decided to return to Mkhuze, visiting the same two campsites, Kumasinga hide and Nsumo Pan to see how we would fare on our own. We had a leisurely breakfast at Banghoek at 07.00 and arrived at Mkhuze at c08.00. We didn't spend as long in the campsites but visited Kumasinga twice, both early and late, and explored Nsumo a little more thoroughly than the previous day and the contrasts were interesting. Larry didn't have any specific knowledge as to where to locate particular species at Mkhuze; he relied on visiting sites where he knew we would see birds. With no other option we worked on the same principle and revisited all the same places with quite different results – Larry had helped us locate 66 species yesterday, whilst today we found 91. At the first campsite by the Mshopi Gate, in addition to birds seen yesterday, we picked up Cardinal Woodpecker, Black Sparrowhawk, African Harrier Hawk, Lesser-masked Weaver and White-winged Widowbird.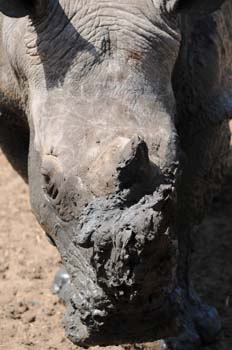 Moving on to the Mantuma Camp area we didn't pick up any new species and then at the Kumasinga hide there were hardly any birds as the waterhole had dried up overnight. As a result, hundreds of mammals were milling around and from time to time, venturing in to the thick mud in the hope of finding some liquid. There is a notice in the hide with a number to phone if the water supply fails – with virtually everyone carrying a mobile these days this was not a problem. Before we left we did however pick up 6 Grey Waxbill, Grey Sunbird and European Roller. Before going out to the Nsumo Pan we decided to have a spot of lunch at Mantuma and as we were driving away afterwards, came across a very confiding Pale (Mousecoloured) Flycatcher feeding on the ground and then hopping up into a nearby small tree. As we drove around today we didn't have the distraction of Larry's constant chatter and consequently we picked up a lot more birds along the roads. On our way to Nsumo we saw Dark Chanting Goshawk, Striped Kingfisher, Lilac-breasted Roller and Brubru. Once there we added Goliath Heron, White-faced Duck, Greenshank, Great White Pelican, Little Egret, Southern Bald Ibis, 3 Collared Pratincole and Whiskered Tern. Moving on to the nearby Nsumo picnic site we saw a pair of Tawny Eagle, Black-capped Heron, Yellow-billed Stork and Red-capped Robin-chat, and as we drove towards Mantuma we came across a single Black-bellied Bustard and Green-winged Pytilia. Today we decided to drive down the airstrip rather than flash by as we had done yesterday and we found c10 Crowned Lapwing plus 3 chicks and a Rufous-naped Lark. As we detoured back to the Kumasinga hide we saw Little Bee-eater plus a lone Giraffe and with the time approaching 16.30 we thought we would settle down for a little late afternoon mammal viewing.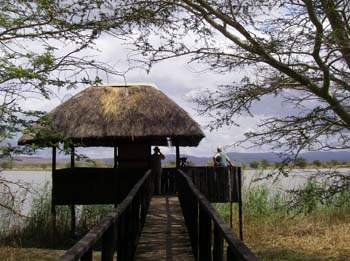 The water tank which supplies the waterhole had obviously been refilled earlier (on our way to Nsumo we had seen two tankers returning from that direction) and the animals which had been milling around aimlessly in the morning had all drunk their fill and moved on. It was very quiet apart from the occasional Impala. However, birds were more plentiful and we saw Brown-hooded Kingfisher, Collared Sunbird, Marico Sunbird and African Hoopoe. In the gathering gloom we drove back to the Guesthouse having seen 91 species today: granted we didn't see either Pink-throated or Green Twinspot, Neergaard's Sunbird or lots of the other mouth-watering species listed as potentials for Mkhuze in "South African Birdfinder" but we did manage 11 new species for the trip and move our overall total on to 362. Perhaps we would have found more of our target species with a local guide; but at the end of the day we were pleased with our haul and had certainly had a much more enjoyable day than yesterday, having driven 119km as opposed to 130km. O/N Banghoek Lodge.
DAY 23 Thursday 30th September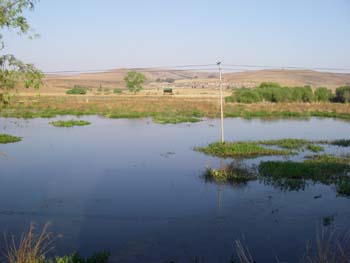 Today we left Banghoek at 08.30 and set off on a longish drive to Wakkerstroom (308km). As we drove to the main road we saw White-bellied Sunbird, Acacia Pied Barbet, Little Bee-eater and Thick-billed Weaver amongst others. Once we reached the N2 we made good time until just after Pongola, where extensive road-works started. However, at one lengthy stop I was delighted to watch a pair of Lazy Cisticola going about their business on the roadside verge just a few metres from the car. At Piet Retief we took the R543 south west and, although we made a few stops along the way, we didn't see anything new and arrived at our destination in the early afternoon. Although we had already seen them, a flock of 30+ Pin-tailed Whydah roosting on the telegraph wires just before town was quite a sight. After settling in to Shed No 1 we decided to visit Wakkerstroom Wetlands Reserve for a spot of birding (now there's a surprise!). The wetlands are quite extensive and there are at least two hides. As we pulled off the road into the small car park a Hamerkop flew by quite low overhead and a Purple Heron was disturbed by our arrival. The usual wetland species were present in good numbers, with a sizeable mixed weaver colony and, as we were leaving, a substantial Long-tailed Widowbird roost.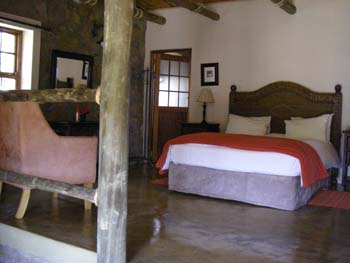 Both Pied and Malachite Kingfisher flew by as we walked along the riverbank to the hide on the eastern side of the reserve and 2 Willow Warbler and a female Red-collared Widowbird also put in an appearance. As it was late afternoon and a hot, bright sunny day, this was not the best option so we relocated to the hide on the western side of the main lake. With the sun now behind us the light was excellent and we enjoyed watching Squacco Heron, Ruff, African Snipe, African Purple Swamphen, Black-crowned Night Heron, LeValliant's Cisticola and a lone Wood Sandpiper. After we had been sitting in the hide for a while an African Rail provided the day's main highlight as it wandered through the reeds at the front of the hide and then quickly "legged it" around the side into thick cover. We saw 61 species today, with well over half of them at the wetlands and our overall total moved on to 368. We had dinner at The Bistro in Wakkerstroom where the food was excellent and retired early at 21.00 in view of our early start and potentially long day in the field tomorrow. O/N Wetlands Country House & Sheds.
DAY 24 Friday 1st October
We met our local guide Lucky at 06.00 walking around the grounds of Wetlands. He was keen to get started and after a short drive into town we headed up into the hills in the direction of Utrecht. Within 20 minutes our first target species was "in the bag" as Lucky pointed out a Yellow-breasted Pipit feeding on a nearby grassy hillside next to an African Pipit, giving a good opportunity to look at the difference between the two species. As we returned towards Wakkerstroom we also saw a pair of Buff-streaked Chat flitting around the boulders at the side of the track.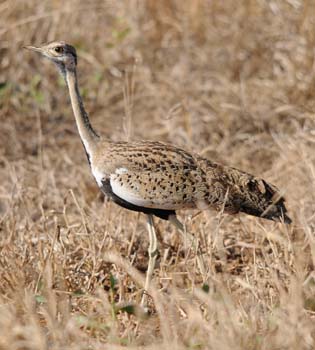 We then turned towards Piet Retief along the R543 where we saw a pair of Peregrine squabbling over what looked like a hare's leg bone with a little bit of flesh attached, as they moved from telegraph post to post. At Dirkiesdorp we turned right and took a track in the general direction of Luneberg and quickly found 5 Barrow's Korhaan, Pale-crowned Cisticola and a single Black-bellied Korhaan whilst a Rufous-breasted Sparrowhawk flew by overhead. Back on the main road we drove back towards Wakkerstroom again and before turning left on the Luneberg road we had Cliff Swallow amongst the hirundines overhead. As we dropped down on the other side of the hills near Luneberg we spotted 3 Blue Crane, a juvenile Wattled Crane, 3 Secretarybird and a beautiful Amethyst Sunbird (one species I never get tired of seeing). On our way back to the R543 an African Harrier-hawk flew overhead and once back on the main road a brief stop near suitable habitat produced a Long-billed Pipit. At 09.30 we returned to Wetlands for a sumptuous breakfast, with Lucky joining us as he is obviously well known here. Suitably replenished, went back into town and took the road past Wakkerstroom Wetland Reserve, where we spotted Intermediate Egret and, heading in the direction of Amersfoort, we set off on yet another long, dusty unmade road. With the town still in sight we picked up a pair of Sentinel Rock Thrush and shortly thereafter, several Crowned Lapwing and a pair of Black-winged Lapwing along with a few Meercat. Although we saw several species we had seen previously and made quite a few stops along the way we were at least 20km along this track before we spotted our first 5 Blue Korhaan; we managed at least 7 more later. A Cape Longclaw posed well at the side of the road and a stop at Lucky's second site for the species produced a pair of feeding Botha's Lark as well as Wing-snapping Cisticola and at least 6 African Quail-finch feeding less than 15 metres from the car.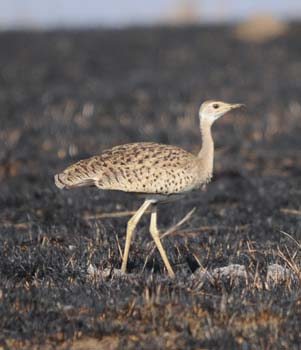 We then left the main track and after several twists and turns and at least a further 10 km we were well and truly lost. Lucky, however, was in his element and on the way to a sizeable lake/dam he showed us Squacco Heron, Wattled Plover, Eastern Clapper Lark and Zitting Cisticola. There were lots of waterbirds about including 3 grebe species, Maccoa Duck, Southern Pochard, Ruff, and c32 Red Phalarope. Moving on, and still lost, we saw Spike-heeled Lark before arriving at a small reserve where Lucky was confident he would find his next target species and, sure enough, we located a single Rudd's Lark amongst many African Pipit, as we drove around a grassy field for at least 20 minutes. It was good to see the bird but I'm not really convinced searching for it in such a manner is doing it much good: it's quite evident from the tracks around the field that we were not the first to use this method. Having twisted and turned on various tracks for miles and miles we were nearer to Wakkerstroom than we thought and we adjourned to the Wakkerstroom Country Inn for a late lunch at around 15.30. The food was good and the drinks most welcome, as was the hour's rest whilst they were consumed. Re-energised, we set off out of town again on the Utrecht road in search of every bird that was out there! In the gathering gloom we didn't manage to locate Eastern Long-billed Lark although Lucky was certain he could hear one calling in the distance, but we did pick up Mountain Wheatear, Black Sparrowhawk and a pair of Grey Crowned Cranes as they flew in to a nearby field to roost. Finally, we had to tell Lucky enough was enough: although he said he had other sites for at least two species we had not seen. It was by now so gloomy we could hardly pick out any colour on the cranes and sparrowhawk. We dropped Lucky off near his home with a haul of 81 species for the day and, in terms of value for money, probably had the best day's birding of our trip. 18 new species, 12 of which were lifers, moved our list total on to 386. Today we covered 318km mainly on dusty tracks, as we criss-crossed the Wakkerstroom area. O/N Wetlands Country House & Sheds.
DAY 25 Saturday 2nd October
With a long journey ahead of us, we had a leisurely breakfast at 08.00 before leaving Wakkerstroom to drive via Piet Retief and Nelspruit to the Kruger National Park, entering by the Numbi Gate and heading for Pretoriuskop rest camp. We covered 449km on a hot, sunny day with temperatures peaking at 38° and reached our destination by 15.00. The journey was uneventful and mostly monotonous with endless plantations of pine and eucalyptus for a large proportion of the way. We only stopped once and didn't see anything out of the ordinary. After we unpacked we went for a drive around the tracks near the camp. We didn't see much bird life as the whole area (at least a 10km radius) around the camp had recently been burned. Highlights were Bearded Scrub Robin, Lazy Cisticola, Common Scimitarbill, Black-bellied Korhaan and Common Swift, with mammals including Kudu, Impala, Burchell's Zebra, Common Duiker and Leopard Tortoise. 37 species for the day and only 2 more added to our list. O/N Pretoriouskop Camp.
DAY 26 Sunday 3rd October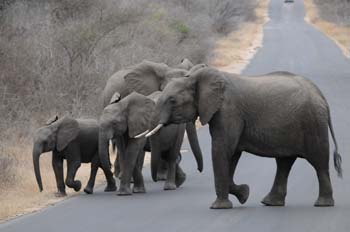 With the park gates opening at 05.30 and closing again at 18.00 we were up early for a full day birding and mammal viewing in Kruger. Habitat here is mainly lowland savannah, grassland and riverine woodland and everywhere was bone dry. After a cool, misty start the cloud burned away by 09.00 and temperatures soared to a high of 37°. Having seen the fire ravaged area around the camp the previous evening, we decided to head off in the direction of Skukuza in the hope of finding a greater variety of wildlife. Our first stop was at the Shitlhave Dam, almost 10km from the camp and things were slow to start off with. As we moved away from the water we spotted a Yellow-throated Longclaw, Burchell's Coucal and Chinspot Batis and just a few metres from the dam another small area of water held a pair of Saddle-billed Stork. Having decided to leave the dam we were now driving round in circles as birds seemed to be moving everywhere and Amanda spotted a Crimson-breasted Shrike in nearby bushes. The bird flew off almost immediately, but after a few minutes scouring the landscape, we managed to re-locate it, perched in a bare tree some distance away: not a species we expected to see so far south in the park, but quite unmistakeable. Before moving on we also picked up Black-crowned Tchagra, Tawny-flanked Prinia and Lilac-breasted Roller.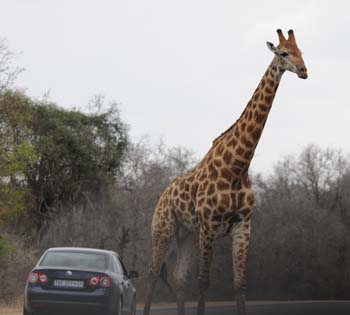 Stopping frequently, as we drove slowly along the H1-1 towards Skukuza, we saw African Grey Hornbill, Brubru, Green-capped Eremomela, Southern Black Tit, Groundscraper Thrush, Green Wood Hoopoe, Curly(White)-crested Helmet-shrike, a pair of Red-headed Weaver nest-building, Grey Go-away-bird, Bateleur, Magpie Shrike, Greater Blue-eared Starling and a single Meves's Starling (another species well south of its normal range). As the day brightened up the birds just kept on coming – a small group of Arrow-marked Babbler harassed a White-breasted Cuckoo-shrike whilst on a rocky outcrop at the side of the road a pair of Mocking Cliff-Chat gave us excellent views. At a small waterhole just before Skukuza we saw numerous Burchell's Starling, Red-billed Hornbill and a small flock of Red-billed Oxpecker milling around the Impala and Warthog drinking there. As we drove on towards the camp we saw our first Purple Roller and, having had a busy few hours, decided it was time for some breakfast. The tables outside the restaurant and shops are on a raised deck overlooking the river where Buffalo and Hippo were browsing. Two large thatched and open-sided rondavels provide several tables and chairs shaded from the sun and also accommodation for fruit bats to roost in their apex. Suitably refreshed, we decided to drive along the H4-1 following the Sabie River and loop back to the camp after c15km via the H12 and the H1-2, in the vain hope of spotting African Finfoot on one of the many slow flowing stretches of river which can be seen from the pull-offs along the road. We had to be content with 3 Hooded Vulture flying low overhead as we left the camp, Plum-coloured Starling feeding in a fruiting tree with several other species and a pair of Black Duck on one of the faster flowing sections of the river.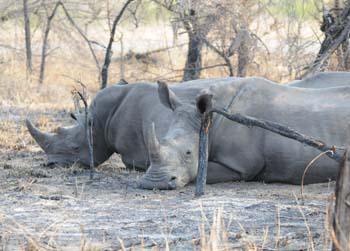 As we approached the H12 turn off and the bridge over the Sabie we saw an African Fish Eagle perched on a nearby roadside tree and a flock of c50 White-backed Vulture were roosting on a sand bank in the river-bed. As we crossed the bridge the vultures decided to take off, almost en masse, providing quite a spectacle. Once across the bridge we spotted 3 Ground Hornbill at the side of the road, taking a breather from the heat of the afternoon, but little else was stirring as we drove back towards Skukuza. Crossing the low level bridge just before the camp we saw several crocodile and Striated Heron crouched low at the edge of the reeds as it stalked some unlucky prey. The habitat around Skukuza and especially to the south is mainly mixed bushveld and acacia and broad-leafed woodland. We decided to return to Pretoriouskop by heading south via the H3 in the direction of the Berg-en-Dal camp and the H2-2 Voortrekker Road. It's difficult to keep track of time when so much is going on all around you and as we returned to our camp it felt as though we were in a race against time with the gates closing at 18.00. The route we had chosen was a little further than we had anticipated, but we did manage to stop several times along the way: bird activity had slowed down a little but there were still plenty mammals about. We saw 4 White Rhino, plus several Giraffe and Elephant, together with numerous Zebra and Warthog. We didn't see many bird species, but what we did see made it well worth taking this route – Brown Snake Eagle, Lesser Spotted Eagle, a pair of Natal Spurfowl, Bearded Woodpecker and 2 Brown-headed Parrot which flew by quickly overhead. We made it back to Pretoriouskop with 20 minutes to spare and had seen 84 species today, taking our trip list total to 417; an increase of 29 once again reflecting the change of habitat and location and possibly the 175 km we had driven. O/N Pretoriouskop Camp.
DAY 27 Monday 4th October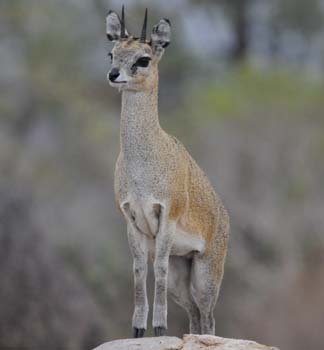 Today we transferred to Skukuza Camp and we were up early once again, following the same route as yesterday morning. As we left the camp around 06.00 there were quite a few Elephants, Impala and Zebra browsing by the roadside and a Hamerkop had joined the Saddle-billed Stork near the Shitlhave Dam. We didn't linger as long as yesterday as we wanted to explore new areas, but we were forced to stop shortly after re-joining the H1-1 as 5 Ground Hornbill slowly and sedately crossed the road in front of us and walked right down the side of the car: this was just one of those moments! Further along a pair of Klipspringer posed on a rocky outcrop as they curiously watched the few cars stopped to admire them. The birds were much the same as yesterday but we did add Dark Chanting Goshawk and both Martial and Wahlberg's Eagle as we neared Skukuza, where we paused for breakfast. New species were a little harder to come by today as we set off along the H4-1 for Lower Sabie. A pair of Black Crake scuttled about at the water's edge and Water Thick-knee looked as imperious as ever on a sandbank nearby. African Firefinch, Jameson's Firefinch, Green-winged Pytilia, Violet-eared Waxbill and Blue Waxbill provided some colour whilst a pair of Goliath Heron relaxed in the tall grass on the riverbank. Black-headed Oriole, Rattling Cisticola and Grey-headed Bush-shrike all put in an appearance as we neared Lower Sabie and without warning a huge herd of c300 Buffalo milled about on the bank across the river, replacing the previously sporadic Bushbuck, Waterbuck and Nyala. Hippo had started appearing in the river now as Purple Heron stood motionless on the riverbank and Brown-headed Parrot flashed by overhead.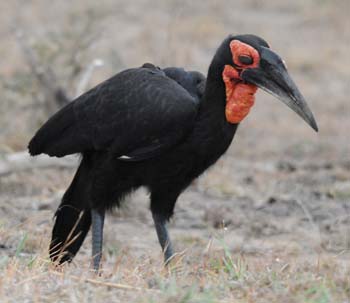 A Southern White-crowned Shrike at first proved elusive and then gave good views, almost posing for the camera. Just before the camp there is a sizeable lake on the opposite side of the road to the river and here we saw (and heard) lots more Hippo, as they regularly breached the surface, whilst on the lakeshore Yellow-billed and Marabou Stork mingled with African Openbill, egrets, herons and ibis to provide quite a spectacle. A lone Wood Sandpiper joined Black-winged Stilt and African Jacana on the muddy fringes. We went into the camp to get some lunch but the café and restaurant service couldn't match the superb view out over the Sabie River from the surrounding balcony. Long queues were moving slowly before sitting down and waiting for ages before their food arrived, so we had a quick drink and bought some cereal bars and cakes from the shop (there were no sandwiches) and beat a hasty retreat back to the lake and the Hippos. The camp appeared to be a victim of its own success, unable to cope with the coach loads of people arriving around lunch time. Needing to book in, unpack and freshen up before our pre-booked night drive, we set off back to Skukuza with a little more purpose and, not stopping as frequently, didn't pick up much other than c9 Giraffe, Crested Barbet, Scarlet-chested Sunbird and Speckled Mousebird. As we approached Skukuza we came across c15 cars, on a short track off the main road, blocking the track and with the occupants trying to get a glimpse of a sleepy pride of Lions in the long grass nearby. We left after waiting in vain for 10 minutes for people to move on.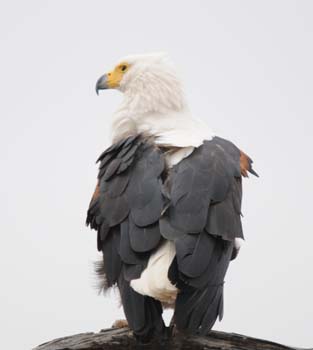 This is one aspect of this section of the park which is particularly irritating: there are lots of people and cars around Skukuza and Lower Sabie and people do not seem to be prepared to just have a quick look at the less common species, take a few pictures and then move on. Some of them even seem to enjoy hanging out of their car windows, pointing at the animals and then looking around at all the unlucky folks on the periphery who cannot see anything….annoying bastards. When driving along it is virtually impossible to stop and look at a bird without acquiring a whole wagon train of cars, with occupants straining their eyesight in an attempt not to miss anything. Rant over!
The sunset/night drive leaves the camp around 17.30 as the light is beginning to fail and usually lasts for about 3 hours. We set off with about 20 others in an open topped safari bus and made straight for the spot where we had previously not seen Lions. With the added height of the bus and a pushy guide/driver we were able to watch for a few minutes as the pride started to move off, one at a time, into the gathering gloom. When everyone had managed to see at least one lion we quickly moved on to the low level bridge over the river on the H1-2. By now the camp gates had closed and thankfully the volume of traffic was therefore much reduced and we were able to stop on the bridge, admire the view and watch a few birds, including several Tufted Guineafowl, going about their own business. In a blur of movement a Leopard shot out of the long grass less than 6 metres below us and grabbed a Guineafowl, dragging it back into the grass by its neck. Although this only took about 5 seconds, time seemed to stand still for a few minutes as we were all mesmerised by the action taking place…..so quickly that no one was able to raise a camera and get a shot off. Totally amazing! We watched for a further 10 minutes but couldn't see any movement in the long grass and by now it was almost dark.
We retraced our steps towards where the Lions had been seen and as we moved onto the track at the side of the main road we could see another tour bus in the gloom ahead and, between us, 4 male and 3 female Lions walked calmly down the track and past our vehicle. We moved slowly back to the main road with the leading Lions and then the whole pride settled on the road around us whilst powerful torches picked them out one by one. We eventually moved on along the H4-1 in the direction of Lower Sabie and almost immediately came across a herd of c16 Elephants as they browsed the roadside trees and crossed the road in front of us. Only an hour gone and this was going to be very hard to beat. The next two hours seemed to drag by as very little happened and despite driving c30 km the only animals seen were a solitary hare and genet, a few Chacma Baboons and Kudu and several mainly submerged Hippo. Our fellow passengers continued to sweep back and forth along the roadside with powerful torches, but the magical first hour seemed a long time gone well before we got back to the camp. During this time our guide, Hubert, seemed to spend a lot of time chatting to the young lady sat next to him in the front of the vehicle, but I distinctly remember him telling us all at some stage that an Elephant ejaculates 15 litres of sperm (every time!) and also gets rid of 170kg of dung per day. Just like schoolboy humour, such facts always stick in the mind and amuse me. Before the night drive we had managed to see 90 species today and added another 7 to our overall total which now stood at 424. O/N Skukuza Camp.
DAY 28 Tuesday 5th October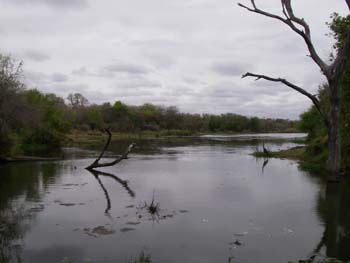 Today we were moving on, yet again, to Satara in central Kruger and after a few early mornings we decided to take a break and enjoy a leisurely breakfast in the camp for a change. As we walked to the restaurant Purple-crested Turaco flitted about in the shrubs at the side of our chalet, Black-headed Oriole called from the tree branches above and Bateleur floated lazily overhead. Suitably energised, we initially set off along the H11 towards the Paul Kruger Gate so that we could visit the nearby Lake Panic Hide. We spent a truly magical hour here watching Goliath Heron less than 30 metres away, Great Egret, Striated Heron, African Darter, both Malachite and Brown-hooded Kingfisher, a pair of Black Crake with a juvenile and two little chicks, Kurrichane Thrush and Hippo, Crocodile, plus a small herd of 8 Elephant. Nothing new, but all at close quarters in a peaceful and tranquil setting….you just can't beat it. After the two hottest days of our trip, both yesterday and today were cloudy with temperatures peaking between 24° and 28°. The journey north was relatively short (118km in total today) so we took our time along the H1-2 and managed to pick up Wahlberg's, Tawny, Brown Snake and Lesser Spotted Eagle as well as the seemingly ever present Yellow-billed Kite. Much nearer to earth a single male Lion, Crested Francolin, African Hoopoe, Orange-breasted Bush-shrike, Retz's Helmet-shrike and Magpie Shrike kept us interested on the way to the Tshokwane picnic site, where we had a spot of lunch surrounded by birds, including Burnt-necked Eremomela. Moving on along the H1-3 we stopped at Mazithi where there is a sizeable patch of water.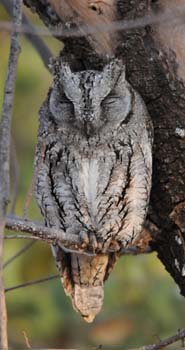 Here we saw Woolly-necked Stork and Black Heron alongside White Rhino and Waterbuck, with two White-headed Vulture deciding to take flight almost as soon as we had stopped and several roosting White-backed Vulture. There were good numbers of Red-breasted Swallow and Little Swift over the water and we managed to pick out at least one Mosque Swallow. As we approached Satara the habitat started to change, becoming much more open and we picked up White-breasted Cuckooshrike, White-winged Widowbird, Brown-crowned Tchagra, Swainson's Spurfowl and Sabota Lark along with Buffalo, Blue Wildebeest and Burchell's Zebra. Reaching Satara by mid afternoon we decided to get the car cleaned and sort out some laundry. Whilst we walked around the camp, trying to ignore the thousands of Little Swift overhead, we spotted an African Scops Owl roosting at about head height in a small roadside tree. Sitting outside our chalet having a relaxing drink, we were joined by Red-billed Buffalo-weaver, Crested Barbet and Natal Francolin virtually around our feet. We saw 80 species today and pushed our list total on to 432. Stephan and Oji had contacted us as they had decided to stay an extra night in the park and, after dinner, they invited us to meet their new Spanish friends, Fernando and Roberto. Their chalet overlooked the camp waterhole and perimeter fence and as we were enjoying a bottle of wine together their friends dropped in – Fernando and Roberto were Spotted Hyena who patrolled the perimeter fence each evening! Another magical moment for the scrapbook. O/N Satara Camp.
DAY 29 Wednesday 6th October
After a leisurely breakfast in the camp we set out to explore the S100 N'wanetsi River Road. We hadn't gone far when we bumped onto Callan and Diedre of Birding Africa, who were leading a Limosa tour in the area. Our paths had already crossed briefly at Wakkerstroom and they were due to catch up with us again at Mount Sheba.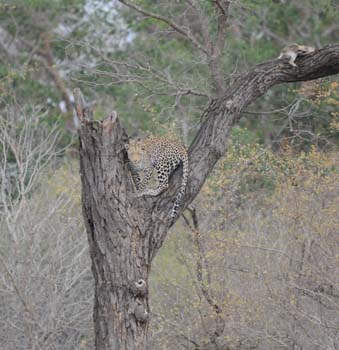 Callan pointed out a bare tree about 100 metres away with a dead Duiker sprawled across a large horizontal branch and told us they had been watching a Leopard there about 20 minutes earlier. They were returning to camp for breakfast so we decided to move in to their spot and hang around to see if the Leopard returned. As we waited a lone Spotted Hyena, Sabota Lark and an African Grey Hornbill helped us pass the time. Eventually after an hour, Amanda spotted movement as a Leopard stealthily approached and then climbed the tree. Despite us remaining still and being quite some distance away, it was quite wary and having reached the fork in the tree with its prey almost within reach, it turned around to watch us. After a few minutes it climbed down the tree again, leaving its prey behind, and sloped off into the longer grass. Yet another magical moment. We decided to leave the Leopard in peace and continued along the S100 to the S41 and the N'wanetsi picnic site. Along the way we came across Namaqua Dove, Croaking Cisticola, Marico Flycatcher and a mixed flock of Long-tailed Paradise Whydah and Red-billed Quelia feeding in the short grass at the side of the road. Around the water below the picnic site we saw Striated Heron, Black Crake, African Openbill and Woolly-necked Stork. On the way back to Satara via the H6 we spotted a large flock of Chestnut-backed Sparrowlark feeding on the ground by the roadside, together with Red-billed Quelia.
A little further along we stopped for a pair of Ostrich walking along the road with 9 young chicks and a Rufous-naped Lark fairly trembled with passion as it sang from the top of a small dead-looking bush nearby. Only a short distance passed before we stopped yet again; this time for a Bateleur helping itself to the remains of a Leopard Tortoise in the middle of the road with a Cape Glossy Starling looking on enviously. Back on the H1-3 Amanda spotted 2 Brown-headed Parrot as they flew into a roadside tree and at last we were able to get a proper look at them as all previous sightings had been a quick flash and a call overhead. Next we went down the H7 towards the Orpen Gate and took the S39 to Timbavati picnic site. Birds of note were Burnt-necked Eremomela, Southern White-crowned Shrike, African Harrier Hawk, Red-headed Weaver and numerous White-backed Vulture nesting in the tree tops. Heading back to the main road along the S40 we managed to pick up a photogenic Red-crested Korhaan by the roadside, a Burchell's Coucal and, as we neared the camp, 3 Marabou Stork. Back at Satara around 17.30 we enjoyed a welcome cuppa and a beer as we watched the waterhole for the Double-banded Sandgrouse, regular there at dusk. 79 species today with our overall list total moving on to 439. O/N Satara Camp.
DAY 30 Thursday 7th October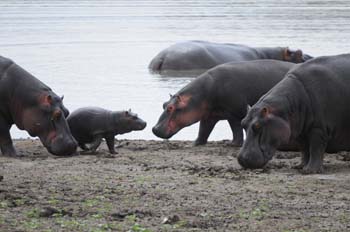 Walking around the camp this morning we managed to spot an elusive Grey-headed Bush-shrike as it continually flew away from us every time we tried to get a good look at it. We enjoyed another leisurely breakfast and thinking (fools!) we only had a relatively short journey today we left Satara around 08.30 and set off north along the H1-4 to briefly explore the more open plains, as we had not yet managed to get in this direction. We stuck to the main road before turning round after about 20km and on the way saw quite a lot of mammals (but nothing new) including a sleepy pride of 7 Lions. Birds included vultures, rollers, larks, doves and eagles; again, nothing new. Travelling back past the camp we took the H7 to the Orpen Gate, but didn't get far. As we approached the large expanse of water at Nsemani I spotted a small raptor perched in a roadside tree and as we pulled up, was delighted to discover it was a Little Sparrowhawk; not a lifer, but a beautiful little bird nonetheless. For some reason the Hippos were out of the water this morning, presenting an excellent photo opportunity as they were accompanied by a young calf. Time and tide etc….we had to move on and stopped for very little other than a Red-crested Korhaan and the first and only Black-backed Jackal we saw on our trip.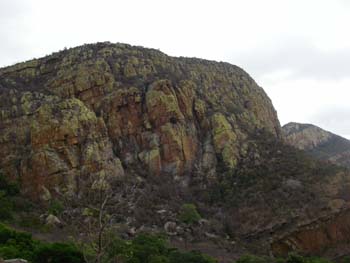 Shortly after we left the Orpen gate I noticed a waterhole nearby, where a track ran parallel to the road. As there were tyre tracks off the road across to the track I decided it might be worth taking a look at the water. There were a few animals and birds but nothing much other than a Marico Sunbird. Imagine my delight 10 minutes later, when we couldn't get back to the road as the strip between the track and the road was just too steep, even for our 4WD. First we went back towards Orpen but the track deteriorated rapidly. Then after executing a 10 point turn, we went back and carried on in the opposite direction and that also deteriorated rapidly. Finally, after about 20 pretty hairy minutes we came to a break in the bank between the track and the road which someone had kindly blocked with a large fallen tree. Seeing no end to the track, I got out and somehow managed to lift the tree out of the way and get back on the road. We got some pretty strange looks from a passing farmer as we tried to cross back to the road and I expected the Park Police along any minute – not one of my better decisions during the past month. Somewhat sheepishly I carried on out of the park on the way to the Abel Erasmus Pass, the only known breeding site of the rare Taita Falcon in South Africa.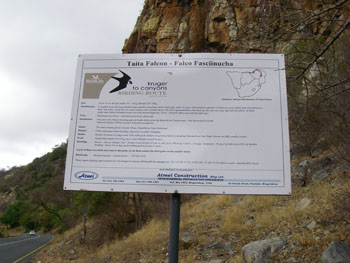 When we arrived at the site there was no sign of the bird so we phoned the guide, Michael, at the number on the Notice Board. We managed to see Mocking Cliff-chat, Cape Rock Thrush, White-bellied and Collared Sunbird, Cinnamon-breasted Bunting, Mountain Wagtail and Jameson's Firefinch while we waited with Michael, but it was 2 hours before the Taita Falcon eventually put in an appearance, giving good views as it perched on the rock face above our heads. We left the site at 16.00 and decided to have a quick look at the Blyde River Canyon, without realising how big a detour it was to Pilgrim's Rest and Robbers Pass. All told we clocked up 323km in reaching Mount Sheba and travelled the last 15km in the dark (at least 12k of this is on one of the roughest tracks we travelled in South Africa). Mount Sheba itself is a super place – a true 4* hotel. Only 64 species today but 3 of the 4 we added to our overall total were lifers. O/N Mount Sheba Country Lodge.
DAY 31 Friday 8th October
The main habitat of the Mount Sheba Nature Reserve is Afromontane Forest on a high escarpment (c1750 metres) and it presented a final opportunity to pick up a few new species before we returned to the UK. Trying to make the best of our day here we were up early and out by 06.00 in brilliant sunshine looking around the hotel grounds. A few Grey-rumped Swallow joined Rock Martin, White-rumped Swift and Greater Striped Swallow overhead. Within 5 minutes of venturing out, cloud started rolling in over the hillside and 10 minutes later we were enveloped in low cloud. We decided to walk down the hillside at the back of the hotel and follow the track into the forest by Bungalow No1. Despite the change in weather there were still a few birds about, but they were quite elusive. An Olive Bushshrike called from the thick roadside vegetation giving brief glimpses from time to time, whilst a Knysna Turaco was even more elusive: all I saw were the diagnostic red wing panels as it flew away from us into even thicker woodland. We returned to the hotel at 07.00 for a welcome breakfast as a Samango Monkey loitered on top of the hotel buildings and a flock of c50 Swee Waxbill fed on the hotel lawns.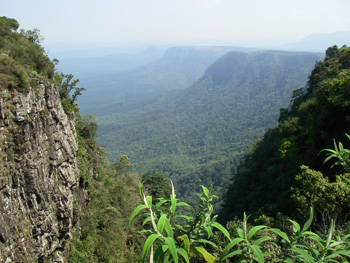 Suitably refreshed and with the weather slowly improving, we decided to go back into the lower forest and go along the track which follows the stream through the valley bottom. Birds were still few and far between but we did manage to pick up Yellow-breasted Apalis, Yellow-throated Woodland Warbler, Cape Batis and a fleeting Narina Trogan as it flew along the path in front of us. By 10.00 the cloud had cleared so we decided to drive out of the reserve and take a proper look at the Blyde River Canyon after our flying visit yesterday afternoon. On our way up the road a few hundred metres from the hotel we came across Callan and his group watching a Blue-mantled Crested Flycatcher and managed to get a brief glimpse of the bird as it foraged in dense vegetation on the hillside below us. Bar-throated Apalis and Yellow Streaked Greenbul were much more accommodating as they flitted through the foliage around us. As we came out of the forest on to the more open hillside we saw Drakensberg Prinia, Cape Longclaw and Wing-snapping Cisticola. On our way to the canyon we stopped at Harrie's Pancake House on the main street in Graskop for one of the most enjoyable culinary experiences of our trip. On our way to the God's Window Viewpoint we didn't see many birds, but did manage to spot Grey-headed Bushshrike and Southern Black Flycatcher.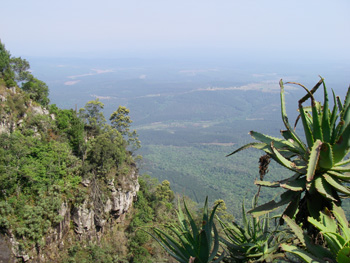 The only raptors we managed to see around the canyon were Jackal Buzzard (almost inevitably) and Black-winged Kite. The views were, however, spectacular despite being a little hazy, as we climbed through the rain forest right up to the top, with a few stops to catch our breath along the way. Despite a gloomy start to the day it was now bright and sunny with temperatures hitting a very pleasant 28°. On our way back to the hotel I decided to walk the last 500 metres to see if I could get a better view of some of the species which had proved so elusive earlier. I soon spotted the flycatcher, but again it wasn't very co-operative and while I was trying to get a better angle to see it, I managed to spot about one third of a White-starred Robin….don't you just love skulking woodland birds! Despite plenty of walking today (we only drove 136km) 35 species was all we could manage and the overall list did move on to 447 but with some very dodgy sightings, especially for two out of the four new birds, which were all lifers. O/N Mount Sheba Country Lodge.
DAY 32 Saturday 9th October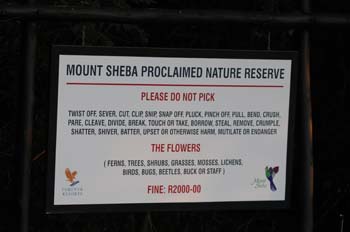 Unhappy with the views I had had of two of the birds yesterday and with at least one more species I wished to catch up with, I decided another early morning start was the only solution. Amanda chose the more genteel approach of a lie-in and a leisurely shower and breakfast: I think it's more likely it was the attraction of a hair dryer in the bedside drawer at the hotel – a first for the trip! Undaunted, I was showered and out, walking up the road from the hotel into the forest by 05.45 (totally alien to my generally sleepy nature in the morning). By 06.15 I was beginning to doubt my sanity as I hadn't heard a single bird. I needn't have worried; as the sun appeared round the hillside and lit up the forest, birds began to call and the place came alive. First to show were Dusky Flycatcher, Cape Batis and Cape White-eye, then Yellow-throated Woodland Warbler, Bar-throated Apalis and Southern Double-collared Sunbird joined in the action. Overhead I heard a woodpecker searching for grubs on the mossy branches and eventually located a pair of Olive Woodpecker which were quickly followed by Grey Cuckooshrike and Yellow-streaked Greenbul. All super birds, but still, not the ones I was after.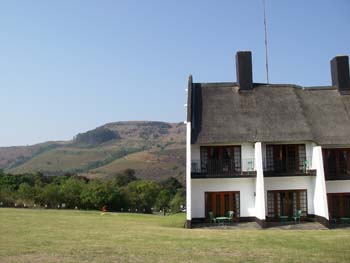 As I moved down the hillside a little, I heard Blue-mantled Crested Flycatcher calling overhead and was able to watch the bird moving through the foliage for at least 5 minutes: much better views than yesterday. A grey-headed Bushshrike came into view and whilst I watched it, I heard a White-starred Robin calling nearby. It took me a few minutes to locate the bird, but when I did, it moved on to a small branch overhead, out in the open and again much better than yesterday. I was able to watch it calling for several minutes: what a super little bird! I heard something moving overhead and looked up to see a pair of Knysna Turaco fly over the road and land in a tree on the slope just above me. One of the birds quickly disappeared into the dense foliage but the other stayed out in the open, preening and just looking magnificent for a couple of minutes. How could things get better? My main target this morning was Orange Ground Thrush. I had heard a couple of birds calling intermittently for the last 20 minutes or so but they had been some distance away. I then heard a call much closer and tried to imitate it (not too difficult actually, as it turned out) and almost immediately a bird flew over my head and across the road into a tree which very conveniently had quite sparse foliage. It called there for about a minute and then crossed the road into another tree and carried on calling. I watched it for at least 10 minutes before deciding enough was enough and retreating down the hill to leave the bird in peace. Was it only 07.15? What an hour! Truly magical.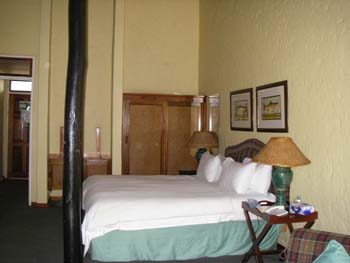 I walked back to the hotel on a high and, seeing Amanda on our balcony with a cup of tea in her hand, gave her a cheery wave. When she barely acknowledged me I should have guessed all in the garden wasn't rosy. When I left she had been sleepy and didn't want to get out of bed and being security conscious, I locked the door and took the key with me. Amanda got up not long after I left and turned on the shower. When she went back into the bathroom a few minutes later it was like a sauna and there was no cold water running from the taps. She tried the shower several times over the next 20 minutes before her patience ran out and she called the hotel reception. She was advised someone would be along shortly to try out the taps, so explained quite calmly that she knew how to switch a tap on and could differentiate between hot and cold. She also advised reception that whoever came along would have to bring a key as she was locked in the room by an inconsiderate husband who was out enjoying himself, birding. By now she had realised what was happening: hotel staff were washing guests' cars at the rear of our building and their hose pipe was using all the hotel's cold water supply. Of course, she couldn't get outside to ask them to stop. In a rush, in case someone did come along to try the taps, she decided to have a good wash in the bathroom sink and used almost all our supply of bottled water to cool the hot water down.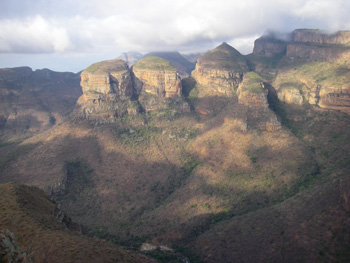 The water in the hills is very soft and promotes a lot of soapy lather. How do you rinse off when you have hardly any water other than scalding water from the hot tap? She was dreading it raining later in case she started foaming all over! To make matters worse, we were on an overnight flight and it would be at least 36 hours before the next chance of a shower……and here I was, all smiley and happy. By the time we went down for breakfast a little after 08.00 she had started to see the funny side of things until an hotel manager came across to our table and asked if everything was OK. Silly boy! And the moral of this story is……If you want a relaxing morning and leisurely shower at Mount Sheba, don't even try. Go out birding instead and wait till you get home to use a hair dryer.
We left Mount Sheba at 09.00 taking the R533 to Lydenburg (Mashishing) and then heading towards Dullstroom on the R540. Driving along we saw most of the usual suspects including Speckled Mousebird, Drakensberg Prinia and Long-tailed Widowbird. About 8km before Dullstroom we turned right onto a track which crossed the railway line by a sign for Nederhorst and then headed off into the hills. We drove for about 9km along here and saw single Blue Crane and Southern Bald Ibis, flocks of Pied Starling, Bokmakerie, Mountain Wheatear, African Spoonbill and Crowned Lapwing. Rejoining the main road we had a spot of lunch in Dullstroom before getting under way again and shortly outside the town we came across a lone Secretarybird in a roadside field, just as it caught and quickly devoured its prey.
We were soon on the N4 and then the N12 heading towards Johannesburg. Driving along the N12 and about 30/40km from Jo'burg, we came across a small wetland with a large lake on the south/left-hand side of the motorway. As we could see lots of birds on the water we skidded to a halt in a convenient roadside pull-off and quickly scanned the birds as the car continually swayed and was buffeted by the back draft of the lorries speeding by just a couple of metres away. We picked up 14 species of duck, ibis, grebe and wader, as well as a final new bird for the trip with 3 White-winged Tern. We saw 57 species today and finished up with an overall total of 449 species plus another 4 which were heard only.
The journey from Mount Sheba to Johannesburg wasn't as bad as we expected. Although we covered 375km this was mainly on good roads and motorway and only took a little over 5 hours, if you exclude the birding and lunch stops. The day had been hot and sunny with temperatures peaking around 33° but our luck changed as we reached the airport turn off on the N12. There were road works and standing traffic and we set off on a diversion; after the first sign there were no more…..we nearly got lost, but luckily we had plenty time. Using the incoming planes to keep us heading in the right direction, it took us about an hour to get from the N12 to the airport, which is no more than 5km away. Our flight (BA0056) left Terminal A at 20:15 and arrived in London Heathrow at 06.20 the following morning, leaving us plenty of time to catch our connection to Manchester, which was just as well really as the security and immigration checks now in place in London seemed to take an age. Our passports were checked at least 6 times as we were subjected to eye scans, x-rays (without shoes, belts etc) and several baggage checks. I know we were crossing a border into the UK but we had come straight off a BA flight, never left the secure transit area and were boarding another BA flight. Us Brits never seem to choose the right battles to fight, do we?
BIRD GUIDES
Dalton Gibbs 9th and 12th September:- Cape Town and Cape Peninsula & Hottentots Holland to Betty's Bay.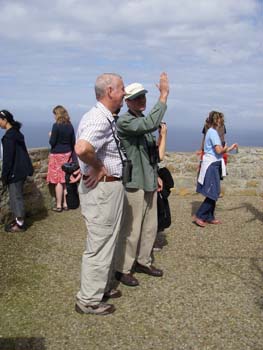 We both enjoyed Dalton's company and we found him most knowledgeable on plants, mammals and South African history as well as birds. Very good with bird calls and discussed our target birds before taking us to several habitats in an attempt to maximise our time with him. I would have no hesitation in going out with Dalton again.
Otto Schmidt 10th September:- Western Cape.
Otto was a little more reserved than Dalton and didn't appear to be too interested in our targets. He didn't seem to be as proficient as Dalton in picking up bird calls but could identify species when located and we did have our biggest daily list total of 97 with him. In the light of past experience I'm always a little wary when a guide brings his own camera with him.
Bruce Dyer 11th September:- Pelagic.
Good with bird ID but birds didn't seem to be the only thing on his agenda. Was very friendly with boat skipper and spent a lot of time talking to him. Whilst we were following trawlers, both spent quite a bit of time hooking dying fish at the side of the boat. When we got back to Simon's Town Bruce hardly had time to say cheerio as he rushed off to get his cool box for his catch of the day.
Malcolm Gemmel 22nd and 24th September:- Creighton and the Xumeni Forest.
Good with bird calls and ID. Although he was keen to find out which were our target birds, he didn't always follow up on calls from species on our wanted list and spent at least half an hour trying to attract/find a Narina Trogon, which we had seen before. Personable and interesting bloke, obviously old school and ex Army and could appear a bit brash at times.
Stewart McLean 23rd September:- Sani Pass.
Stewart was pressed into action at the last minute for the Sani Pass trip. He is very good with bird calls and ID. He found the greater majority of our target species. He is good company and made sure he involved all 4 members of the party throughout the trip. Altogether an excellent guide.
Sakhamusi 25th September:- Eshowe.
Not too bad at finding target species and quite good with bird calls. He came across as being a little complacent and greedy. We were quoted R350 for half a day and R500 for a full day with him. Stephan and Oji wanted to join us for the morning and Sakhamusi insisted on R350 for the morning plus a further R350 for the afternoon. The morning lasted until 12.30, we had half an hour lunch break then spent 2 hours crawling around the undergrowth in search of a Green Barbet that always seemed to be calling a little too far in the distance. We were back in Eshowe shortly after 16.00. Not much of an afternoon's birding for R350. I don't think I would consider going out again with Sakhamusi.
Larry O'Dell 27th and 28th September:- St Lucia & Mkhuze.
Larry let us down when he didn't turn up for the morning's birding planned for St.Lucia. We decided to give him the benefit of the doubt and asked him to guide us in Mkhuze the next day. He wasn't remotely interested in our targets. His plan for the day was to visit several well known spots in the park and see what was about. He did tell us where we could see lots of birds in St Lucia and said if we let him know in advance, if ever we came back to South Africa, he would stake out the area to find out where the specialist birds were. On several occasions he called out birds then re-identified them and even then he made several incorrect IDs. He frequently used the "old names" for species as he said he couldn't see why the names had to be changed. Overall he talks a good game and is good at name dropping, but he appears very complacent and I don't rate him as a guide.
Lucky Ngweny 1st October:- Wakkerstroom.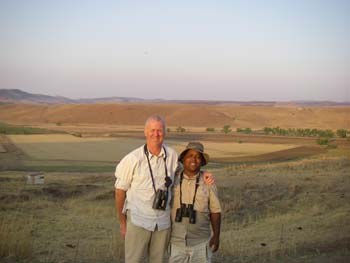 Probably the best value for money of all our guides at R300 for half a day and R400 for the full day and he really does bird from dawn to dusk, apart from breakfast and lunch breaks. Lucky is excellent with his own particular species and diligent in his search for all of them. He is good company and we both really enjoyed our day out with him, despite a few idiosyncrasies. I can thoroughly recommend him to anyone visiting the Wakkerstroom area.
Michael Kumako 7th October:- Taita Falcon site.
Michael knows his own birds well and was able to show us a few other good species while we waited for the falcon to put in an appearance. His knowledge of birds in other areas is a little limited, but we enjoyed his company and without him, probably would not have had the patience to wait for the bird and missed it.
SUMMARY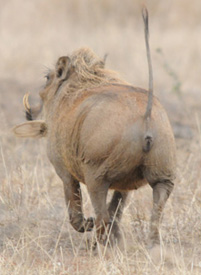 This was the longest holiday we have taken to date and we thoroughly enjoyed it: indeed it was Day 31 before either of us thought of being home. We enjoyed the country, the scenery, the people, the birds, the wildlife, most of the food and overall it is difficult to think of any worthwhile negatives. Before we left, Amanda asked how many birds I was hoping for and I said I would be very happy with 400 species and 150 lifers. Having achieved 449 species and 163 lifers speaks for itself. We also saw 53 mammal and 11 reptile species. Moreover, given the chance, we would go back to the Cape and the Kruger as soon as possible. Knowing that we had Birding Africa and Marje Hemp available locally to help should anything go wrong was a big plus and I would happily recommend their services to anyone who wished to undertake a self-drive tour like ours.
Wildlife photos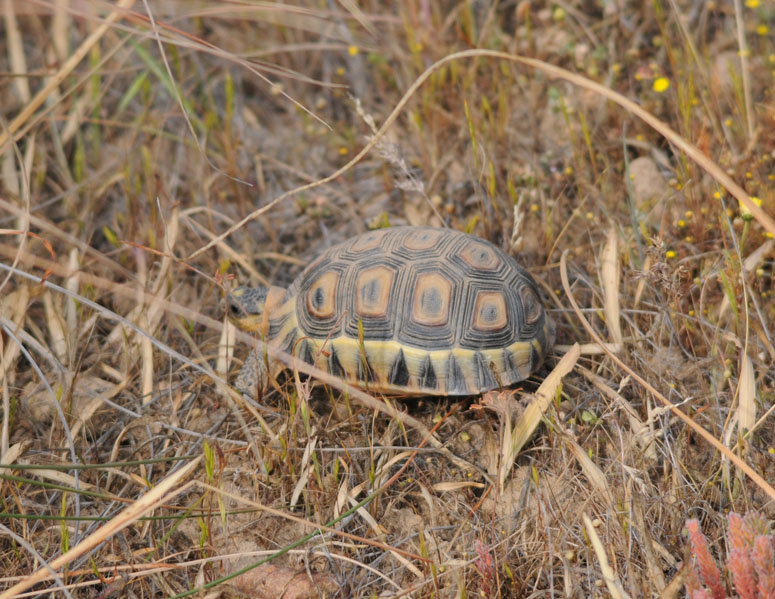 Maps