INTRODUCTION
Having cut our early birding teeth between the Dovey and Mawddach estuaries or from Barmouth to just south of Aberdyfi, it is an area we periodically return to and one we feel we know as well as any.
In fact we know of a Pied Flycatcher nest site that has been occupied every spring for at least 30 years, a small stand of oaks that have contained at least a couple of nesting Redstarts since we can remember and a treetop Raven's nest that has been occupied for at least 15 years. A couple of days and we can top up with many nesting migrants as well as resident birds; a bird list approaching 80 is not impossible.
DIARY AND SITES VISITED
DAY 1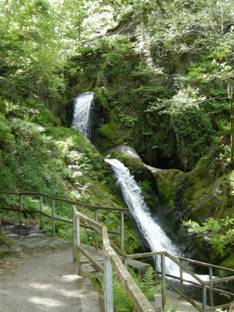 In order to maximise our time spent in the field and to miss the several centres of commuter traffic, we set off at 06.00hrs on May 25th. Our first port of call was a spot on the single track road between Lake Vyrnwy and Dinas Mawddwy where we have had Ringed Ouzel in the past. Alas this year the Ouzels were not to show, however compensation was gained with a hunting male Hen Harrier, a Buzzard that hung on the wind for ages, numerous Wheatear and Meadow Pipit that seemed to dispute every inch of each others' territories, even in the vastness of these upland moors. After a quick pit stop at the Little Chef for an 'early starter' breakfast which set us up for the day we were soon climbing the stone steps and tracks that make up Dolgoch Falls ravine. This has always been a favoured birding spot for us and this visit was not going to disappoint, with many old favourites putting in an appearance.
Birds of Dolgoch Falls: Dipper, Grey Wagtail, White Wagtail, Wood Warbler, Chiffchaff, Willow Warbler, Blackcap, Great Spotted Woodpecker, Nuthatch, Pied Flycatcher, Wren, Great Tit, Blue Tit, Robin, Dunnock, Blackbird, Song Thrush, Chaffinch, Greenfinch, House Martin, Swallow, Cuckoo, Raven, Magpie and Rook were all encountered, with both Wood Warbler and Pied Flycatcher numbers holding up well.
We were slightly disturbed by the obvious new nest box scheme that has occurred, with some trees sporting several of these bright shiny boxes. Dolgoch is a typical mixed Welsh woodland dominated by sessile Oaks. The woodland has not been rigorously managed so there are many old decaying trees; many standing and some fallen. We would guess that at least one third of all the trees offer some form of nesting opportunity. The introduction of so many nest boxes we therefore feel was both unnecessary and potentially harmful. This RSPB scatter-gun approach, which this scheme seems to follow, is fine when food is plentiful; but in years when it is not, the artificially high numbers of nesting birds can cause many nests to fail and will continue to do so as long as the birds continue to try to re-nest. Incidentally, we did not see any of the nest boxes being used.
On leaving Dolgoch we took the old gated road through Abertrinant, round the back of Bird Rock and into Abergynolwyn. This narrow road has in the past yielded Cuckoo, Chough, Red Kite, Buzzard and many of the small iconic birds of Wales. Today was to be a disappointment as the only birds encountered were Wheatear, Meadow & Tree Pipit, with Swallow and House Martin hawking around the various farms we passed.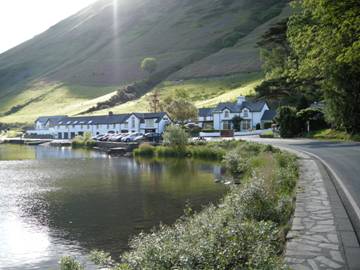 Time was pressing on and we were in need of a cup of tea so we decided to travel the couple of miles to our chosen accommodation, the Ty'n y Cornel, a hotel we were very familiar with as we have stayed there on several occasions previously. Boasting a recent change of ownership we were keen to see what changes/improvements had taken place. Although we had booked a standard room we were escorted to room number 7. This comprised of a conservatory, a TV lounge, a double bedroom with a single bedroom attached and an en suite bathroom; 'very impressive'. With tea making facilities provided and drop scones courtesy of the management, we refreshed ourselves before heading off to another favoured birding site, the old army base of Tonfanau. A gate, barring vehicular access down to the old railway bridge on the Dysynni estuary, was a new addition. Undaunted we crossed the railway at Tonfanau station and walked south along the headland until we reached the estuary. From here we followed the river for several hundred metres to the old bridge and walked back up the lane where vehicular access is now barred. With several Skylark displaying in a clear blue sky and again Wheatear and Meadow Pipit skirmishing all along the walk and with warm sunshine on our backs, it was good to be back. As both the beach and the Dysynni shoreline is made up of shingle, it's great to scan ahead looking for both Ringed Plover and Oystercatcher sitting on nests.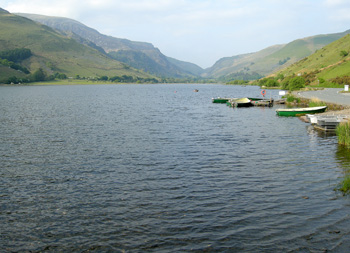 By making a mental note of the position of the sitting birds before they slink away, it's possible from our elevated position and with the aid of binoculars to locate some nests: some still containing eggs and some with young. Even with bins and locations carefully pinpointed, successful nest spotting is less than 50% - a testament to the birds' ability to camouflage their nests.
Birds of the Dysynni Estuary: Ringed Plover, Oystercatcher, Dunlin, Common Sandpiper, Eider, Shelduck, Mallard, Lapwing, Cormorant, Grey Heron, Mute Swan, Wheatear, Meadow Pipit, Skylark, Sand Martin, Swallow, Swift, Whitethroat, Chiffchaff, Willow Warbler, Linnet, Starling, Blackbird, Robin, Coot, Moorhen, Herring Gull, Lesser Black-backed Gull, Black-headed Gull, Jackdaw, Rook, Magpie, Kestrel, Buzzard.
With the time approaching 18.00hrs we decided to make our way back to the hotel via Bird Rock. This site has always contained a small colony of breeding Chough and the only inland nesting site of Cormorant in Wales. Parking at the base of Bird Rock we soon identified a dozen or so occupied Cormorant nests. We heard the unmistakable call of Chough and 3 birds were seen wheeling in the up-drafts accompanied by several Jackdaw, circling over the rock.
Birds of Bird Rock: Chough, Jackdaw, Cormorant, Herring Gull, Grey Wagtail, White Wagtail, Wheatear, Goldfinch, Robin, Rook and Carrion Crow.
DAY 2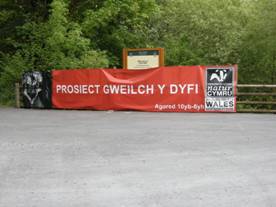 We had arranged to pick up a couple of old friends and spend the day at the RSPB reserve of Ynys-hir, but not before we had availed ourselves to a full Welsh breakfast, setting us up for a long day in the field. We picked up our friends and headed for Ynys-hir, but not before stopping at the Wildlife Trust for Wales site at Cors Dyfi. A new site for us & one where the Trust has been trying to encourage Ospreys to nest for several years. Unfortunately only the female has remained, so no breeding Ospreys this year. The Trust is very hopeful that it is only a matter of time. Several trails and boardwalks run out to the estuary and it is well worth a visit.
Birds of Cors Dyfi: Redpoll, Siskin, Willow Warbler, Pheasant, Great Spotted Woodpecker, Blue Tit, Great Tit, Greenfinch, Chaffinch, Goldfinch, Dunnock and Osprey, which was only visible on the TV monitor whilst we were there.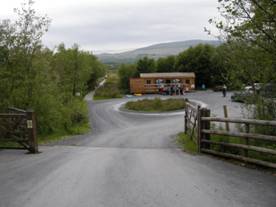 A few miles further down the estuary saw us entering one of our favourite RSPB reserves, Ynys-hir. The reserve has several special habitats, salt marsh, sessile Oak woodlands, damp Birch woodlands, grazing land, tidal flats, extensive reed beds and several areas of open water; all these help make this a very special reserve.
Birds of Ynys-hir: Siskin, Nuthatch, Chaffinch, Greenfinch, Blue Tit, Great Tit, Coal Tit, Willow Tit, Wren, Robin, Wood Warbler, Willow Warbler, Chiffchaff, Whitethroat, Reed Warbler, Sedge Warbler, Great Spotted Woodpecker, Redstart, Pied Flycatcher, Song Thrush, Blackbird, Starling, House Sparrow, House Martin, Swallow, Pied Wagtail, White Wagtail, Meadow Pipit, Skylark, Wood Pigeon, Magpie, Rook, Carrion Crow, Raven, Mallard, Shelduck, Grey Heron, Great Crested Grebe, Mute Swan and Canada Goose.
The total number of birds seen on this trip was 73 (72 species with White/Pied Wagtail). A bird we would have expected to see was the Red Kite; ever present in years gone by, but sadly, more scarce these days. We knew of several nest sites in the valley which are no longer occupied.
MOANS GROANS and MEMORABLE MOMENTS
Groan
The Ty'n y Cornel Hotel boasts a new first class chef with a string of 5 star hotels on his c.v. Well, the evening meals served to us left a great deal to be desired. In fact, after sampling his wares the first night on the restaurant menu, we decided to try the bar snack menu and that meal was appalling too. How can you get lasagne and cold ham, egg and chips so horribly wrong?

Moan
The unnecessary addition of all the nest boxes at Dolgoch Falls.
Memorable Moments
The male Hen Harrier hunting over the mountain tops in the bright morning light.
Pat and Judy Hayes