INTRODUCTION
Having invested in a camper van for our early retirement it was felt we should start realising a return on that investment. Having had a few days away in it on both the east & south coasts, it was felt it was time to venture further and for longer. We decided to spend the best part of a fortnight in June 2010 (13th to 24th) touring the birding spots of the north east of England and several areas of Scotland. Buying the camper was a romantic notion but one we weren't sure would suit us, it was hoped this holiday would go some way to making up our minds.
DAY 1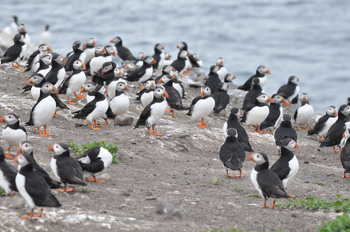 With a long journey ahead of us we set off for the North East at 05:00hrs on Sunday, 13th of June. Our first port of call was the Little Chef on the A1M at Scotch Corner. With a little over 200 miles of motorway and dual carriageway from home to Scotch Corner, progress was swift and we were sat waiting for our "early Starter" breakfast around 08:30ish. From there, we travelled the 90 miles to our first birding spot, the Northumberland Wildlife Trust reserve at Hauxley. The sky was grey and continuous light rain was falling. We had the misfortune to arrive 5 minutes behind a large coach full of birders, the visitor centre was heaving so we decided to go straight on the reserve. This site consists of a freshwater lagoon situated on the coastal strip and a woodland walk. The reserve held breeding Oystercatcher, Lapwing and Redshank as well as several duck species, Pied Wagtail and a very obliging Willow Warbler.
Birds of Hauxley - Greylag, Canada Goose, Tufted Duck, Shelduck, Widgeon, Gadwall, Mallard, Redshank, Oystercatcher, Lapwing, Black-headed Gull, Herring Gull, Grey Heron, Moorhen, Sand Martin, Swallow, Starling, Blackbird, Song Thrush, Linnet, Pied Wagtail, Willow Warbler & Jackdaw.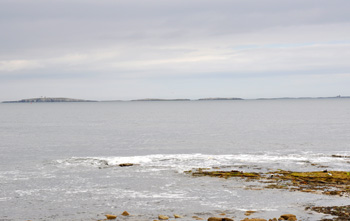 Having booked a trip to the Farne Islands the next day we decided to check out where we needed to catch the boat and familiarise ourselves with the parking arrangements. We parked on the pay & display car park on the harbour at Seahouses. There were very few birds of interest, although the harbour held several Eider families with young of differing ages & a small colony of Rock Dove that were nesting in the holes in the harbour walls. Our last port of call was the roadside parking on Budle Bay, but with the tide out most of the birds were a good distance away. Shelduck and Mute Swan were the dominant species; waders were non-existent.
Birds of Seahouses and Budle Bay - Eider, Mallard, Shelduck, Tufted Duck, Mute Swan, Canada Goose, Kestrel, Rock Dove, Rook, Jackdaw, Black-headed Gull, Herring Gull, Lesser Black-backed Gull, Chaffinch, Pied Wagtail, Starling & Swallow.
DAY 2
Today was our long awaited trip to the Farne Islands; because of the windy conditions the trip was postponed until the afternoon. Our revised timetable was now 12:00 noon returning at 17:00hrs with a 3hour stop off on Inner Farne. The weather by this time was bright, warm and dry, ideal for the trip. Prior to our disembarking on Inner Farne we toured the outer Farnes checking out all the cliffs and stacks for Puffin, Guillemot, Razorbill, Kittiwake, Cormorant and Shag.
As soon as we had touched dry land we were mobbed by both Common and Arctic Terns. This came as no surprise, as most of the Island's avian inhabitants were either sat on eggs or tending young, all ridiculously close to the roped off walkways. Not prepared as usual, I didn't have a hat, so I had to suffer the full wrath of the terns on a bare head. Jude, who is 'always prepared', had packed our lightweight cagoules, so when she was sure I had suffered enough she offered me the cagoule and a small hand towel which I folded and slipped under my hood.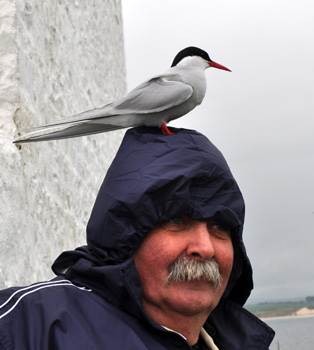 Birds of the Farne Islands - Puffin, Guillemot, Razorbill, Cormorant, Shag, Gannet, Fulmar, Common Tern, Arctic Tern, Sandwich Tern, Oystercatcher, Mallard, Eider, Black-headed Gull, Herring Gull, Lesser Black-backed Gull, Kittiwake, Starling, Pied Wagtail & Chaffinch.
DAY 3
Today dawned bright with a swift breeze. As our main birding was a trip to Coquet Island in the late afternoon, it was a leisurely get up and then a stroll through the adjacent Bluebell wood prior to our departure. We arrived at the Seabird Centre on the harbour in Amble in good time, we paid the £15:00 for both of us and then decided to do a spot of birding in and around the harbour. The first thing that took our interest was the RNLI lifeboat speeding to the rescue of a fishing boat that had run aground in the harbour entrance. We have the greatest admiration for the RNLI and the guys who volunteer to crew their lifeboats. We were therefore astounded to see the small inflatable lifeboat attempt to tow the 20 ton fishing boat off a sand bar and into deeper water. Our trip to Coquet Island was on time and within 15mins of leaving the harbour we were moored off the Island looking at the Puffin colony. It had been my intention to photograph the Roseate Terns but with a 3 metre swell any sort of photography was out of the question. After our prescribed 1 hour we returned to Amble. We stopped off at Budle Bay on our return as the tide was now lapping the flood wall. With the exception of a couple of Swans the bay was still empty of birds, although a hunting Kestrel provided some interest.
Birds of Coquet Island, Bluebell Wood & Budle Bay - Blackbird, Song Thrush, Great-spotted Woodpecker, Spotted Flycatcher, Greenfinch, Chaffinch, Puffin, Fulmar, Cormorant, Common Tern, Arctic Tern, Roseate Tern, Sandwich Tern, Black-headed Gull, Herring Gull, Eider, Mute Swan & Kestrel.
DAY 4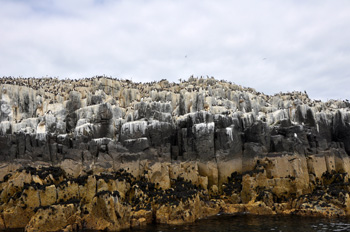 With clear blue skies greeting us this morning we breakfasted early and drove the dozen or so miles to Holy Island. We arrived at a deserted main car park by 09-15hrs, parked up and headed for our first port of call; the 'castle' sign posted 1mile away. We were serenaded all the way to the castle by both Skylarks and Meadow Pipits; a pair of Rock Pipits were seen feeding young on the rocky foundations of the castle. From here we decided to walk to the bird hide, which is situated above the largest area of open water on the Island and approximately another mile from the castle. The birding from the hide was disappointing although we had the pleasure of sharing the hide with a couple of nesting Swallows. From the hide we decided to continue on the circular walk back to the car park which was probably another couple of miles. Again we were escorted all the way by singing and displaying Meadow Pipits, Skylarks and little else.
Birds of Holy Island - Song Thrush, Blackbird, Linnet, Wren, Starling, House Sparrow, Skylark, Meadow Pipit, Rock Pipit, Jackdaw, Carrion Crow, Swallow, House Martin, Grey Heron, Mute Swan, Reed Bunting, Sedge Warbler, Moorhen, Oystercatcher, Lapwing, Black-headed Gull, Herring Gull & Greater Black-backed Gull.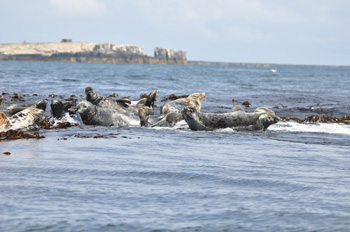 DAY 5
Today was our moving day and with a little under 250 miles to travel, the only birding being done would be from the cab of the motor home. Our preferred site was a 'Caravan Club' at Grantown-on-Spey. With no traffic problems we made good time and arrived at the site in the late afternoon, just time to relax for a couple of hours prior to preparing our evening meal. A short walk on the adjacent wooded hillside at dusk produced only Woodpigeons and Jackdaws and not the roding Woodcock we had hoped for.
DAY 6
Today dawned bright and sunny so to make most of the day we were breakfasted by 08:30hrs for our first port of call, Avie Lochan. This is a small lochan we have visited on previous occasions. It's less than half a mile from its more famous neighbour, Loch Vaa. At Avie Lochan you can park along the shore where two pairs of Slavonian Grebe nest and are very obliging. Within a couple of minutes of arriving one of these delightful little grebes appeared a few metres off-shore, calling continuously; we assumed its partner was probably nesting in a small reed bed adjacent. Being buoyed by our early success we arrived at Loch Garten where Crested Tit was our principal quarry. Arriving in the visitor centre we were confronted by a female warden giving a non-stop monotone commentary on what the nesting Ospreys were doing, had done or were about to do.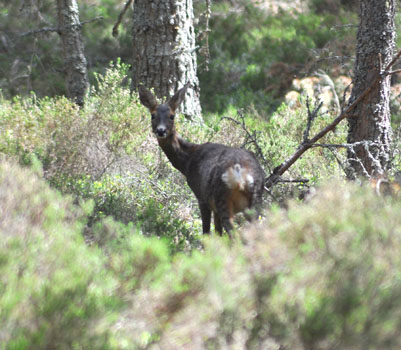 Enduring this assault on our eardrums for about 20mins, we decided to leave the centre and walk around the adjacent Loch Mallachie where every potential 'Cresty' turned out to be Coal Tit. Feeling slightly crestfallen (pardon the pun) we made our way to another part of the Abernethy Forest at Boat of Garten. Success here was worse, as birds in general were far less numerous although a female Roe Deer gave good views before disappearing into the forest.
Loch Insh was the next site on the list; this is a traditional Osprey nesting site and one where you can get closer views than at Loch Garten without the inevitable hurly-burly of the visitor centre. Again these magnificent birds gave super flight displays as well as fish passing at the nest site. Other birds of interest were a tree-perching Common Sandpiper, a pair of Mallards and a female Goldeneye. It was now early evening so we stopped off at the Sylhet Brasserie, an Indian Restaurant in Grantown for a 'take-away' and then settled back to watch England v Algeria. We wish the fare served up by England was half as good as that from the Sylhet.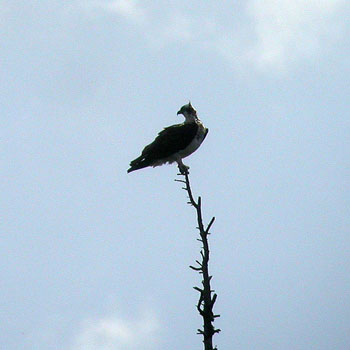 Birds of Avie Lochan, Loch Garten, Boat of Garten & Loch Insh - Slavonian Grebe, Goldeneye, Tufted Duck, Mallard, Grey Heron, Common Sandpiper, Oystercatcher, Lapwing, Osprey, Buzzard, Great-spotted Woodpecker, Siskin, Greenfinch, Chaffinch, Robin, Chiffchaff, Coal Tit, Great Tit, Goldcrest, Pied Wagtail, Jackdaw & Carrion Crow,
DAY 7
Today again dawned a little grey, but with the weather forecast proclaiming a warm and sunny day we set off for Lochindorb by way of the A938 Carrbridge road. The road runs adjacent to a typical boulder strewn mountain river which held the promise of good photos of Dipper. A lay-by is conveniently situated next to a particularly good stretch of river for Dippers and it was here we spent our first hour, eventually getting a good enough photo for the album. On our arrival at Lochindorb the wind had picked up sufficiently to create white horses on the Loch, making detection of anything on it less than the size of a small boat, all but impossible. A fishing Osprey was a great start but with little else to keep our interest, our endeavours were transferred to the surrounding moorland for Red Grouse. The first hour proved pretty fruitless except for the occasional Rock Pipit & Tree Pipit. Noting an area of regenerating burned heather opposite the entrance to Lochindorb Lodge we decided to concentrate our efforts there. What inspired reasoning, for within a couple of minutes several females with young in tow were seen, together with a lone male Red Grouse, close enough for 'bins unaided' views - fantastic.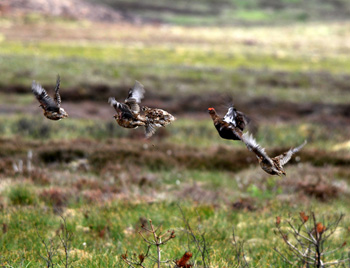 With several worthy photos in the can we transferred ourselves to the north of the Loch where enquires had informed us that Black-throated Divers were to be found. With the wind slightly abating, the waves on the loch had decreased by 50% and we chose a parking spot, (passing bay) that afforded good views of the loch and set about having lunch. We almost spat out our cheese topped crackers when 2 birds surfaced right outside the camper, squabbling over what looked like a small eel. Expectations were soon dashed when we realised we were looking at a pair of Red-breasted Mergansers instead, not that we weren't grateful for the mergansers brightening up our meagre lunch. Extensive scanning after lunch provided distant views of 2 hunting Black-throated Divers. Closer views were secured later of 2 adult birds with a well grown young, seen just off the point at Lochindorb Lodge. The only Golden Plover of the trip in full breeding plumage was seen on our return to the camp site.
Birds of Lochindorb - Dipper, Black-throated Diver, Red-breasted Merganser, Osprey, Kestrel, Common Sandpiper, Lapwing, Oystercatcher, Curlew, Golden Plover, Red Grouse, Greylag, Black-Headed Gull, Common Gull, Pied Wagtail, Sand Martin, Swallow, House Martin, Chiffchaff, Willow Warbler, Rock Pipit, Tree Pipit, Greenfinch & Chaffinch.
DAY 8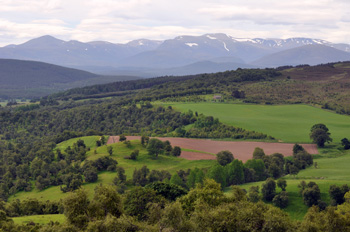 With an unpromising weather forecast we decided to stay local and try one of the many walks emanating from the camp site. The six mile round walk culminating at a small lochan with four hides seemed perfect. What the author of the walk had omitted to say was that the first mile and a half was up a very steep hill. With a few stops on the way to try to replenish depleted oxygen levels and to calm a heavily beating heart we completed the first part of the walk. Turning left up a track through sheep fields we were soon spotting Oystercatchers, Lapwings and Curlew with young. The haunting calls of the Curlews filling the air confirmed that our perseverance had paid off. That was until we reached a locked metal field gate with welded sheep mesh on the bottom making it very difficult to get any purchase with our booted feet. Incidentally this gate had been omitted from the walk literature. Struggling over the gate, we continued up the track with a steep wooded valley to our left. It was here we encountered a Cuckoo on a fence post. As we approached he would fly further along the fence, alighting just out of range of my 300mm lens. I had purposely left the 500mm lens in the camper as I didn't relish carrying it all that way. Further along the track and adjacent to the fence was a small stand of hawthorns bent over by the prevailing wind. Approaching the stand quietly and using the hedge as cover we were lucky enough to get within 20 metres of the unsuspecting bird and, more importantly, close enough for the camera.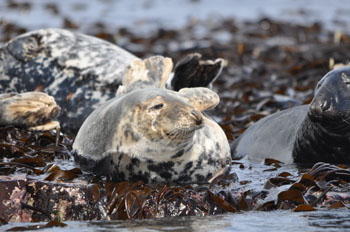 By this time we were in upland moor country; we continued along this track for what seemed an age, expecting to glimpse the lochan around every fold of the mountain. Eventually we reached a point where we could see the track snaking off in front of us for at least a mile. We had been walking for almost 3hours and even at bird spotting pace we reasoned we had had to have covered at least the 3 miles to the lochan. Turning round and walking back we soon met a local, out with 2 hunting dogs, we enquired if he knew of the lochan, he said he did, it was a couple of miles in an adjoining valley. He also confirmed it was at least 8 miles from our camp site and had we continued to follow the instructions supplied we would have ended up at Lochindorb another 12 miles along the track. We returned back to site footsore and weary just in time to see a Sparrowhawk with food in its talons disappeared into the wooded hillside adjacent to the camp.
Birds of the walk - Curlew, Oystercatcher, Lapwing, Cuckoo, Buzzard, Sparrowhawk, Kestrel, Mistle Thrush, Song Thrush, Blackbird, Robin, Rock Pipit, Pied Wagtail, Siskin, Chaffinch, Greenfinch, Great Tit, Blue Tit, Black-headed Gull, Carrion Crow, Hooded Crow & Jackdaw.
DAY 9
Today was another moving day; we were leaving Grantown-on-Spey and moving west across Scotland to a site just north of Oban. With a little over 100 miles to travel we had a leisurely breakfast and arrived at our destination in the late afternoon. By the time we had organised ourselves time was pressing on, so no real birding was carried out.
DAY 10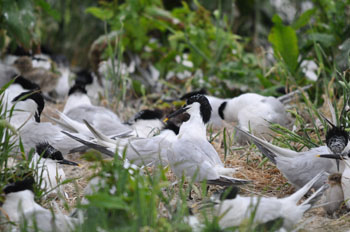 Another moving day and with nearly 200 miles to The Mull of Galloway we were on the road by 07:15hrs, stopping only briefly on the side of Loch Lomond for a cup of tea and a slice of toast. We made good time and were at Cairnryan ferry terminal by 11:00hrs. A scan of the sea produced a single Black Guillemot, 2 Oystercatchers, several House Martins, Greenfinch and sparrows. We arrived at the site by 12:15hrs and after a rest we ventured around the site and down on to the beach. Several Gannets were passing through and a couple of Sandwich Terns were feeding in the bay. Oystercatchers, 2 Lesser Black-backed Gulls, Common Gull and Herring Gulls completed the beach interest. With large blocks of screen planting consisting mainly of Gorse, Dog Rose and Bramble throughout the site, birds of the site were quite diverse. Our evening meal of beans-on-toast was interrupted by a photo opportunity of a Whitethroat feeding 2 fledglings in the Gorse outside the camper. A young Willow/Chiff was also seen in the same clump of Gorse but had disappeared by the time acceptable photos of the Whitethroats had been obtained.
Birds of Cairnryan & New England Bay - Black Guillemot, Blackbird, Song Thrush, Starling, Robin, Pied Wagtail, Sand Martin, House Martin, Swift, Kestrel, Buzzard, Greenfinch, Goldfinch, Dunnock, House Sparrow, Whitethroat, Willow Warbler, Wren, Collared Dove, and Wood Pigeon, all putting in an appearance.
Day 11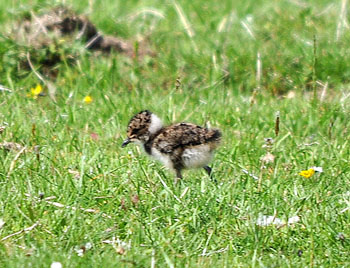 With our last day of birding upon us, we decided to visit the RSPB reserve which is situated at the lighthouse on the tip of the Mull of Galloway. Parking on the car-park the first thing we noted were the first Wheatears of the trip including several young. A number of Whitethroats were calling from the adjacent scrub and several Rock and Meadow Pipits were on the path leading down to the seabird colony viewing point. With the exception of the Black Guillemots, all the sea birds present on the reserve were seen. A sea mist was drifting over the Mull so the views across to The Isle of Man and Ireland were non-existent. With Jude not feeling at her best we popped into the Café for a welcome cup of tea and a rest.
Birds of the Mull of Galloway - Puffin, Razorbill, Guillemot, Fulmar, Kittiwake, Ringed Plover, Rock Dove, Wheatear, Rock Pipit, Meadow Pipit, Stonechat, Whitethroat, Swallow, House Martin, Linnet, Yellowhammer, Greenfinch, Goldfinch, Chaffinch, Blackbird, Starling, House Sparrow, Jackdaw, Carrion Crow, Wood Pigeon & Collared Dove.

MOANS, GROANS & MEMORABLE MOMENTS
Moan - It's a pity the RSPB can't take a leaf out of the National Trust's book and allow limited access onto Coquet Island, weather permitting. We are fully aware that the very rare Roseate Terns need to be protected and any disturbance to the birds needs to be minimised. Terns as a species are fairly robust and in any case, standing on the quay monitored by the resident wardens would be sufficiently far enough away in our opinion to cause no problem. This shows the intransigence of the RSPB, where it's easier to say "No" than to try to find a way. Being moored 75metres off the Island trying to focus binoculars in a 3 meter swell is a million miles away from the experience just a few miles north on the Farnes and if we are honest, in our humble opinion, not really worth the trip for the poor sightings obtained.
Moan - The rip-off fuel prices at the M6 services.

Groan - The atrocious breakfast that was returned almost untouched at Tebay Services especially as their charter, written on the wall, states their commitment to excellence.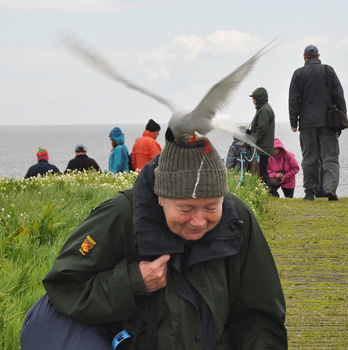 Memorable moments - Things to do before you die: A visit to the Farne Islands whilst breeding is in full swing. This really is a magical experience, not just the proximity to the birds but the whole interaction between man and wild creatures. It also shows how close proximity breeds familiarity, which doesn't appear to cause any stress to the nesting birds. (Take note Mr RSPB).
One of the sights and sounds that will live long in the memory was the shrieks of delirious laughter from a school party of 8-10 year olds being pursued mercilessly by the breeding terns. They all thought it hilarious until the terns turned their attention to them.
Climbing on board a very full boat and being told by the skipper to make like breeding Guillemots in order to cram everyone on and to see the antics of the many foreign photographers with their very long lenses, trying to capture the birds as they flew past, but in many instances only getting in each other's way and in some cases hitting each other on the head.
Total number of birds seen: 90
Pat & Judy Hayes