INTRODUCTION
As we had not seen Dartford Warbler in this country since 1994 and had never previously seen Cirl Bunting in the UK, we decided to spend a few days in Dorset and Devon with two specific birding targets in mind.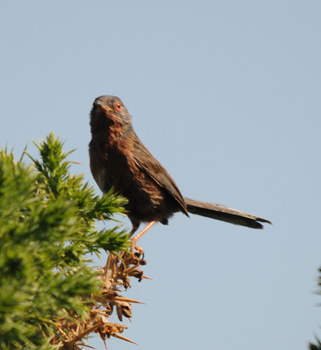 DIARY & SITE INFORMATION
Sunday 20th June 2010
We drove down to Dorset to Poole Harbour which was to be our base for the next two nights. We arrived a little after 15.00hrs and after checking in to our hotel, decided to get straight into it and go to RSPB Arne in search of our first quarry. On the way there, near Wareham, a Red Kite briefly floated across the road. Other than a small new visitor centre and larger car parking facilities, the reserve had not changed much since we were last there 16 years ago. A quick word with the warden pointed us in the right direction for the best chance of catching up with Dartford Warbler, but when we asked about the possibility of finding Woodlark, he advised there was only one pair on the reserve and they were in an area not accessible to the public. Don't you just love it when this happens! It reminded me of RSPB Lakenheath with all its gated paths with "No Public Access" emblazoned on them.
Undaunted we headed out on the Coombe Heath trail, watching young Green Woodpecker floundering about in the sparse woodland just beyond the overspill car park. Although there was hardly a cloud in the sky and it was quite hot, there was a stiff breeze blowing across the heath and as a result there were few birds in evidence. We had good views of Linnet, Tree Pipit, Meadow Pipit, Chiffchaff and Stonechat but only caught a glimpse of a single Dartford Warbler as it briefly flew between two low bushes, despite hanging around the area for about an hour.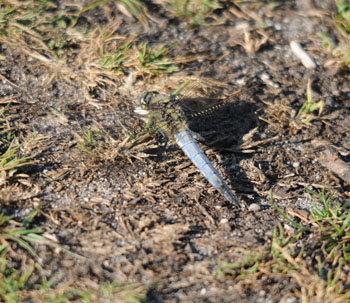 A distant Little Egret was in the channel along with numerous Shelduck and Oystercatcher and Common Tern quartered over Middlebere Lake. Returning via the woodland again we had Long-tailed Tit and Great Spotted Woodpecker and young.
We returned to our hotel for dinner via Studland Heath and the ferry to Sandbanks. After a leisurely meal we decided to pop out again to Wareham Forest to try our luck as dusk approached. We took the B3075 towards Morden, almost opposite The Sandford Hotel, and after a few miles stopped at the Lawson Clump car park. It was now 21.45hrs as we walked a short distance up the track leading into the forest. Even as we left the car we heard Cuckoo calling and soon found a bird perched on a nearby tree. Nightjar were churring all around and we soon located one of the culprits as it perched "stick like" on a nearby branch and then circled around our heads, calling and feeding. More birds were nearby and as the light rapidly faded we had four birds in the air together on the edge of the forest as the original bird was joined by three others. As we left the car park a Common Buzzard "out late" caused us to screech to a halt as our initial thoughts were – large owl! Should have known better….
Monday 21st June 2010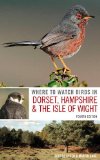 Originally we had planned to spend today around Weymouth and Portland Bill but with yesterday's miserable views of Dartford Warbler we decided to head back to Arne at 08.30hrs to try our luck once more as the day had dawned clear once again and, more importantly, the breeze had died away. We saw much the same as yesterday, but without the wind there were dragonflies and Silver-studded Blue Butterflies everywhere and we had excellent views of a singing male Dartford Warbler on top of the bushes we had seen him flitting between the previous day. Having achieved our goal, we set off for Wareham Forest and Morden Bog as we had been advised it was a good area for Hobby and Woodlark, with at least two pairs of the latter breeding there. We arrived around 11.00hrs, saw lots of Silver-studded Blue butterflies and eventually 3 distant and one much closer Hobby as they hawked for insects high in the sky; but it's a large area, the day was hot and still and Woodlark and most other species were conspicuous by their absence. We then set off for Weymouth, stopping on the way at The Red Lion at Winfrith on the A352, for an excellent lunch.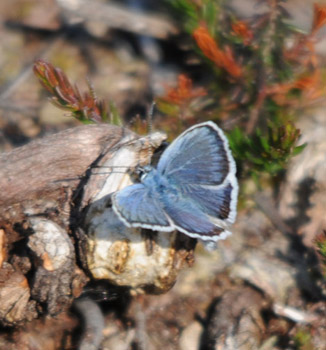 We arrived at RSPB Lodmoor with the sun beating down in the early afternoon and set out walking around the reserve towards the reedbeds hoping to get some photos of Bearded Tit and Cetti's Warbler. Although we heard a single Cetti's our luck seemed to have deserted us and, other than quartering Marsh Harrier, Whitethroat and a lone fly-by Reed Bunting, things were very quiet apart from singing Sedge and Reed Warblers, almost always just out of view. With hindsight we probably didn't venture far enough round the reserve as we turned back on reaching the housing development at the end of the reedbed. As we neared the car park we did come across a very dubious White-cheeked Pintail and an equally suspect sleeping potential Ferruginous Duck or hybrid. By now we were very hot as we headed into the town to visit RSPB Radipole Lake. All I can say is we must be two of the very few people who have been to Weymouth and failed to find Radipole ….we were on the right road, but it just wasn't there. By this time the traffic back in to the town was very busy with school being out etc so we decided to carry on to the A35 and look for Hardy's Cottage as I had mistakenly seen it on our map and thought it was Hardy's Cottage Garden Plants which it turns out is in Hampshire, not Dorset. In any event, quite true to form, we couldn't find it. As any bloke will know, it couldn't possibly have been my map reading, more likely it was just one of those days, or else Amanda didn't understand my precise and detailed directions.
As it was still only c16.30hrs and we couldn't think of anything else to do, we returned to Arne to walk the Shipstall Point trail in the hope of finding something new. What more can I say….it was hot and a beautiful late afternoon, but there was very little bird activity, plenty of Fallow Deer though. Disillusioned after an excellent start to the day we returned to the hotel to freshen up before heading out to The Willet Arms at Wimborne where we had an excellent dinner from an interesting and varied menu.
Tuesday 22nd June 2010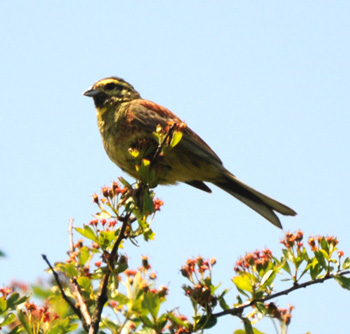 We checked out of our hotel early and set off for Devon on a 94 mile trip to RSPB Labrador Bay which took about 2½ hours. Labrador Bay has only been a reserve since November 2008 and the cliff top car park offers stunning views over Lyme Bay whilst the reserve stretches for 2km along the South West Coast Path. This was much nearer to our next destination and, rather than brave the miles of narrow roads to get to Prawle Point, we decided it was a much better option if we could only find our target species. Arriving just after 11.00hrs we took the northern path around the fields and eventually down the Coast Path below the car park. The first 2/3 of the walk were pretty uneventful, just the occasional Dunnock, Chiffchaff and lone Fulmar: Then, after climbing the steps through the "Great Plantation" and getting almost back to the cliff top at the edge of the fields, we came across our first Cirl Bunting; a male singing on top of the hawthorn bushes. As we walked along the hedgerow at the side of the open fields, we saw at least another 3 birds along with a few Yellowhammer to provide an excellent end to our walk. After a picnic lunch in the car park, being serenaded by several radios tuned to the Budget, we set off towards Okehampton where we were to spend the night. On the way we stopped at Haldon Forest Park in the vain hope of coming across an itinerant flock of Crossbill or a cruising Goshawk, but all to no avail. We did manage a few Siskin, more Yellowhammer, Jay and Buzzard before deciding it was just too hot and we had had enough so we retired to our hotel and found a pub for a spot of food and a few well earned drinks.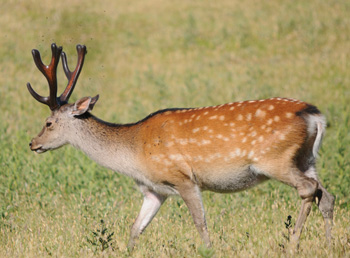 Wednesday 23rd June 2010
Birding done, we had a leisurely start this morning as we set off to RHS Rosemoor which only opens at 10.00hrs. Whilst wandering round this beautiful garden we were sat overlooking the large mixed woodland on the opposite hillside when a female Goshawk floated leisurely by, flapping and gliding its way above the treetops on the valley floor…..how come you never have your bins when you really need them? So much for travelling light this morning! After lunch in the restaurant at Rosemoor we set off home at c 13.30hrs and couldn't believe how light the traffic was as we made excellent time up the motorway whilst England managed to scrape past Slovenia in their last Group game in South Africa.
SUMMARY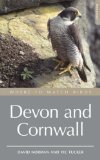 We didn't see that many species on this trip (63 plus two more heard only) but we achieved our main aim of catching up with Dartford Warbler once again and Cirl Bunting. The weather was hot, sunny and just about right for late June and, as well as the birds, we finished off with a visit to a beautiful garden we hadn't seen before to round matters off and make up for everything else we had managed to miss along the way.
David and Amanda Mason